This post contains affiliate links for which I may earn a commission (at no extra cost to you) should you make a purchase. As an Amazon Associate I earn from qualifying purchases. Please see my disclaimer for more information.
This vegan mug brownie is quick and easy to make with only 6 ingredients! It is moist, oil-free, and gluten-free.
NOTE: This recipe has been updated and now includes oat flour, therefore it is no longer flourless.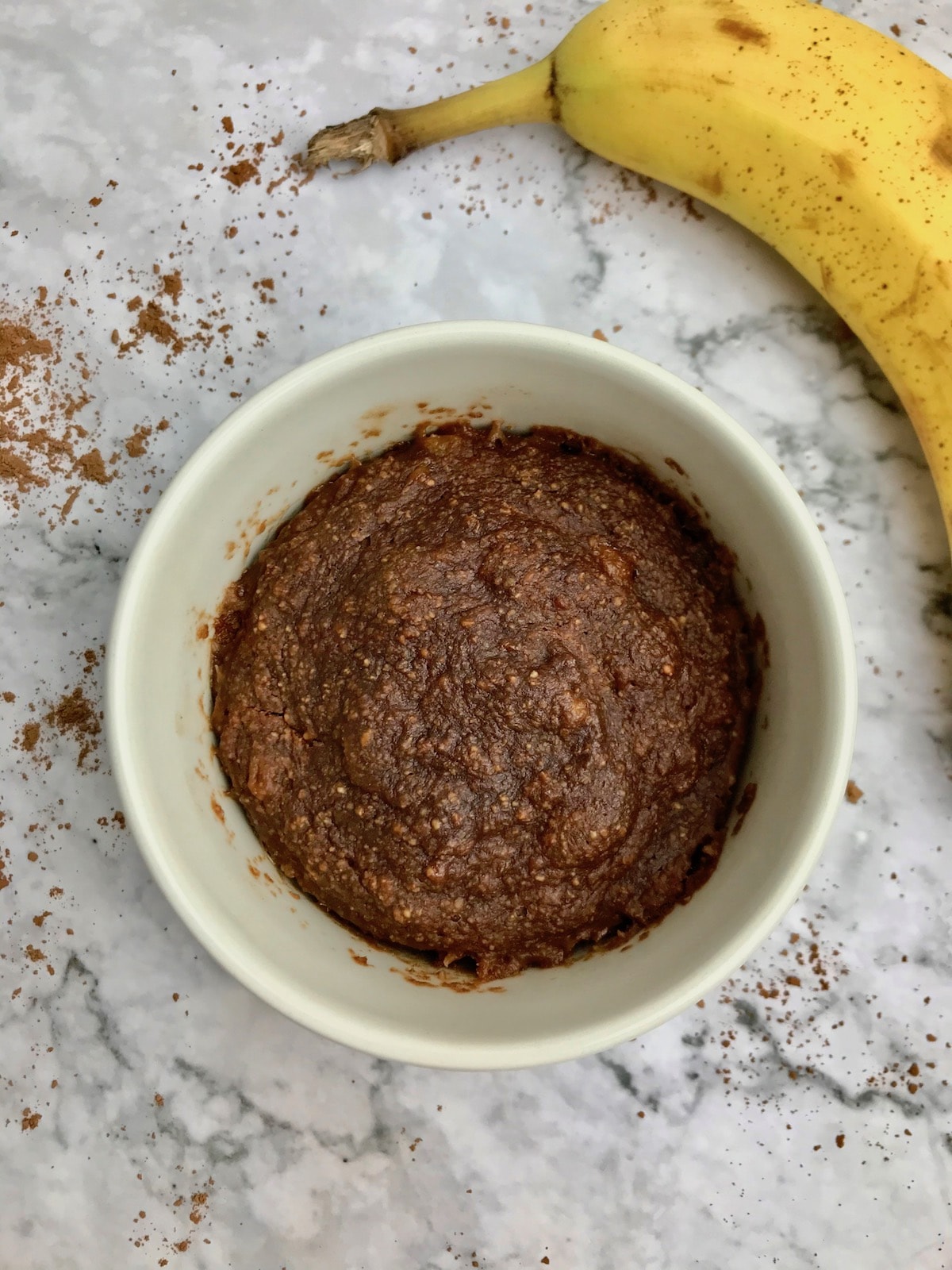 Sometimes I just want a slice of cake or a brownie! But who has time to bake a cake or a batch of brownies at the drop of a hat?
Mug brownies or chocolate mug cakes are the perfect alternative to buying all the ingredients and taking all the time to bake a whole pan of brownies!
This vegan banana mug brownie/ vegan chocolate mug cake is super easy to make at any moment, and all you need is 6 simple ingredients that you may already have!
The texture is moist and it has a subtly sweet chocolate taste.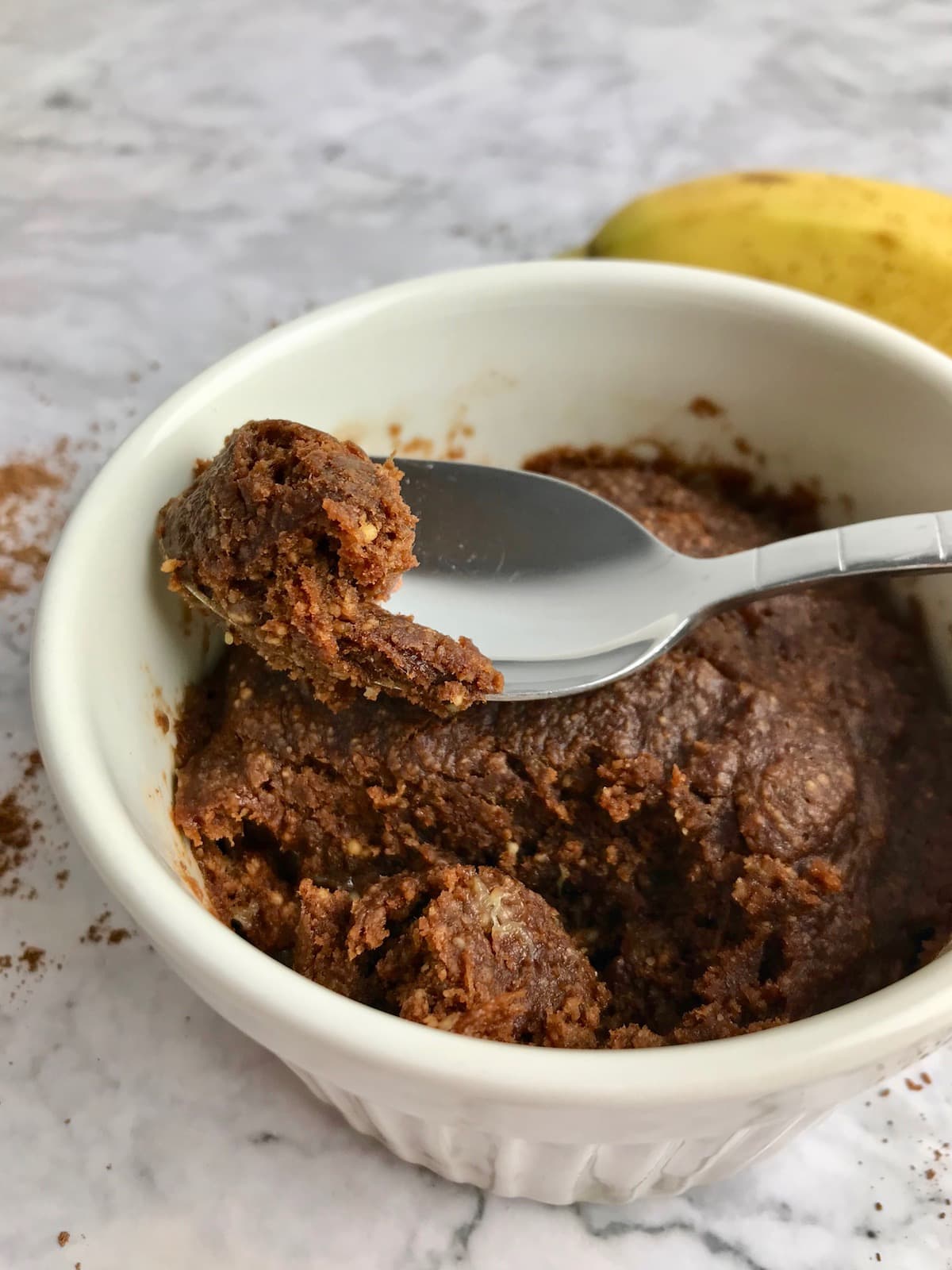 Ingredients for this vegan mug brownie
Bananas are incredibly versatile. They can be used as a key ingredient in smoothies, pancakes, muffins, and mug brownies or cakes!
This banana mug brownie is so easy to make, and it's made with only healthy ingredients. It is also gluten-free, as long as you ensure that you use oat flour that is certified gluten-free!
Here is everything you will need to make your vegan banana mug cake (continue scrolling for quantities and full instructions):
Banana 
Maple syrup                                   
Peanut butter
Cacao powder
Oat flour
Baking powder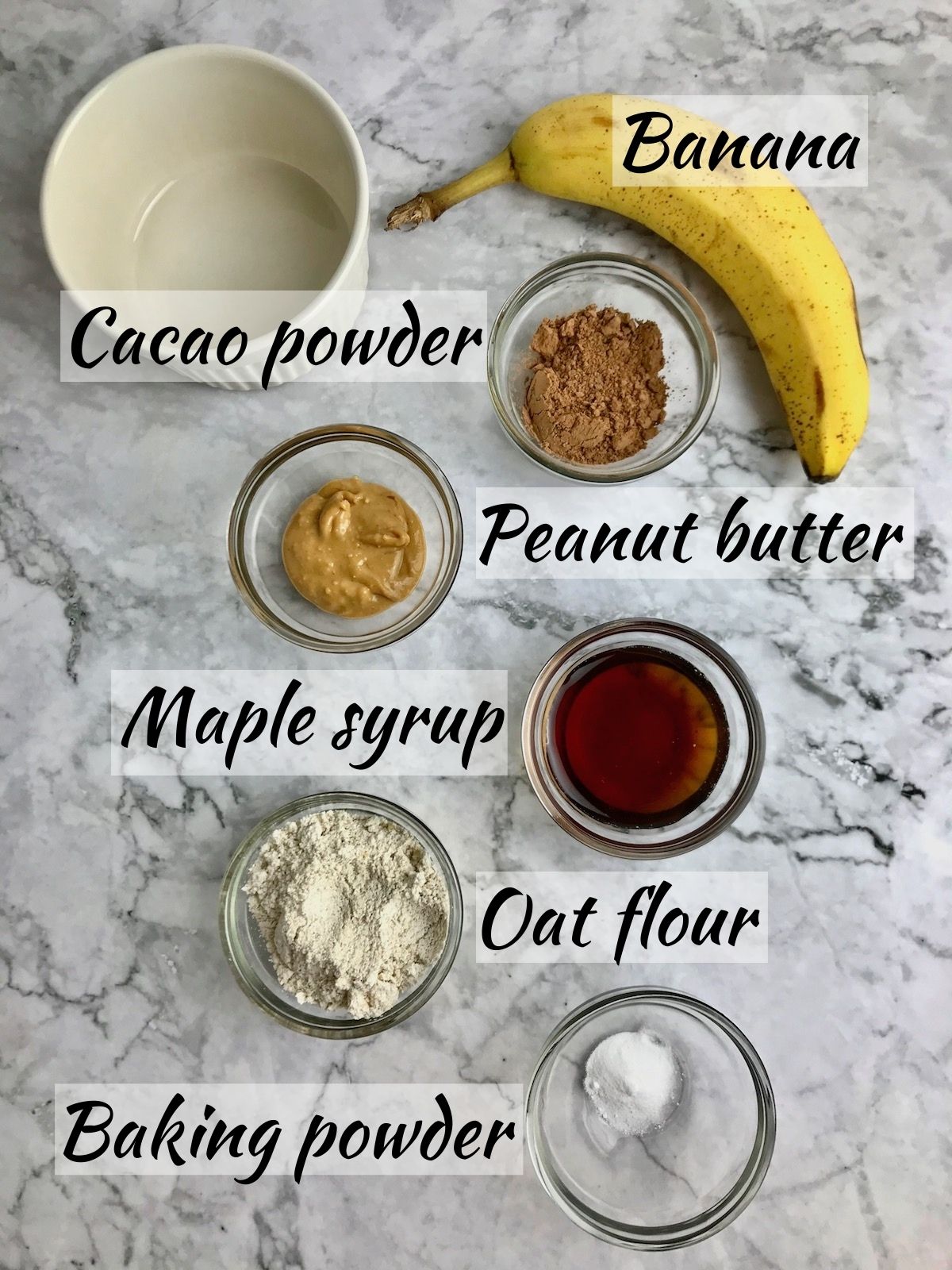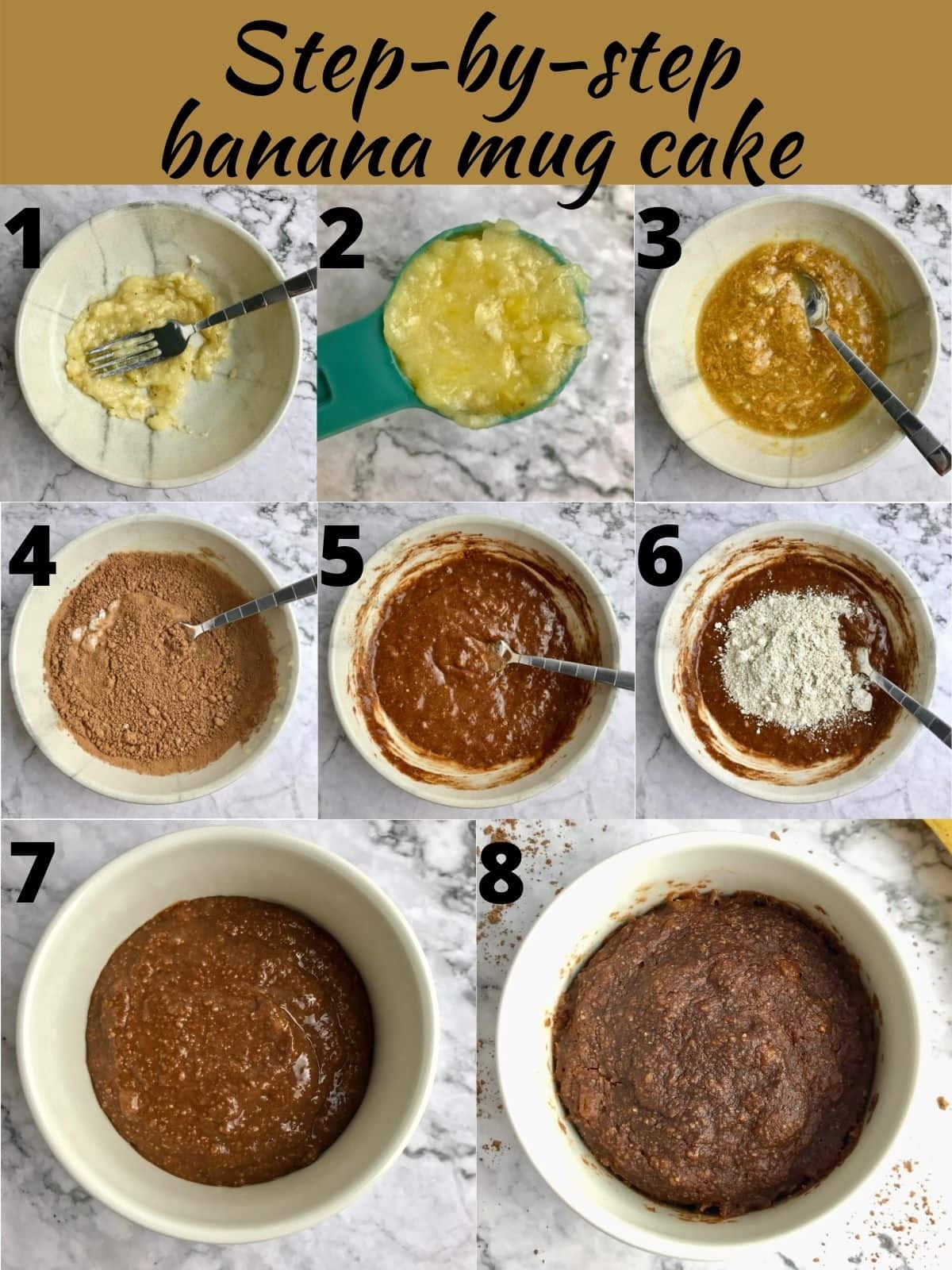 Is it healthy?
This vegan brownie in a mug is definitely much healthier than your average brownie.
If you buy all-natural peanut butter this recipe will have no refined sugar and be completely free of added oils (there is natural oil from the peanut butter).
The banana gives this vegan chocolate mug cake some sweetness, and a bit of maple syrup is the only sweetener added on top of that. Maple syrup is definitely better for you than refined white sugar, so this treat is healthier than most!
This recipe contains approximately 328 calories, so be mindful of that if you are concerned with you calorie count. But having this as a treat every once in a while is nothing to feel guilty about!
Tips for making this vegan chocolate mug cake
I recommend mixing all of the ingredients in a bowl, then transferring to a mug before microwaving. It will be much easier to mash the banana with a fork when it's in an wide bowl. This will make the batter more smooth.
For maximum health, ensure that you are using all-natural peanut butter. You can check the ingredients on the package and make sure the only ingredient is peanuts. No need for added sugar or oil. Natural peanut butter will have oil on the top because it separates from the peanuts. Just make sure you mix this in the jar thoroughly before using the peanut butter.
Make sure that your mug or ramekin is filled no more than about halfway before microwaving. When you microwave your mug cake, it will rise up a bit, so you need it to have some space to expand.
Microwave time may vary depending on your microwave's power. Start with 1 minute and 20 seconds, then pierce your mug cake with a fork. If you feel it needs to be cooked a bit longer, use 10 second increments until you are satisfied with the texture. It will also firm up a bit more as it cools before you eat it.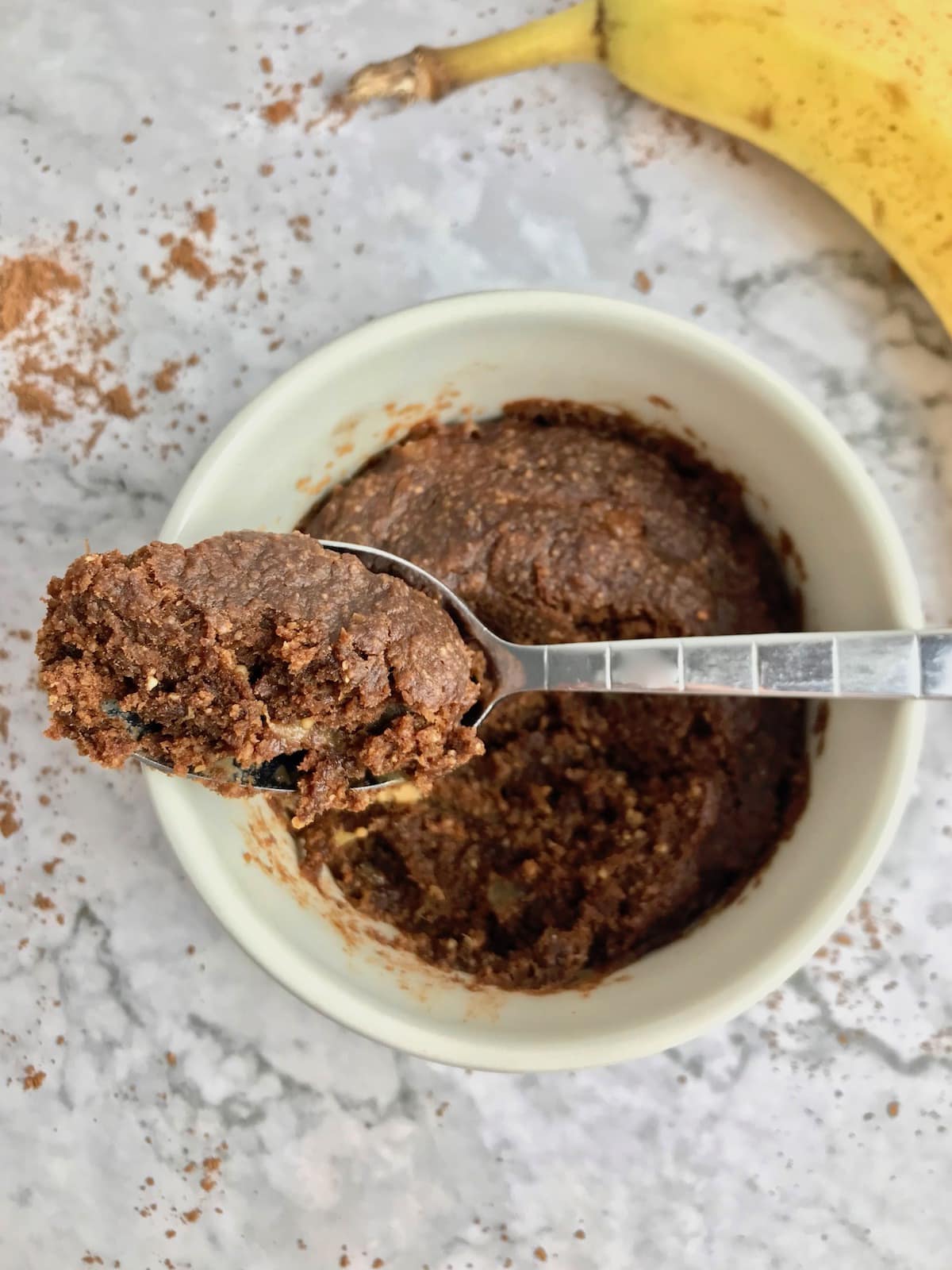 Check out these other banana recipes: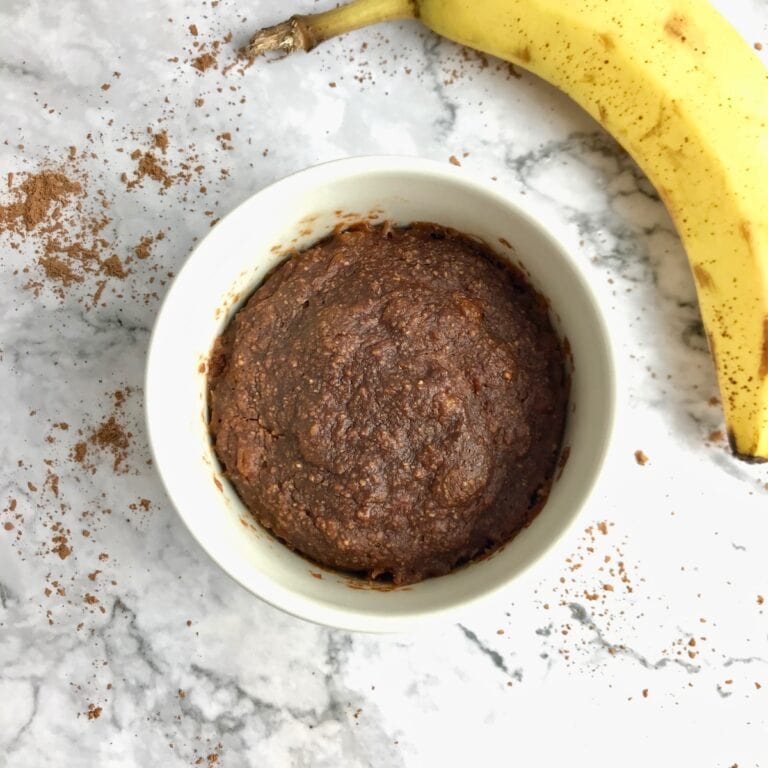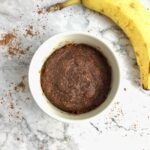 Print Recipe
Vegan Mug Brownie
This vegan banana mug brownie is quick and easy to make with only 6 ingredients! It is moist, oil-free, and gluten-free.
Instructions
Mash the banana in a bowl, then measure it to ensure that you have ¼ cup of mashed banana.

Add the maple syrup and peanut butter and mix thoroughly.

Add the cacao powder and baking powder and mix thoroughly. It will take quite a bit of mixing to get the cacao powder fully incorporated. Keep mixing until it is no longer powdery.

Mix in 1-2 tablespoons of chocolate chips.

Pour batter into a mug or ramekin. Microwave for approximately 1-1½ minutes (please see note about microwaving time below).

Once the mug brownie has cooked, allow it to cool for a couple of minutes before eating.

If you desire even more sweetness, you can drizzle some more maple syrup on top.
Notes
You can mix the ingredients directly in your mug or ramekin, but I find it much easier to use a bowl.
The ripeness of your banana can affect the texture of this mug brownie. It should be a bit spotty (see images in the post above).
Check your mug brownie after 1 minute in the microwave. Pierce it with a fork or spoon, and if it's still too wet for your liking, microwave again in 10 second increments until the desired texture is reached. Keep in mind it will firm up a bit while it cools. 
Nutrition
Calories:
328
kcal
|
Carbohydrates:
54
g
|
Protein:
9
g
|
Fat:
11
g
|
Sodium:
12
mg
|
Fiber:
6
g
|
Sugar:
27
g