This post contains affiliate links for which I may earn a commission (at no extra cost to you) should you make a purchase. As an Amazon Associate I earn from qualifying purchases. Please see my disclaimer for more information.
Vegan perfume can be hard to find, but I've gathered some of the best vegan and cruelty-free spray-on and roll-on perfumes!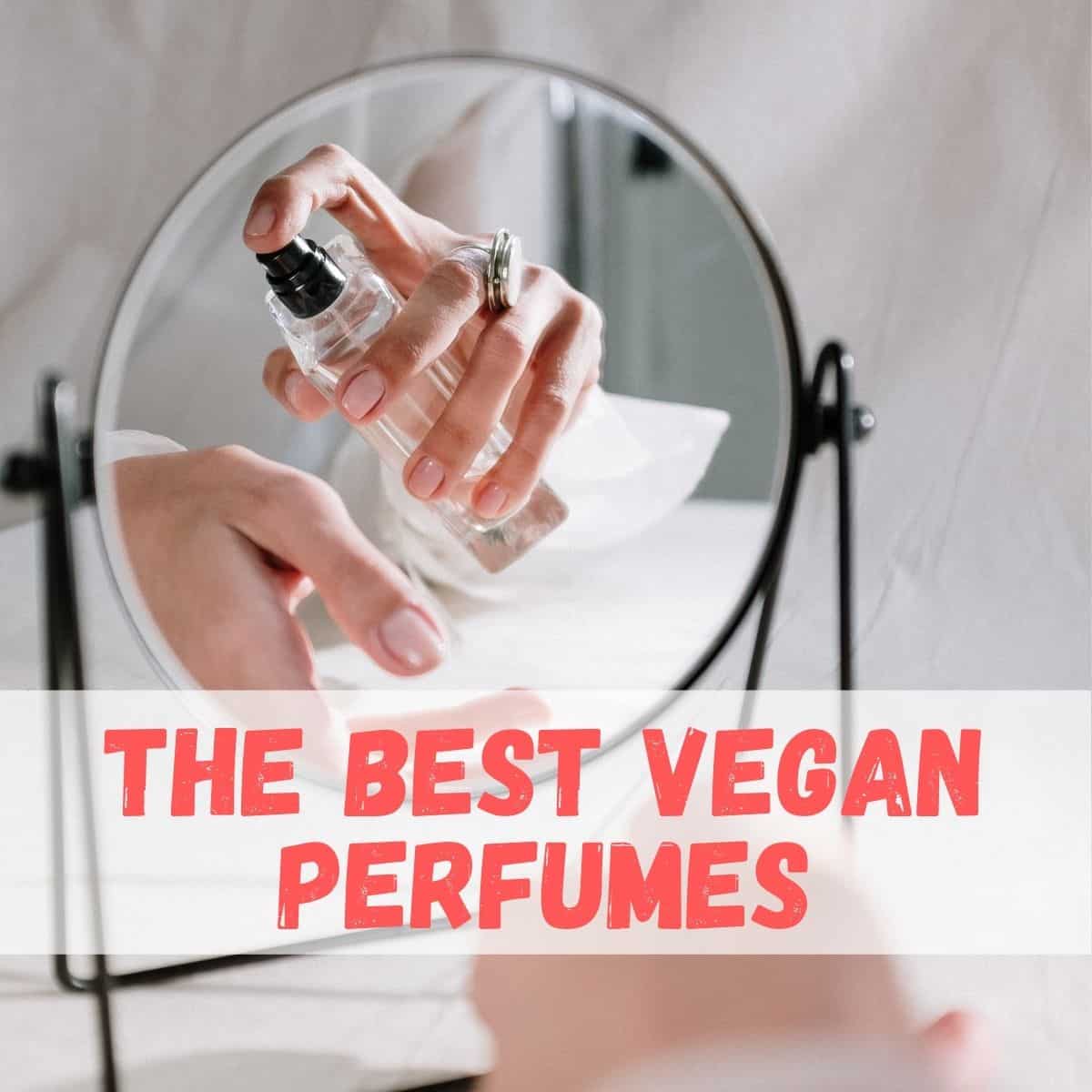 What is Vegan Perfume?
A lot of people may just assume that perfume is vegan, but unfortunately most perfumes are not. Many perfumes contain animal-derived ingredients and/or are tested on animals.
Vegan perfume does not contain any animal-derived ingredients, and it is cruelty-free. This means that at no point during the production process does the perfume company test their perfume on animals.
It is not required that all individual ingredients are listed on perfume packaging in the United States, so it's difficult to know what is in your perfume. That's why I recommend only using perfume that has been labelled as vegan and cruelty-free by the company. If they haven't stated that it's vegan, assume that it isn't!
It can be complicated to navigate what to look out for when you're vegan, so I wrote this vegan guide for beginners. Check it out if you need some help getting started with veganism!
Non-Vegan Ingredients Found in Perfumes
Wondering what animal-derived ingredients can be found in many perfumes? Check out this list of common perfume ingredients to avoid:
Musk (this is from the glands of Musk deer). You will see musk as an ingredient for some vegan perfumes, but these are synthetically made to mimic the scent of musk.
Civet (secretions are collected from the perineal gland of the civet cat)
Ambergris (a substance that forms in the digestive tract of sperm whales)
Castoreum (anal secretions from beavers)
Honey
Hyraceum (hardened urine and feces from the Cape hyrax mammal)
The scents provided by these animal-derived ingredients can now be synthetically made or made from plants, so there is no reason for companies to continue using them! Perhaps the lab-made versions of these scents are not perfect replicas, but who would want these ingredients sprayed on their body anyway?
Let's take a look at some cruelty-free and vegan perfume brands!
Vegan Spray Perfumes
Pacifica is a completely vegan and cruelty-free company that creates beauty and body care products.
This spray perfume from Pacifica has a delectable blood orange scent infused with strawberry and raspberry notes. This product uses non-GMO corn grain alcohol and is formulated without parabens, phthalates, and propylene glycol.
Pacifica's perfume comes in a glass bottle and the top can be recycled. This spray-on perfume also comes in several other scents: Hawaiian Ruby Guava, Indian Coconut Nectar, Island Vanilla, French Lilac, Mediterranean Fig, Himalayan Patchouli Berry, Persian Rose, Sandalwood, Sugared Amber Dreams, and Tahitian Gardenia.
Check price of Pacifica Perfume Spray on Amazon.
British Rose Eau de Toilette is a vegan and cruelty-free perfume that has a light floral scent. The top notes of this fragrance are bergamot and tangerine. The heart notes include waterlily, rose water, and peony, while the base notes are peach, and musks (cruelty-free of course).
The Body Shop is 100% cruelty-free, but not all of their products are vegan. Because of this, you should always ensure that the specific scent you are interested in is vegan, by checking the Body Shop website.
The Body Shop vegan fragrances include: Indian Mist Jasmine Fragrance Mist, Coconut Eau de Toilette, British Rose Eau de Toilette, Fuji Green Tea Eau de Cologne, White Musk Flora Fragrance Mist, Indian Night Jasmine Eau de Toilette, White Musk Flora Eau de Toilette, Kistna Eau de Toilette.
Check price of The Body Shop British Rose Eau de Toilette on Amazon.
Clean Beauty creates several perfumes that are eco-conscious, vegan, and cruelty-free. Their website contains a list of ingredients that they avoid using in their products, which includes parabens, phthalates, and synthetic colors.
This company has 4 different perfume collections: Classic, Reserve, Reserve Avant Garde, and Space.
The Classic collection is very popular with casual and light scents that are long-lasting and great for everyday wear.
Clean Classic perfumes come in several different scents: Warm Cotton, The Original, Skin, Rain, Simply Clean, Flower Fresh, Shower Fresh, Fresh Laundry, Ultimate, Summer Day, Cool Cotton, Fresh Linens, Air, and Blossom.
Check price of Clean Classic Perfumes on Amazon.
Pinrose has several vegan and cruelty-free perfume sprays to choose from that contain no phthalates or parabens. They use high quality natural and synthetic ingredients that minimize harm to the environment and people.
Pinrose has a signature scent that is appropriately named Pinrose. It is a floral scent that contains a blend of Bulgarian rose, Turkish clove, and patchouli. Top notes in this scent are anise, elemi, and raspberry.
Check price of Pinrose Eau de Parfum Spray on Amazon.
This perfume spray by Kat Von D has got a combination of spice and sweetness. The heart of the fragrance includes cinnamon, vanilla, and white florals, and the base contains scents of vetiver, patchouli, and wood.
All Kat Von D products are completely vegan and cruelty-free, so you don't have to worry about what you are spraying on your body with this perfume.
If you don't want the spice that this perfume offers, try the Kat Von D Saint perfume, or get both! They complement each other nicely and can be layered.
Check price of Kat Von D Sinner Eau de Parfum on Amazon.
All products from Kierin NYC are vegan and cruelty-free. Their perfume bottles are made from recyclable glass and coated with white opaque paint to protect the fragrance from sunlight.
The Sunday Brunch eau de parfum is described as, "citrusy, cheerful and luminous." Key ingredients in this scent include Italian bergamot, lemon, earl grey tea, and jasmine. This perfume is formulated without phthalates or parabens.
Kierin NYC also has perfumes in the following scents: Santal Sky, Nitro Noir, 10 A.M. Flirt, and Rose Ink.
Check price of Kierin NYC Sunday Brunch Eau de Parfum on Amazon.
Ecco Bella is a cruelty-free company that has several vegan perfumes. Not all of the company's products are vegan as some contain carmine, however all of the perfumes are vegan!
The Ambrosia Eau de Parfum is created with Egyptian geranium, black currant bud absolute, and Bulgarian lavender. This calming scent also includes ginger, cardamom, clove, patchouli, and vanilla.
Other vegan perfume scents include: Bourbon Vanilla, Lavender, and Lemon Verbena.
Check price of Ecco Bella Ambrosia Eau de Parfum on Amazon.
Vegan Roll-On Perfumes
This roll-on perfume from Pacifica has a sweet, citrusy scent similar to jasmine, sweet orange, and tea leaves. Roll-on perfume is great for travel and this one is TSA friendly. It's also great to keep in your purse and easy to roll on wherever you are!
This perfume is free of parabens, phthalates, and propylene glycol.
Pacifica also makes roll-on perfume in the following scents: French Lilac, Hawaiian Ruby Guava, Indian Coconut Nectar, Island Vanilla, Persian Rose, Moonray Bloom, Himalayan Patchouli Berry, and Tuscan Blood Orange.
Check price of Pacifica Roll-On Perfume on Amazon.
This perfume combines Hinoki wood with notes of cedarwood and patchouli. It is available as a spray perfume or roll-on oil.
Maison Louis Marie creates candles, perfumes, and body care products, and is committed to being vegan and cruelty-free. They avoid adding toxic and environmentally harmful ingredients to their products, and they use synthetic ingredients when necessary. This helps to protect the planet from over-harvesting certain plants, avoid the use of animal products, and protect against allergens.
Maison Louis Marie products are all free of parabens, phthalates, sulfates, and other harmful ingredients.
Check price of Maison Louis Marie No.02 Perfume Oil on Amazon.
By Rosie Jane is a 100% vegan and cruelty-free company that makes several fragrances in the form of perfume, body oils, and candles.
The Tilly perfume oil is a roll-on perfume that combines scents of grapefruit, coconut, and gardenia. This perfume is free of parabens, phthalates, and BHT, and is packaged in 100% recyclable paper.
Check price of By Rosie Jane Tilly Perfume Oil on Amazon.
This roll-on perfume is a Mediterranean-inspired fragrance with a citrus, zesty scent. It includes notes of bergamot, neroli, grapefruit, blood orange, teakwood, and dewy rose.
Roll this vegan perfume onto your wrists, neck, and below the ears.
All of Skylar's fragrances are formulated without parabens, sulfates, phthalates, synthetic dyes, or common allergens. There are several scents to choose from in both spray and roll-on form that are all vegan and cruelty-free!
Check price of Skylar Capri Rollie on Amazon.
Perfume Spray vs. Roll-On
Trying to decide whether to get a spray or roll-on perfume? Check out the differences to help you make your decision:
Benefits of Spray Perfume:
Spray perfume often produces a stronger scent because the spray mechanism puts the perfume on a larger surface area.
Can be sprayed on clothing, blankets, pillows, etc. (depending on the specific product).
Many people find spray easier to apply because with roll-ons you may need to roll a few times to get it working and producing enough scent for your liking.
Benefits of Roll-On Perfume:
They are small and great for travel. Most are small enough to be brought on airplanes.
They fit nicely into your bag as well, so you can use them on the go throughout your day.
Easy to apply to specific areas. Roll-on perfume doesn't spray onto a large surface area like spray perfumes.
Great for testing perfume to see if you like it before purchasing a large bottle, because roll-ons often come in smaller quantities.
For more vegan and cruelty-free products, check out these articles: