This post contains affiliate links for which I may earn a commission (at no extra cost to you) should you make a purchase. As an Amazon Associate I earn from qualifying purchases. Please see my disclaimer for more information.
Check out this list of the best zero waste shampoo bars. They are all environmentally friendly and vegan!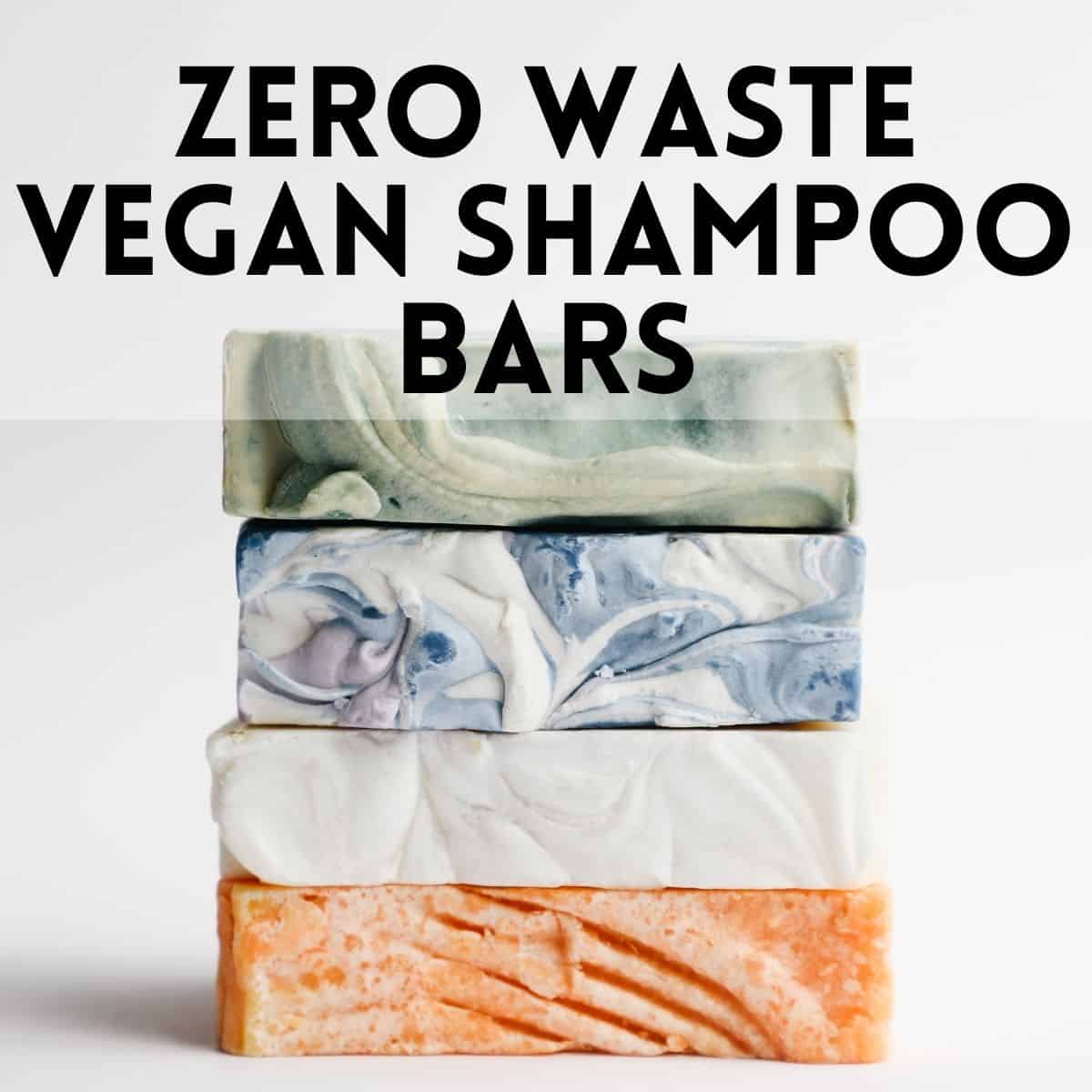 Why should you use a zero waste shampoo?
Shampoo often comes in bottles, and those bottles are almost always plastic. The problem with having plastic bottles is that most of them don't end up getting recycled and they pile up all over the planet including in the ocean. They then take hundreds of years to begin degrading, but even then, they will break down into small plastic particles that end up in the ocean causing problems for marine life and eventually human life too.
Zero waste shampoo bars are packaged without plastic in materials that are biodegradable, so they are much more environmentally-friendly!
Eliminating all plastic from your life may seem like too big a task to even think about right now, so that's why it's best to just take small steps. Change one thing at a time. Using a zero waste shampoo bar is a change that most people would be easily capable of making! If used and stored properly, these little bars will often last as long as or longer than a bottle of shampoo, so even though they seem expensive they may actually be more cost effective.
All of the shampoo bars on this list are zero waste according to the companies that make them, and they are also all vegan. Depending on where you purchase the product from and what company actually ships it, plastic may sometimes be used and it is really difficult to know for sure if that will be the case. Either way, buying a shampoo bar is a step in the right direction because that is one less bottle (or 2 or 3) that you are purchasing!
The Best Zero Waste Shampoo Bars
This hair sampler is my top choice because Ethique is a company that creates 100% vegan and zero waste body and hair care products.
They have several shampoo and conditioner bars for various hair needs.
If you aren't sure which one you want, try this sampler! It comes with 3 mini shampoo bars and 2 mini conditioner bars. It is perfect for anyone just starting out with shampoo bars because you get to test out 5 different products without paying full price for each!
The shampoo bars in this sampler are: Frizz Wrangler, Heali Kiwi, and St Clements.
The conditioner bars in this sampler are: The Guardian and Wonderbar.
Check price of Ethique Hair Sampler on Amazon.
All of Ethique's products and vegan and zero waste!
This Heali Kiwi shampoo bar is great for dandruff and itchy or sensitive scalps. It contains oatmeal and ancient ayurvedic oils.
This shampoo bar is very gentle and calming for the scalp, and it is pH-balanced.
Ethique states that their shampoo bars are equivalent to 3 bottles of liquid shampoo, which makes this a very cost effective option!
Check price of Ethique Heali Kiwi Shampoo Bar on Amazon.
This vegan shampoo bar from Valquer is sulfate-free and silicone-free. It is formulated with oats and aloe vera. The oats help to repair and strengthen hair fibers from within.
This shampoo bar of course comes in plastic-free packaging, as Valquer is dedicated to reducing plastic waste. This bar is also very concentrated and is produced with a minimal amount of water.
This bar is the "Family" shampoo bar, but you can also choose from the Dry Hair, Normal Hair, and Oily Hair bars. These bars are all vegan and zero waste.
Check price of Valquer Sunset Shampoo Bar on Amazon.
This shampoo bar from Pacific Spirit is designed for thin hair and has a natural citrus scent.
It is sulfate-free and vegan, and it contains fresh kiwi juice, argan oil, green clay, and broccoli seed oil. Argan oil helps to prevent hair breakage and add hydration. The broccoli seed oil works to moisturize and detangle hair and is rich in antioxidants and vitamins. This helps hair become stronger, thicker, and more radiant!
Pacific Spirit states that their shampoo bars last for approximately 100 washes. This is likely for short hair, so it of course won't last as long for longer hair, but this is still considered very long-lasting!
Check price of Pacific Spirit Green Paradise Shampoo Bar on Amazon.
This vegan shampoo bar has a fresh citrus scent that combines bergamot, tangerine, grapefruit, orange, lemon, and lime. It is good for any hair type, including color-treated hair.
This bar is formulated with cocoa butter to hydrate and coconut oil to strengthen hair and tame frizziness. It is free of parabens, alcohol, synthetic fragrances, lauryl sulfate, and phthalates.
This bar should last you 50-75 washes, depending on hair length and frequency of use.
Naples Soap Company also has several other shampoo bar scents to choose from that are all vegan and zero waste!
Check price of Naples Florida Fresh Shampoo Bar on Amazon.
This is a vegan shampoo bar that is sulfate-free, paraben-free, phthalate-free, and good for all hair types. This bar is formulated with jojoba oil and spirulina to strengthen your hair and leave it soft and shiny.
The packaging is completely plastic-free and biodegradable.
This company describes the scent of this shampoo bar as, "light, ocean breeze," which sounds incredibly refreshing!
Check price of Aerwyna Shampoo Bar on Amazon.
This vegan and cruelty-free bar is a combination of shampoo and conditioner. It comes in a biodegradable box making it very environmentally friendly.
This bar is made with coconut, sweet almond, jojoba oils, and aloe vera. It doesn't contain any parabens, sulfates, silicon, palm oil, or fragrance, so it is a fairly natural choice.
Check price of Yuve Organibar on Amazon.
This shampoo bar is free of sulfates, silicone, and parabens. It is vegan and safe for colored hair.
This shampoo bar is zero waste and it comes in nine invigorating scents. The Organic Matcha Green Tea bar is formulated with rosemary leaf extract, shea butter, ginseng root extract, and green tea extract.
This bar comes with a bamboo case as well so it is easy to store and travel with!
Check price of Charbon Noir Matcha Green Tea Shampoo Bar on Amazon.
This bar from Good Cube is a vegan 2 in 1 shampoo and conditioner bar. They have one for dry & damaged hair, one for normal hair, and one for oily hair.
The bar for dry & damaged hair has a refreshing bergamot and geranium scent. It is pH balanced and contains chia oil, harakeke, and shea butter for conditioning and nourishment.
This bar is good for about 100 washes depending on hair length and frequency of use. Just swipe the bar down the length of your hair a few times to get a lather going and store it away from water flow to ensure that it lasts a long time.
Check price of Good Cube Shampoo Bar on Amazon.
This vegan shampoo bar comes in several scents and formulations. The tea tree and hemp oil bar is perfect for itchy or flaky scalps and is free of added fragrance. It also contains almond oil to moisturize the hair.
This bar is gentle and safe for all hair types and is equivalent to approximately a 24 oz. bottle of shampoo.
All of J.R. Liggett's shampoo bars are free of synthetic oils, detergents, and sulfates.
Check price of J.R. Liggett's Shampoo Bar on Amazon.
This moisturizing shampoo bar contains castor oil, olive oil, and coconut oil. Lavender and tea tree essential oils promote hair growth and provide an invigorating scent to this bar.
Friendly points out that their shampoo bars are not great for colored hair, so you may experience some fade in color if your hair is dyed.
Check price of Friendly Soap Shampoo Bar on Amazon.
Crystal Cole makes handcrafted shampoo bars that are vegan and cruelty-free. They are also free of parabens.
These bars are 100 grams and last for 30-80 washes depending on hair length. Of course the shorter your hair, the less product you will need, so your shampoo bar will last longer.
The Lime Basil & Mandarin scented bar is enriched with blue mallow and chamomile infusions.
Check price of Crystal Cole Shampoo Bar on Amazon.
Transitioning to a natural, zero waste shampoo bar
Not every zero waste shampoo bar is what you would call "natural," but many are. It all depends on the ingredients in the bar though, so always check for chemicals such as sulfates, parabens, and phthalates to determine if the product is natural. If a shampoo bar doesn't contain any of these harsh chemicals, it would be considered "natural."
When switching to a shampoo bar with natural ingredients, some people notice that their hair is much more oily and greasy. This is what some people call a purge or transition period. You may also notice that your hair feels a bit waxy, but don't panic!
This transition may last a couple of weeks, but your scalp's oil production should balance out eventually. When using shampoos with harsh chemicals, your hair is stripped of it's natural oils. When using a more natural shampoo, your scalp continues producing the same amount of oil, but it is no longer being stripped away, hence the oily hair.
Should you use apple cider vinegar during the transition period?
This isn't necessary, but many people have said that this helps reduce waxy hair during the transition. Mix 2 tablespoons of apple cider vinegar with one cup of water and put this mixture on your hair after shampooing. Massage it in, leave it for a few minutes, then rinse. This will help remove any chemical residue from previous shampoos and balance your scalp's pH level.
How to Use and Store a Shampoo Bar
Using a shampoo bar is very simple!
Wet your hair.
Wet the shampoo bar.
Rub your hands over the shampoo bar. This will get a bit of a lather going before you put it on your hair. I also find doing this uses less product as opposed to rubbing the bar directly onto your hair.
Rub your hands over your hair, starting at the scalp and working your way down to the ends.
Rinse the shampoo out of your hair with water. Make sure you rinse very well as to avoid a lot of leftover residue on your hair.
Tips for storing your shampoo bar:
Storing your shampoo bar properly is very important. If you don't store it well, it will likely disappear quickly and you won't get many uses out of it.
Store it on an open tray. You don't want to trap your wet shampoo bar in a container with a lid after every use. It's best to let it air dry, so store it on something like a tray that you would use for a bar of soap or in a small container with no lid.
Store it away from a water stream. If your shampoo bar is on a shelf in your shower that gets wet every time the water is running, it's going to get smaller and smaller every time the water hits it, even when you aren't using it. If there is no shelf in your shower that completely avoids the stream of water, you should store it outside of the shower. A shelf elsewhere in your bathroom or in a cupboard is a good choice, and you will get used to grabbing it every time you shower (but you may forget it a few times in the beginning, which I know is super annoying).
Store your shampoo bar away from sunlight. If sunlight is regularly hitting your shampoo bar, it may melt.
Check out these other vegan product guides: