This post contains affiliate links for which I may earn a commission (at no extra cost to you) should you make a purchase. As an Amazon Associate I earn from qualifying purchases. Please see my disclaimer for more information.
Finding vegan shoes that are from completely vegan shoe brands can be a challenge. Not only do the materials used in creating the exterior and interior of the shoe need to be free of animal products, but the adhesive used in putting the shoe together also needs to be vegan.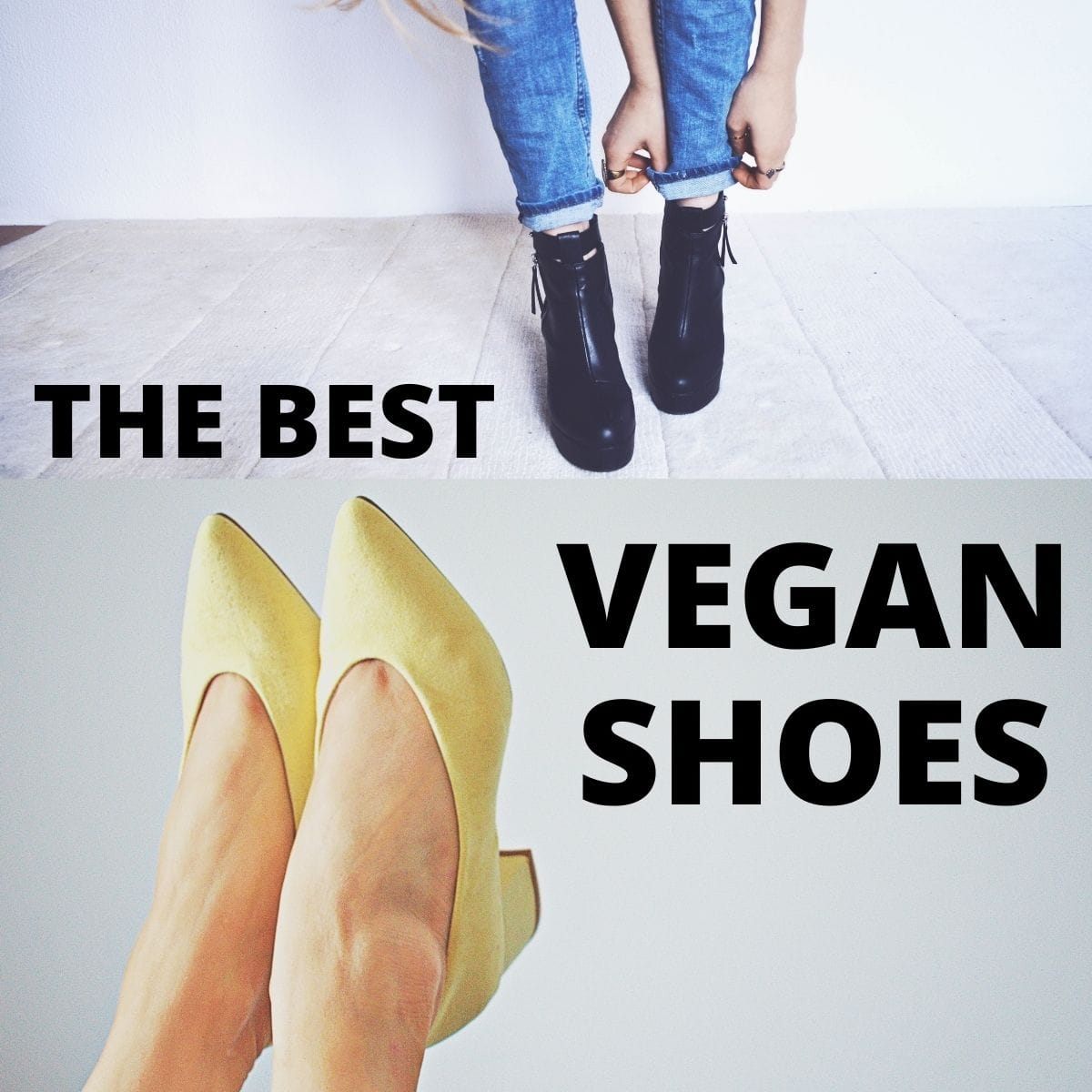 Many shoes use glue that contains animal collagen or other animal material, even if the fabrics used are vegan. To be sure that you avoid buying these shoes, I have compiled a list of shoe companies that are entirely vegan.
100% Vegan Shoe Brands
Nae (no animal exploitation) is a completely vegan shoe company based in Portugal. This company focuses on using eco-friendly materials and they of course don't use anything animal-derived.
They have a variety of shoe styles, including boots, sneakers, flats, heels, and sandals.
Nae has several men's and women's vegan sneakers to choose from, including the men's EFE Micro sneaker (seen above). This shoe has two zippers and is made with a water resistant microfiber.
Native only makes shoes that are completely vegan. They have several styles to choose from for men, women, and children.
The Jefferson shoe (seen above) is one of their most popular shoes. It comes in a variety of colors and is super lightweight. It is odor-resistant, slip-on, and easy to wash. They fit narrow, so size up if you have wide feet.
Check price on Native website.
Vessi is the best vegan shoe brand for rainy weather because their shoes are completely waterproof! They are also very breathable and lightweight.
The waterproof material contains pores to allow heat and moisture to escape while still being small enough to prevent water from getting in. These shoes are also environmentally friendly, as they use 30% less water than conventional shoe manufacturing.
Vessi currently has 4 shoe styles to choose from.
Check prices on Vessi website.
Call It Spring is a completely vegan brand that carries shoes, bags, and accessories. The company went vegan in Spring 2019 and is PETA-Approved.
They carry a variety of men's and women's shoe styles, including shoes for business, casual wear, and a night out!
They have many shoes to choose from, including the cute and comfy slides seen above.
Check out Call It Spring on Amazon.
Check out the Call It Spring website.
Ahimsa is a PETA-Approved Vegan shoe brand based in Brazil. On their website, Ahimsa's commitment states: "To question habits, inspire change, without harm, and with complete respect for all forms of life."
They have a variety of shoes to choose from for both men and women. They make boots, sandals, sneakers and more.
The men's Charles shoe (seen above) can be worn in a formal workplace setting or as a casual shoe. It is a light shoe that is great for daily wear.
Check price on Ahimsa website.
BC Footwear is a PETA-Approved Vegan company committed to eliminating animal-cruelty. Their website lists several vegan materials that they use in their shoes, such as cotton, raffia, jute, bamboo, and more.
The Fight For Your Right Ankle Boot (seen above) is perfect for casual street wear and looks great with a cropped jean.
Check price on BC Footwear website.
Divadi is another PETA-Approved Vegan company that uses 100% vegan materials in the construction of their shoes.
Their shoes come in beautiful colors and patterns, and for each pair sold, the company plants a tree in Vietnam.
The Love Slate shoes (seen above) have a velvety material and a casual everyday look.
Check price on Divadi website.
Matt and Nat is a vegan brand that is known for their handbags, but they also sell footwear. Their range of shoes includes boots, flats, heels, sandals, and sneakers.
Check out the Matt and Nat website.
Will's Vegan Store is a fashion and shoe company that is committed to being forever vegan. All of their products are registered by the Vegan Society.
Will's Vegan Store is committed to sustainability and they ship every order without any plastic packaging.
There are many shoes to choose from, but the Smart Sneakers (seen above) are a classic choice. They are constructed with Italian vegan leather made from plants and they are breathable and water resistant.
Check price on Will's Vegan Store website.
PAWJ is a PETA-Approved Vegan company that specializes in making warm, fuzzy boots without the use of animal skins or furs.
The Short Boot (seen above) comes in several colors and they have a soft faux-fur lining with synthetic suede on the exterior.
Risorse Future is a vegan shoe company based in Italy. They are certified by the Vegan Society and PETA-Approved Vegan. Their shoes are made with mostly water resistant hemp and unbleached cotton.
The Winter Scout sneaker (seen above) is made with hemp and also has cotton laces and a cotton inner lining. They are breathable and comfortable, making them perfect for casual wear!
Check price on Risorse Future website.
What are Vegan Shoes Made From?
First, let's go over some common shoe materials that are not vegan so you know what to avoid. Vegan shoes are made without:
Leather
Wool
Suede
Silk
Furs
Animal-based glues
Vegan shoes often look like they are made with some of these materials because they often use synthetic leather, suede, etc.
Some common materials used for vegan shoes are:
Synthetic microfibers
Polyurethane (PU)
Ethylene-vinyl acetate (EVA)
Rubber
Hemp
Cotton
Canvas
Cork
These are just some common examples of materials used by the companies on this list, but there are even more! And with these vegan materials, you can't even tell the difference from non-vegan shoes.
They function the same, so why not buy vegan shoes?
If you are committed to being vegan, you may also want to check out the following lists: