This post contains affiliate links for which I may earn a commission (at no extra cost to you) should you make a purchase. As an Amazon Associate I earn from qualifying purchases. Please see my disclaimer for more information.
If you're vegan, you have probably noticed that many beauty and hygiene products are not.
Finding a good quality vegan deodorant can be particularly difficult, so I've done the research for you and compiled a list of deodorants that are completely vegan and cruelty-free.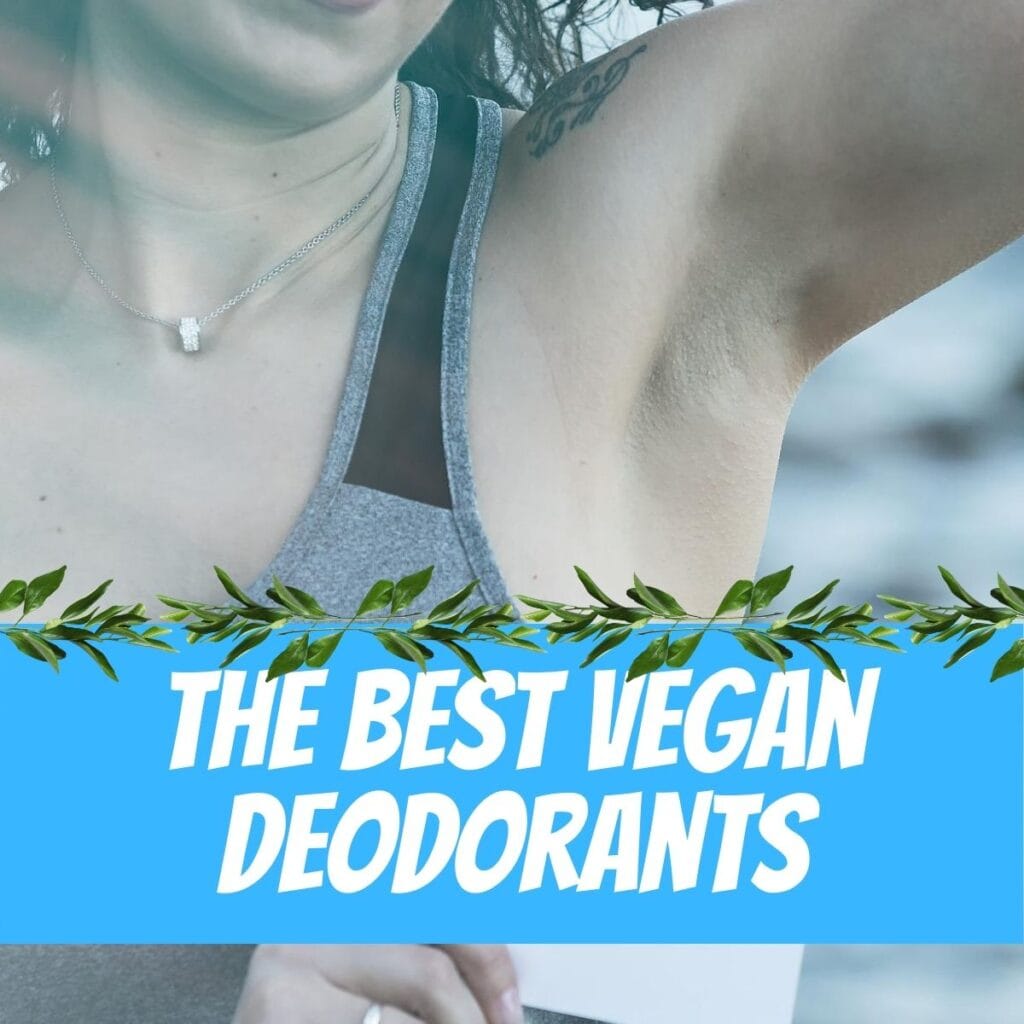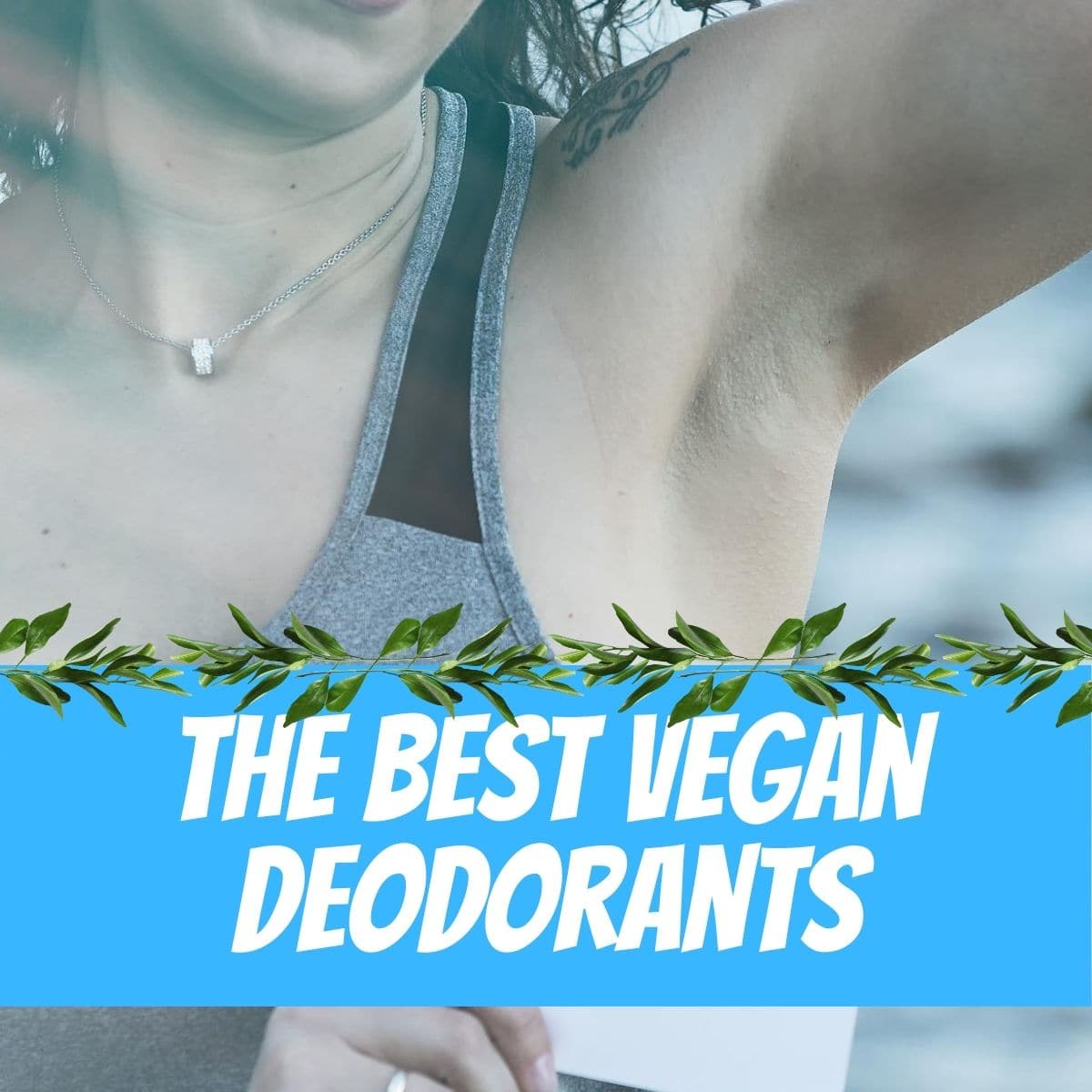 What is the difference between antiperspirant and deodorant?
First, let me make it clear that every item on this list is a deodorant and NOT an antiperspirant.
I used to think that antiperspirant was just a fancier way of saying deodorant, but they are actually two different things!
Antiperspirants plug sweat pores to stop us from sweating. They are also often combined with deodorant to prevent bad odour.
Aluminum is the active ingredient in antiperspirants that blocks sweat glands and prevents or reduces sweating. Aluminum can be absorbed through the skin, and there are some potential health concerns related to aluminum. There seem to be no definitive answers (further research is needed) as to how dangerous it may or may not be, but many people choose to avoid it to stay on the safe side.
Even if aluminum doesn't pose any great threats, wouldn't you just prefer to not have chemicals seeping into your body and blocking a normal and necessary bodily function such as sweating?
Unlike antiperspirants, deodorants do not stop us from sweating. They work to eliminate odour by targeting the smelly bacteria in armpits.
You may not enjoy getting all sweaty, but it is a normal and important process. It rids our bodies of toxins and regulates body temperature by cooling the body down when it is too hot.
So, all of the deodorants listed below are free of aluminum and will not stop you from sweating, but they will help mask any bad odours your body produces from sweating!
This natural deodorant is designed specifically for people with sensitive skin. It comes in 12 different scents and contains no aluminum, no parabens, no synthetic fragrances, and no baking soda. Numerous positive reviewers have stated that this deodorant keeps them smelling great all day.
This environmentally friendly company has a cool recycling program in place as well. If you collect 5 of their empty deodorant containers, you can ship them back for free and they will recycle them and send you a free travel-size deodorant as a gift!
Ehique is a company that has a strong focus on sustainability and zero waste. All of their products are vegan, cruelty-free, and palm oil-free. They also ensure that all of their products are made using biodegradable ingredients and compostable packaging.
Even without a container, this deodorant bar is easy to apply and it comes in a full or mini size. These deodorant bars are made without aluminum or baking soda and they come in 3 scents: Lavender & Vanilla, Lime & Eucalyptus, and Unscented.
This deodorant is free of aluminum, parabens, synthetic fragrance, phthalates, and propylene glycol. Instead, it contains all the good stuff such as Vitamin E, shea butter, and jojoba oil, and tapioca starch is used to avoid moisture when you sweat.
The company states that their deodorants last 2-3 months and they come in 4 refreshing scents: Bergamot Lime, Cedar Spice, Cooling CocoMint, Grapefruit Lemon.
Check price for Breathe Naturals.
Vasarii nakd. Thai Crystal Deodorant
This vegan deodorant is made of 100% premium crystallized natural mineral salts from Thailand. This means it is free of aluminum, parabens, petroleum, alcohol, and perfumes. The company states that the regular size (120 g) can last up to an entire year of daily use. It is fragrance free, dries instantly, and does not stain clothing!
Woohoo! All-Natural Deodorant Paste or Stick
Woohoo! produces natural deodorant in stick and paste form with 100% recyclable packaging. There are 4 versions available in both stick and paste form: Urban, Surf, Wild, and Mellow. Mellow is designed specifically for those who have sensitive skin, and it is formulated without baking soda or essential oils.
All of these deodorants are made without aluminum, phthalates, and parabens. They are clear (no stains!) and should last about 3-4 months.
Schmidt's Natural Deodorant Stick or Jar
Schmidt's creates natural deodorant in stick or jar form and they are all free of aluminum, parabens, and phthalates. These deodorants come in a variety of scents (too many to name!) and they are scented with essential oils.
There are two different formulas: the signature formula and a sensitive formula (for sensitive skin).
Pack & Leaf Natural Deodorant Stick
Pack & Leaf makes natural deodorant that is zero waste. The deodorant comes in compostable packaging and the container for the stick is a biodegradable cardboard push up tube! This deodorant comes in 2 scents and you can buy a set with a regular size and a travel size tube that will last 4 months combined.
These deodorants contain no aluminum, parabens, phthalates, triclosan, synthetic fragrance, alcohol, soy, or talc.
A La Maison de Provence Deodorant
A la Maison de Provence makes 5 different deodorants, 4 of which are scented and 1 that is unscented. They claim that none of their fragrances are overbearing and all were developed with sensitive skin in mind.
These deodorants contain no SLS, aluminum, phthalates, or parabens.
Check price for A La Maison de Provence.
This company creates 3 different formulas of natural vegan deodorant: clean deodorant balm, gentle deodorant cream, or active deodorant balm. All of these formulas are available in full or mini size. The mini is great for testing to see which formula you prefer!
The clean deodorant balm is formulated for everyday use on all skin types.
The gentle deodorant cream is for sensitive skin (made with no baking soda).
The active deodorant balm is for occasional use when you need it most (like for an intense workout!).
Check price for The Natural Deodorant Co.
Do your armpits detox when switching to natural vegan deodorant?
If you have been using an antiperspirant that blocks your sweat pores every day for years, you will likely notice some changes when you switch to a natural vegan deodorant.
The transitional detox phase typically lasts anywhere from 2-4 weeks. During this time, you may actually smell worse because the aluminum plug from your antiperspirant is being removed and releasing bacteria.
Because of this transitional period, you need to give your new deodorant a few weeks to really start working for you. Give it a chance! Many people will say that natural deodorant doesn't work and will stop using it after only a few days, before they have even gotten through the transition from antiperspirant to deodorant.
You will likely also be sweatier because deodorant will not block your sweat glands and stop you from sweating.
To speed up the detox process, clay and charcoal masks can be put on the armpits to remove a buildup of antiperspirant. This Pacifica Underarm Detox Scrub is a great choice.
Also keep in mind that using any new products on skin could cause irritation. Every body is different and some people have more sensitive skin than others. Baking soda and essential oils can cause irritation, but they help with scent, so you have to find what works best for you. Some deodorants on this list are formulated without these ingredients to help those with super sensitive skin, but you may be totally fine with baking powder and essential oils.
I suggest trying out some deodorants on this list to see which one works best for your body!
For more vegan products check out these articles: