This post contains affiliate links for which I may earn a commission (at no extra cost to you) should you make a purchase. As an Amazon Associate I earn from qualifying purchases. Please see my disclaimer for more information.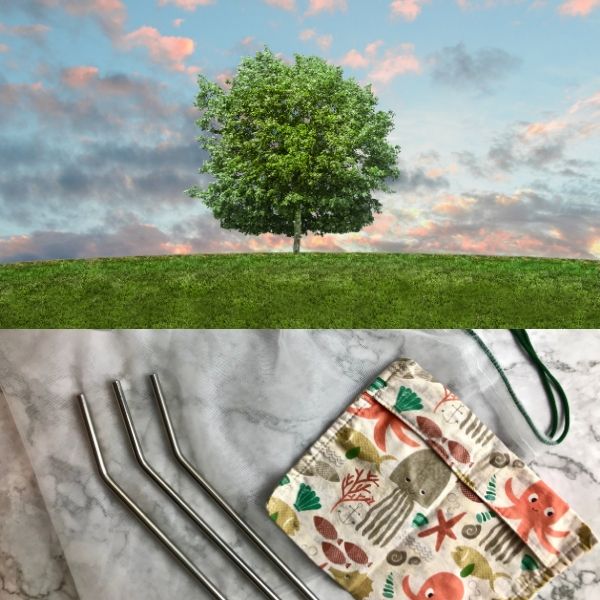 Here is a list of highly rated eco-friendly kitchen products that you can consider using at home and on the go! These items provide an alternative to many commonly used plastic and/or disposable kitchen items.
It may not feel like you're making much of a difference if you use stainless steel straws and ditch plastic snack bags, but every change you make is a positive contribution to our planet!
The best eco-friendly kitchen products
A reusable travel mug is a must-have for eco-friendly coffee lovers. This travel coffee tumbler from Drinco comes in a variety of colors and will keep your drink either hot or cold.
You can bring this into a coffee shop and ask them to fill it instead of using one of their disposable cups. You can also fill it with water throughout the day instead of buying plastic water bottles!
There has been so much talk over the past few years about the detrimental effect that plastic straws can have on the environment and marine life. Stainless steel straws are a great eco-friendly alternative because you can use them over and over again.
This set is super easy to wash as well because it comes with two brushes that are perfectly sized for these specific straws. This pack comes with straight and curved straws of various sizes. They even come with a bag so you can bring a straw with you when you go out!
These reusable produce bags are a great alternative to the plastic bags found in grocery stores. They are machine washable and have drawstrings to close them and prevent your fruits and vegetables from falling out.
They also come in three different sizes! They even have tare weight labels so that the weight of the bag can easily be deducted at checkout.
Disposable plastic bags are out and reusable bags are in! Some stores no longer even offer plastic bags, so it's important to bring your own reusable ones.
Reducing your use of plastic bags will have a positive impact on the environment. This set comes with 10 reusable bags and another zipper bag to store them in.
These bags are strong and can hold up to 50 pounds, and are machine washable. They can be stored in small places such as a purse or bag, as they have a built-in elastic so you can roll them and hold them in place.
These snack bags are made of waterproof fabric, allowing you to reuse them and reduce your plastic waste.
Fill them with sandwiches, fruit, cookies, chips, etc. The fun pattern makes these great for kids to take to school, but they are also useful for adults who need to pack food for work.
This set comes with three snack bags, all in different sizes (large, small, and mini). Each of the bags has a zipper closure to prevent contents from spilling out and to keep food fresh.
These bags can be easily washed by simply flipping them inside out and wiping them down.
Using disposable coffee filters causes unnecessary waste, but there is a solution!
These coffee filters can be used for months before a replacement is needed. They are super easy to clean too; simply rinse them out with hot water and hang them up to dry.
A Keurig can be super convenient if you live alone and only need one cup of coffee at a time. The problem is that those little coffee pods never decompose and many people use a new one every day.
Instead of adding more disposable coffee pods to landfills, you can try out these reusable ones. These K-cups are compatible with various Keurig models, and using this eco-friendly kitchen product will help you reduce waste and save money!
Many people want to reduce their use of paper towels, but sometimes you feel like you need one to clean up a spill, or wipe the counter without dirtying one of your dish towels.
These reusable paper towels are the perfect eco-friendly solution! They look like regular paper towels, but they can be washed in your machine up to 85 times!
This pack comes with two rolls, each containing 20 sheets. These will last you a very long time. Simply throw them in the machine when they are dirty, then hang to dry.
These covers can be used in place of paper towels to cover plates and bowls in the microwave to prevent splatter. They are super versatile as well!
They can be sealed onto bowls and containers to act as lids, reducing the use of plastic wrap and aluminum foil. These covers come in a pack with five different sizes of varying colors, so they can be fit to various dishes.
This small travel set of utensils comes with a fork, a spoon, a knife, one set of chopsticks, and a bag for travel and storage.
You can easily keep this travel set in a backpack or purse so that you have it with you when you eat out. If you stop at a food truck or a fast-food restaurant that only provides plastic disposable utensils, you can use your bamboo utensils instead!
They can be put back in the travel bag after use so that they don't dirty other things in your purse or backpack, then you can wash them at home later.
If you need some more containers for food storage after a batch of meal prepping, buy these glass ones instead of purchasing plastic containers.
The lids lock on to prevent leaks and spills, and to maintain freshness. The glass allows you to safely heat these containers in the microwave, so you can pack lunches and heat them up at work or school!
These are the most eco-friendly food containers I have found, because they are completely plastic free. Even the lids have no plastic!
The containers are glass and the lids are made of bamboo with silicone to create a seal. This set of containers comes with four different sizes. Use them to pack snacks and lunches, and feel good about reducing your plastic use!
More eco-friendly products: