This post contains affiliate links for which I may earn a commission (at no extra cost to you) should you make a purchase. As an Amazon Associate I earn from qualifying purchases. Please see my disclaimer for more information.
Looking for ways to be more eco-friendly? Switching to a plastic-free laundry detergent is super easy and there are many options to choose from!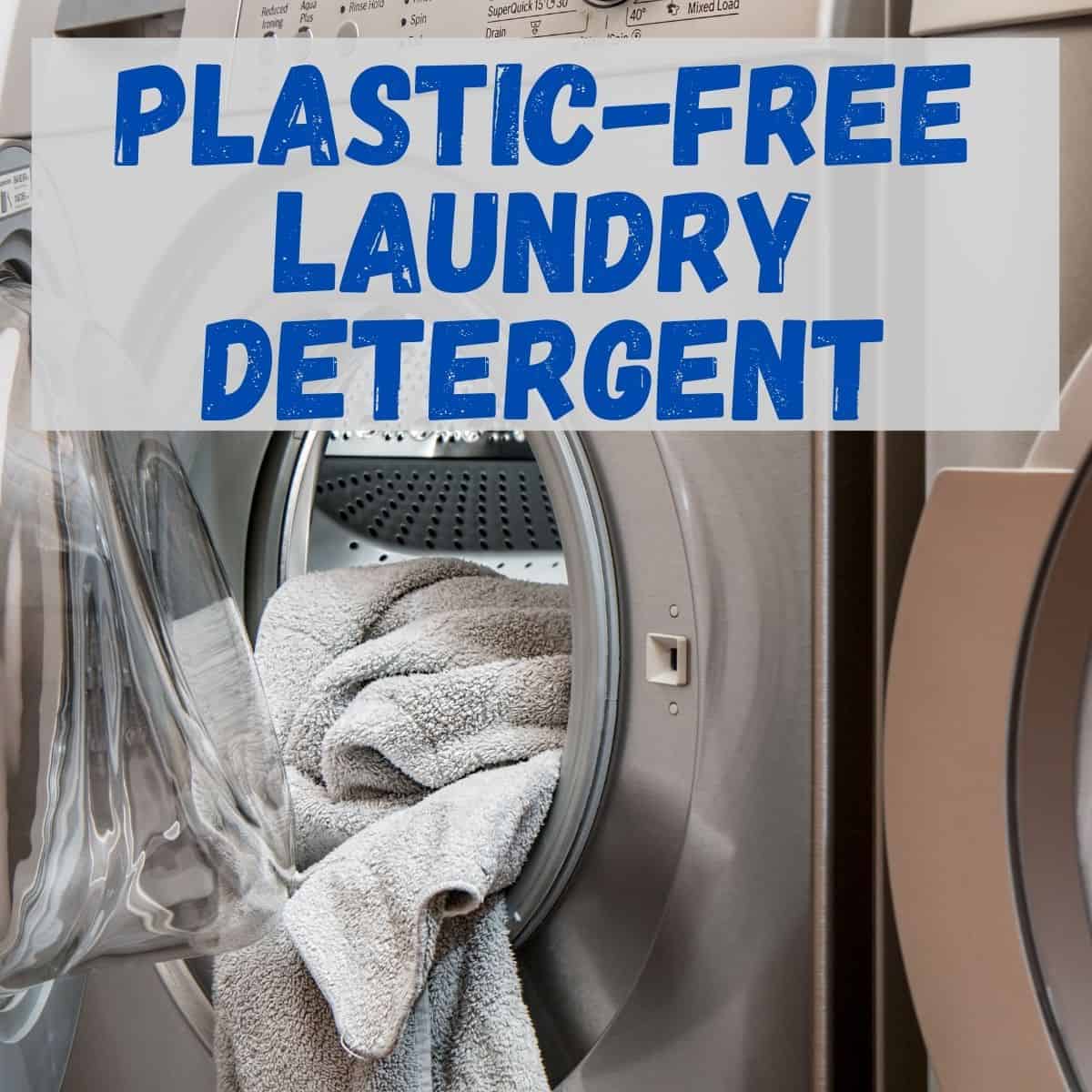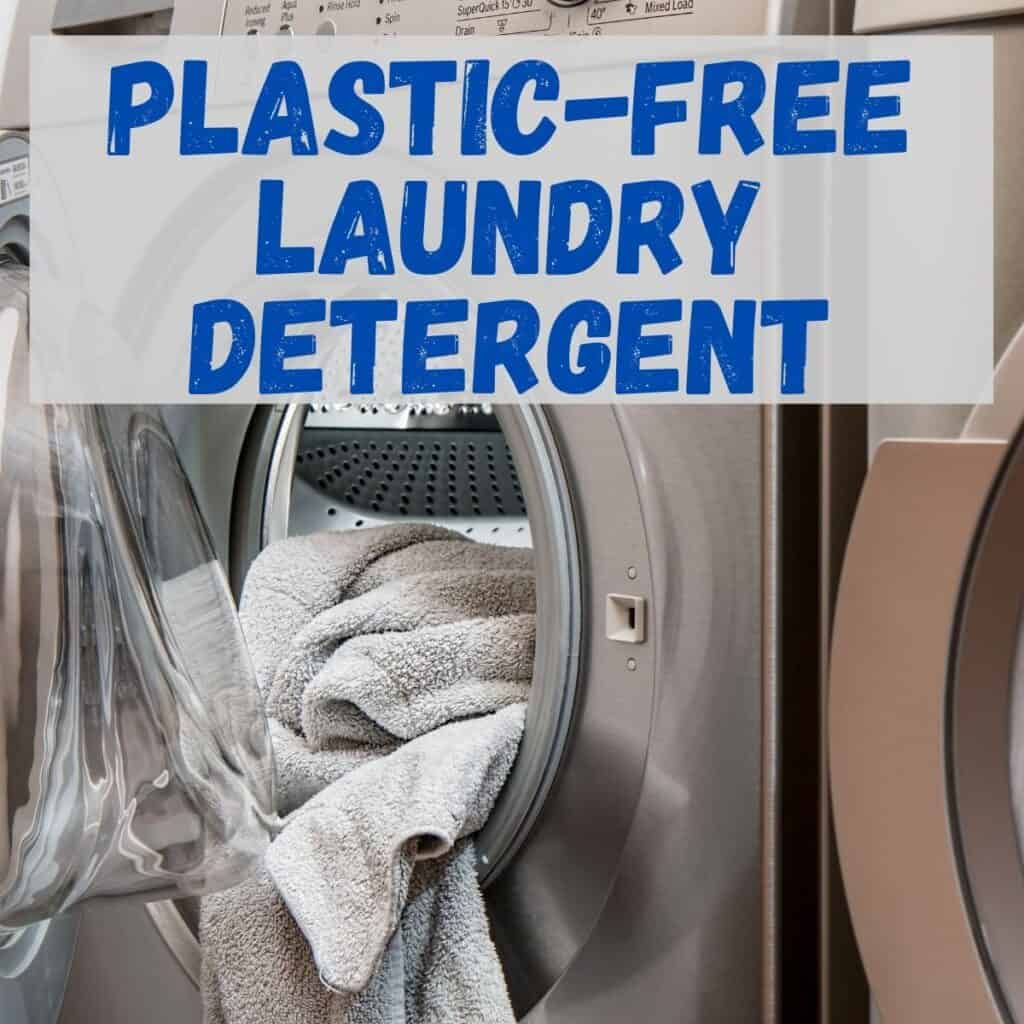 Why You Should Use a Plastic-Free Laundry Detergent
Several billion loads of laundry are completed every year just in North America. Imagine all of those plastic jugs being bought and then thrown out over and over and over. Hundreds of millions of plastic laundry jugs are tossed in the garbage every year and they continue to pile up in landfills, as many of these jugs are not recycled.
There is a lot of talk about going zero-waste and many people turn away from the idea because it seems too unattainable. Being completely zero-waste would be a difficult and drastic change for many people, so don't try to do it all at once. Just focus on being lower-waste than you are right now. Make small changes. Changing your laundry detergent is a pretty simple and easy switch for most people.
But Isn't Low/Zero Waste Laundry Detergent More Expensive?
The answer to this question is both yes and no. It depends on what type and brand of detergent you buy. Some are definitely more expensive per load of laundry, but some options on this list will last you hundreds of loads, so they actually end up being cheaper than a jug of liquid laundry detergent.
For example, Eco Nuts Soap Berries can be used multiple times and one pack will last you 100 washes!  
The Best Eco-Friendly and Plastic-Free Laundry Detergents
Take a look at this list of plastic-free laundry detergents that are all cruelty-free and vegan!
Format: Strips
Loads per package: 32
Tru Earth is an eco-friendly company that makes laundry strips. These laundry strips are filled with liquid-less laundry detergent and are super easy to use. You just toss a strip into the wash!
Tru Earth laundry strips are hypoallergenic and work in all types of washing machines. They are also paraben-free, phosphate-free, free of added dyes, free of chlorine bleach, and biodegradable!
Tru Earth is dedicated to the health of our environment, as they use zero plastic in their packaging and the product's light weight reduces transportation pollution by 94% compared to leading-brand liquid and powder detergent. The average liquid detergent for one load of laundry weighs about 40 grams, while a Tru Earth Eco-Strip weighs less than 3 grams.
Added benefits: These strips take up less space in your home than a jug of liquid detergent, and they aren't messy at all. No dripping liquid!
Check price of Tru Earth Eco-Strips on Amazon.
Format: Powder
Loads per package: 128 or 512 (for HE machines)
This detergent from Meliora is a powder that comes in a steel canister and is vegan and cruelty-free.
It does come with a scoop (only if you want it), but the scoop is metal so there is no plastic! You can get the scoop with your first order (if you choose the steel canister), then you can get re-fills in paper bags without a scoop!
This laundry powder is free of synthetic fragrances, dyes, preservatives, and brighteners.
Scents include: Unscented, Lavender, Lemon, Lemon-Lavender-Clove, and Peppermint.
You can purchase this laundry powder in 2 different sizes: 128 High Efficiency loads or 512 High Efficiency loads. The number of standard loads would be halved because a standard load requires double the amount of powder.
Check price of Meliora Laundry Powder on Amazon.
Format: Bar
Loads per package: Unspecified - not suitable for machines
This laundry bar is not suitable for washing machines, but it's great for hand-washing clothing. It can also be used to wash dishes and hands. Ethique suggests taking this bar on vacation for hand-washing items or taking it camping. It's perfect for when you don't have access to a washing machine!
This bar is made with 100% biodegradable ingredients, and contains pure essential oils and white Kaolin clay.
Ethique is dedicated to zero-waste packaging for there array of home and body care products.
Check price of Ethique Laundry Bar on the Ethique website.
Format: Pods
Loads per package: 56, 140, or 210
These laundry detergent pods come in packages of 56, 140, or 210. The pods are individually wrapped in dissolvable polyvinyl alcohol, and they come in a compostable cardboard box. Most laundry pods come in large plastic containers, so this is the best option if you want pods.
These pods can be used in standard, high efficiency, front load, and top load washing machines. They also work in any temperature of water.
Dropps laundry pods come in various scents: Unscented, Fresh Scent, Clean Scent, and Lavender Eucalyptus. There are also two different formulas: Sensitive Skin and Stain + Odor.
All Dropps pods are dye-free, phosphate-free, phthalate, paraben-free, optical brightener-free, and cruelty-free.
You only need to use one pod per load of laundry. Just toss it in, then add your laundry!
Check price of Dropps Laundry Pods on Amazon.
Format: Soap berries
Loads per package: 100
Eco Nuts are dried berries from a tree that grows in the Himalayas. These berries produce a surfactant called saponin when they are shaken in water, allowing them to clean your laundry! They are super simple to use and all-natural.
To use, just place 4-5 Soap Berries in a cloth bag and toss it in the washer with your laundry. Each berry can be saved and re-used up to 10 times.
Eco Nuts Soap Berries act not only as a detergent, but as a fabric softener as well, so your clothing will come out clean and soft!
What I love about it: This is a very affordable option! One package of soap berries will last you 100 loads of laundry. Soap berries are also the most natural choice.
Check price of Soap Berries on the Eco Nuts website.
Format: Bar that you turn into liquid
Loads per package: 256
This vegan and zero-waste laundry paste from Waste Free Products is super unique because it comes in the form of a solid bar that you then add to water on your own, to turn it into a liquid laundry detergent!
You just need to add the bar to water in a container of your choosing and allow it to dissolve overnight. Then it is ready to use just like any other liquid laundry detergent! Use 0.5 – 1 ounce of detergent per load of laundry. The box lists paste to water ratios (use either a piece of the bar or the whole thing at once). The entire bar of paste requires one gallon of water, but you can mix smaller amounts multiple times if you prefer using a smaller jar to save space.
This laundry paste is incredibly cost effective because it will last you up to 256 loads of laundry.
This zero-waste laundry detergent is great for sensitive skin and it works as a fabric softener as well.
Check price of Tangie Laundry Paste on Amazon.
Format: Sheets
Loads per package: 32
These laundry sheets used to come in a plastic package, but now come in a cardboard package, making them completely plastic-free. They are vegan and cruelty-free as well.
Just add one sheet to your washing machine, and it will dissolve and wash your laundry! This little package of laundry sheets is a great way to save space and of course it's way more environmentally friendly than a huge plastic container.
You can use these sheets in all washing machines, with hot or cold water. Beyond also states that these strips work well for hand-washing items.
Check price of Beyond Laundry Detergent Sheets on Amazon.
Format: Tablets
Loads per package: 40
Blueland makes vegan and cruelty-free laundry tablets that come in a steel tin. They are NOT individually wrapped in plastic, so this laundry detergent is completely plastic-free!
The tablets are fragrance-free, and they work in both standard and HE washing machines.
You only need to buy the tin once, then you can get re-fills in a paper bag and add them to your tin yourself.
Blueland Laundry Tablets are free of chlorine bleach, petroleum, parabens, phosphates, and artificial dyes and fragrances.
Check price of Blueland Laundry Tablets on the Blueland website.
Types of Laundry Detergent
Laundry detergent comes in various forms. It can be difficult to decide what type of detergent is best for you, but some things to consider include your preference, the price, and how environmentally friendly the product is. Here are descriptions of the most common forms of laundry detergent:
Liquid detergent is probably what most people still use, but I would say it's the worst choice. I have yet to find an eco-friendly liquid laundry detergent that comes in a plastic-free package. Liquid also creates more of a mess and the large jug takes up a lot of space.
Powdered laundry detergent comes in packaging that is sometimes plastic-free, and sometimes not, depending on the company. This list contains some powder options that are low waste and plastic-free, such as Meliora. Powder is easy to use (just toss it in the drum of your machine), but it is still quite heavy and takes up more space than some of the other options on this list.
It is one of the cheaper choices when it comes to plastic-free laundry detergent because you get a large quantity that will last you many loads.
Bar laundry detergent is compact and easy to travel with. Many bar detergents come in a cardboard box which is much more environmentally friendly than a plastic jug. Some bars are mixed with a large amount of water to create your own liquid detergent at home, such as Tangie.
Laundry sheets are becoming super popular right now. They often come in cardboard packaging and you simply toss one sheet in with your laundry. Tru Earth has fantastic laundry sheets that are a great space saver and are totally mess-free.
The downside to laundry sheets is that they are more expensive. The sheets on this list come in packages of only 32 and they are quite costly. If you do a lot of laundry, this may not be the best choice for you.
Tablets are small solid pieces that break down in water to wash your laundry. Many are individually wrapped in plastic, but Blueland makes great laundry tablets that are entirely plastic-free. These are super easy to use, however they are one of the more expensive options because tablets often come in small quantities that won't last you too long if you do your laundry often.
Laundry pods are little packets of liquid detergent, often wrapped in dissolvable plastic called polyvinyl alcohol (PVA). Pods aren't the greatest choice for eco-friendliness, but Dropps makes pods that come in a cardboard box, and since the PVA does dissolve, it isn't a terrible choice. Still way better than liquid in a plastic jug, but many pods unfortunately come in plastic containers, so try to avoid those brands.
Final Thoughts on Plastic-Free Laundry Detergent
Every detergent on this list is a great choice, but here are the cheapest per load, and the most natural:
Cheapest Laundry Detergent:
1st Place: Tangie Laundry Paste
2nd Place: Meliora Laundry Powder
Most Natural Laundry Detergent:
Looking for more zero-waste products? Check out this list of zero-waste and vegan shampoo bars.