This post contains affiliate links for which I may earn a commission (at no extra cost to you) should you make a purchase. As an Amazon Associate I earn from qualifying purchases. Please see my disclaimer for more information.
Collagen is the most abundant protein in the human body, and it is important for the health of our skin, joints, bones, and more. Our production of collagen decreases as we age, so some people look for a collagen supplement.
Vegan collagen supplements don't really exist because collagen is produced in humans and animals (not plants), but there are several vegan collagen-boosting supplements that enhance your body's ability to create and protect more collagen of its own.
Whether you are vegan or plant-based, you will find a vegan collagen supplement that's perfect for you on this list!
Best Vegan Collagen Boosting Supplements
All of Future Kind's products are vegan and cruelty-free.
They make a Vegan Collagen Booster that revitalizes your hair, skin, nails, and joints. This supplement contains 16 collagen-boosting nutrients that protect and promote your body's natural collagen production.
Future Kind was started by two brothers who wanted to create a sustainable supplement brand. They focus on using packaging that is as environmentally friendly as possible.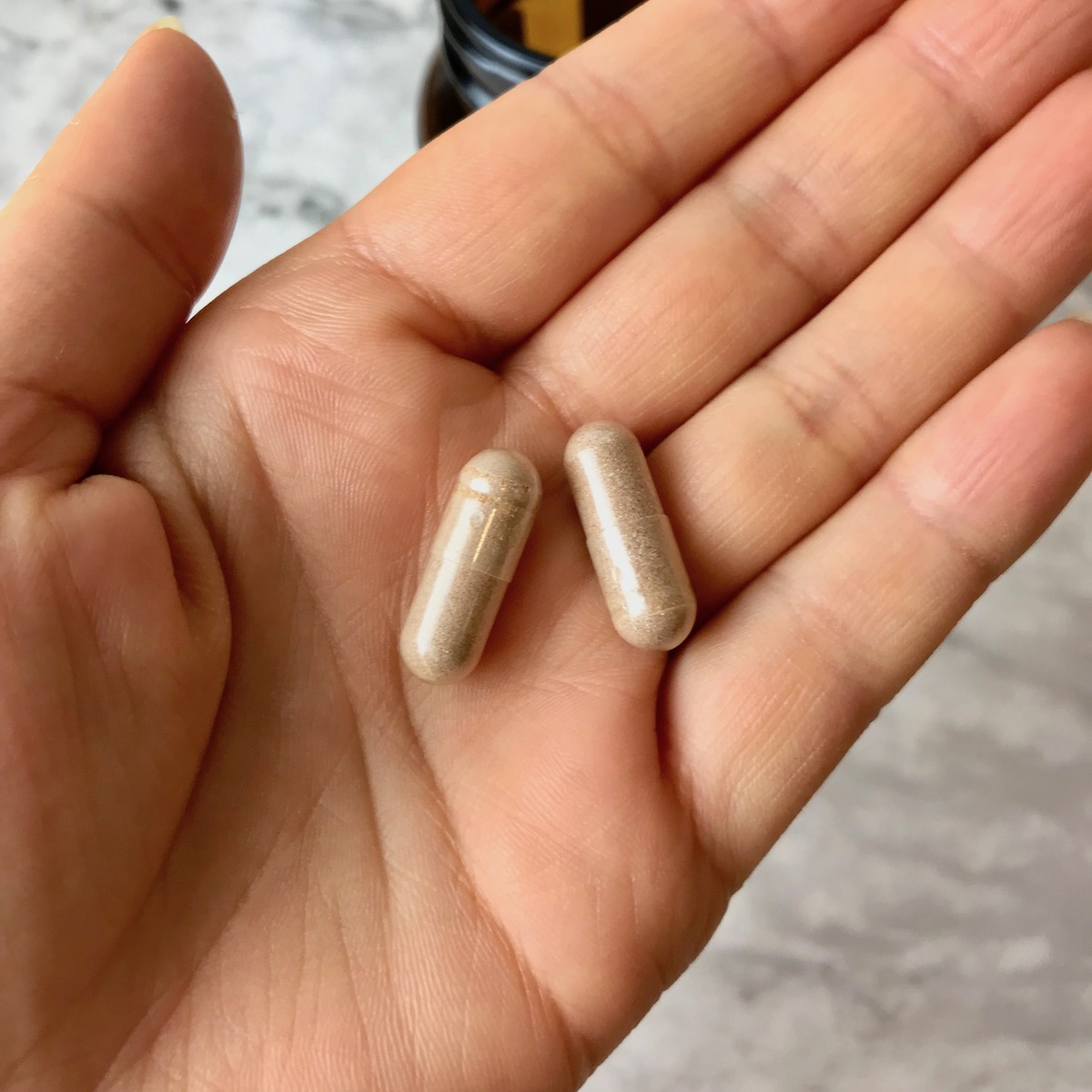 Form: Capsule
Key ingredients: Vitamin A, Vitamin C, Vitamin E, Folate, Biotin, Zinc, Grape seed extract, Amla extract, Aloe vera plant extract, Silica.
Servings: 30
Free from: GMOs, gluten, yeast, soy, sugar, salt, animal derivatives, artificial colors, preservatives.
Ora Organic creates ethically sourced supplements that are made with 100% plant-based ingredients. All of their products are vegan, non-GMO, gluten-free, soy-free, and dairy-free.
Their vegan collagen booster comes in powder form and you can choose from 3 flavors: vanilla, peanut butter, or chocolate.
The recommended serving suggestion to consume this collage powder is to mix one scoop with 4 ounces of water or plant-based milk, or to add it to a smoothie.
The ingredients in this collagen-boosting supplement are exactly what you need to enhance your body's natural collagen-making ability.
Ora Organic has an explanation on their website as to why and how the nutrients in this product are helpful in boosting your body's collagen production.
Form: Powder
Key Ingredients: Organic pea protein, Organic acerola cherry extract, Organic aloe vera gel powder, Organic bamboo whole plant extract, Vitamin E.
Servings: 20
Free from: GMOs, gluten, soy, dairy, animal derivatives.
PlantFusion creates 100% plant-based products to give you all the nutrients you need.
Their collagen builder helps to build collagen in your body with amino acids and several other ingredients such as Saberry amla fruit extract and ceramides. These ingredients hydrate your skin, joints, hair, and nails.
This collagen builder comes in powder form with 3 flavor options:
Creamy Vanilla Bean
Rich Chocolate
Natural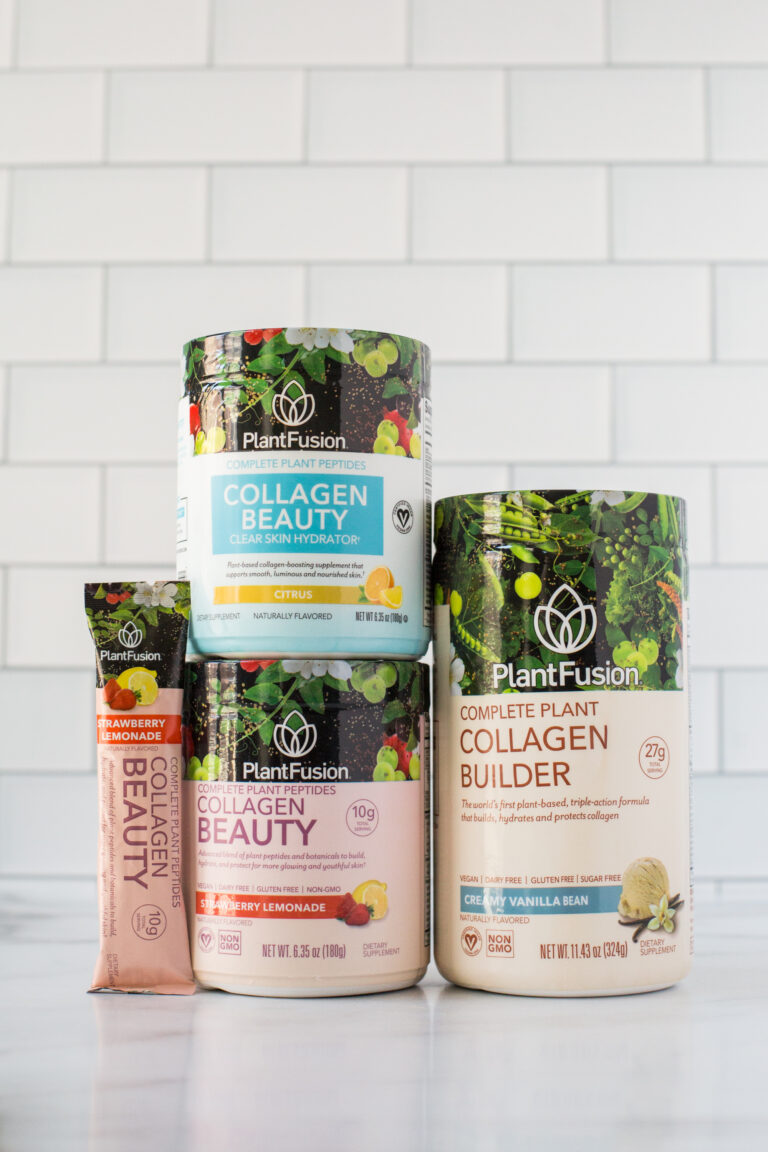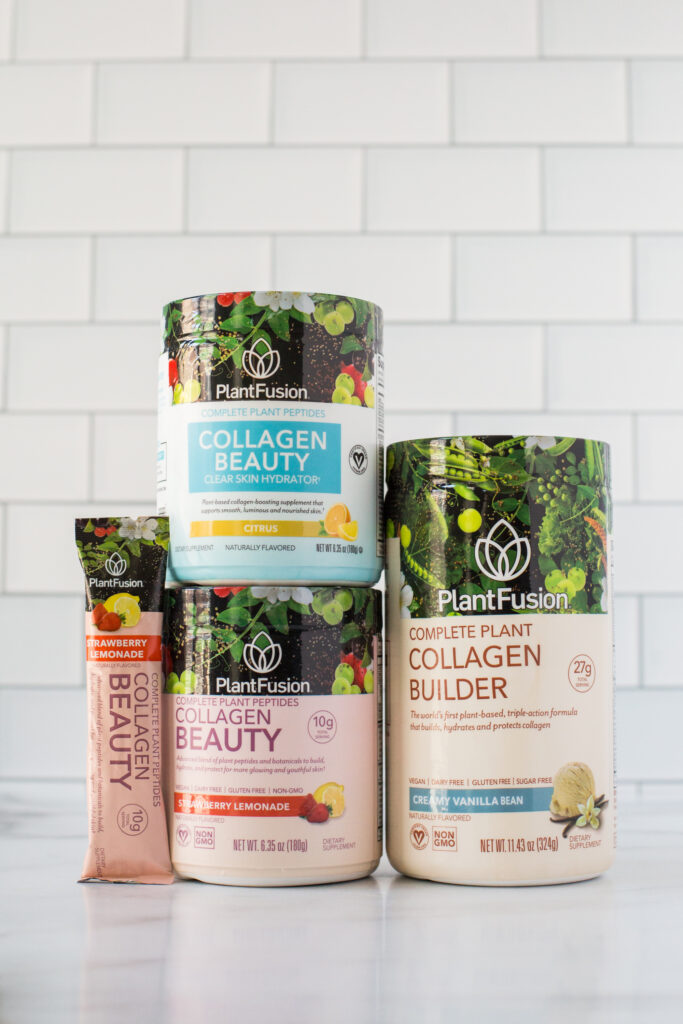 Form: Powder
Key Ingredients: Vitamin C, PlantFusion amino acid protein blend, PlantFusion enzyme blend, OxyPhyte white tea extract, Saberry amla fruit extract, hyaluronic acid.
Servings: 12 (Unfortunately this one is quite pricey for only 12 servings).
Free from: Gluten, dairy, soy, animal derivatives, tree nuts, peanuts, GMOs.
This collagen booster from Moon Juice helps to preserve your natural collagen which can minimize fine lines and hydrate the skin.
This collagen product comes in powder form and is meant to be used as a coffee creamer or blended into smoothies. Moon Juice recommends adding 2 tablespoons to your coffee or smoothie and blending well as the creamer may clump due to no additives being in the product.
Form: Powder
Key Ingredients: Hyaluronic acid, Silver ear mushroom, Rice bran solubles (Tocotrienols).
Servings: 16 servings (2 tablespoons per serving).
Free from: Animal derivatives, gelatin, dairy, nuts, soy.
MaryRuth's makes a variety of supplements that are all vegan.
Their Collagen Boosting Gummies support your body's ability to produce collagen. They include Vitamins A and C to build collagen and promote healthy skin.
Amla fruit is also included, which has been found to improve elasticity of the skin as well as hair growth.
Form: Gummies (watermelon-flavored).
Key Ingredients: Vitamin A, Vitamin C, L-lysine, Amla fruit.
Servings: 90 gummies, but you can take 1-3 per day (will last 30 to 90 days).
Free from: GMOs, animal derivatives, gelatin, dairy, nuts, gluten, soy, nightshades, sugar, artificial colors.
This is the least expensive option on the list per serving, regardless of whether you take 1, 2, or 3 gummies per day!
This collagen builder is made from over 30 powdered organic fruits, vegetables, and botanicals.
These ingredients promote the production of collagen, keratin, and elastin, all of which are essential for healthy hair, skin, and nails.
Form: Capsules
Key Ingredients: Vitamin A, Vitamin C, Vitamin E, Biotin, Zinc, Silica, Organic pomegranate, Turmeric, Amla, Green and Rooibos Tea.
Servings: 30
Free from: Gluten, dairy, animal derivatives, soy.
What is collagen?
Collagen is a protein that our bodies naturally produce, and it provides structure for our skin, bones, joints, muscles, and more. It is the most abundant protein in our bodies, but we produce less as we get older.
Because collagen provides structure, our skin gets less firm and more wrinkled as we age and the amount of collagen in our body lowers.
Collagen-boosting supplements may help slow and reduce the wrinkling of skin and other signs of aging.
Benefits of collagen
As mentioned, collagen provides structure to many parts of your body. So it helps to keep your skin firm and hydrated, your bones strong, your joints protected, and more.
Using collagen-boosting supplements may slow the wrinkling of skin, relieve joint pain, and prevent bone loss. It may also stimulate faster growth of hair and nails. Read more about the benefits of collagen here.
Do vegan collagen supplements really exist?
Humans and animals produce collagen, but plants do not. Some plants do however promote collagen production in animals and humans.
Supplements that actually contain collagen are made with collagen from the bones, skin and connective tissue of various animals.
So a true vegan collagen supplement doesn't exist, but there are many vegan collagen-boosting supplements.
There are many nutrients that enhance our body's production of our own collagen, such as Vitamin C, Vitamin A, silica, biotin, and more. These collagen-enhancing ingredients are found in vegan collagen-boosting supplements to help your body produce more collagen.
More vegan product recommendations