This post contains affiliate links for which I may earn a commission (at no extra cost to you) should you make a purchase. As an Amazon Associate I earn from qualifying purchases. Please see my disclaimer for more information.
These plant-based vegan gluten-free peanut butter cookies are healthy and absolutely delicious. They are soft and make the perfect guilt-free snack or dessert!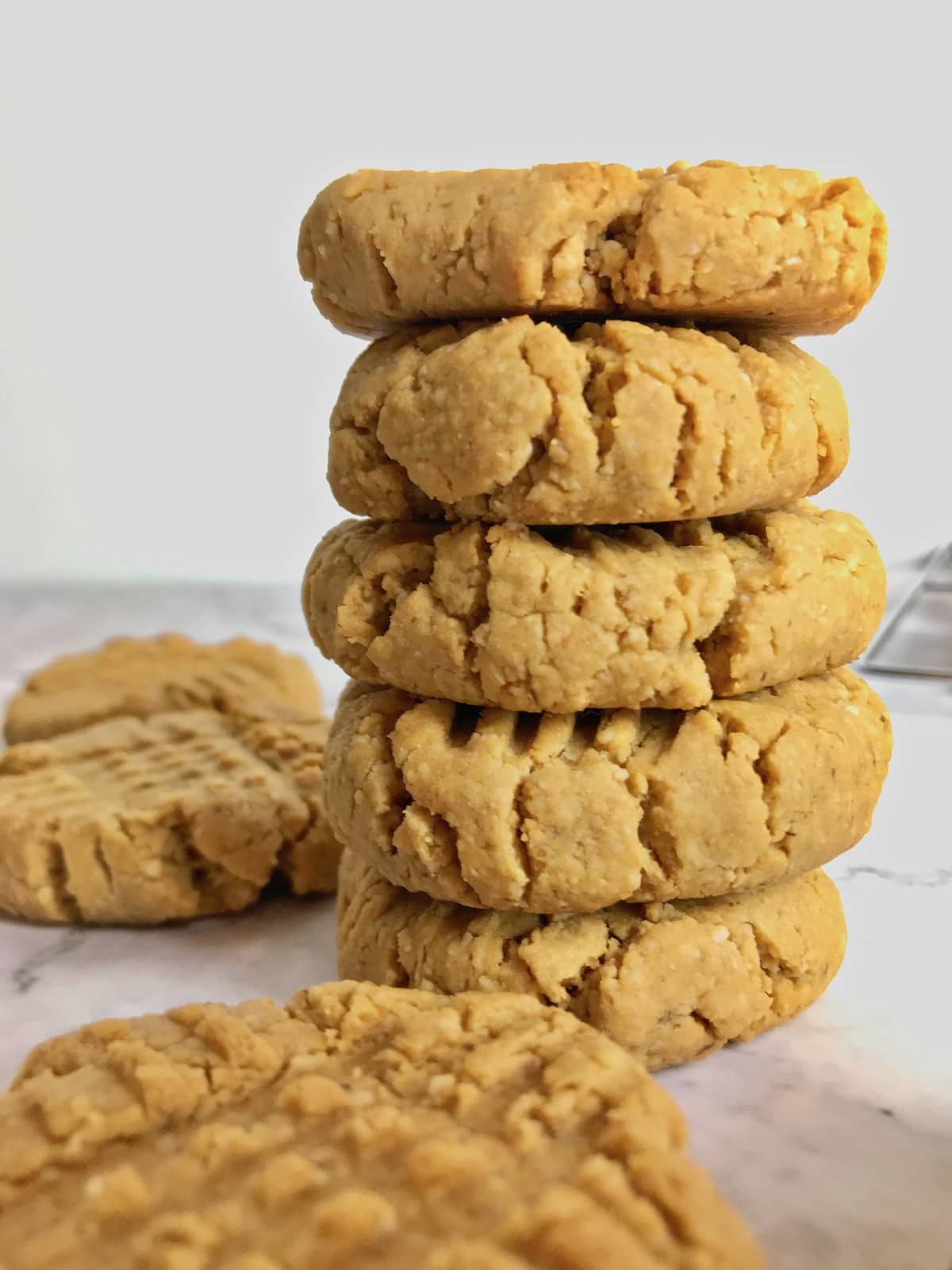 I have found a ton of vegan peanut butter cookie recipes online, but most of them contain ingredients such as refined sugar and oil. I'm sure those recipes are delicious and I do indulge in unhealthy treats from time to time, but I wanted to make some vegan gluten-free peanut butter cookies that I don't need to feel guilty about! Making cookies without staple cookie ingredients such as sugar and oil can be difficult, but this recipe turned out great!
I am absolutely obsessed with peanut butter cookies, so I had no issue tweaking this recipe over and over again until I got it just right. I have been eating a lot of peanut butter cookies lately!
I finally got these vegan, gluten-free, and oil-free peanut butter cookies to just the right taste and texture, all while keeping them whole-foods plant-based (just like my delicious lemon poppy seed cookies). As these plant-based cookies are sweetened with pure maple syrup, there is no refined sugar in this recipe. It is also gluten-free and the total ingredient count comes to only 6 healthy ingredients!!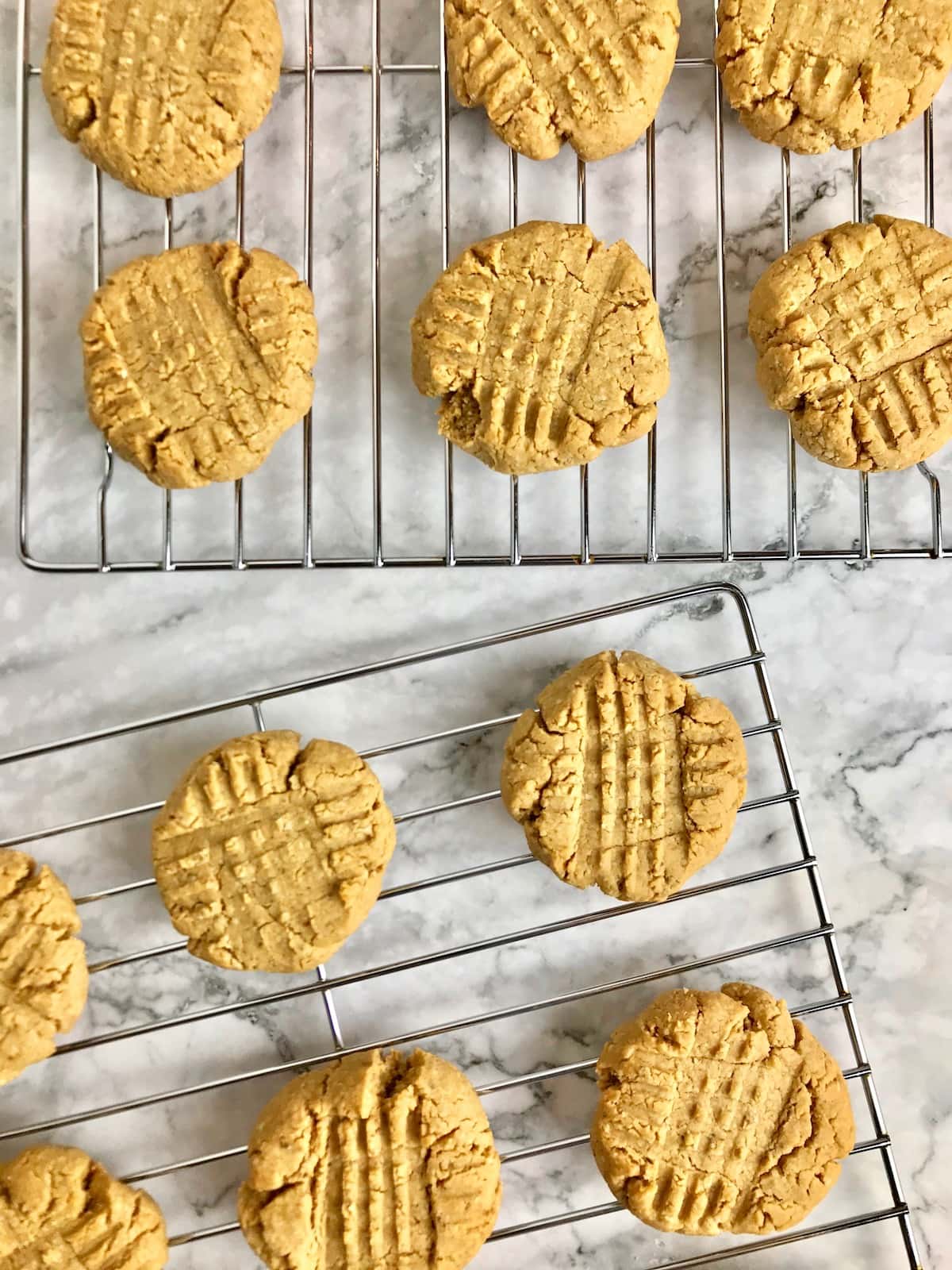 These cookies are:
Soft
Vegan
Gluten-free
Oil-Free
Whole foods plant-based
Healthy
Sweetened with maple syrup
Delicious!!!
Guilt-free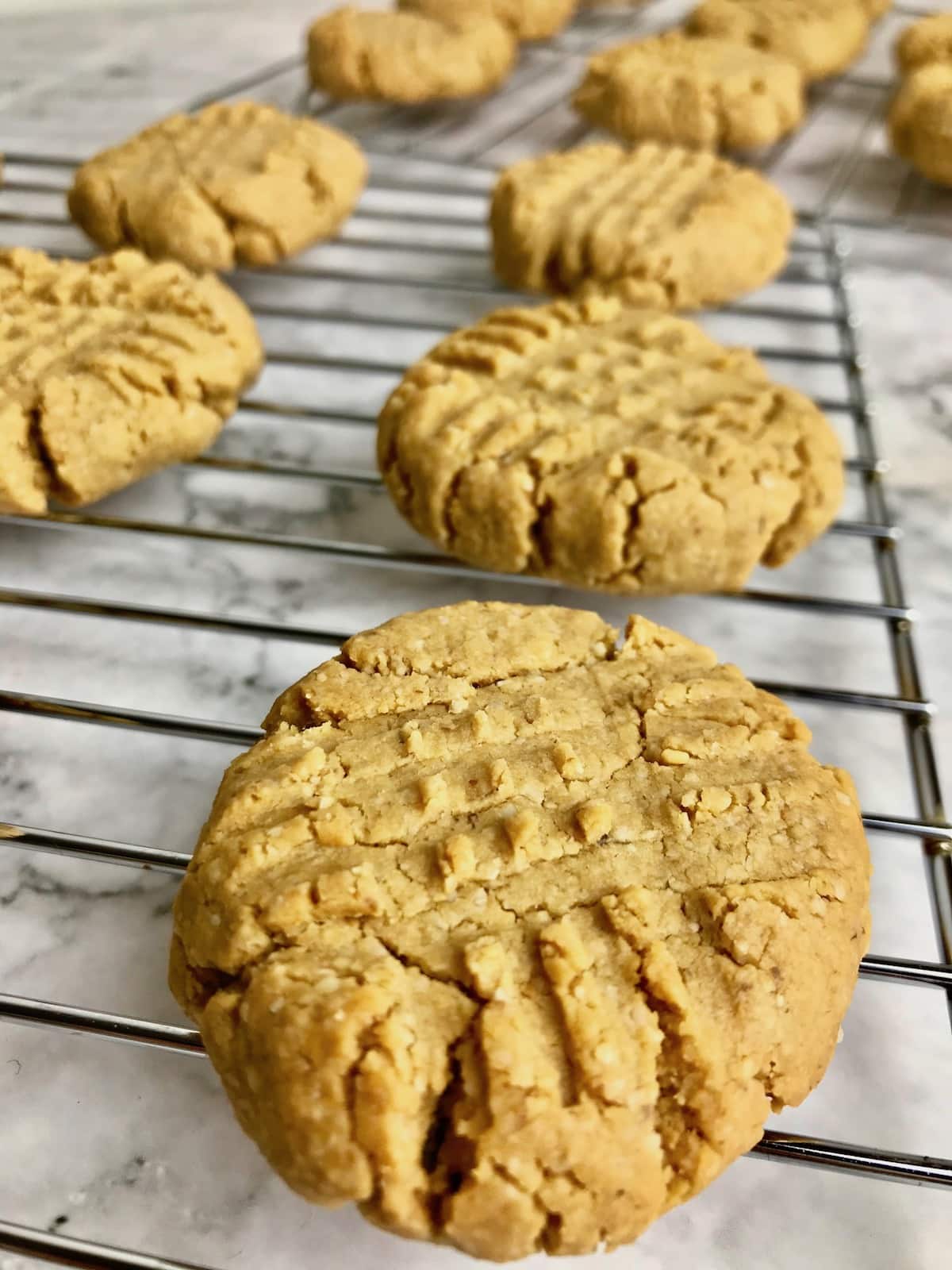 Ingredients:
Maple syrup
Vanilla extract
Ground flaxseed + water to make a flax egg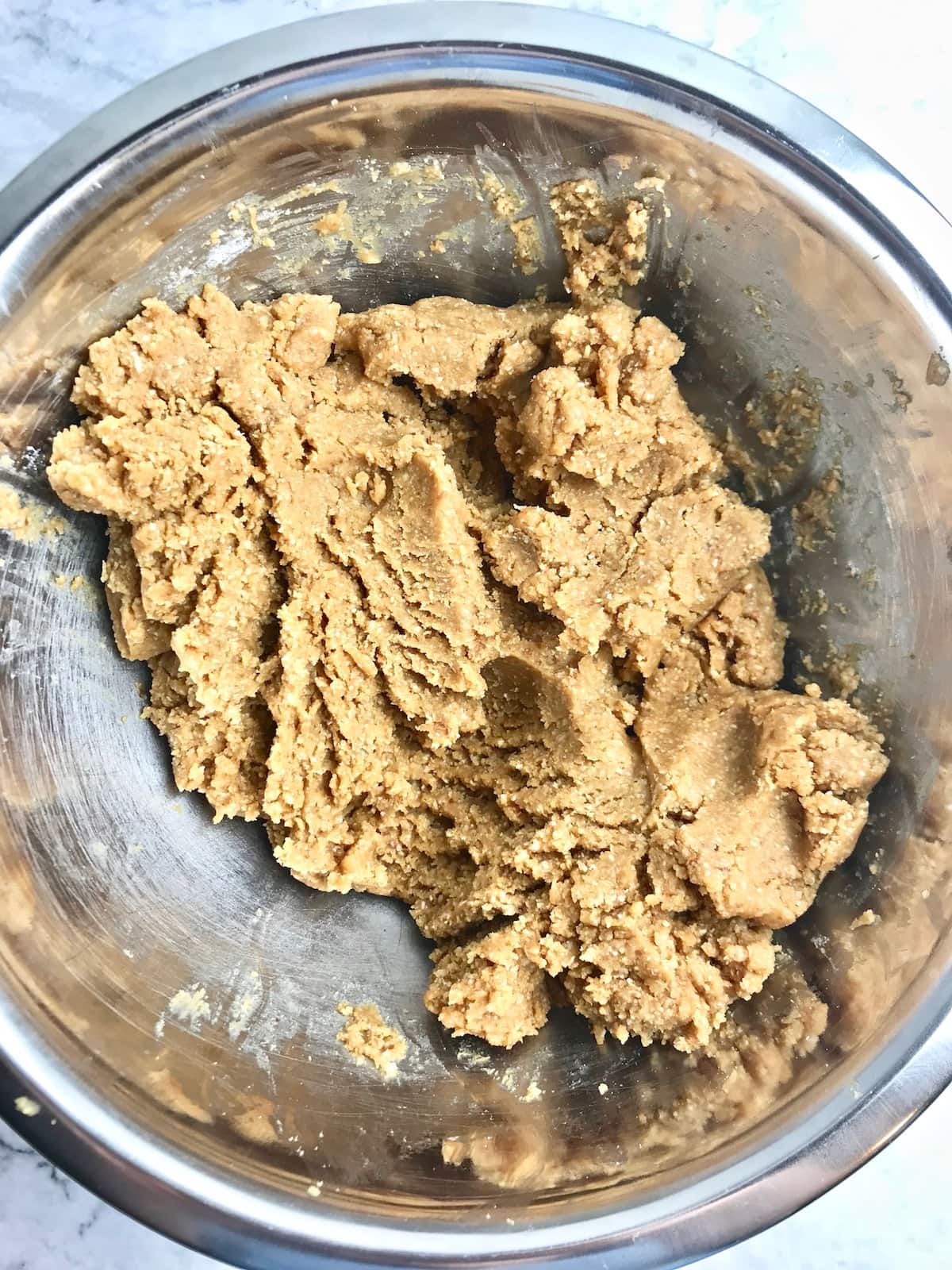 Tips for making these vegan gluten-free peanut butter cookies
Ensure you use all-natural peanut butter for this recipe. The only ingredient should be peanuts (it's okay if they are roasted). If you don't use natural peanut butter, the texture will be quite different. Make sure you mix the peanut butter well before measuring it because the oil will naturally separate in the jar. These are still oil-free peanut butter cookies because the oil is not added (it comes naturally from the peanuts). This recipe works best with wetter peanut butter that is found at the top and middle of the jar. Sometimes at the bottom the peanut butter is very firm and hard to work with (so try to avoid using it).
If you can't find oat flour, make your own! You just need to put some rolled oats into your blender or food processor and blend until a flour forms. I make a large batch and store it in a container so I always have some on hand for baking!
When you are measuring your flour, make sure you don't overpack your measuring cup. Just scoop up the flour, and then gently level it off without pressing down.
To prevent your cookies from sticking to your baking tray, line it with parchment paper before placing the dough on the tray.
Check your cookies after 12 minutes of baking. They may not be done yet, but every oven is different, so keep an eye on them. I find these cookies need about 15 minutes to brown, but check a few minutes sooner just in case.
When your cookies come out of the oven they will be very soft and breakable. You can gently lift one up with a spatula to check that the bottom has become golden brown, but then leave them all to cool for 5-10 minutes on the baking tray. Then you can transfer them to a cooling rack to cool down completely. This will allow them to firm up so they are ready to eat!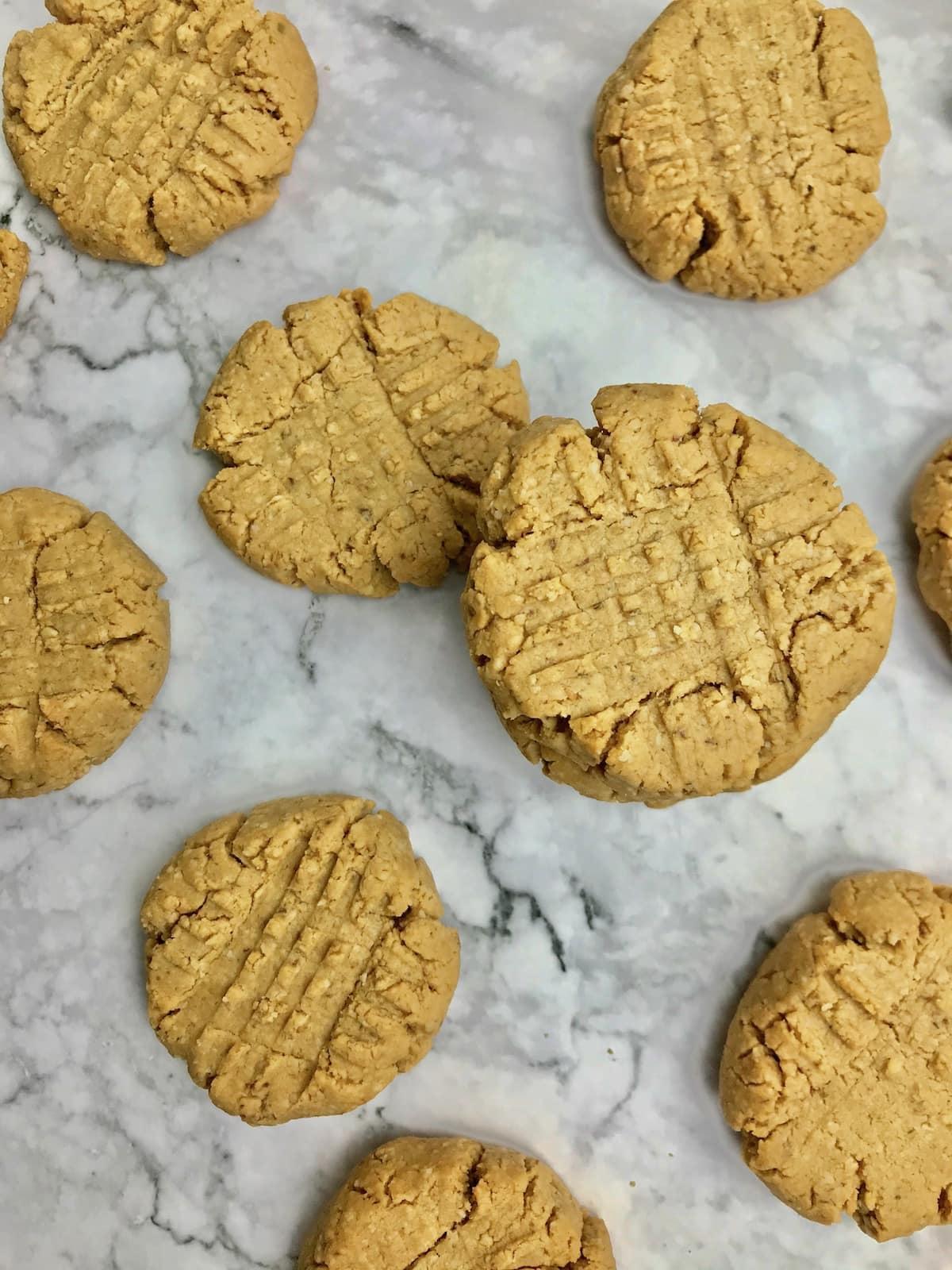 These cookies are a must-try if you want soft, guilt-free, vegan gluten-free peanut butter cookies. They make the perfect snack at any time of day, and if you're on a weight-loss journey, they won't get in the way of your progress! Each peanut butter cookie has only around 150 calories.
I hope you enjoy this healthy vegan gluten-free peanut butter cookie recipe! Try it out and let me know what you think in the comments below!
Check out these recipes for more peanut butter goodness!
If you are new to a plant-based diet, check out this plant-based grocery list to help you get started!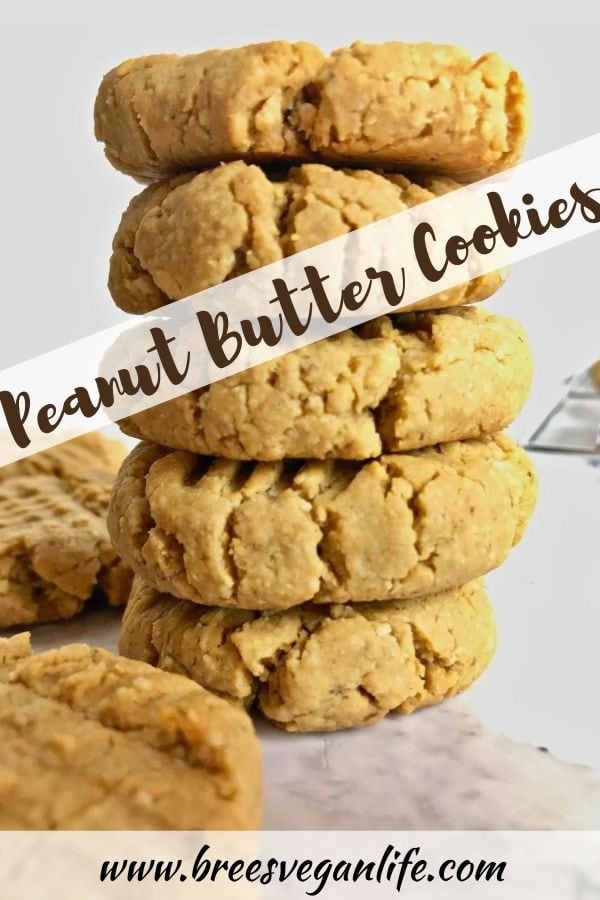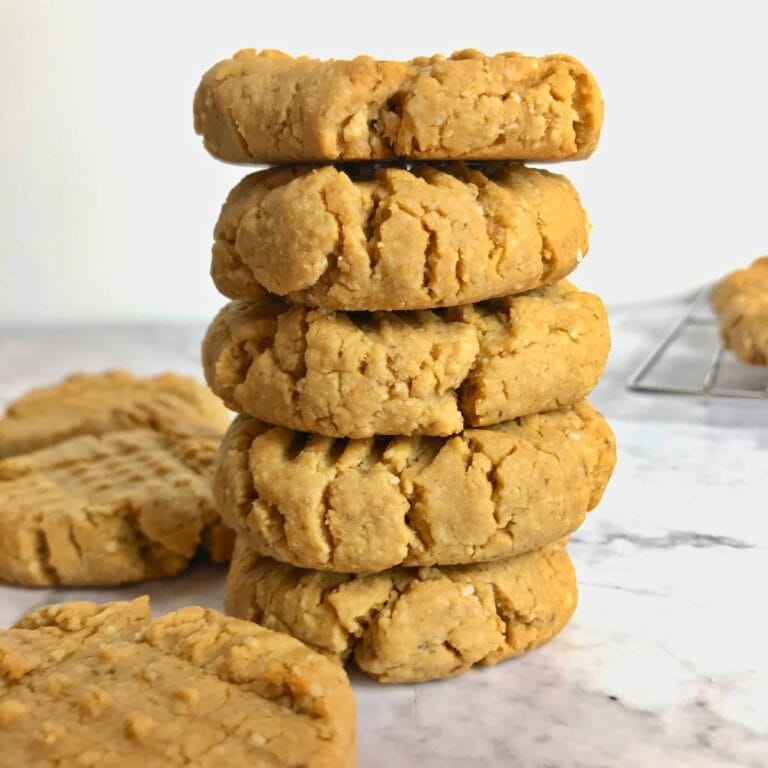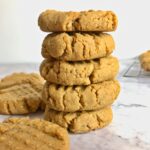 Print Recipe
Soft and Healthy Vegan Peanut Butter Cookies
These peanut butter cookies are vegan, gluten-free, and oil-free. They make a delicious healthy treat!
Instructions
Preheat oven to 350 degrees Fahrenheit.

Mix 1 tablespoon of ground flaxseed with 3 tablespoons of water in a small bowl. Let it sit for at least 10 minutes until it gels up and becomes a flax egg.

Mix all of the dry ingredients in a large mixing bowl (almond flour and oat flour).

Add all of the wet ingredients to a smaller bowl and mix thoroughly. Add the flax egg as well when it is ready.

Pour wet ingredients into the large bowl with the dry ingredients and mix thoroughly. You will need to use your hands to mix it well.

Roll dough into balls (approximately 2 tablespoon each) and place on a baking sheet lined with parchment paper.

Gently press down with fingers and/or fork.

Bake for approximately 12-15 minutes, until the cookies start to brown on the bottom. Check carefully with a spatula (cookies will be quite soft).
Notes
This recipe makes approximately 18 cookies if you are using about 2 tablespoons of dough per cookie.
If you make larger cookies, they may have to bake a couple minutes longer.
When you take these cookies out of the oven, they will be extremely soft. Allow them to cool a bit before moving them to a cooling rack, then allow them to cool completely before eating or storing.
Nutrition
Calories:
150
kcal
|
Carbohydrates:
13
g
|
Protein:
5
g
|
Fat:
10
g
|
Saturated Fat:
2
g
|
Sodium:
4
mg
|
Potassium:
137
mg
|
Fiber:
2
g
|
Sugar:
6
g
|
Calcium:
25
mg
|
Iron:
1
mg