This post contains affiliate links for which I may earn a commission (at no extra cost to you) should you make a purchase. As an Amazon Associate I earn from qualifying purchases. Please see my disclaimer for more information.
If you're having a Halloween party, you definitely need some fun treats to serve! The vegan Halloween recipes on this list are great for kids or adults.
Many of these Halloween treat recipes contain sugar or powdered sugar. Make sure you use vegan sugar if that is a concern for you, as some sugar is filtered with bone char. To ensure it is vegan, you can choose organic sugar or sugar that has a vegan certification.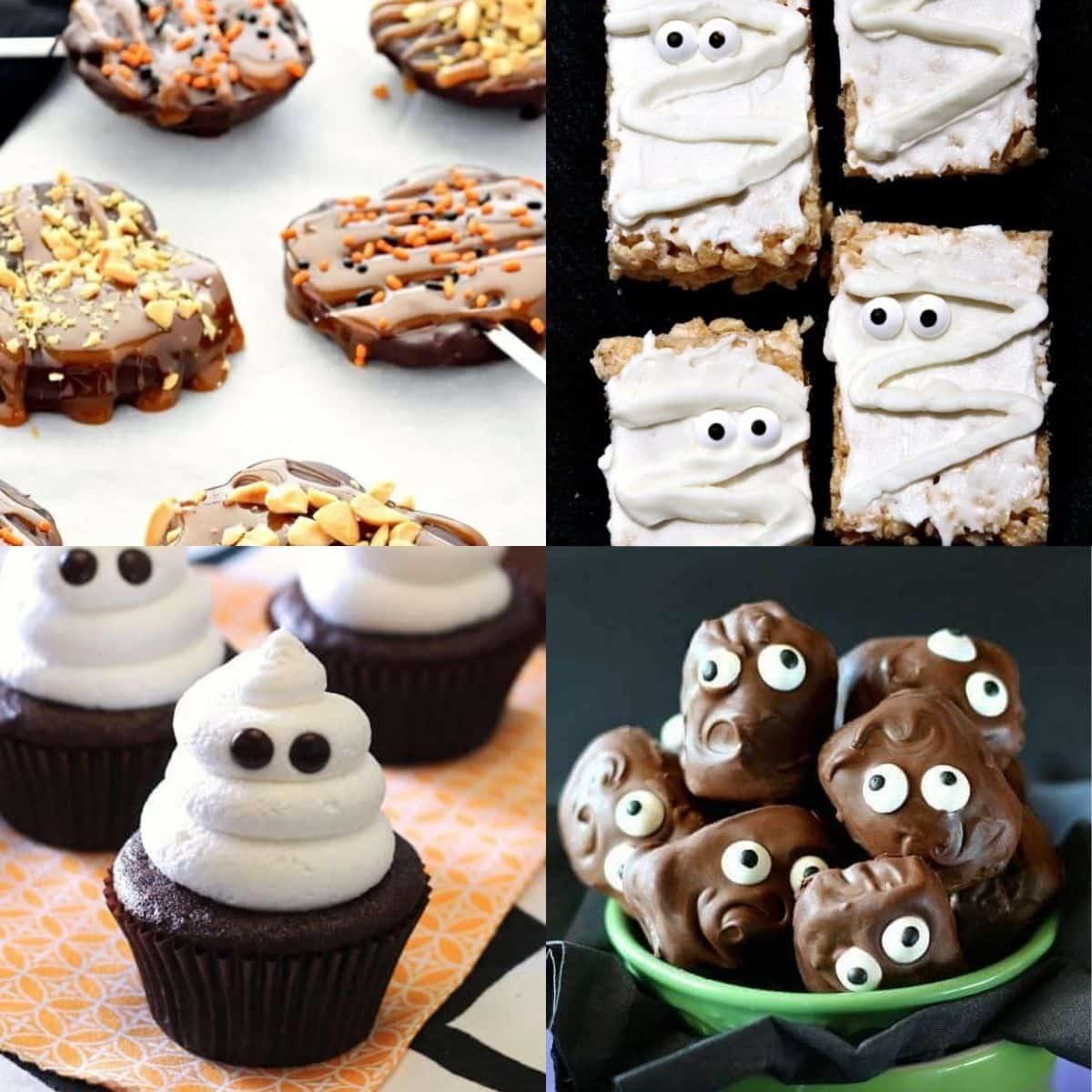 Some Halloween recipes also use candy eyes for fun treats that look like mummies, witches, ghosts and more. Make sure you check that the candy eyes you use are vegan as well. You could alternatively use large vegan sprinkles, vegan chocolate chips, or vegan icing for eyes.
Vegan Halloween Party Recipes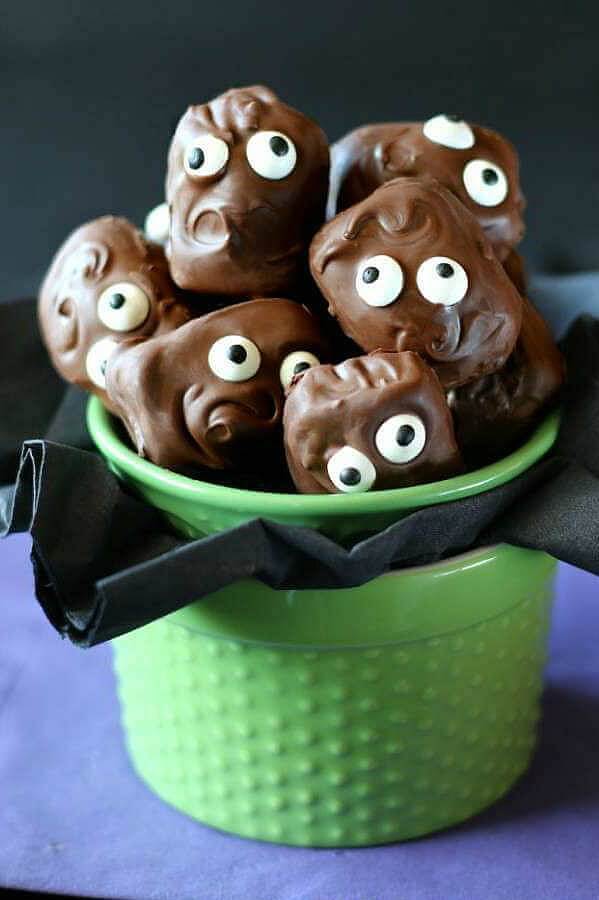 These chocolate candy bars taste just like Almond Joy Candy Bars. They are super easy to make and require no baking!
These treats are made with coconut and an almond, all covered in vegan chocolate. To make these chocolate bars perfect for Halloween, swirl the chocolate with a toothpick and stick on some candy eyes!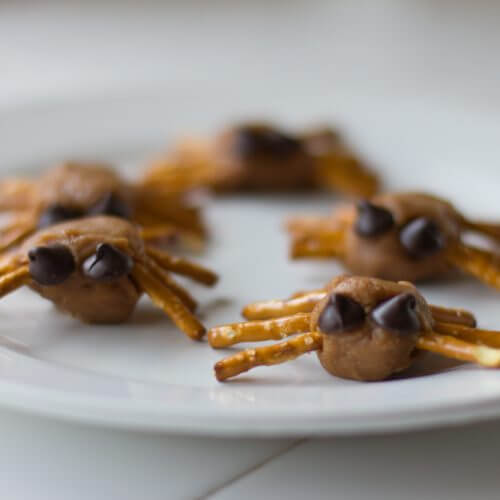 These peanut butter spiders are incredibly easy to make! The bodies of the spiders are made with a peanut butter mixture and the legs are pretzels.Vegan chocolate chips are used for the spiders eyes.
This recipe is so simple, but it's a great way to take some basic ingredients and turn them into something fun for a Halloween party!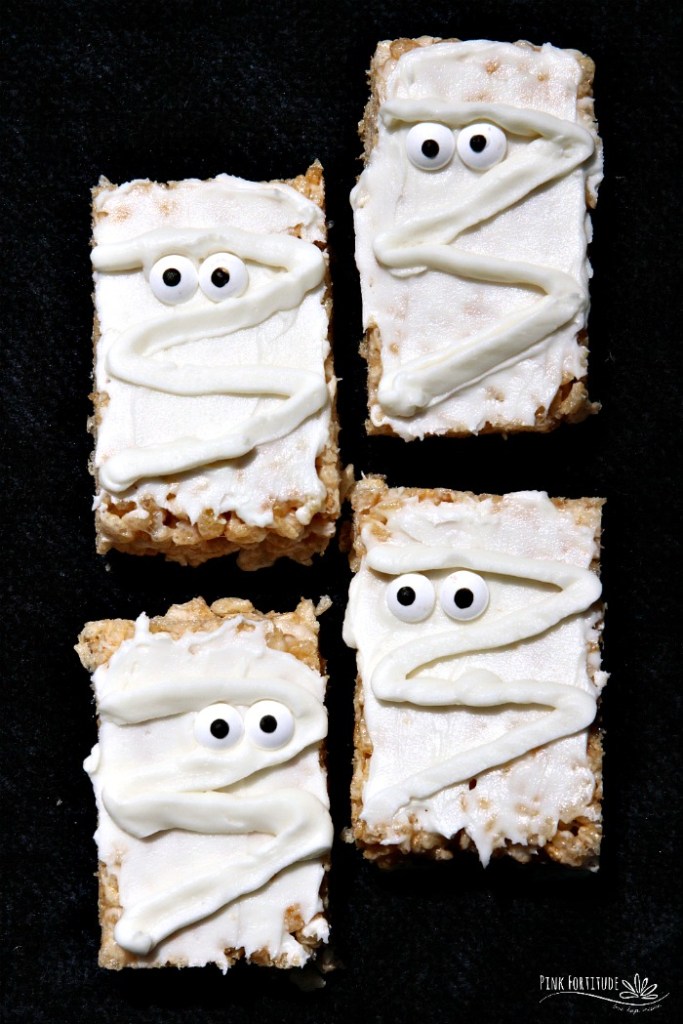 These rice krispies treats are both vegan and gluten-free. They are easy to make and super cute too, so they are great for Halloween parties for kids or adults!
Some simple substitutions are all you need to make vegan rice krispies treats, which is all explained in this recipe. Make sure you use vegan marshmallows, as many people don't realize that regular marshmallows are not vegan.
Decorate these treats with white icing and some candy eyes to turn them into mummies!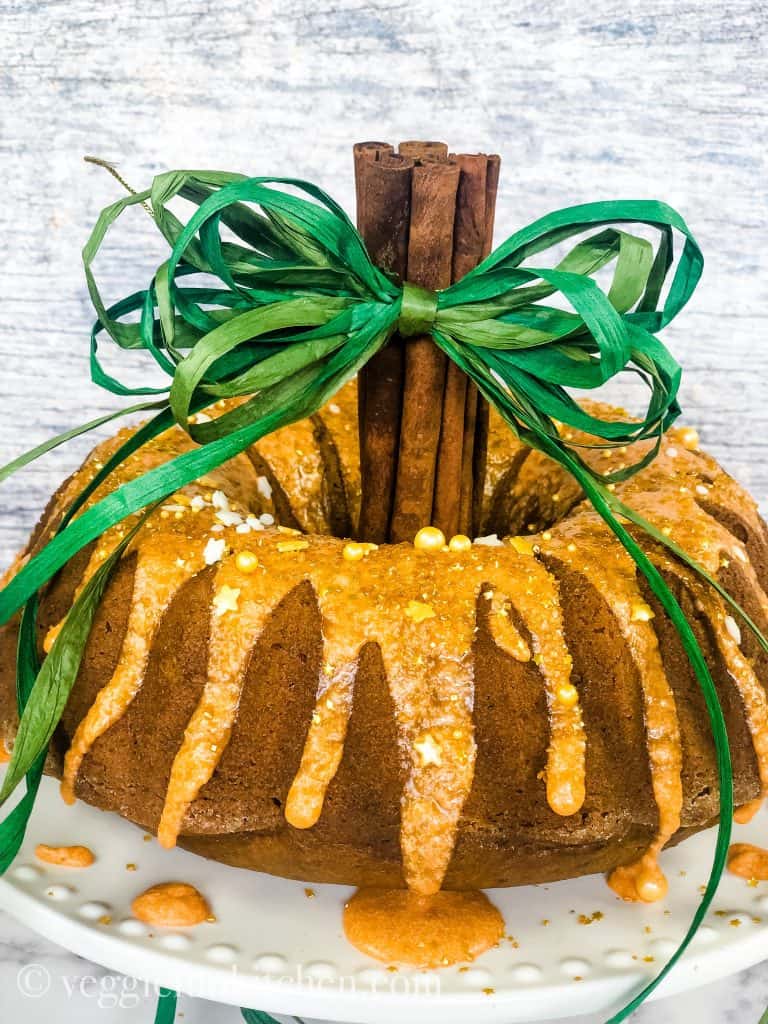 This vegan pumpkin cream cheese cake makes an indulgent treat! This cake is moist and has a vegan buttercream glaze.
This pumpkin cake is made in a bundt pan to make it round, and a homemade cream cheese is spread into the center of the cake.
Add some cinnamon sticks in the center of the cake and tie a green ribbon around them to make this cake look like a pumpkin!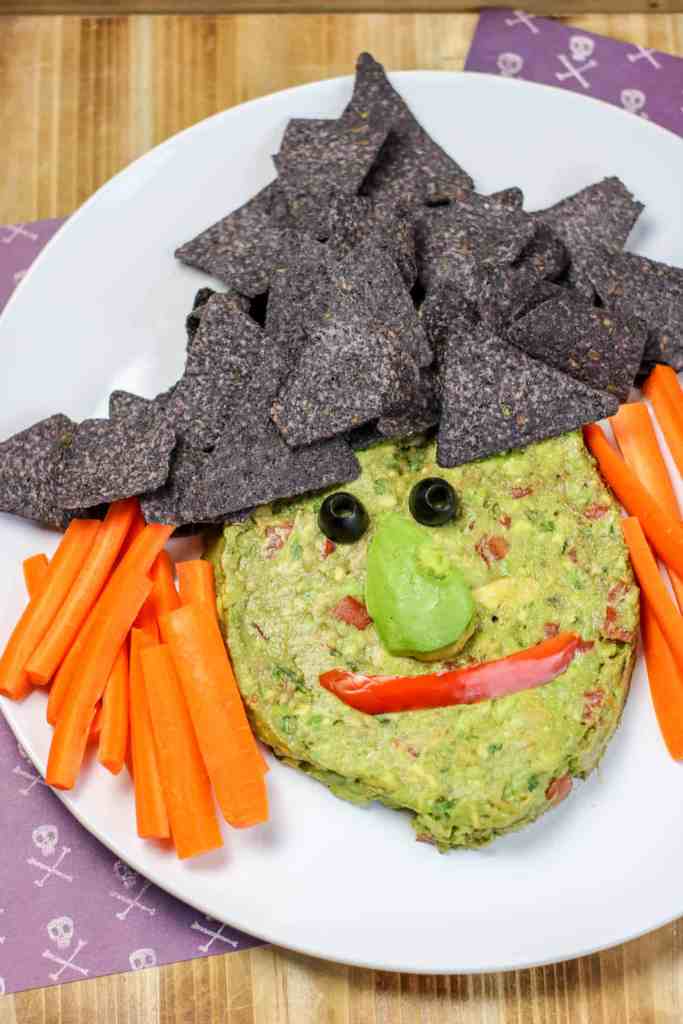 This platter of chips and guacamole is super simple to make and has a fun presentation. Chips and guacamole aren't particular to Halloween, but the way they are laid out in this recipe makes them great for a Halloween party!
This is super fun for kids, but also works for adults. This is a great Halloween snack that is healthier than all the sweet goodies. You can also lay out several vegetables for the witch hair to add more to your platter.
This cute witch platter includes a recipe for the guacamole, but you could also use store-bought.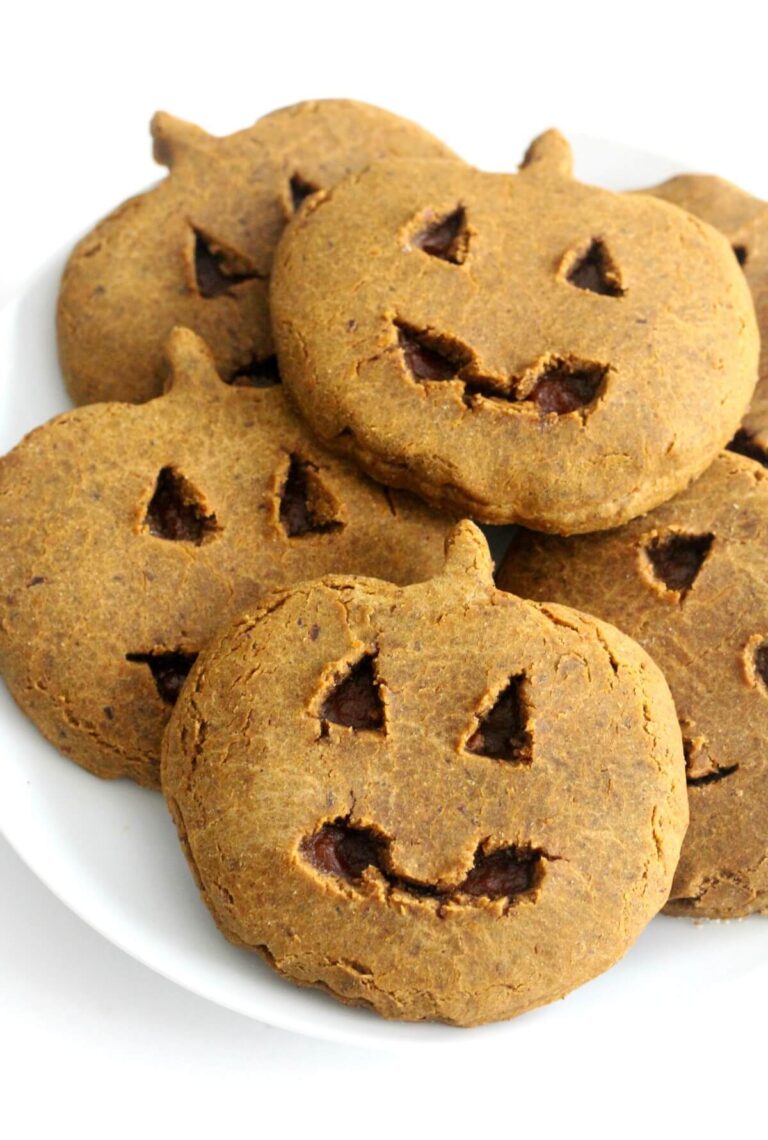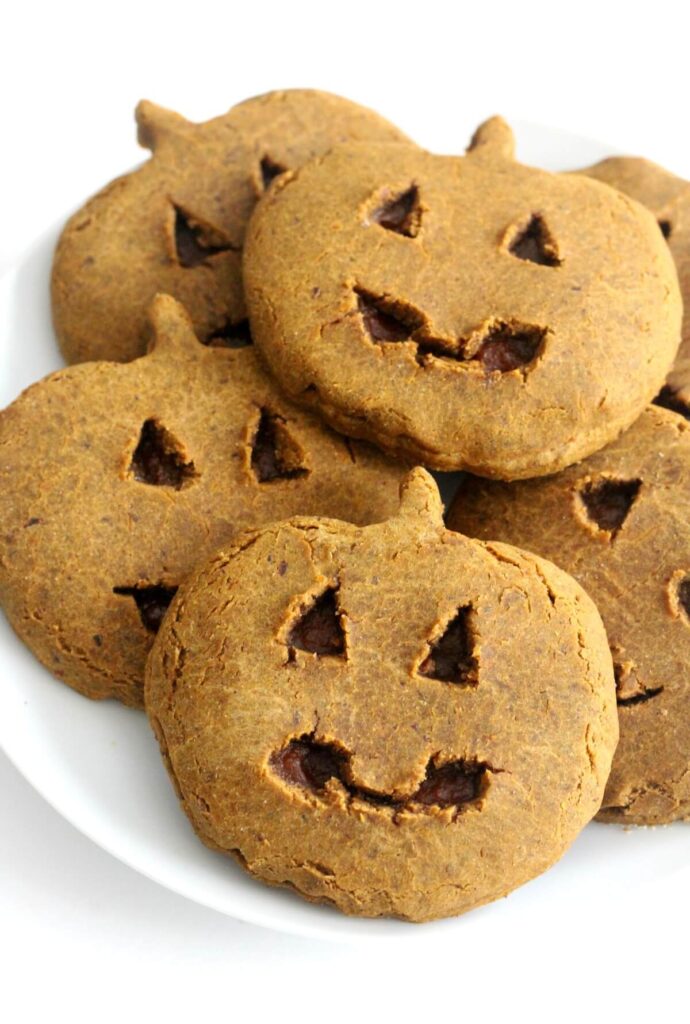 These pumpkin spiced cookies are soft and have a delicious pumpkin butter filling. Carve out pumpkin faces on these cookies to make them perfect for a Halloween treat!
This recipe includes a recipe for homemade pumpkin butter, but you could also use store-bought if that's easier for you. Making your own will likely be cheaper though, and so tasty!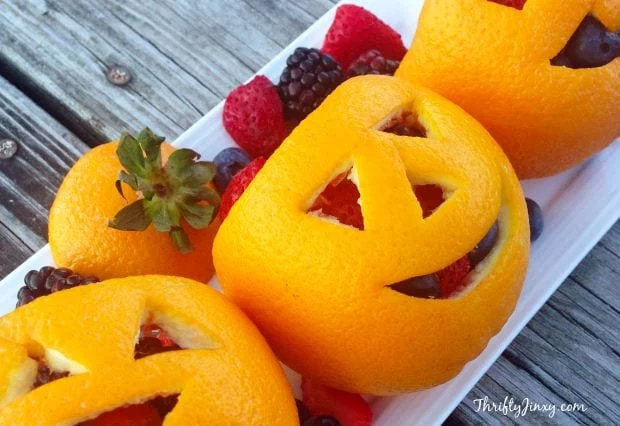 This is a simple, healthy snack with a cute Halloween presentation. This recipe is really just like a fruit cup, but the "cup" is orange peel with a cut out jack-o-lantern face on it.
This is a super cute idea for a Halloween party for kids or even adults. It's a fun way to add some healthy food to your indulgent Halloween treats!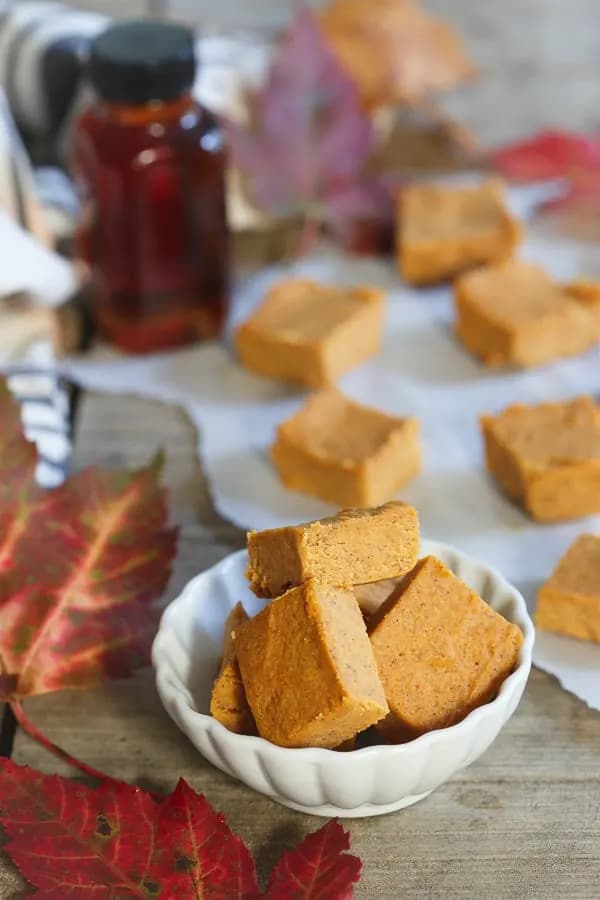 This fudge tastes just like the filling of a pumpkin pie! This recipe is great for any time during Fall, and even though it isn't specifically Halloween-themed, it is still fitting for Halloween events.
Pumpkin puree, coconut butter, and more flavorful ingredients are used to make this recipe. This fudge is super easy to make as well and will be ready in just over an hour. Just heat the ingredients on the stove, then set in the freezer!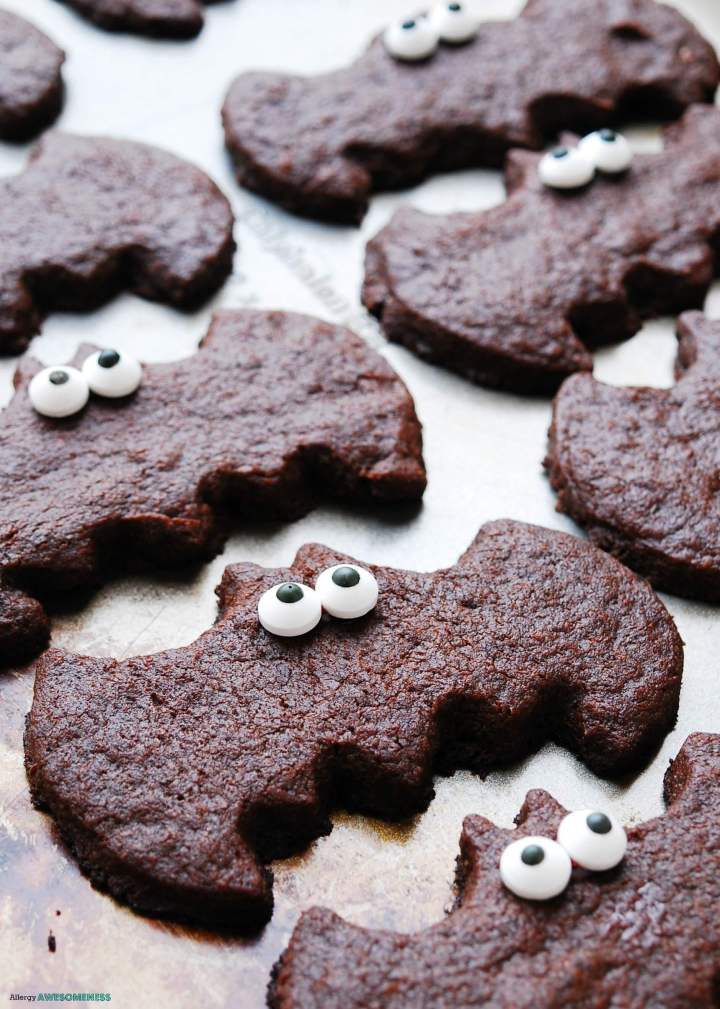 These bat cookies are just like a classic sugar cookie, but with cocoa powder to make them chocolatey! The dark color of the dough makes these cookies perfect for cutting out bats, but you could also cut out other Halloween shapes.
They are free of gluten, soy, peanuts, tree nuts, and are of course vegan. If you are concerned about how sugar may be processed with bone char, choose organic sugar to guarantee that it's vegan.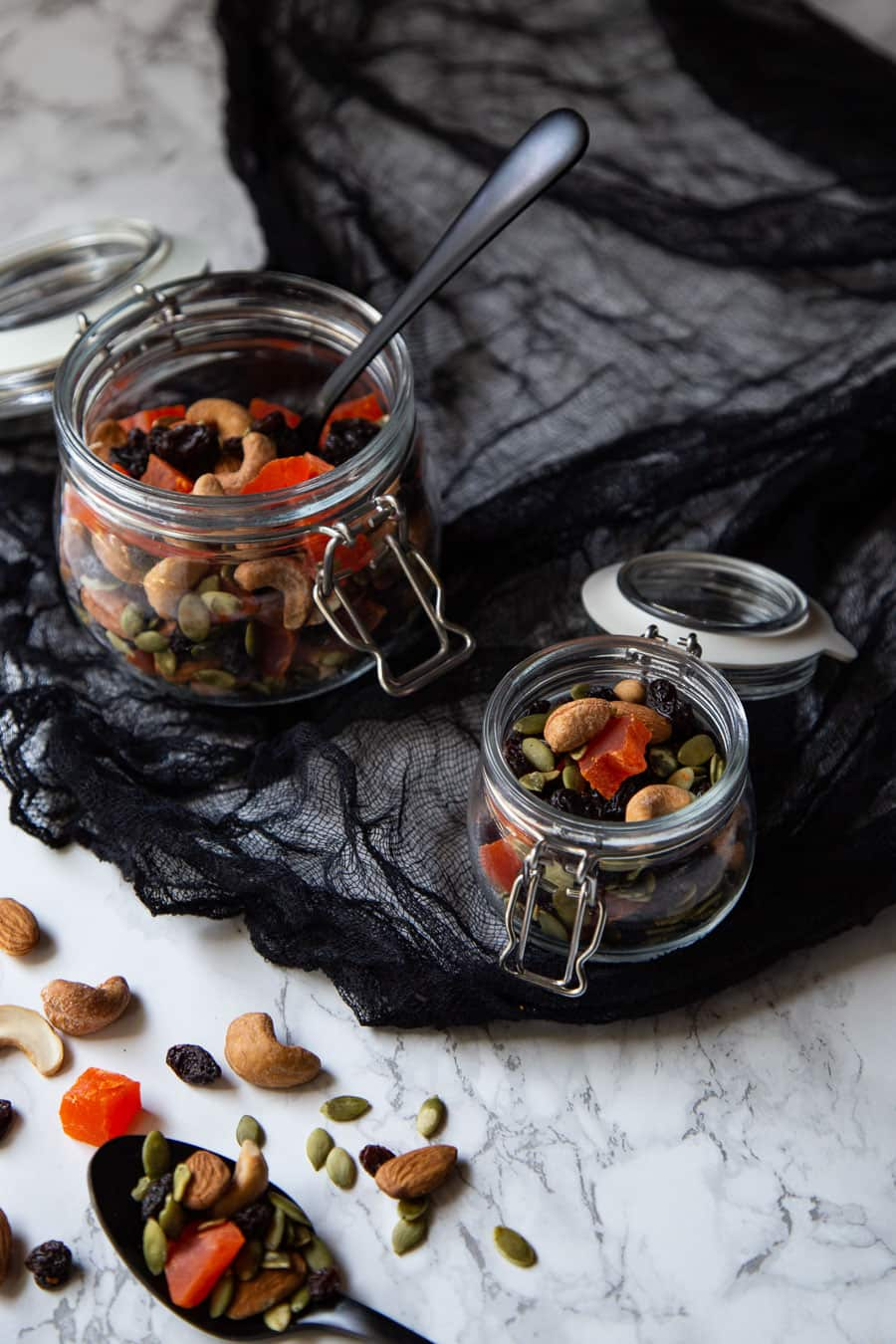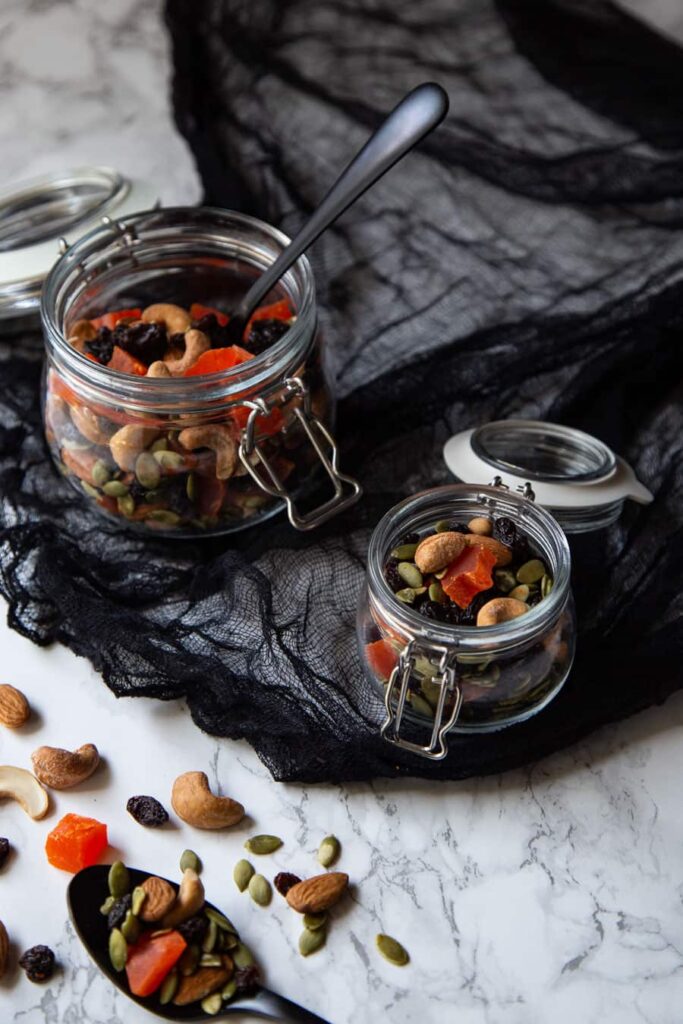 This vegan trail mix recipe uses ingredients that naturally look like Halloween colors. No dyes and no unhealthy ingredients!
This trail mix is made with dried papaya which is orange, and raisins add some black to give this recipe Halloween vibes. Also included in this recipe are pepitas and nuts.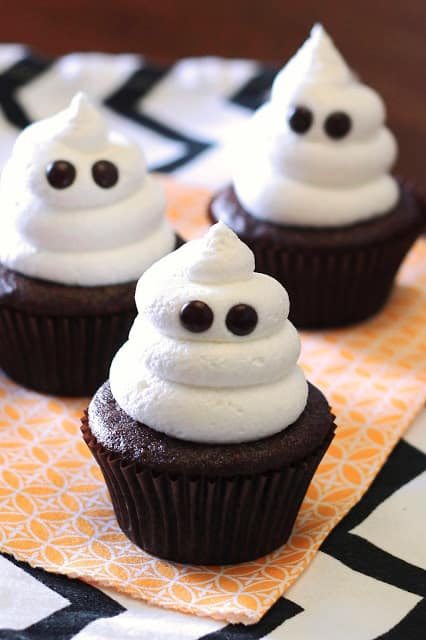 These ghost cupcakes are super cute and great for Halloween parties. They are chocolate cupcakes that are vegan and gluten-free, with a delicious vanilla frosting. Add some chocolate eyes to give these cupcakes a ghost face!
As stated in this recipe, ensure you use organic sugar if you want to make sure that it isn't filtered with bone char.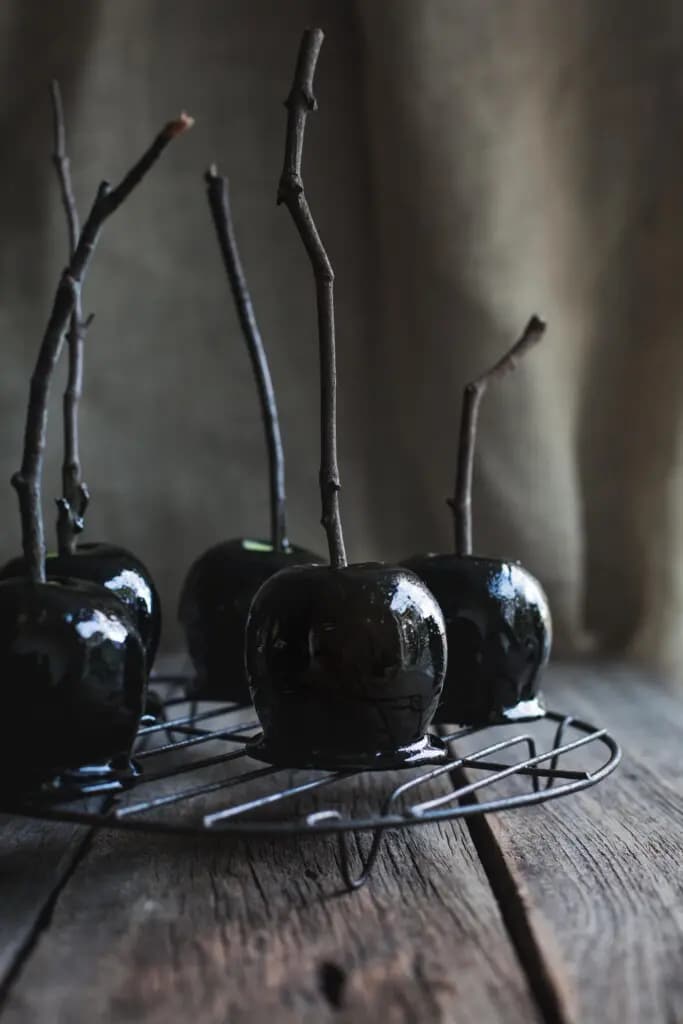 These toffee apples are great for Halloween and they will be ready in just 30 minutes!
To make this recipe, you will cover apples in a delicious toffee that is blackened with food grade charcoal.
You can use regular popsicle sticks in these toffee apples, but to make them spooky you can find some sticks outside and use those instead!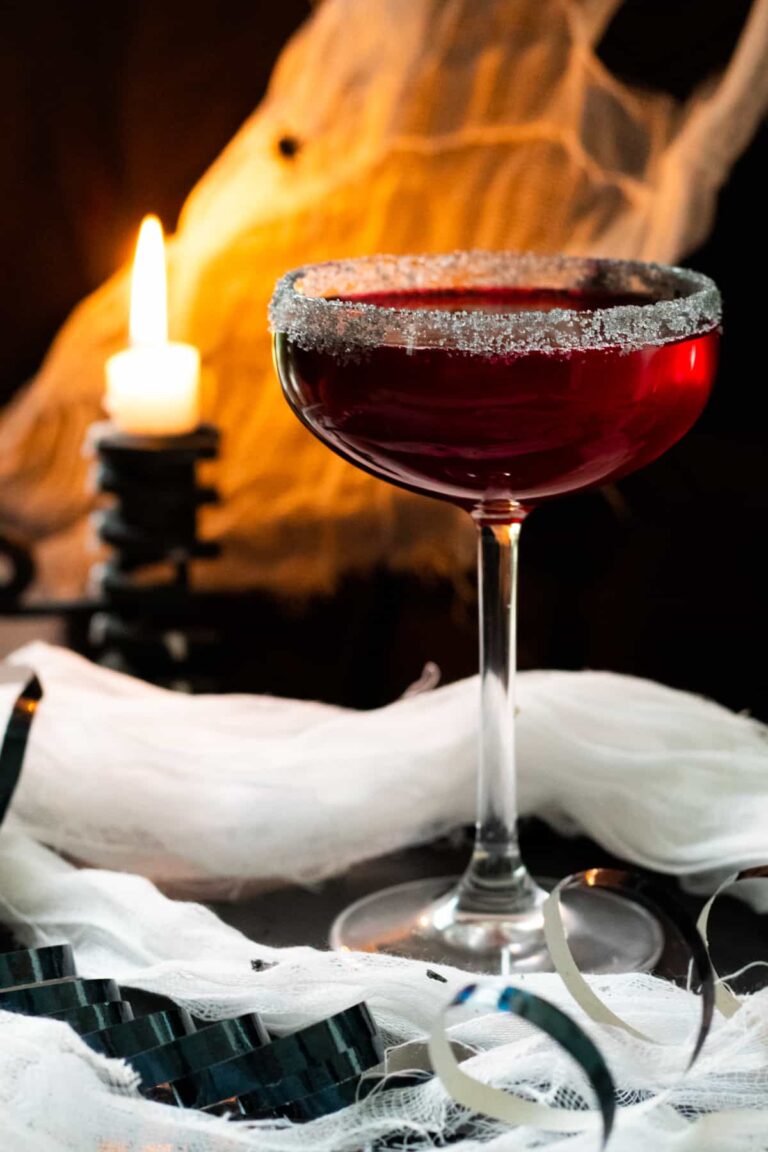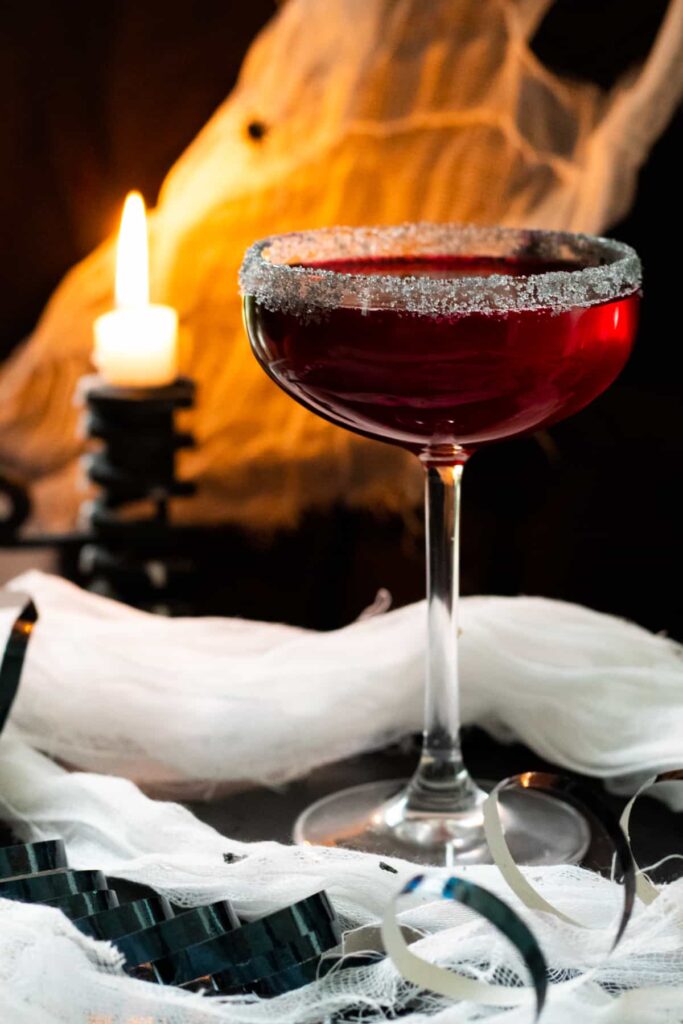 This mocktail is a great Halloween drink that has a deep red color from the beat juice in this recipe.
This mocktail has an earthy taste with a bit of spice, and a dark salt rim on your glass adds to the spooky look of this drink.
If you're looking for a fun Halloween drink, this one is exactly what you're looking for!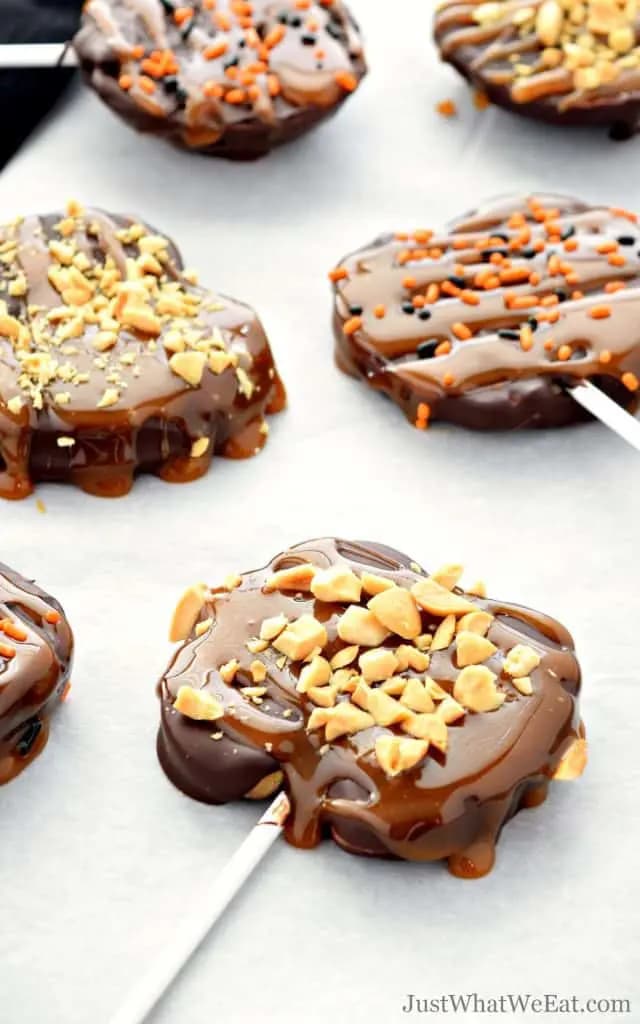 This recipe puts a chocolatey spin on classic caramel apples. Sliced apples are covered in melted vegan chocolate, then drizzled with caramel. Add black and orange sprinkles to gives these apple slices a Halloween look!
You could also sprinkle these apple slices with chopped nuts or mini vegan chocolate chips.
This recipe is easy to make and the sliced apples are much easier to eat than whole caramel apples. You also get a better ratio of caramel to apple when you use slices!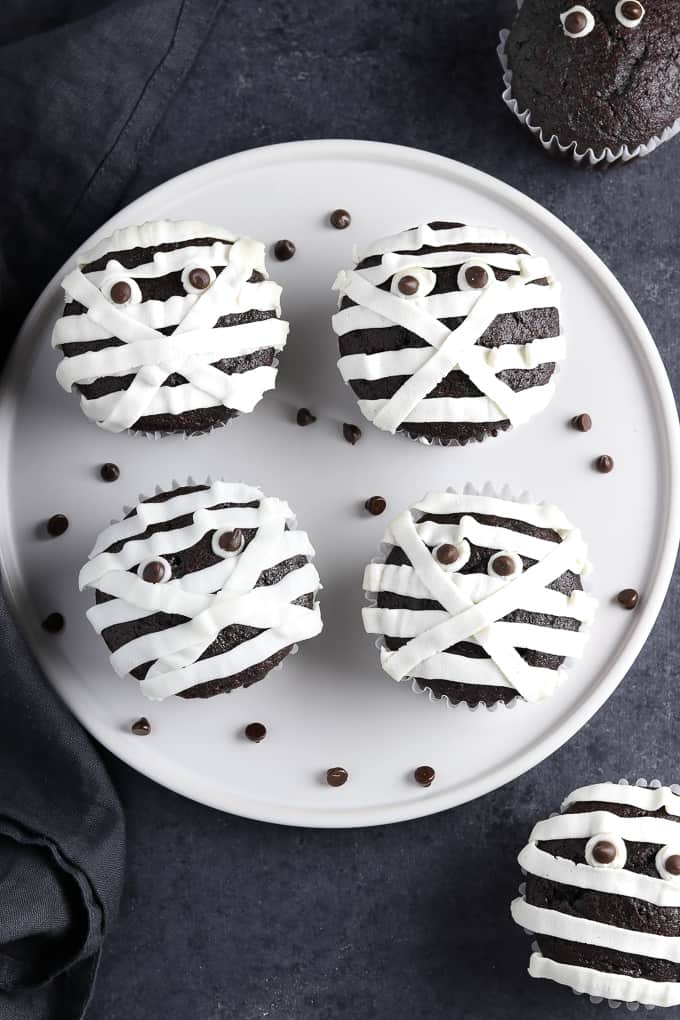 These cupcakes are fun and great for kids! They will be great for a Halloween party at home or at school.
This recipe makes about 12 chocolate cupcakes.
The tops of these cupcakes are decorated with vegan buttercream to create a mummy look, and vegan chocolate chips are used for the eyes.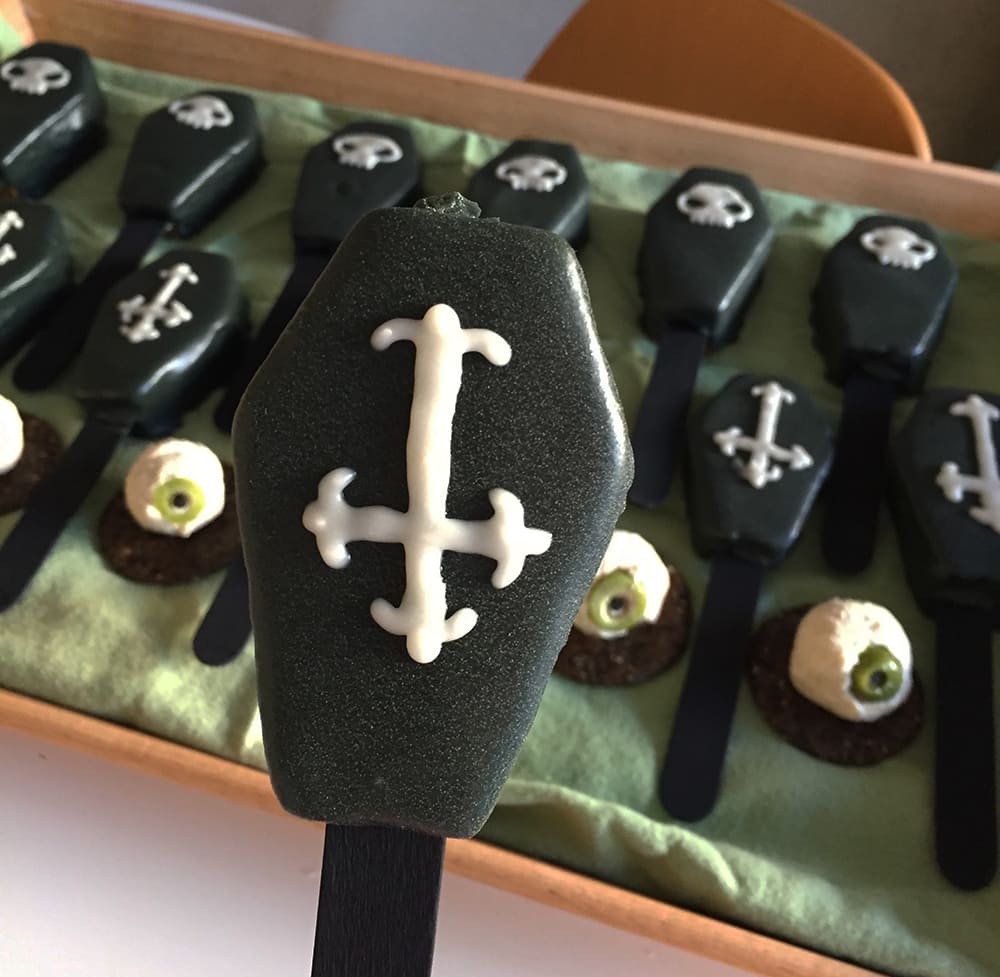 These little pumpkin coffin cakes are so cute for Halloween! This recipe makes enough cake for about 12-16 little coffin cakes depending on their size.
This recipe is made in regular baking pans, but to make the coffin shapes, you will need a coffin-shaped cookie cutter. You can of course eat the scraps as well so you don't waste any of the cake.
This recipe also includes a vegan cream cheese icing that you can use to cover the coffin cakes and decorate them for Halloween.
More Vegan Recipes
If you are looking for more vegan recipes, you may be interested in these recipe roundups: