This post contains affiliate links for which I may earn a commission (at no extra cost to you) should you make a purchase. As an Amazon Associate I earn from qualifying purchases. Please see my disclaimer for more information.
Check out these delicious vegan mushroom recipes! They are all gluten-free or can be adjusted to be gluten-free, and make wonderful vegan meals or sides.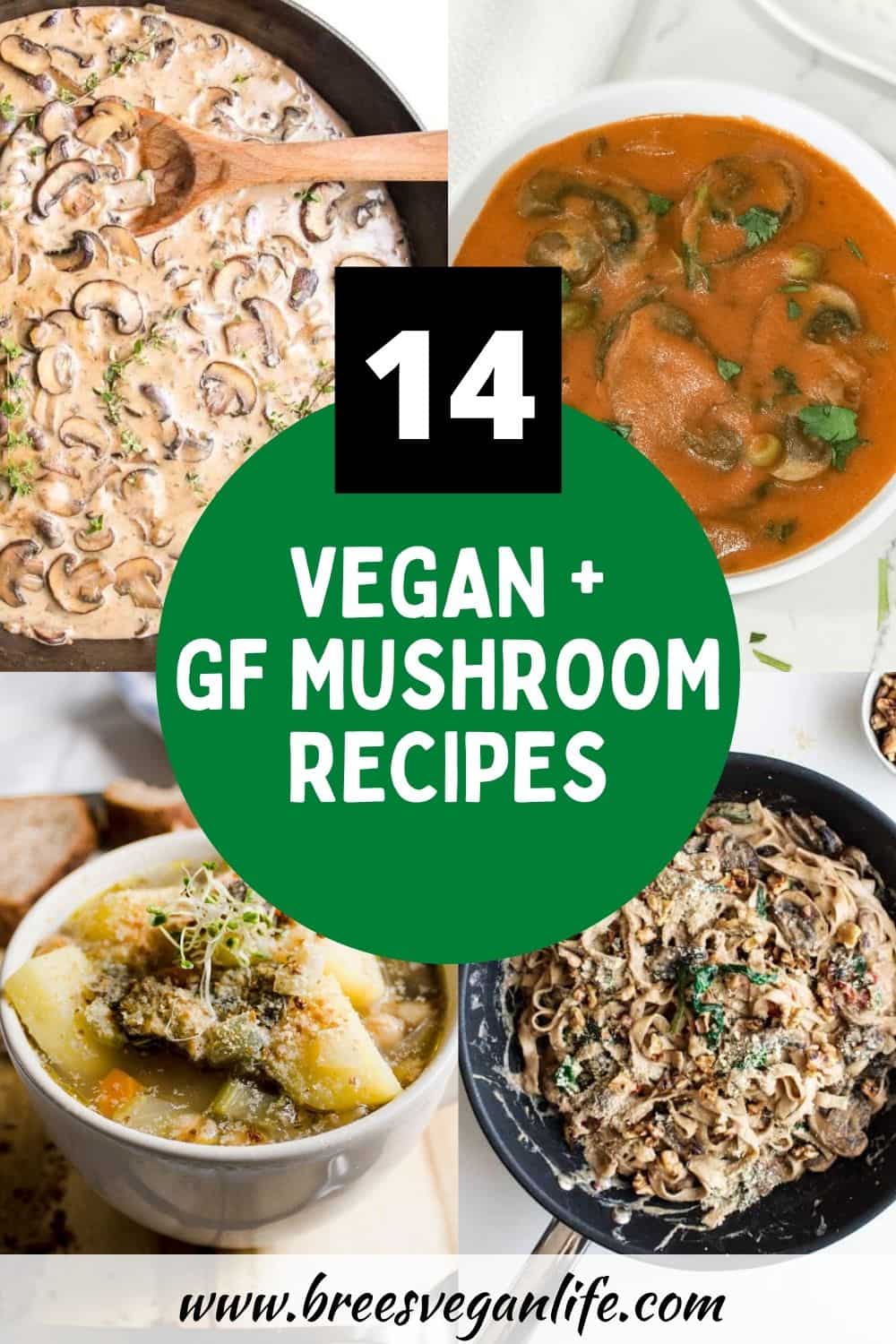 Why You Should Eat Mushrooms
Why should you make recipes with mushrooms? Well, besides the fact that the recipes on this list are deliciously satisfying, mushrooms are full of nutrients!
There are several different types of mushrooms, and all mushrooms you find at the store should be safe to eat. Mushrooms used in the recipes on this list include portobello, baby bella, button, and king oyster mushrooms.
Mushrooms contain plenty of fiber, antioxidants, B vitamins, and potassium. They can have several positive health affects that you can read about here.
In vegan recipes, mushrooms are often used to replace meat due to their ability to provide a chewy texture and strong, somewhat meaty flavor.
How to Store and Prepare Mushrooms
After buying mushrooms from the store, keep them in the fridge (in a paper bag is best) and use them within one week. When you are ready to use them, wash the mushrooms by wiping them with a damp paper towel or running them under water in a colander.
Make sure you don't soak them in water because they will absorb too much moisture. When cleaning, be especially delicate if you are making any kind of stuffed mushroom because you won't want to break them.
And of course cleaning and prep for mushrooms may vary based on the recipe, so if a recipe has specific preparation instructions, make sure you follow them!
Vegan and Gluten-Free Mushroom Recipes
All of the recipes on this list are vegan and gluten-free. Most of them are oil-free as well, and the ones that aren't can easily be made oil-free by using water or vegetable broth to sauté.
1. Vegan Mushroom Gravy
Looking for a vegan and gluten-free gravy? Try this delicious mushroom gravy! This is the gravy that I make for every single holiday meal to pour over my mashed potatoes and vegetables. It is completely oil-free and has a hearty, full flavor that even meat-eaters will enjoy!
2. Vegetable Stew
3. Portobello Shepherd's Pie
If you love shepherd's pie, you need to try this recipe! Portobello mushrooms with a shepherd's pie topping? Such a great idea! Instead of the classic mashed potato crust, these portobello mushrooms are topped with a flavourful parsnip puree. This recipe would be great as the main for a holiday meal, but it's also easy enough to make any night of the week! This recipe is of course vegan, but also gluten-free, oil-free, nightshade free, and grain-free.
4. Vegan Mushroom Stroganoff
This hearty mushroom stroganoff has a deliciously creamy sauce that anyone will love! This stroganoff is super easy to make and will be done in about 30 minutes, so it makes the perfect week-night family meal! You can use a combination of mushrooms for this recipe, such as a mix of baby bellas, cremini, and button. So if you have a variety of mushrooms that you need to use up, this recipe is exactly what you need! Enjoy this vegan mushroom stroganoff over pasta, rice, and more.
5. Mushroom Tacos
Looking for some new vegan tacos to try? Check out these delicious mushroom tacos! This recipe uses king oyster mushrooms because they are easily shreddable, making a great taco filling. These mushrooms have a slightly chewy texture that is somewhat similar to meat, and they develop a strong umami flavor when cooked. This recipe also includes a flavorful carnitas sauce for the mushrooms!
6. Roasted Steak-y Mushroom Kale Salad
This healthy, yet hearty salad recipe includes juicy mushrooms, crunchy chickpeas, roasted potatoes, and kale, all covered in a delicious vegan blue cheese dressing. This is my kind of salad! It isn't just a bowl of vegetables, but a super filling and satisfying mushroom salad. In fact, it has everything you need for a main dish, but of course you could serve it as a side salad as well.
7. Vegan Mushroom Risotto
This creamy mushroom risotto is made with simple ingredients and can be ready in under 40 minutes. Use a mixture of portobello and button mushrooms to make this delicious vegan and gluten-free side dish. This recipe also includes an oil-free option, so it's acceptable for anyone following a whole-foods plant-based diet.
8. Lasagna Stuffed Portobello Mushrooms
Craving lasagna? Try these delectable vegan lasagna stuffed portobello mushrooms for a creative alternative to a traditional lasagna! These portobello mushrooms are stuffed with a spinach ricotta, under a tasty bolognese sauce, and they are much easier to make than a traditional lasagna. This mushroom dish is oil-free and full of nutrients, while also being a filling main dish that can be served for special occasions or any night of the week!
9. Vegan Mushroom Lentil Pâté
Making this mushroom lentil pâté is super easy and it makes the perfect appetizer for when you have people over. It is full of veggies and plant-based protein, with a delicious smoky flavor. You can use any type of mushrooms to make this mushroom lentil pâté. Serve it with any crackers or chips, or you could even spread it on a bagel or in a sandwich!
10. Vegan Mushroom Pepper Steak
Try this vegan spin on a traditional pepper steak, with a mix of peppers, onions, and mushrooms in a delicious sauce. You only need one pot and 40 minutes to make this incredible vegan mushroom pepper steak. The mushrooms in this recipe are a great substitute for meat and they pair well with the flavorful tomato sauce. Serve this mushroom recipe over a bed of rice for a filling meal.
11. Gluten-Free Seitan Roast
Make this seitan roast with cremini mushrooms and tofu to create a delicious gluten-free, vegan roast. This dish has a chewy texture with a meaty, umami flavor. You can make this seitan roast for a holiday meal as it serves well with mashed potatoes, gravy, cranberry sauce, and veggies. You could also slice this roast and add a slice to a sandwich, or chop it up and add it to a salad!
12. Vegan Mushroom Stew
This vegan stew is made with simple ingredients, and the mushrooms provide a chewy, meaty addition to the vegetables. This mushroom stew is a full, nutritious meal on its own, but you could also serve it with other dishes such as a salad, a vegetable side dish, or bread. Enjoy this stew as a family meal, then you can continue eating any leftovers for a few days after making it.
13. Mushroom Chickpea Minestrone
This minestrone is hearty, nutritious, and filling. It includes a medley of mushrooms, potatoes, veggies, and chickpeas, with seasoning to add a ton of flavor. This soup is perfect for a cold day and can be made in about 35 minutes. This is a great way to some vegetables and beans into your diet without it being super boring!
14. Grilled Portobello Mushroom Steaks
These grilled portobello mushroom steaks take 30 minutes to make and have a nice umami flavor. Before grilling, you will marinate your portobello mushrooms for just 10 to 20 minutes. Serve these mushroom steaks with a potato dish, salad, veggies, or anything you like! You can even serve them in a burger bun with your favorite burger toppings.
15. Instant Pot Mushroom Curry
If you love curry, you need to try this vegan mushroom curry! It is creamy, flavorful, and super easy to make in your Instant Pot. This mushroom curry is often served with chapati, naan, and basmati rice, but if you are gluten-free, rice is your best option. This recipe is filled with a ton of flavors due to traditional spices used in curries, while coconut milk makes this curry smooth and creamy.
16. Maple Mustard Tempeh With Mushrooms
In this recipe, tempeh and mushrooms are sliced and toasted with a delicious maple mustard sauce. Make sure you use a vegan white wine for this recipe, or sub with apple cider vinegar as stated in the recipe instructions.
If you need this recipe to be gluten-free, make sure you buy a tempeh that is gluten-free. Tempeh is naturally gluten-free, but many brands add gluten to tempeh, so check the package!
17. Winter Crostini With Mushrooms, Broccoli, and Hominy
Mushrooms, broccoli, and hominy are cooked, then piled onto slices of crostini in this delicious party appetizer. Make sure you use a vegan white wine for this recipe, and if you want it to be gluten-free you'll need to find a gluten-free baguette or make your own.
18. Mushroom Broth
Mushroom broth is rich and flavorful, so it's a great addition to many recipes like soups and stews. But buying mushroom broth from the store is expensive, so why not make your own? This mushroom broth recipe is easy to make and a great way to reduce food waste because you will need to use mushroom and vegetable scraps.
---
I hope you enjoy these delicious, hearty vegan mushroom recipes! For more information on how to go vegan, check out this vegan guide for beginners.
This plant-based grocery list and this list of vegan pantry staples may be of help as well!