This post contains affiliate links for which I may earn a commission (at no extra cost to you) should you make a purchase. As an Amazon Associate I earn from qualifying purchases. Please see my disclaimer for more information.
Check out this list of essential vegan pantry staples to keep your kitchen fully stocked!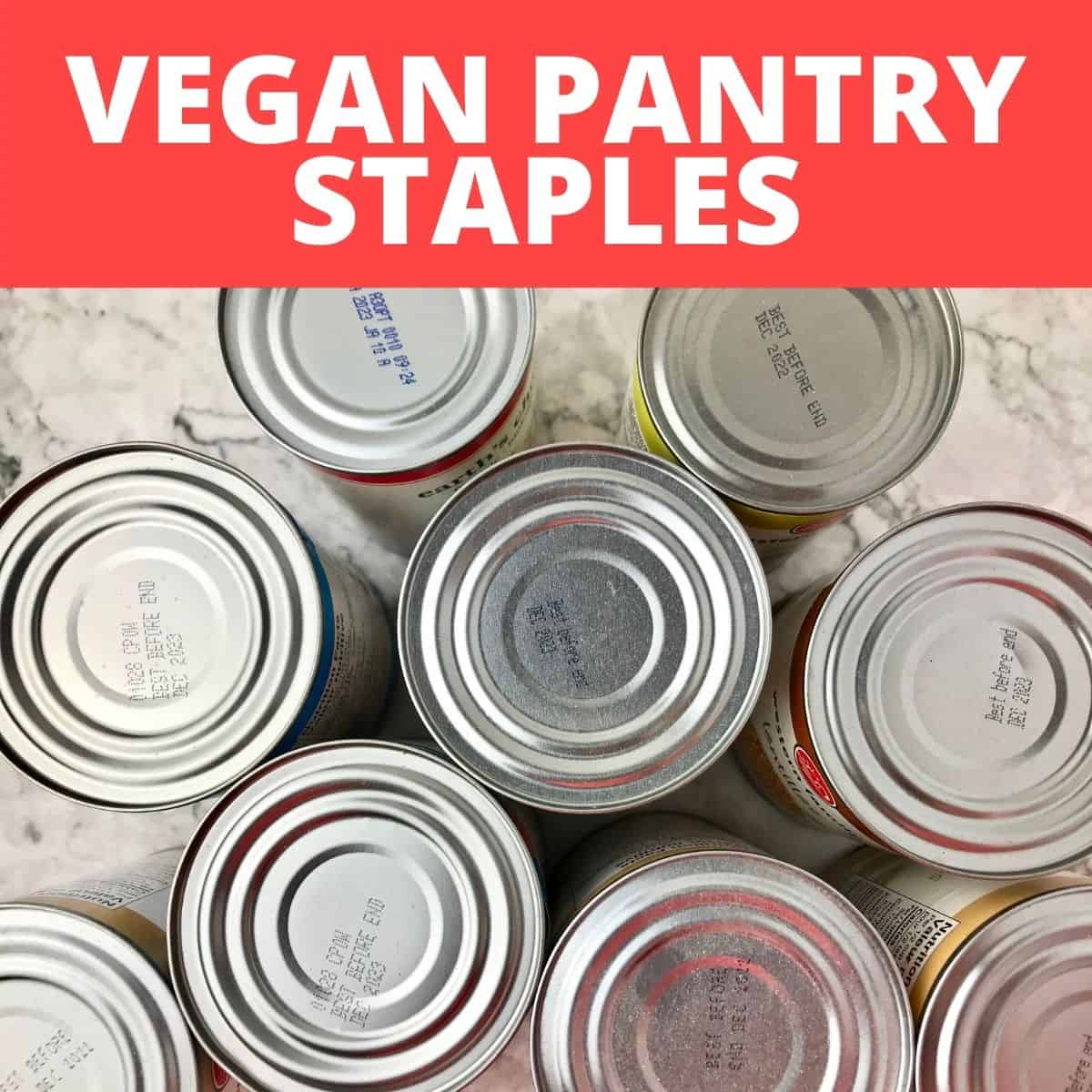 It's a good idea to keep your kitchen stocked with vegan pantry staple items that you can use to throw together a meal or snack. Of course you'll want to get fresh produce every week to stock your fridge, but you can stock up on pantry items and keep some of them for months or years. If you set up your pantry with vegan essentials, you'll never run out of something you need!
If you want a whole foods plant-based grocery list including pantry and refrigerated items, check out this plant-based grocery list.
Organizing Your Vegan Pantry
I organize my pantry by categories, so that's how I have divided this list for you. Try to keep similar items together so that you always know where everything is!
If you do this, you'll also see when you're running low on something. Whenever I notice that I'm on my last jar (or bag, or can, etc.) of something in my pantry, I put it on my shopping list and buy it before it is empty so that I never run out.
I also find it useful to buy containers or baskets to keep my items categorized. This also makes it easier to grab items. For example, I have some containers for my herbs and spices, which are on a shelf in my cupboard that is a bit too high for me. Instead of getting on a chair or stool and digging around reaching to the back of the cupboard, I simply have to grab the container and set it on the counter. Then I can rummage through the container to find what I need and simply slide the container back on the shelf!
There are many ways to organize a vegan pantry, so in the end you just have to do what works best for you. Some people like to empty out packages into jars and containers with pretty labels, but you don't need to do that. Do what is the most functional for you. The most important thing is that you have items categorized so that you know where everything is!
List of Vegan Pantry Staples
Here is my list of items that I think are essential for any vegan pantry!
Grains
Grains make the base of most of my meals. Brown rice, veggies, and beans with a delicious vegan sauce is something I eat often. Whole grains are a healthy way to fill you up on a plant-based diet.
Rice (I like brown rice, but get a variety if you want)
Quinoa
Amaranth
Millet
Barley
Bulgur
Buckwheat
Couscous
Oats
Wraps and Bread
Pasta
I like keeping some pasta stocked up in my kitchen for pasta dishes like this hummus pasta salad. I am gluten-free, but get any pasta that you like! Here are some that I enjoy:
Ancient Harvest Gluten-Free Penne
Beans and Legumes
Beans and legumes are a fantastic source of plant-based protein. I love adding beans to my rice bowls and salads. Try this 5 bean salad if you want to get more beans into your diet.
I keep a combination of dried beans and canned beans. Cooking dried beans in an instant pot is super easy, but I like having canned beans in stock for when I want to quickly toss them onto a salad or something.
Red kidney beans
Black beans
Pinto beans
White kidney beans
Chickpeas
Lentils
Peas
Navy beans
Nuts and Seeds
Nuts and seeds are a great source of healthy fats. A handful of nuts makes a great, quick snack, and nuts are also great for making creamy vegan sauces and dips. Try this creamy dill dressing or this spicy cashew dressing.
Cashews
Walnuts
Almonds
Brazil nuts
Peanuts
Pistachios
Sunflower seeds
Flaxseeds
Sesame seeds
Pumpkin seeds
Hemp seeds
Chia seeds
Nut butters:
I like to buy natural nut butters for a healthier option. This means I check the ingredients label to ensure there is no added sugar, salt, or oil. Usually the only ingredient is the nut itself, which may be roasted.
I find that sometimes natural nut butters are difficult to work with because the oil separates and settles on top, and the nut butter underneath firms up. If this happens, you can put all of the contents of the container into your food processor and blend until it's evenly mixed.
Plant Milks
You can make your own plant-based milks if you don't want any additives, but it spoils a lot faster and if you don't want to be making it every week, it's nice to have some shelf-stable cartons stocked in your pantry.
There are so many different kinds of plant-based milks that you can buy. Here are some options:
Herbs and Spices
Herbs and spices can add so much flavour to your food! I usually use dried herbs, but for certain recipes, such as this oil-free pesto, I buy fresh. There are so many to choose from, but these are the dried herbs that I always have on hand:
Basil
Sage
Thyme
Oregano
Dill
Paprika
Cayenne
Curry powder
Onion powder
Garlic powder
Italian seasoning
Black pepper
Chili powder
Pumpkin pie spice
Nutmeg
Cinnamon
Turmeric
Cumin
Cardamom
Cooking Ingredients and Condiments
This includes ingredients that I use in cooking, as well as canned soups and condiments.
Vegetable broth (the one linked here has no added salt or oil)
Tamari (I get low sodium)
Curry Paste (I love this one from Thai Kitchen)
Hot sauce
Salsa
Vinegar: balsamic, apple cider vinegar, red wine vinegar, etc.
Oil (I don't keep oil at home because I don't cook with it, but many people do)
Ketchup
Mustard (I always have prepared yellow mustard and Dijon)
Pickles
Canned soups
Canned coconut milk
Canned tomato sauce, crushed tomatoes, and tomato paste
Jarred pasta sauce for when you don't feel like making your own
Nutritional yeast (I like this one from Bob's Red Mill)
Cornstarch
Baking Ingredients
My baking is usually whole foods plant-based, but I do like to bake with vegan chocolate chips sometimes too! Here is everything that I keep in my pantry for baking:
Whole wheat flour (if you aren't GF)
All-purpose gluten-free flour
Oat flour (ensure certified GF if necessary)
Almond flour
Coconut flour
Coconut flakes
Coconut sugar
Tapioca flour
Brown rice flour
Cacao powder
Maple syrup
Blackstrap molasses
Dates
Date powder
Raisins
Baking soda
Baking powder
Vanilla extract
Unsweetened apple sauce
Snacks
I also like to keep some snack items in my pantry for when I'm hungry and feeling too lazy to make something. Some of these snacks fit in with a whole foods plant-based diet, but I do keep some processed packaged snacks to have on occasion.
I hope you have found this list of vegan pantry staples helpful! If you want some more information about going vegan, check out this guide to veganism for beginners!