This post contains affiliate links for which I may earn a commission (at no extra cost to you) should you make a purchase. As an Amazon Associate I earn from qualifying purchases. Please see my disclaimer for more information.
This spicy cashew dressing is a creamy dressing that is great on salads, grain bowls, or even as a dip! It is vegan, free of added oil, and full of flavor.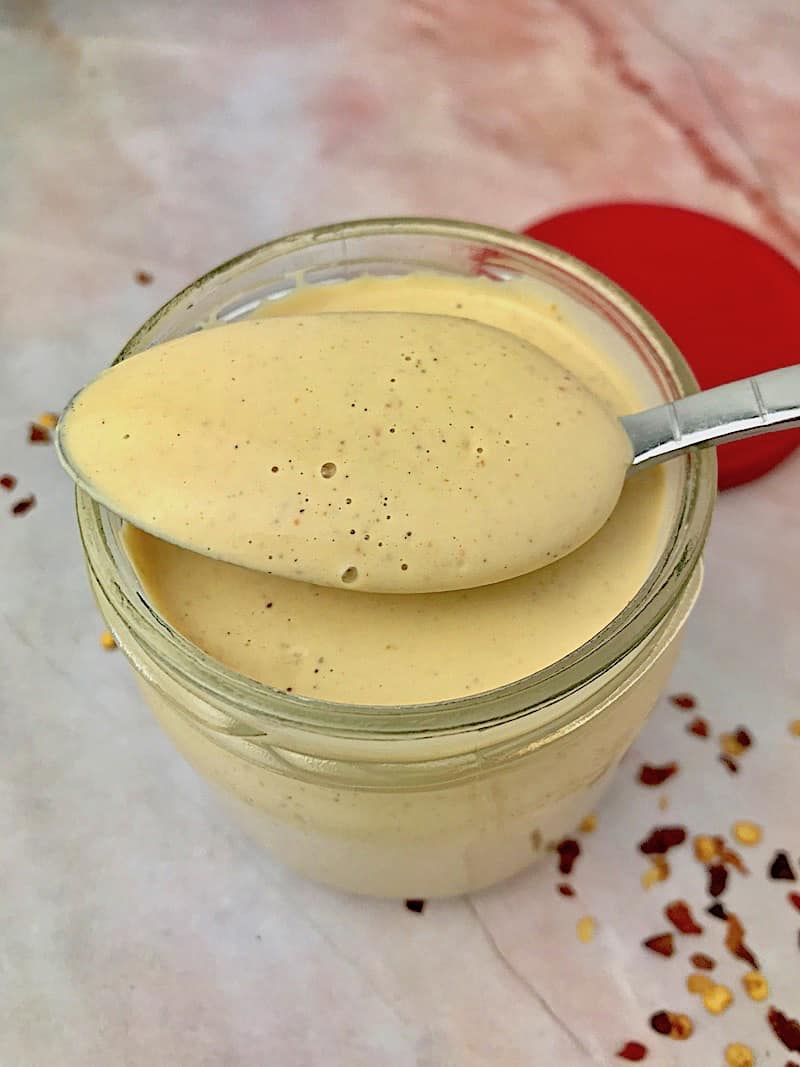 Eating a salad is no fun without a delicious dressing! This salad dressing has been my favourite for awhile now and it gets me excited to eat lettuce and a bunch of other vegetables! Without a tasty dressing, I know I wouldn't be able to eat nearly as many vegetables. The best part is that this one is made with healthy whole foods!
This dressing is:
Thick
Creamy
Free of added oil
Whole foods plant-based
Vegan
Spicy
Ingredients
*For quantities and instructions, scroll to the recipe box below.
Here is everything that you will need to make this tasty spicy cashew dressing:
Cashews
Water
Lemon juice
Cayenne pepper hot sauce (I use Frank's RedHot Original)
Garlic powder
Onion powder
Ground black pepper
Crushed red pepper flakes
Capers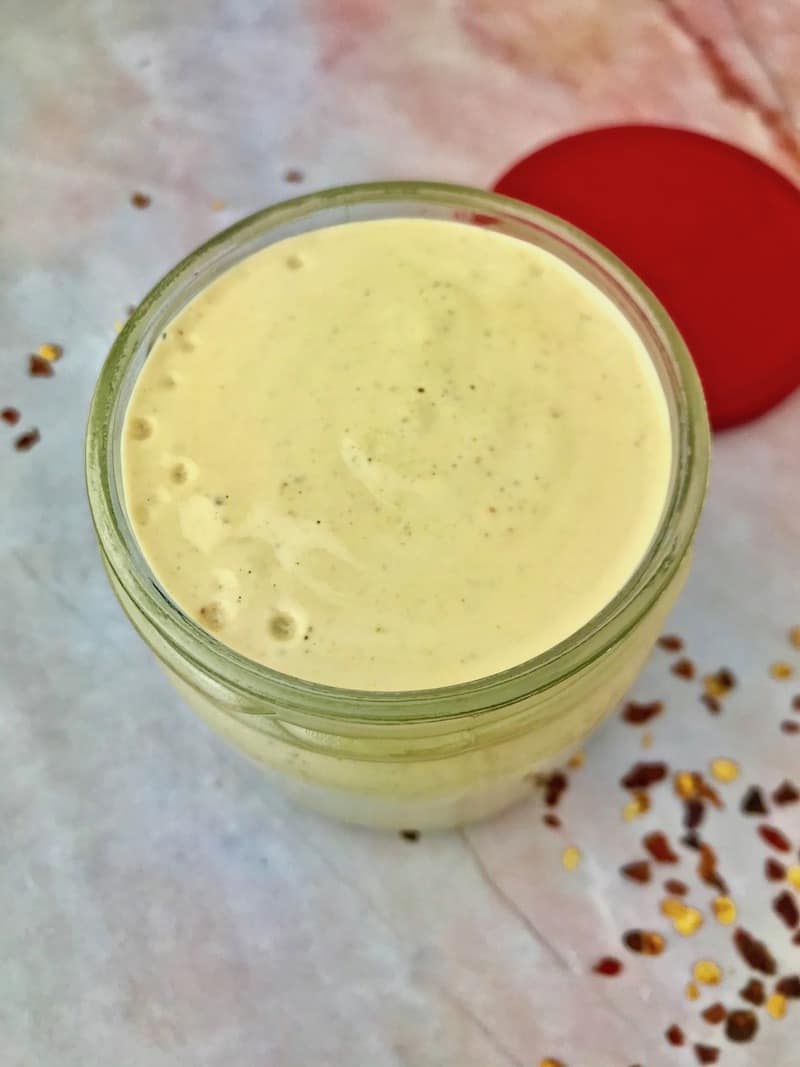 Tips for making this spicy cashew dressing
Cashews are the base of this recipe and they are what create the thick, creamy texture. To ensure a smooth sauce, you will either need a great high-powered blender, or you will need to pre-soak the cashews. My Vitamix is amazing at blending up raw cashews without any soaking required, so I recommend this brand or something similar if you like making a lot of nut-based sauces. If you don't have a high-powered blender, you can soak your cashews in a bowl of water for several hours, or you can use boiled water to speed up the process. Just boil some water, pour it over a bowl of cashews, then place an upside down plate over the bowl to trap the heat. Leave this for about 15 minutes and your cashews should be ready to blend.
This dressing is quite thick, which I love, but you can thin it out if you would like. Just start by adding 2 extra tablespoons of water, and if it still isn't as thin as you'd like it, add more water in very small increments.
This dressing recipe includes 1 tablespoon of Frank's RedHot Original Cayenne Pepper Sauce. I recommend this specific brand because it's what the recipe was tested with and yields a nice taste and spice level. If you can't find it, you could try substituting with a similar hot sauce, but make sure it isn't too spicy.
How spicy is this dressing?
This cashew dressing has a mild-medium spice level. I'm not one to enjoy anything super spicy, and I love this dressing, so I know it isn't too hot! Someone who loves really spicy foods may find this more on the mild side, while others may consider it quite spicy, but most people will be able to handle this just fine.
If you want this dressing to be even more spicy, add some more crushed red pepper. That's where the spice in this recipe really comes from. If you choose to add more, add it in very small increments because the spice level will increase quickly with a very small amount.
How to use this dressing
This dressing is not just for a green salad! Here are some ideas on how to use it:
Salads, but not just leafy greens! You can use this spicy cashew dressing on broccoli salad, macaroni salad, potato salad, bean salad, etc.
Grain bowls: rice and veggie bowls, quinoa bowls, etc.
Veggie dip! This dressing is thick enough to use as a dip for a variety of vegetables such as carrots, bell peppers, celery, cucumber, and more.
Chip dip. I love having this with tortilla chips!
Pizza dip (this dressing is seriously delicious with some pizza).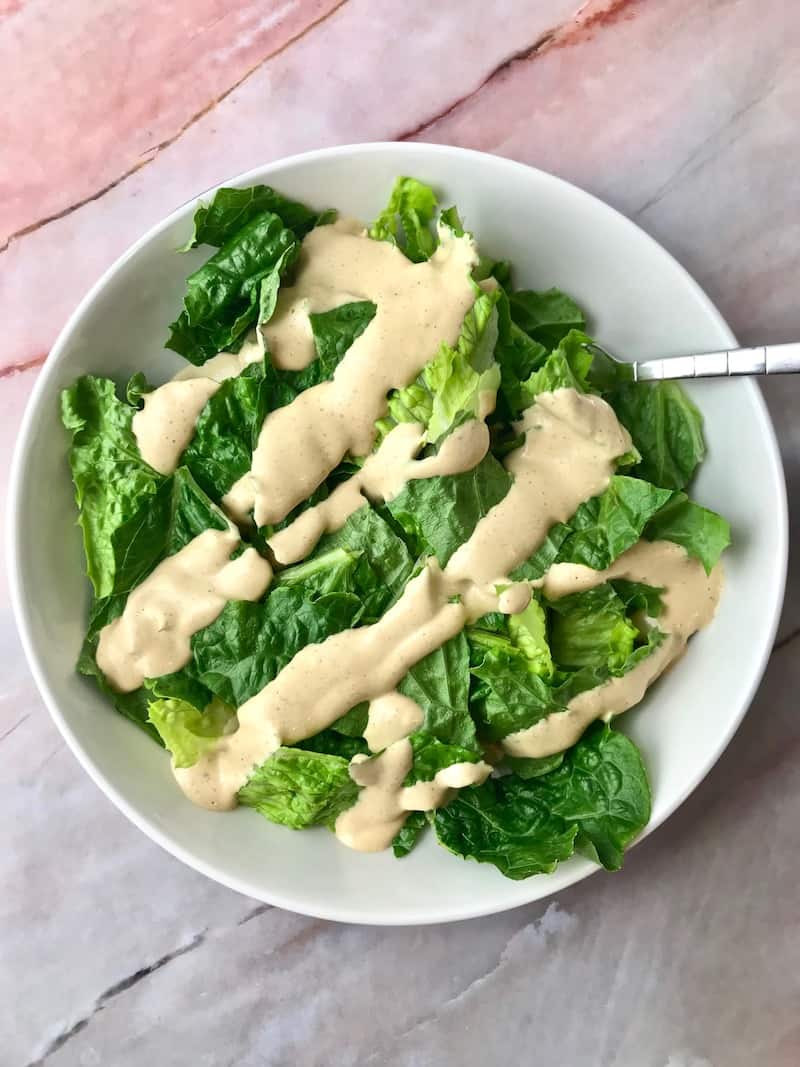 Other oil-free dressings:
Recipe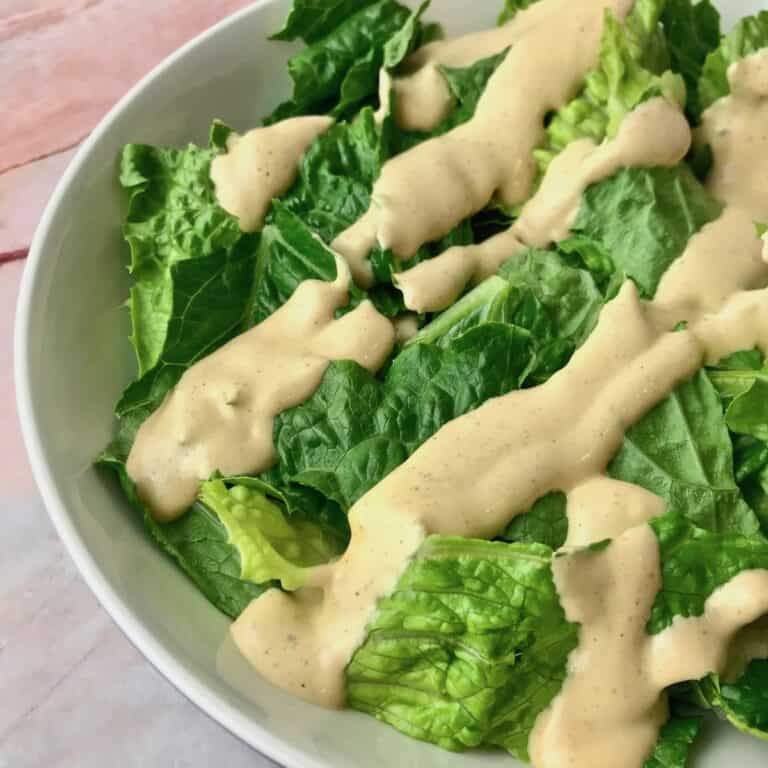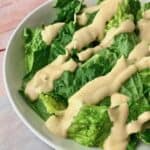 Print Recipe
Spicy Cashew Dressing
This spicy cashew dressing is a creamy dressing that is great on salads, grain bowls, or even as a dip! It is vegan, free of added oil, and full of flavor.
Instructions
Soak your cashews if you don't have a high powered blender. See note below.

Add all ingredients to a blender and blend until smooth.
Notes
Soaking your cashews: If you have a high-powered blender such as a Vitamix, you don't need to soak your cashews. If you have a weaker blender, soak your cashews in water for several hours to ensure that they blend into a smooth sauce. If you want to speed up the process, soak your cashews in boiling water for about 15 minutes.
Add more water if you want to thin this dressing out. Two more tablespoons should be enough. Don't add too much extra water all at once, because you may end up making the dressing thinner than you'd like.
Store this dressing in a sealed container in the fridge for up to a week.
This recipe makes approximately 1 + ¼ cups of dressing. Nutrition information is an estimate for 2 tablespoons of dressing.
Nutrition
Calories:
74
kcal
|
Carbohydrates:
5
g
|
Protein:
2
g
|
Fat:
6
g
|
Saturated Fat:
1
g
|
Polyunsaturated Fat:
1
g
|
Monounsaturated Fat:
3
g
|
Sodium:
58
mg
|
Potassium:
98
mg
|
Fiber:
1
g
|
Sugar:
1
g
|
Vitamin A:
60
IU
|
Vitamin C:
1
mg
|
Calcium:
7
mg
|
Iron:
1
mg
Nutrition Disclaimer
Nutrition information is an estimate generated from a nutrition calculator. There may be errors here or variations based on ingredients you use.