This post contains affiliate links for which I may earn a commission (at no extra cost to you) should you make a purchase. As an Amazon Associate I earn from qualifying purchases. Please see my disclaimer for more information.
Sour Patch Kids are often thought of as vegan because they don't contain any animal-derived ingredients (although the natural flavors are questionable-more on that below). Animals are however harmed to produce certain ingredients in these candies, so they can't truly be called vegan.
This is similar to my answer to whether or not Oreos are vegan. Both of these treats contain plant-based ingredients, but are not vegan.
Why?
Veganism is about reducing harm to and exploitation of animals as much as possible, not just about avoiding the consumption of animal ingredients. You can read more about the differences between plant-based and vegan here.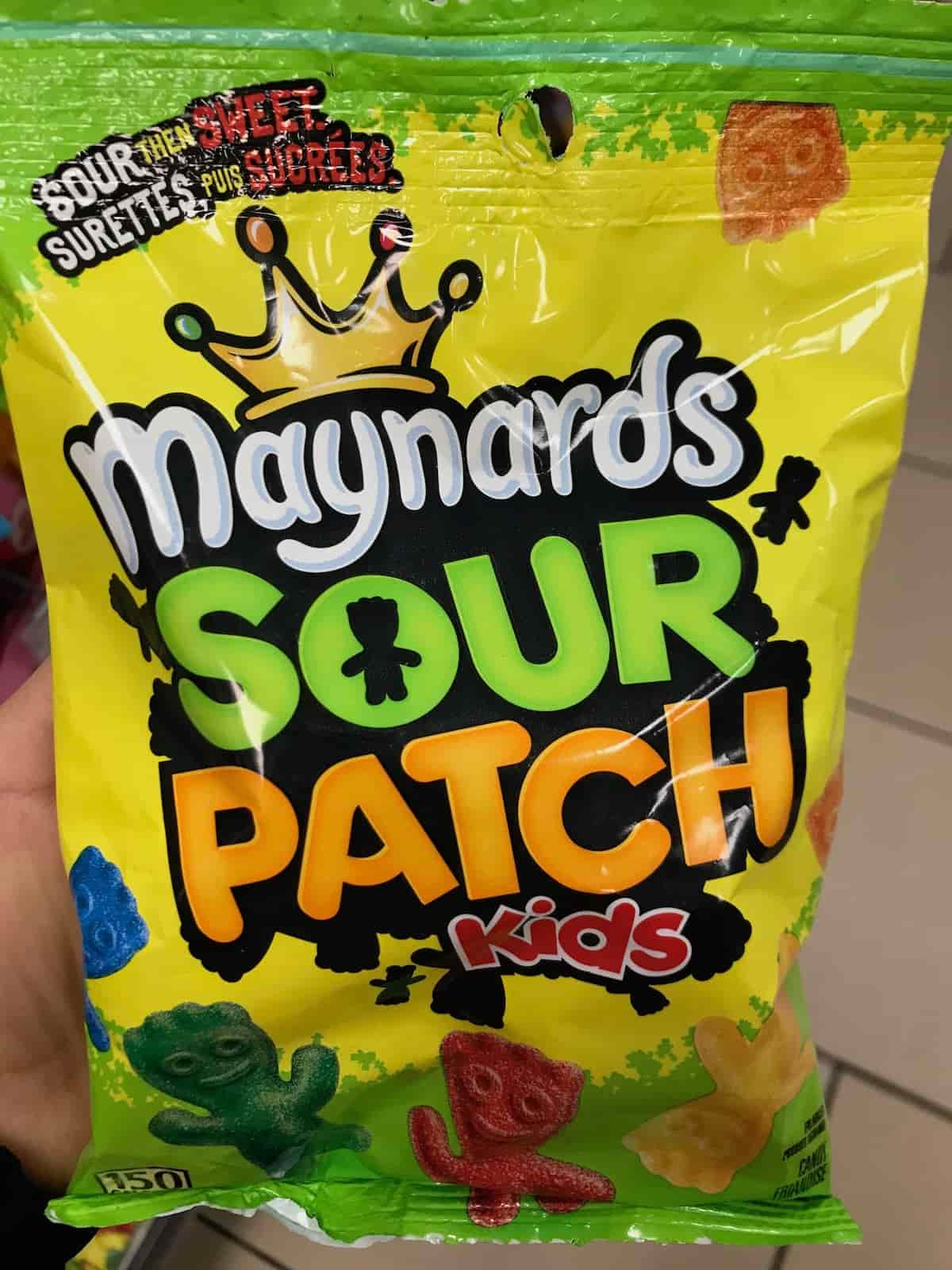 Jump to:
Do Sour Patch Kids contain gelatin?
Many people would assume that this chewy candy contains gelatin, but it actually is not listed on the package. There are other ingredients of concern for vegans though.
What are the ingredients in Sour Patch Kids?
Here are the ingredients for the original Sour Patch Kids:
Sugar, invert sugar, corn syrup, modified corn starch, contains less than 2% of tartaric acid, citric acid, natural and artificial flavor, Yellow 6, Red 40, Yellow 5, Blue 1.
There are also several other varieties of Sour Patch Kids, but they contain the same ingredients of concern for vegans.
Why aren't Sour Patch Kids vegan?
There are three areas of concern when it comes to why Sour Patch Kids are not vegan:
The processing of the sugar.
Animal testing is used for certain ingredients in some of the candy.
The source of the natural flavors is unknown.
The sugar
Cane sugar is often a grey area for vegans, because some cane sugar is processed with bone char. This means that crushed and burned cattle bones are used in the production of some sugar to filter it and give it that bright white color.
Even when bone char is used in the production of cane sugar, the sugar itself does not actually contain bone char. It just comes in contact with bone char during processing.
So some vegans choose to not worry about this, but by the definition of veganism, this would not be considered vegan.
So, do Sour Patch Kids contain sugar that was processed with bone char? The answer is a bit complicated. Here is the response I got from Mondelez International, the company that owns Sour Patch Kids:
"Mondelez International has several sugar suppliers. Some of our suppliers DO use the animal-derived natural charcoal (also known as "bone char") in their cane sugar refining process and some suppliers DO NOT use this process.
Since we may use any of the sugar suppliers at any given time in production, we cannot give a definite answer as to whether bone char was used in the sugar refining process of a particular product."
This means that sometimes the sugar in Sour Patch Kids is vegan, and sometimes it isn't. So if you are a vegan who chooses to avoid bone char-filtered sugar, you should avoid eating Sour Patch Kids.
Natural flavors
Natural flavors can be plant-based or animal-based, so to know for sure you always need to ask, unless the product is certified vegan.
I reached out to Mondelez International to ask them if the natural flavors in Sour Patch Kids are vegan and here is the response I received:
"We understand that knowing what ingredients are in the food products you eat directly affect how you practice your religion or dietary lifestyle, and Mondelez does all that it can to assist its consumers in making educated food decisions. Unfortunately, this ingredient information is not currently available.
As you can imagine our products change frequently, and maintaining a list of products that contain enzymes would be virtually impossible. We apologize for any disappointment this may cause."
So basically they can not confirm or deny whether or not the natural flavors in Sour Patch Kids are vegan.
Animal testing
Another issue with Sour Patch Kids is that they use some ingredients that are tested on animals. These ingredients are artificial food dyes to give the candies different colors.
These dyes include Red 40, Yellow 6, Yellow 5, and Blue 1. None of these dyes actually contain animal products, however they are periodically tested on animals.
These dyes are also not very good for you (although people usually consume them in such small quantities which is why they are deemed "safe"). Many artificial food dyes are made from petroleum and have been linked to some potential health issues.
You can learn more about these food dyes here.
Vegans do not use products that are tested on animals, which is why we look for cruelty-free beauty products, household cleaning products, etc.
So with food it should be no different. If something in the food has been tested on animals, it isn't vegan.
If you are okay with eating Sour Patch Kids simply because they do not actually contain animal ingredients, then you would be plant-based. Being plant-based is still great and saves plenty of animals, so no judgment here!
Why do some vegans eat Sour Patch Kids?
As stated, it seems as though the ingredients in Sour Patch Kids are plant-based (although the source of the natural flavors is uncertain). Because of this, some vegans are okay with eating them.
In particular, many newer vegans eat Sour Patch Kids (or other plant-based but not 100% vegan treats) because it makes the transition easier for them.
It's also possible that they don't realize that animal testing is involved or that cattle bones are used in the production of the sugar.
Thinking back to when I first became vegan I certainly had no idea that sugar was an ingredient of concern. I assumed that all sugar was vegan because I had no clue that bone char was sometimes used in its production.
But as you spend more and more time being vegan, you learn so much and it's okay if you don't know everything right away!
Also keep in mind that it is impossible to be perfectly vegan because if we think about the potential harm done to animals, almost nothing is 100% vegan. It's about doing your best to eliminate harm to animals as much as you can.
Vegan alternatives to Sour Patch Kids
It is difficult to find sour candies that don't contain sugar that may be processed with bone char. That is definitely the most difficult ingredient for vegans who are concerned with it because so many otherwise vegan products contain sugar that may or may not be vegan.
However, the following products use organic sugar, which is never processed with bone char.
Project 7 makes a variety of vegan sour candies including Sour Apple Rings, Sour Worms, and Sour Fruit Gummy Bears. None of these products contain gelatin and they use organic cane sugar.
Yum Earth makes candy that only uses organic sugar as well. Some of their candies contain gelatin, but they do also have some vegan sour candies.
Vegan sour candies from Yum Earth: Organic Sour Beans, Organic Sour Giggles, Organic Sour Twists.
More vegan food products