This post contains affiliate links for which I may earn a commission (at no extra cost to you) should you make a purchase. As an Amazon Associate I earn from qualifying purchases. Please see my disclaimer for more information.
Ranch dressing is creamy, tangy, and perfect for salads. It is also great as a dip for veggies, chips, and more!
If you are vegan, there is no need to miss out on ranch. There are plenty of companies that make vegan ranch alternatives, and some of them taste just like regular ranch!
Vegan Ranch Brands
Here is a list of some of the best vegan ranch products, including ranch dips and dressings.
Hellmann's Vegan Classic Ranch
Hellmann's Vegan Classic Ranch Dressing is certified vegan by Vegan Action! This dressing is super rich and creamy, and made with canola oil and coconut milk. It is perfect for salad or drizzled over a grain bowl.
Plenty of people who have tried this ranch say that if you didn't know it was vegan, you would never guess!
Daiya Homestyle Ranch Dressing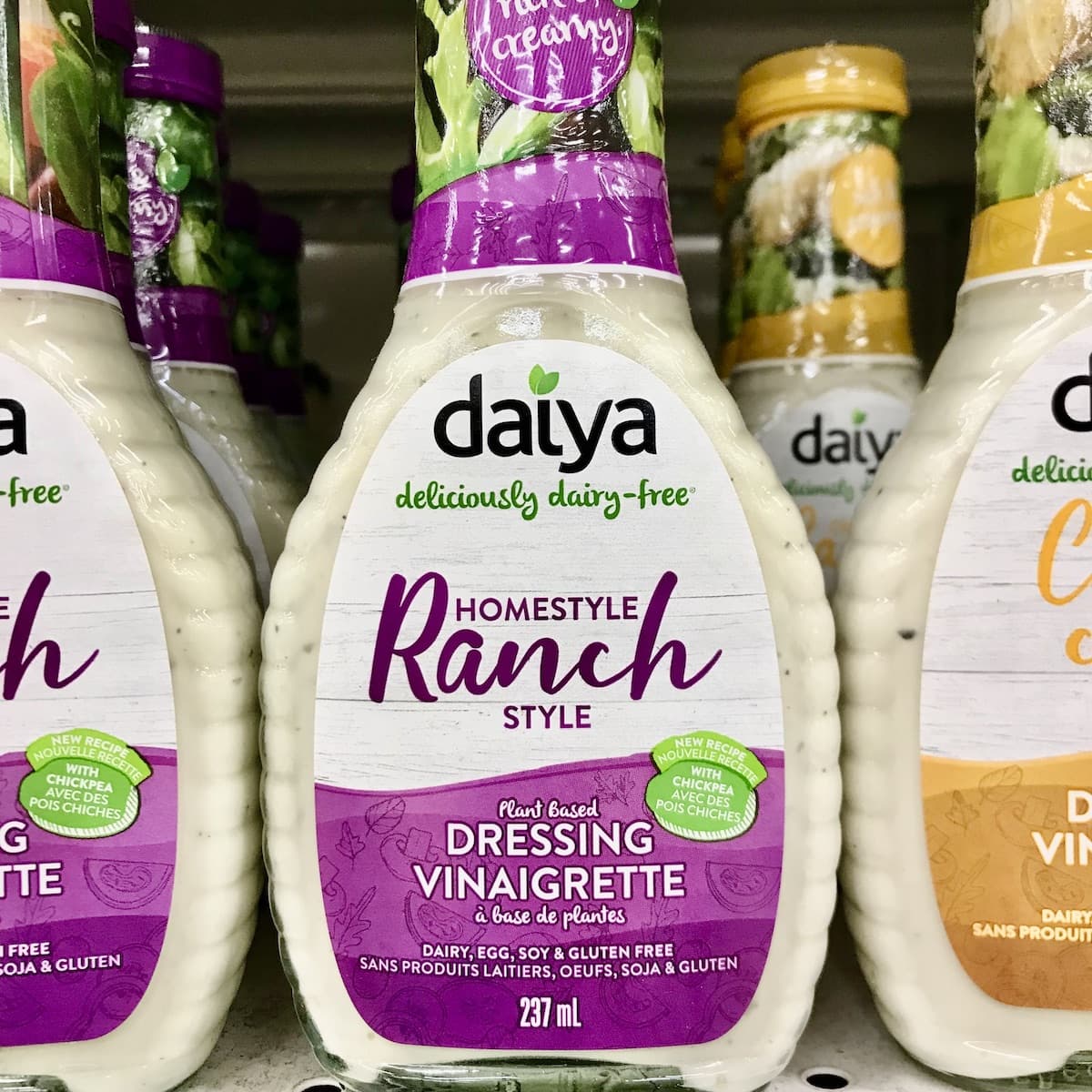 Daiya's ranch dressing is vegan, and also free of gluten, soy, peanuts, and tree nuts. This dressing is smooth and tangy and is great on a salad.
You can also use Daiya's vegan ranch dressing as a dip, though it may not be as thick as you'd like for dipping.
President's Choice Plant-Based Ranch Dressing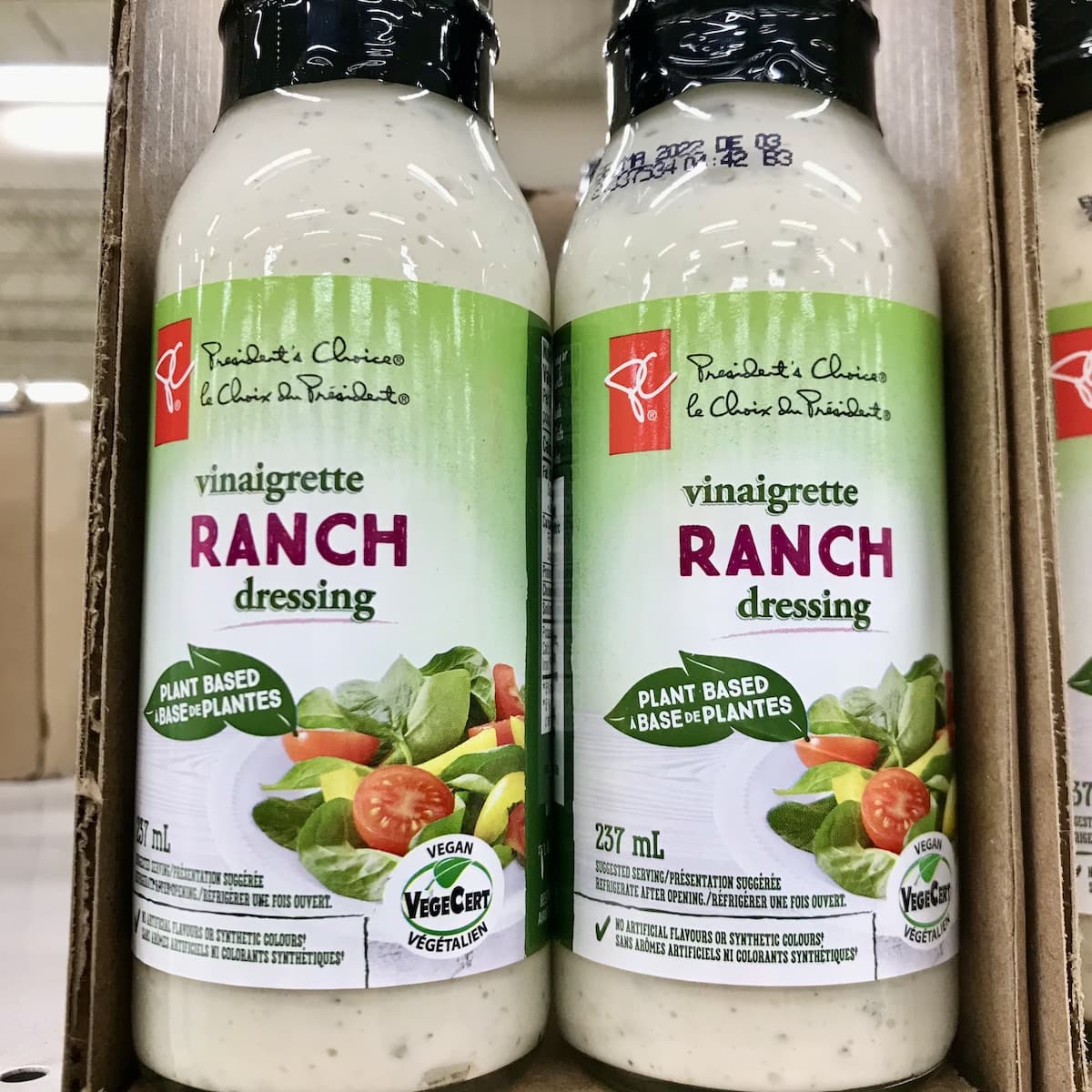 President's Choice calls their vegan ranch dressing tangy and rich! Though its main use is as a dressing for salads, you can use this ranch as a dip as well.
President's Choice vegan ranch dressing is certified vegan by VegeCert.
Primal Kitchen Vegan Ranch Dressing
Primal Kitchen's vegan ranch dressing is made with avocado oil, so it's great for those who avoid canola oil. It is free of gluten and soy, and is also Whole30 Approved, Paleo Friendly, and Keto Certified.
Follow Your Heart/Earth Island Ranch Dressing
Follow Your Heart makes the best ranch from a fully vegan brand!
This vegan ranch dressing is made with Follow Your Heart Vegenaise, which is made with a base of canola oil. Apple cider vinegar gives this dressing that perfect tang that you want in your ranch.
This dressing also contains Omega-3 fatty acids from hemp and flaxseed oils. Enjoy this ranch dressing on salads, in wraps and sandwiches, or as a veggie dip!
Follow Your Heart Ranch Dressing is also gluten-free and Non-GMO Project Verified.
Wildbrine wildCREAMERY Ranch Dip
This is a thick vegan ranch dip that is made with sunflower oil, coconut oil, cashews, and more.
Because this is specifically made for dipping, it's great with veggies, crackers, and chips. You can even dip your vegan pizza in it!
Mother Raw Organic Ranch Dressing
Made with extra virgin olive oil, apple cider vinegar, and plenty of flavor, this ranch dressing is smooth and is made with organic ingredients.
This dressing is good, but it isn't going to taste exactly like regular ranch and it isn't as thick as some may like. It is one of the healthier versions of vegan ranch though!
Boccalino Vegan Ranch
This vegan ranch dressing is smooth and creamy. It tastes quite similar to regular ranch and is made with canola oil, herbs, and spices for plenty of flavor.
It is used as a dressing and as a dip for veggies, chips, and more.
More Vegan Food Products