This post contains affiliate links for which I may earn a commission (at no extra cost to you) should you make a purchase. As an Amazon Associate I earn from qualifying purchases. Please see my disclaimer for more information.
Pesto is a delicious sauce that can be used on pasta, as a pizza sauce, in a sandwich or wrap, as a dip, and more.
Pesto is usually made with cheese, making it non-vegan in most cases. However, you can find some vegan store-bought pestos or simply make your own.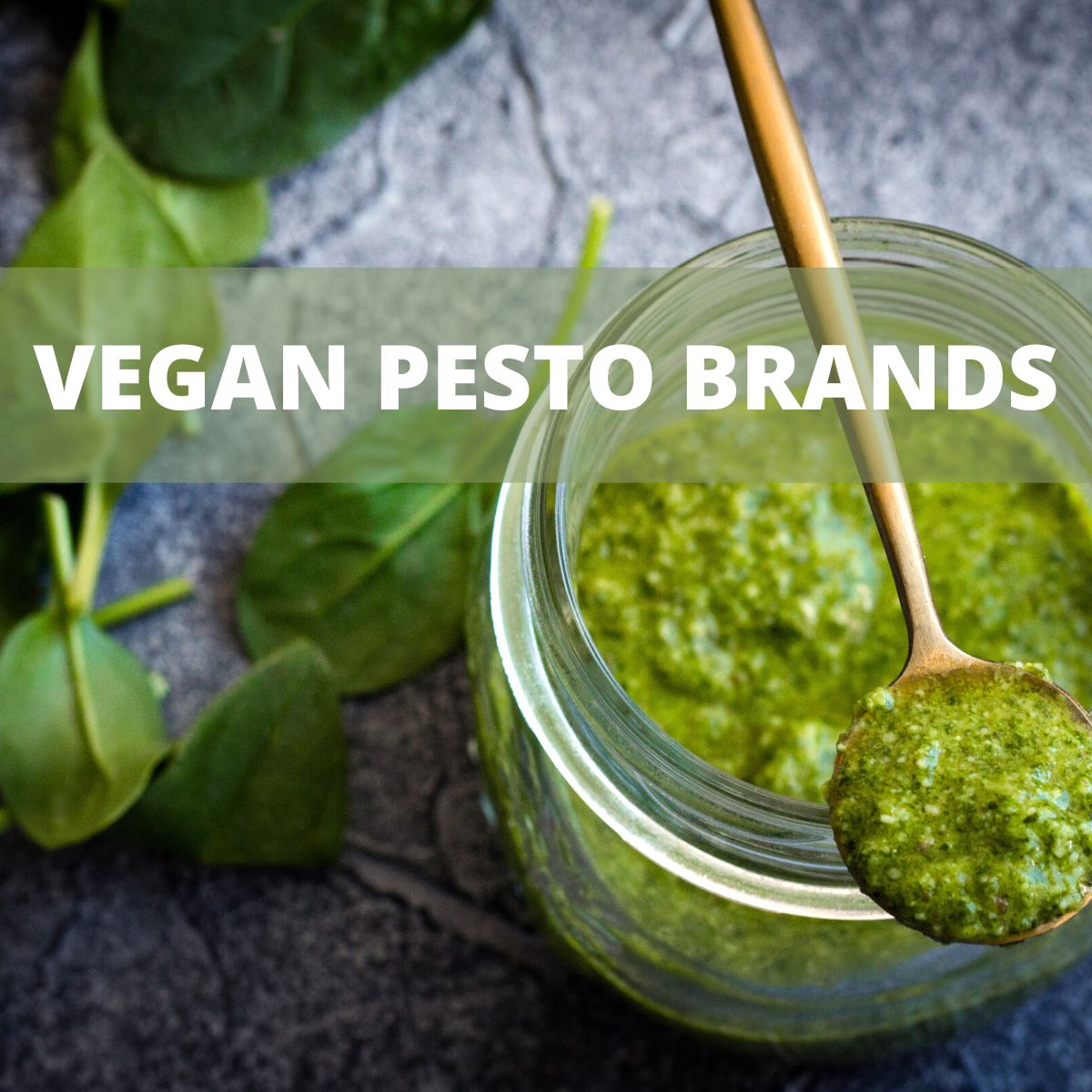 If you want to make your own vegan pesto at home, you can try this arugula and basil pesto recipe.
But if you want a store-bought vegan pesto, check out the list below!
The Best Vegan Pesto Brands
Gotham Greens Vegan Pesto
Gotham Greens grows produce in greenhouses throughout America. They sell various greens, including basil, which is used in their pesto products.
Gotham Greens makes two pestos that contain cheese, but they also make a Vegan Pesto!
This pesto is made with basil, pine nuts, extra virgin olive oil, garlic, lemon juice, and salt.
Use the Gotham Greens store locator to find this vegan pesto, or buy this pesto on Amazon.
Sprouts Organic Vegan Basil Pesto
This pesto from Sprouts is made with tofu, potatoes, cashews, basil, and more.
Buy this pesto at Sprouts Farmers Market. Look for a Sprouts location here.
Cucina & Amore Vegan & Nut Free Basil Pesto
This vegan pesto from Cucina & Amore is not only vegan, but also nut free, gluten free, and has no added sugar.
It is great for those with allergies and it has a classic basil pesto taste!
Cucina & Amore also makes some non-vegan pestos, so make sure you choose the vegan one.
Cucina & Amore products can be found at Whole Foods, from the Cucina & Amore website, and more. Contact them to ask about specific locations to find this pesto in-store.
Mr. Organic
Mr. Organic makes various food products, all of which are 100% plant-based. They make 7 delicious flavors of pesto:
Grilled Pepper Pesto
Tomato & Olive Pesto
Aubergine Pesto
Basil & Chilli Pesto
Basil Pesto
Chilli & Garlic Pesto
Sundried Tomato Pesto
See a list of stores that sell Mr. Organic products, or purchase on Amazon.
Bear Pond Farm
Bear Pond Farm makes a variety of pestos, 2 of which are vegan:
Three Greens Pesto – key ingredients include spinach, arugula, basil, pumpkin seeds, and miso powder.
Spicy Vegan Pesto – key ingredients include basil, sunflower seeds, cilantro, and jalapeno peppers.
Both of these vegan pestos are certified vegan by Vegan Action.
See Bear Pond Farm's store locator here, or buy this pesto on Amazon.
More vegan food product guides