This post contains affiliate links for which I may earn a commission (at no extra cost to you) should you make a purchase. As an Amazon Associate I earn from qualifying purchases. Please see my disclaimer for more information.
Making a pie is so much easier with a pre-made pie crust! Being vegan can be hard and you may think that you need to make your own pie crust from scratch, but there are actually some brands that make vegan pre-made pie crusts!
Check out the list below.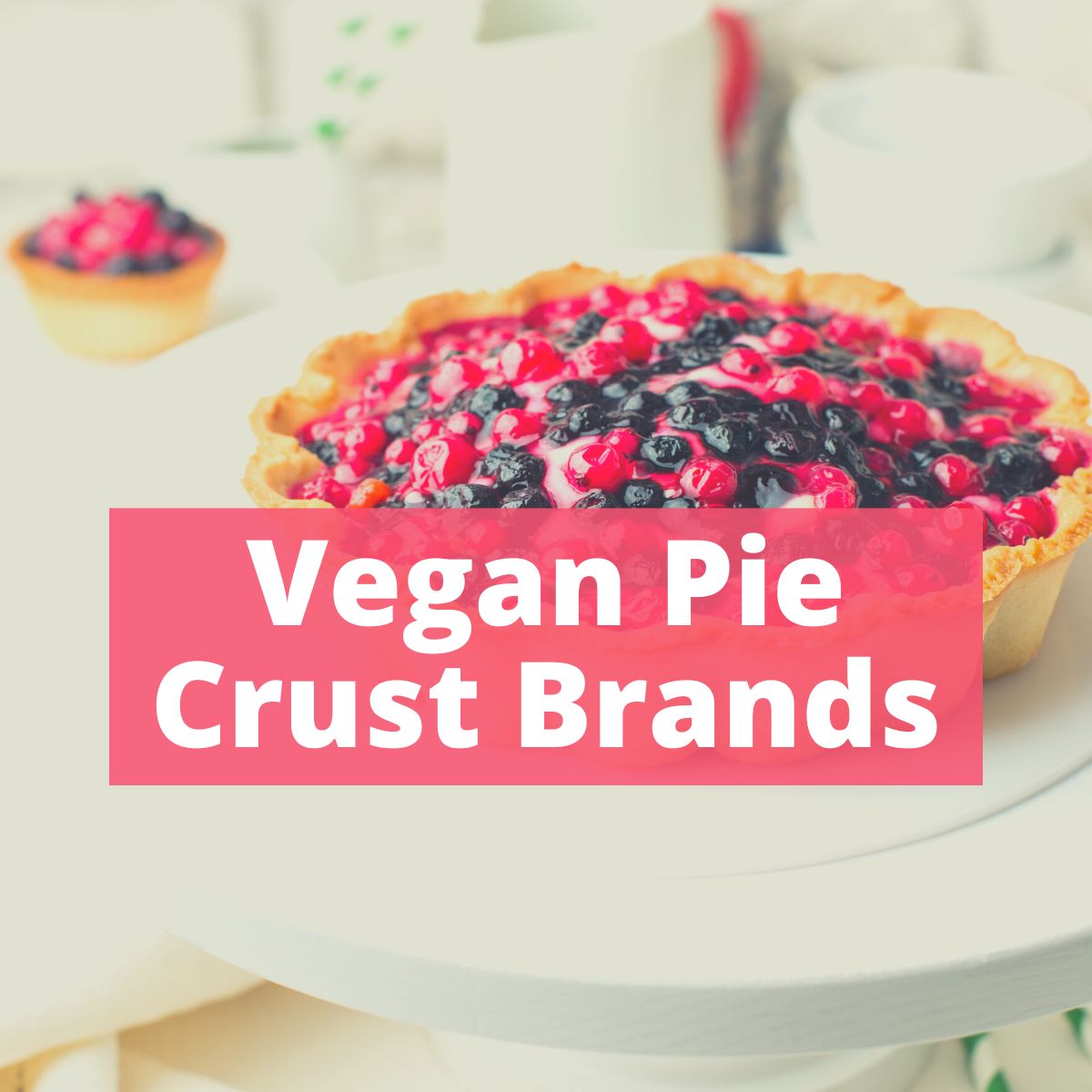 Pie crust ingredients of concern for vegans
Some pie crust contains obviously non vegan ingredients like lard, milk ingredients, egg, or honey.
But there are also some tricky ingredients that may or may not be vegan. These ingredients include:
Sugar: Sometimes cane sugar is filtered with bone char, which is charred animal bones. Bone char doesn't end up in the final product, but some vegans are not okay with this.
Natural flavor: Natural flavor can be from plants or animals, and this is usually not disclosed on packaging. Companies often don't reveal the source of their natural flavors either, so it is a risk. Some vegans are okay with this and some are not.
Artificial colors: This isn't very common, but some store-bought pie crust contains artificial colors. They are not made from animals, but they are sometimes tested on animals, so some vegans avoid artificial colors.
Oftentimes it is impossible to know if the sugar and natural flavor is fully vegan, unless the product is labeled as vegan. Companies often aren't able to confirm whether or not these ingredients are vegan, even when you ask.
So each individual needs to decide if they feel comfortable eating these ingredients without knowing with 100% certainty that they are fully vegan.
I have noted under the products below which ones contain these ingredients of concern.
Vegan store-bought pie crusts
Wholly Wholesome
Wholly Wholesome makes pie crusts that are certified vegan by Vegan Action! This is definitely the top choice for vegans who are concerned about some controversial ingredients like sugar and natural flavor, because the vegan certification ensures that every ingredient is truly vegan.
Here are the pie crusts available from Wholly Wholesome:
Traditional Organic 9" or 6" Pie Shells
Whole Wheat Organic 9" Pie Shells
Spelt Organic 9" Pie Shells
Wholly Gluten Free is a sister brand to Wholly Wholesome, and they make a vegan and gluten-free pie crust:
Gluten Free 9" Pie Shells
Wholly Wholesome products are sold in the United States and Canada. Find products using their product locator.
Mi-Del
Mi-Del pie crusts are certified gluten-free and they do not contain the top eight common allergens. These pie crusts are also labeled as vegan, although they are not certified by a vegan certification organization.
Here are the 2 flavors:
Graham Style Pie Crust – a moist pie crust with hints of graham flavor.
Chocolate Snap Pie Crust – a pie crust with a chocolatey cocoa flavor.
Use the Mi-Del store locator to find their pie crusts or get them on Amazon.
Marie Callender's
Marie Callender's Deep Dish Pastry Pie Shells are flaky and come in a pack of 2 along with a reusable baker's pie pan.
Marie Callender's pie crusts are not labeled as vegan, so it can not be said with 100% certainty that this product is vegan. One potentially concerning ingredient for vegans in this pie crust is dextrose (which could potentially be filtered with bone char).
Use the Marie Callender's store locator to find this pie crust.
Keebler
Keebler makes the following pie crusts that are likely vegan:
Ready Crust Graham Pie Crust
Ready Crust Graham Pie Crust Reduced Fat
Ready Crust Graham Pie Crust Mini
The description for each of these crusts says that they are made with honey-cinnamon Graham Crackers, but there is actually no honey in the ingredients.
As the name suggests, these pie crusts are ready to eat and require no baking!
These crusts are not labeled as vegan, so potentially concerning ingredients for vegans include sugar, molasses, and monocalcium phosphate, which can be vegan or non-vegan.
Use the Keebler store locator to find these pie crusts or get them on Amazon.
Pillsbury
Unfortunately most of Pillsbury's pie crusts contain lard and/or beef tallow, making them clearly not vegan.
However, they do have one pie crust that may be suitable for some vegans: Pillsbury Frozen All Vegetable Deep Dish Pie Crust.
This pie crust contains the following ingredients of concern for strict vegans: sugar and artificial colors.
The sugar may be filtered through bone char and some vegans avoid artificial colors because they are sometimes tested on animals. It is up to you to decide if you are okay with consuming these ingredients as a vegan.
You can use the General Mills product locator to find this Pillsbury pie crust.
More vegan food products