This post contains affiliate links for which I may earn a commission (at no extra cost to you) should you make a purchase. As an Amazon Associate I earn from qualifying purchases. Please see my disclaimer for more information.
There are plenty of vegan popcorn products available, including "buttery" popcorn! Check out the brands below for some vegan popcorn options.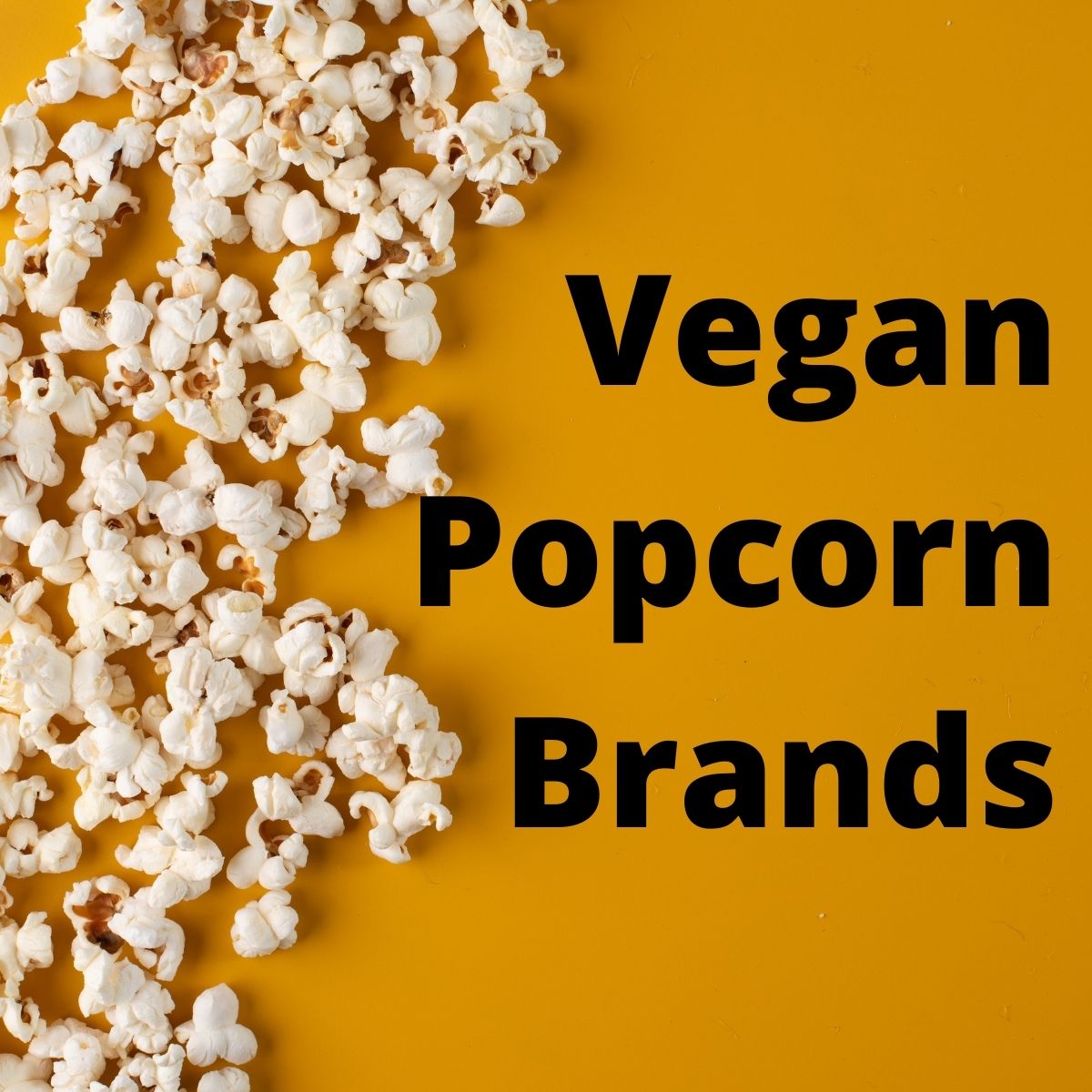 The brands on this list are not all fully vegan, but they make some vegan popcorn products, which are listed under each brand below.
Jump to:
How to Determine If Popcorn Is Vegan
If you find a popcorn product and you want to know if it is vegan, look at the ingredients list. Under the ingredients, any common allergens in the product should be listed. So it will likely say if it contains milk or dairy. That is the quickest way to eliminate a non-vegan product.
If the product does not contain a non-vegan common allergen, you will need to go through each ingredient on the list one by one. Some sneaky ingredients that may be non-vegan are listed below.
Non-Vegan Ingredients to Look Out For
Here are some common non-vegan ingredients that show up on the ingredients list of flavored popcorn products.
Milk ingredients
Of course milk ingredients are not vegan. As noted above, any milk ingredients in a product should be easy to spot when you look at the ingredients on the package.
Sugar
Sugar is an ingredient that some vegans are concerned with, while others are not. Cane sugar is sometimes filtered through bone char in the refining process. While this doesn't mean that cane sugar actually contains charred animal bones, it does come in direct contact with bone char when it is filtered this way.
If you just see "sugar" listed as an ingredient and you are concerned about how it is filtered, you will need to check with the company that makes the product.
If a company has labeled a product as vegan, it should be safe to assume no bone char was used to refine the sugar.
Natural flavor
Natural flavor is another ingredient that may or may not be vegan. This is listed on many flavored popcorn packages and to find out if the source if plant-based or from animals, you would need to contact the company.
If a product is labeled as vegan, the natural flavors should be from plants, so there is no need to ask the company about the source of their natural flavors.
Mono and Diglycerides
Mono and diglycerides are another ingredient that can be sourced from plants or animals. If you see this on a package that is not labeled as vegan, you will need to ask the company if their mono and diglycerides are vegan.
Artificial colors
Artificial colors are not animal products, but they have been tested on animals, which some vegans are strongly against. Some vegans may be okay with this however, because it is unclear how often animal testing is still happening with artificial colors.
Vegan Popcorn Brands
On this list, I have not included any popcorn that contains potentially non-vegan ingredients such as sugar that is not confirmed to be vegan or natural flavors that may be sourced from animal ingredients.
I have only included popcorn that is either confirmed vegan by the company that makes it or contains no questionably vegan ingredients.
Not all of the brands below are fully vegan, but they do make some vegan popcorn flavors. Under each brand, I have listed the vegan popcorn flavors that they sell.
BoomChickaPop is not an entirely vegan brand, but they have many vegan products.
I made a full guide to BoomChickaPop's vegan flavors if you want more information, but here is a simple list of the vegan products they sell:
Ready-to-eat vegan popcorn:
Sea Salt Popcorn
Avocado Oil Popcorn
Light Kettle Corn
Sweet & Salty Kettle Corn
Salted Maple Flavored Kettle Corn
Rose Flavred Kettle Corn
SkinnyPop is not an entirely vegan brand, but they do have several vegan popcorn products. See SkinnyPop vegan popcorn products here.
Lesser Evil makes ready-to-eat popcorn in many different flavors. Some of their flavors contain dairy, but here is a list of their vegan flavors:
"No Cheese" Cheesiness
Avocado-Licious
Fiery Hot!
Himalayan Gold
Himalayan Pink Salt
Himalayan Sweetness
Sugar Cookie (this is a seasonal flavor that is vegan!)
Lesser Evil also sells Organic Popcorn Kernels that you can purchase to make your own popcorn at home.
NoochPop is a popcorn brand that is dedicated to making dairy-free "cheesy" popcorn with nutritional yeast. They currently have 5 flavors, all of which are vegan:
Kinda Nacho & Cheesy
Kinda Cheesy
Kinda Chili Lime & Cheesy
Kinda Garlic & Cheesy
Kinda Sweet & Savoury
Newman's Own has some buttery popcorn that contains milk, but they also have the following vegan popcorn:
Sea Salt Microwave Popcorn
Tender White Microwave Popcorn
Jolly Time also sells packages of kernels that you can pop yourself. They are just plain kernels, so of course they are vegan.
Organic No Oil or Salt Added Microwave Popcorn
Organic Classic Salted Popcorn
Organic Extra Virgin Olive Oil Popcorn
Quinn Foods makes two vegan microwave popcorn products:
Just Sea Salt Microwave Popcorn
Vermont Maple Kettle Corn Microwave Popcorn
Make Your Own Vegan Popcorn
If you want some vegan buttery popcorn, it's so easy to make your own! You can just buy some plain popcorn kernels and pop them at home. I use a Cuisinart popcorn maker that is super quick and easy to use.
You can then melt some vegan butter and pour it over your popcorn. There are many vegan butters to choose from these days!
You can also add any flavor you'd like with some seasoning. For a cheesy flavor, sprinkle on some nutritional yeast!
More Vegan Product Lists