This post contains affiliate links for which I may earn a commission (at no extra cost to you) should you make a purchase. As an Amazon Associate I earn from qualifying purchases. Please see my disclaimer for more information.
Not all Boom Chicka Pop popcorn is vegan, but some flavors are!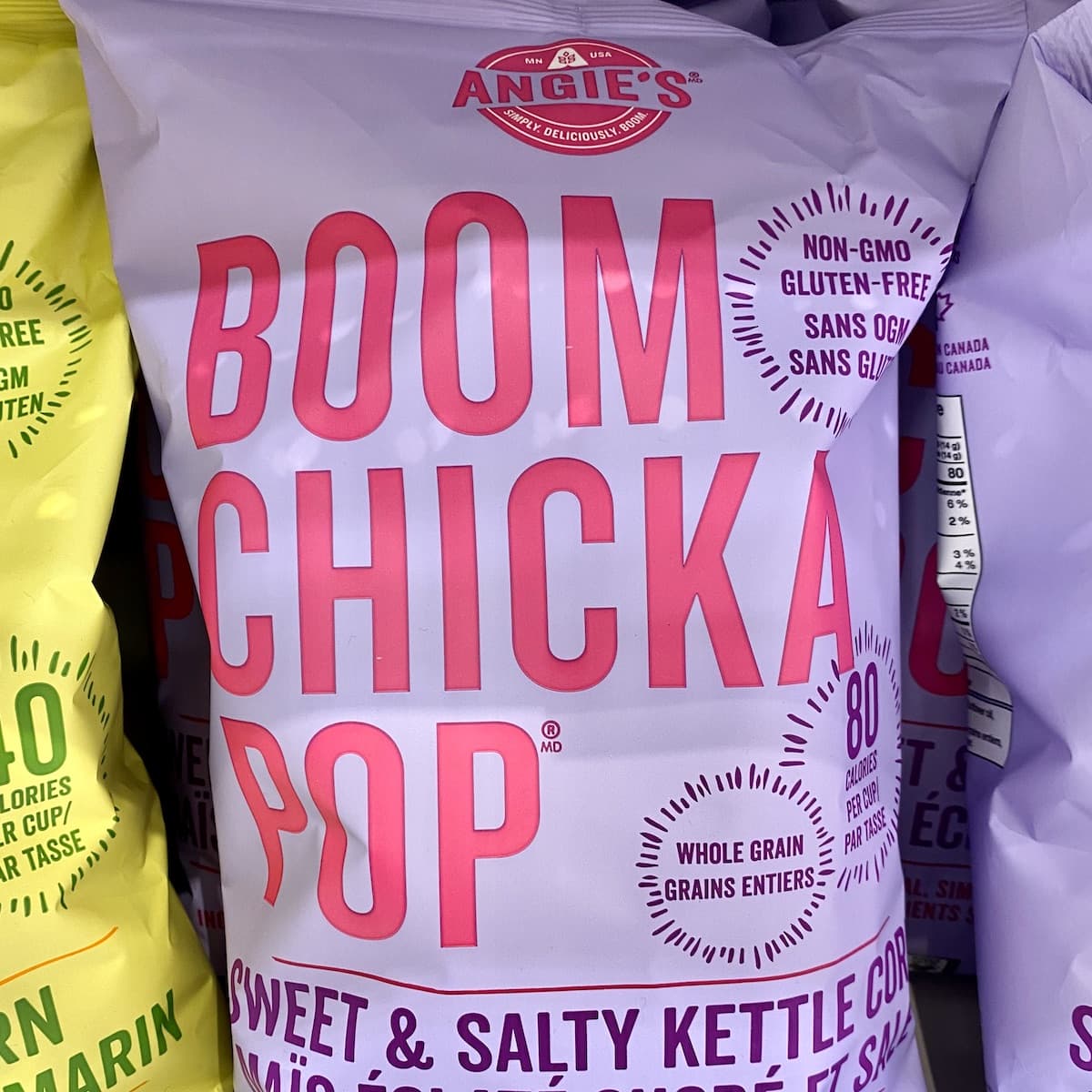 Angie's BOOMCHICKAPOP makes bags of tasty ready-to-eat popcorn. They also make some microwave popcorn, but this post will refer only to their ready-to-eat popcorn because it is their most popular product.
Jump to:
Vegan Boom Chicka Pop Flavors
Boom Chicka Pop has various symbols that they put on their popcorn. They have a vegan symbol on all of their vegan products so it's easy to figure out which flavors are vegan.
They currently have the following vegan flavors of ready-to-eat popcorn:
Sea Salt Popcorn
Avocado Oil Popcorn
Light Kettle Corn
Sweet & Salty Kettle Corn
Salted Maple Flavored Kettle Corn
There is currently one vegan seasonal flavor:
Rosé Flavored Kettle Corn
Some of these flavors contain cane sugar, but I have confirmed with the company that they do not use sugar that is filtered with bone char.
Keep in mind that ingredients in products may change, so always make sure that you look for a vegan label on products before you purchase.
Non-Vegan Boom Chicka Pop Flavors
The following flavors of Boom Chicka Pop are NOT vegan:
White Cheddar Popcorn
Cheddar Cheese Popcorn
Strawberry Greek Yogurt Drizzled Kettle Corn
Dark Chocolate Flavored Drizzled Sea Salt Kettle Corn
Caramel & Cheddar Popcorn Mix
White Cheddar Puffs
Real Butter Popcorn
Non-Vegan Ingredients
The non-vegan flavors listed above each contain dairy. Each of them contains some of these non-vegan ingredients:
Whey or whey powder
Cheddar cheese
Nonfat milk
Lactic acid
Buttermilk
Butter or clarified butter
Cultured whole milk or whole milk powder
Yogurt powder
FAQs
Is Boom Chicka Pop Gluten-Free?
Currently, all Boom Chicka Pop flavors are Certified Gluten-Free. Check for the GF label on packaging to ensure that it is gluten-free, as product recipes can change.
Is Boom Chicka Pop Healthy?
"Healthy" food isn't easily defined, so some people will think something is healthy while other people think it is unhealthy.
After looking at the ingredients, I would not call Boom Chicka Pop healthy.  All of the flavors contain oil, which has a very high calorie density.
Oil adds a lot of calories and fat, but it is present in most popcorn, so Boom Chicka Pop isn't necessarily less healthy than other store-bought popcorn.
A lot of Boom Chicka Pop flavors also contain added cane sugar, which isn't what most people would consider healthy.
Of course the non-vegan flavors are even less healthy with the addition of processed dairy ingredients.
If you really want a "healthy" popcorn, the best option would be to pop some kernels at home without oil. You can spray water on the popcorn and sprinkle some salt on it.
If that sounds really unappealing to you, you can use a small amount of oil. That would still be better than the amount of oil used in packaged popcorn.
Or, you can just eat Boom Chicka Pop occasionally and not worry about it!
More "Is It Vegan?" Posts
If you want to learn more about veganism, check out this post about going vegan for beginners, or get started with this plant-based grocery list!