This post contains affiliate links for which I may earn a commission (at no extra cost to you) should you make a purchase. As an Amazon Associate I earn from qualifying purchases. Please see my disclaimer for more information.
A lot of people say that Oreos are vegan, but the real answer is that although they contain plant-based ingredients, they are not truly vegan.
Let me explain.
*This article is focused on the original Oreo cookie. Oreoid cookies are definitely not vegan, as stated on the Oreo website. Certain other Oreo cookies are also not vegan due to milk in the ingredients, such as the fudge covered Oreos. Certain flavors also contain ingredients that are tested on animals.
Where the uncertainty comes into play is for original Oreos and any other Oreos that do not intentionally contain dairy.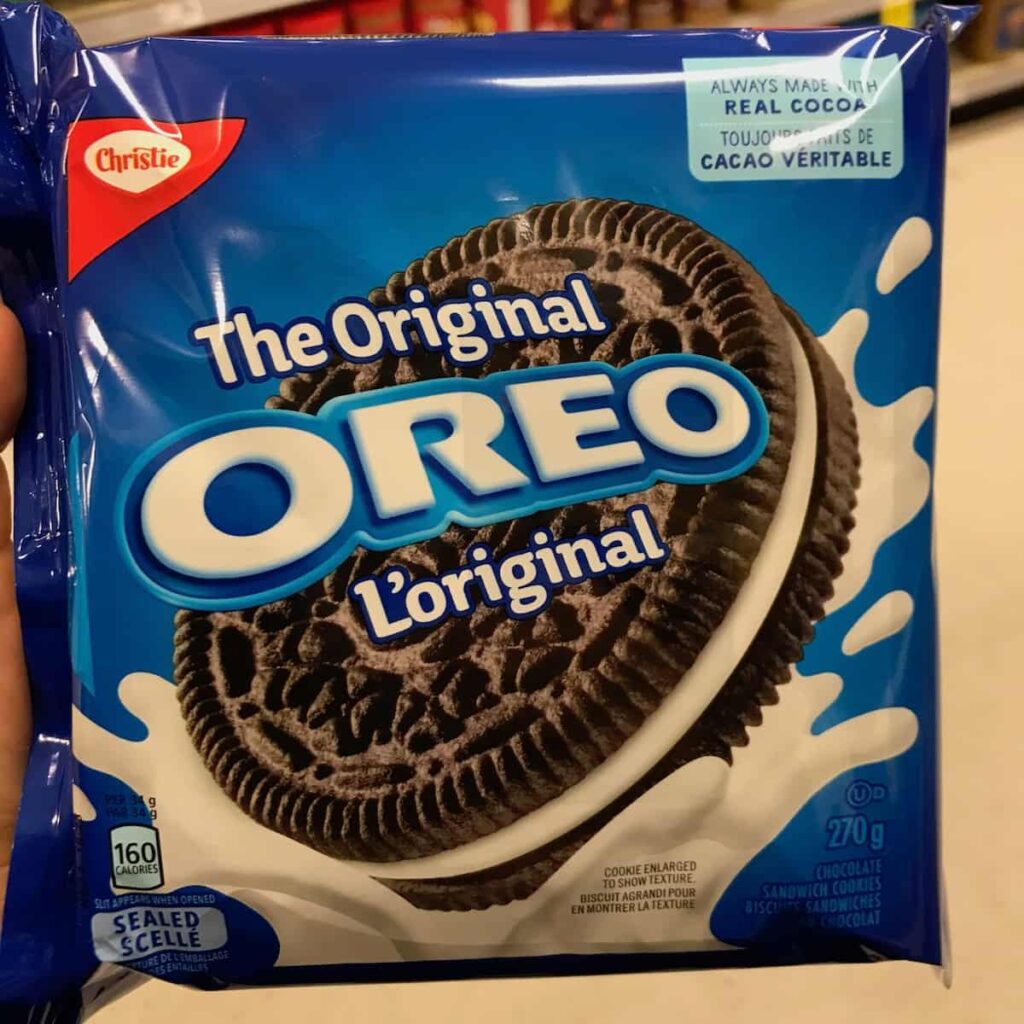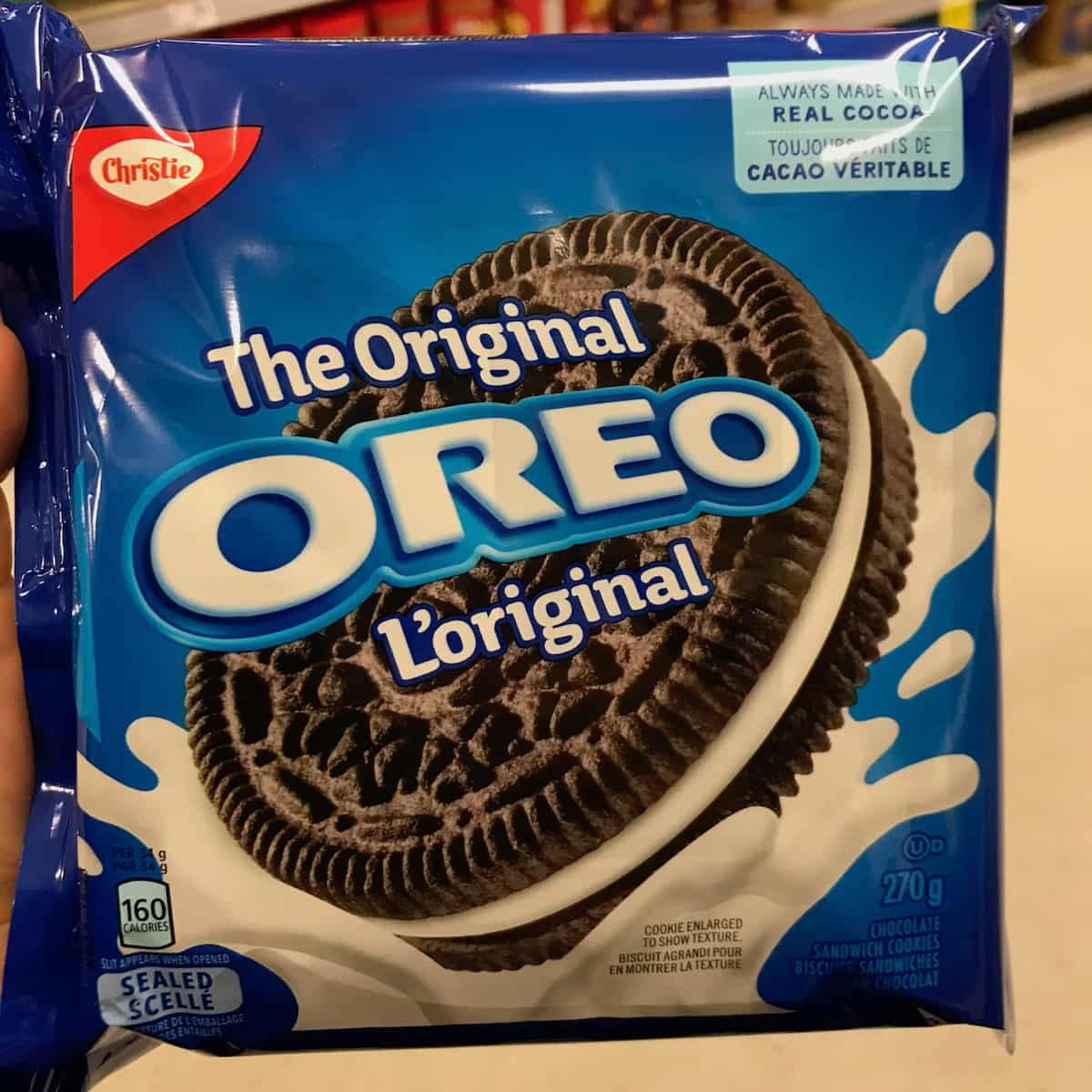 When we look at the ingredients of original Oreos, there are no obvious animal-derived ingredients.
One concern that many people have pointed out is the fact that there may be cross-contamination with dairy.
Another thing to consider is whether or not the sugar used in Oreos is filtered with bone char.
Do Oreos contain dairy?
The original Oreos do not intentionally contain dairy.
Like with many processed foods, Oreos are made in a factory on shared equipment where other products are also made. So yes, Oreos may contain trace amounts of dairy due to cross-contamination.
Does this mean they aren't vegan? In my opinion, this is not the reason that Oreos aren't vegan.
Cross-contamination is a potential risk for so many foods, and I don't think it is a concern for many vegans. As long as no dairy is intentionally put into the Oreos, I would personally not care and many vegans agree with this stance.
If you're that concerned with cross-contamination, that means you can't even eat vegan options at non-vegan restaurants!
Is the sugar vegan?
So if dairy cross-contamination isn't a concern for many vegans, Oreos are vegan, right? Well, not really.
There is a potential issue with how cane sugar is sometimes processed. Cane sugar is sometimes filtered with bone char, which is made from the bones of cattle.
Bone char does not actually end up in the sugar, but it touches the sugar and is used to filter it to give it its bright white color. If the bones of slaughtered animals are required to process sugar, it isn't really vegan whether it contains the bones or not.
Some types of sugar do not ever use bone char in the refining process, such as beet sugar, coconut sugar, and any sugar that is organic.
So what type of sugar is found in Oreos?
I reached out to Mondelez International (the company that owns Oreo) to ask them if the sugar used in Oreos is filtered with bone char. Here is their response:
"Mondelez International has several sugar suppliers. Some of our suppliers DO use the animal-derived natural charcoal (also known as "bone char") in their cane sugar refining process and some suppliers DO NOT use this process.
Since we may use any of the sugar suppliers at any given time in production, we cannot give a definite answer as to whether bone char was used in the sugar refining process of a particular product."
So the sugar used in Oreos is sometimes vegan and sometimes not, but we can never know whether the Oreos we buy have vegan sugar in them or not. This is where it gets confusing because this means that some packages of Oreos are vegan and some aren't, but it's impossible to know!
Some people may not be concerned with this, but I'm just giving you all of the information so you can make your own decision.
A lot of vegans eat products with cane sugar when they don't know how it is processed, and that's totally fine if that's your choice. It's impossible to be perfectly vegan all the time. We could probably find a reason that every single item isn't vegan!
However in this case, since we know that some Oreos contain non-vegan sugar, it is easy to avoid eating them.
Check out this video to learn more and help you decide if you are okay with eating sugar that is processed with bone char or not.
No judgment to any vegans who do eat Oreos because avoiding bone char-filtered sugar all the time would be really difficult in certain situations such as eating out. Many companies, including some restaurants, get sugar from various suppliers and they don't always know if it was processed with bone char or not.
Summary
The original Oreo cookies do not intentionally contain any animal-derived ingredients, so I would say they are plant-based, but not vegan. (If this statement confuses you, read about the difference between plant-based and vegan).
There is a risk of cross-contamination with dairy, which in my opinion is a minor concern for vegans.
The biggest issue is that some of the sugar used for Oreos is processed with bone char, which is why Oreos are not truly vegan. Keep in mind that Oreos do not actually contain bone char though, so it's up to you if you're okay with this or not!
More vegan food articles