This post contains affiliate links for which I may earn a commission (at no extra cost to you) should you make a purchase. As an Amazon Associate I earn from qualifying purchases. Please see my disclaimer for more information.
Froot Loops original cereal unfortunately contains some ingredients that are sourced from animals, so it is not vegan.
However, some vegans who aren't strict about certain ingredients may be okay with consuming Froot Loops. Let's break down the ingredients below so you can decide for yourself whether or not you are comfortable eating Froot Loops.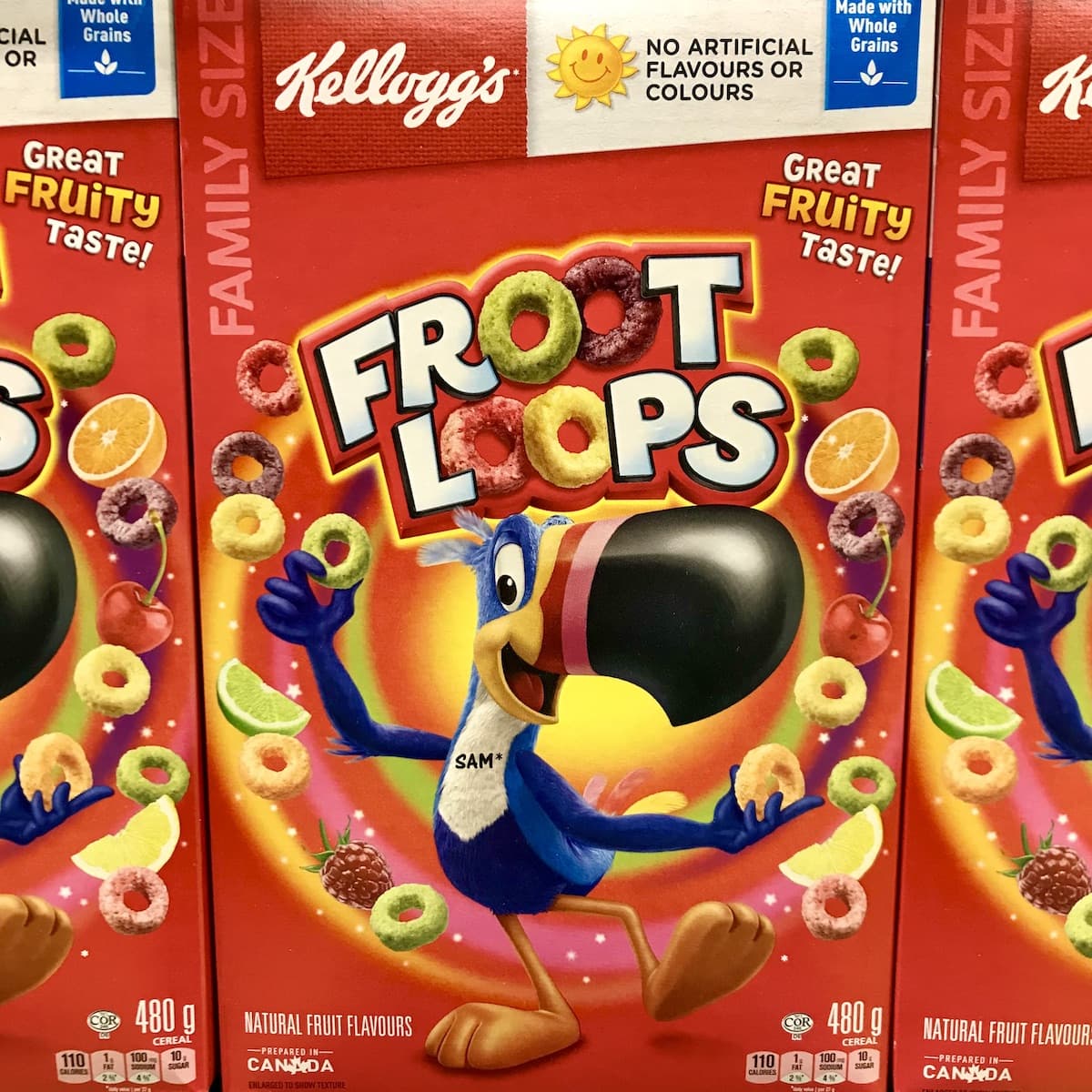 Non- vegan ingredients in Froot Loops
Vitamin D3
The most concerning ingredient in Froot Loops for vegans is added Vitamin D. When Vitamin D is added to food products such as cereal, it is most often derived from lanolin, which comes from sheep's wool.
Obtaining lanolin from sheep's wool is not a vegan process.
You will find some vegans who are fine with added Vitamin D in various food products because it is added in small amounts. It is up to you to decide whether or not you are comfortable with this ingredient.
Sugar
Sugar is not an animal product, but charred animal bones are often used to filter cane sugar. Most large companies have several sugar suppliers, and it is likely that some of them use bone char in the processing of their cane sugar.
Some vegans are strictly against the use of bone char in sugar processing, so they avoid all products containing cane sugar that isn't certified organic or vegan.
However, many vegans consume sugar filtered through bone char because it is in so many packaged food products and avoiding it would be very difficult. Being vegan is already difficult enough, and for some people avoiding something like added sugar may make them feel like being vegan is impossible and lead them to giving up on veganism.
Natural flavor
The natural flavor in Froot Loops may or may not be vegan. Natural flavor can be sourced from plants or animals and this is usually not disclosed by companies. Some vegans strictly avoid natural flavors of unknown sources, while others aren't concerned with this.
You can also always try asking companies, although they often don't give any details regarding their natural flavors unless they contain a major allergen.
Artificial colors
Froot Loops also contain many artificial colors. None of these colors actually contain animal ingredients, but it is known that artificial colors are periodically tested on animals.
Like many controversial ingredients for vegans, some avoid artificial colors all the time, while others aren't concerned about this.
Are Froot Loops Cereal Bars vegan?
Froot Loops Cereal Bars are definitely NOT vegan because they contain nonfat milk. They also contain sugar, artificial colors, and unknown natural flavor.
Are Froot Loops with Marshmallows vegan?
Froot Loops doesn't just make one type of cereal. They also have a marshmallow cereal, but unfortunately it isn't vegan.
It contains gelatin, which is made from various animal parts, as well as Vitamin D3, sugar, artificial colors, and unknown natural flavor.
Vegan Froot Loops Alternatives
If you are looking for a vegan Froot Loops substitute, try these products:
Cascadian Farm Fruitful O's Cereal
Get Cascadian Farm Fruitful O's on Amazon.
Nature's Path Envirokidz Cheetah Chomps Cereal
Get Nature's Path Envirokidz Cheetah Chomps on Amazon.
More of "Is It Vegan?"