This post contains affiliate links for which I may earn a commission (at no extra cost to you) should you make a purchase. As an Amazon Associate I earn from qualifying purchases. Please see my disclaimer for more information.
Lucky Charms cereal contains colored, fun-shaped mini marshmallows mixed with oat-based cereal. But is this colorful cereal vegan?
Let's take a look at the ingredients.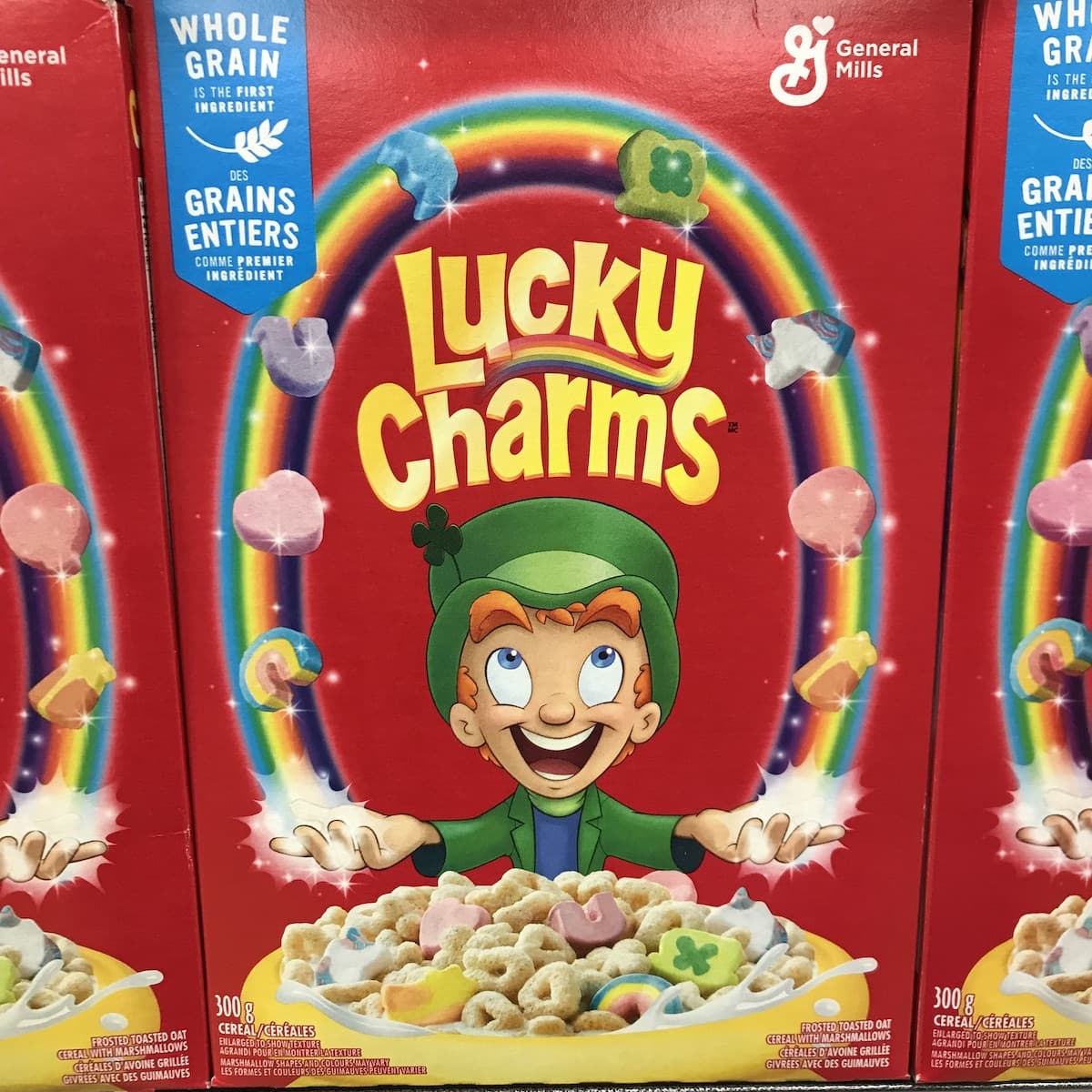 Non-vegan ingredients in Lucky Charms cereal
Original Luck Charms Cereal contains the following ingredients that are either not vegan or potentially not vegan depending on how strict you are.
Gelatin – All Lucky Charms cereal contains gelatin, which is made of various animal parts such as ligaments, bones, skin, and tendons. Of course this is definitely not vegan.
Vitamin D3 – Many Lucky Charms cereals are fortified with Vitamin D3, which is usually sourced from lanolin in sheep's wool.
Concerning ingredients for strict vegans
Sugar – Some vegans avoid sugar that is not confirmed to be vegan because cane sugar is sometimes processed with bone char. This gives sugar that bright white color.
The sugar in Lucky Charms is likely sometimes filtered with bone char because the company that makes Lucky Charms likely has several sugar suppliers, some of which use bone char.
Artificial colors – The artificial colors in Lucky Charms do not actually contain any animal ingredients, but some vegans avoid all artificial colors because they are sometimes tested on animals. If you choose to avoid artificial colors, you will need to avoid many packaged foods.
Natural flavor – Natural flavor is sourced from either plants or animals, and this is usually not disclosed on packaging. It is unclear what the source of natural flavor is in Lucky Charms cereal products. This doesn't really matter though, because we already know that Lucky Charms cereal contains gelatin, eliminating it from being vegan.
Are other Lucky Charms products vegan?
Lucky Charms is most well-known for cereals, but they make some other products too. Unfortunately, they are also not vegan. Here is a quick breakdown of the non-vegan ingredients in other Lucky Charms products.
Lucky Charms Sugar Cookie Dough With Marshmallow Bits is a cookie dough with Lucky Charms marshmallows in it. It is the only current Lucky Charms product that does not contain gelatin, however it does contain egg, so it not vegan. It also contains other ingredients mentioned above, such as sugar, natural flavor, and artificial colors.
Lucky Charms Treat Bars contain milk, sugar, natural flavor, artificial colors, Vitamin D, and gelatin.
Swiss Miss Lucky Charms Marshmallows Hot Cocoa Mix contains milk, sugar, natural flavor, gelatin, and artificial colors.
Jet-Puffed Lucky Charms Magically Delicious Marshmallows contain gelatin, sugar, natural flavor, and artificial colors.
Vegan cereals
So unfortunately Lucky Charms are not vegan, but don't worry! There are plenty of vegan packaged cereals to choose from.
Check out this list of the best vegan cereals.
Lucky Charms Vegan FAQs
Do Lucky Charms contain gelatin?
As mentioned above, nearly all Lucky Charms products contain gelatin. All of the cereals do contain gelatin and the only product that currently does not is the cookie dough.
Are Lucky Charms dairy-free?
All of the Lucky Charms cereals are dairy-free, but as explained above, they are still not vegan. If you are just looking to avoid dairy, be aware that some of the non-cereal Lucky Charms products do contain dairy. This is clearly stated on packaging.
Are Lucky Charms egg-free?
Lucky Charms cereal products do not contain egg, but they are still not vegan, as explained above. The Lucky Charms cookie dough product does however contain egg, which is clearly stated on the packaging.
More of "Is It Vegan?"