This post contains affiliate links for which I may earn a commission (at no extra cost to you) should you make a purchase. As an Amazon Associate I earn from qualifying purchases. Please see my disclaimer for more information.
Wondering if you can eat Takis when you're vegan?
I looked over the ingredients for all of the flavors of each type of Takis currently sold in the US to determine if any of them are vegan. Some Takis have ingredients that are definitely not vegan, while some Takis seem vegan but have some potentially non-vegan ingredients.
This post is specifically about Takis in the US, which are made by Barcel USA. These are the Takis variations listed on the US website:
Takis
Takis Stix
Takis Waves
Takis Crisps
Takis Hot Nuts
Takis POP!
Takis Kettlez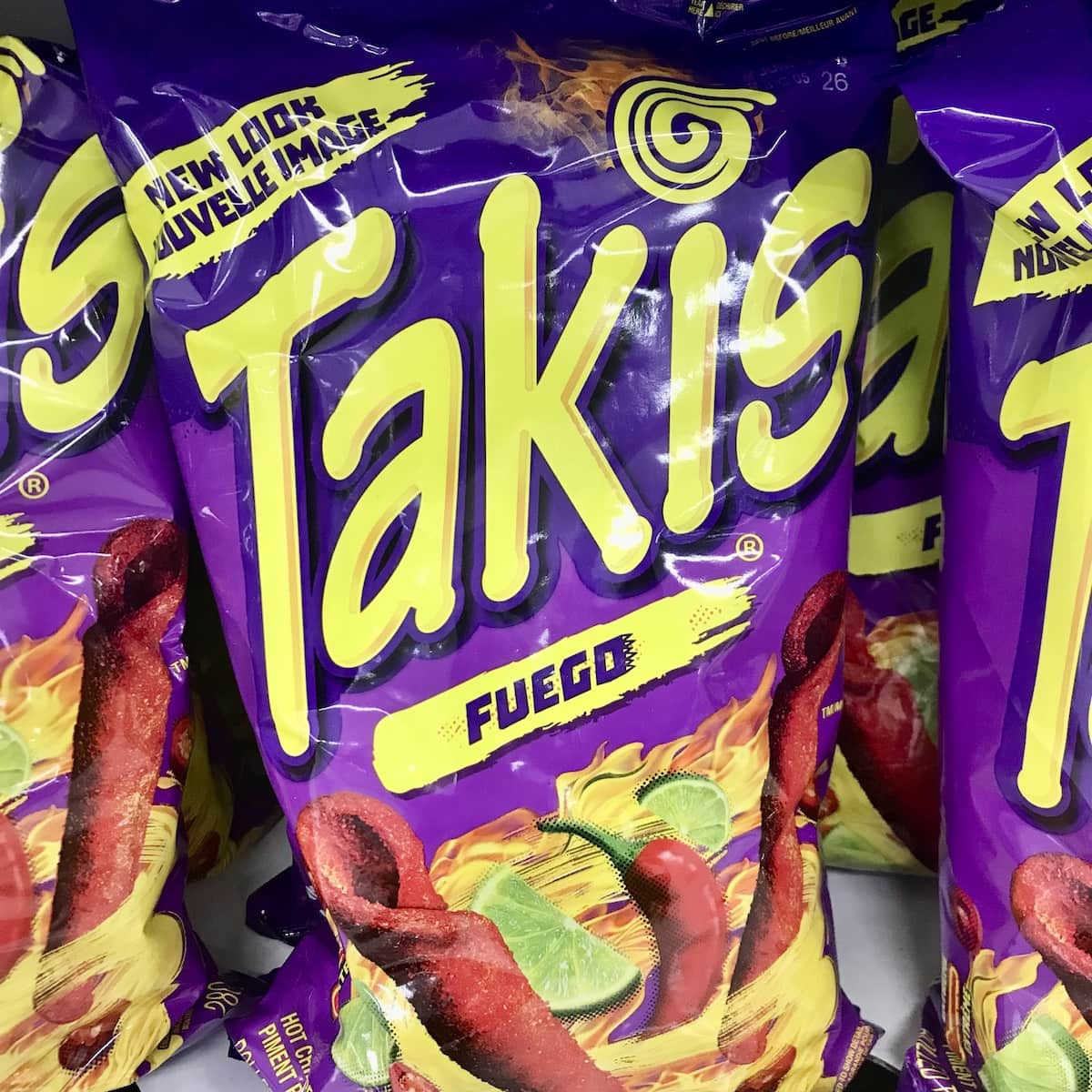 Jump to:
Non-vegan ingredients in Takis
The following are non-vegan ingredients that are found in some Takis:
Carmine – made from cochineal insects.
Milk – from cows.
Gelatin – made from skin, tendons, ligaments, and/or bones of animals.
Continue reading to see which Takis contain these ingredients.
List of Takis that are definitely not vegan
Takis that contain carmine
Takis that contain milk
Takis Crunchy Fajitas
Takis Guacamole
Takis Kettlez Jalapeno Typhoon
Takis that contain gelatin
Takis Hot Nuts Fuego
Takis Hot Nuts Flare
Potentially concerning ingredients for vegans
Milk and eggs
Milk and eggs are definitely not vegan, but I have listed them as potentially concerning for anyone who is worried about cross-contamination. All Takis are made in a facility that processes milk and eggs, so even though many Takis do not purposefully contain these ingredients, there may be traces due to shared equipment.
This is not an issue for all vegans, but it may be for some.
Artificial colors
Most artificial colors do not contain any animal ingredients, but they may be periodically tested on animals. Because this may not happen often and isn't always conducted by food companies that use the colors, some vegans are okay with this.
The following artificial colors are used in various Takis products:
Red 40 Lake, Yellow 6 Lake, Yellow 5 Lake, Blue 1 Lake
Natural flavors
Natural flavors can be from animals or plants, and usually the source of natural flavors is not listed on food packaging. The only way to figure out if natural flavors are vegan is by asking the company directly.
Unfortunately, many companies will not reveal the sources of their natural flavors. In this case, it's up to you to decide if you are comfortable consuming a product that may have natural flavors sourced from non-vegan ingredients.
Disodium inosinate
Often plant-based, but sometimes from animal sources.
Tricalcium phosphate
Sometimes derived from animals, including from bones or oyster shells.
Sugar
Cane sugar is a complicated ingredient for many vegans. It is sometimes filtered with bone char to give it that bright white color. Some companies do not use sugar that is filtered with bone char, but many companies have various sugar suppliers, so knowing when the sugar in a product is vegan may be impossible sometimes.
What about animal testing?
Artificial colors are sometimes tested on animals, as mentioned above.
Other ingredients may also be tested on animals, even if they are not derived from animals. Some examples may include TBHQ, MSG, disodium inosinate, and more.
It isn't always clear which ingredients are tested on animals or how often they are tested on animals, so if this is something that concerns you, it's best to stick with snack products that are certified vegan.
Potentially plant-based Takis
The following Takis may or may not be plant-based. Have these Takis if animal testing isn't a concern for you and if you are comfortable consuming the potentially non-vegan ingredients listed above.
Takis Fuego
Takis Blue Heat
Takis Nitro
Takis Stix (Flare and Fuego)
Takis POP! Fuego
Takis Kettlez Fuego
Takis Kettlez Habanero Fury
Are Takis gluten-free?
No. While some Takis may not intentionally contain gluten, there is a risk of cross-contamination in the processing facility.
Anyone with a gluten allergy or sensitivity should avoid all Takis.
Takis often comes out with new flavors, so you may not see every flavor on this post. This post refers to Takis that are sold in the US at the time of publishing this article.
Because of product changes and potential ingredient changes, make sure you check the ingredients on any Takis you are interested in. You can check for the potentially non-vegan ingredients listed above and decide for yourself if you're okay with eating them.
More "Is It Vegan?" articles: