This post contains affiliate links for which I may earn a commission (at no extra cost to you) should you make a purchase. As an Amazon Associate I earn from qualifying purchases. Please see my disclaimer for more information.
Skittles currently makes two varieties of candies: chewy and gummies. The gummies are clearly not vegan because they contain gelatin derived from cows or pigs.
Skittles Dips Yogurt Covered Chewy Candy are not vegan because they contain milk.
But most people are wondering if the original chewy Skittles are vegan.
The answer to this question isn't a simple yes or no.
Skittles chewy candies do not appear to contain any animal-based ingredients, but the sources of the natural flavors are unknown to the public.
It is also a debate in the vegan community whether or not this candy is vegan due to the potential of animal testing for some of the ingredients.
See below for details regarding the vegan status of the original chewy Skittles candies.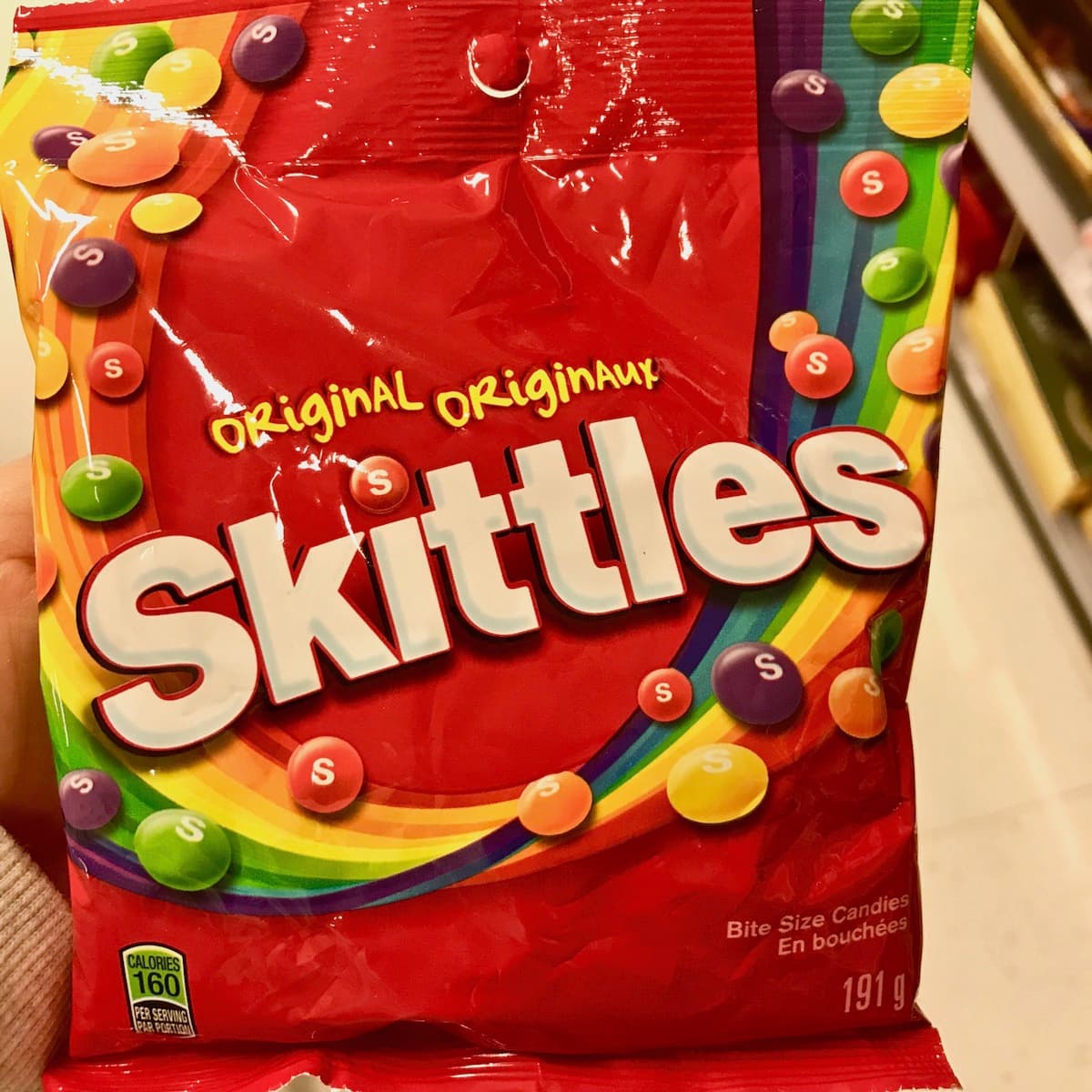 Jump to:
Ingredients in Skittles
The ingredients listed below come directly from the official Skittles website at the time of publishing this article. Keep in mind that ingredients can be change at any time.
Here are the ingredients in the Original Skittles:
Sugar, corn syrup, hydrogenated palm kernel oil, citric acid, tapioca dextrin, modified corn starch, natural and artificial flavors, colors, sodium citrate, carnauba wax.
The "colors" mentioned are as follows:
Red 40 lake, Yellow 5 lake, Blue 2 lake, Yellow 6 lake, Titanium dioxide, Blue 1 lake, Yellow 6, Red 40, Yellow 5, Blue 1.
None of these ingredients jump out as non-vegan because it seems that no animal-derived ingredients are added to Skittles. But some ingredients on this list are unclear.
Natural flavors can be made from plants or animals, and the source usually is not written on packaging.
Potentially Concerning Ingredients
There are a few potentially concerning ingredients for vegans in Skittles chewy candies. These ingredients are found in all of the Skittles chewy flavors.
Sugar
Some cane sugar is filtered through bone char during production, meaning that the bones of slaughtered cows are used to produce the sugar. Many vegans would consider this non-vegan.
Some sugar however is not produced with bone char and the only way to know for sure is to contact the company to ask how the sugar that they use is processed.
Non-vegan sugar is used in many packaged treats such as Sour Patch Kids and Oreos.
I contacted Mars (the company that makes and sells Skittles) and they said that bone char is not used to filter any of the sugar used in Skittles. They confirmed this for all countries where Skittles are sold.
This could however change in the future, so if you are really concerned about this, it is best to contact them to double check.
Okay, great! The sugar in Skittles is vegan. But unfortunately there are other concerns…
Artificial Colors
Another potential issue for vegans when it comes to Skittles is the use of artificial colors. These colors are found in many packaged candies and unfortunately they are sometimes tested on animals.
Animal testing of ingredients is a controversial topic in the vegan community because there are varying opinions.
For example, some ingredients were tested on animals many years ago and deemed safe, so animal testing no longer happens for those ingredients. So I personally wouldn't worry about those ingredients if the testing isn't still actively occurring, whereas some vegans would still choose to avoid those ingredients.
But for artificial colors, animal testing still occurs. And since artificial colors are so unnecessary, many vegans would choose to avoid Skittles.
If the ongoing animal testing for artificial colors was to stop, I would consider artificial colors to be vegan.
It can be really difficult to avoid foods that don't have any ingredients that have been tested on animals, but Skittles are pretty easy to avoid.
Natural Flavors
Skittles also contain natural flavors, which can be plant-based or animal-based. I contacted Mars (the company that makes Skittles) to ask them if their natural flavors are made from animal ingredients or plant ingredients.
Here is the response I received:
"We are unable to specifically share information about our artificial and natural flavors as the product formulation you are inquiring about is commercially sensitive and proprietary."

So they will not reveal if the natural flavors are vegan or not. So they might be vegan, they might not be vegan.
This is why there isn't even a clear answer as the whether or not Skittles are 100% plant-based. They don't reveal that to the public.
Verdict - Are Skittles Vegan?
So are Skittles vegan? Because of the testing of the artificial colors, I would say Skittles are not vegan.
Are they at least plant-based? Unfortunately that is up in the air because Skittles does not reveal whether their natural flavors are plant-based or animal-based.
Some vegans may still choose to eat Skittles with the assumption and/or hope that they contain only plant-based ingredients.
It's up to you to decide if you're okay with the uncertainty of this products' vegan status. It can be a real struggle when you're vegan feeling like you have to look into every single ingredient of everything you buy. The sad truth is that animals are exploited in almost every industry.
It seems impossible to completely avoid products and companies that have harmed and exploited animals, so do the best you can.
Check out these vegan product guides: