This post contains affiliate links for which I may earn a commission (at no extra cost to you) should you make a purchase. As an Amazon Associate I earn from qualifying purchases. Please see my disclaimer for more information.
Nutter Butters are popular peanut butter sandwich cookies. But are they vegan? Find out below.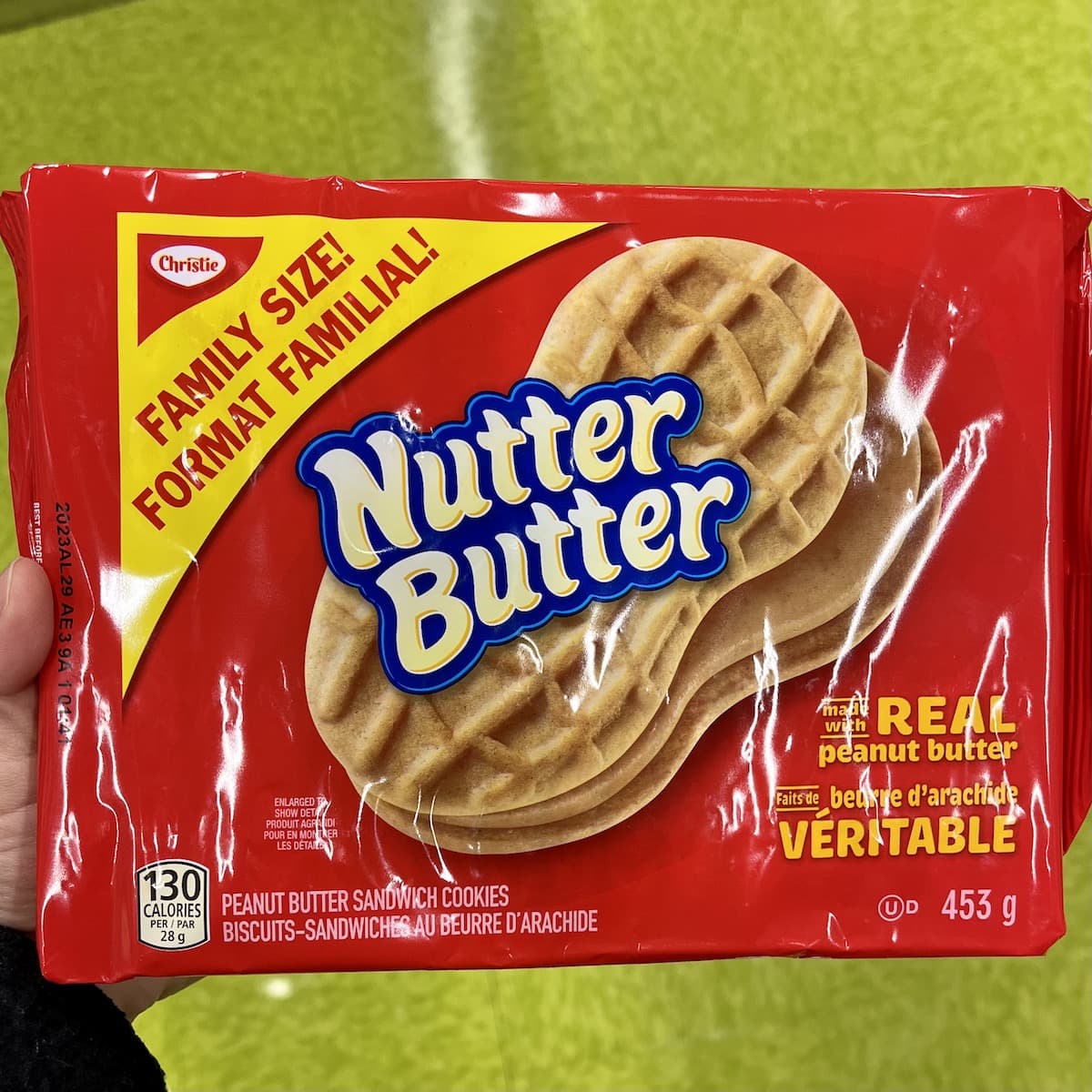 Are Nutter Butters Vegan?
This question doesn't have a simple yes or no answer, because it depends on how strict you are about certain ingredients, such as sugar.
Check out the ingredient breakdown below so you can decide whether or not you consider Nutter Butters to be vegan.
Do Nutter Butters contain dairy?
No! There is no dairy listed among the ingredients on the original Nutter Butter cookies packaging, however cross-contamination may occur during processing. This isn't an issue for most vegans.
Is the sugar in Nutter Butters vegan?
Nutter Butters contain many ingredients, but the one that may be of concern for vegans is simply sugar. This is true for both the classic Nutter Butter cookies and the Nutter Butter wafers.
Many people are surprised to hear that sometimes cane sugar isn't vegan!
Sugar itself is not the issue, but the way that it is sometimes processed can be an issue for vegans. Some companies filter their sugar with bone char, which is charred animal bones. Because the bones of likely slaughtered animals are required in the sugar-making process, many vegans avoid sugar unless it is confirmed to not use this filtration process.
Nutter Butters are produced by Mondelez International, and they have stated that some of their sugar suppliers do use bone char in the filtration process.
There are also however many vegans who aren't concerned with this because the actual sugar does not contain any bone char and avoiding added sugar that may be processed in this way can be extremely difficult if you're used to buying packaged foods.
It's up to you to decide how you feel about this. If you are okay with eating sugar that is filtered through bone char, then you would consider Nutter Butters to be vegan.
If you are more strict and choose to avoid sugar filtered through bone char, then Nutter Butters are unfortunately not vegan.
Are different varieties of Nutter Butters vegan?
New varieties of Nutter Butters can be created at any time, and some could also be discontinued. This is why you should always check the ingredients yourself to confirm whether or not a packaged product is vegan.
If you come across Fudge Covered Nutter Butters, note that they are definitely NOT vegan because they contain dairy.
Nutter Butter Wafers, Bites, and Double Nutty are considered vegan if you are okay with sugar processed with bone char.
More of "Is It Vegan?"