This post contains affiliate links for which I may earn a commission (at no extra cost to you) should you make a purchase. As an Amazon Associate I earn from qualifying purchases. Please see my disclaimer for more information.
Most plain pasta is vegan, but some is not. It depends on each individual product, and you'll have to check the ingredients on the package to be sure.
Keep reading for some non-vegan ingredients to look out for in pasta.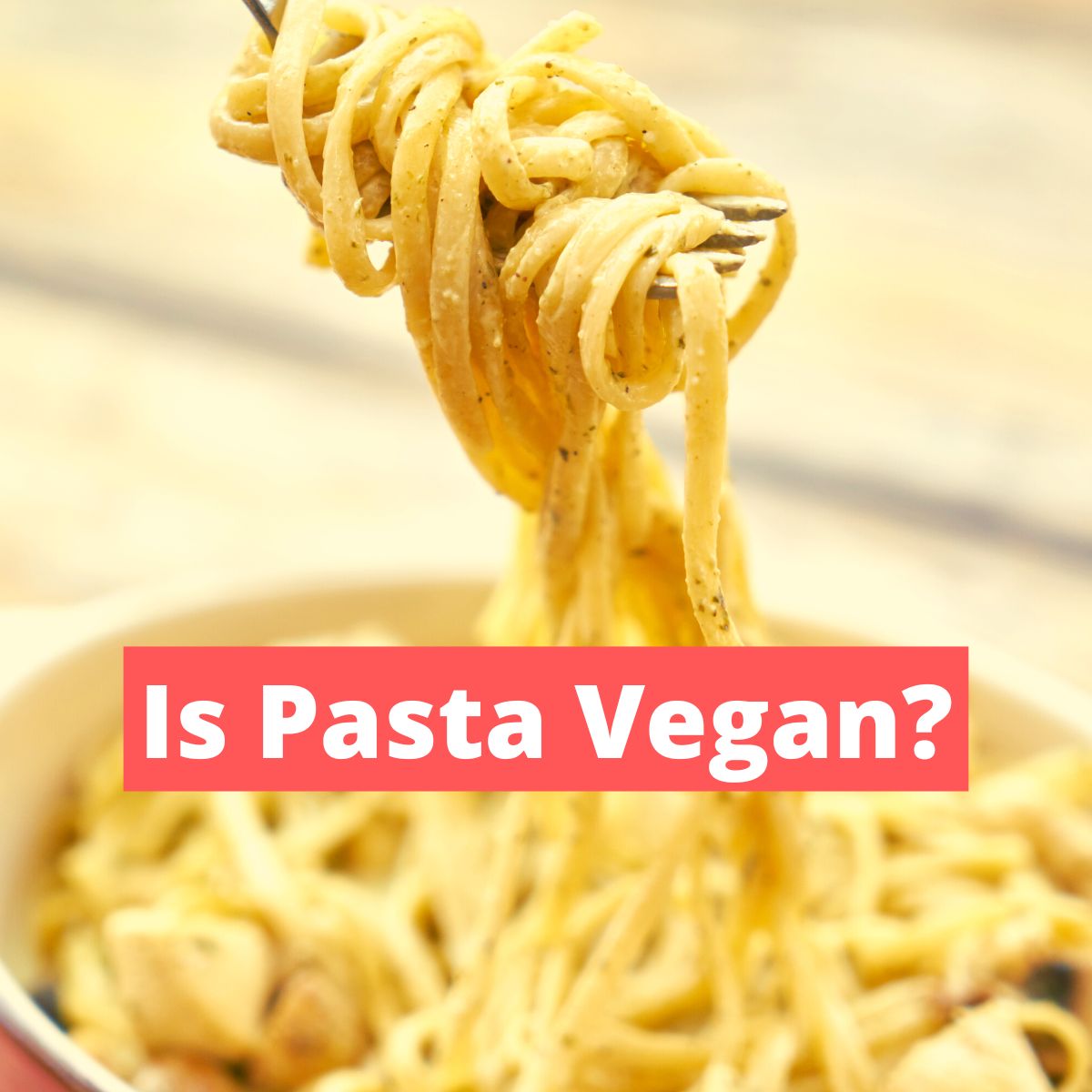 Ingredients in pasta
Pasta is most often made with a mixture of water and semolina flour, which is made from durum wheat. So this may be listed on ingredients as durum wheat semolina, durum wheat flour, or something similar. This flour is vegan, so a simple pasta made just from semolina flour and water is vegan.
Gluten-free pasta has also become very popular, so different flours are used, such as rice flour, corn flour, and quinoa flour. These flours are also vegan.
Although all of these ingredients are vegan, some non-vegan ingredients and additives may also be found in some pasta brands and recipes.
Non-vegan ingredients in pasta
Some pasta may be made with egg, but this is quite rare in boxed, store-bought pastas. Just look at the ingredients on the package to see if egg is listed.
Some pasta may also contain milk ingredients. This is common in filled pastas such as tortellini and ravioli. Filled pastas may also contain meat.
Mono and diglycerides are sometimes listed as ingredients in store-bought pasta, most often in gluten-free pasta. Mono and diglycerides can be sourced from plants or animals, so to find out if the past is vegan, you would need to call the company that makes it and ask if their mono and diglycerides are plant or animal based. If the box says vegan, there is no need to ask, but most vegan pastas don't actually say "vegan" on the box.
Vitamin D3 may be added to pasta as well. It is often sourced from lanolin, which comes from sheep's wool. Some vegans will look past this because it is often added in small amounts, but some vegans avoid all added Vitamin D3 unless it is confirmed to be vegan.
Some brands also warn that their pasta is made on equipment that also processes eggs or milk, but most vegans are okay with this. If you have an allergy, make sure you are aware of the risk of cross-contamination with allergens.
If you are at a restaurant, make sure you ask if their pasta noodles are vegan, as they may be made with milk or egg ingredients.
Is legume pasta vegan?
Most legume pasta is vegan! They are often just made with legume flour, such as chickpea flour, lentil flour, and other bean flours.
For example, Barilla makes Chickpea Spaghetti, Chickpea Casarecce, Chickpea Penne, and Chickpea Rotini that are all just made with one ingredient: chickpea flour.
But you guessed it, you need to check the ingredients on packaging to see if any non-vegan ingredients are added.
Vegan pasta brands
Most popular dry pasta brands have a large selection of vegan pastas. Some are made with egg and/or milk ingredients, so check packaging to be sure.
I won't list specific vegan products for each brand because there are so many and they may change at any time. That's why it is good to learn how to read the ingredient label yourself when determining if something is vegan.
Barilla – Most Barilla pasta is vegan, made with flour and added vitamins and minerals. Look at the ingredients on the package to be sure it is vegan. Avoid the filled pastas, as they contain cheese and eggs.
Mueller's – Most Mueller's pasta is vegan. Some varieties contain egg, so check the ingredients.
Ronzoni – Most Ronzoni pasta is vegan. Look out for eggs in some of their products, such as the Oven Ready Lasagna. Also look out for added Vitamin D3 (found in Ronzoni Smart Taste products) if that is a concern for you. Some vegans don't mind animal-sourced Vitamin D3 when added in small quantites, but others choose to avoid it.
Above are some of the most popular dry pasta brands in the US, but many other brands also make vegan pasta. Just read the ingredients on the box and look our for any eggs and/or milk ingredients.
If you see mono and diglycerides listed, you may wish to contact the company and ask if these ingredients are from vegan sources.
Are pasta sauces vegan?
While most dry pasta is vegan on its own, many pasta dishes are not vegan because of the sauce and other ingredients added to the pasta.
Typically a basic tomato sauce is vegan, but you always need to check the ingredients. Cheese and alfredo sauces are not vegan, but you can find vegan alternatives in stores, or make recipes at home.
So even though some pasta sauce isn't vegan, there are so many amazing vegan sauces that go well with pasta.
Check out these vegan pasta sauce recipes:
More of "Is It Vegan?"