This post contains affiliate links for which I may earn a commission (at no extra cost to you) should you make a purchase. As an Amazon Associate I earn from qualifying purchases. Please see my disclaimer for more information.
Some croutons are vegan and some croutons are not vegan. To figure it out, you need to take a look at the ingredients. See some common non-vegan crouton ingredients to look out for below.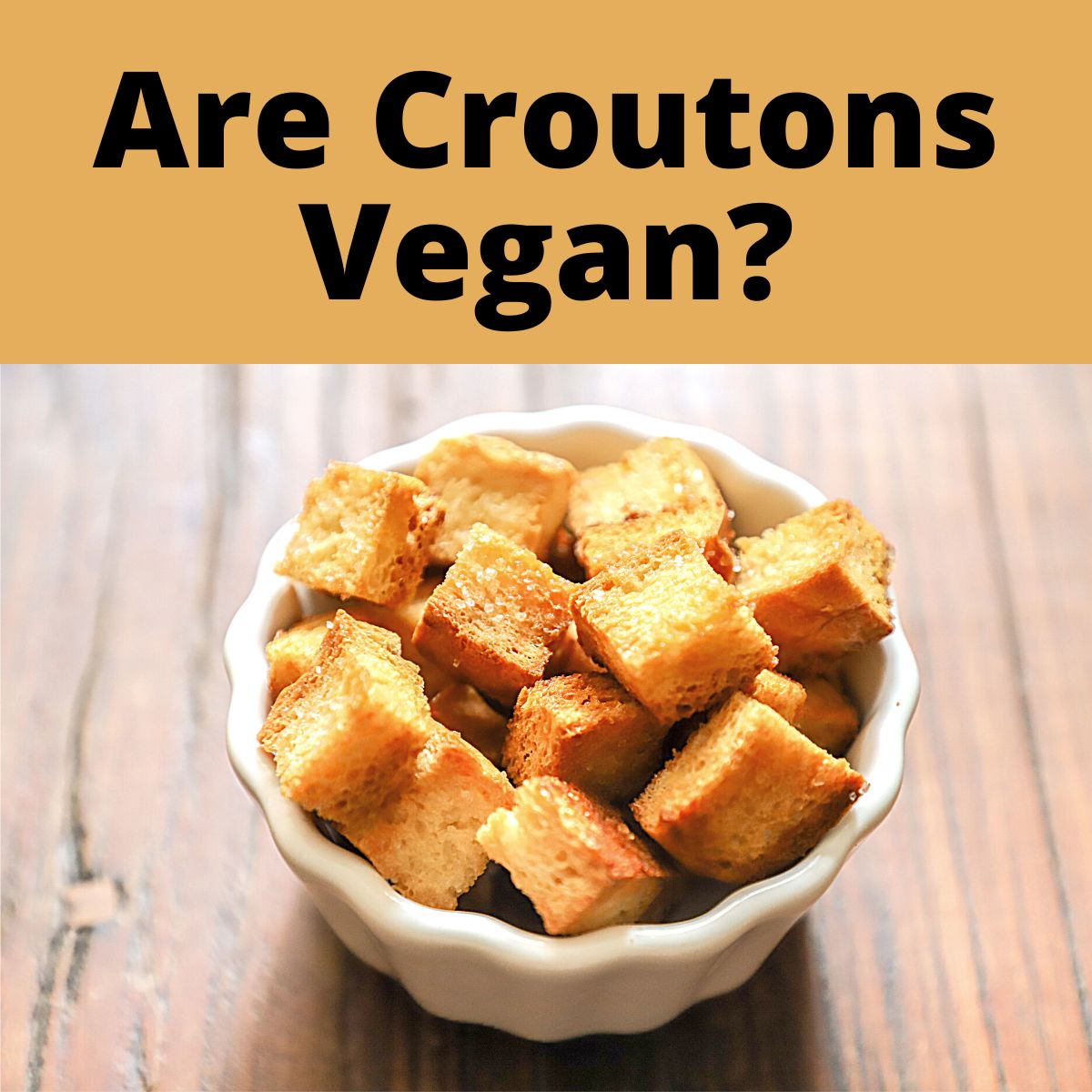 Jump to:
What are croutons made of?
Croutons are simply chopped pieces of bread tossed in oil and seasoning, then baked or fried in a pan.
To see how croutons are made, check out this video from Olivia's Croutons.
Olivia's Croutons makes one flavor of vegan croutons: Organic Garlic & Herb. Their other croutons contain non-vegan ingredients.
Non-vegan ingredients in croutons
When looking at the ingredients on a package of croutons, you'll have to check the dough ingredients for the bread to see if they are vegan, then check through the ingredients that add flavor.
Many breads are vegan, so that usually isn't an issue.
Most seasoning is vegan as well. Commonly used for croutons is pepper, salt, garlic powder, and Italian seasoning.
Some non-vegan ingredients that are often found in store-bought croutons are:
Butter
Cheese (various kinds)
Whey
Milk
Honey
When you are purchasing a package of croutons at the store, always look at the list of ingredients. If they contain any butter or cheese, you will see that listed. You should also see a statement that says, "contains milk."
If you don't see any milk products in a package of croutons, they are likely vegan. Look out for honey though if that is something you avoid.
However, if you are a strict vegan, you may also wish to avoid other ingredients such as sugar filtered through bone char, unknown natural flavors, and some preservatives. In that case, your options for packaged croutons will be very limited and I would suggest making your own.
Are restaurant croutons vegan?
Since some croutons are vegan and some are not, it depends on the restaurant. However, I have unfortunately noticed that many restaurant croutons are made with cheese.
For example, the croutons at Olive Garden, Chili's, Burger King, Dairy Queen, and Jack In The Box are not vegan.
Cross contamination with animal products is also very likely at restaurants, so you need to decide on your own comfort level for that.
To find out, you can ask someone who works at the restaurant, check the restaurant website, or email them and ask.
Vegan crouton recipe
Vegan croutons are super easy to make at home. All you need is bread, oil, and seasonings of choice.
You'll also want to make sure you use a bread that is vegan. Here is a list of vegan bread brands.
Here is a simple vegan crouton recipe you can follow.
More of "Is It Vegan?"