This post contains affiliate links for which I may earn a commission (at no extra cost to you) should you make a purchase. As an Amazon Associate I earn from qualifying purchases. Please see my disclaimer for more information.
Is orange juice vegan? The answer seems obvious because 100% pure orange juice is made from just oranges.
But things get more complicated with store-bought orange juice that is fortified with other ingredients.
Find out what ingredients vegans should look out for when purchasing orange juice!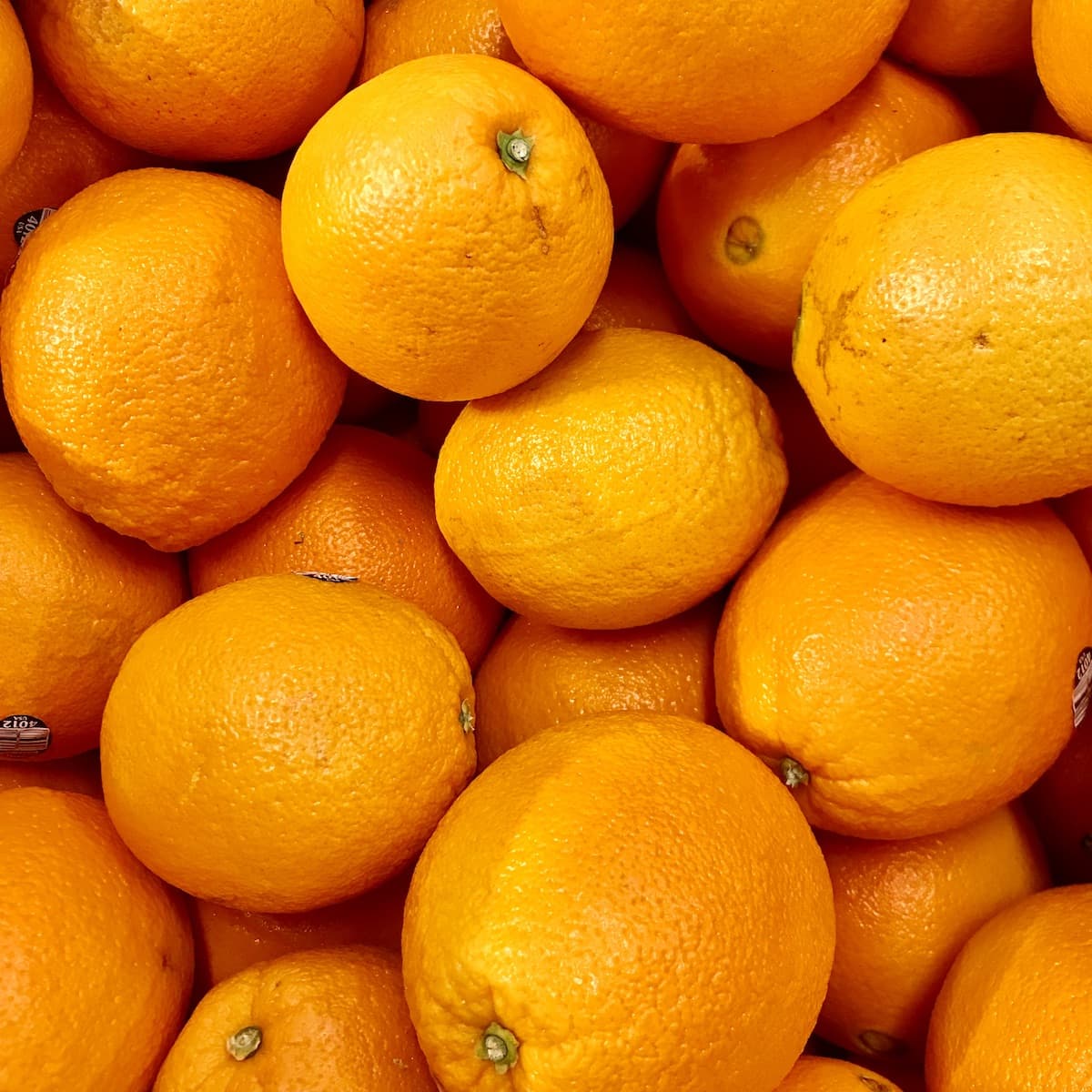 Jump to:
Ingredients in Orange Juice
If a container of orange juice is made with just oranges, then it is vegan. To make sure that is the case, don't just read the front of the container. Make sure you look at the ingredients label. The only thing that should be listed as an ingredient is orange juice.
Non-Vegan Ingredients
Sometimes store bought orange juice contains more than just orange juice, so this is when you need to look at each ingredient listed and determine if the product is vegan or not.
The ingredients below are some of the most common non-vegan ingredients added to orange juice, but there may be other non-vegan ingredients added to some orange juice as well. If you see any ingredients that you don't recognize, you can reach out to the company that makes the product and ask if it is vegan.
Here are some non-vegan ingredients that may be found in orange juice:
Vitamin D3
Added Vitamin D3 is usually sourced from lanolin, which comes from sheep's wool.
Added sugar
Some orange juice has added sugar, and sugar is a tricky ingredient for vegans. Sometimes sugar is processed with bone char, which is charred animal bones! The sugar itself does not contain bone char, but it comes in contact with bone char during processing.
Some vegans are okay with this and some aren't. To know for sure if added sugar is filtered through bone char, you would need to contact the company that makes the product.
Omega-3
When omega 3 is added to foods, it is usually sourced from fish. Some orange juice contains added omega 3s, such as Tropicana Healthy Heart orange juice, which contains fish oil and fish gelatin.
Vegan Store-Bought Orange Juice
If you are vegan and concerned about added ingredients that may not be vegan, I recommend buying orange juice that is only made with pure orange juice.
Make sure you read the ingredients on the bottle or container. The only ingredient should be orange juice!
Make Your Own Orange Juice
Making your own orange juice is also an option, but I admit it's not something I do often because you need a lot of oranges to make just one cup of juice.
It does taste delicious though! I use this juicer, which makes the process so simple. Just remove the orange peels and place the orange slices in the slot of the juicer. Then out comes your delicious, fresh orange juice!