This post contains affiliate links for which I may earn a commission (at no extra cost to you) should you make a purchase. As an Amazon Associate I earn from qualifying purchases. Please see my disclaimer for more information.
Tortilla chips are often vegan, but there are some ingredients to look out for!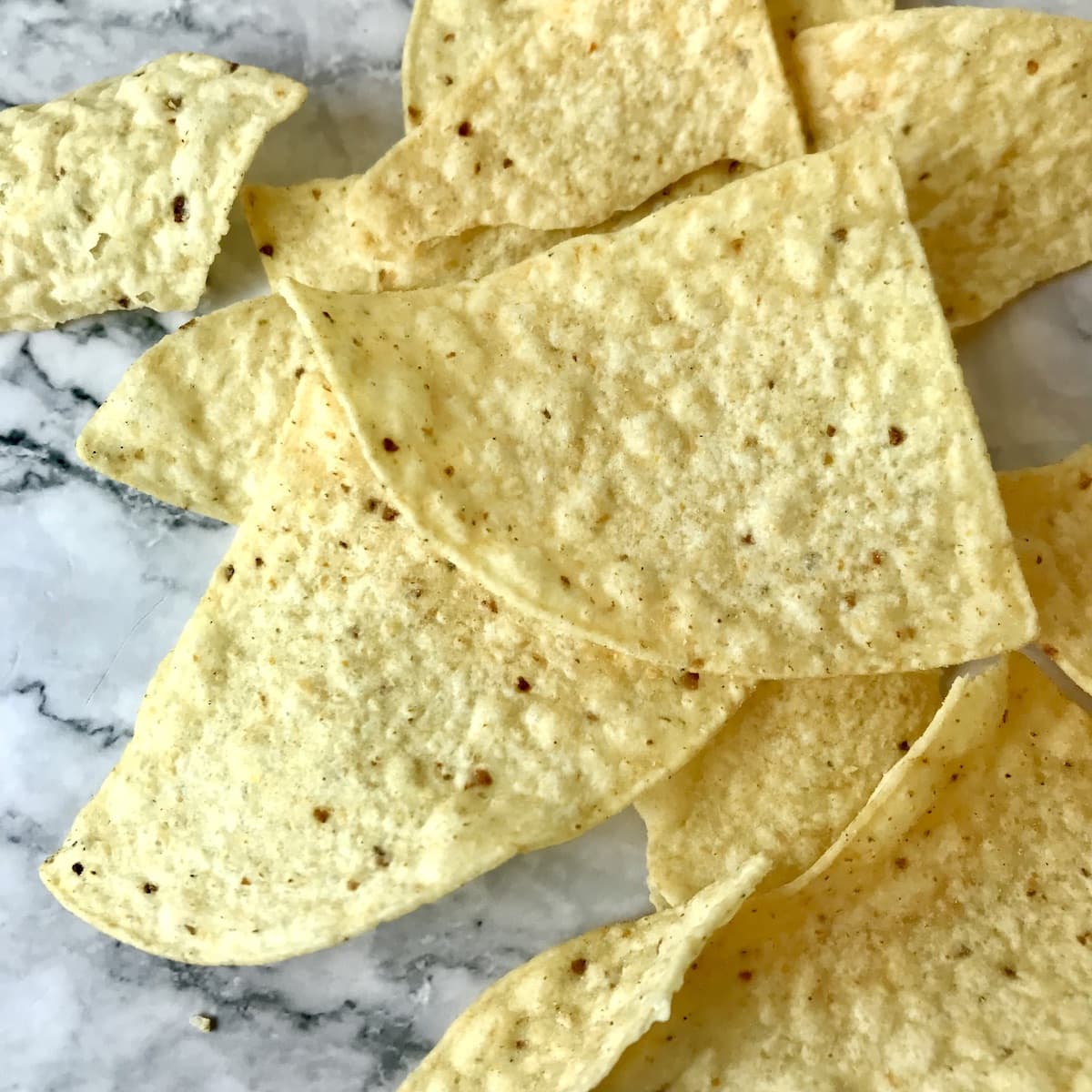 Jump to:
Ingredients in Tortilla Chips
Most plain tortilla chips are made with corn flour, water, oil, and salt. All of these ingredients are vegan, so if this is all that is listed as ingredients on a package, those tortilla chips are vegan!
Tortilla chips are also sometimes made with different types of flour as opposed to corn flour. Most other types of flour are vegan too.
However, there are some ingredients that could be added to tortilla chips that aren't vegan. This is more common in flavored tortilla chips.
Continue reading for ingredients to look out for when determining if a package of tortilla chips is vegan.
Are Flavored Tortilla Chips Vegan?
To determine if flavored tortilla chips are vegan, you will have to look at the ingredients for each individual product.
"Cheesy" tortilla chips will often contain dairy, which isn't vegan. A common brand of flavored tortilla chips is Doritos, but most Doritos are not an option for vegans. See my post, Are Doritos Vegan for an explanation.
A lot of store-bought flavored tortilla chips also list "natural flavor" on the ingredients which could be plant-based or from animals. To find out for sure, the company will need to be contacted.
Another ingredient to look out for on packaged tortilla chips is sugar. Some sugar is filtered through bone char, which is charred animal bones. Many vegans look past this because so many packaged products contain sugar and avoiding it would be difficult. But many vegans avoid sugar that is filtered through bone char. To find out if a company uses vegan sugar, you will need to contact them.
Also look out for ingredients like "chicken flavor" or "beef flavor."
Flavored tortilla chips may also contain artificial colors. These are not made from animals, but some vegans avoid artificial colors due to animal testing. There may also be other ingredients in packaged tortilla chips that are tested on animals.
Are Tortilla Chips Vegan At Restaurants?
To find out if tortilla chips from a restaurant are vegan, you will need to ask someone who works there.
If you are eating at a 100% vegan restaurant, you of course can assume that the tortilla chips are prepared in a way that is vegan. Also, if there is a vegan label next to the tortilla chips on the menu, they are probably vegan, but you can confirm with your server if you want to be sure.
Ask if the tortilla chips are fried in animal fat. If they are fried in a vegan oil, you'll want to make sure that animal products are not cooked in the same oil that is used for the tortilla chips.
Store-Bought Vegan Tortilla Chips
Remember that most plain tortilla chips are vegan. Always check the ingredients to be sure.
Vegan Tostitos
Tostitos Scoops! Original
Tostitos Original Restaurant Style
Tostitos Bite Size Rounds
Tostitos Lightly Salted
Tostitos Crispy Rounds Original
Tostitos Strips Original
Tostitos Cantina Thin & Crispy
Tostitos Cantina Traditional
Tostitos Baked Scoops!
Simply Tostitos Organic Blue Corn
Vegan 365 Everyday Value Tortilla Chips
Salted Restaurant Style Tortilla Chips
Organic Blue Corn Tortilla Chips
Organic Salted White Corn Tortilla Chips
Organic Thin & Crispy White Corn Tortilla Chips
Organic Yellow Corn Tortilla Rounds
Flavored Vegan Tortilla Chips
Paqui Fiery Chile Limon
Paqui Jalapeno Tropicale
Paqui Haunted Ghost Pepper
Que Pasa (all flavors!)
Late July Jalapeno Lime Boldly Flavored
Late July Organic Sea Salt & Lime Restaurant Style
Late July Organic Jalapeno & Lime Restaurant Style
Late July Multigrain Sea Salt & Lime
Siete Family Foods (all flavors!)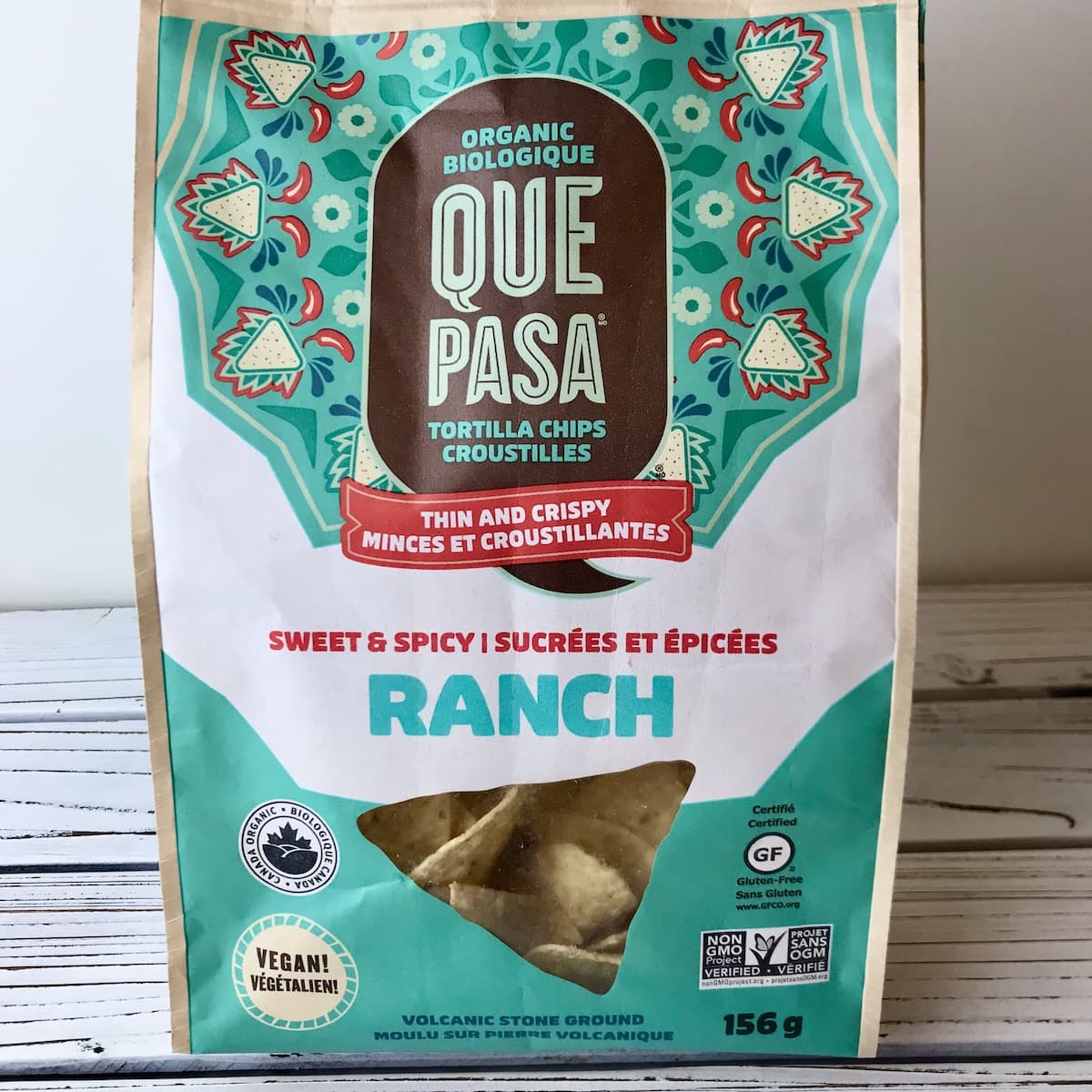 How to Make Your Own Tortilla Chips
Making your own tortilla chips can be pretty easy. You'll need tortillas, oil (unless you are oil-free), and seasoning of choice. Most people like to sprinkle on some salt, and you can also add some flavor with various spices.
To ensure that your homemade tortilla chips are vegan, you'll need to check the ingredients on the tortillas you buy.
If you are focused on health and want to avoid oil, you can try making oil-free tortilla chips.
To make make fried tortilla chips, try this tortilla chip recipe.
More "Is It Vegan?" Posts
For more information on going vegan, check out this guide to going vegan for beginners and get my plant-based grocery list.