This post contains affiliate links for which I may earn a commission (at no extra cost to you) should you make a purchase. As an Amazon Associate I earn from qualifying purchases. Please see my disclaimer for more information.
Marshmallows are typically not vegan because they contain gelatin to give them that stretchy, gooey texture. But don't worry, there are some companies that make vegan marshmallows!
You can also make your own vegan marshmallows at home if you'd like.
Jump to:
Non-Vegan Ingredients in Marshmallows
As mentioned, gelatin is a common non-vegan ingredient in marshmallows. Gelatin is made from various animal parts such as tendons, ligaments, bones, and skin. So it is definitely not vegan!
Marshmallows are also often sweetened with cane sugar, which is sometimes filtered through bone char (charred animal bones). Some vegans aren't concerned with this, but many vegans are.
Marshmallows also often contain some obscure ingredients (like natural flavors) that may not be plant-based or that are tested on animals.
Are Jet-Puffed Marshmallows Vegan?
Jet-Puffed is a very popular marshmallow brand that is NOT vegan. These marshmallows contain gelatin, which is made up of various animal parts.
They also contain some other ingredients that are potentially non-vegan like sugar, natural flavor, and artificial colors (which some vegans avoid due to animal testing).
But don't worry! There are vegan marshmallow brands. See some listed below.
Vegan Marshmallow Brands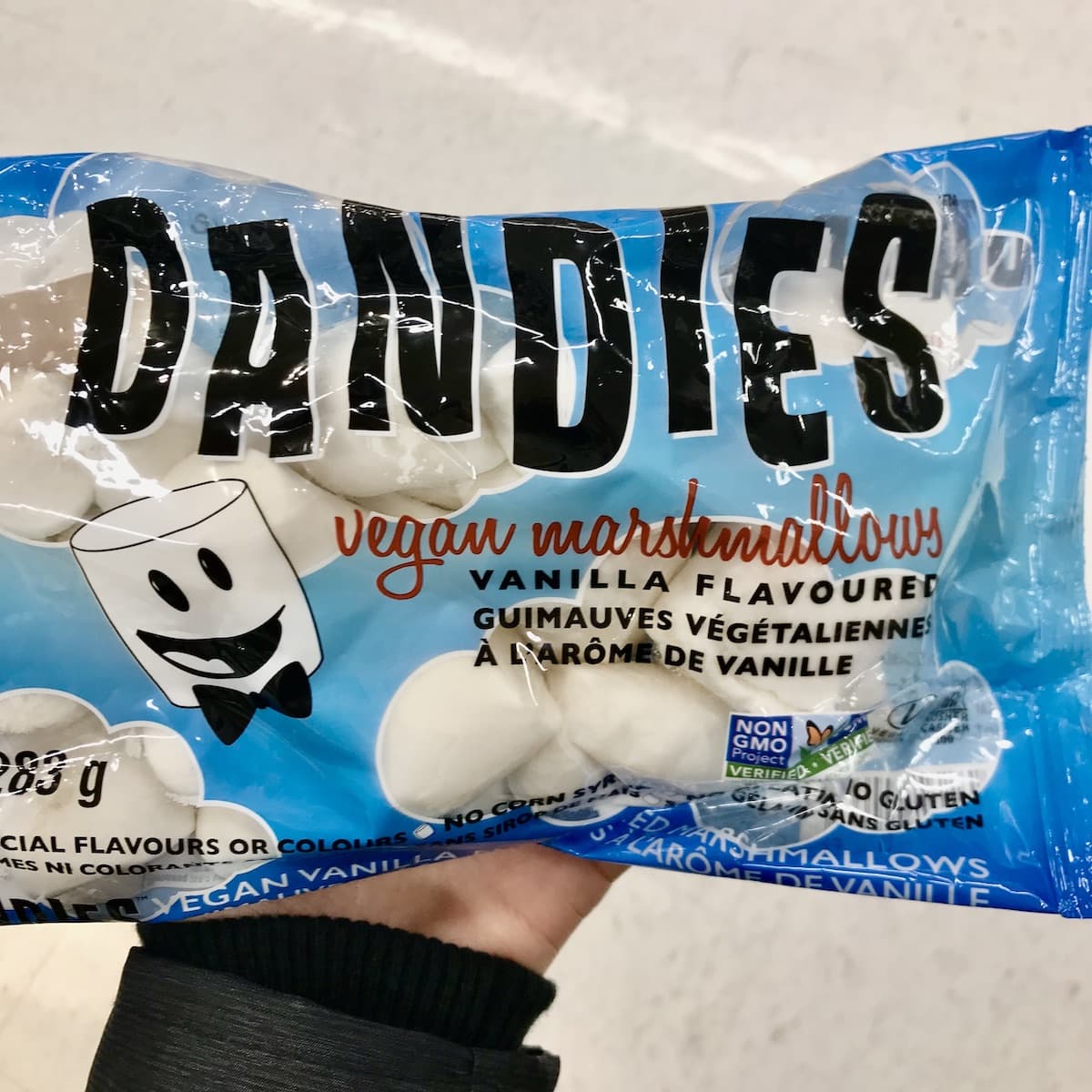 Dandies is a very popular brand of vegan marshmallows. They are also gluten-free and contain no artificial flavors or colors, and no corn syrup.
They have mini and regular-sized marshmallows, so you can use these for a variety of recipes and you can also roast the regular-sized marshmallows to make vegan s'mores!
Dandies Marshmallows come in a variety of flavors:
Vanilla Flavored
Maple Flavored
Pumpkin Flavored
Peppermint Flavored
These vegan marshmallows are so good and I find the Vanilla flavor tastes just like the regular non-vegan marshmallows I used to eat before going vegan.
Get Dandies Marshmallows on Amazon
Ananda Foods is a company in the UK and all of their products are vegan. Their vegan marshmallows are handmade and they come in many flavors!
Vegan Marshmallow Recipe
If you want to make your own vegan marshmallows, check out this vegan marshmallow recipe from Healthy Little Vittles.
You can also find many other vegan marshmallow recipes online.
*If you make a recipe that requires sugar and are concerned about how it is filtered, ensure you use a vegan sugar that has been confirmed to not be filtered with bone char.
More "Is It Vegan?" Posts