This post contains affiliate links for which I may earn a commission (at no extra cost to you) should you make a purchase. As an Amazon Associate I earn from qualifying purchases. Please see my disclaimer for more information.
This baked corn tortilla chips recipe is oil-free and gluten-free. These chips make the perfect healthy snack or appetizer and they are super easy to make!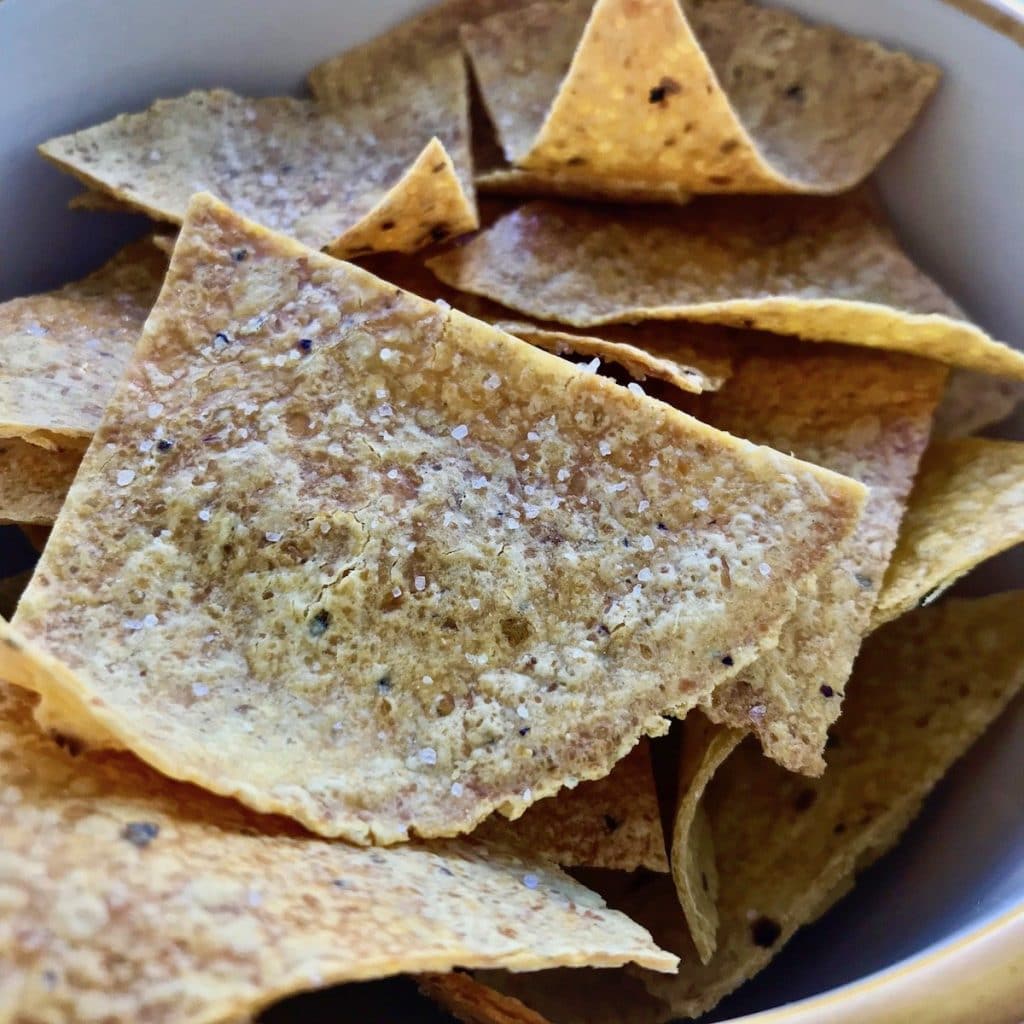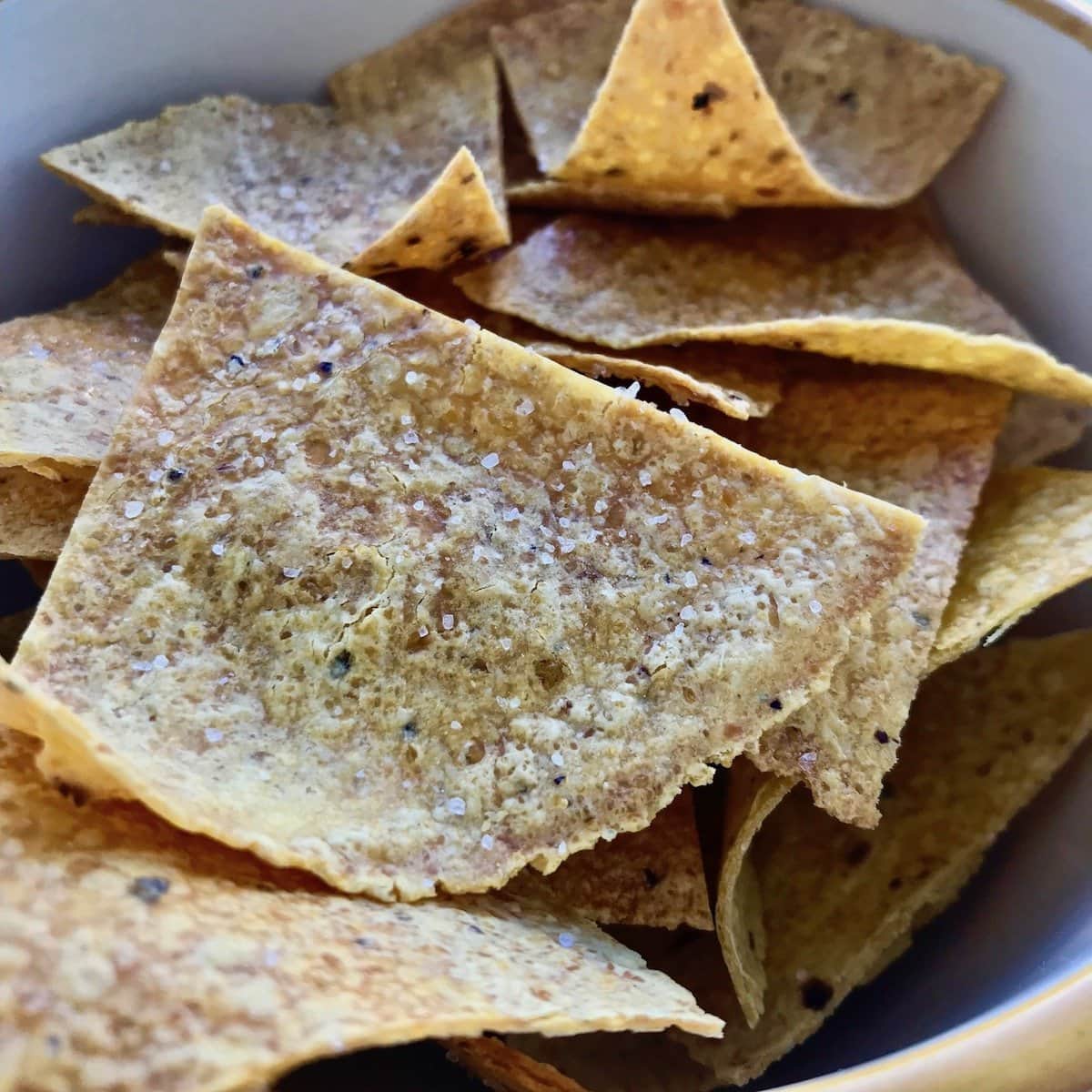 I absolutely love tortilla chips! They are delicious and I like how versatile they are. You can have them with various dips including salsa, guacamole, vegan cheese dips, and the list goes on.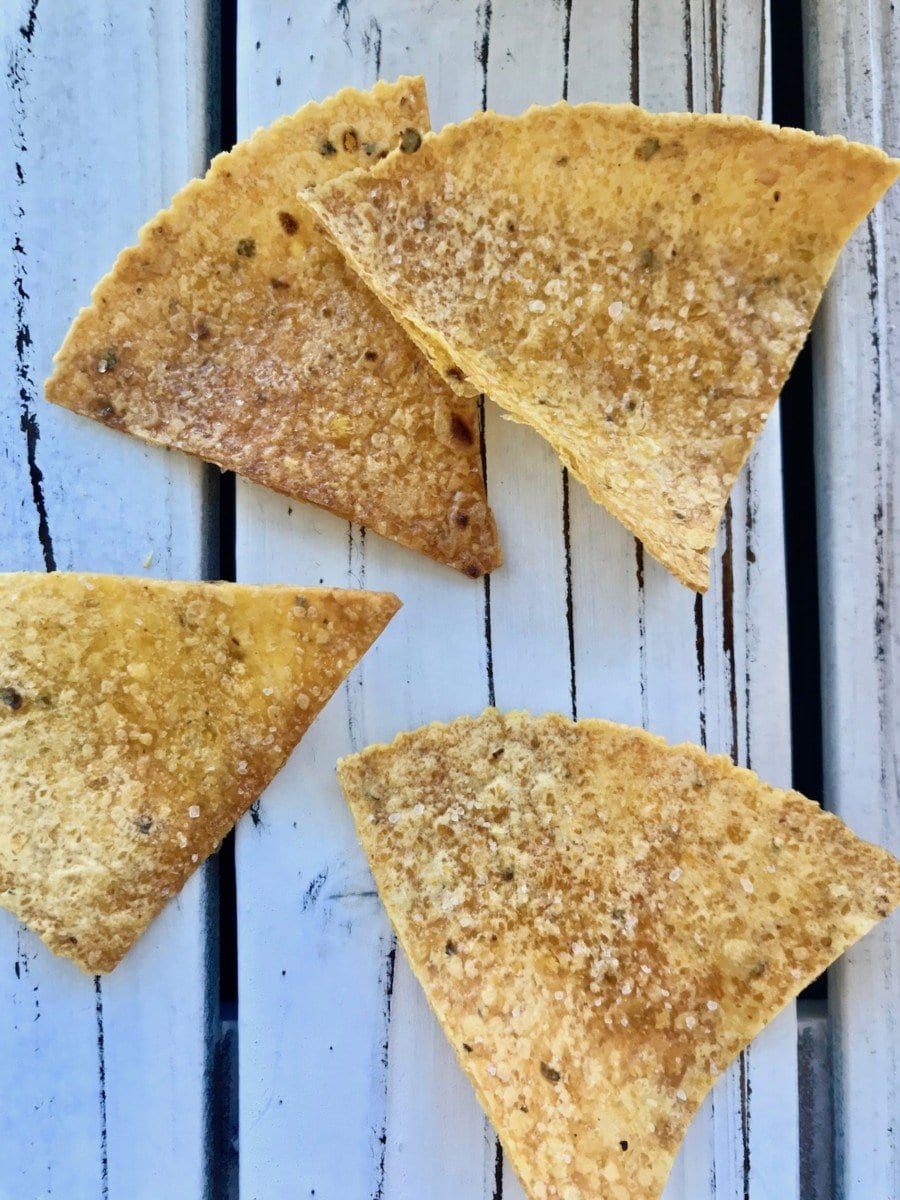 I used to always buy tortilla chips from the store, and though they may be healthier than other store-bought chips, they contain a lot of oil. I have yet to find an oil-free chip brand. Let me know if you know of one!
Anyways, when I decided to almost completely cut oil out of my diet, I really missed buying a bag of tortilla chips and eating the entire thing in one sitting with a jar of salsa. But I knew that wasn't good for my body and that I would only end up regretting it.
So… I made this oil-free, baked corn tortilla chips recipe!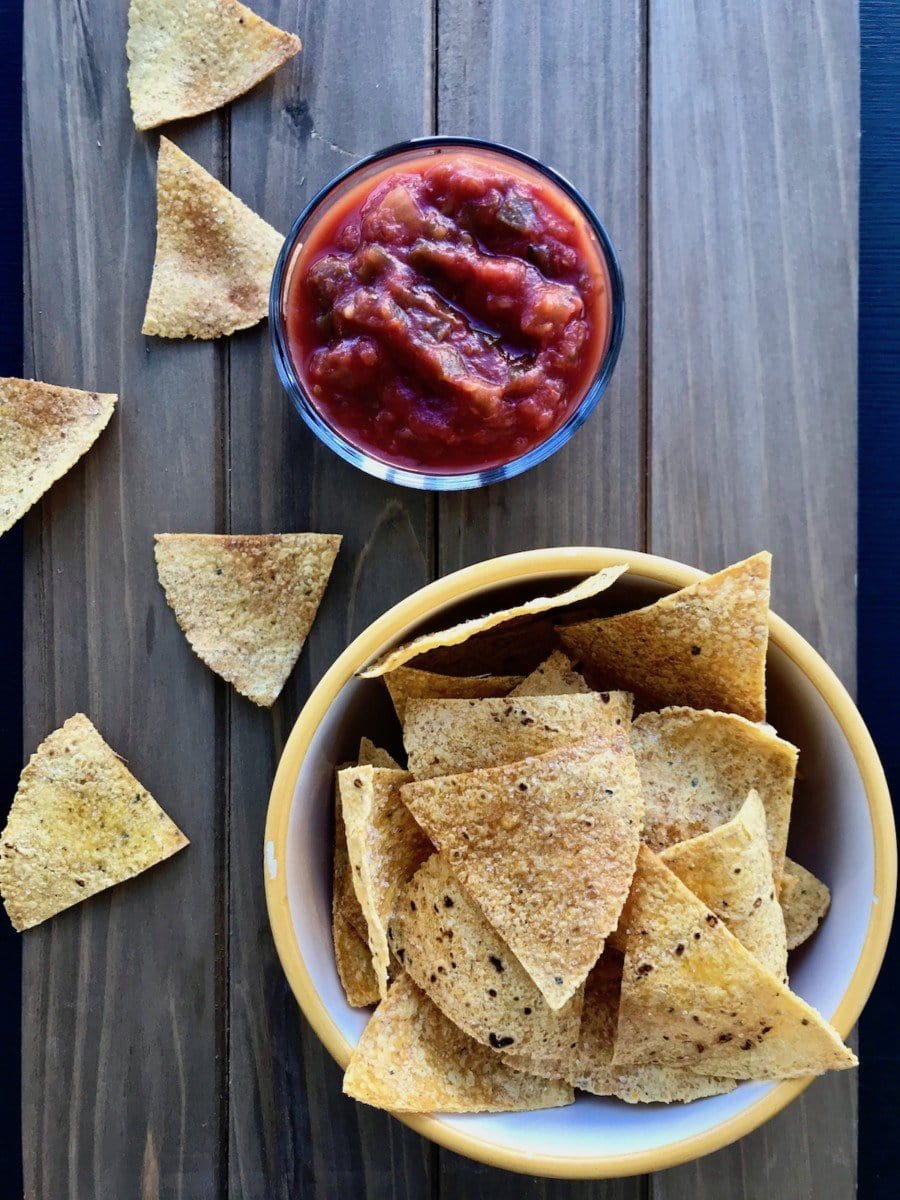 How to Make Oil-Free Tortilla Chips
Buy oil-free corn tortillas
Making your own corn tortilla chips is extremely simple. All you really need is corn tortillas!
You just need to make sure that the tortillas you buy are oil-free. Check the ingredients to make sure that oil is not on the list.
Prepare your corn tortillas
First, you will need to cut your tortillas into triangles. I suggest cutting each tortilla into six equal triangles. This recipe uses 8 tortillas, so you will end up with 48 chips.
Next, you could just spread the tortilla triangles out on a baking sheet and pop them in the oven plain, but I like to add a little extra flavour.
Place your tortilla triangles on a baking sheet (covered with parchment paper to prevent sticking). Then you can sprinkle a bit of salt on top of each triangle.
Other seasoning you may want to sprinkle on:
paprika
cayenne
chili powder
nutritional yeast
garlic powder
onion powder
You can really add any flavour you enjoy! I just add a pinch with my fingers and sprinkle a small amount on top of every triangle.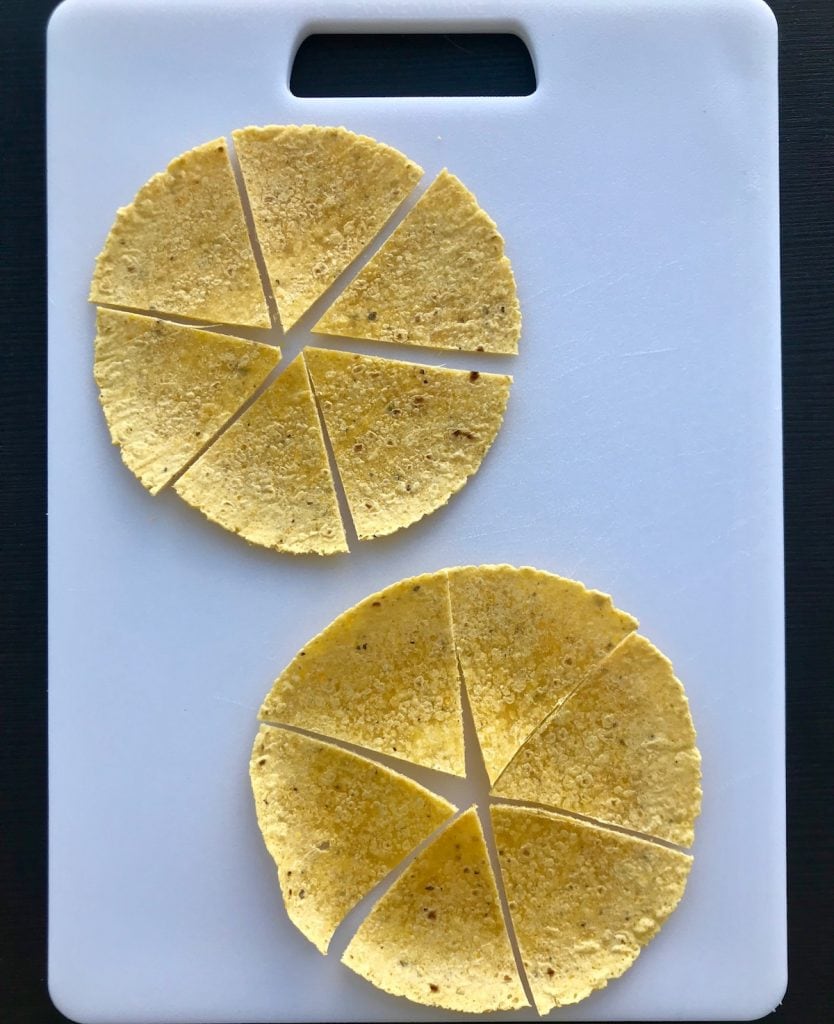 Bake your corn tortillas
Once you have seasoned your tortilla triangles, they are ready to go into the oven. Bake them for approximately 20 minutes at 350 degrees Fahrenheit. Check them after 15 minutes to ensure they are not burning. If your oven runs hot, you may need to take them out a bit sooner than 20 minutes. You may also need to bake them for a bit longer. Every oven tends to be a bit different. When they come out of the oven they should be slightly golden and should break easily when bent or bitten. If they are still a bit malleable, continue baking.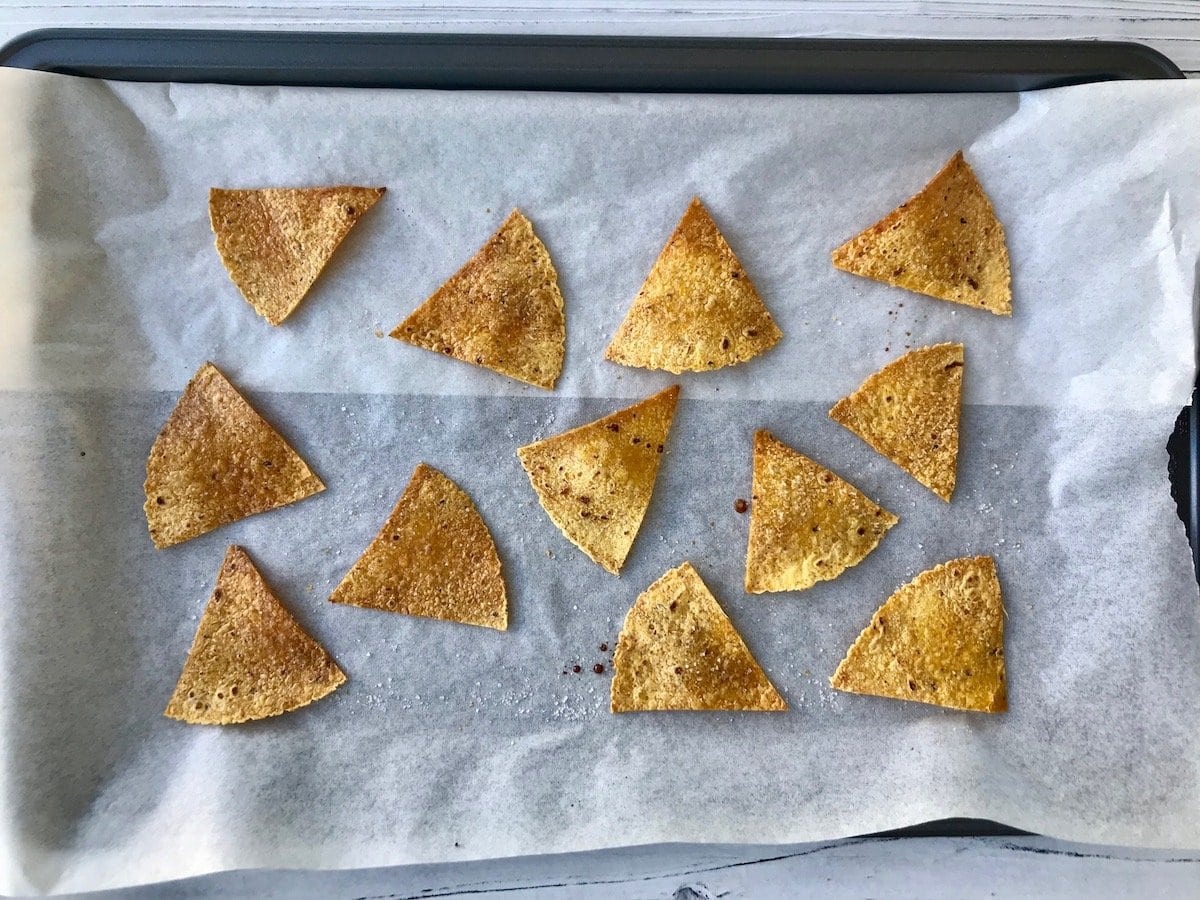 Are baked corn tortilla chips healthy?
Most people don't think of any chips as healthy. And I would agree that most chips I see at the store are not very healthy, including the tortilla chips.
However, oil-free corn tortilla chips are a healthy and delicious snack! They are basically just corn, which is a healthy food when eaten in moderation. Try not to eat a huge bowl all at once, but no need to feel guilty if you do.
Making homemade oil-free tortilla chips is a much healthier alternative to many other chips and snacks out there!
Enjoy these corn tortilla chips with the following dips: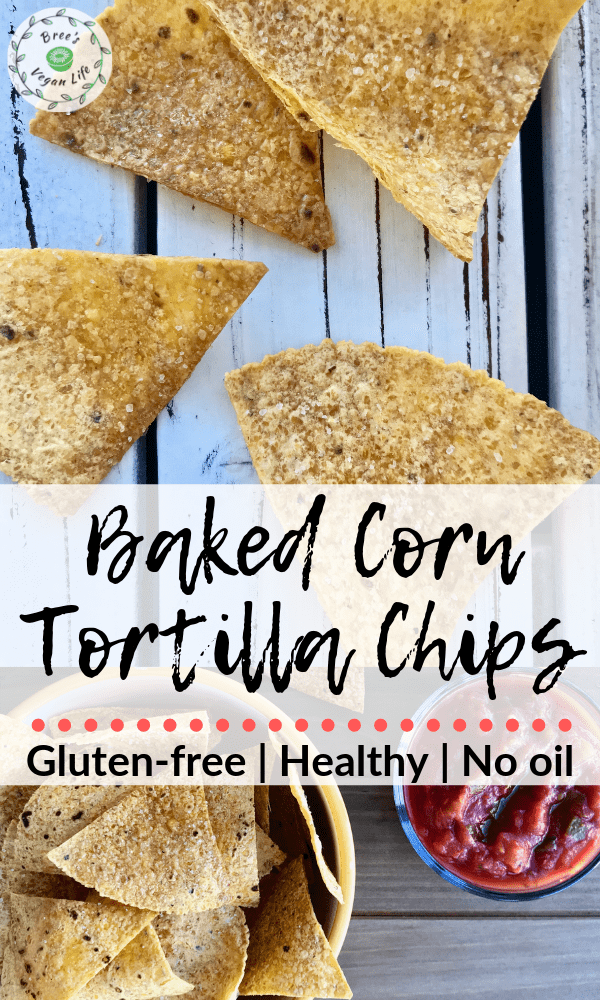 Recipe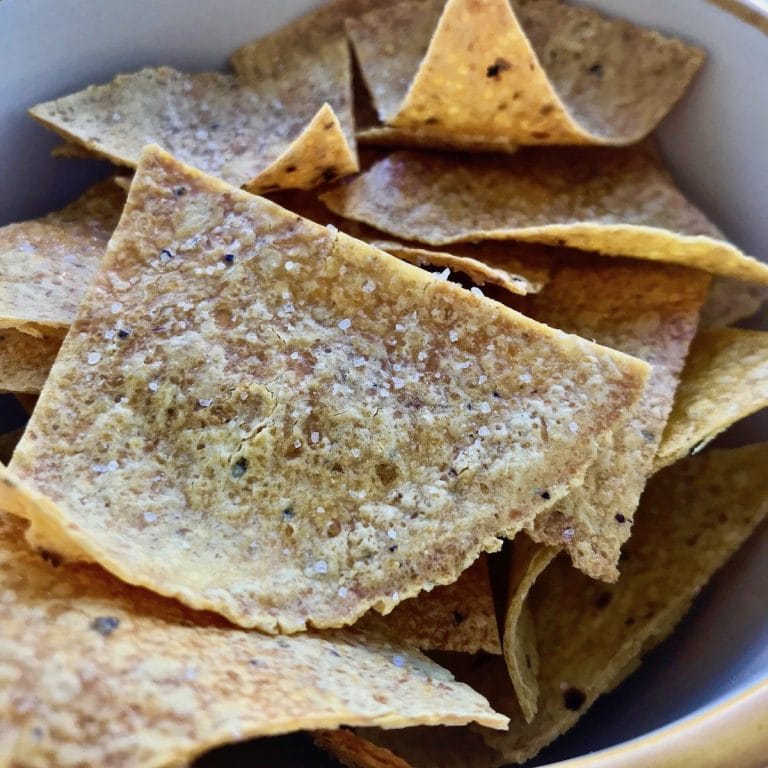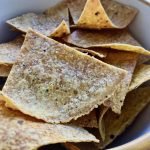 Print Recipe
Baked Corn Tortilla Chips
This baked corn tortilla chips recipe is oil-free and gluten-free. These chips make the perfect healthy snack or appetizer and they are super easy to make!
Ingredients
8

corn tortillas

(make sure they are oil-free, you need to check the ingredients on the package)!

Pinch

of salt

Any other seasoning of choice

(see note below)
Instructions
Preheat your oven to 350 degrees Fahrenheit.

Cut each tortilla into six equal triangles.

Line a baking sheet with parchment paper.

Place each tortilla triangle onto the baking sheet.

Sprinkle some salt and any other desired seasoning on each tortilla triangle.

Place the baking sheet in the oven for approximately 20 minutes (see note about bake time).
Notes
A bit of salt is a great addition to tortilla chips, just make sure you don't overdo it. You can then add any other seasoning of choice. Some of my favourites are chili powder, paprika, cumin, garlic powder, nutritional yeast. Add one or a combination of any you like! I like to grab a pinch with my fingers so I have enough control to very lightly and evenly sprinkle the seasoning onto the tortillas. This will prevent you from pouring too much on a single chip. 
Keep an eye on the chips to make sure they don't burn, but ensure that they crisp up and turn slightly golden or else they may not develop the crispness of a chip. If they are still a bit chewy and malleable, they need to bake for a bit longer than 20 minutes.
The nutrition facts are an estimation for half of this recipe (24 chips) with a bit of salt added to the tortillas.
Nutrition
Calories:
160
kcal
|
Carbohydrates:
34
g
|
Protein:
4
g
|
Fat:
2
g
|
Sodium:
145
mg
|
Fiber:
3
g
|
Calcium:
100
mg
|
Iron:
1
mg
Nutrition Disclaimer
Nutrition information is an estimate generated from a nutrition calculator. There may be errors here or variations based on ingredients you use.