This post contains affiliate links for which I may earn a commission (at no extra cost to you) should you make a purchase. As an Amazon Associate I earn from qualifying purchases. Please see my disclaimer for more information.
This healthy vegan guacamole recipe is delicious and super easy to make. It is the perfect healthy, dairy-free dip for tortilla chips!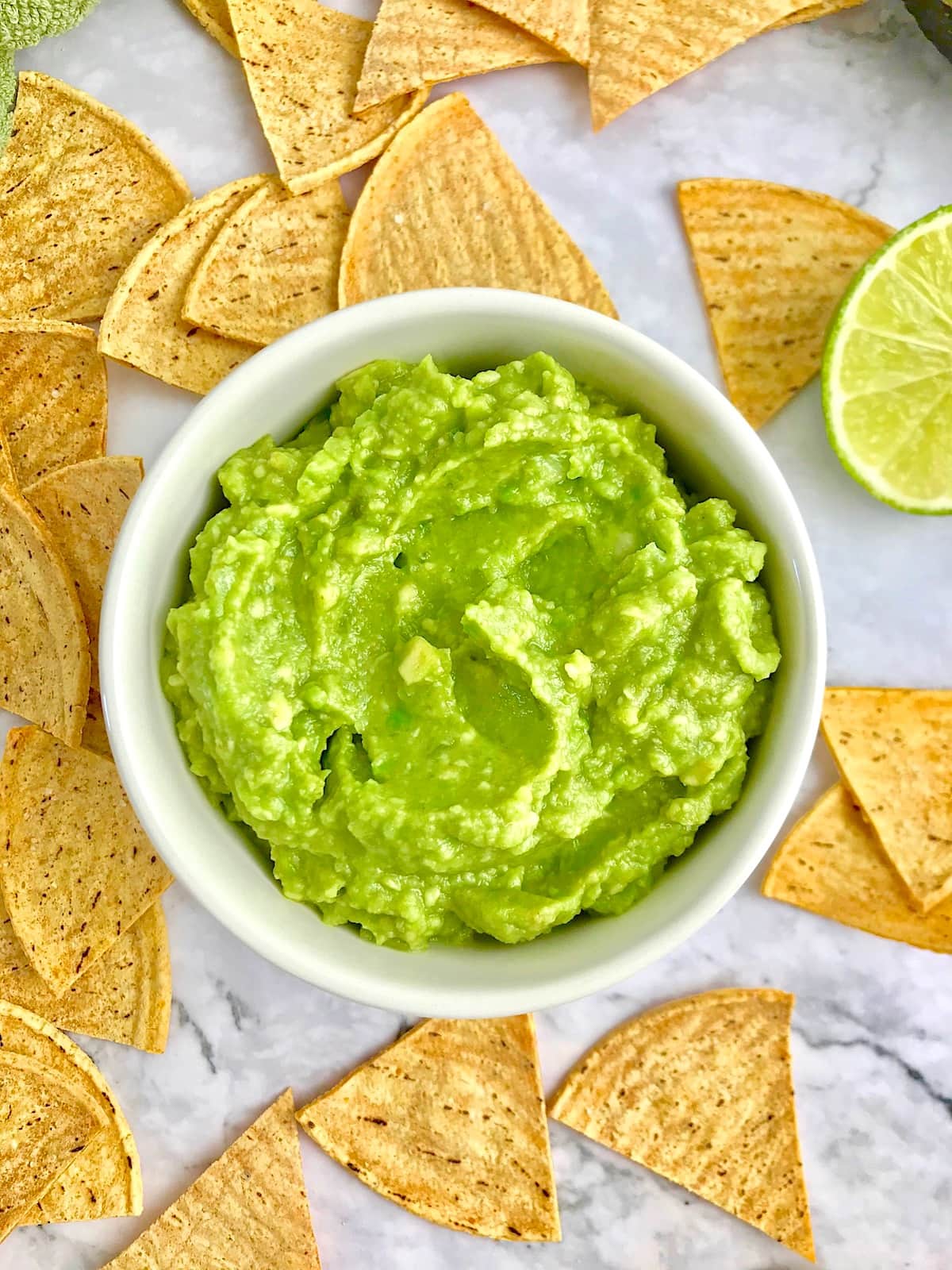 If you've been looking for a delicious, healthy dip, look no further!
I made this vegan guacamole as a healthy alternative to store-bought dips for tortilla chips. I absolutely love tortilla chips and I usually eat them with salsa, but I was feeling like I needed a bit of a change.
I've never been a huge fan of guacamole, but after making this I actually found myself craving it more than salsa. It is so simple to make so you may not expect it to be spectacular, but I'm telling you, it is!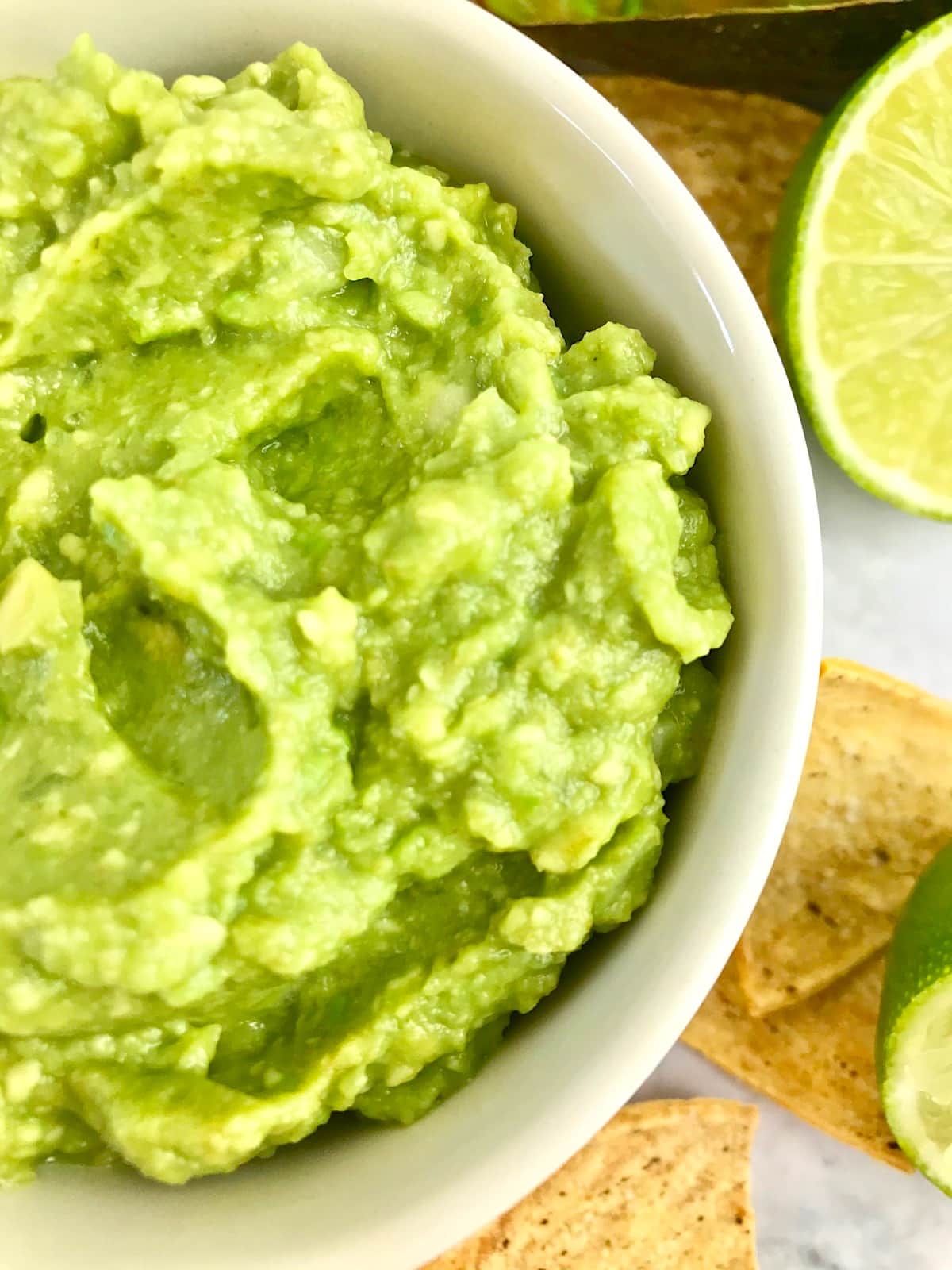 What is in this healthy guacamole recipe?
Avocados
Lime juice
Yellow onion
Garlic powder
Ground cumin
Jalapeno pepper
Of course, avocados are the base of every guacamole recipe. This recipe makes about 1.5 cups and requires two ripe avocados.
It is very important that your avocados are ripe for this recipe!
Give them a gentle squeeze and ensure that they are fairly soft. If they are too firm, wait a day or two before making this vegan guacamole.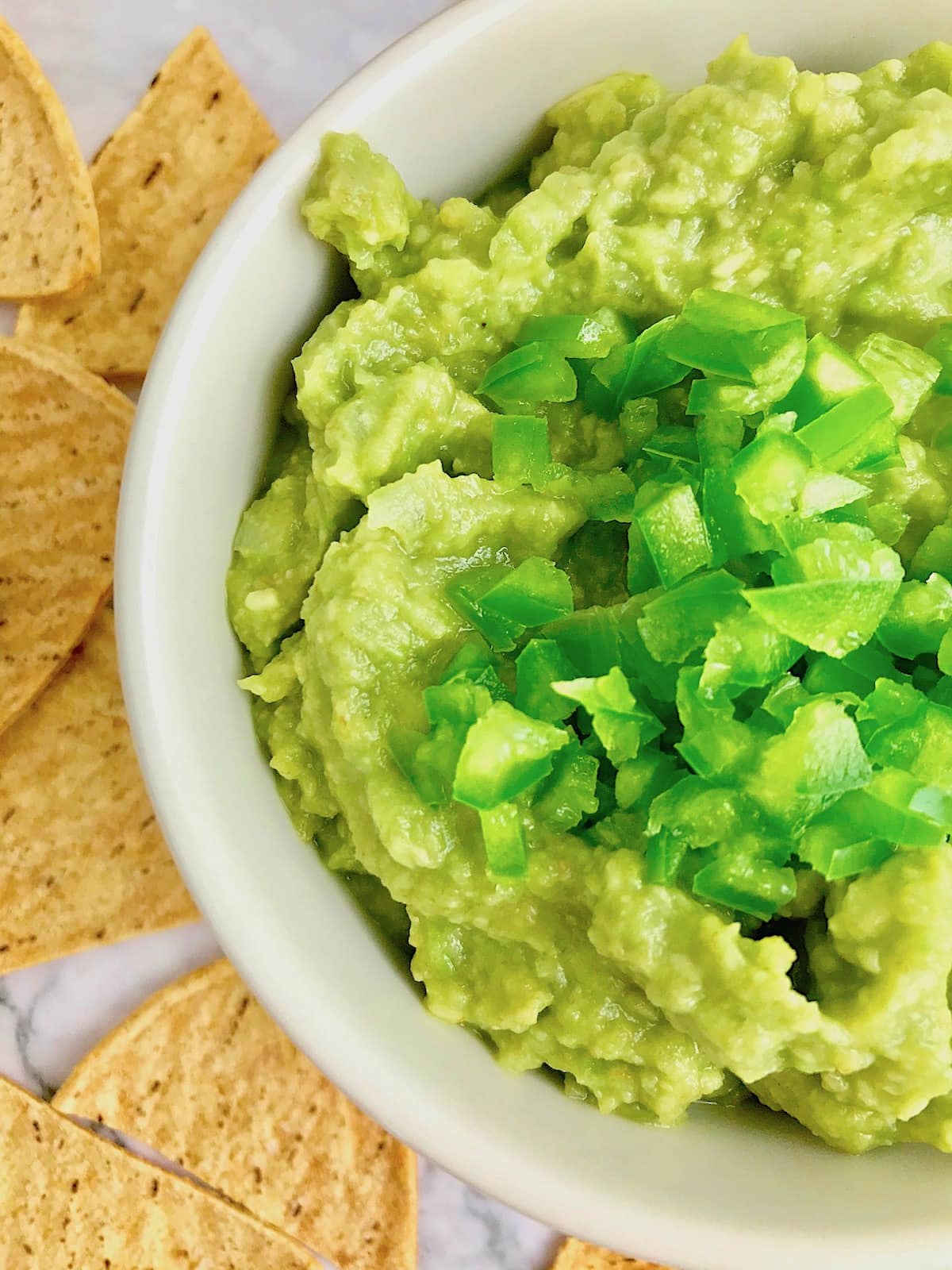 For the lime juice, you will need 2 teaspoons, which you should be able to get out of only half of one lime.
I use garlic powder instead of fresh garlic for many of my recipes because it's cheaper and will last longer. I find that it takes me awhile to get through a garlic bulb, so using powder makes more sense for me. However, if you want to you can use 1-2 garlic cloves instead of a teaspoon of garlic powder for this recipe.
How to make this guacamole
To make this recipe, all you need to do is add all the ingredients together and mix them up!
I personally like to blend it all up in a food processor because I like a smoother texture for my guacamole. I just leave out the chopped jalapeno and mix that in because I like the bit of crunch it adds.
If you prefer your guacamole to have a bit of a chunkier texture, you can mash your avocados with a fork, then mix in the remaining ingredients.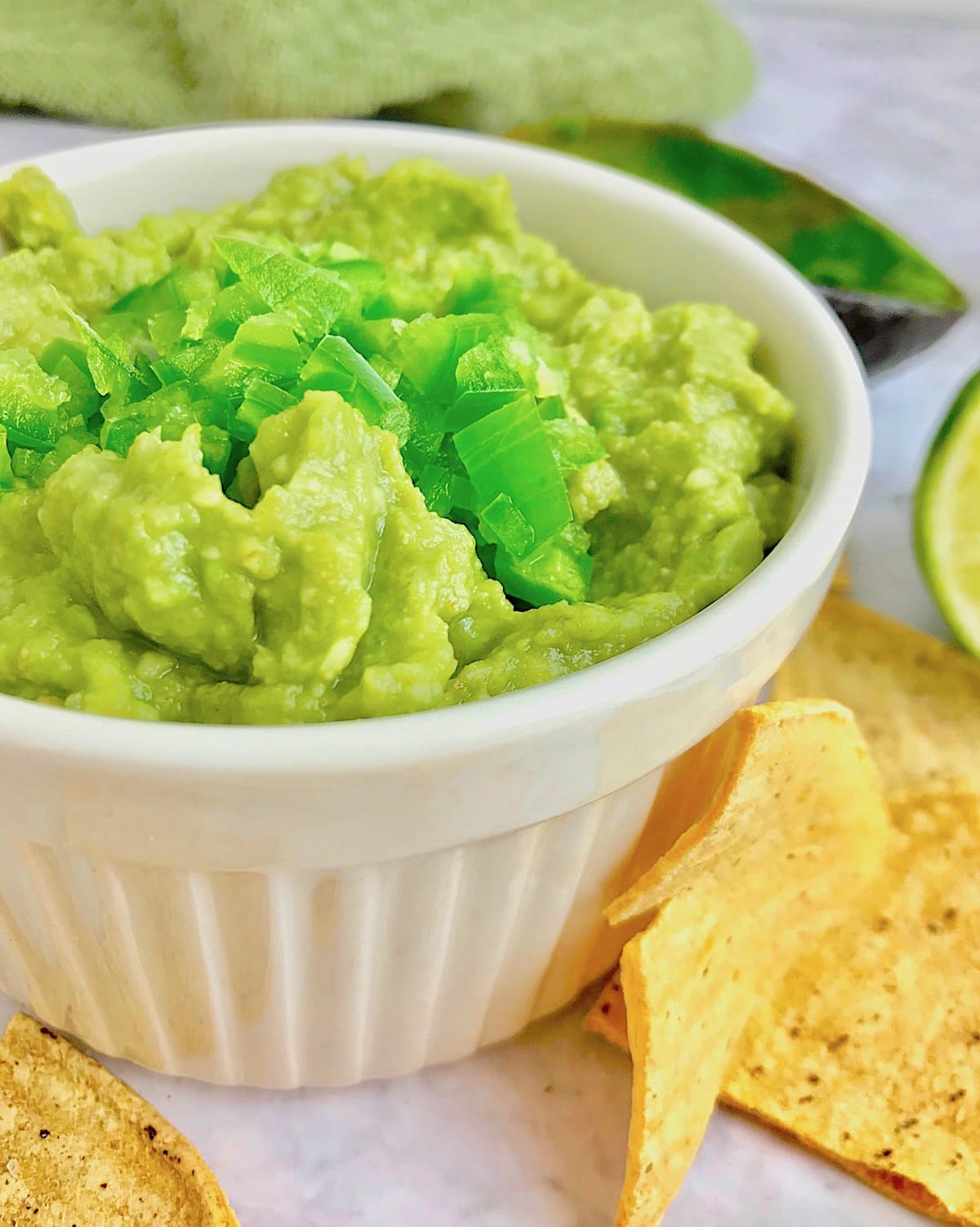 What to eat it with
This healthy vegan guacamole goes great with many things. Here are some suggestions:
Dip your tortilla chips in it (check out this recipe for

oil-free tortilla chips

!)
Dip potato chips in it
Add it to a taco
Add it to a

burrito bowl

Use it as a raw veggie dip
Add it to a sandwich or wrap
There are so many options. Let me know in the comments if you try this guacamole in any other ways!
I hope you love this healthy guacamole recipe as much as I do. Share it with friends and/or family at your next get-together as a tasty, guilt-free appetizer!
If you love avocados, check out this healthy avocado smoothie recipe.
Here are some more dip recipes you may enjoy: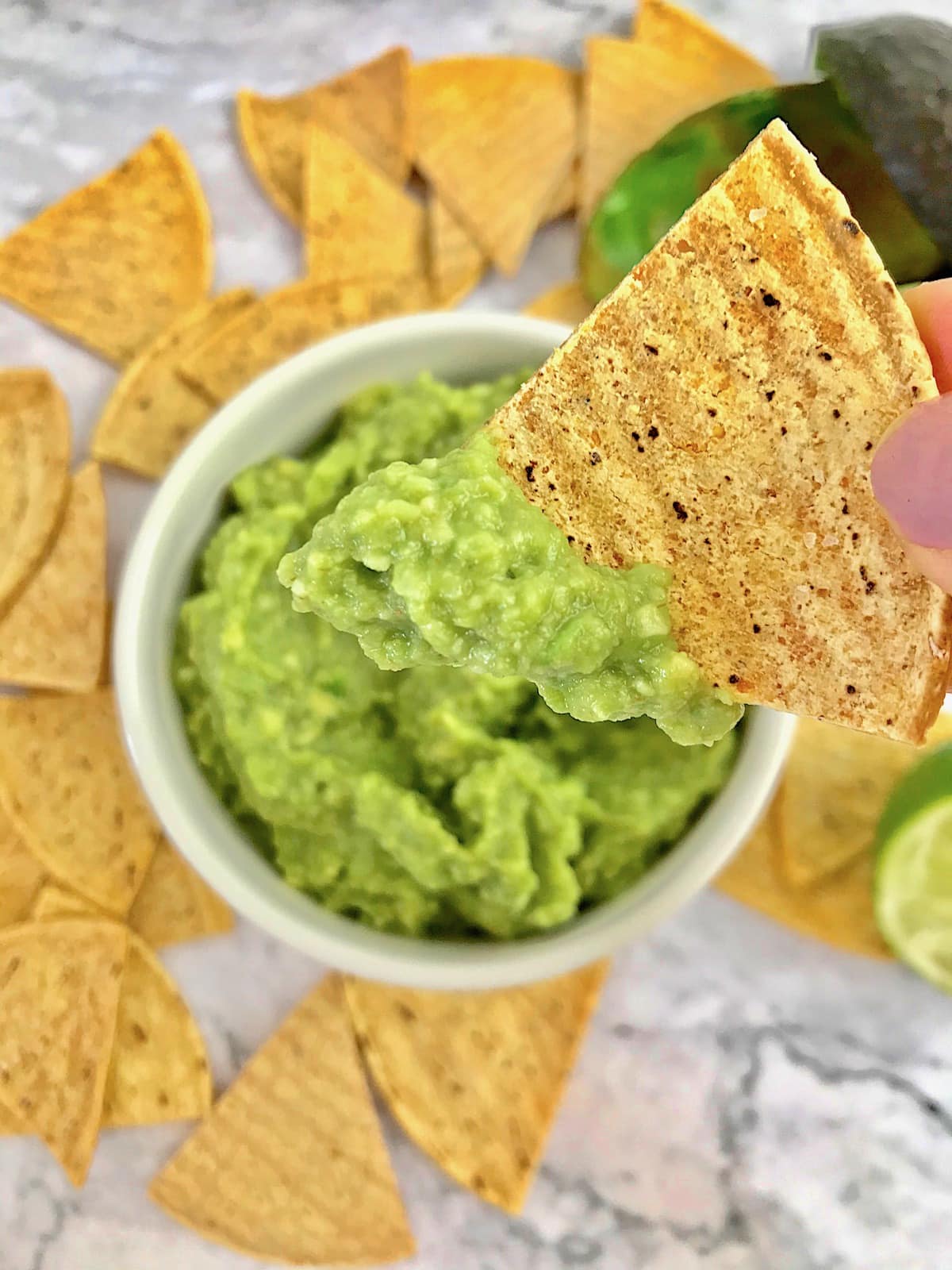 If you want some more help getting started with a plant-based diet, check out this plant-based grocery list!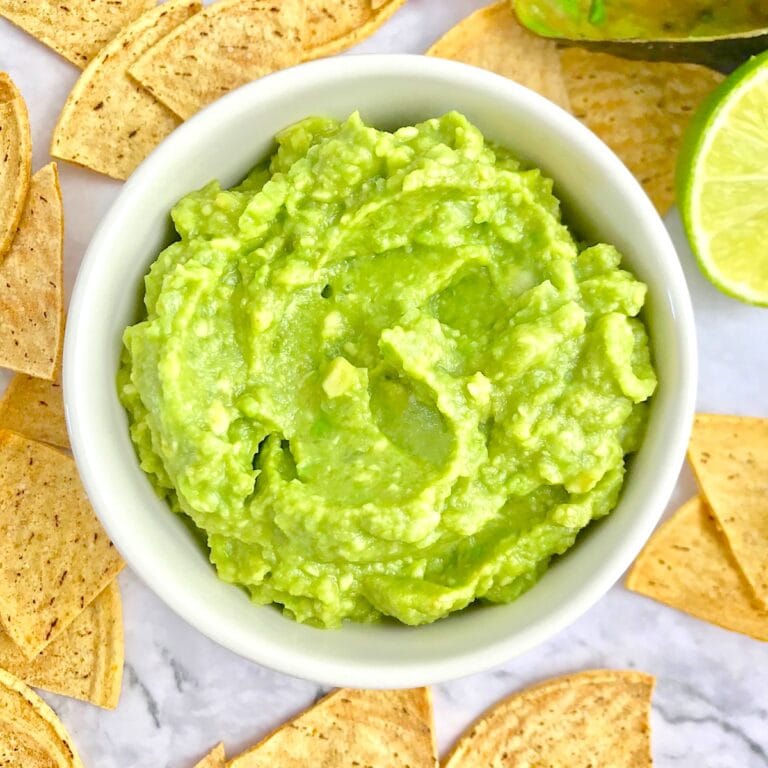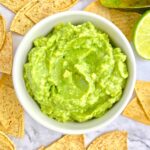 Print Recipe
Easy Vegan Guacamole
This vegan guacamole recipe is delicious and super easy to make. It is the perfect healthy, dairy-free dip for tortilla chips!
Ingredients
2

ripe avocados

2

teaspoons

lime juice

(approx. half of a lime)

½

cup

yellow onion

(chopped)

1

teaspoon

garlic powder

2

teaspoons

ground cumin

1

jalapeno pepper

(chopped with seeds removed, optional)
Instructions
Once you have chopped the onion and jalapeno (if desired), simply mix all ingredients together. You can mash the avocado with a fork and just mix in the remaining ingredients if you want a chunkier guacamole. For a smoother guacamole, blend the ingredients in a food processor until your desired texture is reached.
Notes
This recipe makes approximately 1.5 cups of guacamole. Half an avocado per serving gives this recipe 4 servings. 
Using a food processor will allow you to make a smoother, creamier guacamole. If you prefer a chunkier guacamole, you can mash all ingredients in a bowl by hand. I like to blend the onion because I don't like onion chunks in my guacamole, but I choose to simply mix in the chopped jalapeno (without the seeds!). It's up to you!
Nutrition
Calories:
177
kcal
|
Carbohydrates:
12
g
|
Protein:
3
g
|
Fat:
15
g
|
Saturated Fat:
2
g
|
Sodium:
10
mg
|
Fiber:
7
g
|
Sugar:
2
g
|
Vitamin C:
16
mg
|
Calcium:
26
mg
|
Iron:
1
mg