This post contains affiliate links for which I may earn a commission (at no extra cost to you) should you make a purchase. As an Amazon Associate I earn from qualifying purchases. Please see my disclaimer for more information.
This healthy green avocado smoothie is made with avocado, pineapple, and ginger. It is delicious and filled with nutrients that could lead to a number of health benefits.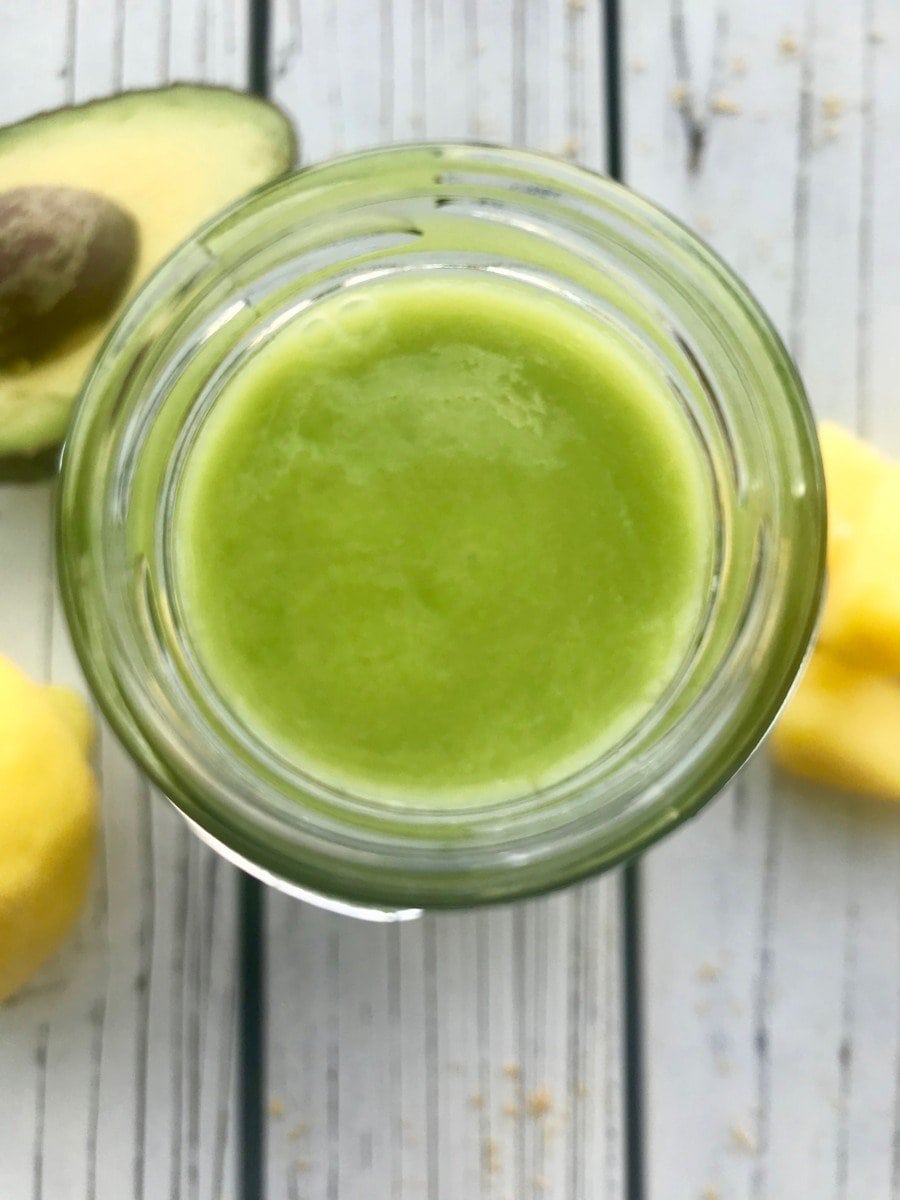 This avocado smoothie is:
Vegan
Thick
Green
Delicious
Energizing
Super Healthy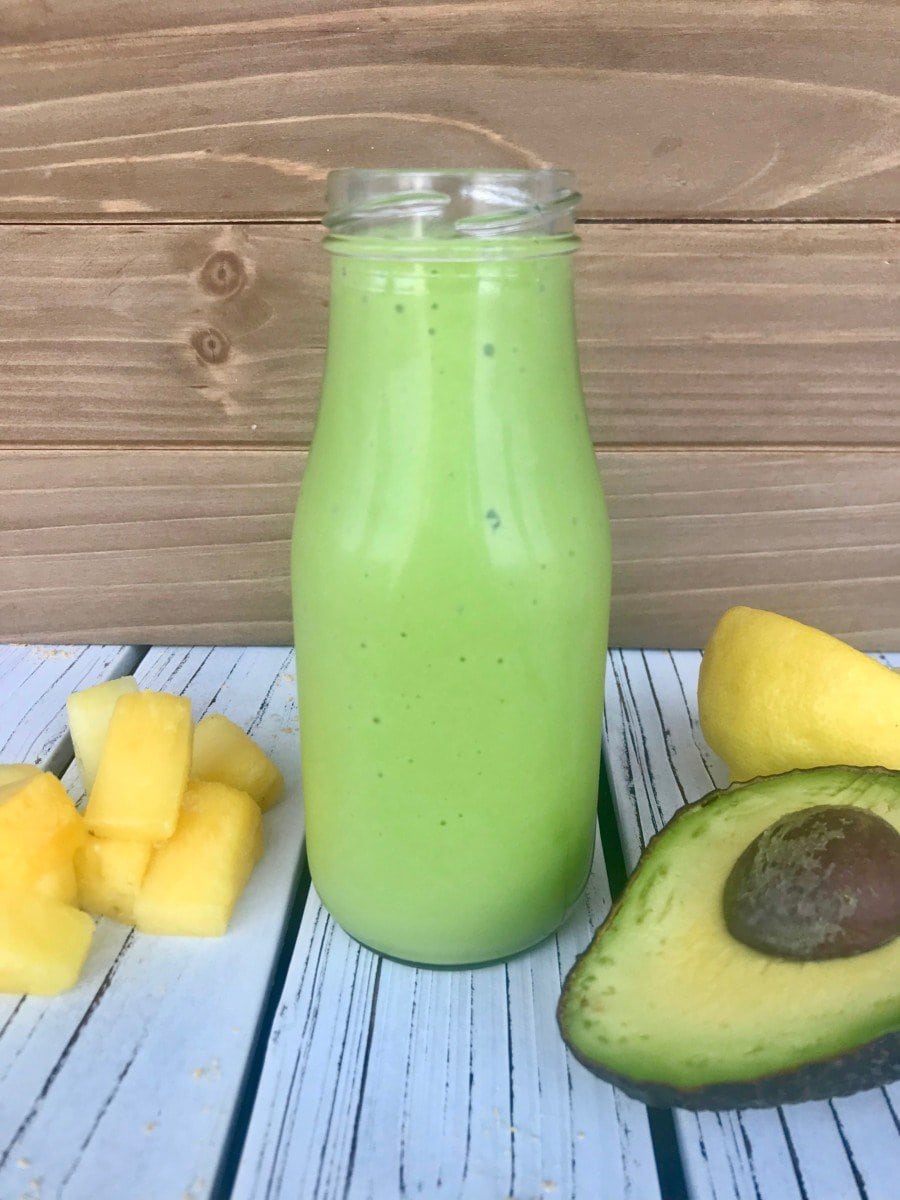 Ingredients
Water
Water is the perfect base for any smoothie. We all know that water is good for us, so why not get an extra cup per day by adding it to your smoothie?
It is recommended that people drink 64 ounces (8 cups) of water per day. I don't know about you, but I have a pretty difficult time drinking that much water each day. When you're on the go all day, sometimes it can be difficult to even remember to drink that much water.
Using one cup of water as the base of a smoothie every day can make the recommended daily water consumption seem a bit more doable.
Spinach
Spinach is something that I add to many of my smoothies. This is how I ensure that I'm getting some healthy green vegetables into my diet every day.
Spinach can give you an energy boost because of its high iron content, and this leafy green is responsible for a host of other health benefits.
Adding it to your smoothie is beneficial and it WILL NOT make your smoothie taste like a vegetable, as long as you add enough fruit to balance it out!
Avocado
Avocados are an amazing food! They are filled with healthy fats that are essential to a balanced diet.
Adding half an avocado to your smoothie can help you feel full for much longer. Smoothies don't just have to be like drinking juice!
Avocado can turn your smoothie into a delicious and filling breakfast. Although high in calories, avocados can help you lose weight because they make you fuller and reduce the desire to eat more by suppressing your appetite.
Pineapple
Pineapple is added to this healthy avocado smoothie to sweeten it and make it super tasty!
Pineapples are high in vitamin C, manganese, and thiamin. This means that pineapple can boost your immune system and help prevent you from getting sick, improve bone strength, and give you energy.
Lemon Juice
Lemon juice is something that can be added to any smoothie to give it a sweeter taste. If I can taste the spinach in my smoothie, I just add some lemon juice!
Lemons are also a great source of vitamin C.
Ginger
Ginger adds a little zing to this healthy avocado smoothie, but that's not all it does! It has been known to help with stomach issues such as nausea and indigestion. Ginger has anti-inflammatory properties to help soothe your stomach.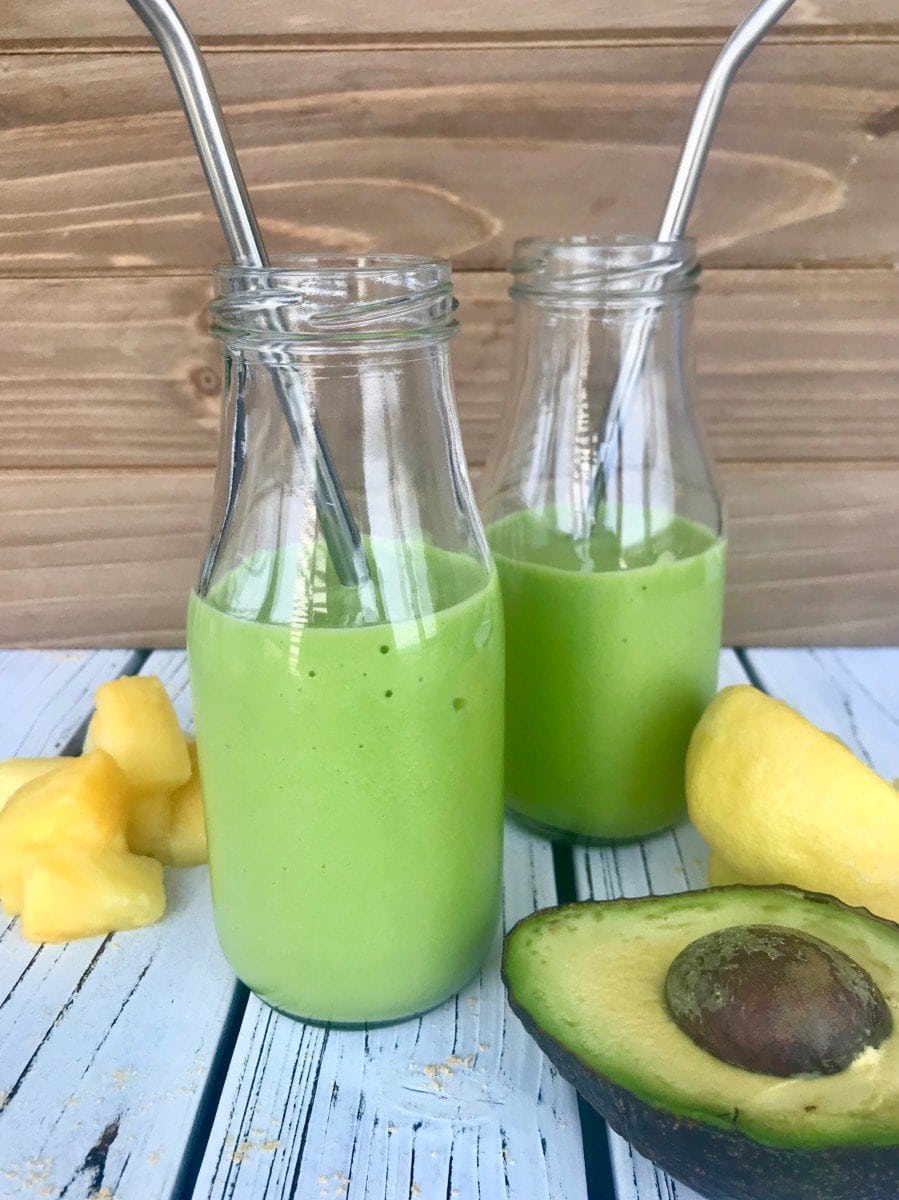 Enjoy this green avocado smoothie for breakfast in the morning, or as a snack during the day. It is delicious and super refreshing.
More Green Smoothies
If you want more vegan weight loss tips, check out this article on how to lose weight on a vegan diet.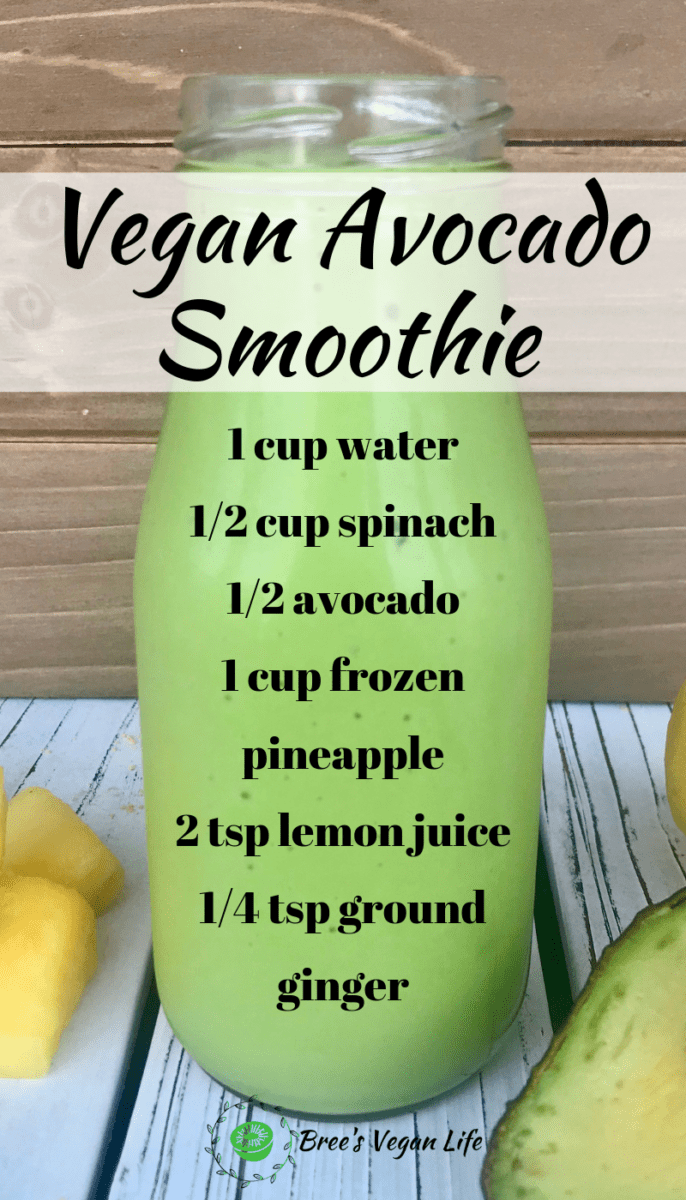 Recipe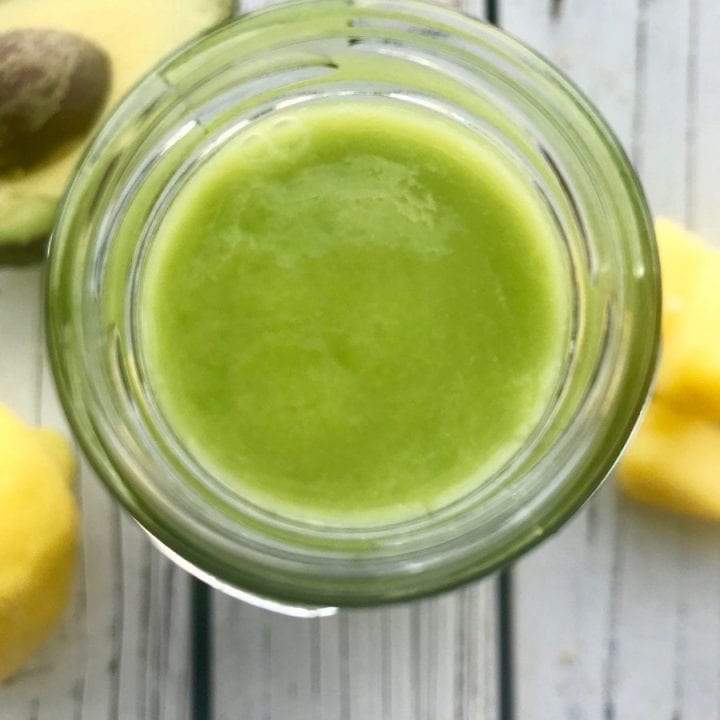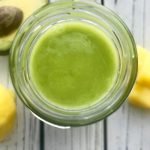 Print Recipe
Healthy Avocado Smoothie with Pineapple and Ginger
This avocado smoothie is delicious and refreshing. Enjoy it any time to boost your health and make you feel energized.
Ingredients
1

cup

water

½

cup

spinach

½

avocado

1

cup

frozen pineapple

2

teaspoons

lemon juice

¼

teaspoon

ground ginger (powder)
Instructions
Add water and spinach to blender and blend.

Add remaining ingredients and blend until smooth.
Nutrition
Calories:
250.63
kcal
|
Carbohydrates:
31.81
g
|
Protein:
3.41
g
|
Fat:
15.03
g
Nutrition Disclaimer
Nutrition information is an estimate generated from a nutrition calculator. There may be errors here or variations based on ingredients you use.