This post contains affiliate links for which I may earn a commission (at no extra cost to you) should you make a purchase. As an Amazon Associate I earn from qualifying purchases. Please see my disclaimer for more information.
This avocado toast is so savory and delicious. It is vegan, can be gluten-free, and can be quickly put together in about 5 minutes!
This avocado toast will be your new favorite breakfast!! It's so easy to make and super versatile as well. This recipe is my go-to base for avocado toast, but you can add a variety of additional toppings if desired.
If you want more vegan breakfast ideas, check out this tofu scramble too. So good!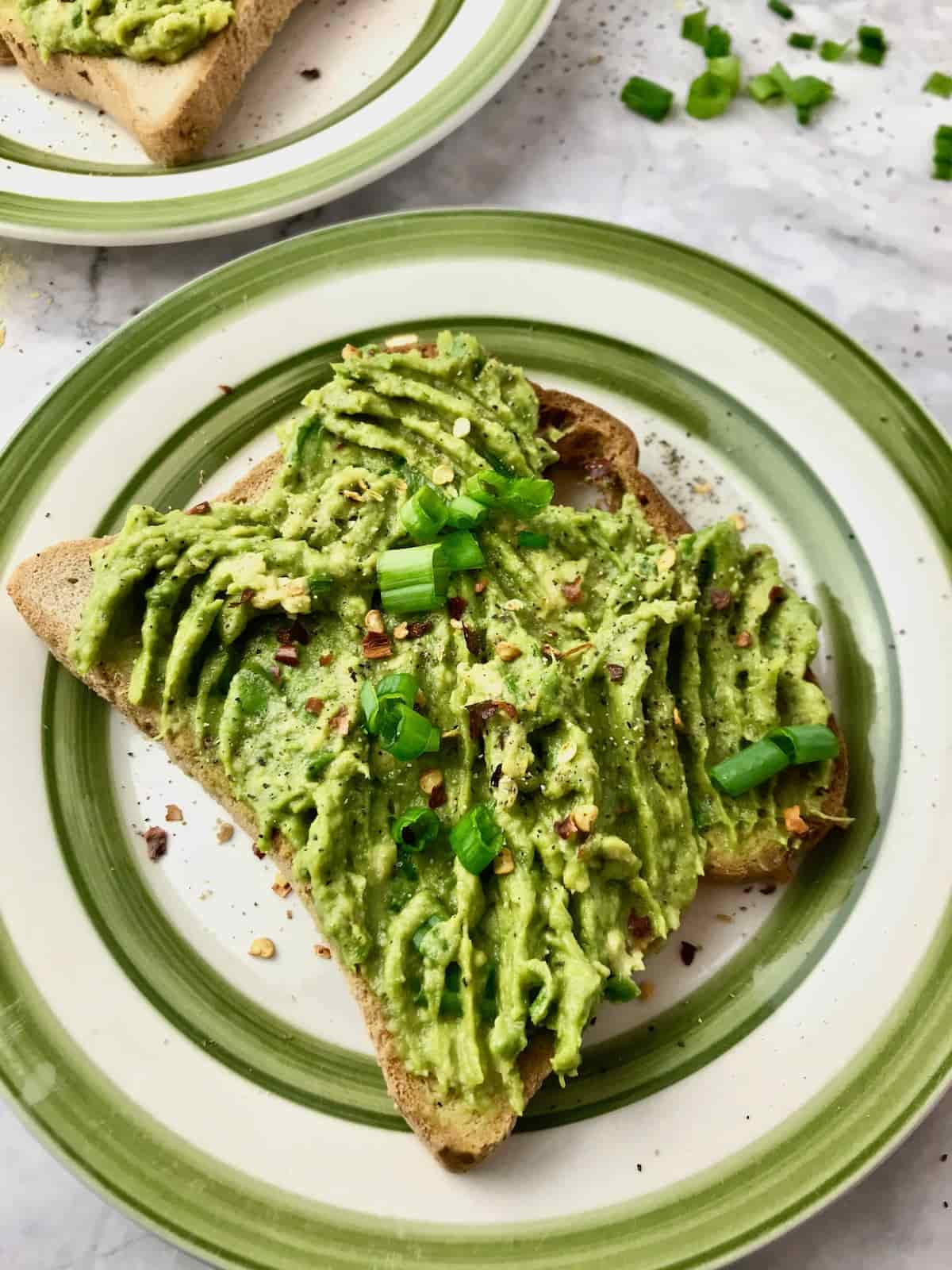 Jump to:
Why you'll love this avocado toast
This vegan avocado toast is incredible! It is:
Flavorful
Super easy to make
A quick recipe (5 minutes)
Vegan
Gluten-free if you use a gluten-free bread (I like Little Northern Bakehouse)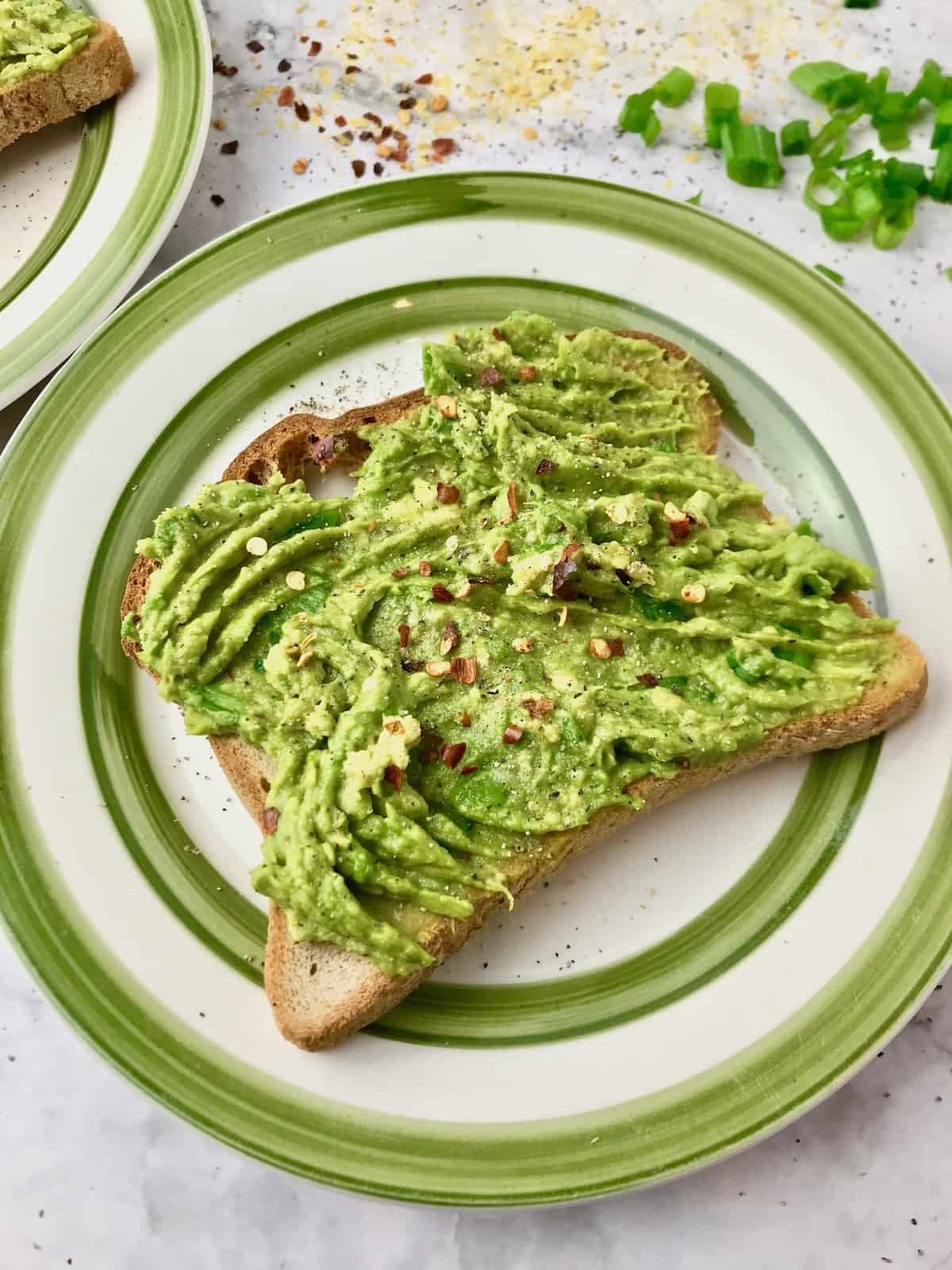 Ingredient information
*This is an overview of the ingredients for this avocado toast. For ingredient quantities and full instructions, scroll down to the recipe box below.
Bread: Use whatever bread you like. Large pieces are best so you can fit lots of the avocado mix on it.
Avocado: The star of avocado toast is of course the avocado. You want it to be a bit soft when you squeeze, but not too soft.
Garlic powder: This adds a strong savory flavor to your avocado toast.
Green onion: Chopped green onion or chives adds to the flavor.
Nutritional yeast: Some people don't like nutritional yeast, but I think it really adds to this recipe. You can leave it out if you really don't like it though.
Ground black pepper (optional)
Red pepper flakes (optional)
Tips for making avocado toast
Make sure your avocado is perfectly ripe before cutting into it. When you give it a light squeeze it should be a bit soft. If it is too firm, let it ripen outside of the fridge for a day or two before using it.
The easiest way to mash your avocado is with a fork on a plate. I see so many people trying to mash avocado with a fork in a bowl, but the angle of the bowl makes it so difficult! A flat surface on a plate is much easier to work with.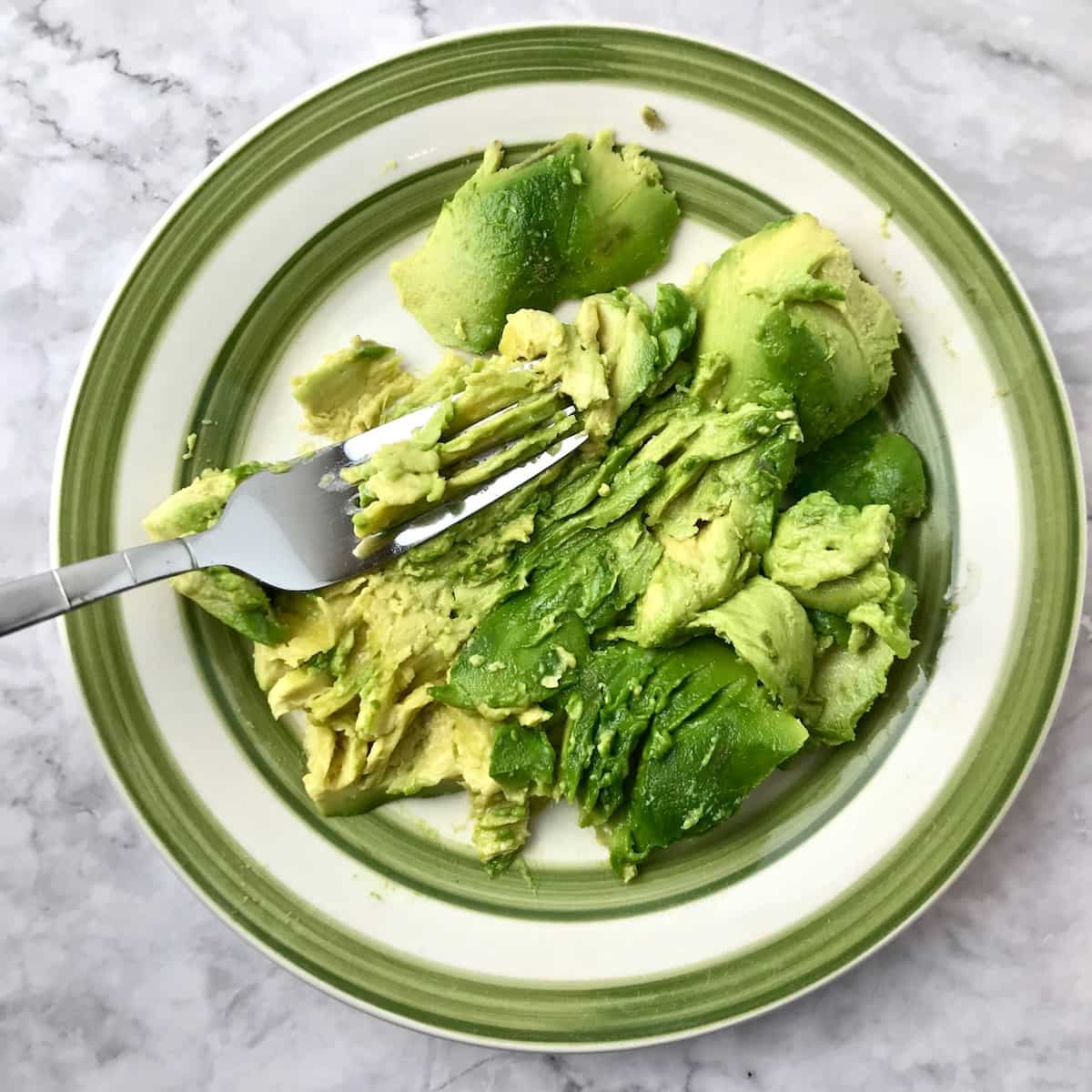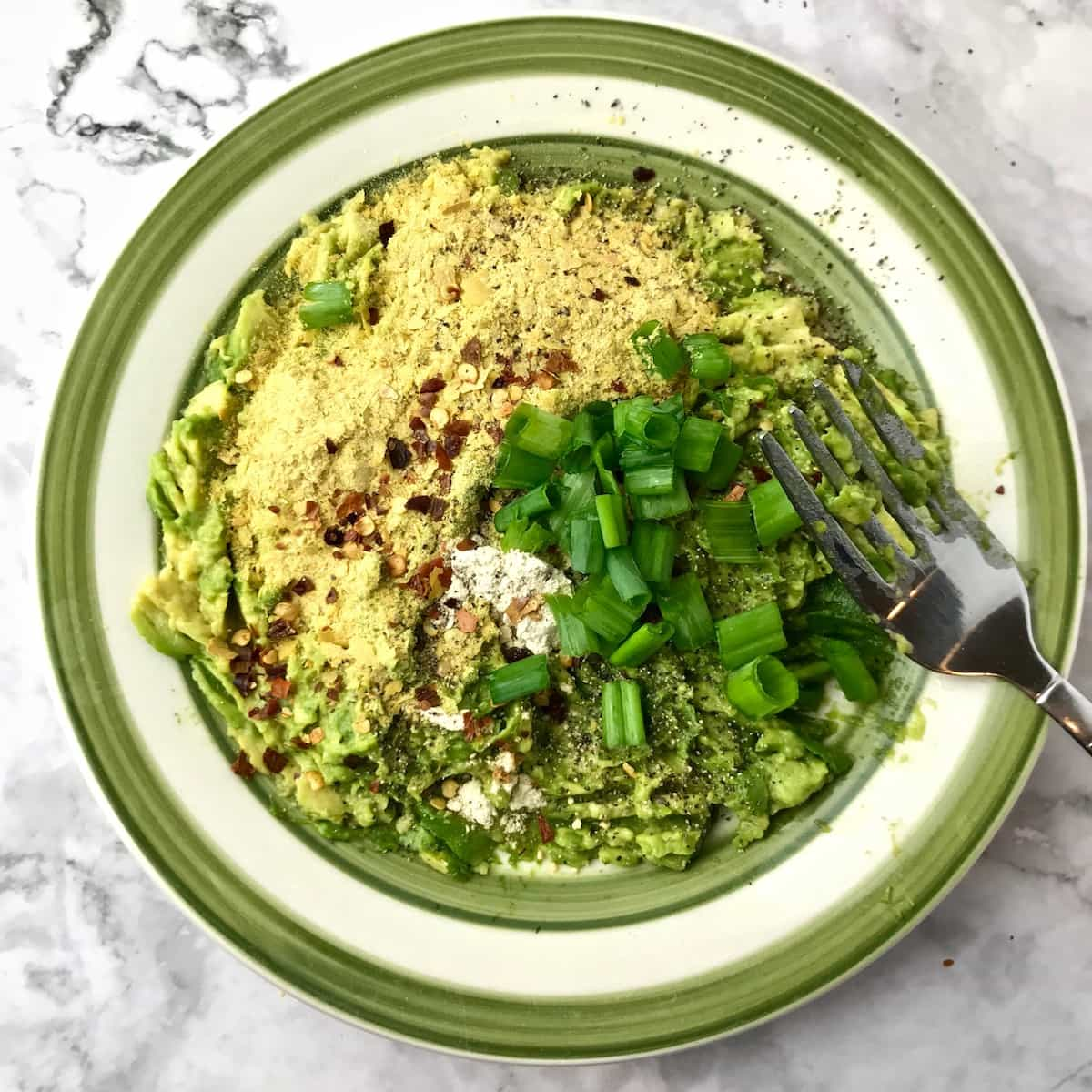 Use slices of bread that are fairly large so that you can fit more avocado on them. If you are using gluten-free bread, I suggest the Little Northern Bakehouse Whole Grain Wide Slice bread. Their regular slices are quite small, so the wide slices work much better.
Substitutions and additions
There are so many ways to make avocado toast, so feel free to make any changes you'd like!
If you don't like nutritional yeast, you can simply eliminate it from the recipe.
Ground black pepper and red pepper flakes are optional, but really elevate the taste in my opinion. Make sure you don't use too much if you don't want it very spicy.
Feel free to add any seasoning you like.
In place of the green onion, you could use chopped chives or sliced red onion if it's not too strong for your liking.
To make this avocado toast more filling, add some chickpeas or vegetables on top.
Suggested add-ons:
Chickpeas
Tomato slices
Sliced sautéed mushrooms
Arugula
Dried dill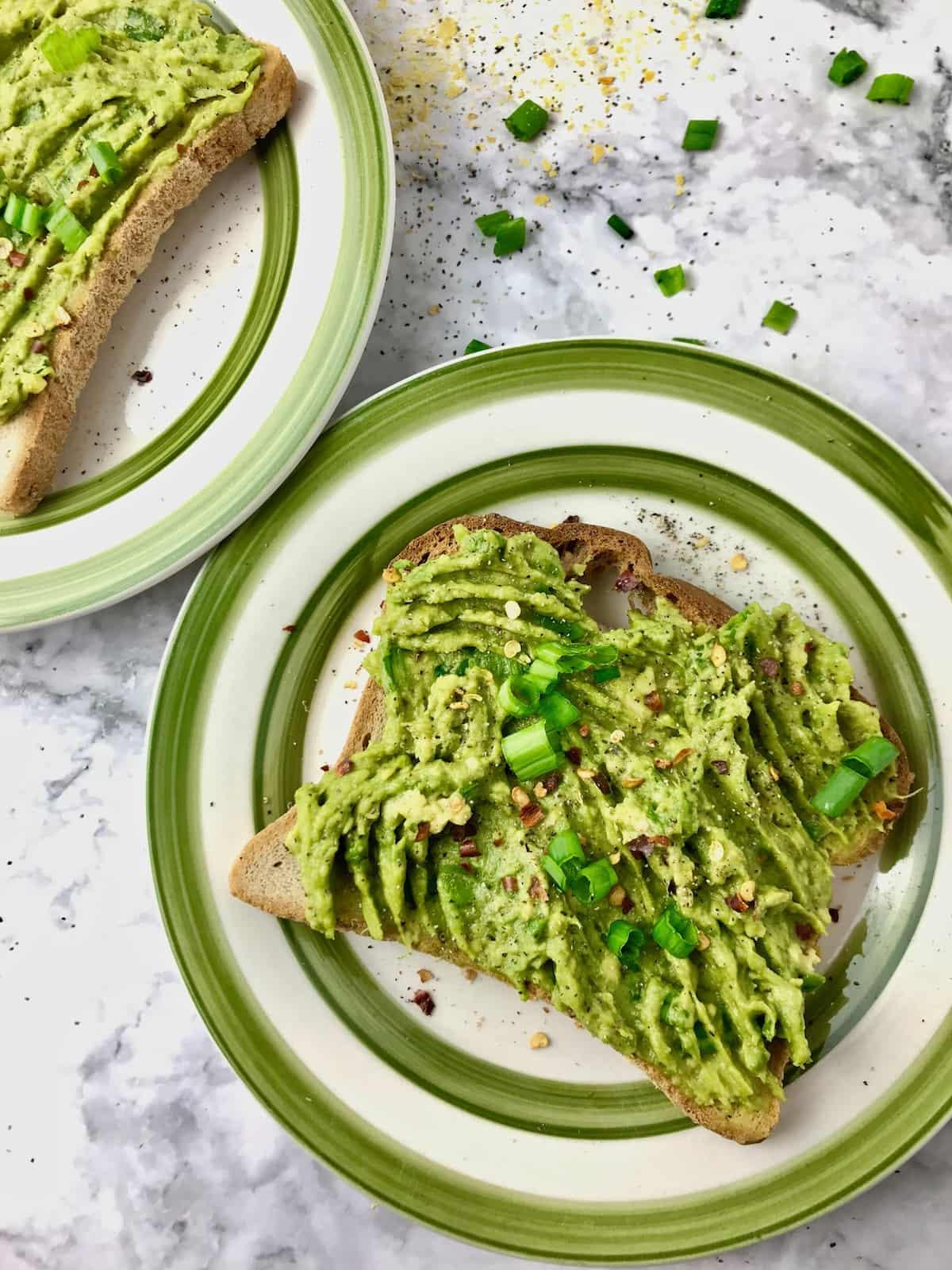 More avocado recipes
Recipe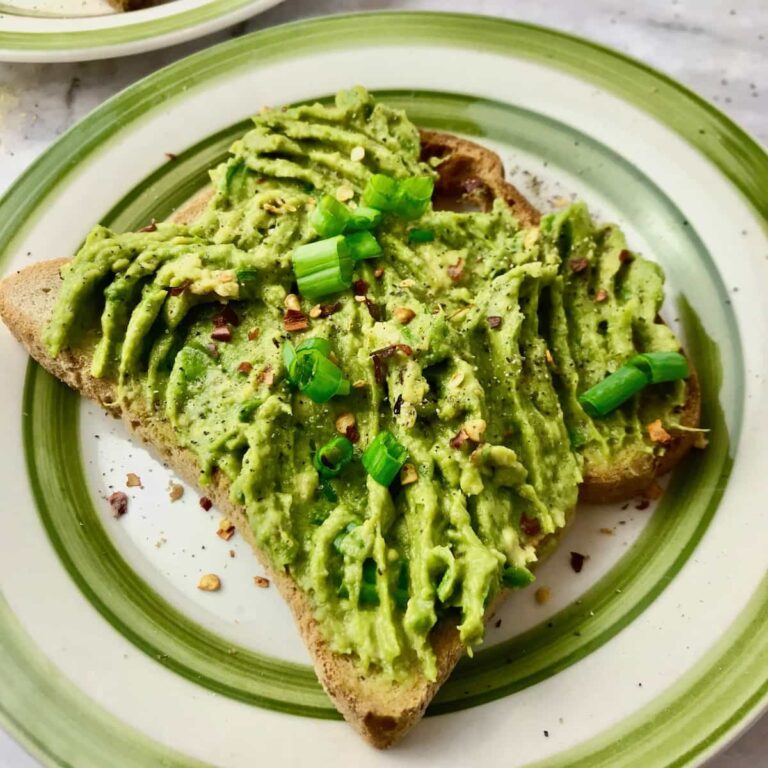 Print Recipe
My Go-To Avocado Toast
This avocado toast is so savory and delicious. It is vegan, can be gluten-free, and can be quickly put together in about 5 minutes!
Ingredients
2

slices

of bread

(gluten-free if necessary)

1

ripe avocado

¼

teaspoon

garlic powder

1

tablespoon

chopped green onion

2

teaspoons

nutritional yeast

Sprinkle ground black pepper

(optional)

Sprinkle red pepper flakes

(optional)

Additions: Add chickpeas or vegetables of choice on top
Instructions
Cut your avocado in half and scrape out all the flesh with a spoon. Put it on a plate and mash it with a fork.

On top of the avocado flesh, add all remaining ingredients. Mix everything together on the plate.

Put your bread in the toaster. When it is ready, put the avocado mixture onto the two pieces of toast and spread it down with a fork.

Feel free to add any toppings you'd like. See notes below for suggestions.
Notes
To ensure your avocado is ripe, gently squeeze it to test the firmness. It should be a bit soft when you squeeze. If it is very firm, you need to leave it for a day or two out of the fridge to ripen.
Suggested add-ons:
Chickpeas
Tomato slices
Sliced sautéed mushrooms
Arugula
Dried dill