This post contains affiliate links for which I may earn a commission (at no extra cost to you) should you make a purchase. As an Amazon Associate I earn from qualifying purchases. Please see my disclaimer for more information.
These 3-ingredient banana pancakes are vegan, gluten-free, and oil-free. They are super and healthy and make a great, easy breakfast.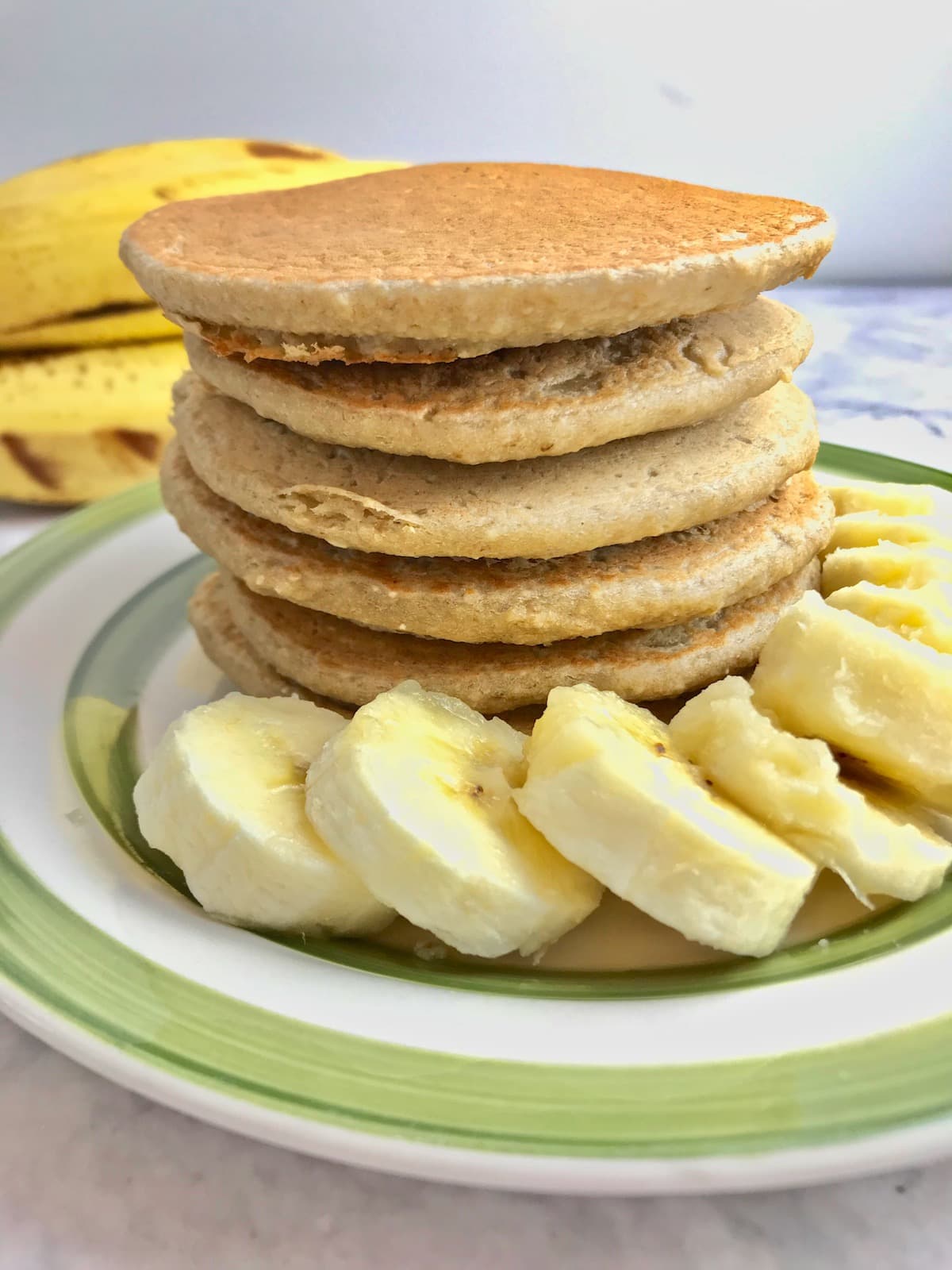 Pancakes are a great way to start any day! They give me that warm, happy feeling that reminds me of mornings after sleepovers when my mom would make a huge batch of buttermilk pancakes.
Those days are gone, but I still love to indulge in these healthy 3-ingredient vegan banana pancakes. Isn't it great when you can have something healthy, but it still feels a bit unhealthy because it's just SO tasty?
If you're looking for a healthy treat that you can top with heaps of fruit or even this raspberry jam, keep on reading! I hope you enjoy these 3-ingredient vegan pancakes.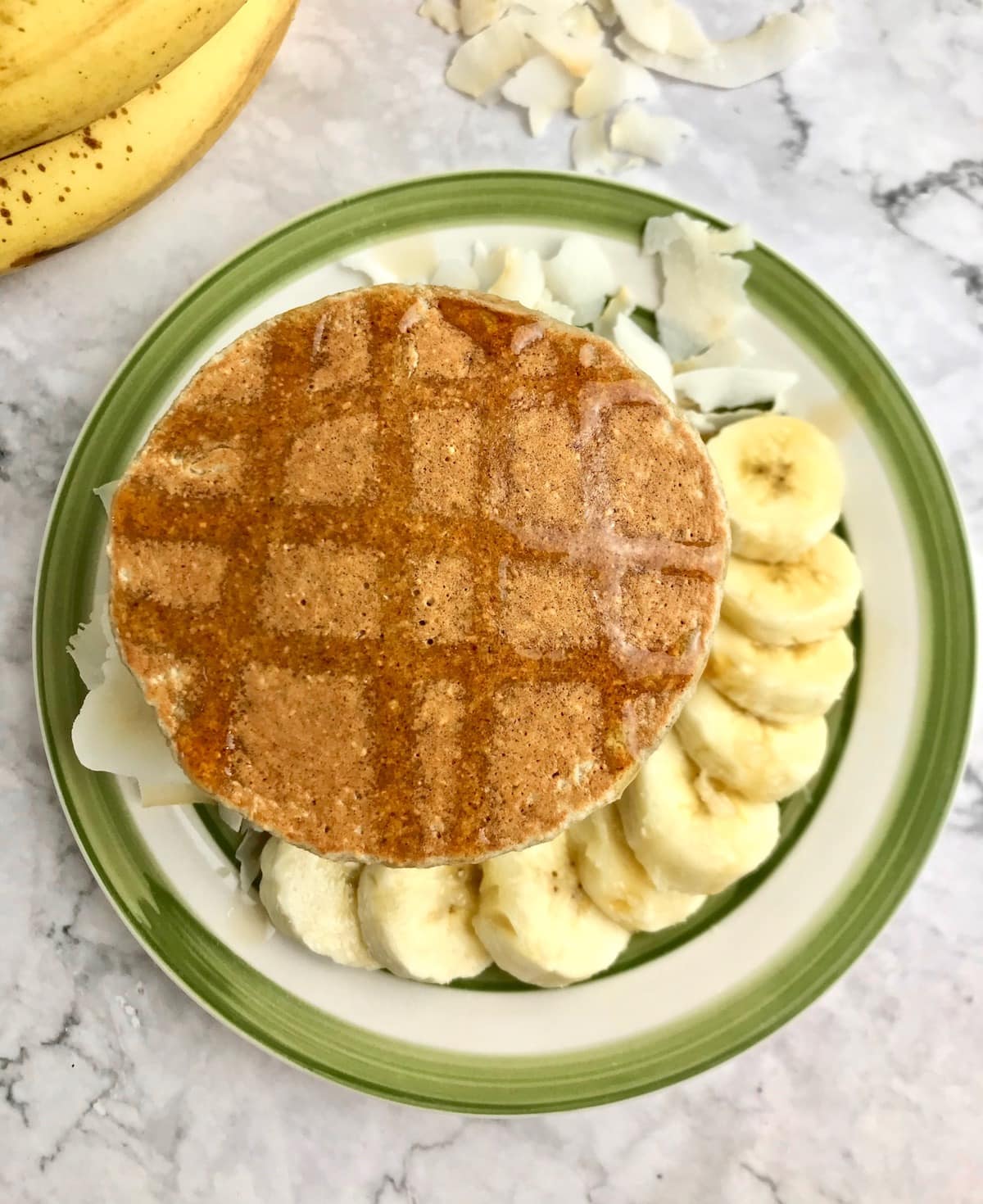 Why you'll love these banana pancakes:
They only require three ingredients
They are easy to make
They are vegan and WFPB
They are gluten-free
You can add any toppings you want!
3 ingredients you will need
Nothing complicated or weird here. Just 3 simple ingredients for these banana pancakes:
ripe bananas
oat flour
almond milk
If you need or want to ensure that your pancakes are gluten-free, make sure you use oat flour that is certified gluten-free so there is no risk of cross-contamination. If you are making your own oat flour, get oats that are certified gluten-free.
To keep these pancakes as healthy as possible, I also recommend you get almond milk that is unsweetened. You can even make your own almond milk!
As for the bananas, the more ripe they are, the sweeter your pancakes will be. But you can also top them with pure maple syrup when you're eating them to make them sweeter!!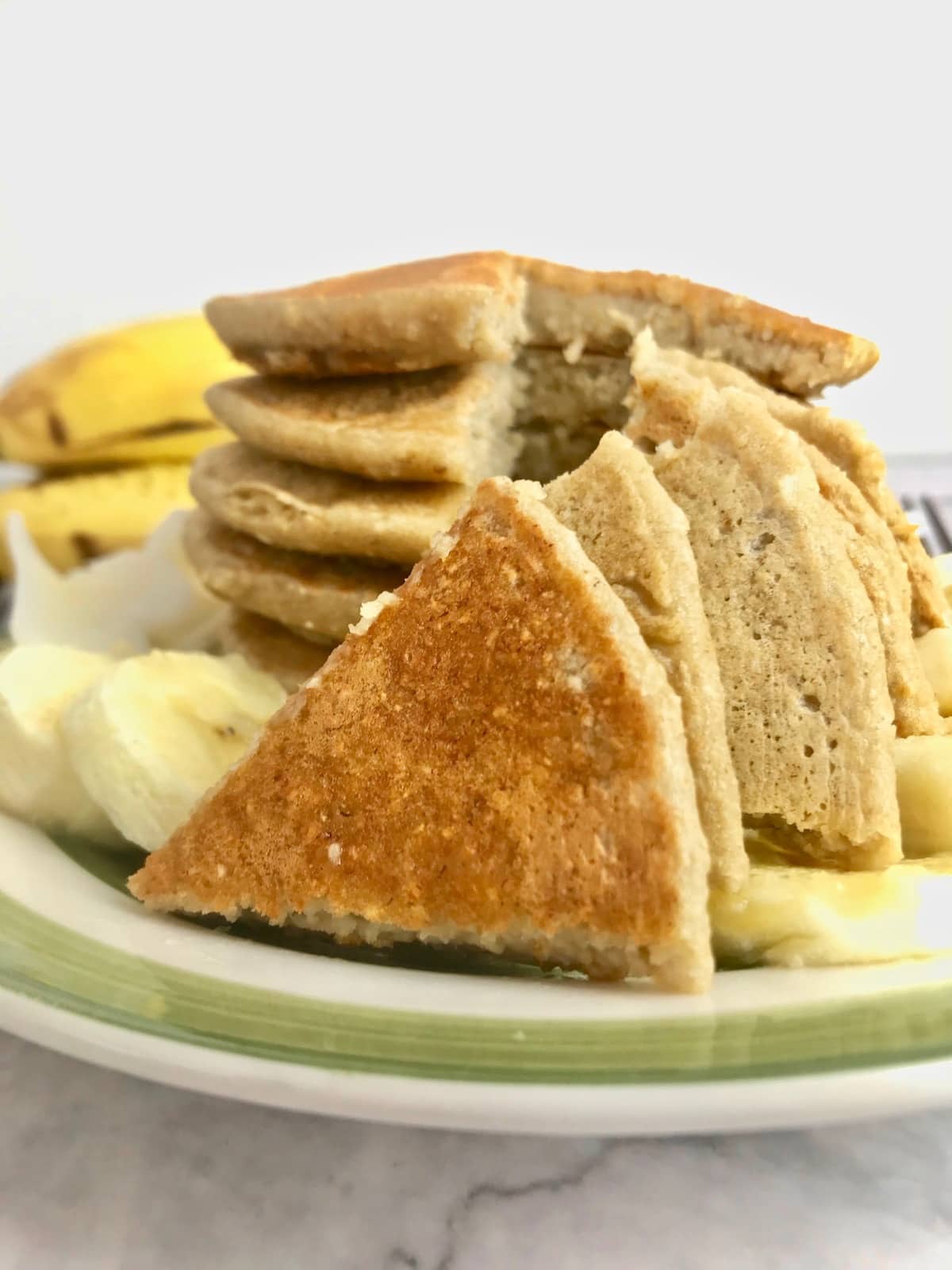 Tips for making these pancakes
Make sure that your bananas are ripe. They won't create the correct texture for the pancake batter if they aren't ripe enough. They should be spotty. This will also make them taste sweeter!
If you don't have oat flour and you don't want to buy it, you can just make your own! All you need is rolled oats. Just put them in your blender and blend until you get a smooth, flour-like consistency. I usually make a big batch and save it in a container for all of my baking.
Make sure you cook your pancakes on low heat so that the outside doesn't cook too much faster than the inside. Cooking on high heat may lead to mushy pancakes.
Check your pancakes after one minute to see how they are doing. Timing will be different depending on your stove. Flip your pancakes over once they start to darken slightly.
Make sure you have a really good non-stick pan if you want these pancakes to be oil-free (which you should!). I use a non-stick pan and I don't need to use anything to grease it. I just put the batter directly onto the pan and have no issues with the batter sticking.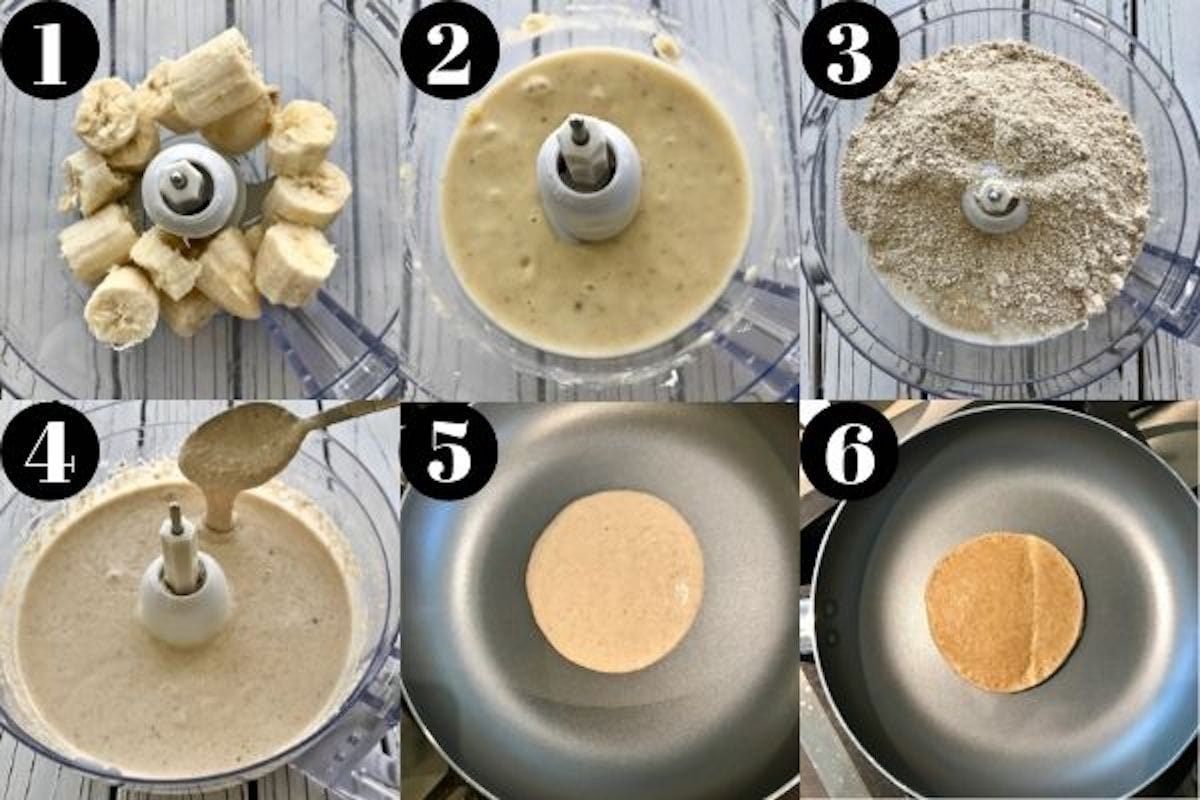 Topping suggestions
These 3-ingredient vegan pancakes are quite plain, which is what makes them so easy to make! However, if you want to add some more flavour, try out some of these healthy toppings:
Peanut butter

Raspberry jam

(with no added sugar)
Maple syrup
Coconut butter
Unsweetened coconut flakes
Strawberry slices
Banana slices
Blueberries
Cacao powder
My favourite topping is peanut butter and maple syrup mixed together. I mix 1 tablespoon of peanut butter with 2 tablespoons of maple syrup and heat it in the microwave for 20-30 seconds. It is delicious!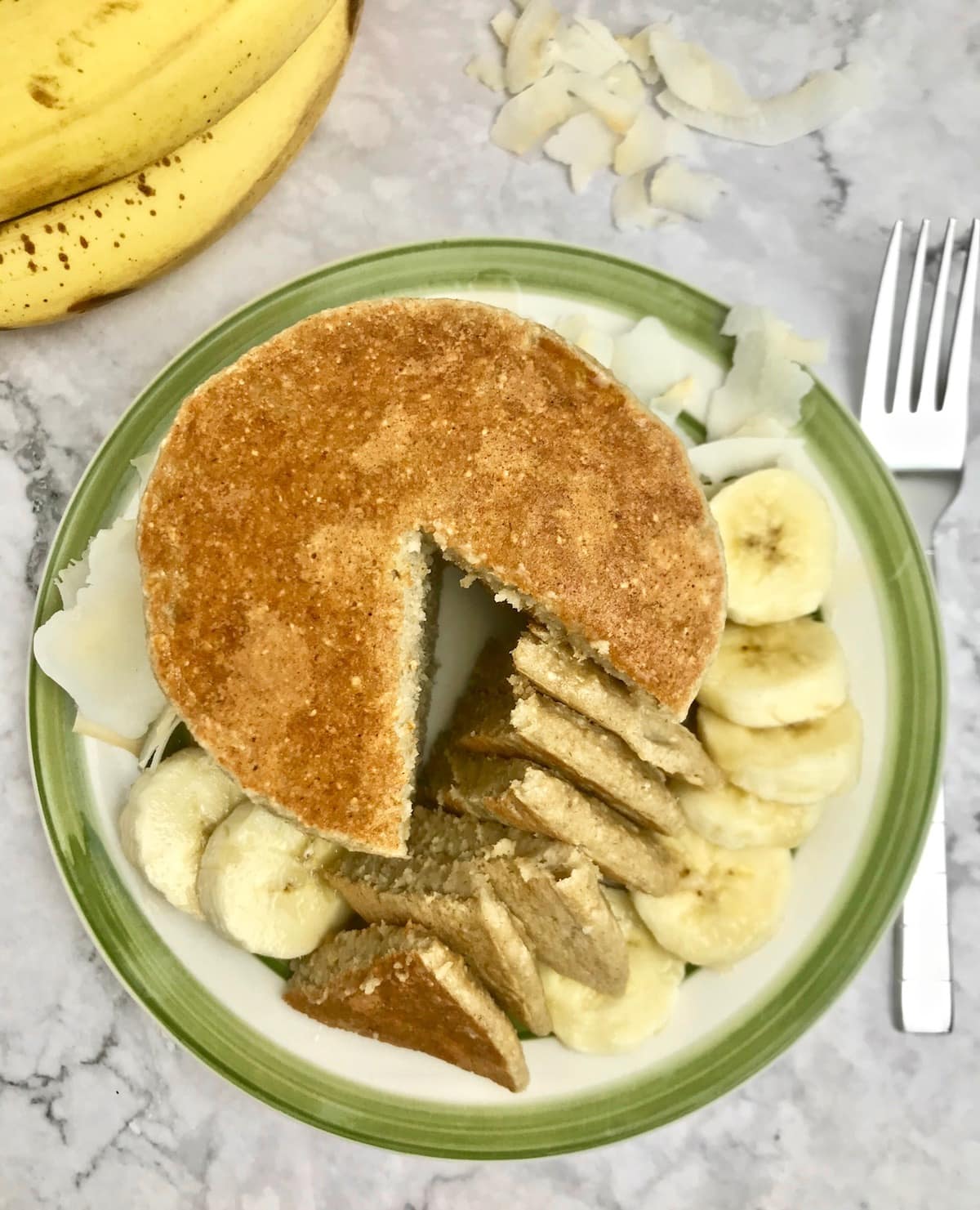 If you want more vegan banana pancakes, check out these Healthy Chocolate Banana Pancakes.
If you are just starting out with a plant-based diet, check out this plant-based grocery list to help you get organized!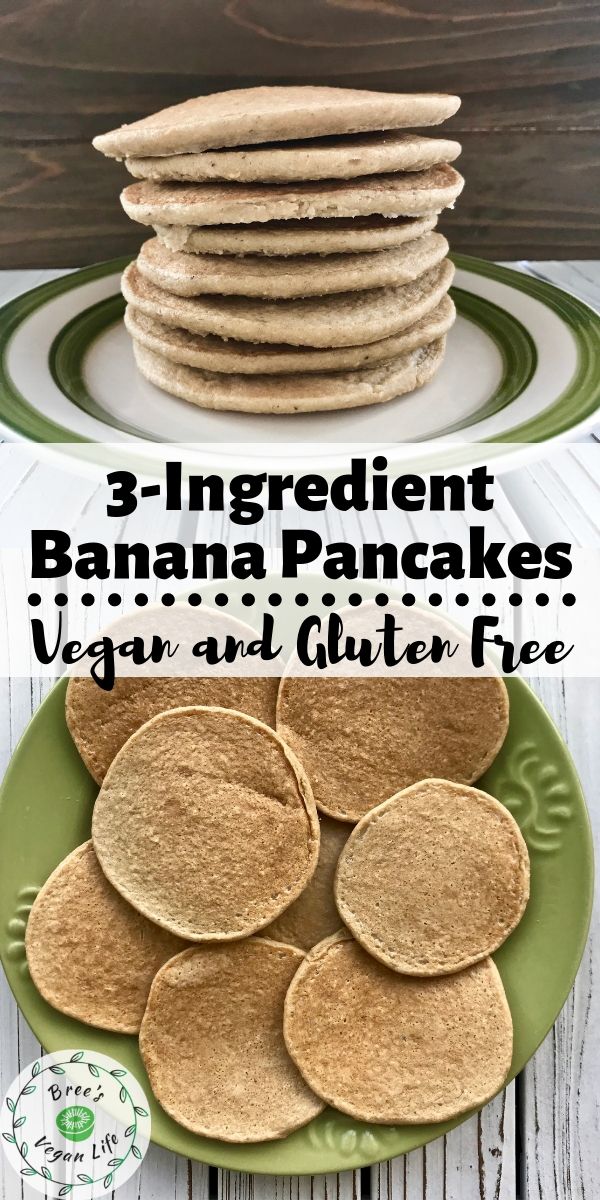 Recipe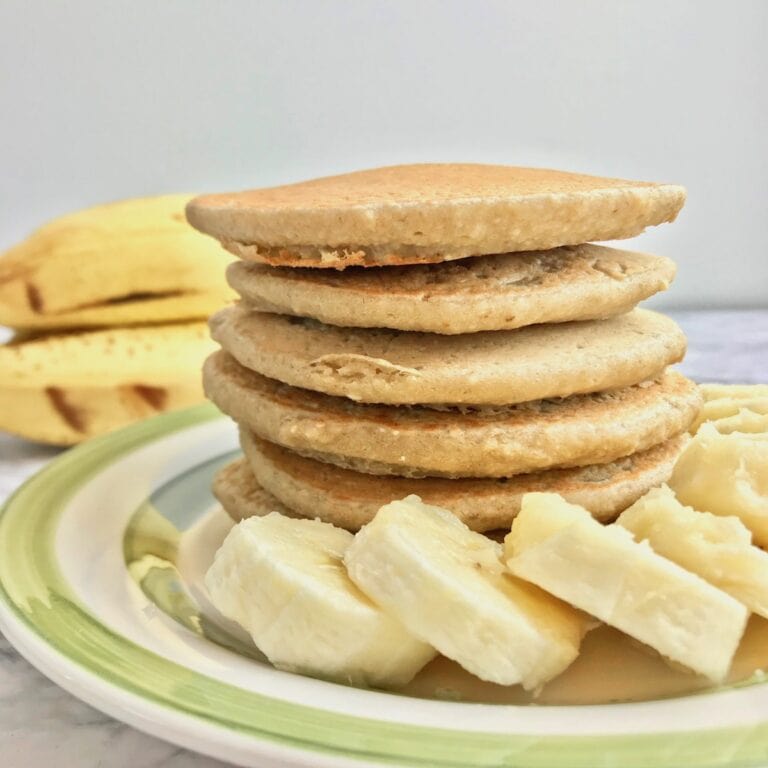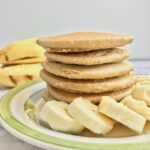 Print Recipe
3-Ingredient Banana Pancakes (Vegan and Gluten-Free)
These 3-ingredient banana pancakes are vegan, gluten-free, and oil-free. They are super healthy and make a great, easy breakfast.






Ingredients
2

ripe bananas*

2

cups

oat flour

(ensure it's gluten-free if necessary)

1.5

cups

almond milk

(unsweetened)
Instructions
Peel the bananas and blend them in a food processor.

Add the oat flour and almond milk to the food processor, and blend until smooth.

Pour ¼ cup of the batter onto a non-stick pan and cook on low heat for approximately 1 to 2 minutes.

Flip the pancake and cook the other side for another 1 to 2 minutes. Repeat until you've used all of the batter.
Notes
*The texture of the pancake batter may vary depending on the ripeness of your banana. If you find the batter is too thick, add a bit more almond milk. If it is too runny and you're having trouble flipping the pancakes, add some more oat flour.
Makes 10-12 pancakes, using ¼ cup batter for each pancake.
Total cook time of 20 minutes is for two pancakes cooking at the same time.
Nutrition information is an estimate for one pancake, if you end up with 10 total pancakes.
Nutrition
Calories:
122
kcal
|
Carbohydrates:
21
g
|
Protein:
4
g
|
Fat:
3
g
|
Saturated Fat:
1
g
|
Sodium:
30
mg
|
Potassium:
198
mg
|
Fiber:
2
g
|
Sugar:
3
g
|
Calcium:
82
mg
|
Iron:
1
mg
Nutrition Disclaimer
Nutrition information is an estimate generated from a nutrition calculator. There may be errors here or variations based on ingredients you use.