This post contains affiliate links for which I may earn a commission (at no extra cost to you) should you make a purchase. As an Amazon Associate I earn from qualifying purchases. Please see my disclaimer for more information.
This vegan sugar-free raspberry jam is naturally sweetened with fruit! It is super healthy and guilt-free, and it's great on toast, rice cakes, and more!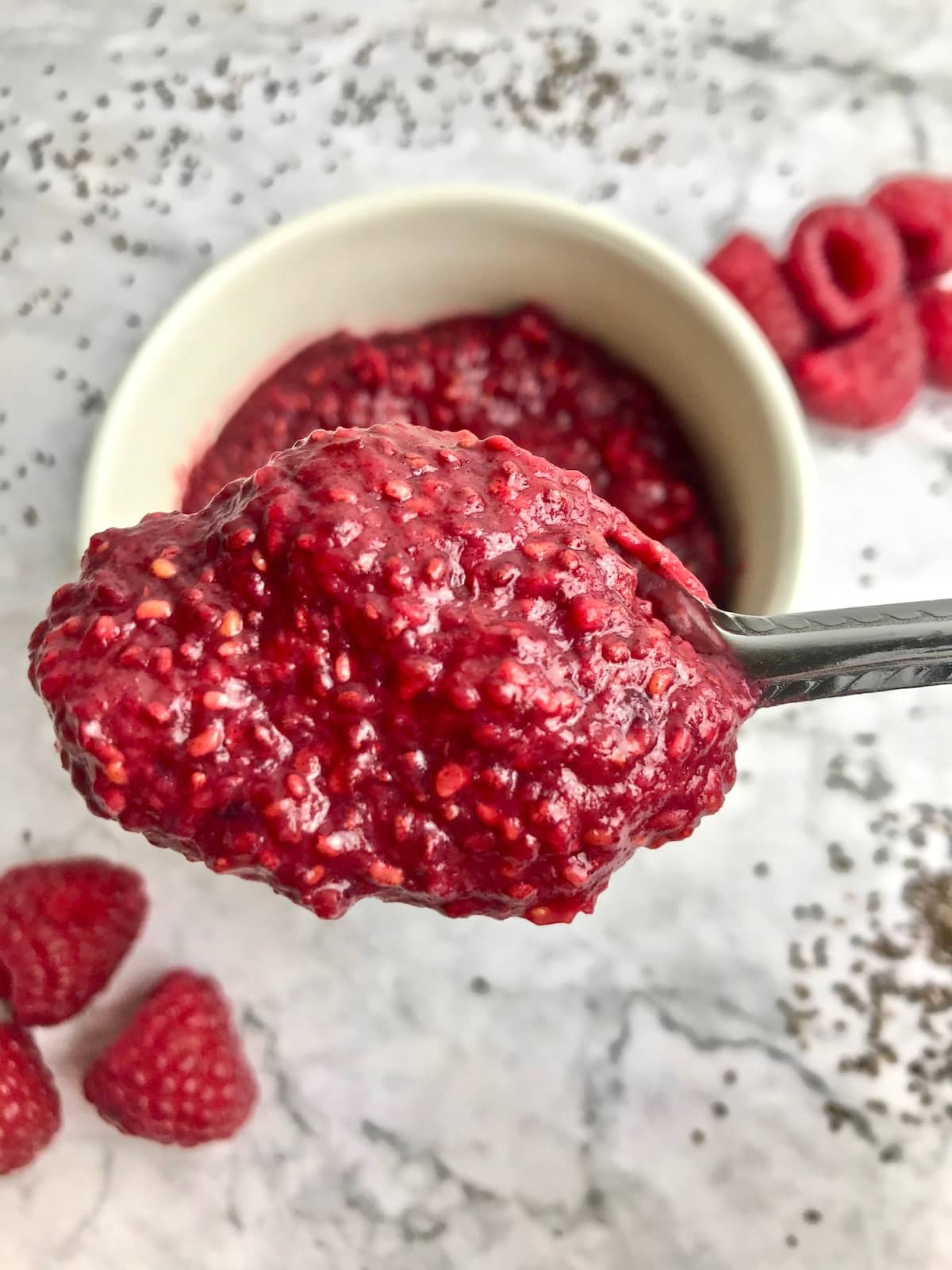 I love the combination of peanut butter and jelly! Recently I've been craving it so much, that I decided to make a yummy vegan raspberry jam that wouldn't make me feel guilty from all the excess sugar.
Store-bought jams usually have unhealthy ingredients and way too much refined sugar. Even the ones that say "sugar-free" aren't using healthy whole foods.
This vegan and sugar-free raspberry jam that I made is delicious and completely guilt free. It's also super easy to make! I love having it on a rice cake along with some peanut butter!!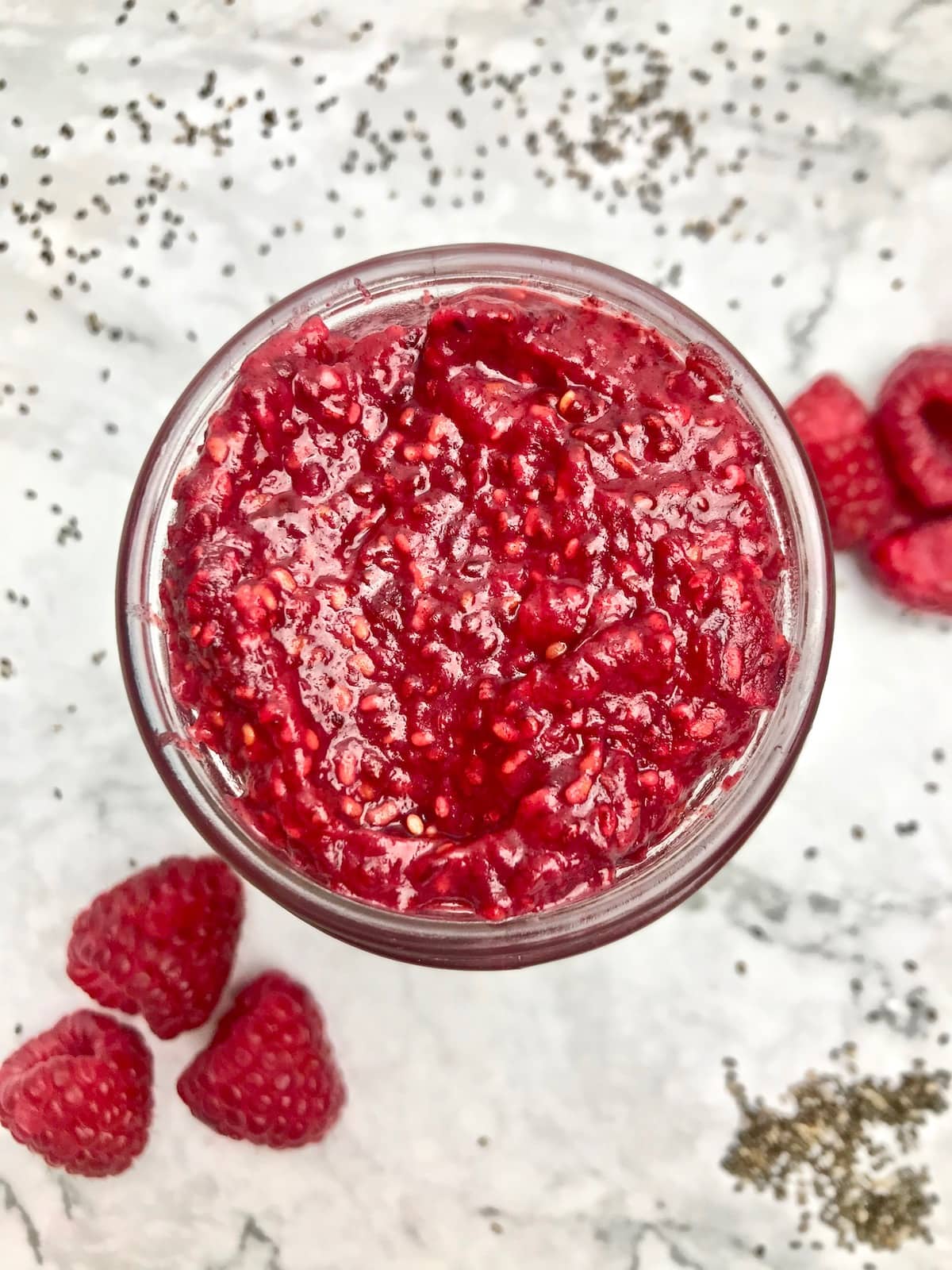 Ingredients
Here is what you'll need to make this easy sugar-free chia raspberry jam. I guess it isn't really completely "sugar-free" because fruit naturally contains sugar, but there is no added sugar. The sweetness of this jam comes entirely from fruit!
Medjool dates

Dates add more sweetness to this jam and they also thicken it up, helping to achieve that perfect jam texture.

Water

The water is simply for soaking the dates. This will soften them up so they can be easily blended.

Raspberries (fresh or frozen)

Raspberries lend a delicious flavour and sweetness to this jam. They are the star of this recipe!

Chia seeds

Chia seeds add extra nutrition to this jam, but they also help thicken the jam. Chia seeds are often used as thickening agents because they absorb liquid and develop a gel-like texture.

Lemon juice

Lemon juice gives this jam a tart sweetness. I recommend using real lemon juice, squeezed directly from a lemon. Not the bottled stuff!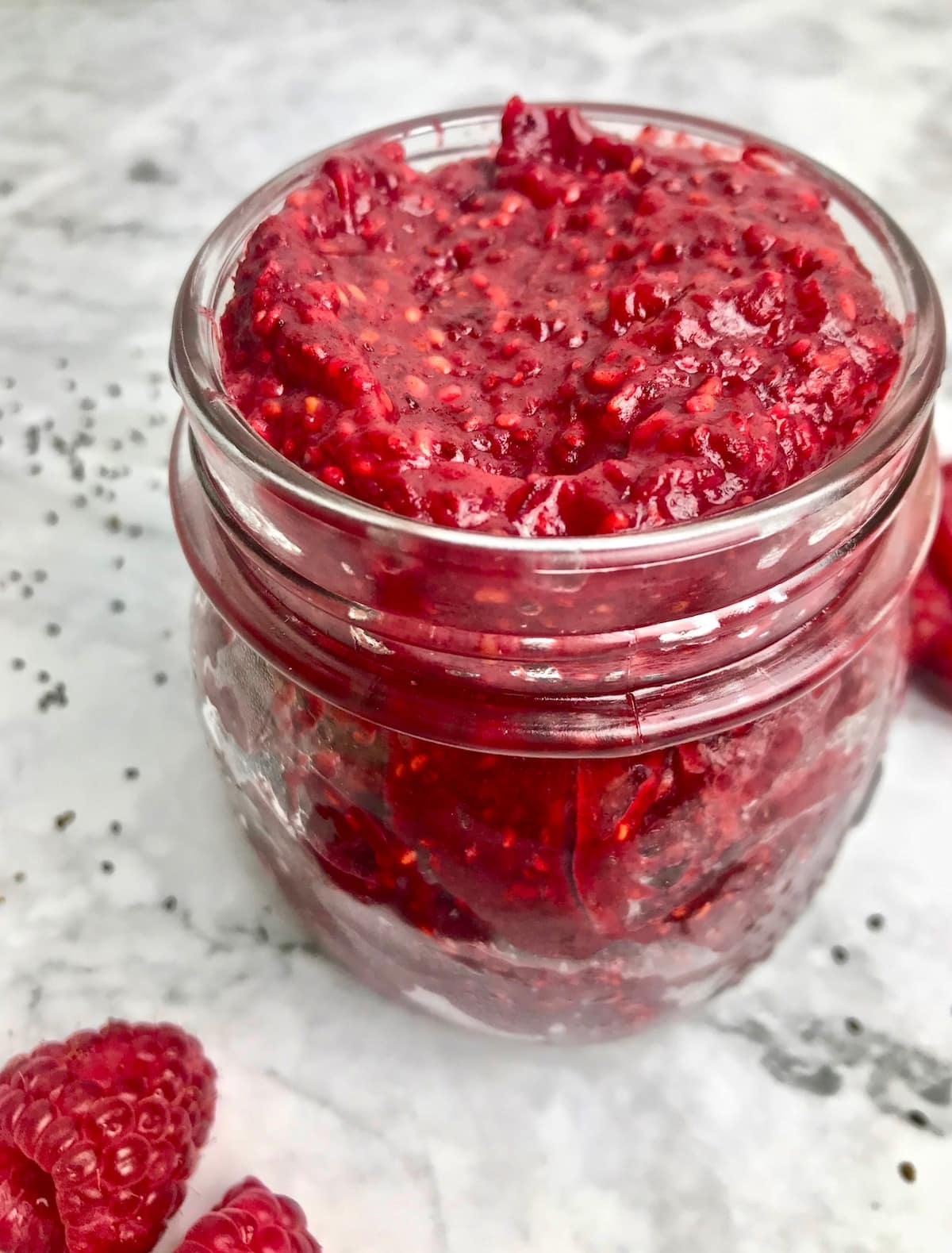 How can jam be sugar free?
Well, fruit naturally contains sugar, so this jam of course contains sugar from fruit. But there is no added refined sugar. It's all natural!
The sweetness of this jam comes entirely from the fruit. The raspberries, dates, and lemon juice all contribute and eliminate the need for any added sugar!
This easy raspberry jam is free of preservatives and is made with only whole-foods, and it does not undergo a canning process. This means that it is not shelf-stable, so it must be kept in the refrigerator and will last only about one week. But I'm sure you will have used it all up by then!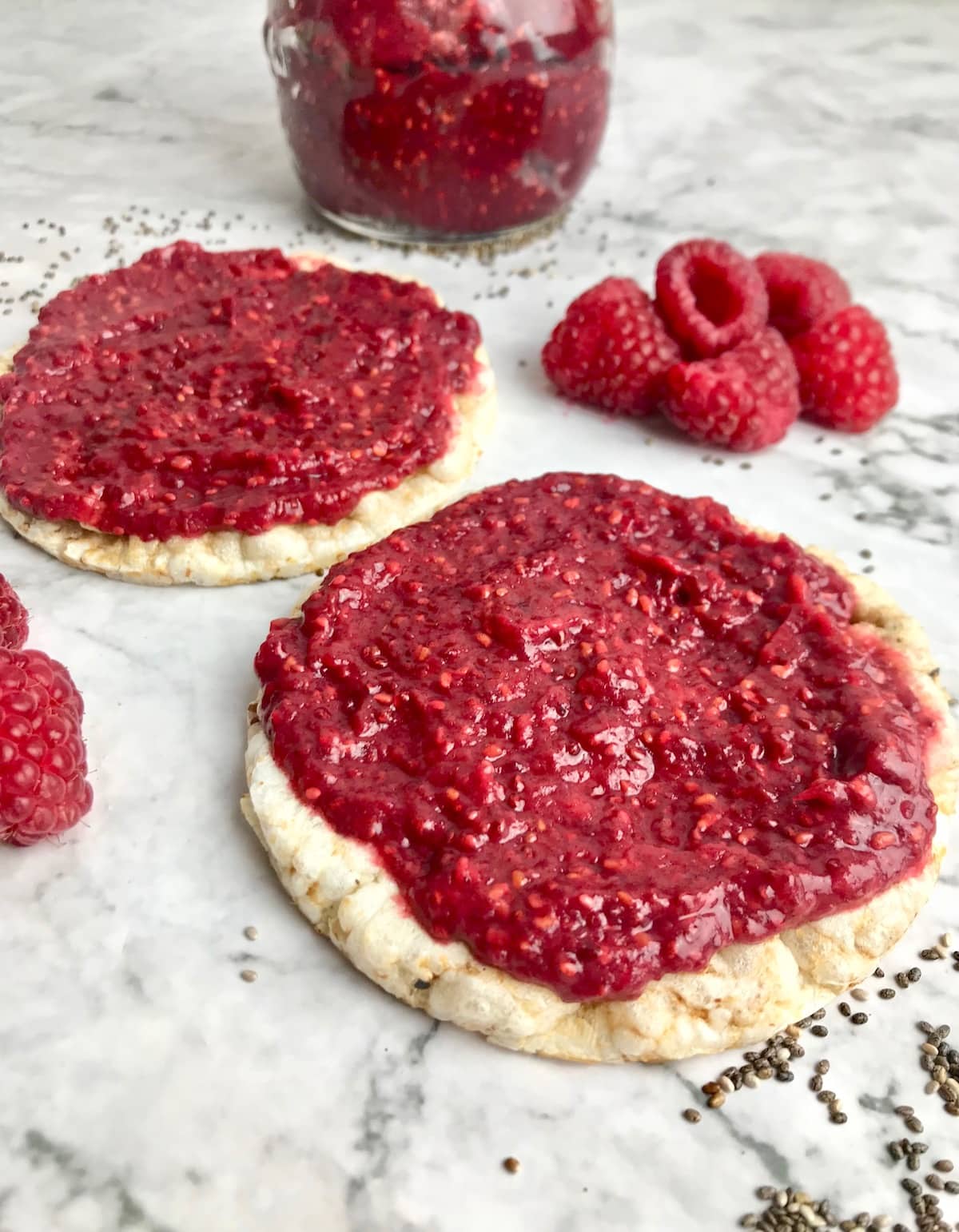 How to make this sugar free raspberry jam
This sugar free raspberry date jam is super easy to make!
First, decide if you are going to use fresh or frozen raspberries. If using frozen, you should set them out now so they can thaw a bit.
Then, measure your dates. A food scale is the best way to get an accurate measurement because not all dates are the same size, but if you don't have a scale you can use a measuring cup. You will need to use ¼ cup of dates tightly packed in, which should be about 4 medium-sized medjool dates.
Put your dates in a bowl and pour boiling water over them. Then place a plate on top of the bowl to cover it and let the dates soak for at least 15 minutes. Wait even longer if you don't have a very powerful food processor. The longer you wait, the softer the dates will become, making them easier to blend.
Once the dates have softened, drain the water and place the dates in a food processor along with all the other ingredients.
Blend until everything is evenly incorporated and there are no remaining chunks of dates.
Next, pour the jam into a pot on the stove to thicken it up. Once the jam starts to boil, allow it to bubble slightly on low heat for 10-15 minutes. You will know it's done once your desired thickness has been reached.
How to use this jam
Use this yummy vegan jam as you would any classic jam. I like to use it in the following ways:
On toast
On rice cakes (peanut butter and jam on a plain rice cake is so good!)
Mixed into oatmeal
Mixed with frozen bananas (nice cream with jam!)
I hope you enjoy this recipe! Leave a comment down below if you make it!
If you're just getting started with a whole foods plant-based diet, check out this plant-based grocery list!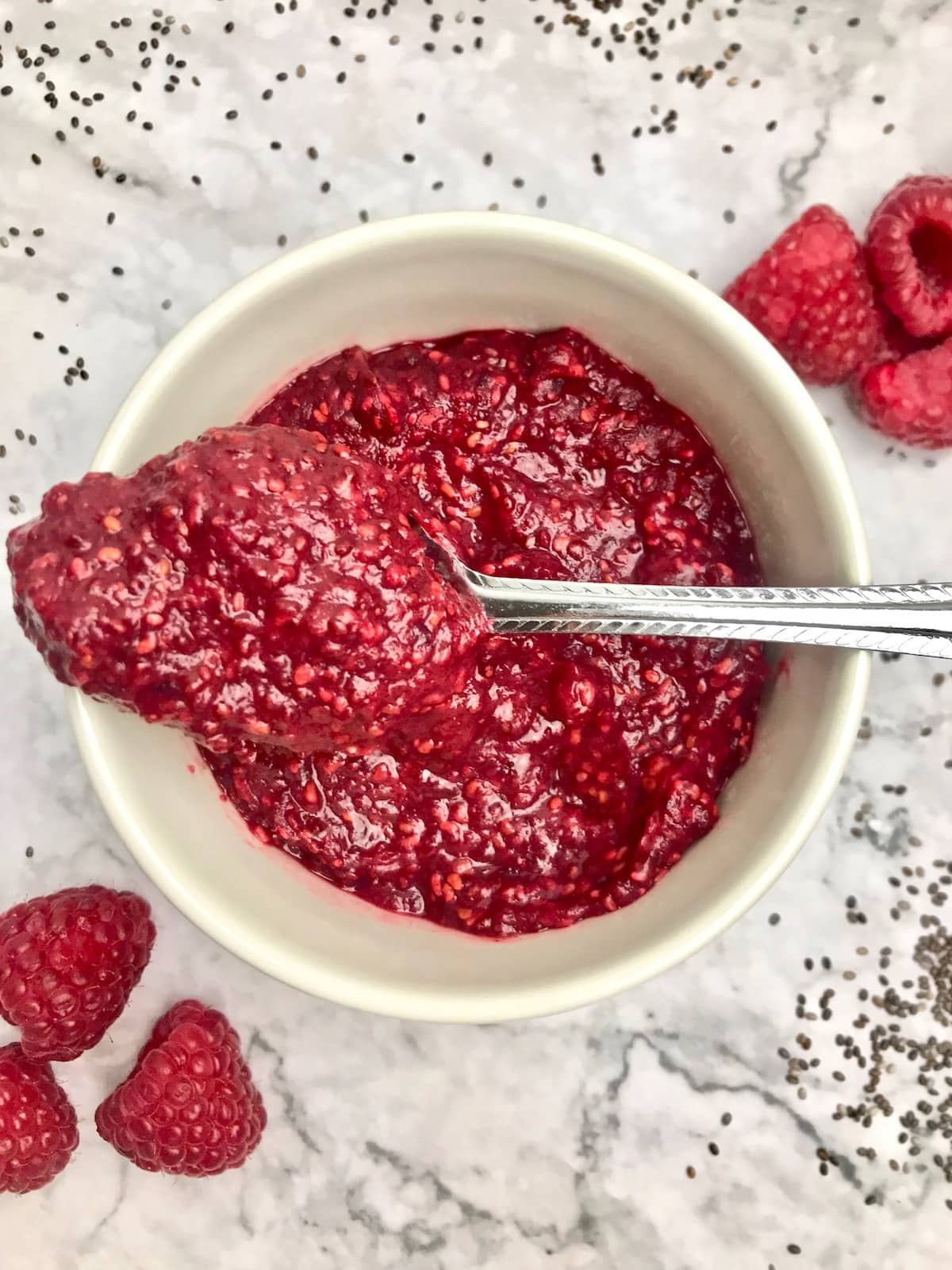 Recipe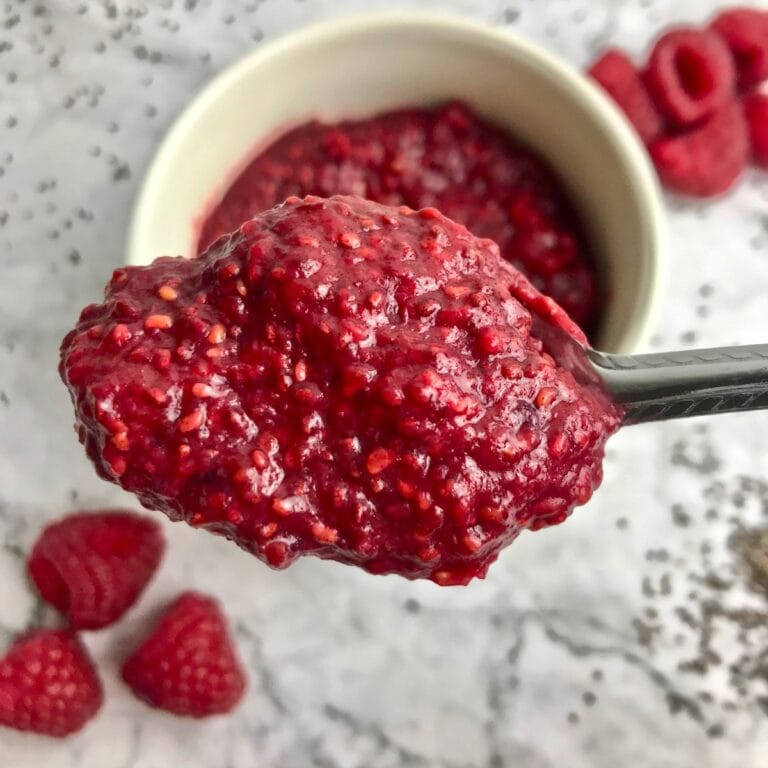 Print Recipe
Easy Sugar-Free Raspberry Jam with Dates (Vegan)
This vegan sugar-free raspberry jam is naturally sweetened with fruit! It is super healthy and guilt-free, and it's great on toast, rice cakes, and more!
Ingredients
¼

cup

medjool dates

(tightly packed, about 4 medium dates – approx. 50 grams)

Water

(enough to soak the dates)

2

cups

raspberries*

(fresh or frozen, lightly packed)

2

tablespoons

chia seeds

1

tablespoon

lemon juice
Instructions
Measure your dates and soak them in boiling water for 15 minutes. It's easiest to use an electric kettle to boil the water, then pour it over the dates in a bowl. Then place an upside down plate over the bowl to trap the heat and leave it for at least 15 minutes, longer if you don't have a powerful food processor. You could alternatively boil your dates on the stove in a pot of water.

Once your dates have softened, discard the water and place the dates into your food processor along with all other ingredients. Blend everything until evenly incorporated.

Pour the jam into a pot on the stove and heat until it starts to bubble (should happen within 5 minutes). Then reduce to a light bubble and continue heating for 10-15 minutes. The jam is done when it has thickened up to your desired texture.
Notes
*If using frozen raspberries, set them out to thaw while your dates are soaking. It's okay if they are still a bit frozen when it's time to blend, because your food processor should be able to blend them even if they haven't completely thawed.
This recipe makes about ¾ cups of jam. The nutrition information is an approximation for 1 tablespoon of jam.
Store in an airtight container in the fridge for up to one week.
Nutrition
Calories:
32
kcal
|
Carbohydrates:
6
g
|
Protein:
1
g
|
Fat:
1
g
|
Saturated Fat:
1
g
|
Sodium:
1
mg
|
Potassium:
70
mg
|
Fiber:
2
g
|
Sugar:
4
g
|
Vitamin C:
6
mg
|
Calcium:
21
mg
|
Iron:
1
mg
Nutrition Disclaimer
Nutrition information is an estimate generated from a nutrition calculator. There may be errors here or variations based on ingredients you use.