This post contains affiliate links for which I may earn a commission (at no extra cost to you) should you make a purchase. As an Amazon Associate I earn from qualifying purchases. Please see my disclaimer for more information.
These vegan chocolate banana pancakes are healthy and delicious! They are plant-based, gluten-free, and make a great breakfast!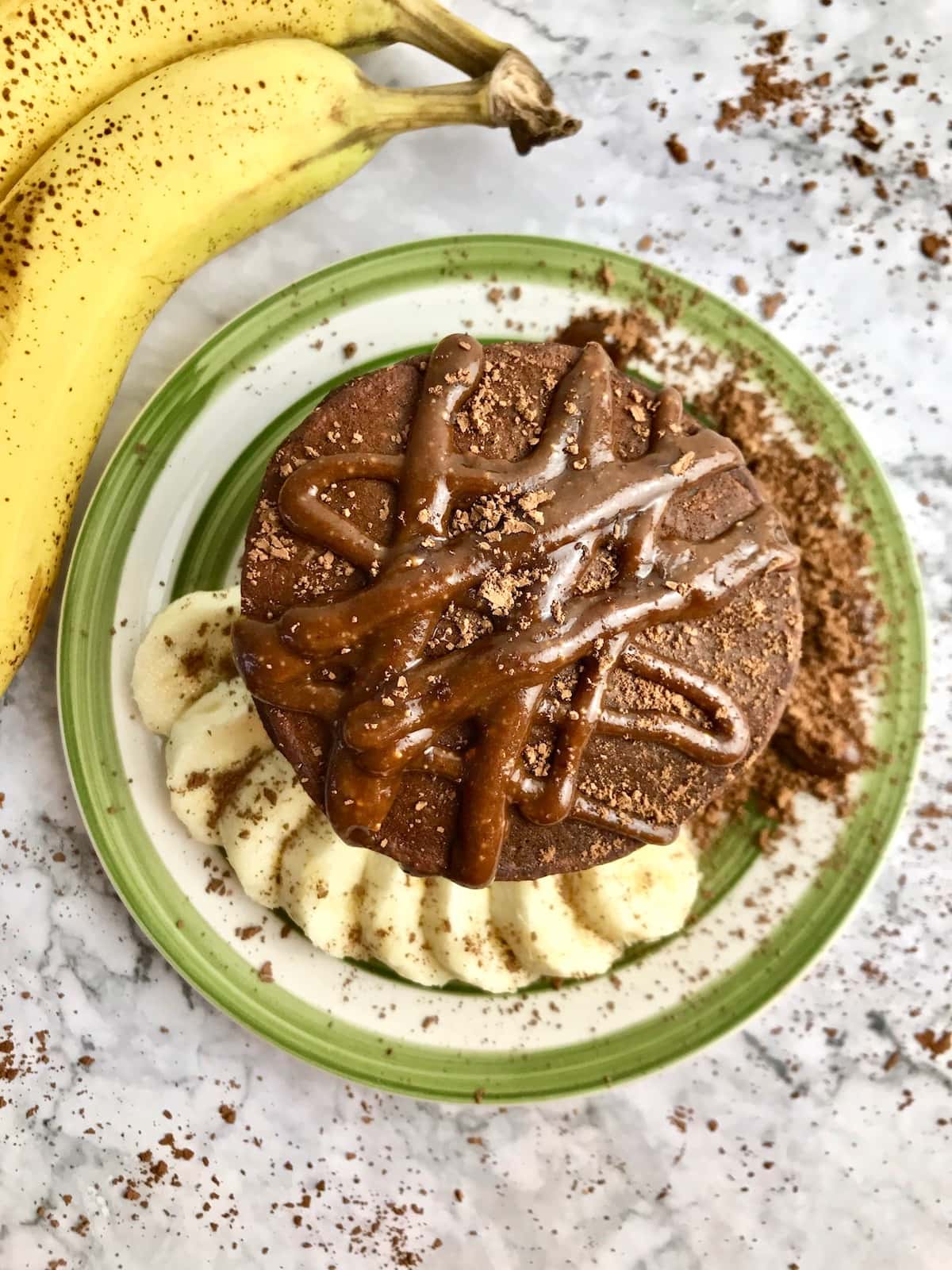 Pancakes are one of the most loved breakfast foods ever!
I remember when I was growing up, every time we had pancakes it was a treat. We wouldn't have them on just any regular morning. They were reserved for when we had friends over for sleepovers, or special occasions like birthdays and holidays.
Looking back, I suppose this was because the pancakes we were eating, although delicious, were not that healthy. That's why they had to be a special treat.
But wouldn't it be great if you could have delicious, tasty, pancakes on a regular basis without feeling guilty and like you're constantly indulging in something unhealthy?
If you said yes, you'll love this recipe!
These healthy chocolate banana pancakes are made with simple, wholesome, healthy ingredients!
If you would rather have plain banana pancakes (without the chocolate) check out these 3-Ingredient Banana Pancakes.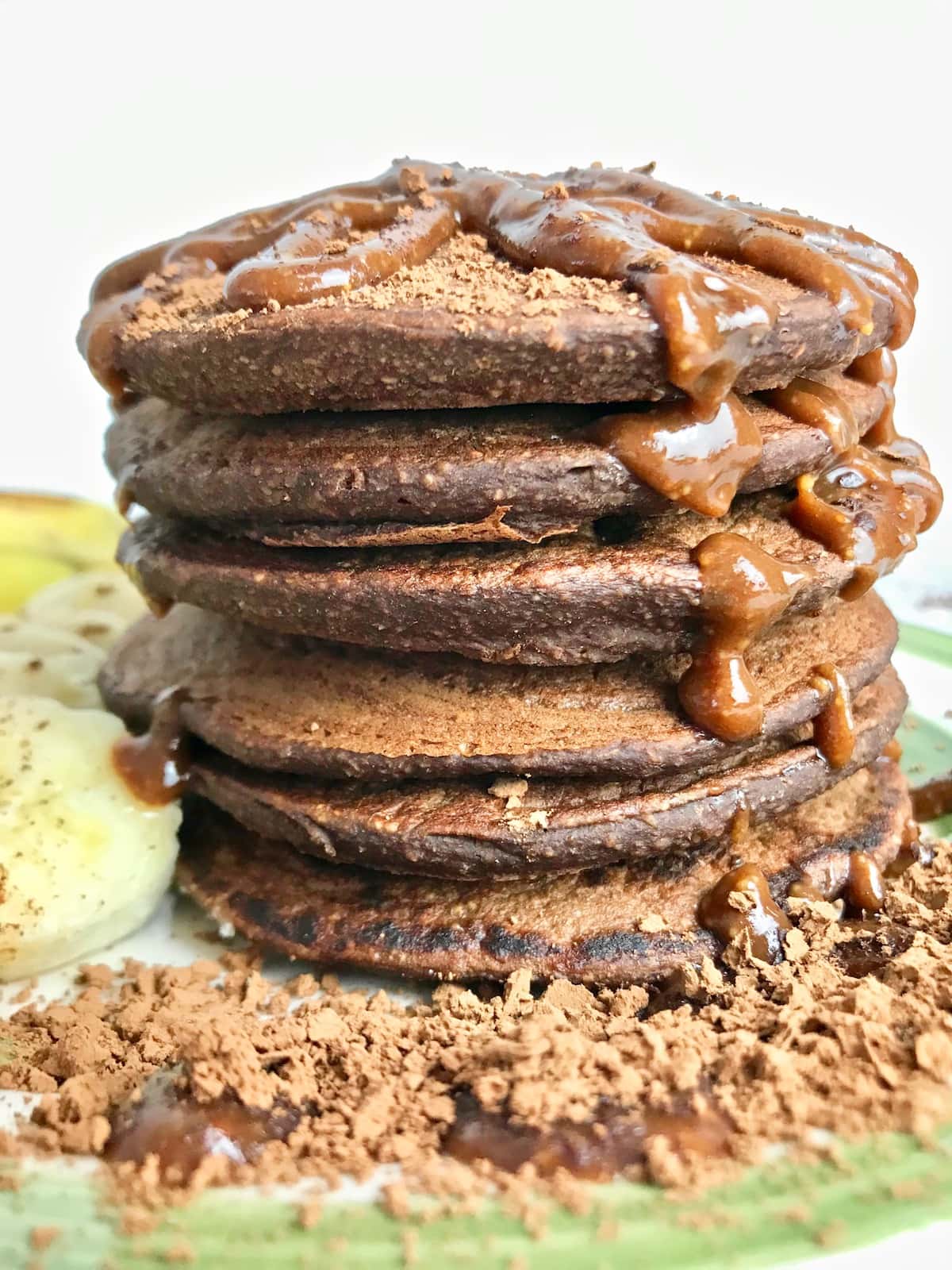 You will love these pancakes! They are:
Chocolatey
Super healthy
Thick
Vegan
Whole food plant-based
Gluten free
Easy to make!
Comforting
Ingredients for these healthy chocolate banana pancakes
Bananas
Almond milk (unsweetened)
Oat flour (gluten-free if necessary)
Cacao powder or cocoa powder
Baking powder
Maple syrup
Vanilla extract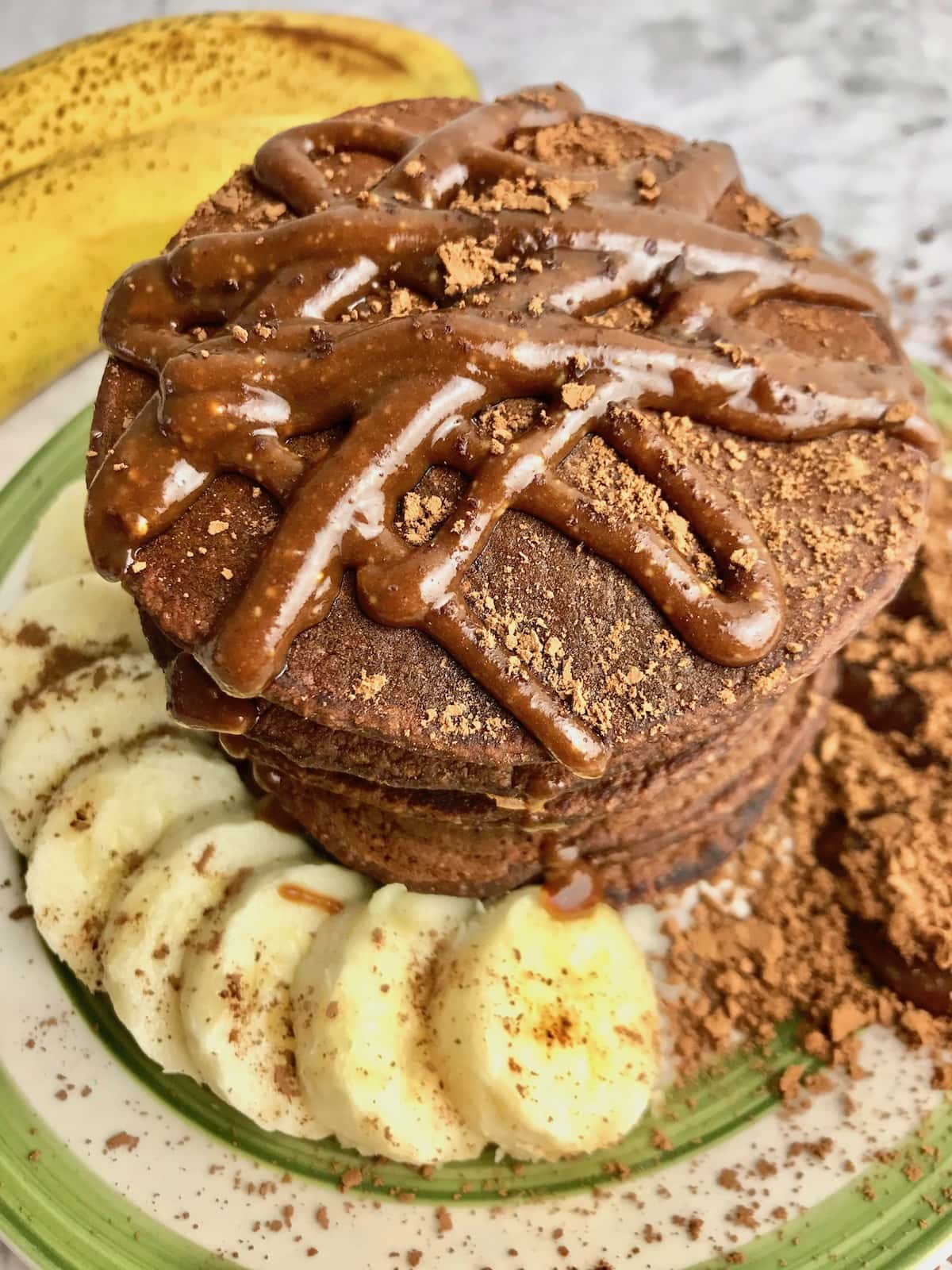 How to make oat flour
The only flour you need to make these healthy chocolate banana pancakes is oat flour. It is extremely easy to make on your own, which will be cheaper.
All you need to do is buy some rolled oats (make sure they are gluten free if necessary), and blend them!
Then you simply put some oats into a blender or food processor. They should quickly become ground into a flour-like texture. Continue blending until the flour is smooth with no leftover pieces of oats.
*This may be more difficult depending on what kitchen appliance you use. For example, I have a great food processor, but it doesn't work well to create oat flour. When I use my old blender I get much better results while making oat flour. So try both if you have both and see what works better!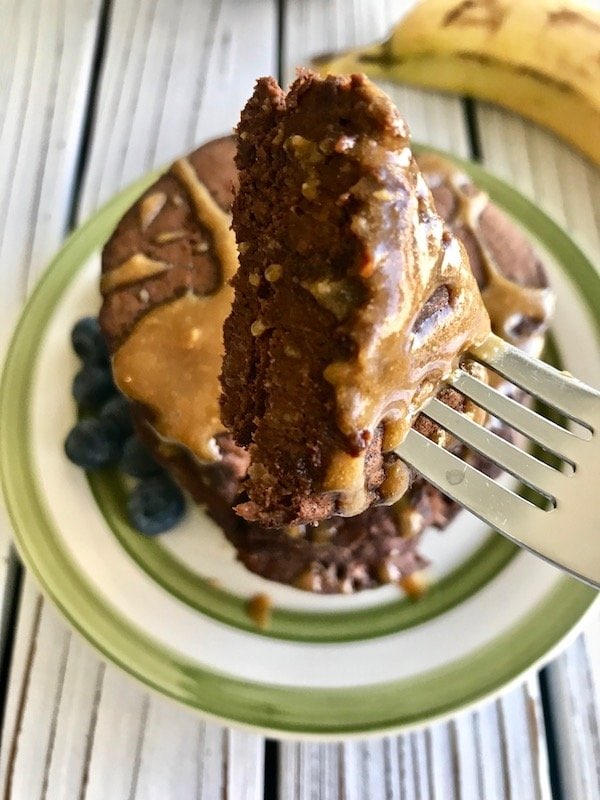 Tips for making this recipe
Make sure you use ripe bananas. They should be a bit spotty, but don't worry, they will be perfect on the inside! If you make sure the bananas are ripe, they will be easy to blend and they will be sweeter.
Make sure you use baking powder for fluffiness. Some people mix up baking powder and baking soda, so make sure you use the powder! It will help give these pancakes a fluffy texture. If you want your chocolate banana pancakes even fluffier, you could add an extra ½ teaspoon of baking powder.
Make sure that you use a non-stick pan. This is absolutely essential if you want to make your pancakes oil free. The first time I tried making these pancakes, I used an old non-stick pan that had some scratches on it and my pancakes stuck to it pretty badly. It was a mess! So, it's really important that you use a non-stick pan that is in great condition. It doesn't have to be expensive though. I bought a new one for about eight dollars and it works perfectly.
Check your pancakes frequently so they don't burn. Every stove is different so you will need to keep an eye on the pancakes and flip them once you can lift them without having them fall apart. I put guidelines for timing in the recipe card, but low heat on my stove top may not be the same as on yours.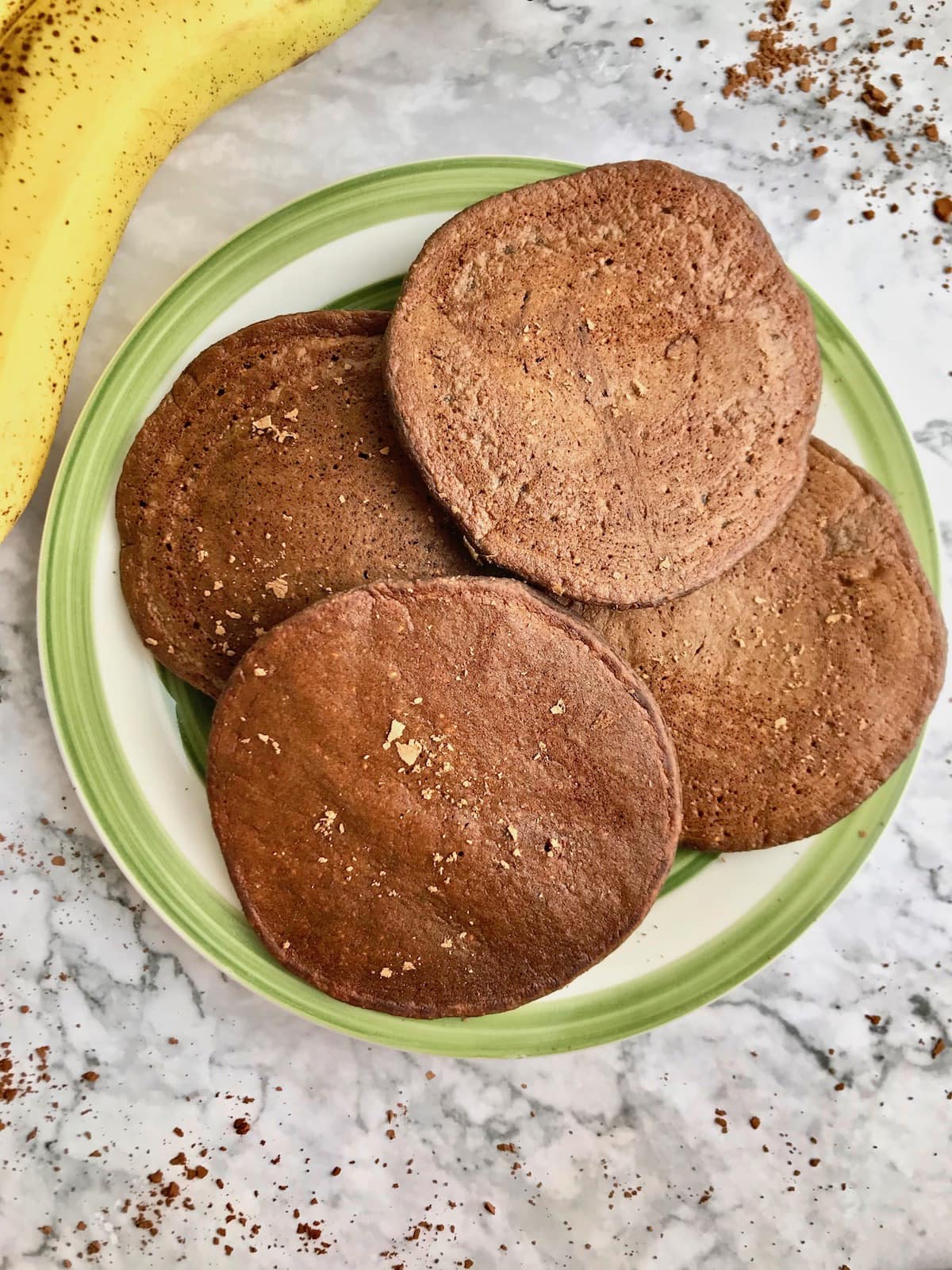 Topping Ideas
Coconut flakes
Peanut butter
Maple syrup
Fruit - banana slices, blueberries, strawberries - anything!
More cacao powder!
Peanut butter drizzle: 1 tablespoon of peanut butter with 2 tablespoons of maple syrup (mix and microwave for 30 seconds)
Coconut drizzle: 1 tablespoon of coconut butter and 2 tablespoons of maple syrup (mix and microwave for 30 seconds)
Check out these other healthy chocolate recipes:
If you are committed to eating a healthy plant-based diet, check out this plant-based grocery list to help you get started! The items on this list are essential for several whole food plant-based recipes.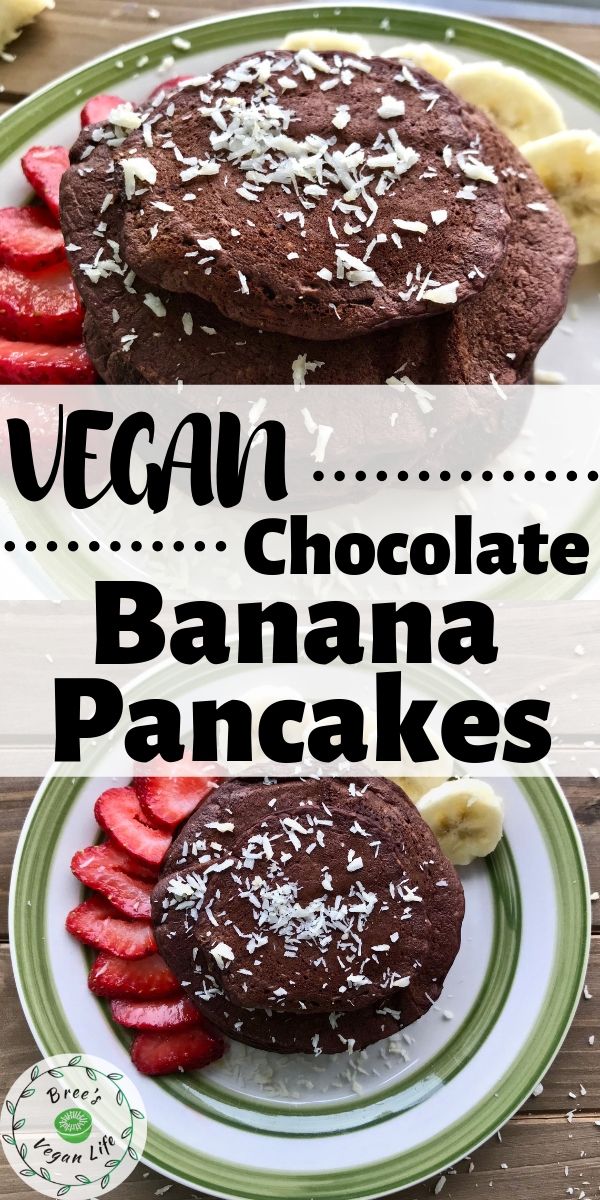 Recipe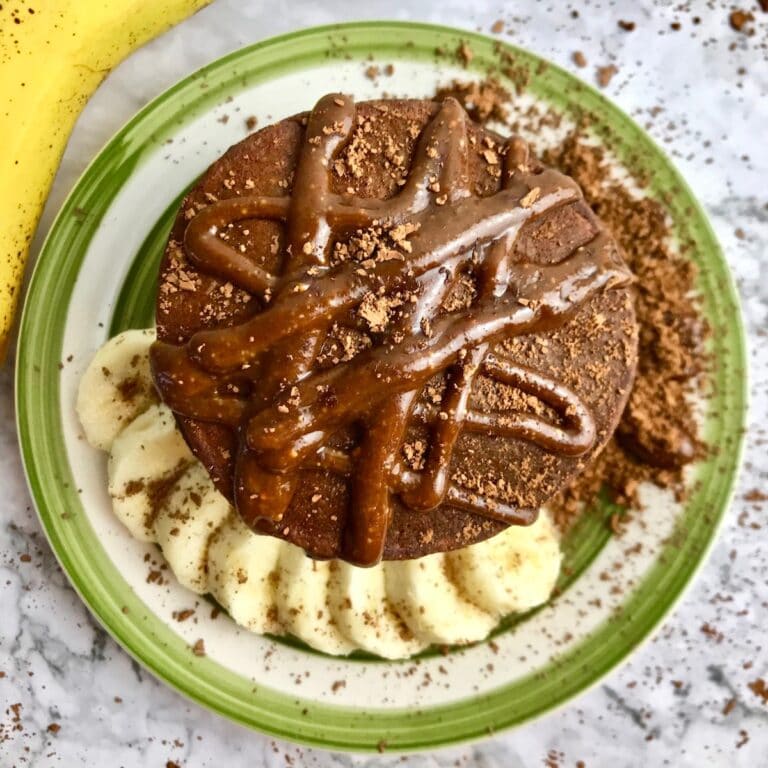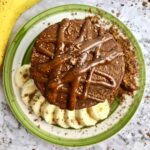 Print Recipe
Healthy Chocolate Banana Pancakes
These vegan chocolate banana pancakes are healthy and delicious! They are plant-based, gluten-free, and great for breakfast!
Equipment
Food processor

Non-stick pan
Ingredients
2

ripe bananas

½

cup

almond milk

(unsweetened)

1

cup

oat flour

(lightly packed, 125 grams)

5

tablespoons

cacao powder

1

teaspoon

baking powder

1

teaspoon

vanilla extract

1

tablespoon

maple syrup
Instructions
Peel the bananas and place them in a food processor or blender.

Add all other ingredients and blend thoroughly.

Heat a non-stick pan on low heat.

*Pour ¼ cup batter onto the pan and cook until you can flip it over (approximately 1½ minutes)

Flip and cook the second side for approximately 1 - 1½ minutes
Notes
*Use low heat. Make sure you check each side of your pancakes after around 1 minute. Every stove is different, so times may vary slightly.
Makes approximately 6-7  pancakes, using ¼ cup batter per pancake.
Total cook time of 15 minutes is for two pancakes on the pan at a time.
Nutrition Information is for one pancake. 
Because only 1 tablespoon of maple syrup is used in this recipe, these pancakes aren't particularly sweet. I recommend topping with maple syrup before serving!
Nutrition
Calories:
140
kcal
|
Carbohydrates:
27
g
|
Protein:
4
g
|
Fat:
3
g
|
Saturated Fat:
1
g
|
Sodium:
33
mg
|
Potassium:
353
mg
|
Fiber:
4
g
|
Sugar:
7
g
|
Vitamin A:
25
IU
|
Vitamin C:
3
mg
|
Calcium:
76
mg
|
Iron:
2
mg
Nutrition Disclaimer
Nutrition information is an estimate generated from a nutrition calculator. There may be errors here or variations based on ingredients you use.