This post contains affiliate links for which I may earn a commission (at no extra cost to you) should you make a purchase. As an Amazon Associate I earn from qualifying purchases. Please see my disclaimer for more information.
This avocado chocolate mousse is a creamy dessert that is super quick and easy to make! It is vegan and gluten-free and has a rich chocolatey taste.
If you've got some ripe avocados and you're craving a quick chocolate treat, this chocolate avocado mousse is exactly what you need!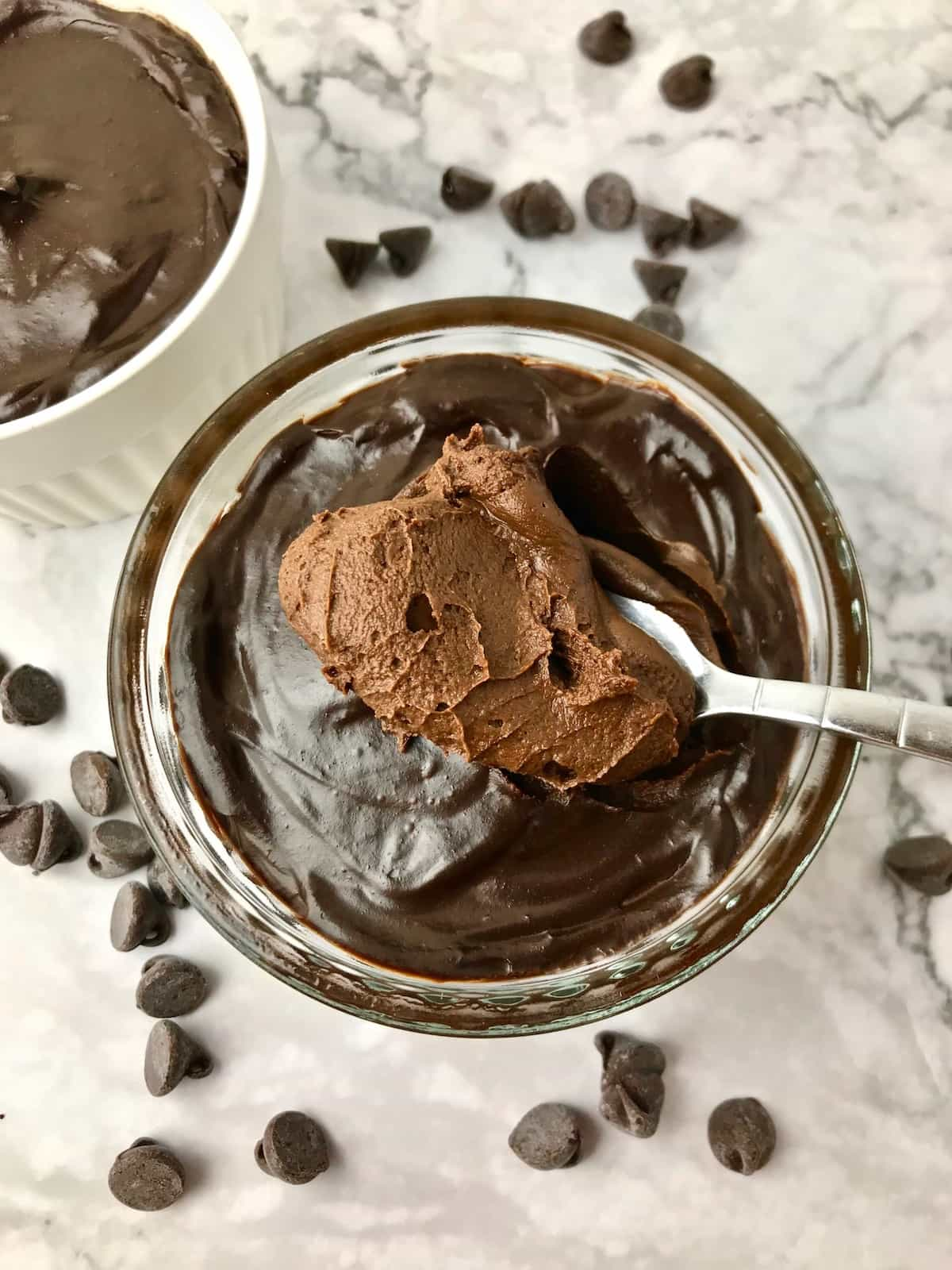 Jump to:
Why you'll love it
This vegan chocolate avocado mousse is:
Smooth
Thick
Creamy
Rich
Vegan + gluten-free
Super quick and easy to make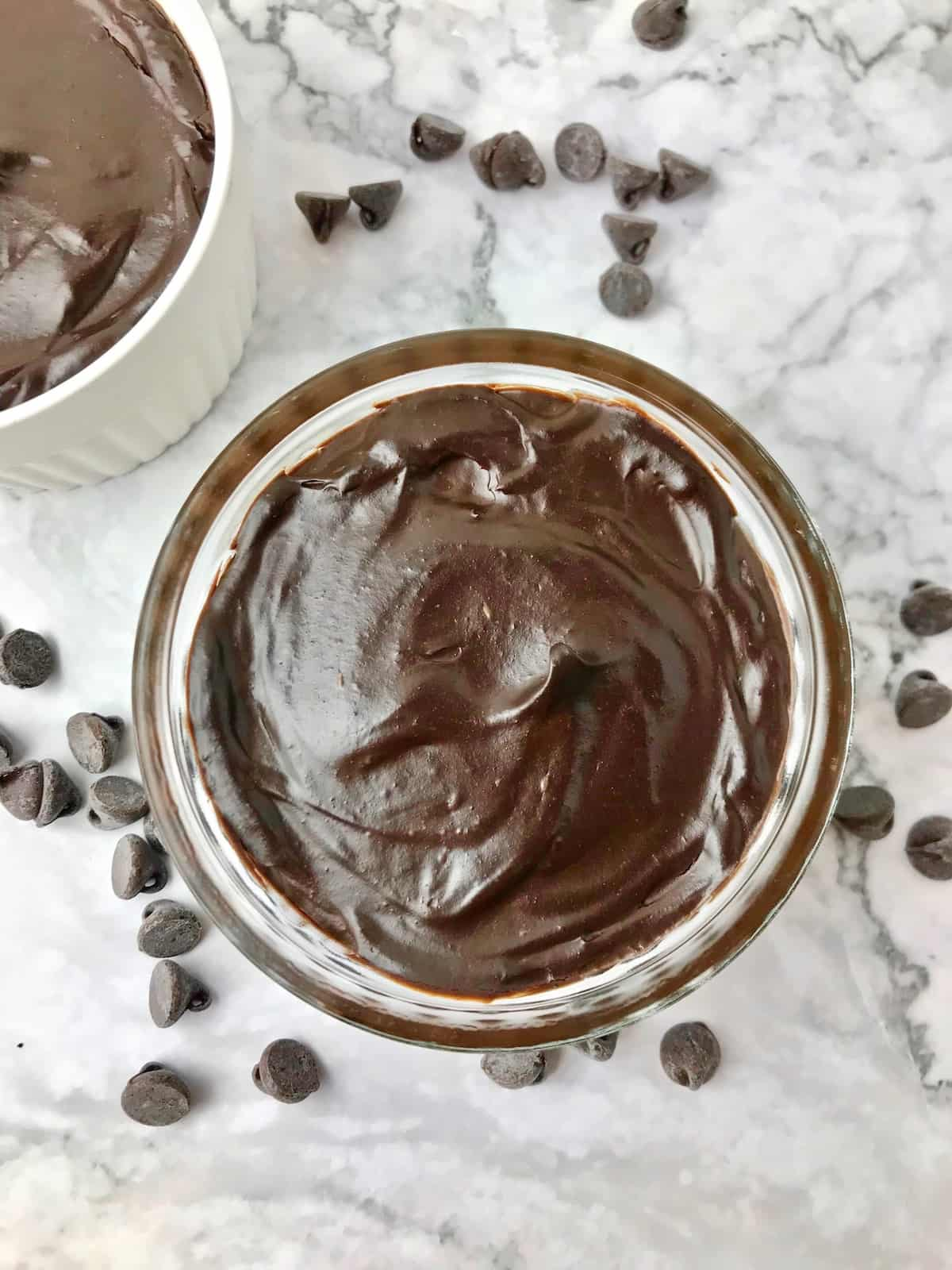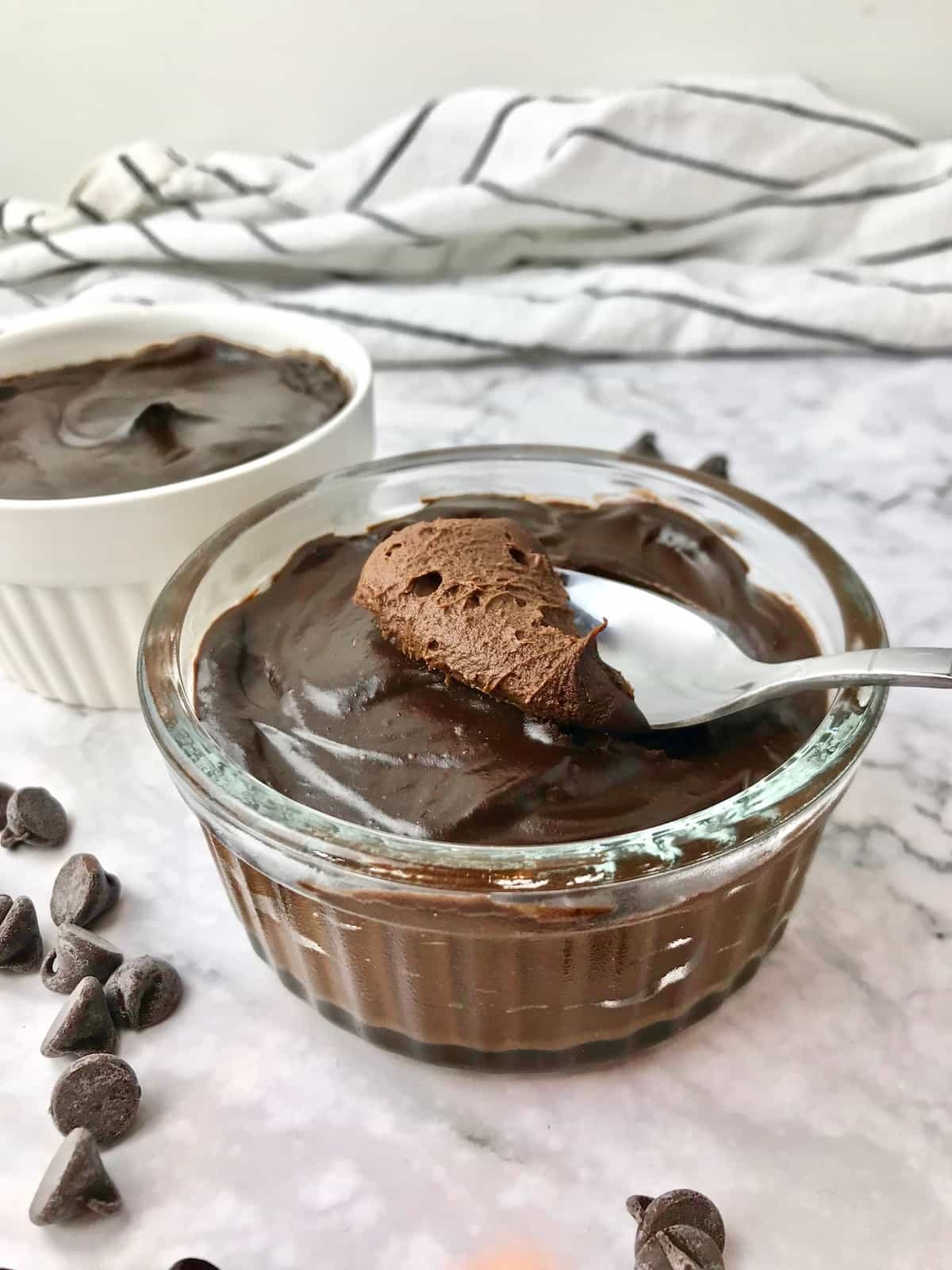 Ingredient information
*Scroll down to the recipe box for ingredient quantities and full instructions.
Avocado is commonly used to create a healthier version of chocolate mousse.  It adds that thick and creamy texture without having to feel guilty about indulging in something unhealthy. Depending on their size, avocados can pack quite a few calories, but they are whole foods and contain healthy fats so you shouldn't feel guilty about having them occasionally.
Vegan chocolate chips add that delicious chocolate flavor to this recipe. You could also use a vegan chocolate bar because the chocolate will be melted anyways.
This recipe also uses cocoa powder to add to the chocolate flavor and thicken the mousse a bit. You could also use cacao powder instead of cocoa powder.
This is my go-to sweetener because it's natural and delicious. Make sure you buy pure maple syrup, with no additives to keep this a healthier treat. This recipe uses quite a bit of maple syrup to sweeten the mousse to perfection and create a nice, smooth texture!
The final ingredient is vanilla extract, which is added for some extra flavor!
Tips
Make sure the avocados you use are ripe, but not overripe. You want them to be a bit soft when you squeeze them, but if they are too soft they will likely be brown inside. If your avocados are very firm, you will need to wait a day or two for them to ripen. This avocado chocolate mousse will not be great if you use avocados that are super firm and not yet ripe!
This avocado chocolate mousse will be like a pudding when you first blend it up. If you want it to be thicker, leave it in the refrigerator for a few hours. It will thicken up considerably in the fridge and will have a thick icing texture.
If you think it tastes too much like avocado, you can try adding a bit more cocoa powder and maple syrup. I also find that after sitting in the fridge for a few hours, the taste of the avocado diminishes.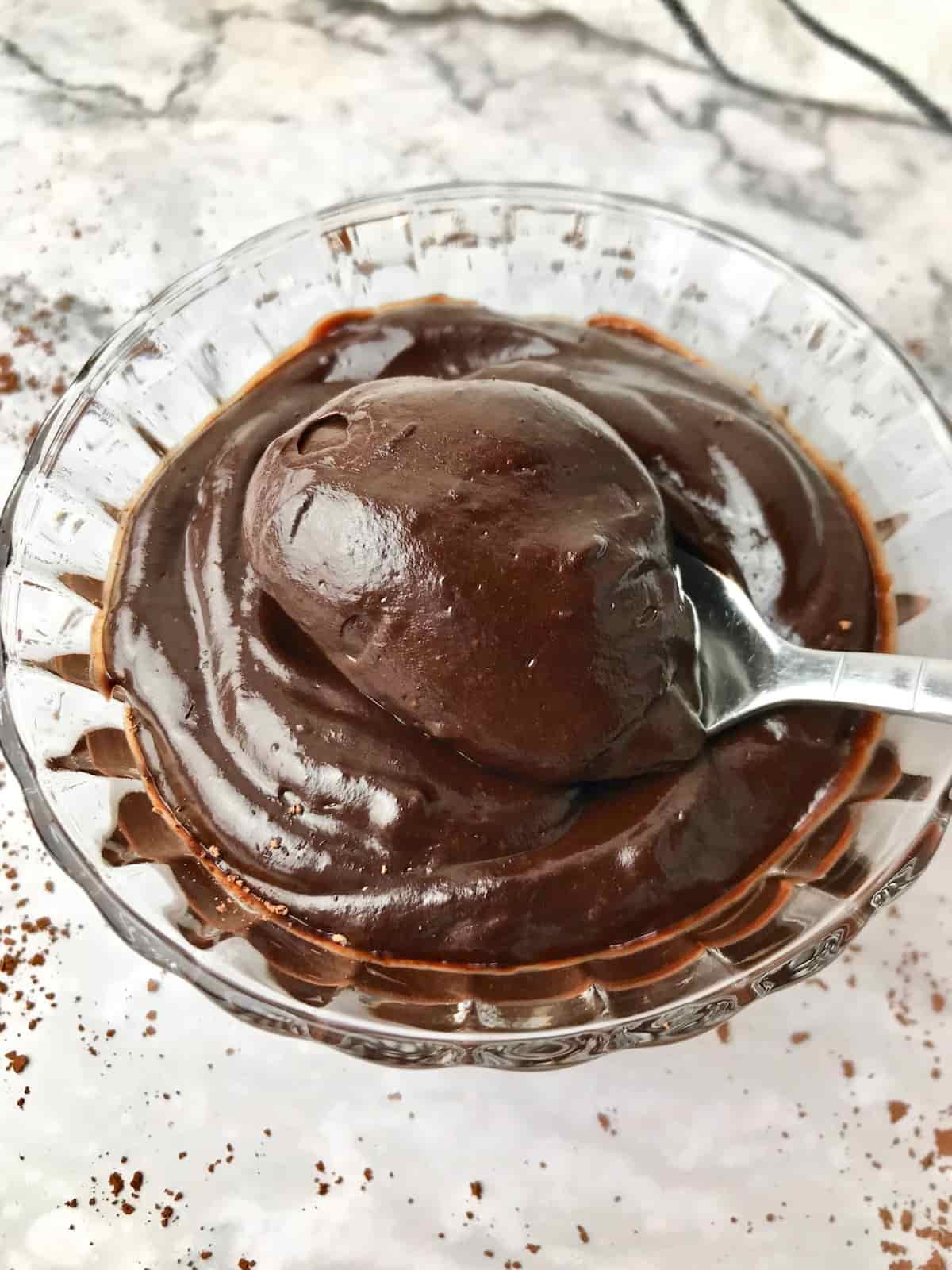 Can you taste the avocado?
This chocolate mousse does have a slight taste of avocado. That is the main ingredient after all! I think the chocolate taste makes up for the avocado taste, but if you really don't like avocados, this recipe isn't for you.
As mentioned previously, letting this chocolate mousse sit in the fridge to thicken will diminish the taste of the avocado. So if you find the avocado tastes too strong, set your chocolate mousse in the fridge for a few hours, then give it a taste. That is how I love to eat it, after it has firmed up!
Topping suggestions
This avocado chocolate mousse is great with a variety of toppings. Here are some options:
Chopped nuts
Coconut flakes
Blueberries
Diced strawberry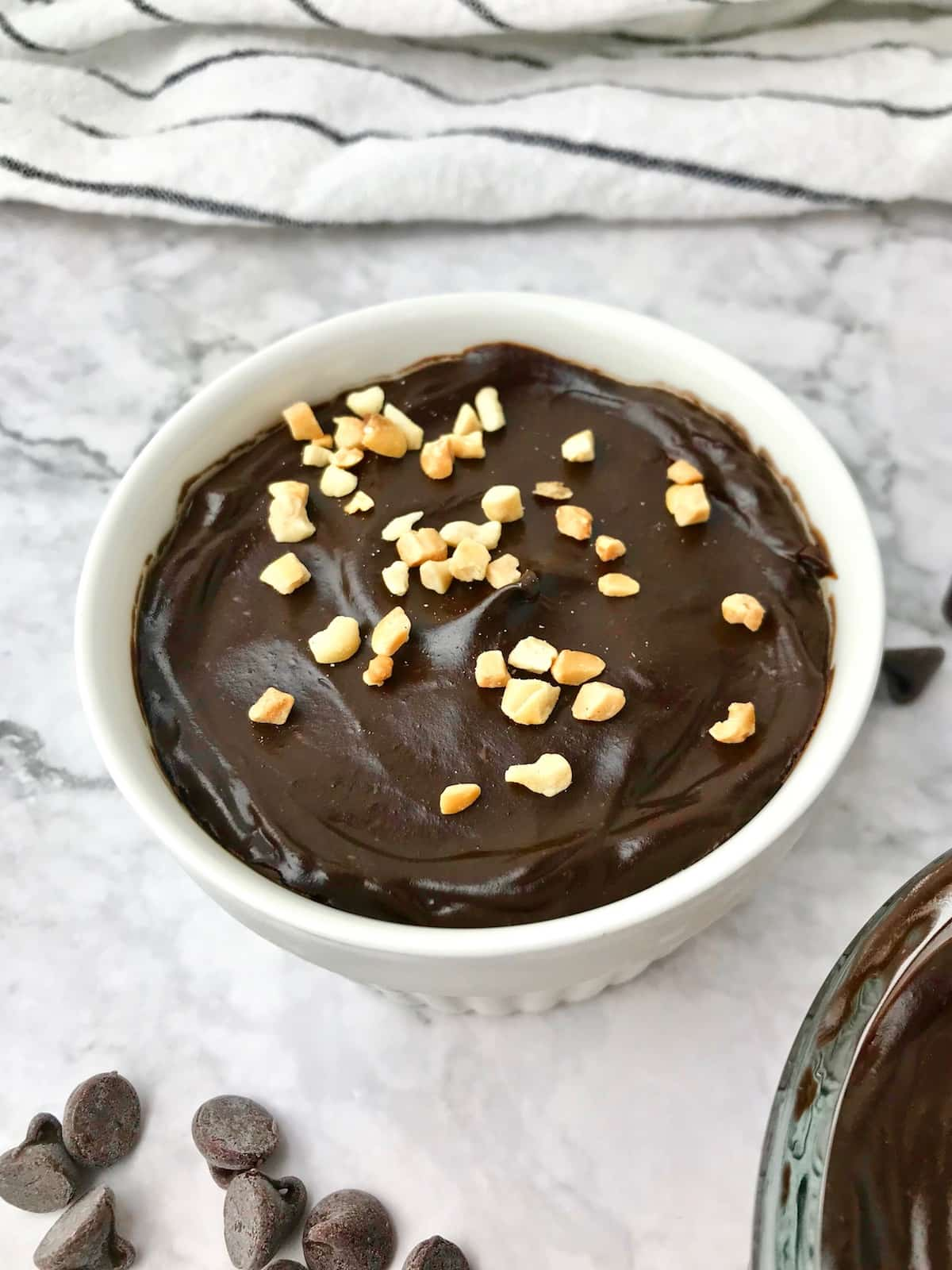 Storage
You can store this chocolate mousse in the refrigerator for one day.
More avocado recipes
*This recipe previously contained only 3 ingredients, but has been updated and now contains 5 ingredients.
Recipe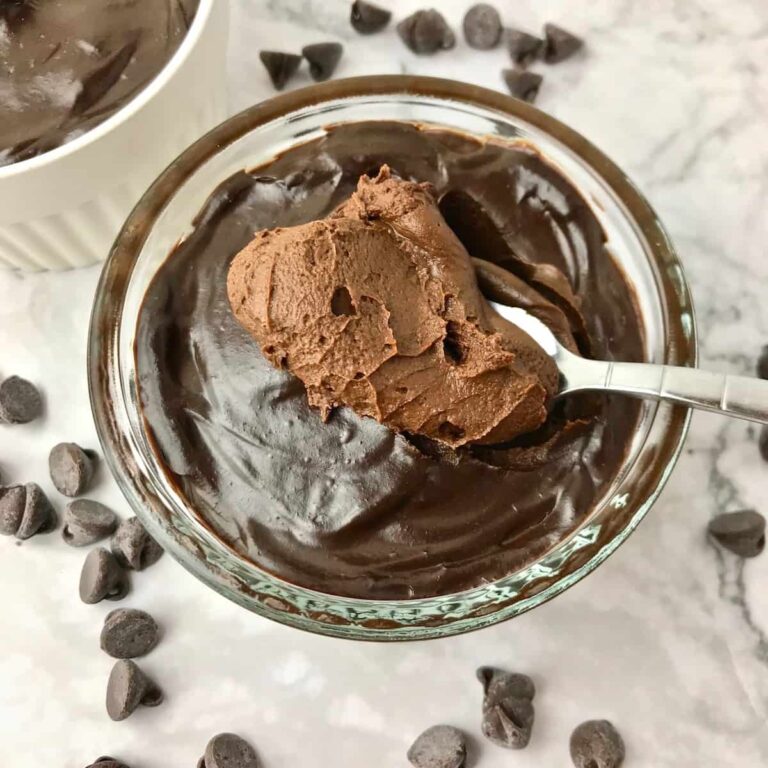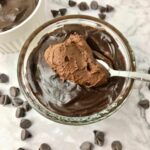 Print Recipe
Avocado Chocolate Mousse
This avocado chocolate mousse is a creamy dessert that is super quick and easy to make! It is vegan and gluten-free and has a rich chocolatey taste.
Instructions
Slice the avocados in half and scrape out all of the flesh. Place in a food processor and blend.

Melt the chocolate chips. I melt them in the microwave for about 1 ½ minutes.

Add the melted chocolate chips and all other ingredients to the food processor.

Blend until everything is evenly mixed and smooth.
Notes
You can refrigerate this chocolate mousse to firm it up. It will get quite thick like an icing. This is how I prefer it because I find that after firming it up in the fridge, the taste of the avocado is less prominent.
Nutrition Disclaimer
Nutrition information is an estimate generated from a nutrition calculator. There may be errors here or variations based on ingredients you use.