This post contains affiliate links for which I may earn a commission (at no extra cost to you) should you make a purchase. As an Amazon Associate I earn from qualifying purchases. Please see my disclaimer for more information.
This chocolate peanut butter spread is so delicious and easy to make! It only requires 3 healthy ingredients, so you can whip it up quickly! It is vegan, gluten-free, and oil-free.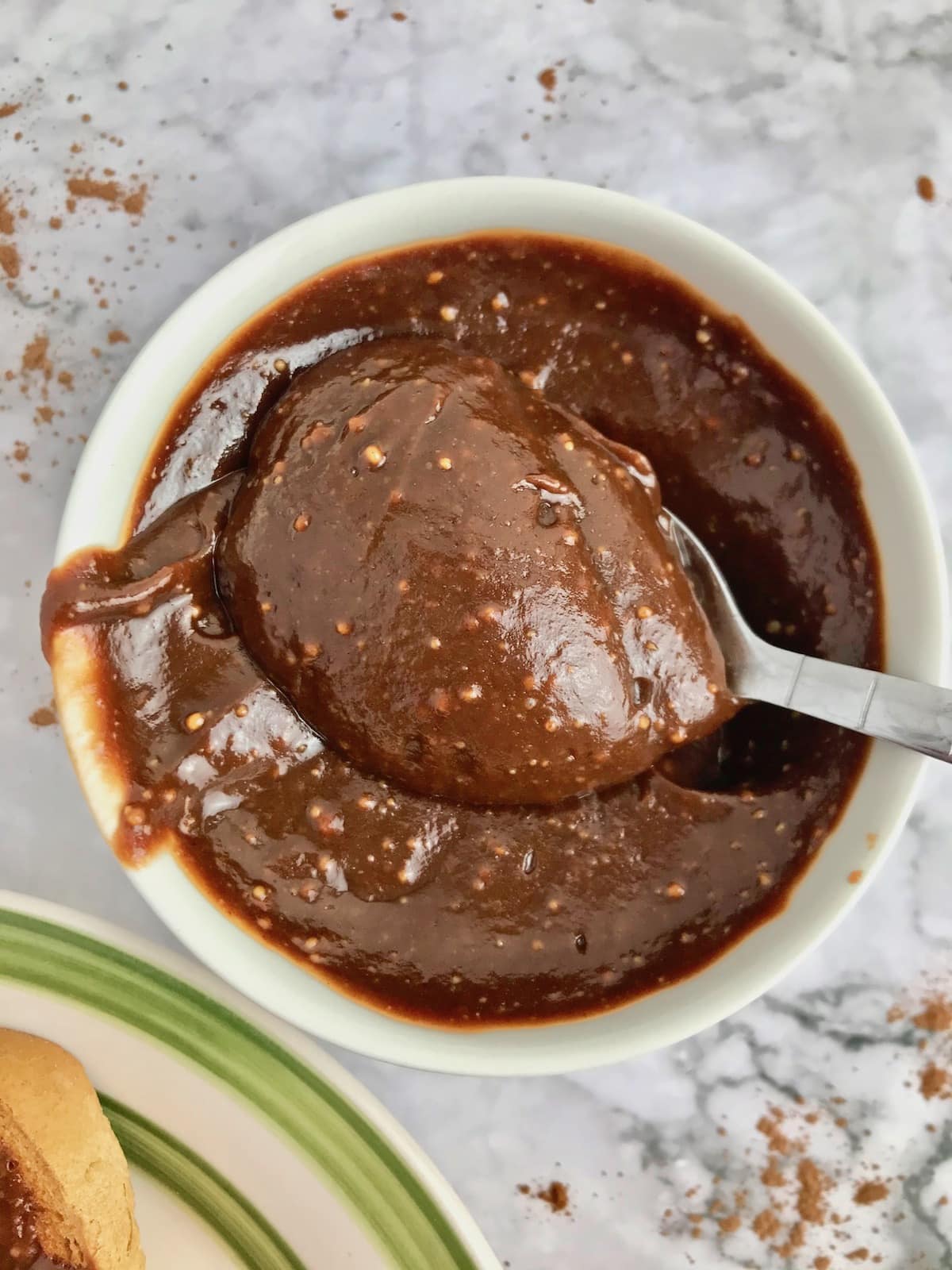 I am obsessed with peanut butter and I always use it as a spread on my rice cakes. After a while though, that gets kind of boring. So why not add in some chocolate?
This chocolate peanut butter spread is ridiculously simple and quick to make. You can whip it up in a few minutes, so it requires absolutely no advanced planning. It can add some deliciousness to a simple snack at any point during your day!
Another good spread option for rice cakes or toast is this instant pot apple butter.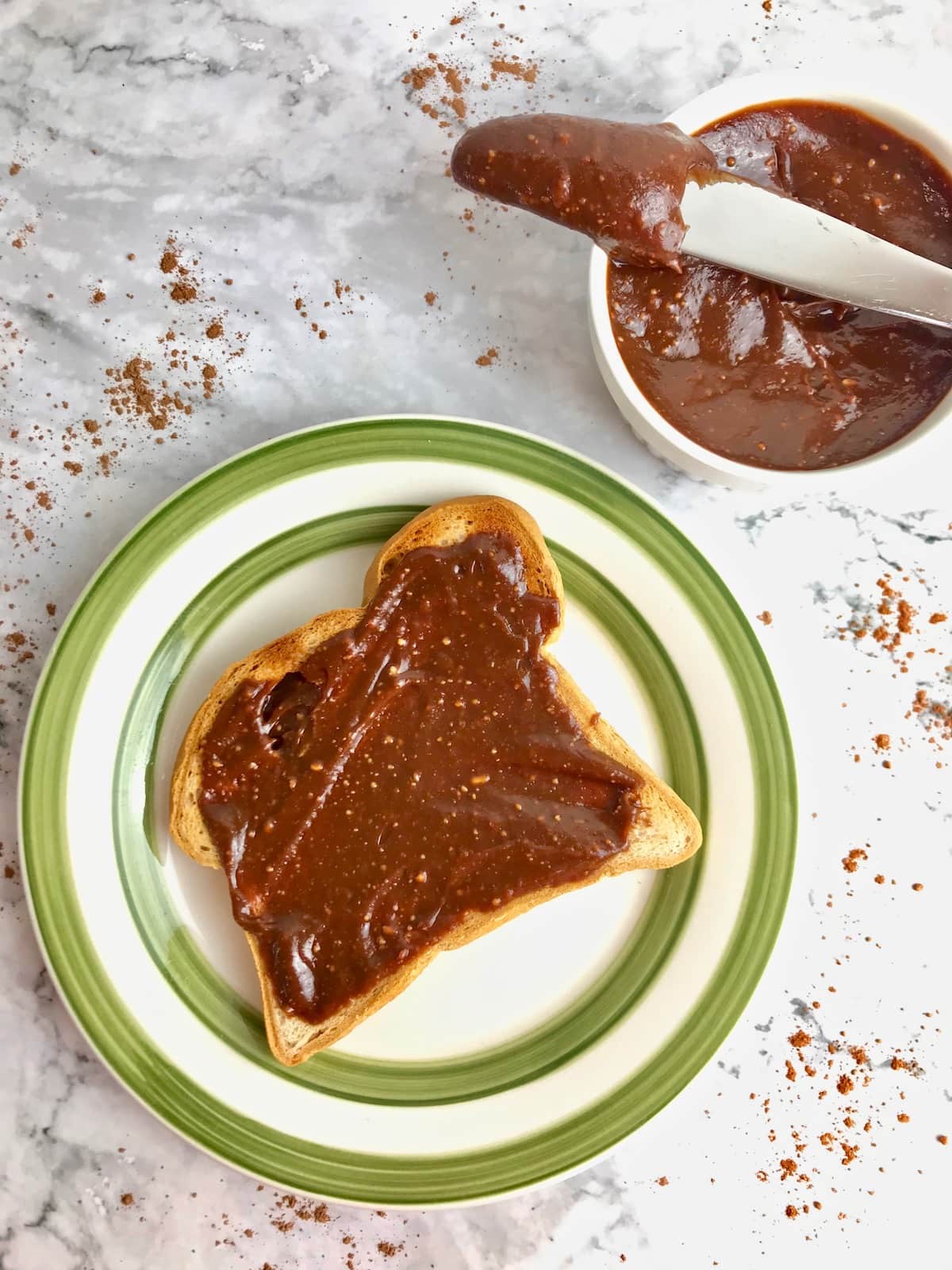 Use this chocolate peanut butter spread on:
Rice cakes
Toast
Dessert wraps
Oatmeal
Fruit
If you have other ideas, let me know!
If you're using this peanut butter chocolate spread on rice cakes or toast, you can add any toppings you like as well. Some toppings that I enjoy pairing with this spread are:
Raisins
Unsweetened coconut flakes
Pumpkin seeds
Poppy seeds
Strawberry slices
Banana slices
This spread is also really delicious when added to a hot bowl of oatmeal. I like having it with oatmeal that contains coconut flakes, raspberries, blueberries, banana slices, almond milk, and some extra maple syrup. So good!
For this spread, you will need:
Peanut butter
Maple syrup
Cacao powder
Oat milk of almond milk (optional for a slightly thinner consistency)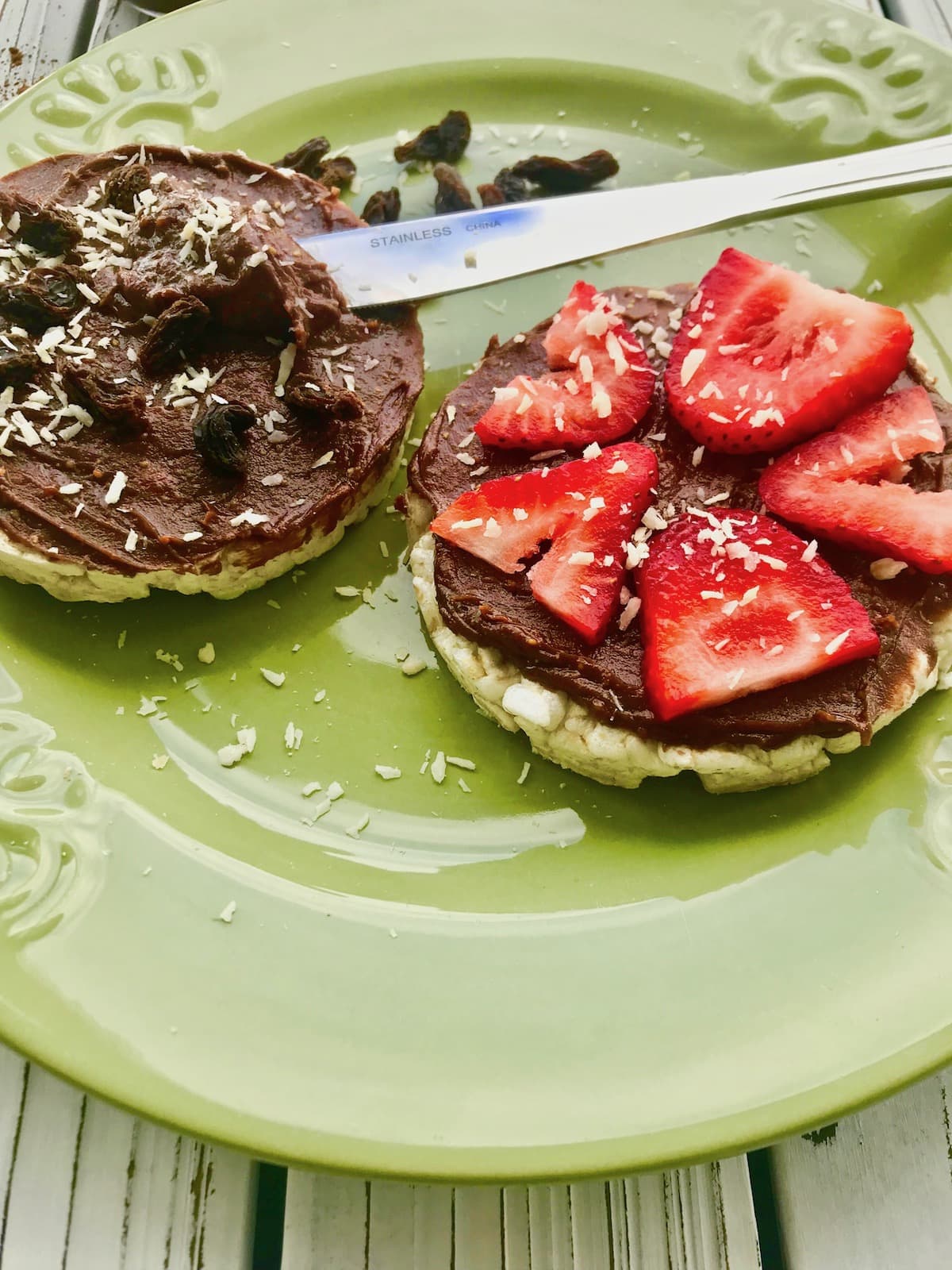 How to make
Making this chocolate peanut butter spread is insanely simple. Just microwave the peanut butter and maple syrup together, then mix in the cacao powder. That's it! Add some plant-based milk if you don't want your spread to be so thick.
If you don't want to use a microwave, you can heat the peanut butter and maple syrup in a small pot on the stove. Just heat it enough so that the peanut butter softens and can be mixed with the maple syrup.
Is peanut butter even healthy though?
If you buy all-natural peanut butter, it is absolutely healthy! This means you need to make sure that the only ingredient on the label is peanuts! No sugar, salt, or oil. Peanut butter packs quite a few calories, with around 90 per tablespoon, but the fat from peanuts is healthy. As long as you don't eat it by the spoonful all day long, it's fairly healthy. And don't forget it will give you some extra protein as well!
Check out these other chocolate recipes:
Recipe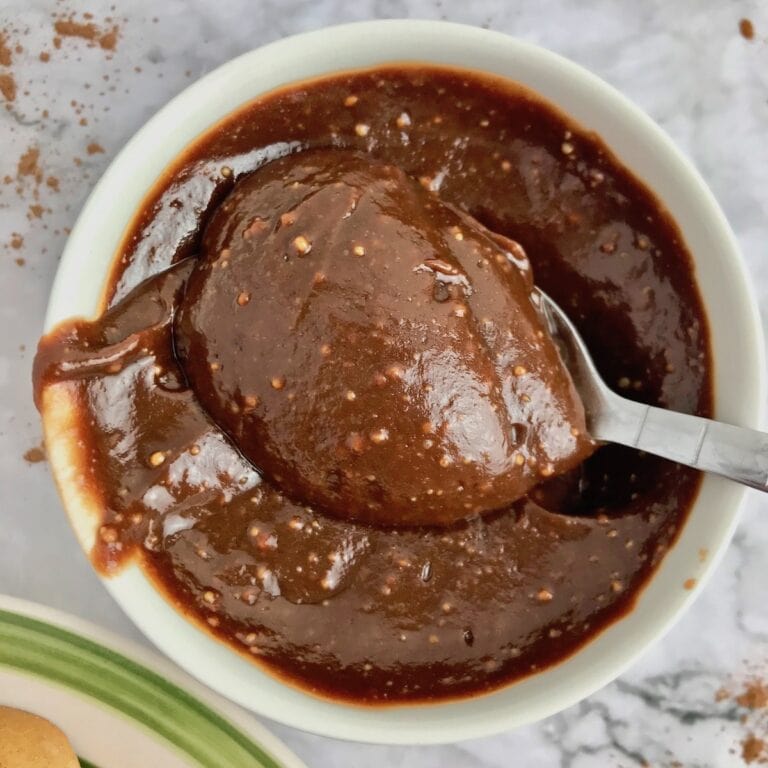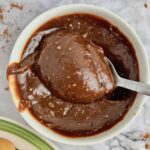 Print Recipe
Chocolate Peanut Butter Spread (Vegan)
This vegan chocolate peanut butter spread is so delicious and easy to make! It only includes 3 healthy ingredients, so you can whip it up quickly! It's also gluten free and oil free.




Instructions
Place the peanut butter and maple syrup in a small bowl and microwave for 30 seconds. You can alternatively heat on the stove until the peanut butter has softened and can be mixed.

Add in the cacao powder and mix until all ingredients are incorporated.

This spread is quite thick, so if you would like to thin it out a bit, add 2 tablespoons of plant based milk (oat or almond milk will work well). Mix everything together.
Notes
Store in the fridge. This spread will thicken some more as it cools. If you want to thin it out when you remove it from the fridge, mix in a bit more plant-based milk.
One serving is approximately 2 tablespoons. Nutrition information is only an estimate and may vary based on ingredients used.
Nutrition
Calories:
183
kcal
|
Carbohydrates:
18
g
|
Protein:
6
g
|
Fat:
11
g
|
Fiber:
2
g
|
Sugar:
14
g
|
Iron:
1
mg
Nutrition Disclaimer
Nutrition information is an estimate generated from a nutrition calculator. There may be errors here or variations based on ingredients you use.