This post contains affiliate links for which I may earn a commission (at no extra cost to you) should you make a purchase. As an Amazon Associate I earn from qualifying purchases. Please see my disclaimer for more information.
This Instant Pot apple butter is thick, sweet, and absolutely delicious. It contains no added sugar and is the perfect spread for toast, pancakes, and more!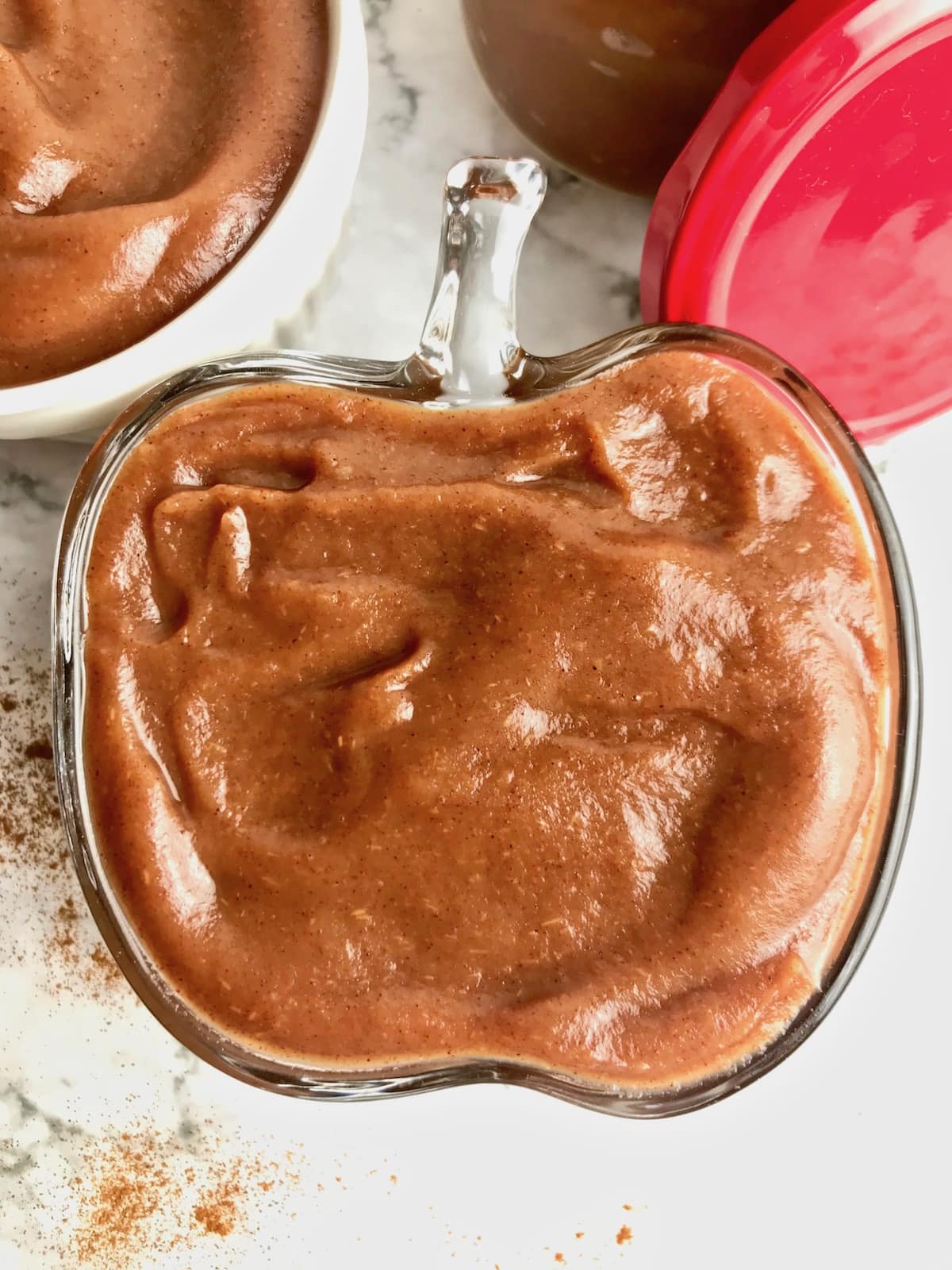 Apple butter is one of my favourite spreads for toast. It is thick and super sweet, even without any added sugar! I often top my toast with all-natural peanut butter, but apple butter is a great, low-fat alternative!
Applesauce vs. apple butter
Some people think that apple butter is the same as applesauce, but they are a bit different. They are incredibly similar in ingredients and taste, but apple butter is cooked much longer to give it a thicker texture.
A thick texture is key to apple butter. If you don't thicken it up, it's just going to be like applesauce, and not nice and spreadable on toast.
Some people like to add more sugar and spices to their apple butter, but this is really personal preference. I don't add any sugar and I find the apple butter is still very sweet and tasty! I do however like to add plenty of cinnamon!
Applesauce tends to be a lighter colour, whereas apple butter is darker because it often contains more cinnamon, peels are left on the apples, and it is cooked longer.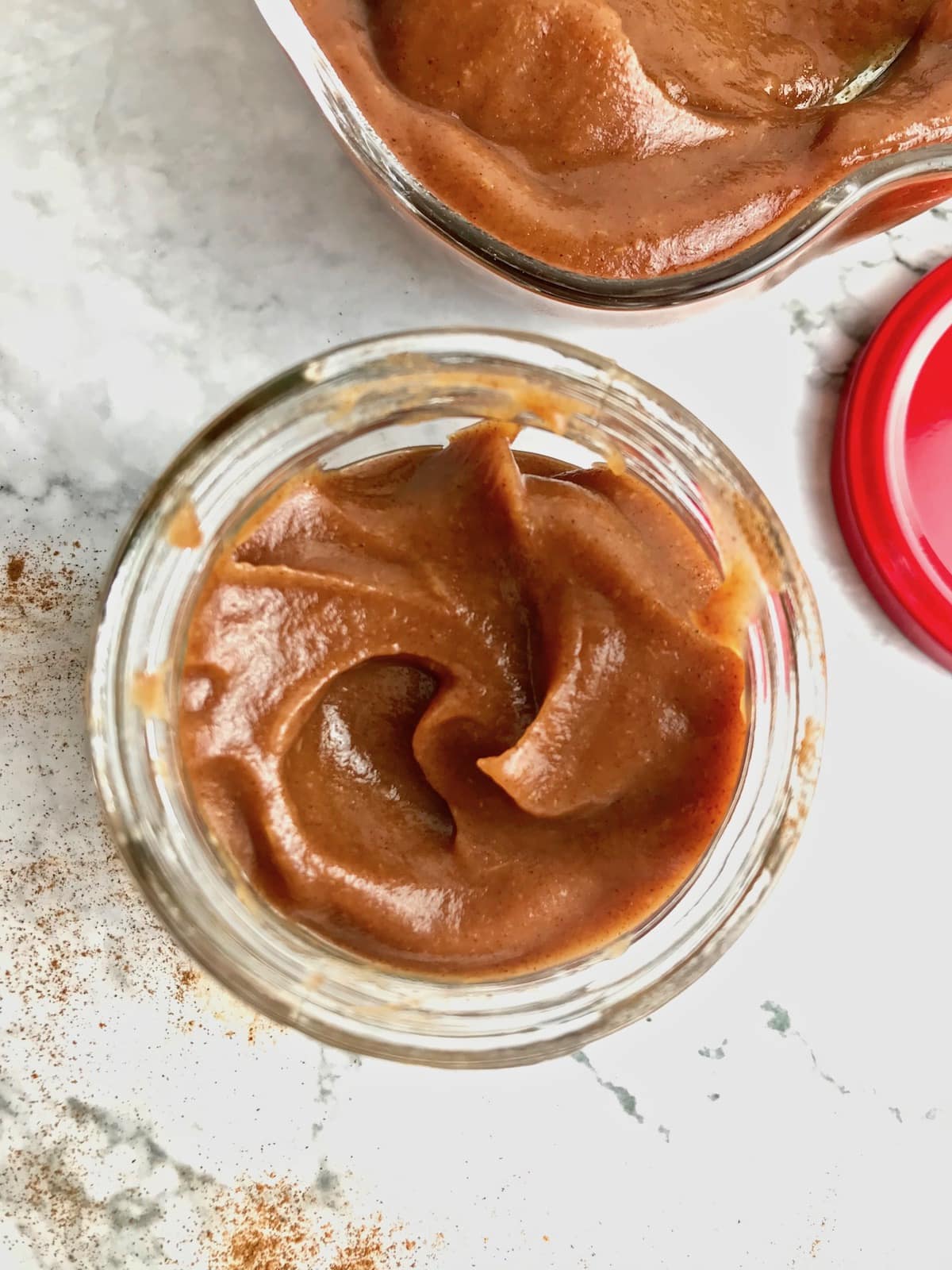 Ingredients
*scroll down to recipe box for quantities and instructions.
Apples of choice (4.5 pounds)
Water
Cinnamon
Vanilla extract
Apple cider vinegar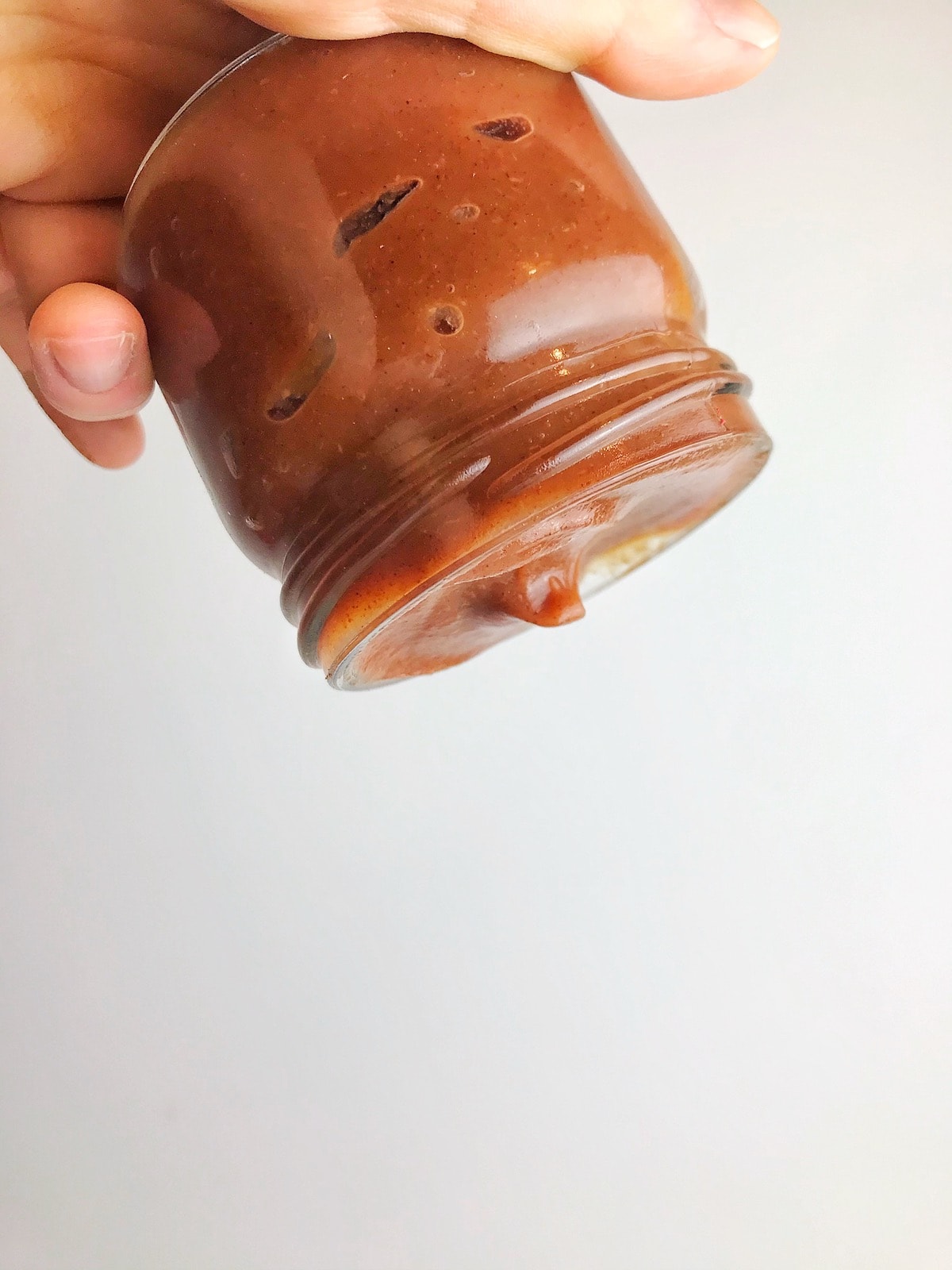 Is apple butter healthy?
For almost anything, my answer to, "is it healthy?" is that it depends! Some apple butter is filled with added refined sugar, which would make it quite unhealthy in my opinion.
However, this recipe for apple butter has absolutely no added sugar. The sweetness comes purely from the apples, and it's more than enough!
Apples are a great source of fiber and vitamin C. They are also high in flavonoids, which is thought to improve artery function and blood pressure. Check out this video to learn more about the cardiovascular benefits of apples!
You can read about even more health benefits of apples here.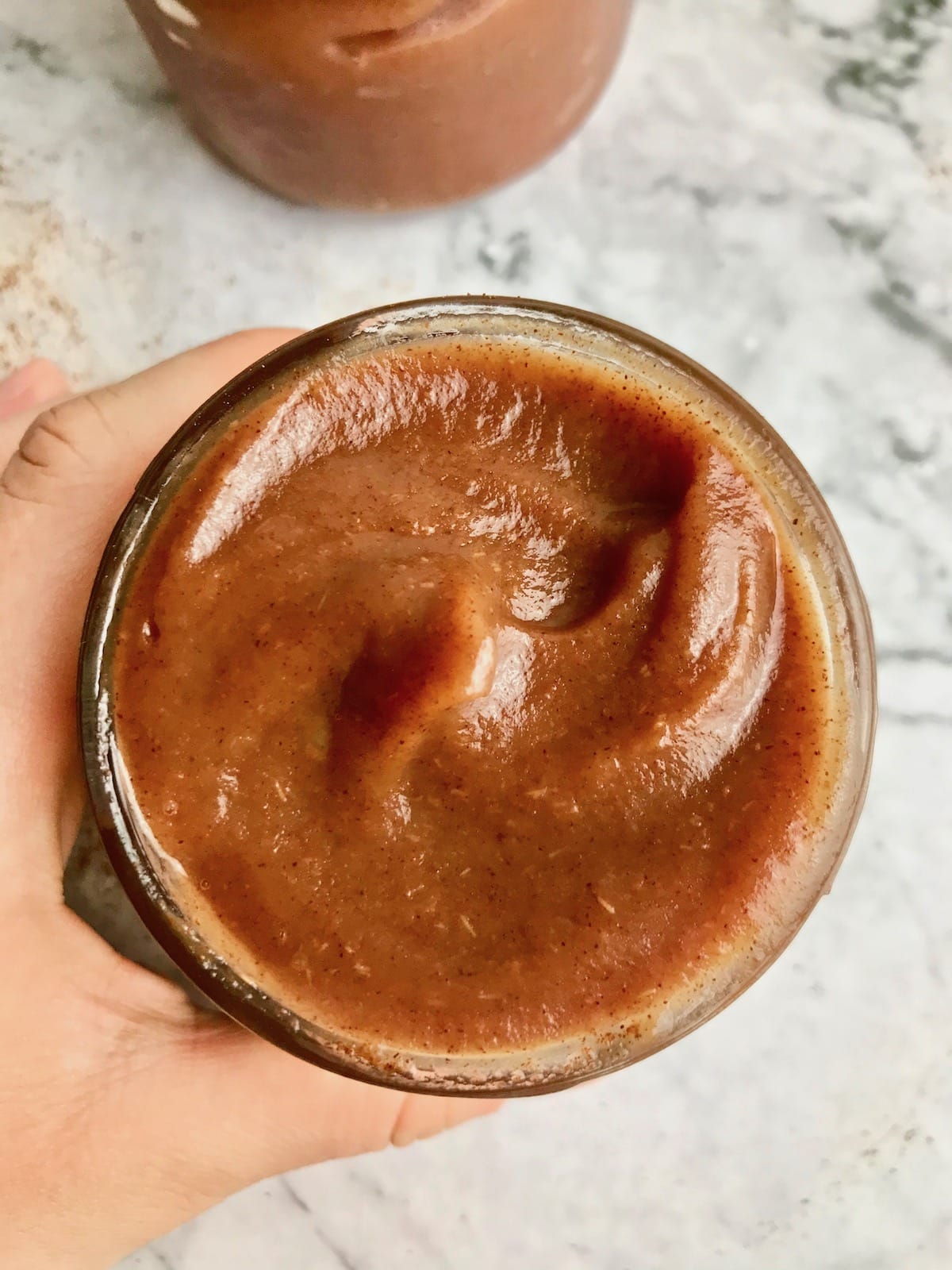 Tips
Don't peel your apples for this recipe! The peel will add nutrition to the apple butter and it will be completely blended so don't worry about it creating an unpleasant texture. However, make sure you core the apple and remove all seeds.
You can use any type of apple that you like for this recipe. I enjoy using Ambrosia or Honeycrisp. If you were to use Granny Smith I think it would be too tart, so I would recommend against that. You can also try a mix of different apples.
This recipe calls for 4.5 pounds of apples, which is the weight before you core the apples. You will likely find a scale that you can use to weigh your apples at the grocery store.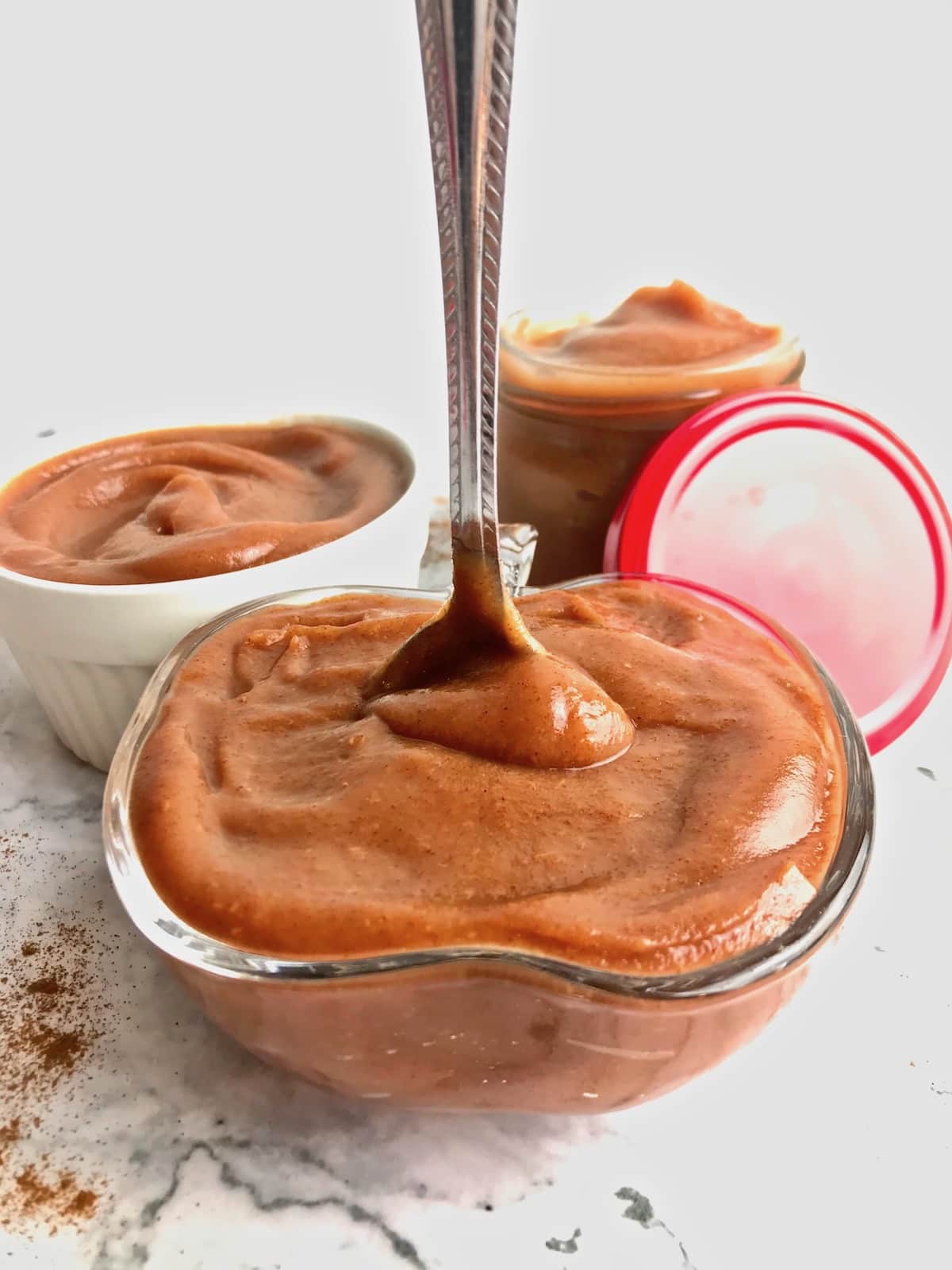 After you blend the cooked apples, you will need to thicken the mixture to create your apple butter. To do this, you will need to heat it on the stove on low-medium heat in a large pot. Many recipes recommend using the saute setting on the Instant Pot to avoid using another dish, but I tried that method and I find it splashes way too much and left my kitchen splattered in apple butter. On the stovetop, your apple butter will still splash, but not nearly as much. Keep the lid on, but make sure it has an air vent. Then just carefully lift the lid every 10 minutes or so and give it a stir while wearing an oven mitt so that the apple butter doesn't splash up onto your hand. You can stir it as often as you want, but when you stop stirring it will start splashing, so never walk away unless the lid is on. Let the apple butter heat for 1 – 2 hours until it is thick enough for your liking.
How to use apple butter
Apple butter can be used in a variety of ways! Here are some ideas:
Spread it on toast
Mix it into oatmeal
Put it on pancakes or waffles
Make a peanut butter and apple butter sandwich (so good!)
Put it on ice cream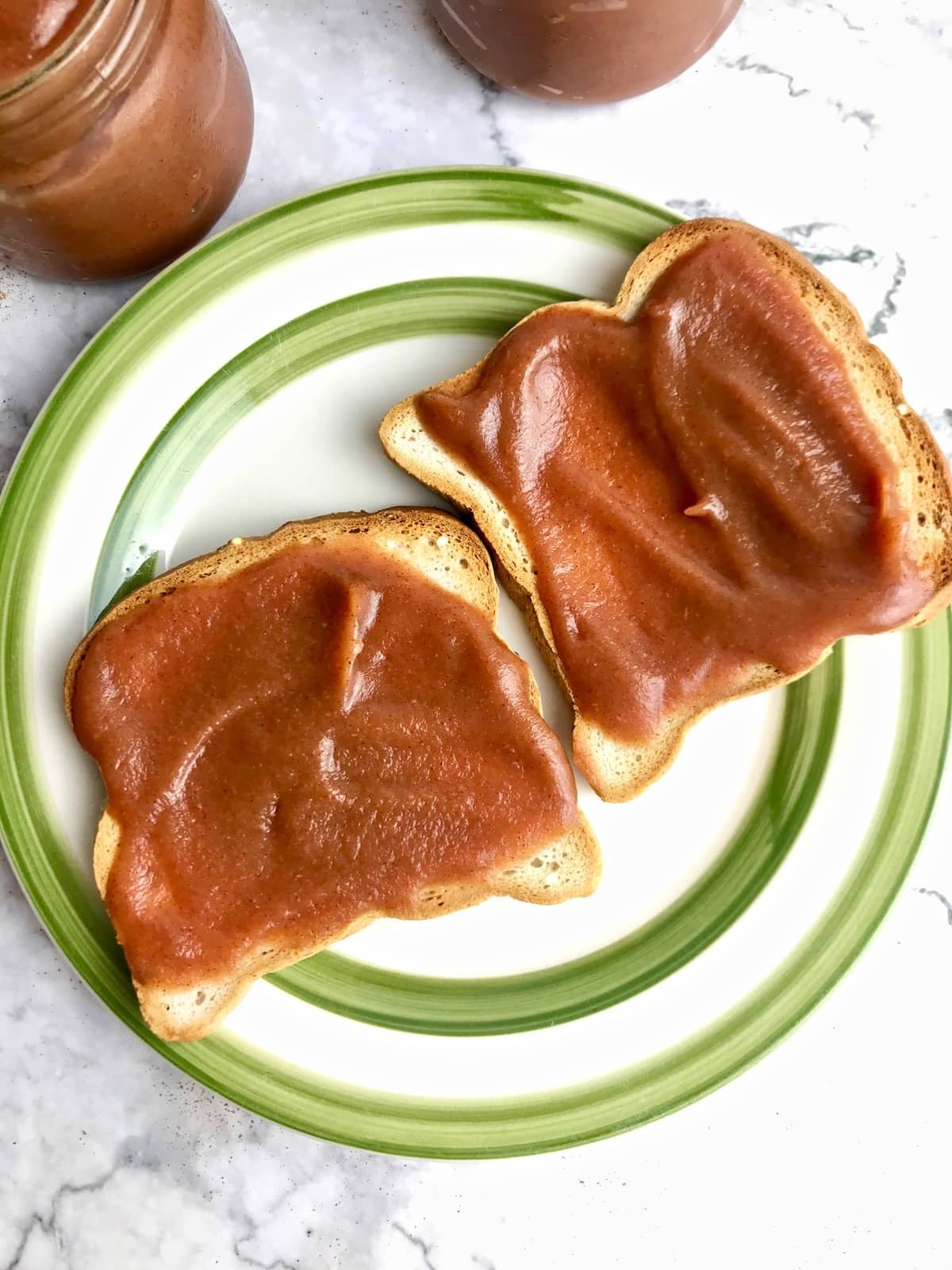 Check out these other recipes that contain apples:
If you're interest in starting a plant-based diet, check out this plant-based grocery list and these plant-based books!
Recipe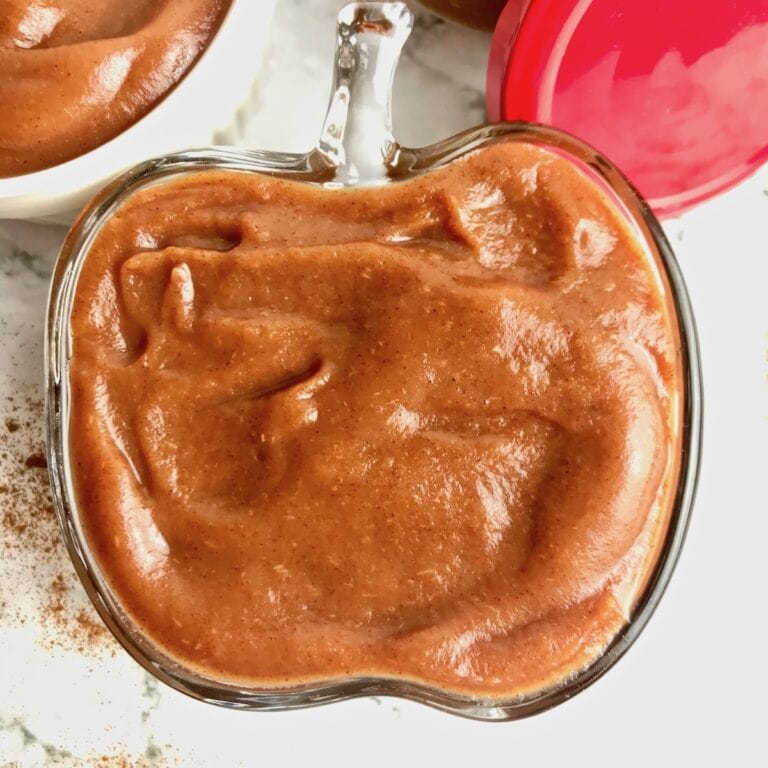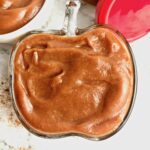 Print Recipe
Instant Pot Apple Butter (No Added Sugar)
This Instant Pot apple butter is thick, sweet, and absolutely delicious. It contains no added sugar and is the perfect spread for toast, pancakes, and more!
Ingredients
4.5

pounds

of apples

any kind that you like

¼

cup

water

1

tablespoon

cinnamon

2

teaspoons

vanilla extract

1

tablespoon

apple cider vinegar
Instructions
First, please read your Instant Pot instructions if you are still unfamiliar with how your Instant Pot works.

Prepare your apples. Cut out the core and all the seeds, then slice your apples into 6-8 slices each. The slices can be pretty large. Do not peel the apples.

Add the apple slices, water, cinnamon, vanilla extract, and apple cider vinegar to your Instant Pot and mix everything together. Secure the lid, ensure the vent is sealed, then set your Instant Pot to pressure cook on high for 10 minutes. It will take around 15 minutes to pressurize, then the 10 minute timer will start.

When the 10 minutes are done, leave your Instant Pot so it can do a natural release for 15 minutes, then carefully do a manual release with an oven mitt on until all pressure has been released. Do not attempt to remove the lid before the pressure has been released.

The contents of the Instant Pot will be very hot. Allow them to cool a bit, then transfer about half the contents of the Instant Pot to a blender. Blend until completely smooth, then pour the mixture into a large pot. I blend in two stages because everything at once would be too much for my blender. The apple mixture will still be hot, so make sure you pause during blending to release hot air.

Once everything is blended completely, mix it all together in one large pot. Heat on the stovetop on low-medium heat to thicken this mixture into apple butter. Let it heat for 1 -2 hours, stirring as much as you can. It's okay to leave it and come back to it to stir a bit every 10-15 minutes or so. However, make sure that you leave a lid on it when you are not stirring, because it will splash up and make a mess. The lid mush have an air vent. Slowly lift the lid when you are stirring, and make sure you wear an oven mitt in case the mixture splashes up onto your hand. It will be hot! When you lift the lid, try to avoid letting the condensation drip back into the pot.

Keep doing this until the apple butter has reached your desired thickness. I like to heat it for 1.5 hours.

Once the apple butter has cooled completely, scoop it into jars and store it in the fridge or freezer.

Once in the fridge, this apple butter should keep for at least 3 weeks. When you need more, just transfer a jar from the freezer to the fridge.
Notes
Many people like to use the saute function on the Instant Pot to thicken up their apple butter. I find that results in way too much splashing, leaving a bigger mess in my kitchen. The stovetop method also involves some splashing, but not nearly as much.
This recipe makes 3-4 cups of apple butter, depending on how thick you make it.
Store in airtight jars in the fridge. Can also be frozen, then thawed in the fridge when you are ready to use it.
Nutrition information is an estimate for ¼ of this recipe, which will be around 1 cup.
Nutrition
Calories:
277
kcal
|
Carbohydrates:
72
g
|
Protein:
1
g
|
Fat:
1
g
|
Saturated Fat:
1
g
|
Sodium:
6
mg
|
Fiber:
13
g
|
Sugar:
53
g
|
Vitamin C:
23
mg
Nutrition Disclaimer
Nutrition information is an estimate generated from a nutrition calculator. There may be errors here or variations based on ingredients you use.