This post contains affiliate links for which I may earn a commission (at no extra cost to you) should you make a purchase. As an Amazon Associate I earn from qualifying purchases. Please see my disclaimer for more information.
This spinach apple smoothie is dairy free, vegan, gluten free, and so refreshing! Adding this green smoothie to your diet is an easy, healthy choice for breakfast or a mid-day snack.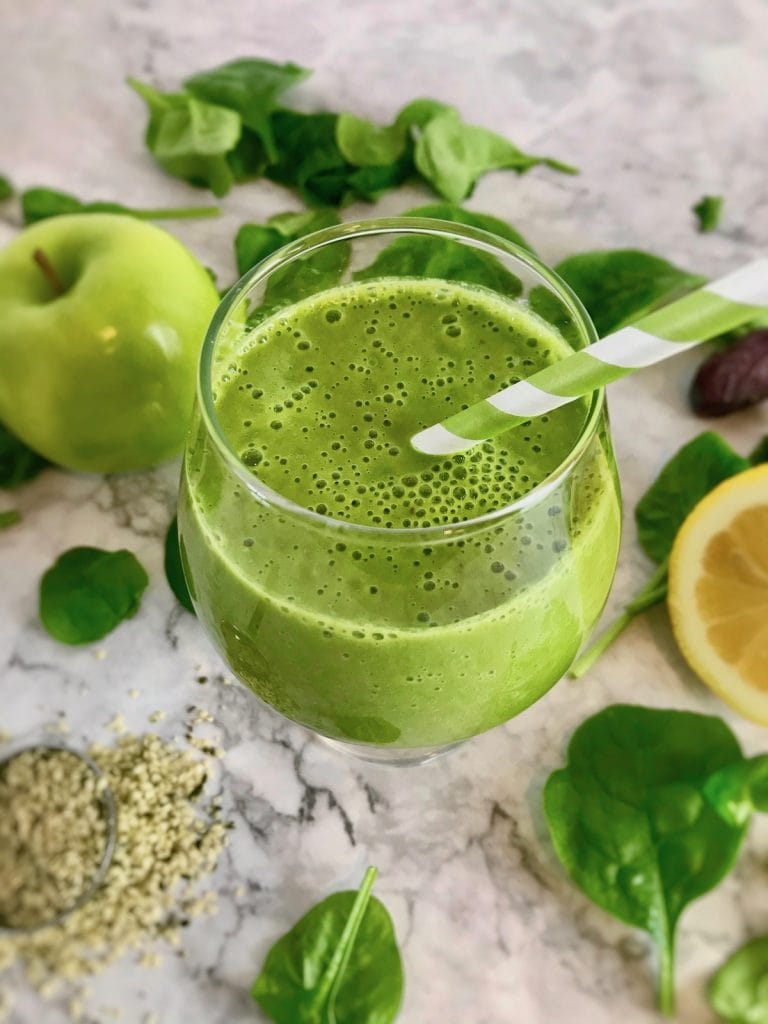 Adding greens to your diet on a daily basis can be a challenge. Especially if you don't enjoy the taste! Leafy greens in particular are some of the most nutritious foods you can eat, and several doctors recommend at least one serving of leafy greens or another cruciferous vegetable every day.
If you're like me, eating a bowl of spinach is not at all appealing, even with a tasty dressing. I'm more of a romaine lettuce type of person when I eat a salad. I've never been able to get onboard with eating kale or spinach.
However, in a spinach smoothie I can't taste the spinach at all! Smoothies are pretty much the only way I get any spinach into my diet. It's great for breakfast or a healthy snack!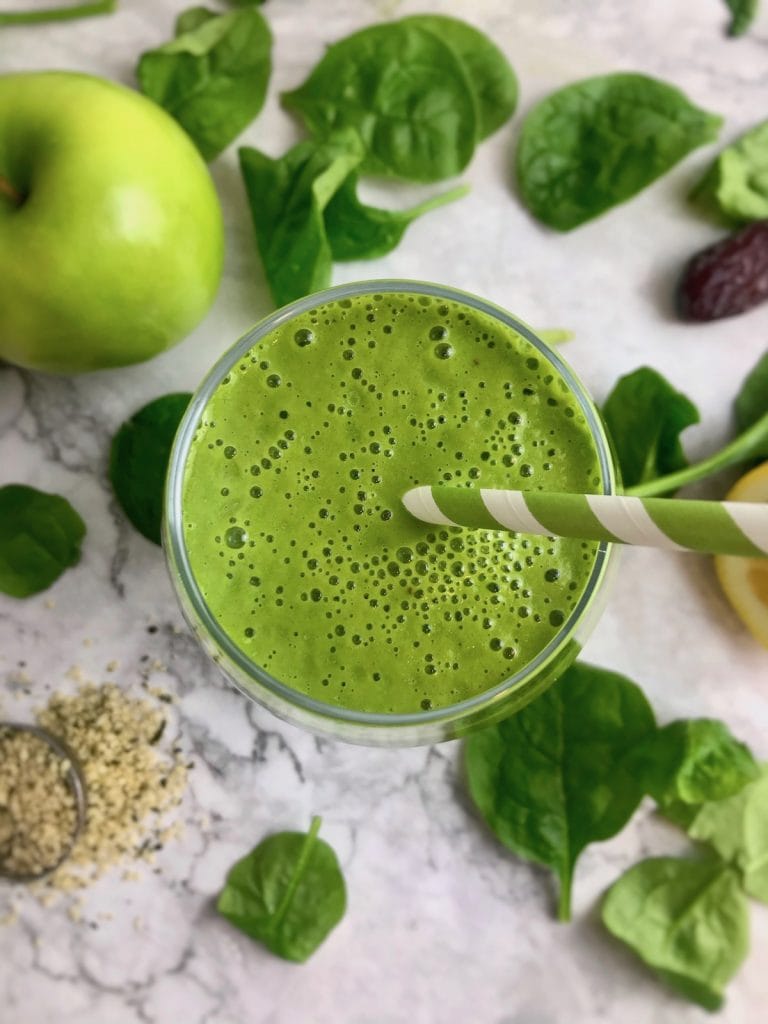 Spinach smoothie benefits
Spinach is filled with nutrients, and this smoothie contains 2 cups of it! It's high in Vitamin C, which can give your immune system a boost, and it's also high in calcium which is great for bone health! There are also a plethora of other benefits to eating raw spinach, as with any cruciferous vegetable.
This green smoothie also contains other healthy produce such as celery, green apple, and banana.
Ingredients
This smoothie recipe in particular contains several beneficial ingredients. Here is what you'll need:
- Spinach
- Oat milk (or another plant-based milk, such as almond milk)
- Green apple (I use Granny Smith)
- Medjool dates (adds sweetness and creates a thicker texture)
- Hemp seeds (for added protein!)
- Celery
- Ginger powder
- Frozen banana
- Lemon juice
- Ice (just to chill the smoothie)
- Chia seeds (optional)
Keep scrolling for the full recipe.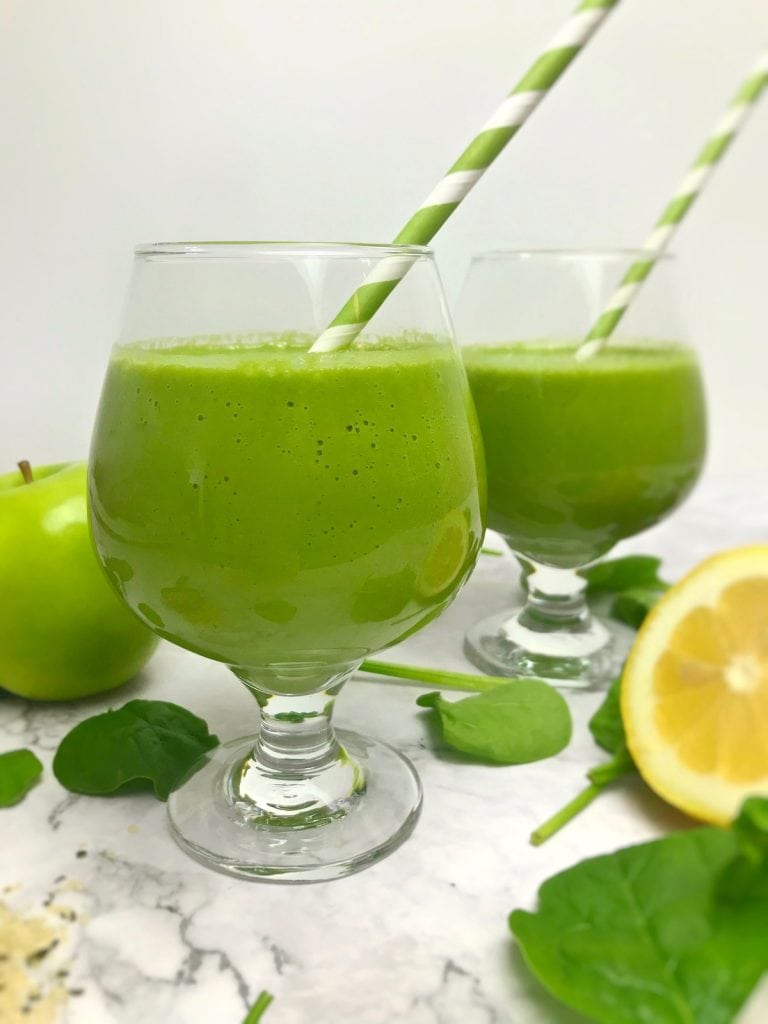 Substitutions or Additions
- I like using oat milk for this smoothie because it has a creamy texture and adds a nice, subtle taste. However, this would also be great with almond milk. I haven't tried it with other milks, but use whatever one you like. Just keep in mind that different milks can affect the taste of the smoothie. For example, coconut milk would likely give this smoothie a coconut flavour, whereas almond milk and oat milk are much more subtle.
- You can swap out the hemp seeds for chia seeds, but I personally like adding both. They give the smoothie added thickness and nutrition, and they don't affect the taste.
- If you have fresh ginger, that would be even better than powder! Use about 1 tablespoon of chopped fresh ginger if you have it. If you're worried about adding too much, start with a little, then add more as needed.
- The dates, green apple, and lemon juice add plenty of sweetness for my liking, but if you want your smoothie to be sweeter, you can always add a little maple syrup or agave.
Tips for making this green smoothie
- My first tip for making any green smoothie, is to have a high-power blender. If you're committed to eating a whole-foods plant-based diet, I would say it is a must to invest in a good blender! It may seem ridiculously expensive, but you will be able to create creamy smooth sauces, dressings, and smoothies. I use a Vitamix (<-- affiliate link) and it is fantastic! Every model is good, so you don't have to get the most expensive one, and you can even get a refurbished one for less!
- If you don't have a Vitamix or another powerful blender, I recommend blending the spinach with the milk first. This will ensure that the spinach breaks down and you don't get left with leafy chunks in your smoothie. I used to do this with my old blender, but I'm telling you, it isn't even necessary with a Vitamix.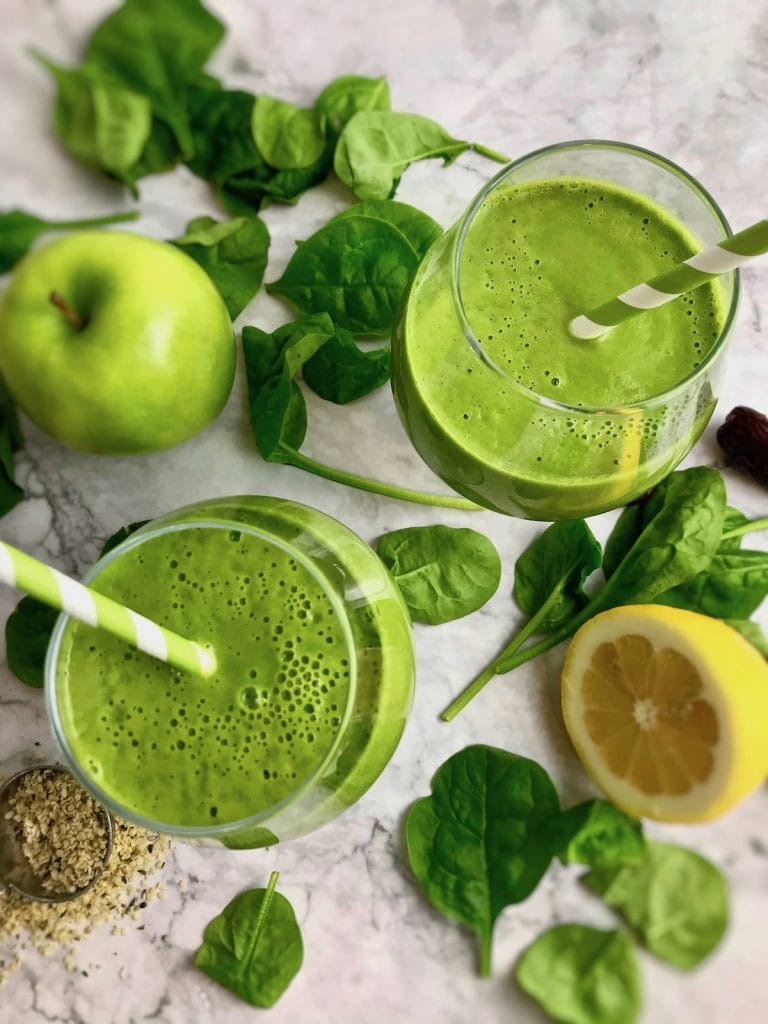 - If you don't have a powerful blender, you will probably also need to soak your dates first so that they are easier to break down and blend. If you don't want to wait hours for them to soak, pour some boiling water on them and let them soak for about 15 minutes.
- You don't have to peel the apple, but again this may vary the texture depending on your blender. As you can see, the blender you have is super important to how you make this smoothie and the texture you will end up with. If you are concerned about your blender not being able to handle some apple peel, you can peel the apple.
- I like to add chia seeds to my smoothie for added health benefits because they don't affect the taste. You can stir them in at the end of blending if you don't mind the texture, or you can blend them.
For more green smoothies, check out these recipes:
Pin this smoothie recipe for later!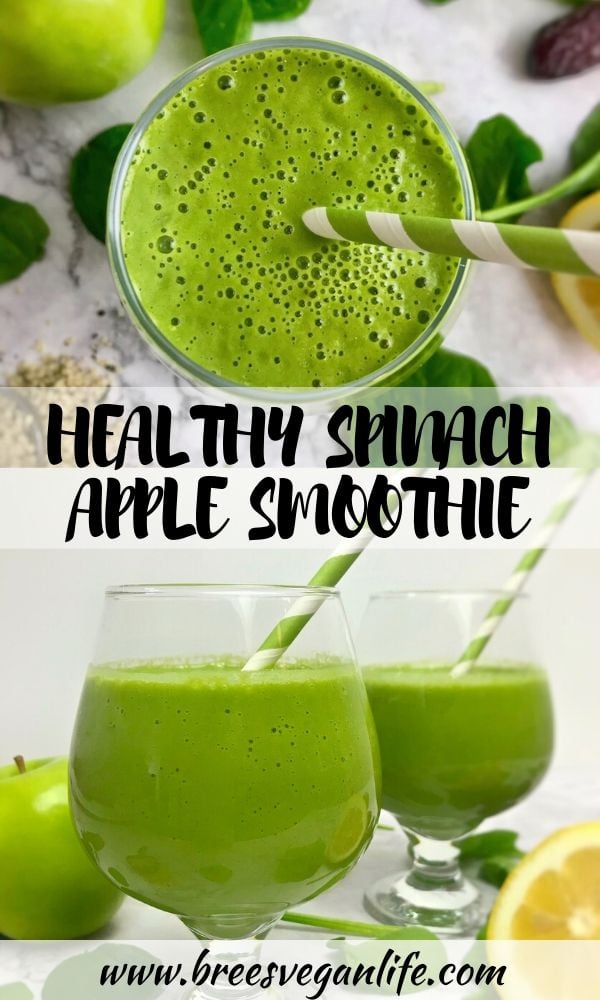 Recipe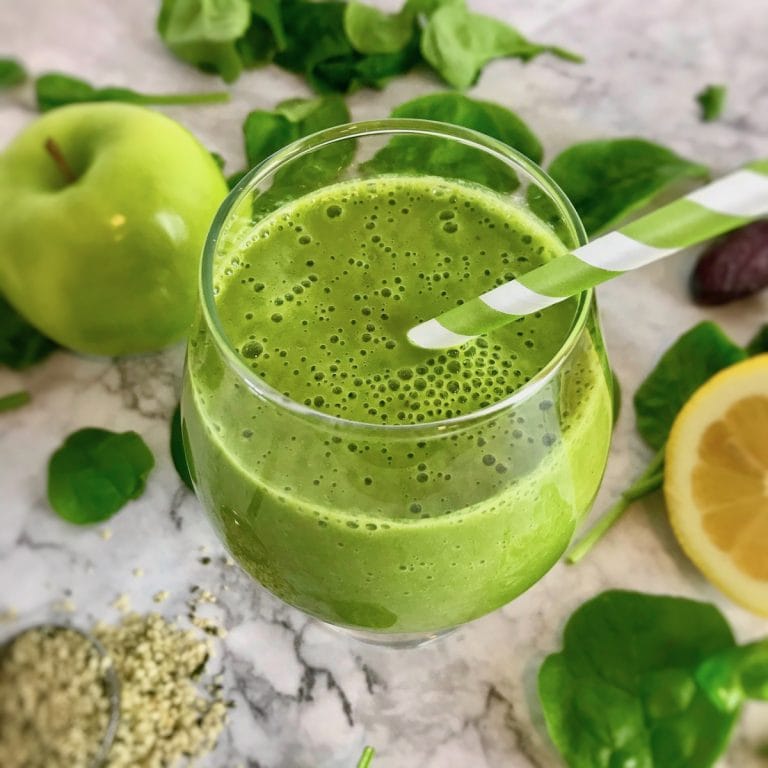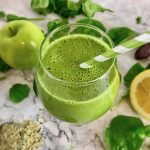 Print Recipe
Spinach Apple Smoothie
This spinach apple smoothie is dairy free, vegan, gluten free, and so refreshing! Adding this green smoothie to your diet is an easy, healthy choice for breakfast or a mid-day snack.
Ingredients
½

cup

oat milk

2

cups

spinach

1

Granny Smith apple

1

tablespoon

hemp seeds

1

tablespoon

chia seeds

1

celery rib

¼

teaspoon

ginger powder

½

frozen banana

Juice of half of a lemon

½

cup

ice

(to cool)
Instructions
*If you have a high-powered blender such as a Vitamix, you can toss everything in and blend until smooth. I use a Vitamix and it all blended easily for me in one go. If your blender doesn't have that level of power, I recommend following the steps below:
Add your milk and spinach to a blender, and blend until the spinach is broken down.

Next, chop your apple and add it to the blender along with the dates (see notes below about peeling the apple and soaking the dates). Ensure the dates are pitted before adding to the blender.

Next, chop your banana and celery. Add them, along with all remaining ingredients except for ice into the blender. Blend until smooth.

Finally, blend in the ice.
Notes
This smoothie makes 1 large or 2 small servings. Nutrition information is estimated for the entire recipe (1 large serving). Keep in mind the sugar is all from natural whole foods, mostly the banana, apple, and dates.
If you don't have a high-powered blender, I recommend soaking your dates first to ensure that they blend. Just place them in a bowl, pour boiling water over them, and let sit for about 15 minutes. Then drain the water and add the dates to your smoothie. The ice should cool them once added to the smoothie. If you have a Vitamix or other high-powered blender that you know can blend dates easily, this soaking is not necessary. 
Same as above applies for peeling your apple. I like to leave the peel on for added nutrients. However if you think that your blender will leave you with chunks of unblended peel, you may wish to remove the peel before blending. 
Nutrition
Calories:
427
kcal
|
Carbohydrates:
91
g
|
Protein:
11
g
|
Fat:
9
g
|
Saturated Fat:
1
g
|
Sodium:
111
mg
|
Potassium:
1174
mg
|
Fiber:
12
g
|
Sugar:
59
g
|
Vitamin A:
6120
IU
|
Vitamin C:
49
mg
|
Calcium:
294
mg
|
Iron:
5
mg
Nutrition Disclaimer
Nutrition information is an estimate generated from a nutrition calculator. There may be errors here or variations based on ingredients you use.