This post contains affiliate links for which I may earn a commission (at no extra cost to you) should you make a purchase. As an Amazon Associate I earn from qualifying purchases. Please see my disclaimer for more information.
This arugula smoothie is an easy way to get a cruciferous vegetable into your diet. This smoothie contains mango and pineapple for a fruity flavour!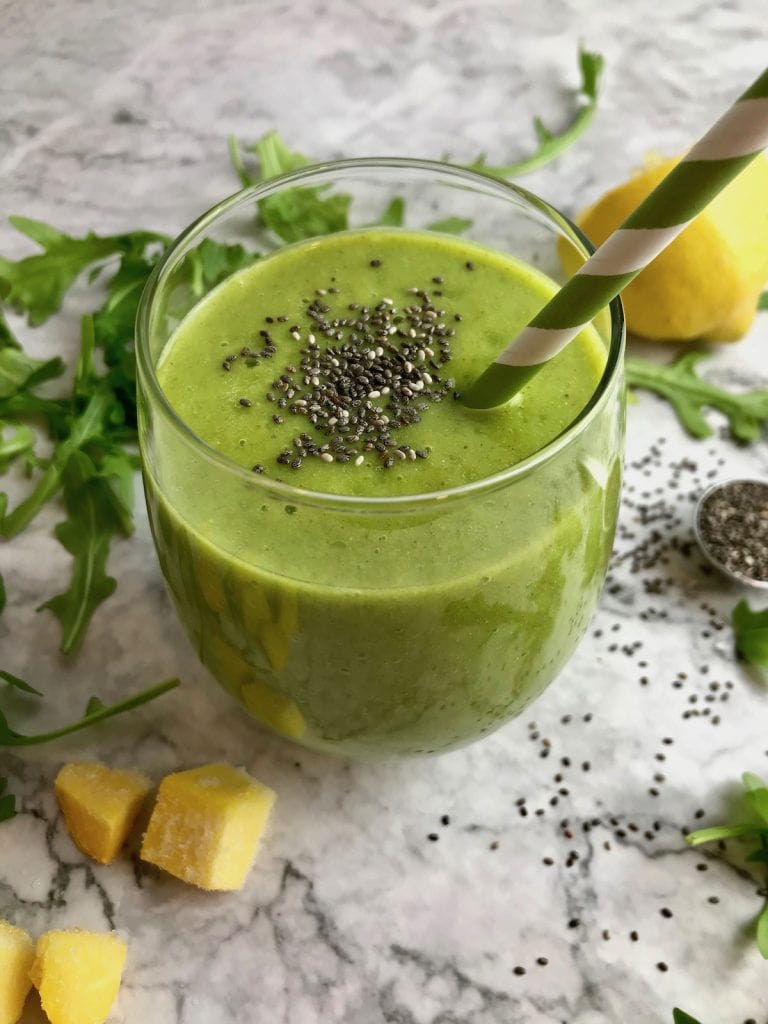 When I first came across a recipe for an arugula smoothie, I was very surprised and curious about what it would taste like. I love arugula in salads or bowls, but I couldn't imagine drinking it in the form of a smoothie!
I thought I'd give it a try, and it turns out arugula is actually a great healthy addition to a smoothie!
This smoothie contains plenty of fruit and lemon juice as well, to balance out the taste of the arugula and create something that tastes intensely refreshing!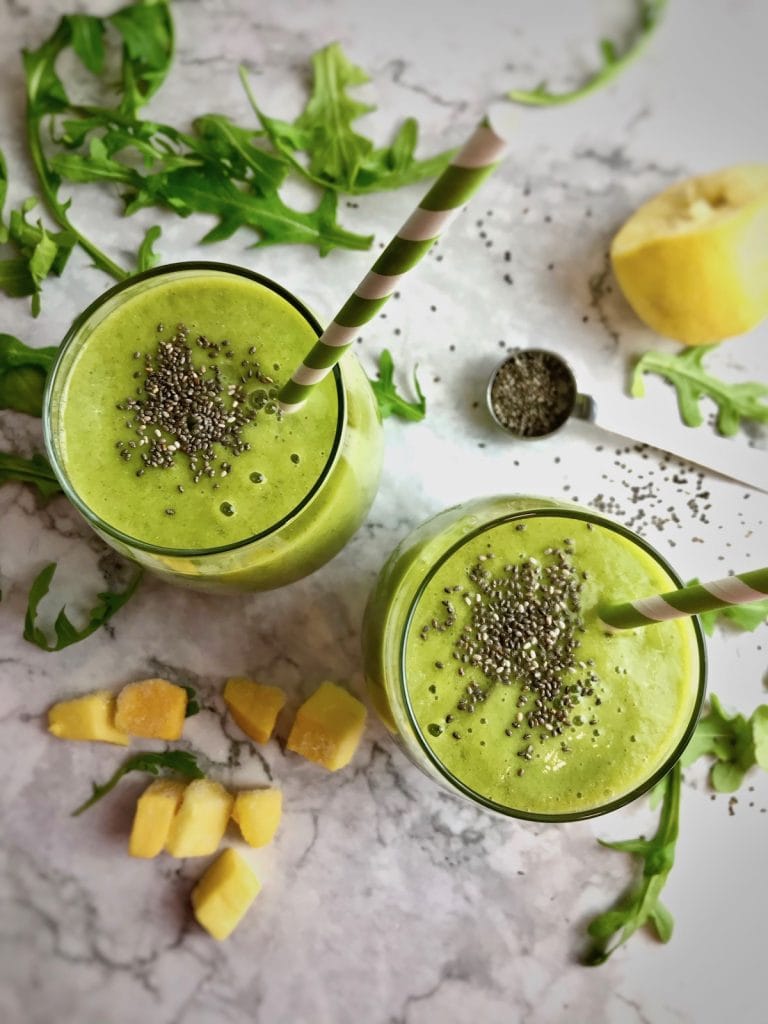 Why you should eat arugula
Arugula has numerous health benefits. It is a cruciferous vegetable and is high in several vitamins and minerals.
It is a great source of vitamin K, which has been shown to improve bone health, cognitive health, and heart health, according to Medical News Today.
All cruciferous vegetables play an important role in a person's health. According to Dr. Michael Greger of NutritionFacts.org, they can activate your body's defenses and slow or stop the spread of cancer.
You should try to incorporate cruciferous vegetables into your diet everyday, and this arugula smoothie is a quick and easy way to do it!
You can also try this oil-free pesto to get some more arugula into your diet.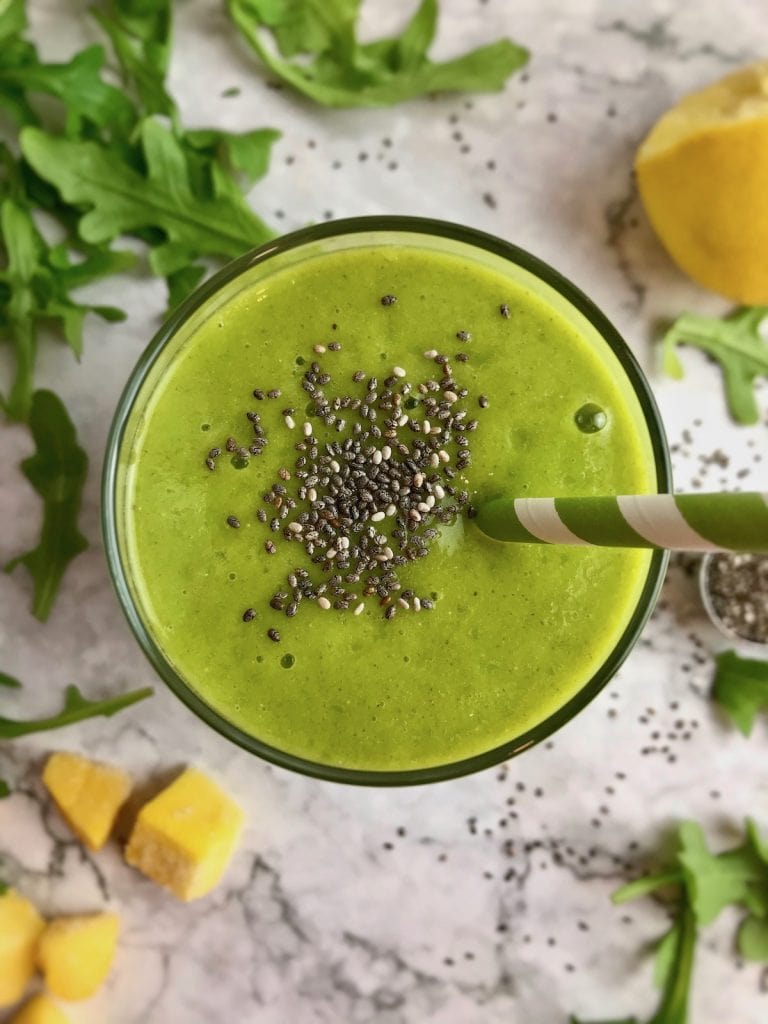 Can you taste the arugula in this smoothie?
Absolutely!
In certain green smoothies, the taste of leafy greens is masked by fruit and other sweetners such as maple syrup. This is common in smoothies that contain spinach, which is why I recommend spinach smoothies for those just starting out with green smoothies.
In this arugula smoothie, you can definitely taste the arugula. It has a strong, distinct taste, but with the addition of frozen fruit and some lemon juice, I find the taste of the arugula to be just right!
You will love this smoothie if you enjoy arugula, but if you were hoping to mask the taste of it, this smoothie isn't for you.
The arugula takes centre stage in this one!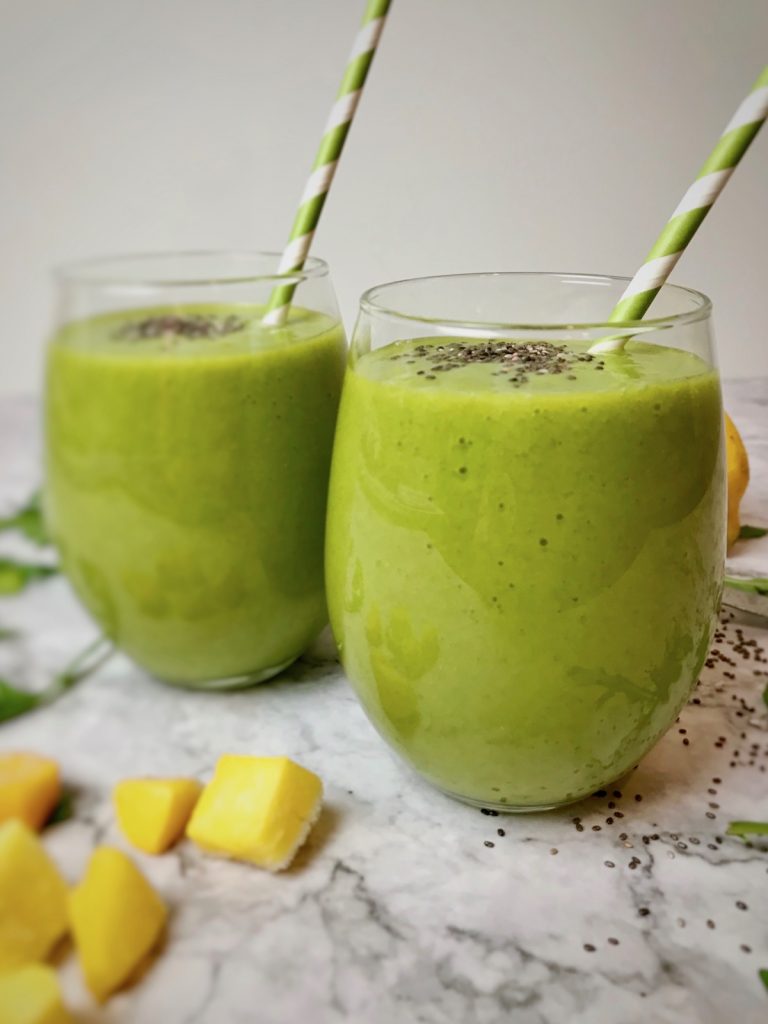 Tips
Don't pack your arugula too tightly when you're measuring it. One cup of arugula is about 20 grams, so use a scale if you have one for more precision.
This smoothie contains the juice of approximately one whole lemon. This may seem like a lot, but I think it's necessary to create a nice flavour. You may even want to add a bit more if you want to sweeten it up some more.  
The chia seeds aren't necessary, but I highly recommend them for the added nutritional value. They also add a bit more thickness to the smoothie. If you don't like the texture of chia seeds in your smoothie, blend them up completely in your blender before serving.
This smoothie contains a lot of frozen fruit, so having a powerful blender is best. I use a Vitamix, so I have no issue blending this up, but if your smoothie gets stuck, just add a bit more water until you can get it moving.
Other delicious green smoothies:
PIN IT FOR LATER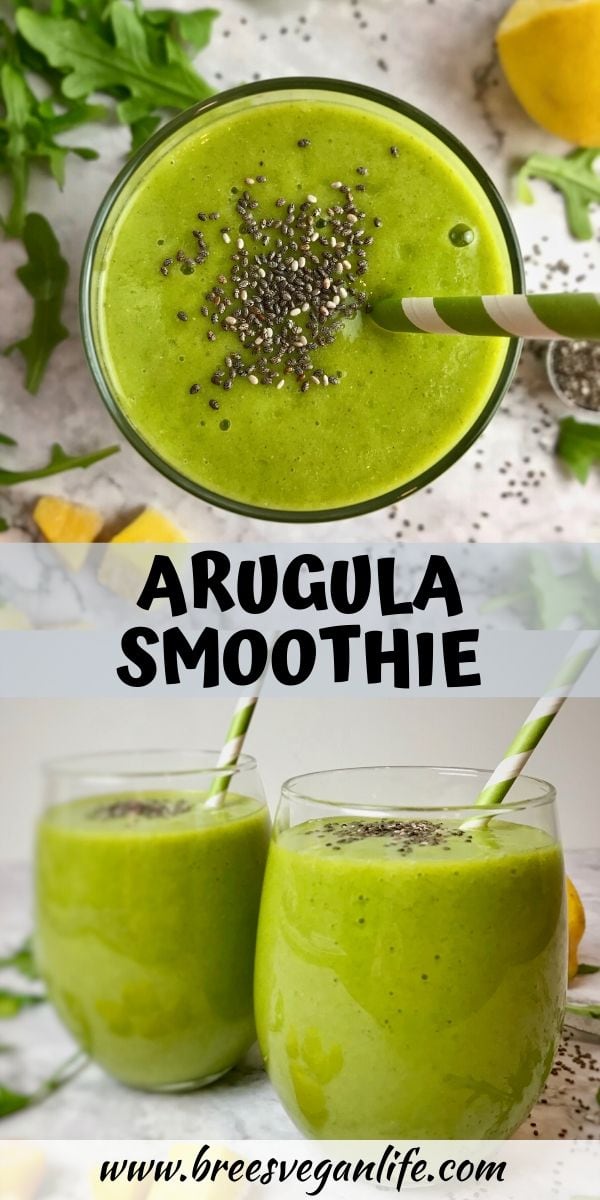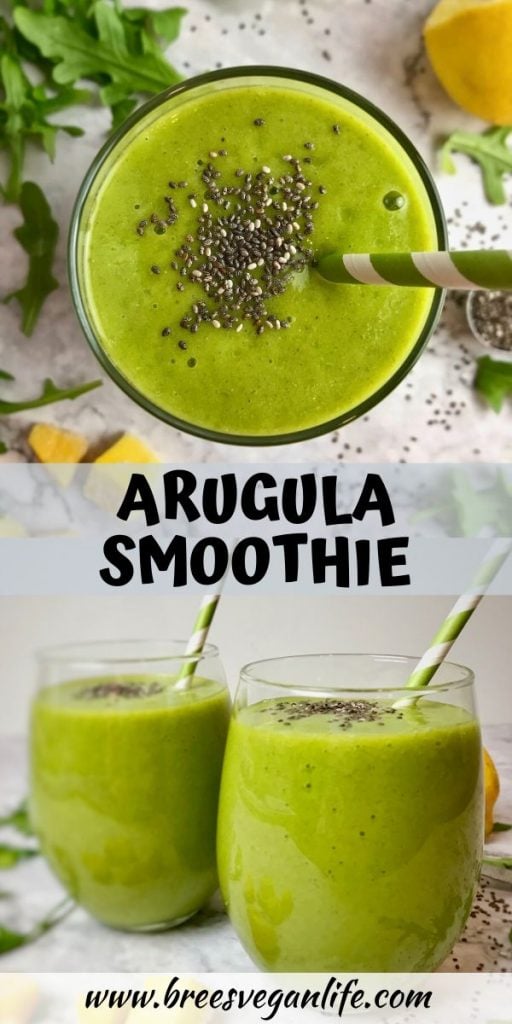 Recipe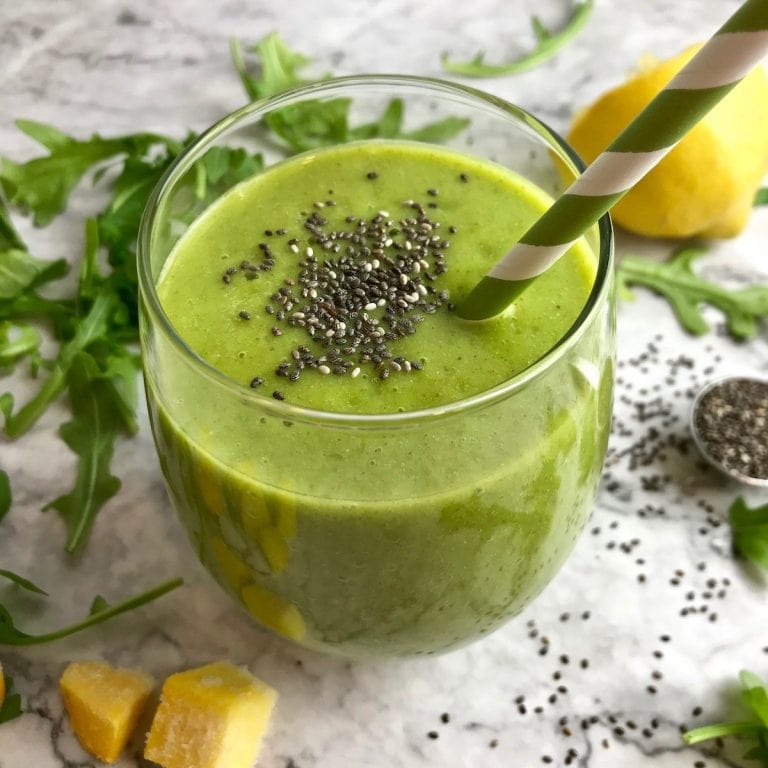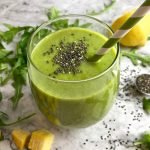 Print Recipe
Arugula Smoothie with Pineapple and Mango
This arugula smoothie is an easy way to get a cruciferous vegetable into your diet. This smoothie contains mango and pineapple for a fruity flavour!
Ingredients
1 ½

cups

arugula

1 ¼

cups

water

2

tablespoons

lemon juice

or more to taste

1

frozen banana

½

cup

frozen mango

1

cup

frozen pineapple

1

tablespoon

chia seeds
Instructions
Add all ingredients to a blender and blend until smooth. If you don't have a high-power blender, you may have to add a bit more water.
Notes
This recipe makes two servings. Nutrition information is for a single serving.
You can omit the chia seeds if you want.
If you find the taste of arugula to be too strong, add some more lemon juice. 
Nutrition
Calories:
144
kcal
|
Carbohydrates:
35
g
|
Protein:
3
g
|
Fat:
2
g
|
Saturated Fat:
1
g
|
Sodium:
14
mg
|
Potassium:
450
mg
|
Fiber:
6
g
|
Sugar:
22
g
|
Vitamin A:
888
IU
|
Vitamin C:
68
mg
|
Calcium:
73
mg
|
Iron:
1
mg
Nutrition Disclaimer
Nutrition information is an estimate generated from a nutrition calculator. There may be errors here or variations based on ingredients you use.