This post contains affiliate links for which I may earn a commission (at no extra cost to you) should you make a purchase. As an Amazon Associate I earn from qualifying purchases. Please see my disclaimer for more information.
This healthy chocolate fruit dip is a delicious dip for any fruit! I especially enjoy using it as a dip for strawberries, bananas, and apple slices.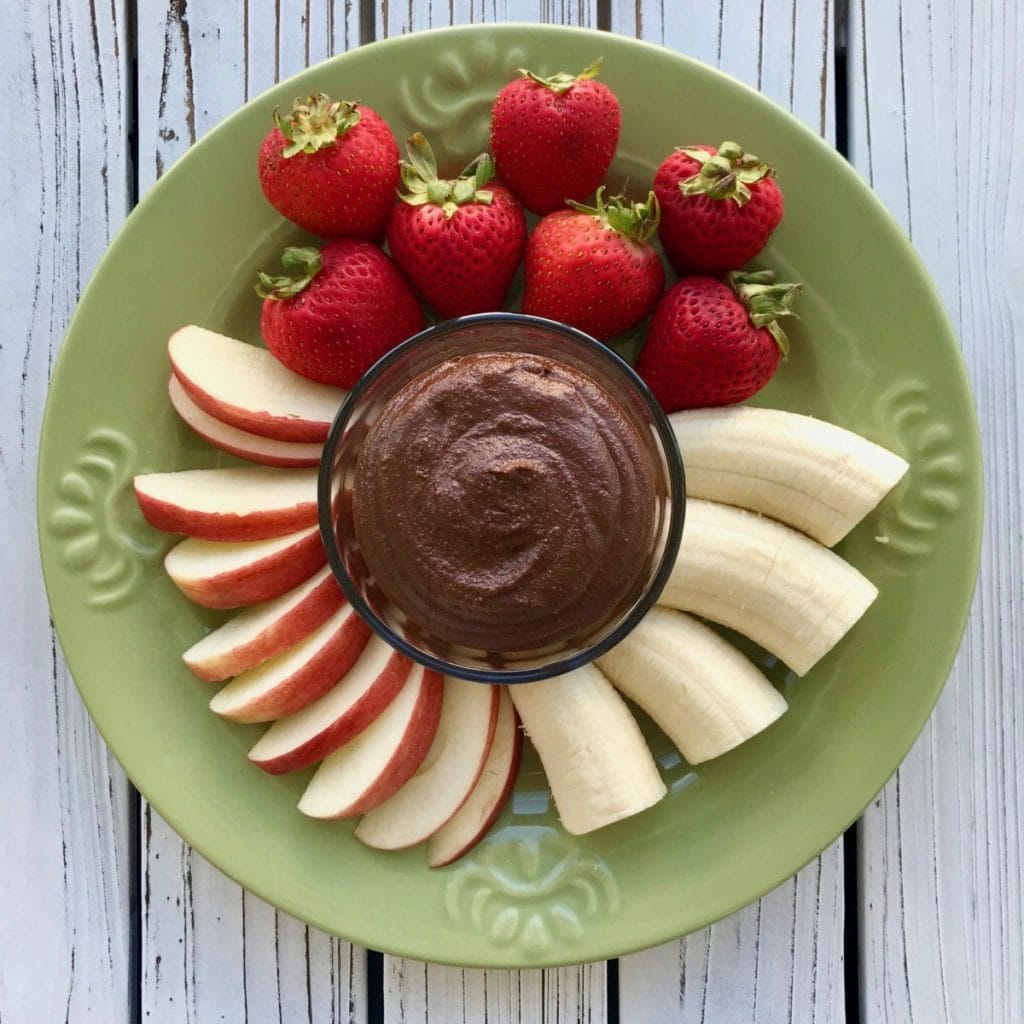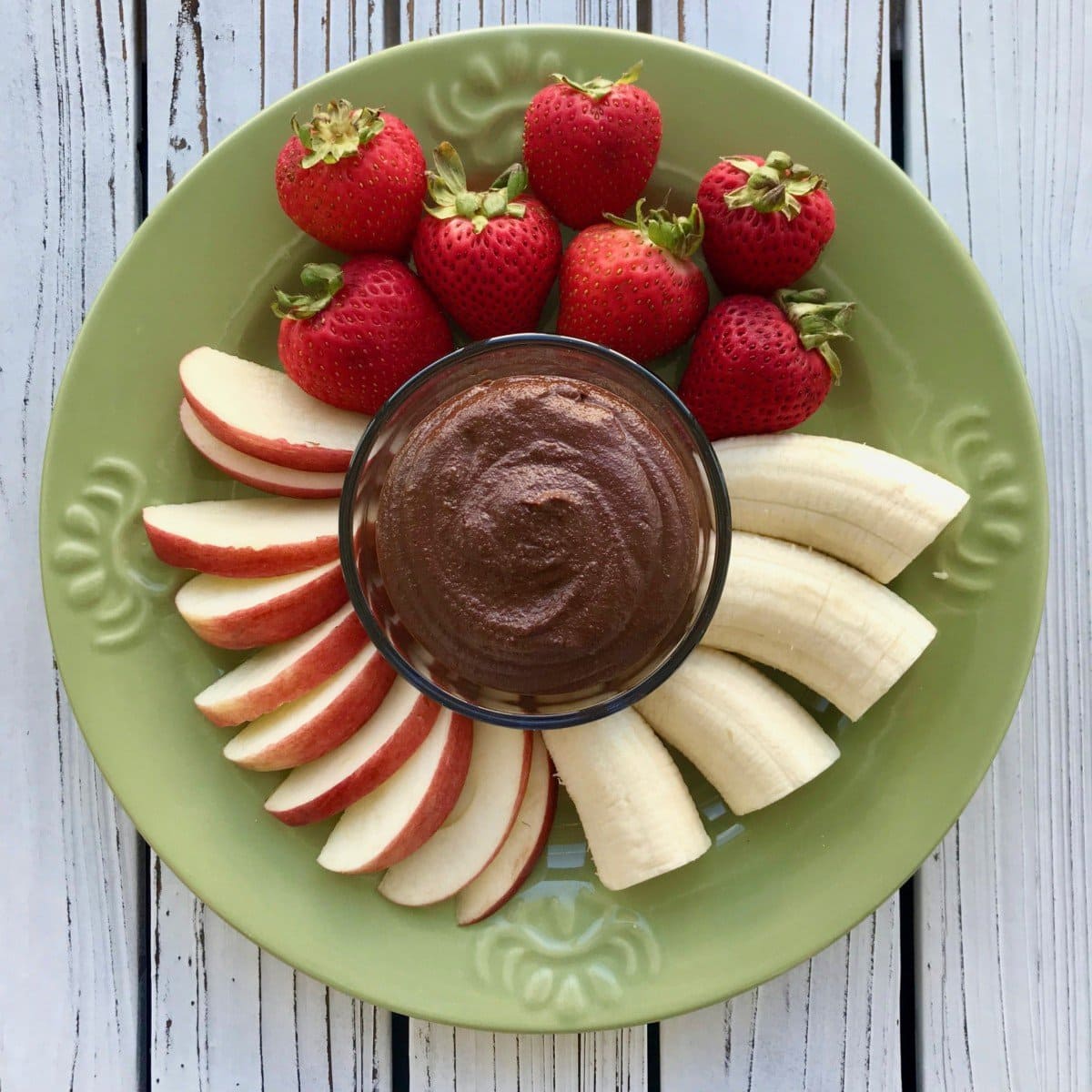 Fruit is the perfect snack to take to work or school, but sometimes it can be boring. I decided to make this chocolate dip when I was eating an apple one day and I was really craving something chocolatey. I often dip my apple slices in peanut butter, so I thought why not dip it in chocolate?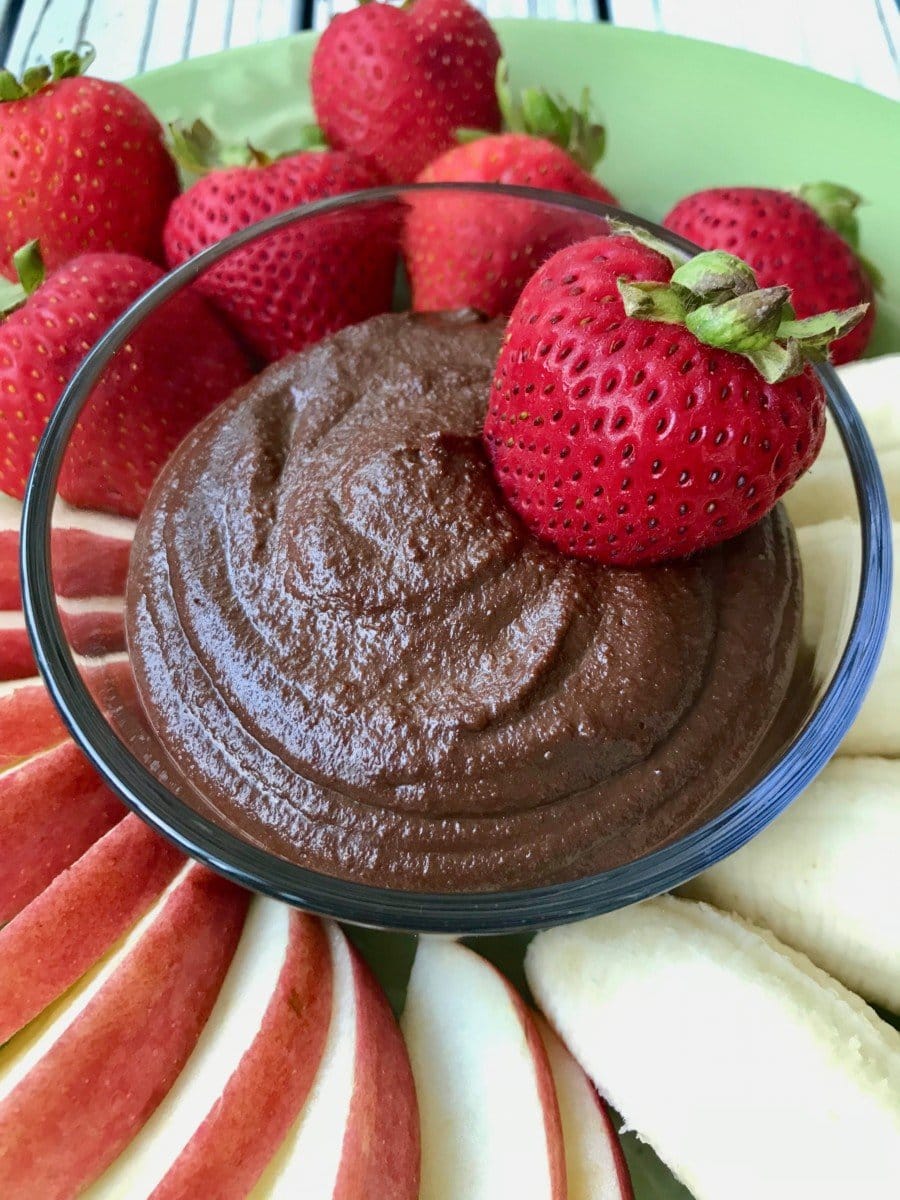 If you aren't really a fruit lover and you've been trying to get more fruit into your diet, this dip will be perfect for you! It's also a great way to get your kids to eat more fruit!
This chocolate fruit dip is:
Sweet
Thick
Chocolatey
Healthy
Vegan
Gluten-Free
Easy to make
This fruit dip only includes 5 healthy ingredients! You will need:
Cashews
Maple syrup
Cacao powder
Almond milk
Vanilla extract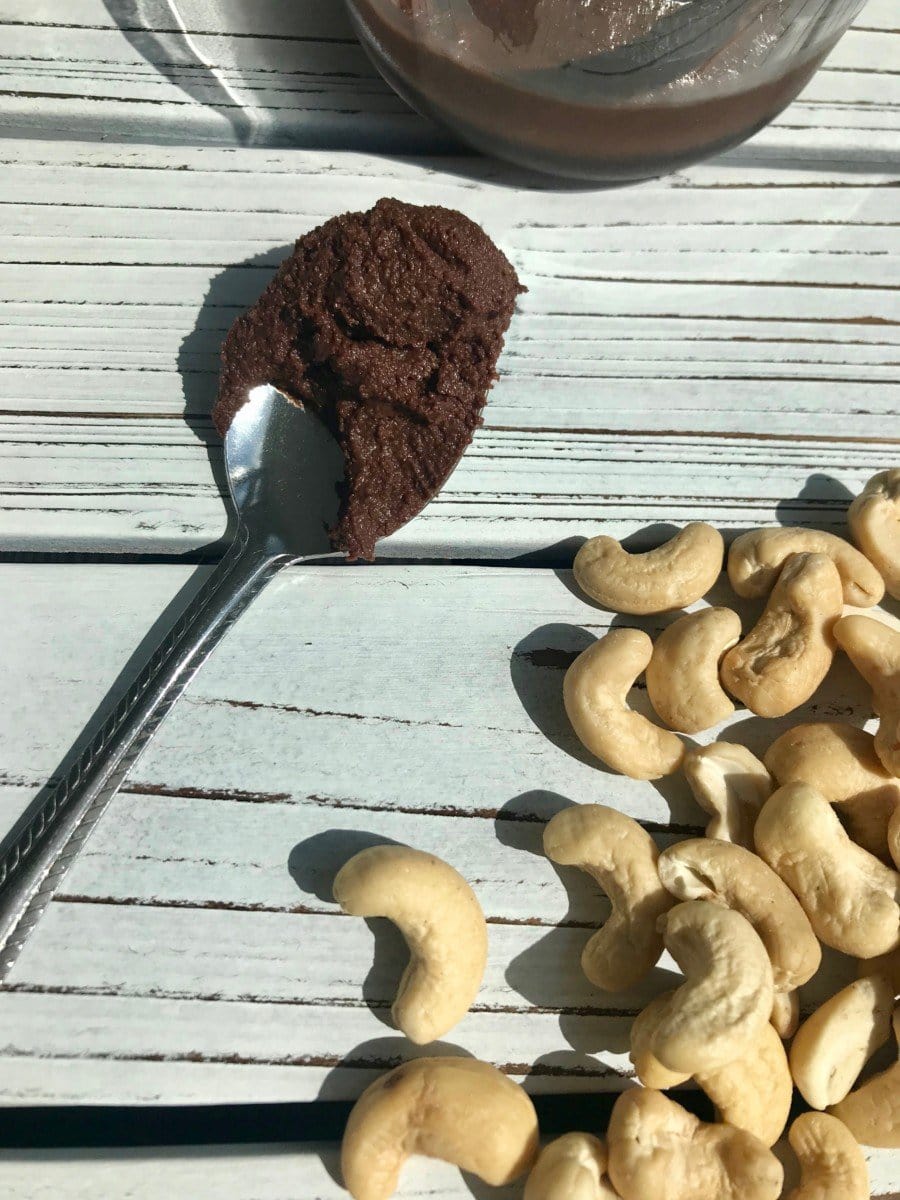 Softening the cashews
Cashews create the base of this dip. In order to get a smooth and creamy chocolate dip, you're going to need to soften the cashews. To do this, you can either soak them or boil them on the stove.
If you choose to soak your cashews, cover them completely with water in a bowl for at least 4 hours. Soak them overnight to make the dip even smoother!
If you're eager to make this dip quickly and don't want to wait for your cashews to soak, you can boil them on the stove. Just boil the cashews in a pot of water for about 10-15 minutes.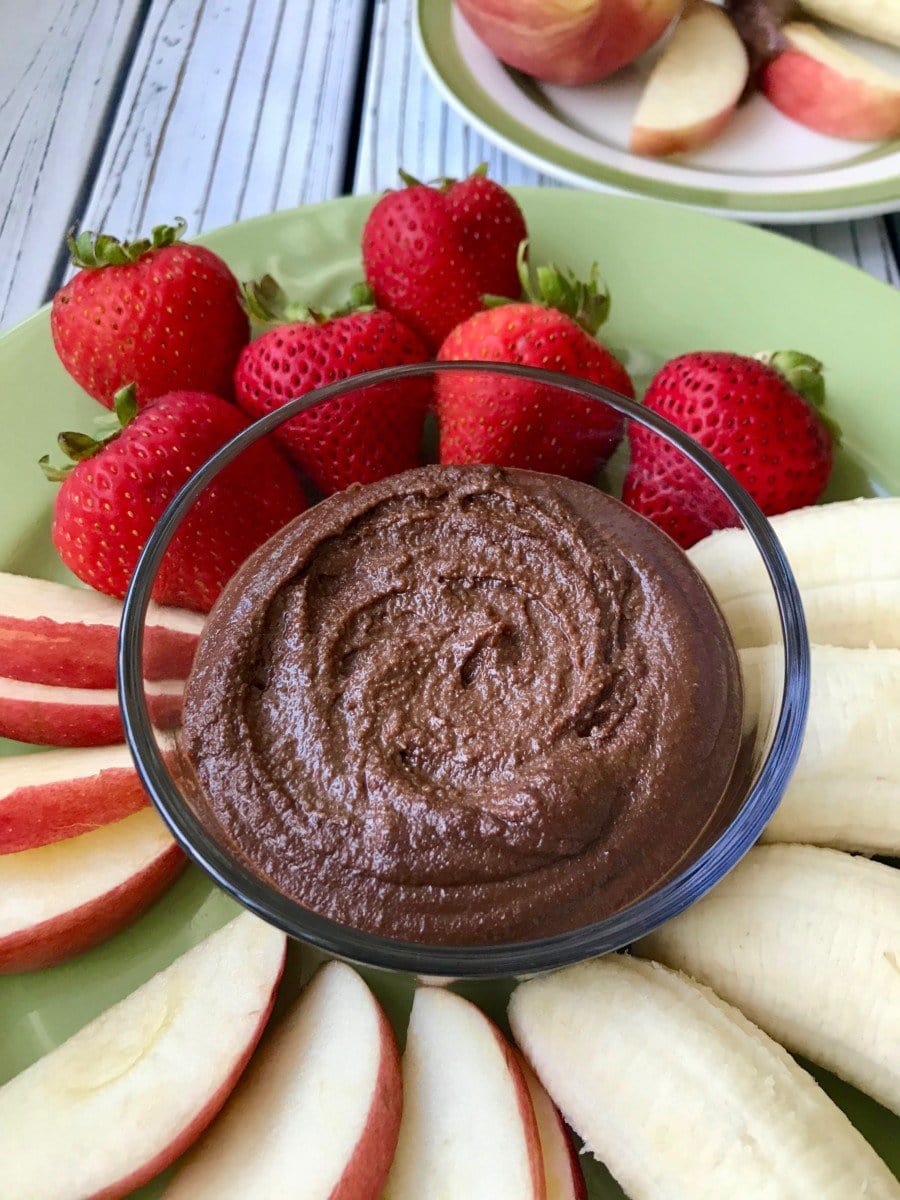 Using This Chocolate Dip
You can serve this healthy chocolate fruit dip as a dessert when you have a get-together with friends or family. Make a fruit platter centered around a dish of this chocolate dip! It will be a hit with anyone who is a chocolate lover!
Some other ideas for using this dip:
Dip some crackers in it
Spread it on bread or a bagel
Spread it on toast
Make a dessert tortilla
Stir it into your oatmeal
Check out this Avocado Chocolate Mousse recipe for more healthy chocolate goodness!
Recipe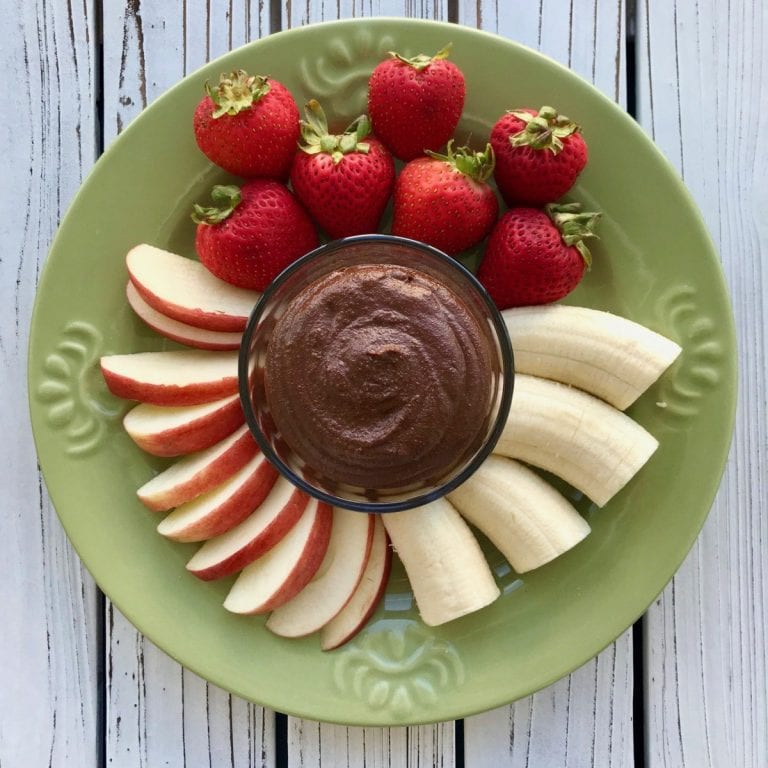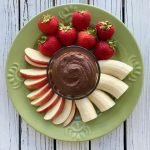 Print Recipe
Healthy Chocolate Fruit Dip
This healthy chocolate dip is the perfect fruit dip! It is easy to make and is a tasty snack with
some strawberries, apples, and bananas.




Ingredients
½

cup

raw cashews

5

tablespoon

maple syrup

4

tablespoon

cacao powder

2

tablespoon

almond milk

unsweetened

¼

teaspoon

vanilla extract
Instructions
Start by either soaking the cashews for at least 4 hours, or boiling them on the stove for 10-15 minutes.

Add all ingredients to a food processor and blend until smooth.
Notes
The longer you soak or boil the cashews, the smoother your dip will be.
Store in the refrigerator.
The dip will thicken in the refrigerator. If you want to thin it out a bit, add a small amount of almond milk.
Nutrition Disclaimer
Nutrition information is an estimate generated from a nutrition calculator. There may be errors here or variations based on ingredients you use.