This post contains affiliate links for which I may earn a commission (at no extra cost to you) should you make a purchase. As an Amazon Associate I earn from qualifying purchases. Please see my disclaimer for more information.
Looking for a delicious vegan dessert for Christmas this year? Check out this list of incredible options!
Choose from cookies, cakes, and more this holiday season!
A few notes: Many of these recipes include sugar as an ingredient. Sometimes cane sugar is processed with bone char, so ensure that the sugar you use is vegan.
White sugar, brown sugar, and confectioner's sugar may be processed with bone char unless it is certified vegan or organic. Organic sugar is never processed with bone char, and neither is coconut sugar or beet sugar.
Also make sure that any chocolate chips you use are vegan. Not all dairy-free or dark chocolate is vegan, so look for a vegan certification if you want to be sure.
The same goes for vegan butter. Make sure it is actually vegan and not just dairy-free. Dairy-free doesn't always mean it's vegan.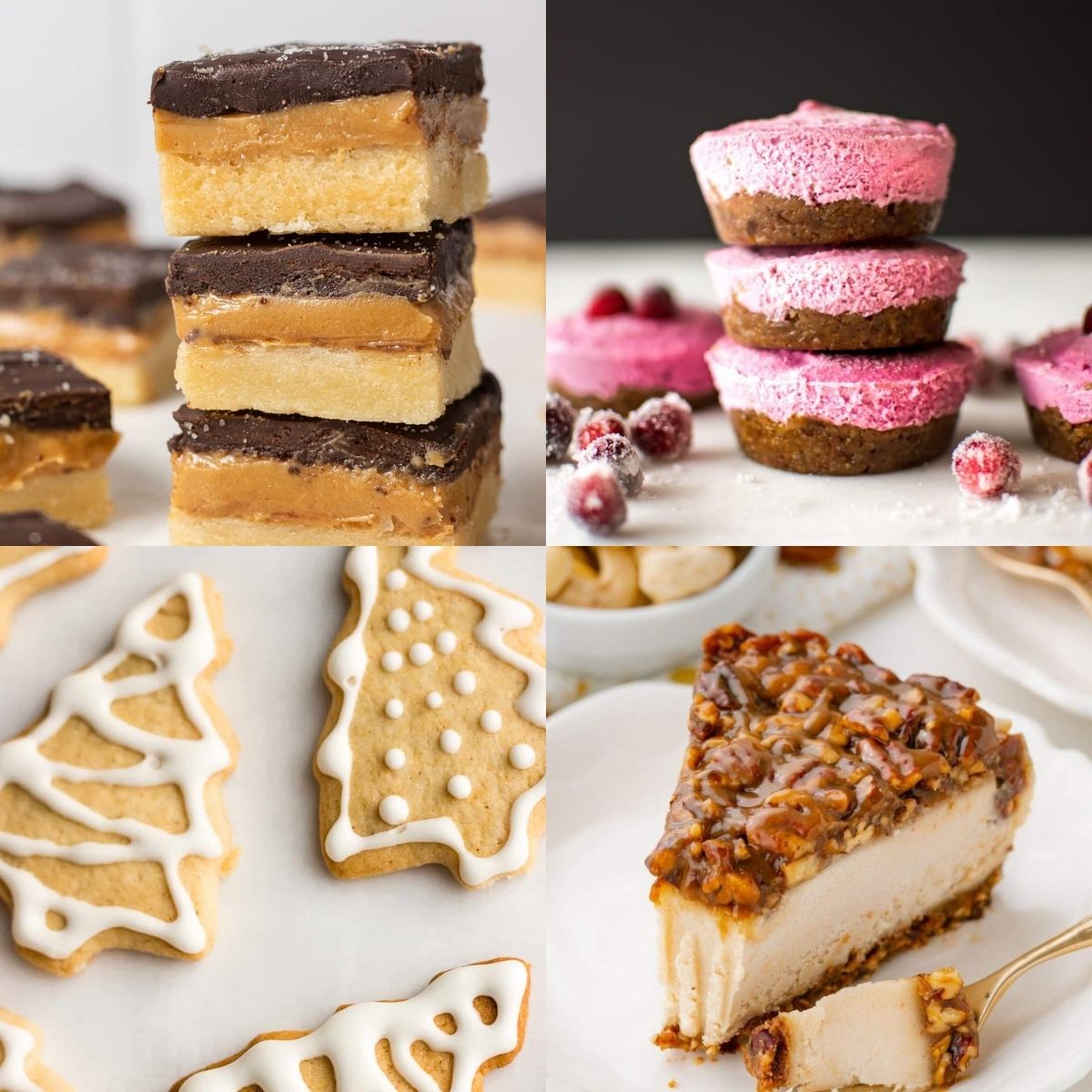 Jump to:
Vegan Christmas Desserts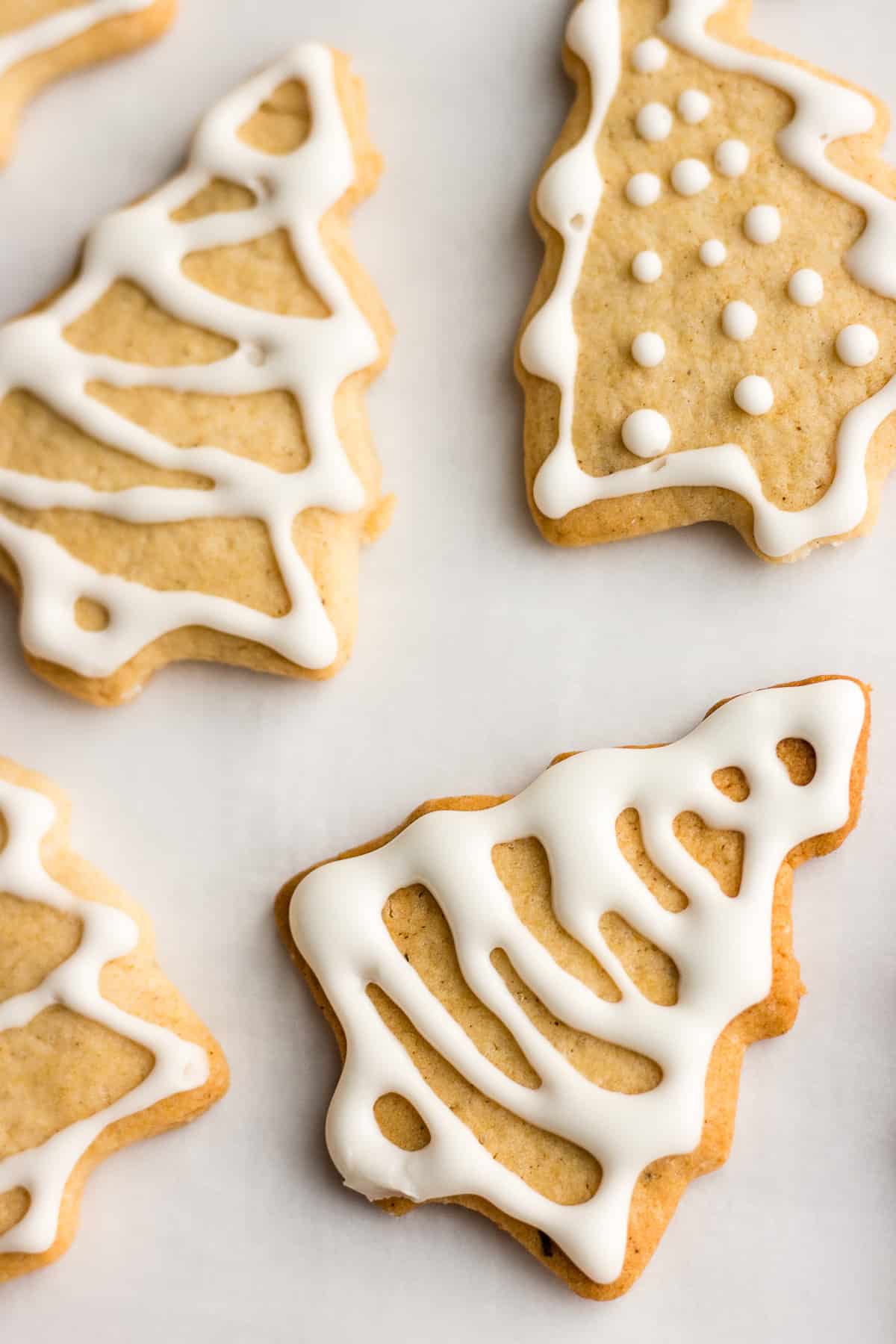 These ginger spice cookies are just like cutout sugar cookies, but made with warm spices like ginger, cloves, and cinnamon for a delicious holiday flavor. They have a bit of a crunch, but are soft too.
Once you've made the cookie dough, it is rolled out and you can use Christmas-shaped cookie cutters to make them cute and festive!
This recipe also includes instructions for making a vegan aquafaba frosting that you can use to decorate the cookies.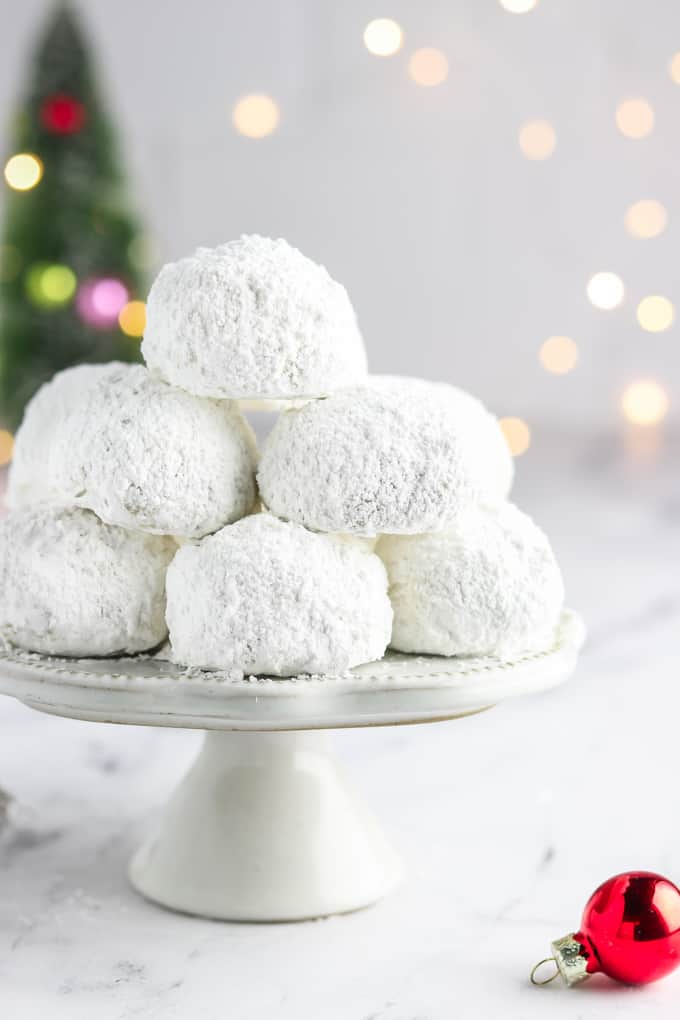 These vegan snowball cookies are the perfect Christmas treat! They are round buttery cookies that are coated in powdered sugar.
These Christmas cookies will be done in just 25 minutes and you only need 7 simple ingredients to make them. They contain chopped pecans for a nice, nutty flavor, but the nuts can be swapped out for vegan chocolate chips if you need these to be nut-free.
This chocolate cranberry cake is fudgy and filled with vegan dark chocolate chips and fresh cranberries. It is made with whole wheat flour, and instead of regular cane sugar this cake is sweetened with coconut sugar.
This cake is baked in a bundt pan and once cooled, you can pour a delicious vegan chocolate glaze over it!
This cake would be great served with some vegan coconut whipped cream, or just on its own!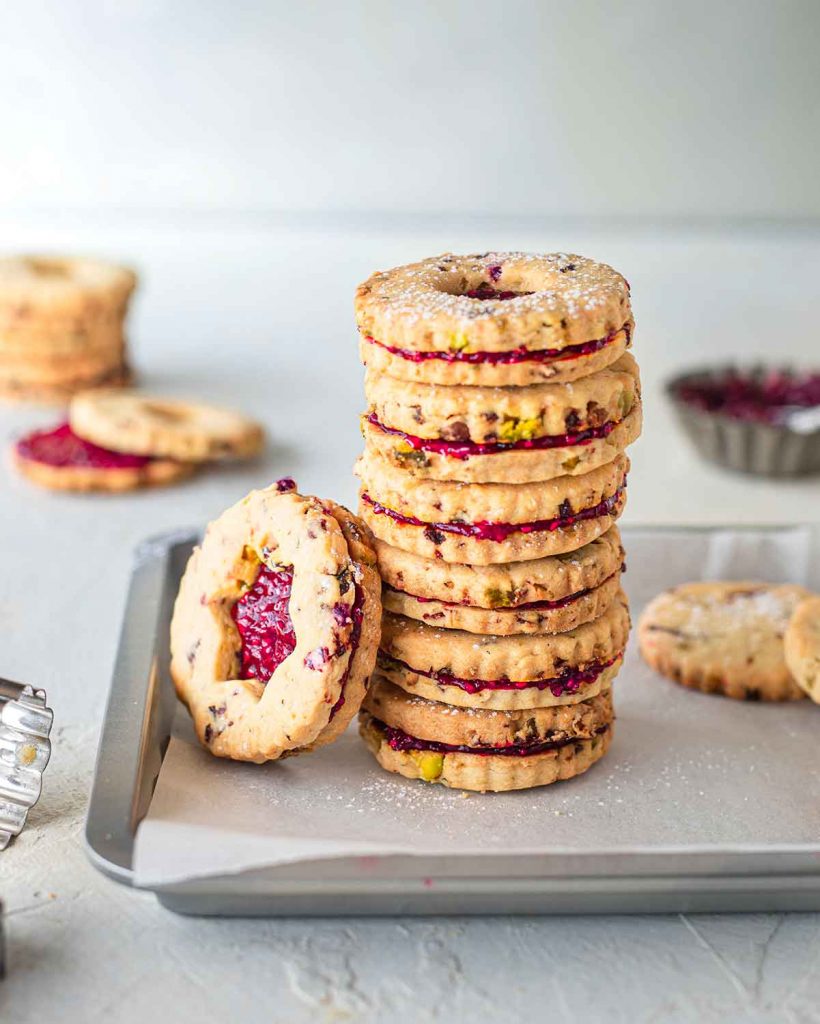 These festive cookies are made with two vegan shortbread cookies with raspberry jam in between. The shortbread cookies are unique and delicious, as they have chopped pistachios and dried cranberries in them.
If you don't want to create sandwich cookies with jam, you could just serve the shortbread cookies individually. They are great on their own!
These millionaire's shortbread bars are a delicious vegan take on the classic treat.
They have a soft shortbread base, a vegan caramel layer, and a chocolate ganache on top.
This recipe comes with two vegan caramel options: one made with coconut milk and one made with nut butter. They are both easy to make and super tasty!
Vegan Gluten-Free Christmas Desserts
Some of the gluten-free and vegan Christmas desserts on this list contain oats. Make sure you use certified gluten-free oats if cross-contamination is an issue for you. Also check that all packaged ingredients are gluten-free as brands may vary.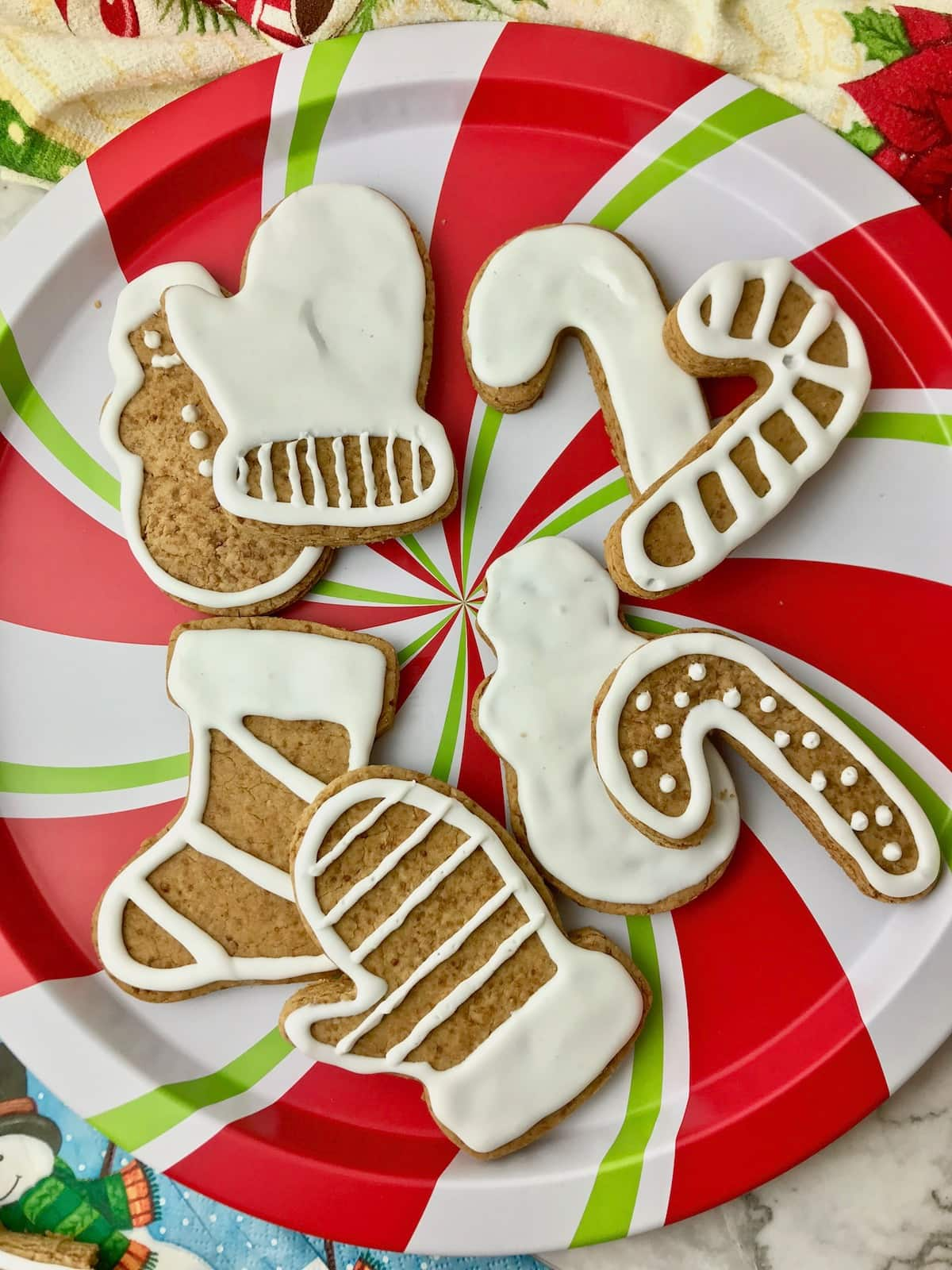 These Christmas cutout cookies are made with coconut sugar and they are so good!
Use whatever Christmas shapes you'd like for these cookies and decorate them with icing if desired. I sometimes just eat them plain though because they are so tasty!
These cookies are super easy to make and only bake for 10 minutes.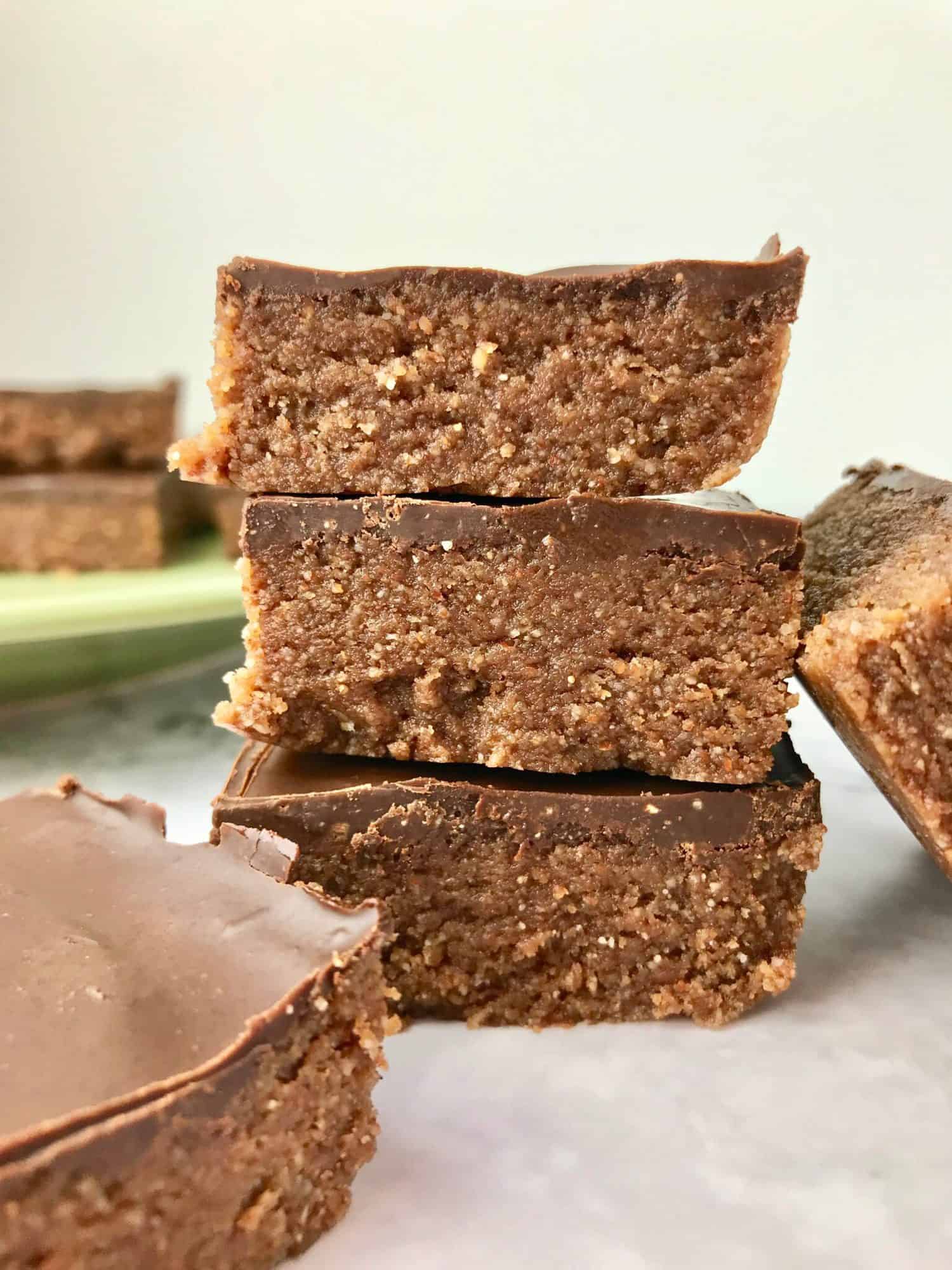 These chocolate almond butter bars are super easy to make and incredibly delicious!
The have a thick almond butter base and a chocolate almond butter top. These bars require no baking either!
Everyone will love these for Christmas!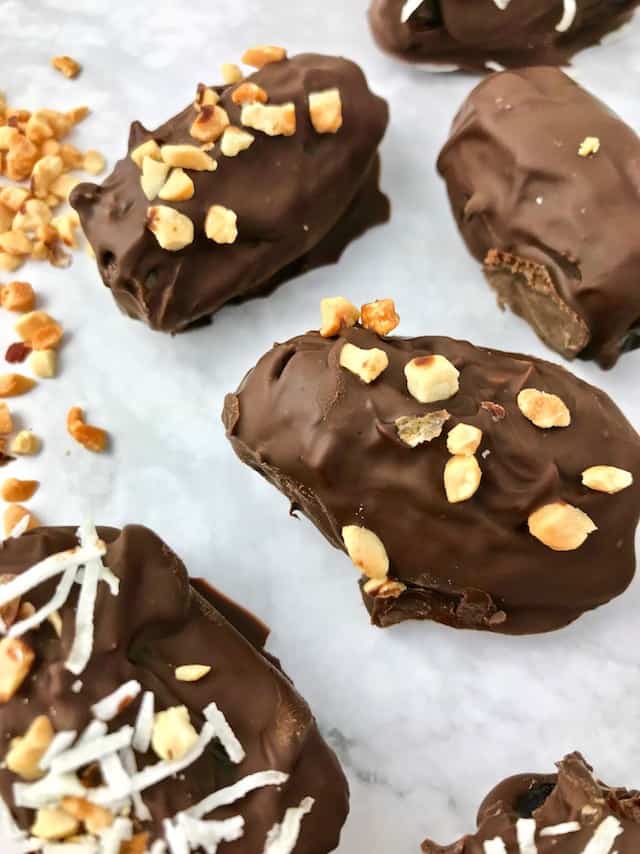 Peanut butter stuffed dates are a must-try! They are one of my favorite treats and super simple to make.
Add a vegan chocolate coating to make these dates more indulgent for Christmas.
You can also sprinkle on some chopped nuts and/or coconut flakes.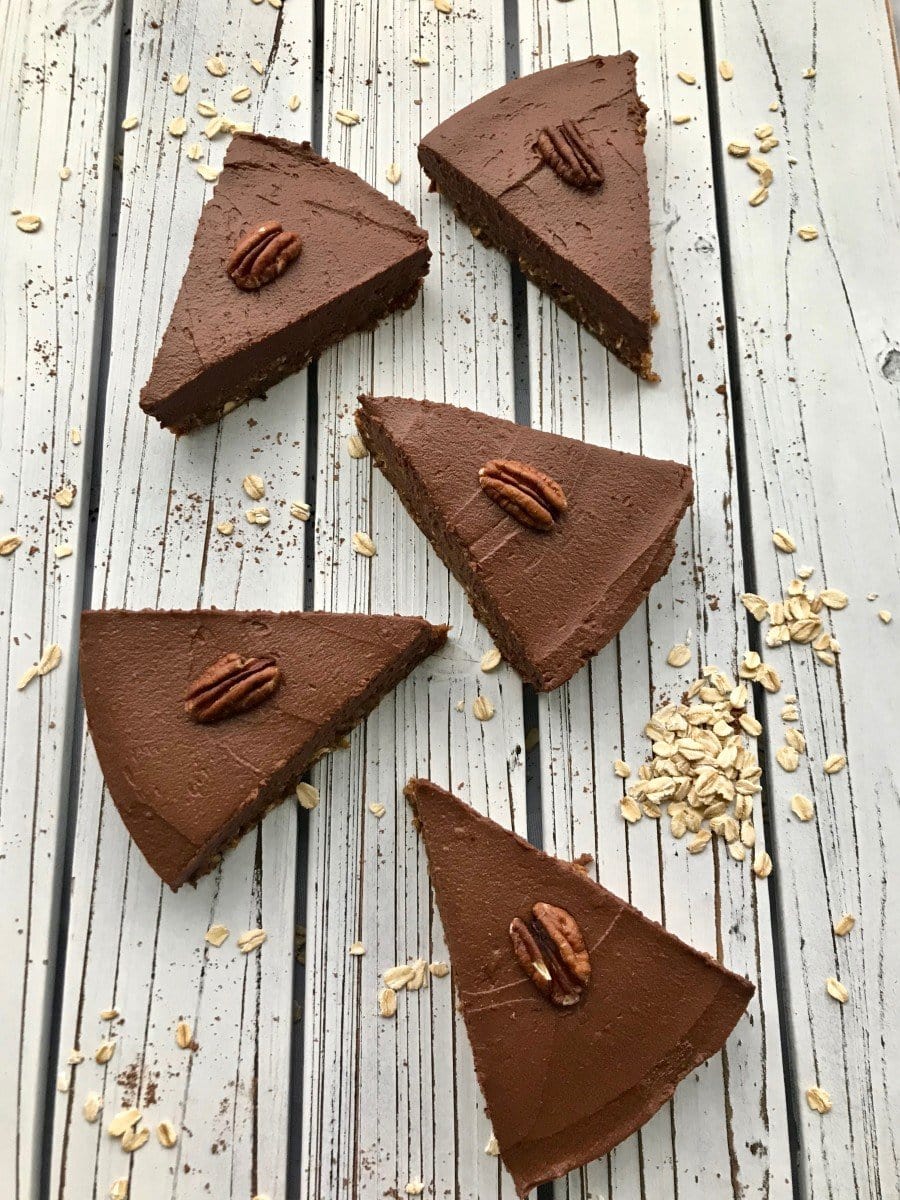 This pie has a date, nut, and oat base with a delicious chocolate filling. The filling is made with sweet potato and coconut cream and sets in the fridge.
If you're looking for a healthier Christmas dessert, this chocolate sweet potato pie is a great option!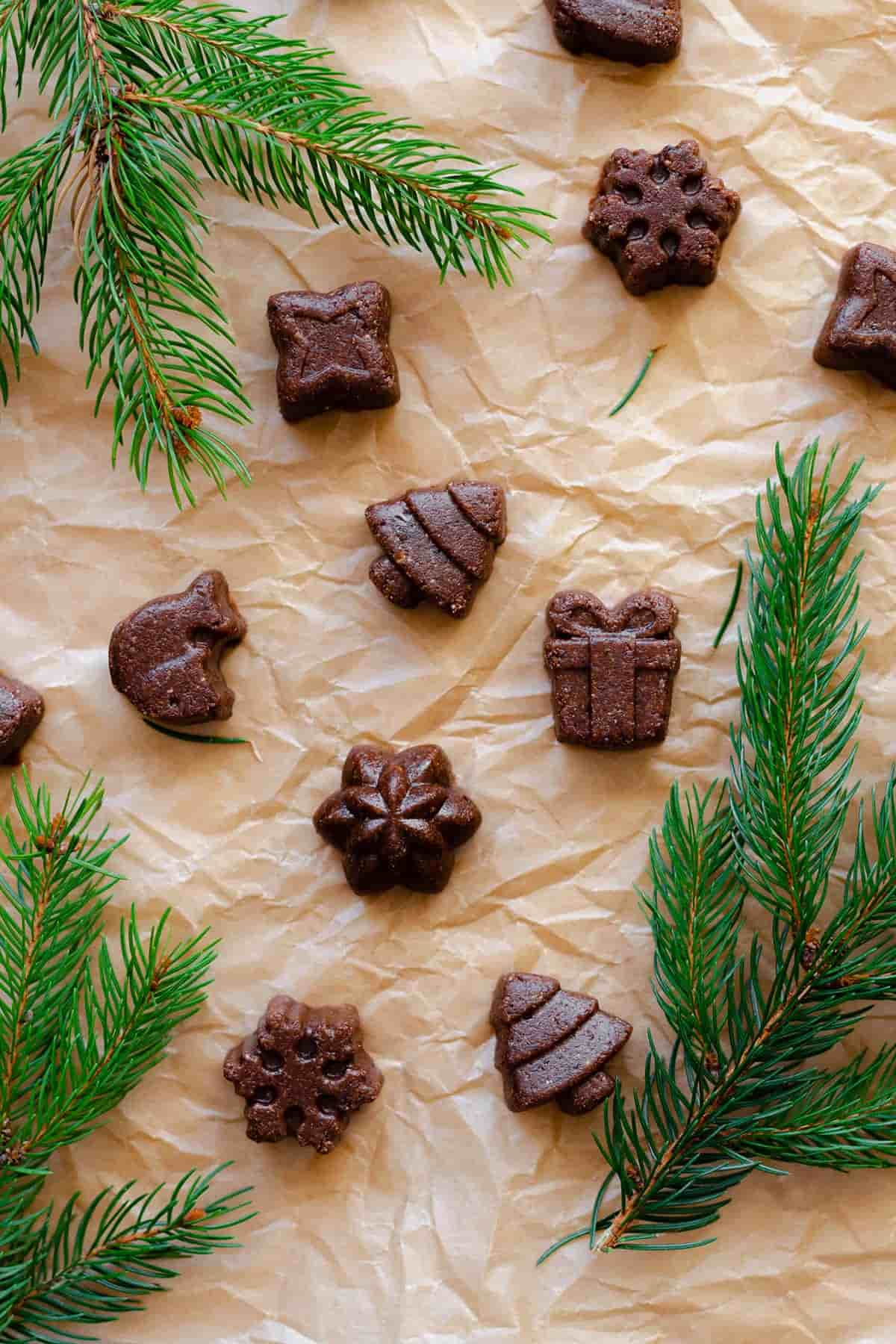 These vegan fudge bites only require 3 simple ingredients, with some optional ingredients to add to the flavor. They are made with roasted hazelnuts and have a delicious chocolate hazelnut taste.
This is a soft fudge that is similar to cookie dough, and it can be molded into cute Christmas shapes! Add some cinnamon or sprinkle these fudge bites with some salt if desired.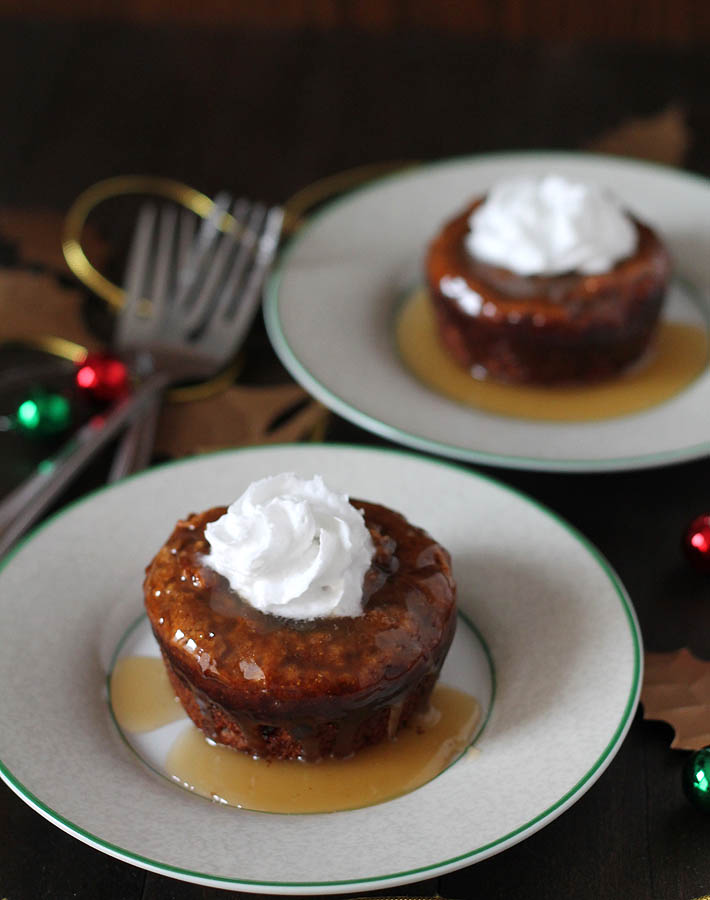 This sticky toffee pudding is both vegan and gluten-free, so it isn't quite traditional, but it's a great adaptation.
This recipe makes individual sized cakes that are baked in a muffin pan, and they are each drizzled with a delicious maple caramel sauce. Before drizzling, you will poke them with a skewer so the sauce can soak into them.
This sticky toffee pudding is super sweet and decadent, so it's great as a Christmas dessert! You can eat these plain, or top them with some vegan vanilla ice cream or coconut whipped cream.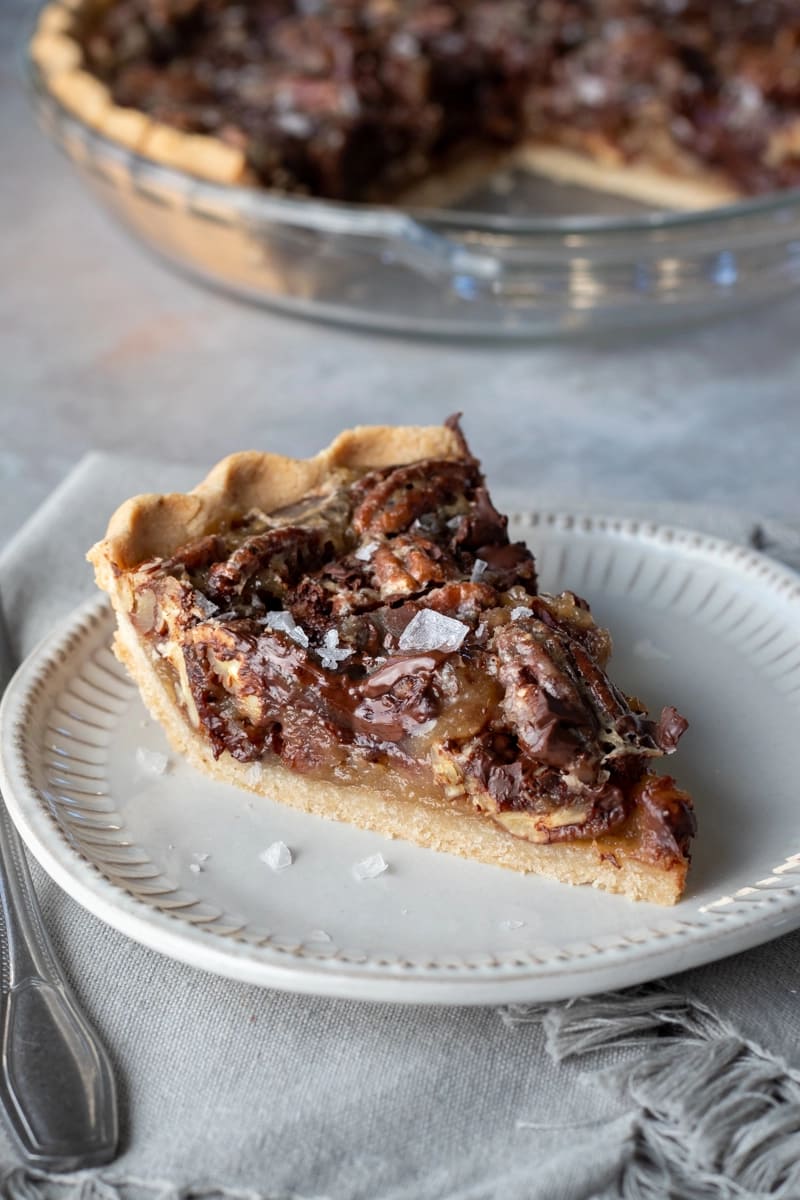 This festive vegan pie has a filling made with oatmeal, toasted pecans, and chunks of vegan dark chocolate. It has a variety of textures with creaminess and crunch included.
This pie holds up well at room temperature, so you don't need to worry about keeping it refrigerated.
It's great on its own or with some vegan ice cream or coconut whipped cream!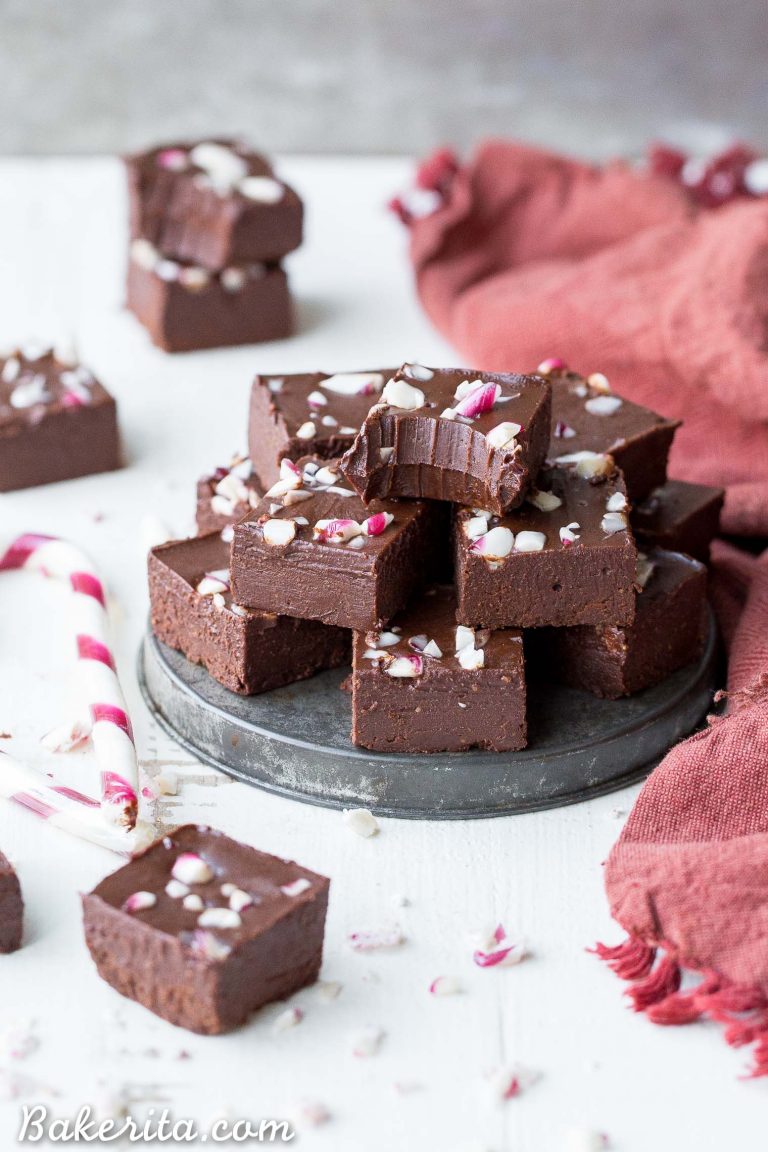 This fudge is a great vegan Christmas dessert with a chocolate peppermint taste. Only 5 ingredients are required for this vegan fudge and can be made way faster than most fudge!
This fudge is smooth and creamy and melts in your mouth. It has the perfect texture! Some peppermint extract gives this treat a delicious holiday taste that you and your guests will love!
If you would like, you can add some crushed candy canes on top of the fudge, or some cacao nibs. This is for some added flavor and crunch, but not required.
*This recipe lists honey as a possible alternative to the maple syrup, but make sure you use maple syrup if you want to keep this fudge vegan.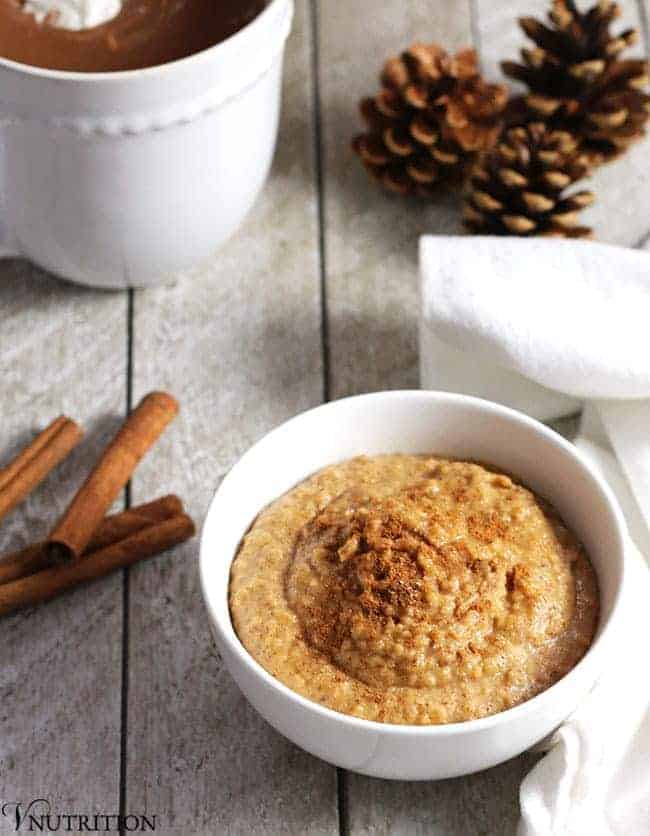 This is a dessert hummus made with chickpeas and sweet ingredients that give it a delicious Snickerdoodle taste. It hass a cinnamon sugar taste that pairs well with fruit.
This dip is sweetened with maple syrup and is made with only 5 simple ingredients!
Use this dip with apple slices, pear, slices, or any other fruit you love. You can also spread it on graham crackers or even cookies!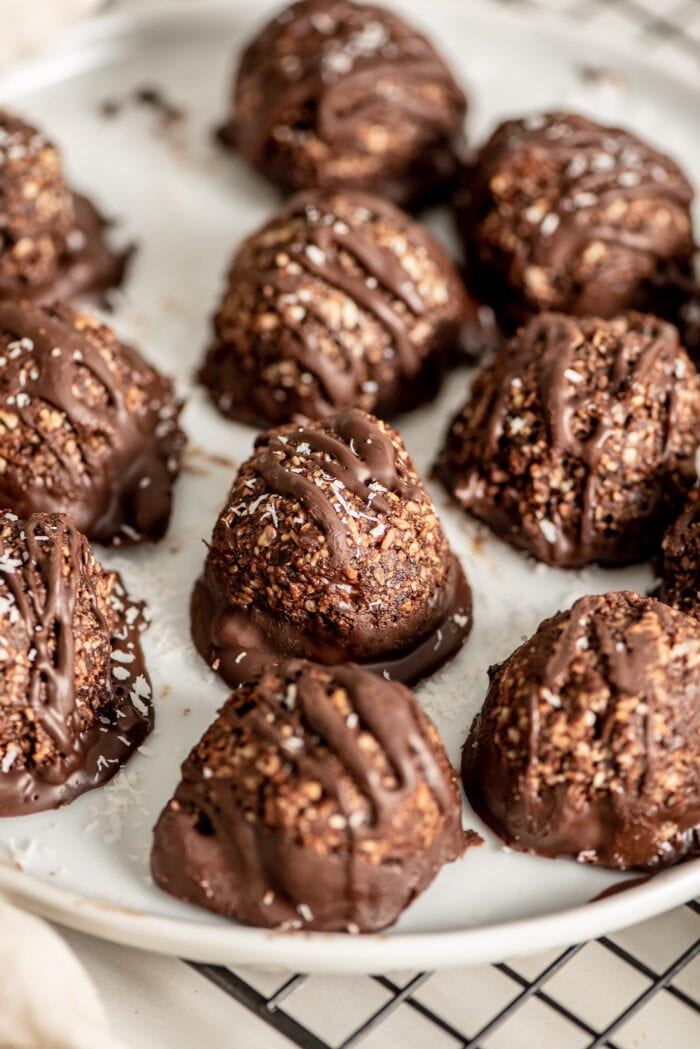 These vegan chocolate macaroons would make a great addition to your Christmas dessert! They have a chocolate coconut flavor and are made with only 8 simple ingredients.
They are firm, yet tender, and they are also gluten-free. Dates are used to sweeten these macaroons and hold them together.
Melted vegan chocolate is used to coat the macaroons after baking, and excess chocolate can be drizzled over top of them!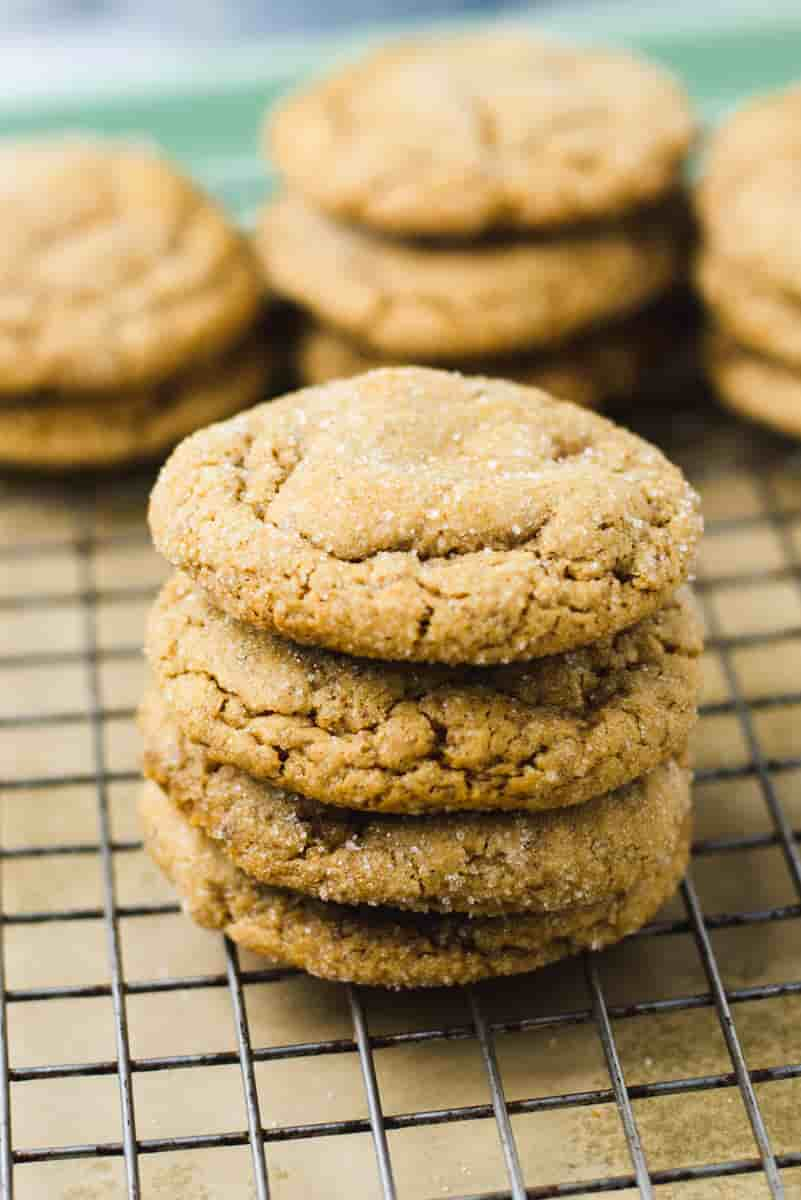 These vegan gingerbread cookies are great for Christmastime. They are soft and chewy, and sweetened with molasses.
After making the cookie dough, each cookie is rolled in sugar before baking. They bake for just 8-10 minutes and this recipe makes about 18 delicious cookies!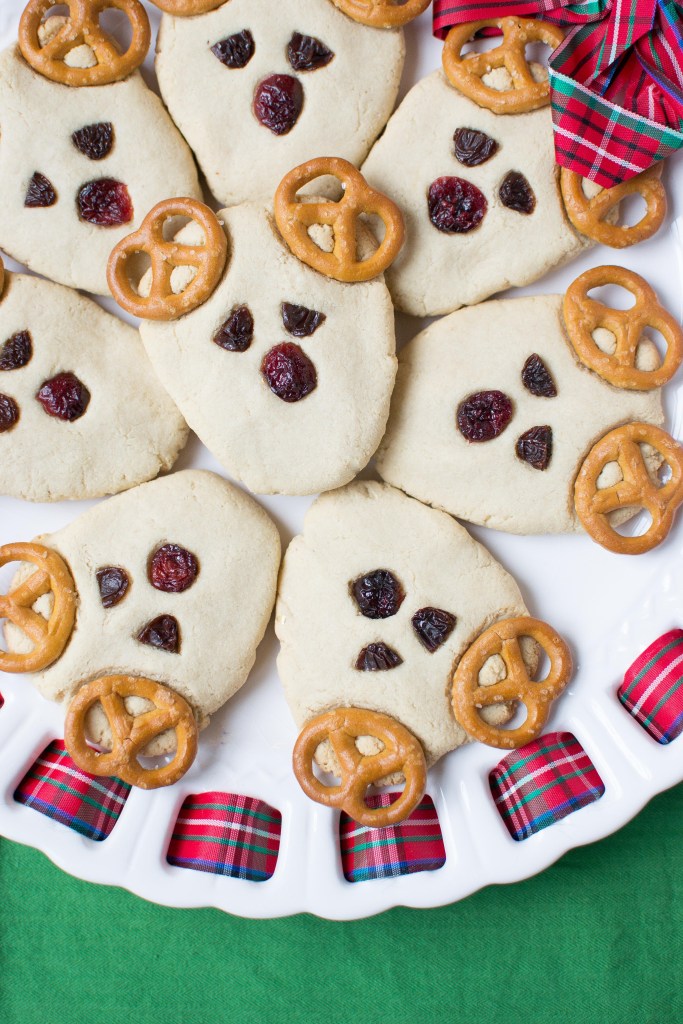 These cookies are super cute and fun, and kids will love helping you make them! They are soft and chewy and sweetened with maple syrup.
These cookies are decorated to look like reindeer with pretzels as antlers, raisins as eyes, and dried cranberries as Rudolph noses.
If you want these cookies to be gluten-free, make sure you use gluten-free pretzels. Also make sure you double the recipe if you want more cookies, as this recipe only makes 8 cookies.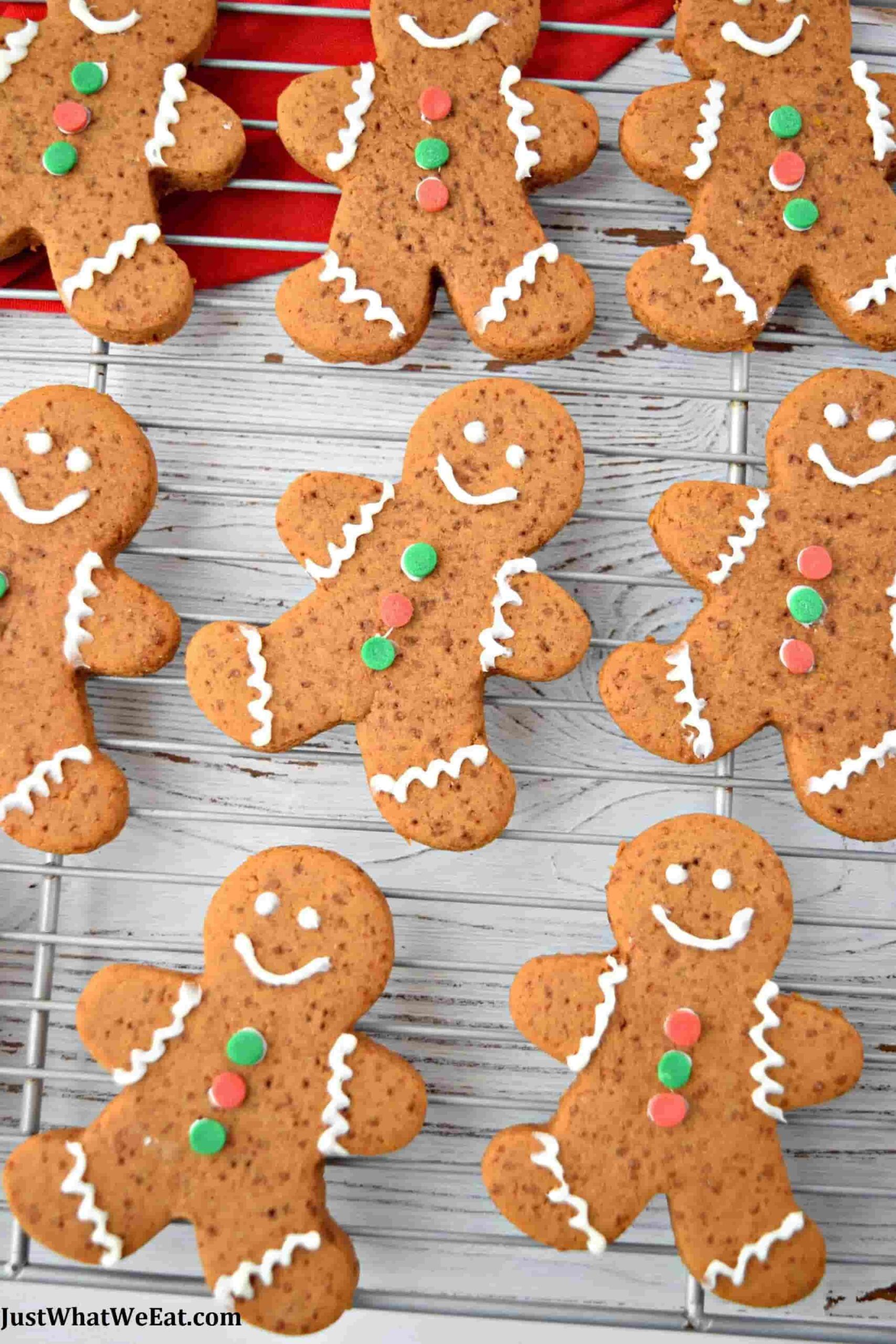 These gingerbread cookies are vegan and gluten-free. They are made with delicious warm spices that are perfect for Christmas.
These cookies are soft and can be cut into gingerbread men or any other shapes you want. You can even use this recipe to make a gingerbread house!
Use vegan icing to decorate, which makes these cookies super fun to make with kids!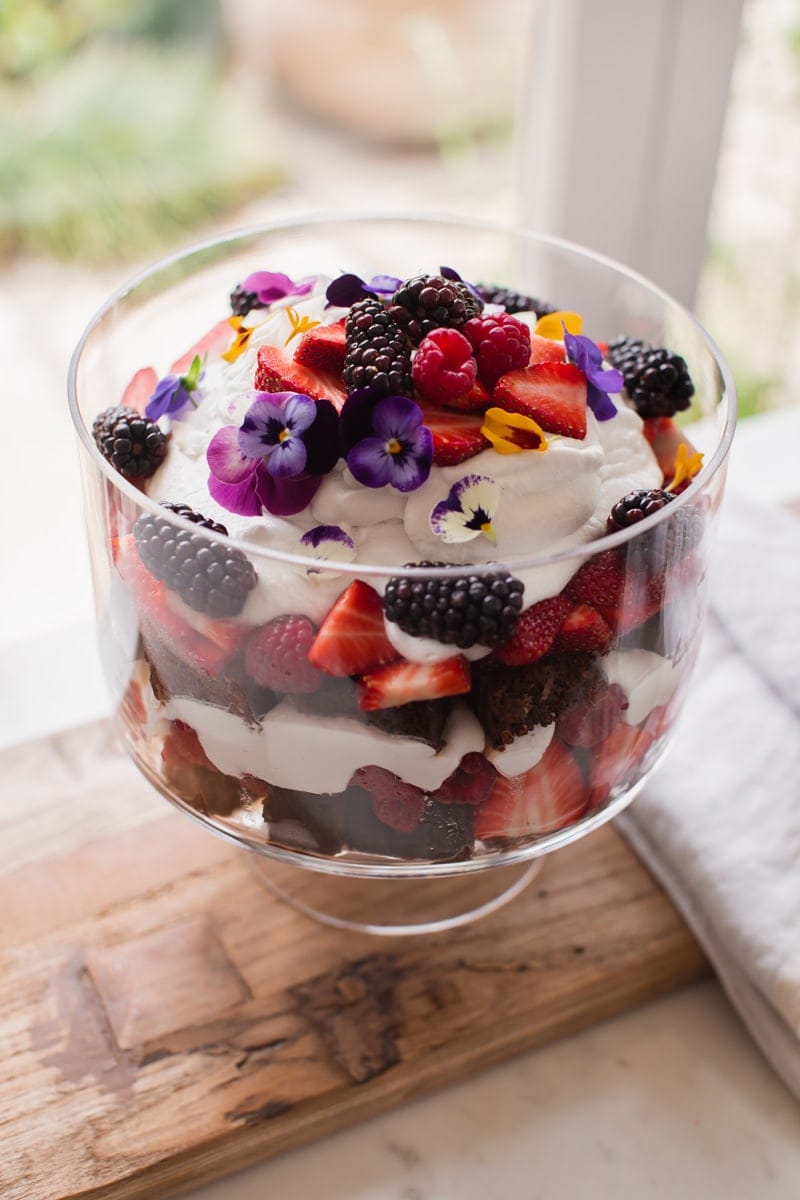 This vegan chocolate berry trifle is a great alternative to a classic trifle. It has a layers of chocolate cake soaked in espresso and maple syrup, coconut whipped cream, and various fresh berries.
This trifle is sweet and has a beautiful presentation. It is a lighter, somewhat healthier alternative to many other Christmas desserts!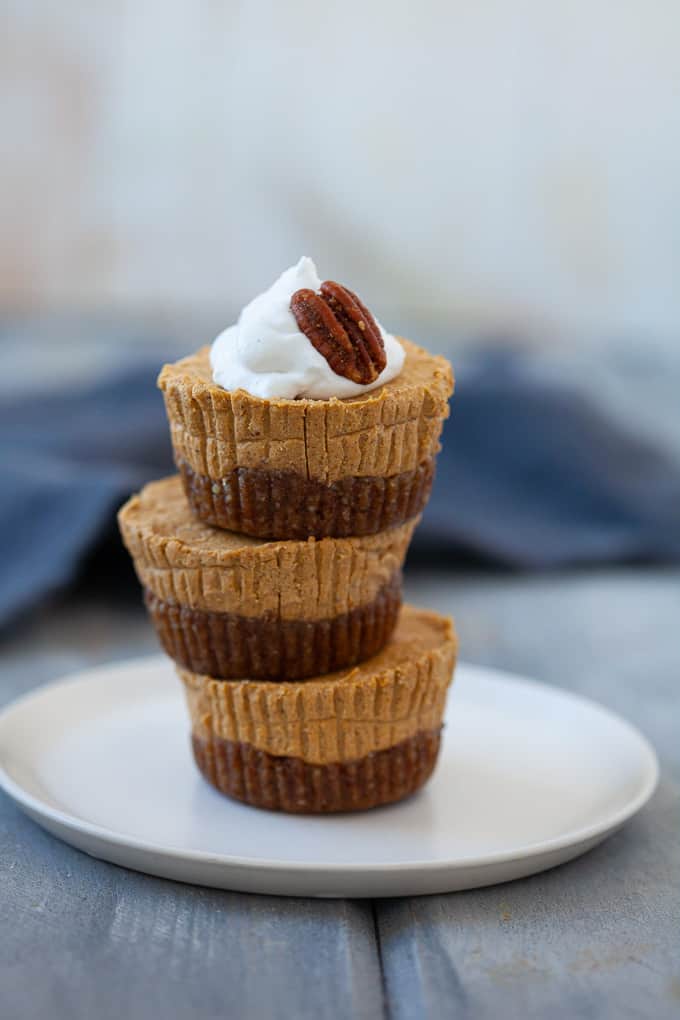 These mini cheesecakes are made in muffin tins so they are individually portioned which makes serving them super easy! They require no baking and are creamy, vegan, and gluten-free.
These pumpkin cheesecakes have a subtle sweetness from maple syrup and a creaminess from soaked cashews.
The base of these cheesecakes is made with a mix of nuts and dates that is pressed into muffin tins before adding on the cheesecake filling.
These mini pumpkin cheesecakes are great on their own or topped with some vegan whipped cream.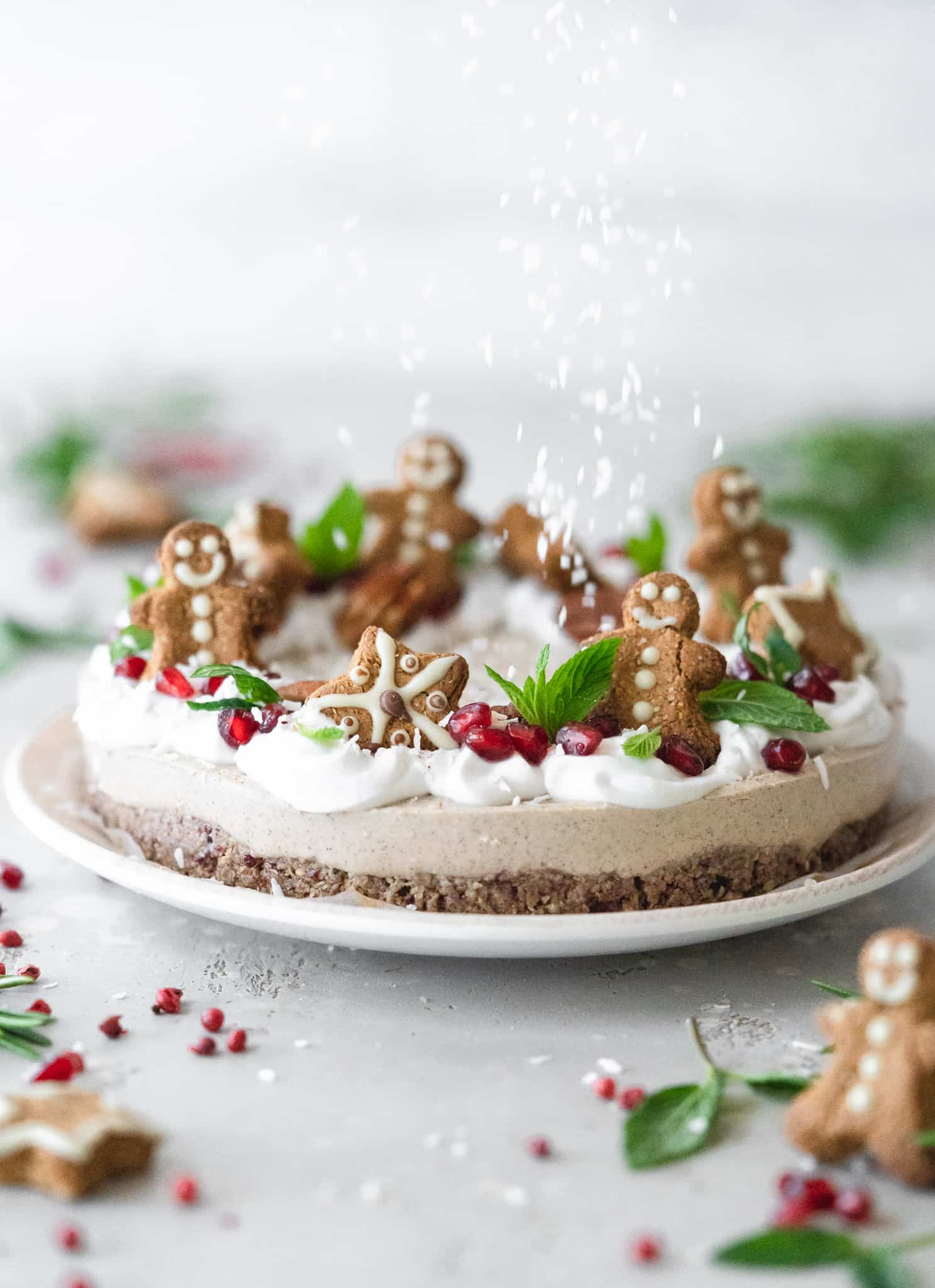 This no-bake cheesecake has a creamy gingerbread filling with an oat, pecan, and cranberry base. The smooth cheesecake filling is made with cashews, warm festive spices, coconut cream, and more.
This cake also has a coconut cream icing that is piped around the cake, and you can also decorate the top of the cake with fresh cranberries and fresh mint leaves.
If you want to ensure that this recipe is gluten-free, use oats that are certified gluten-free.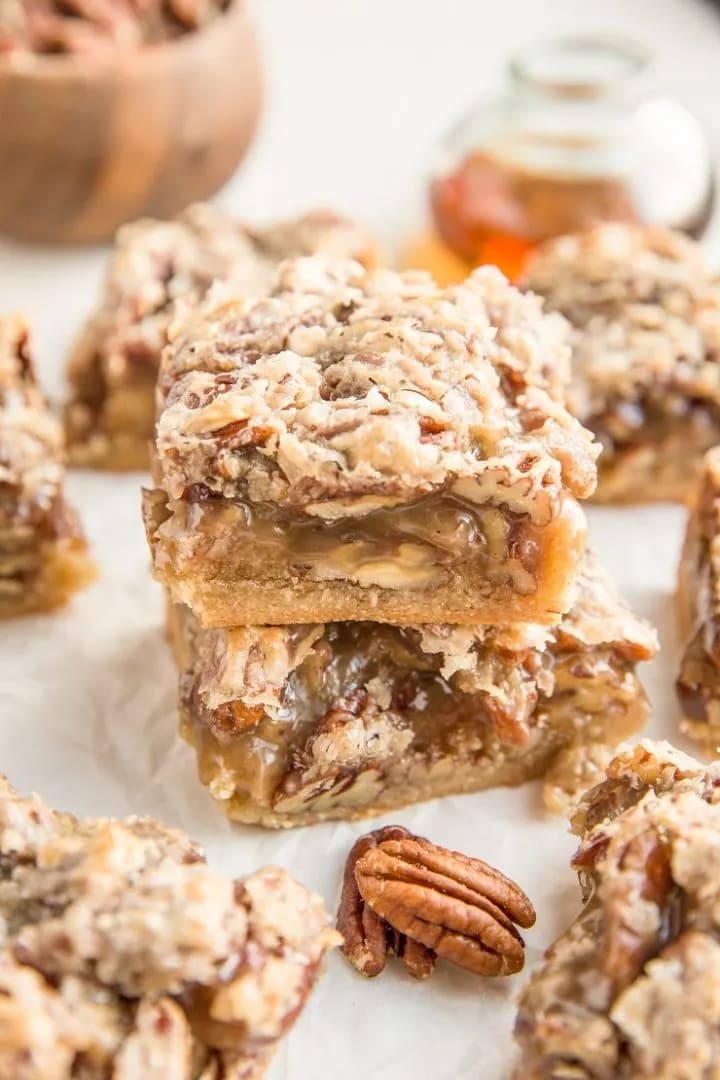 These pecan bars are paleo, vegan, grain-free, and gluten-free. They are covered in caramel and great for the holiday season.
These bars are gooey, chewy, and soft, but they also have some crunch from the pecans.
The crust is made with almond flour, making these bars gluten-free. The filling of these bars is made with coconut milk instead of butter or cream to keep them vegan.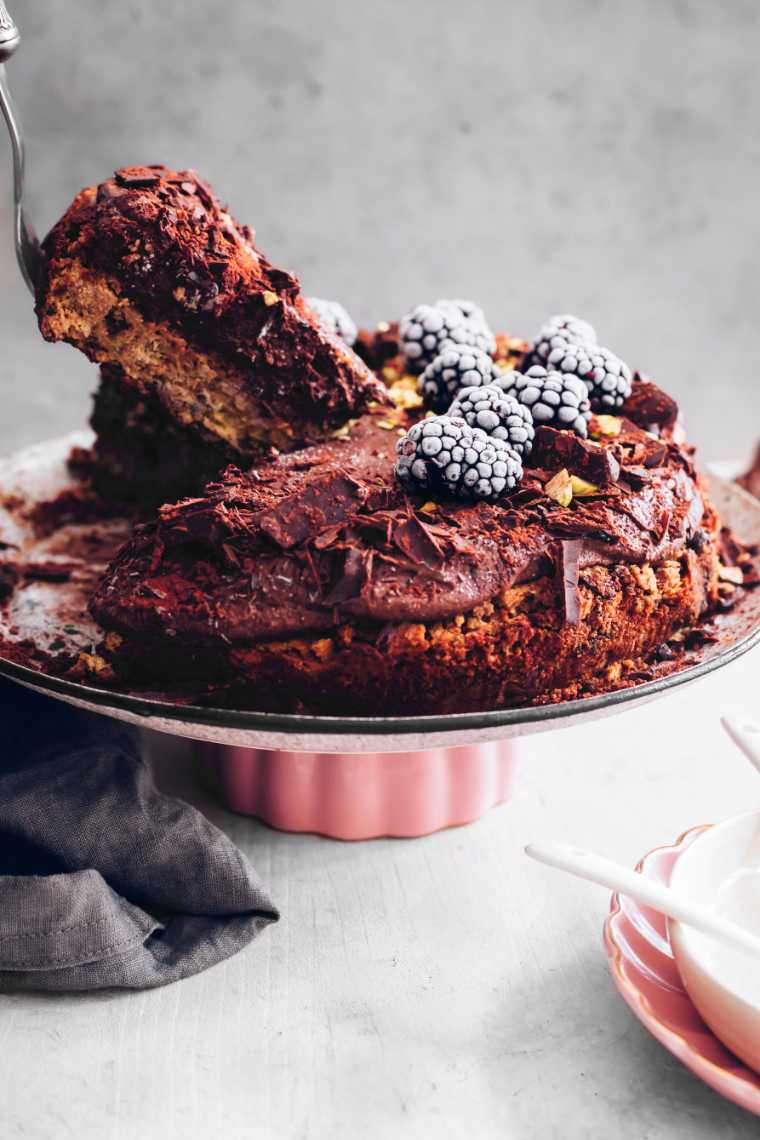 Enjoy this vegan chocolate mousse cake as your Christmas dessert this year. It has a cookie crust that is topped with a high-protein creamy chocolate mousse that is made with silken tofu.
This cake is low in sugar and is made with whole foods plant-based ingredients. It is a rich and creamy dessert, but isn't too heavy or sweet.
Top this cake with berries, grated vegan chocolate, or crushed nuts.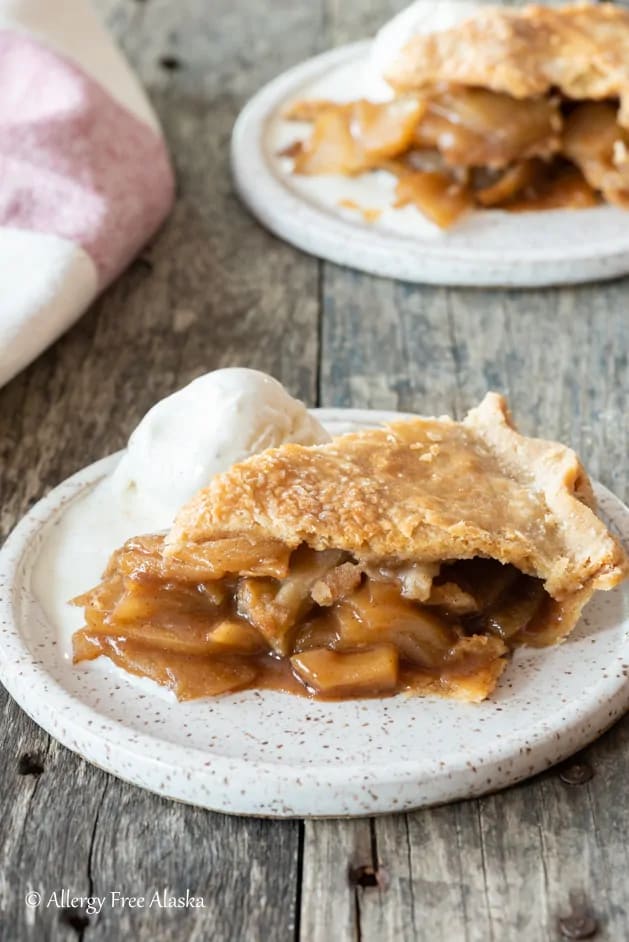 This vegan apple pie includes a tender yet flaky gluten-free pie crust filled with apples that are seasoned with cinnamon and nutmeg.
This pie has plenty of natural sweetness from the apples, along with added sweetness from coconut sugar.
Enjoy this apple pie on its own, or with some vegan ice cream or whipped cream!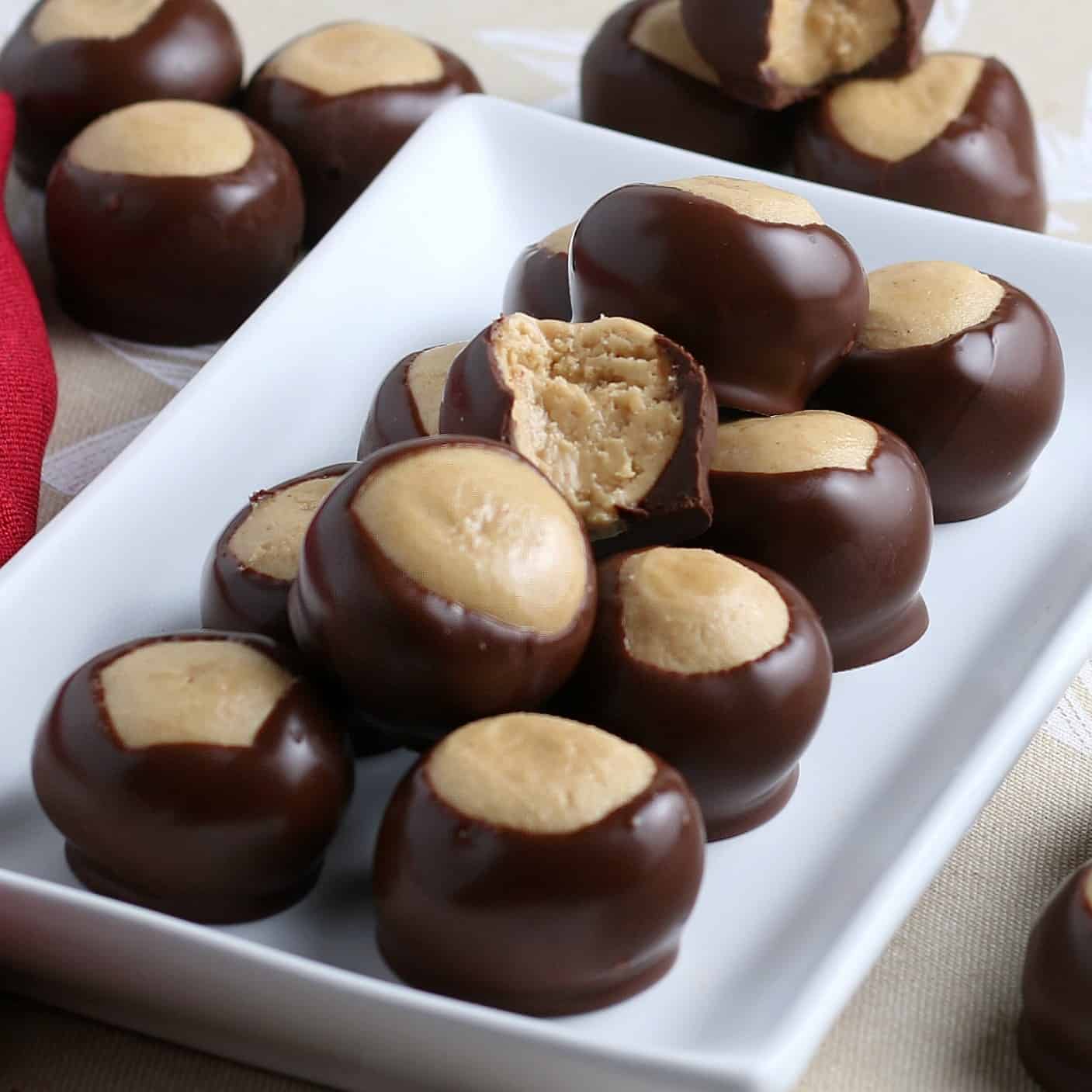 This sweet candy is made with a delicious combination of chocolate and peanut butter. This vegan recipe is easy to make and requires no baking!
The center of this candy is made with sweetened peanut butter, then it is chilled and dipped into melted vegan chocolate.
These candies are great on a treat platter during the Christmas season. All of your guests will love them!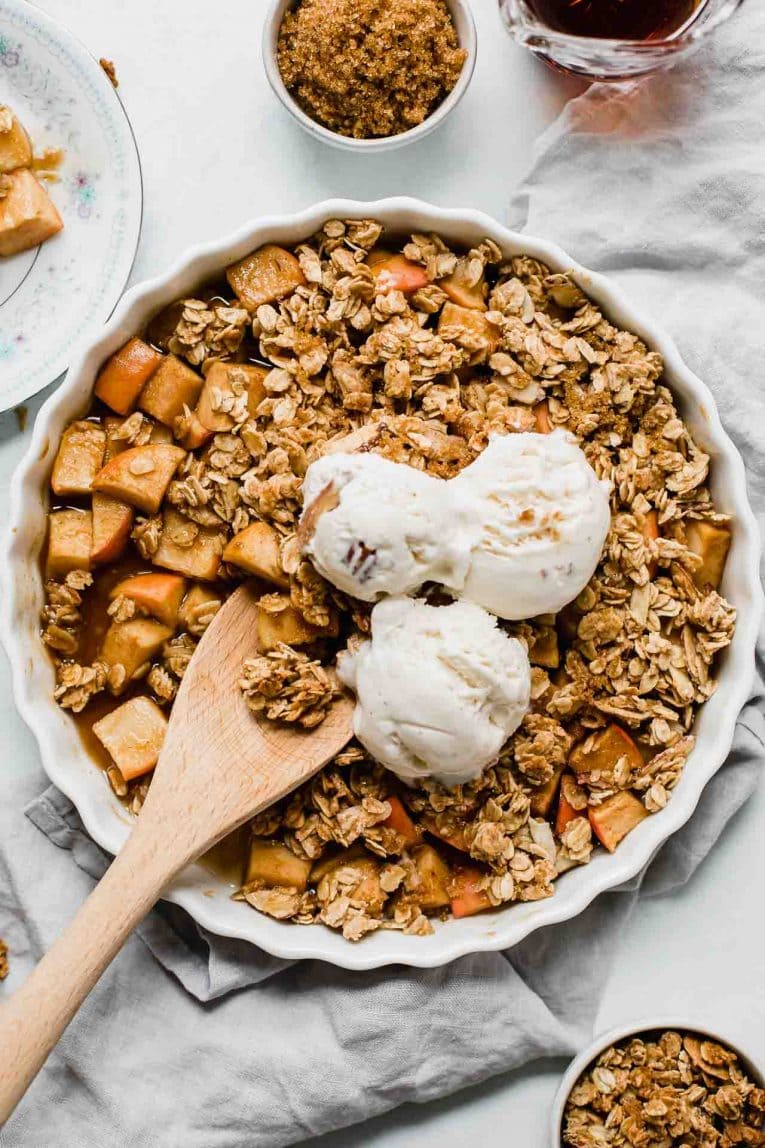 This is a healthier version of an apple crisp that is both vegan and gluten-free. It is sweetened with maple syrup and plenty of apples that will leave your home smelling like Fall.
This delicious, sweet apple crisp will make you feel warm and cozy and totally guilt-free!
Some topping ideas for this vegan apple crisp include sliced almonds, pecans, vegan ice cream, and coconut whipped cream.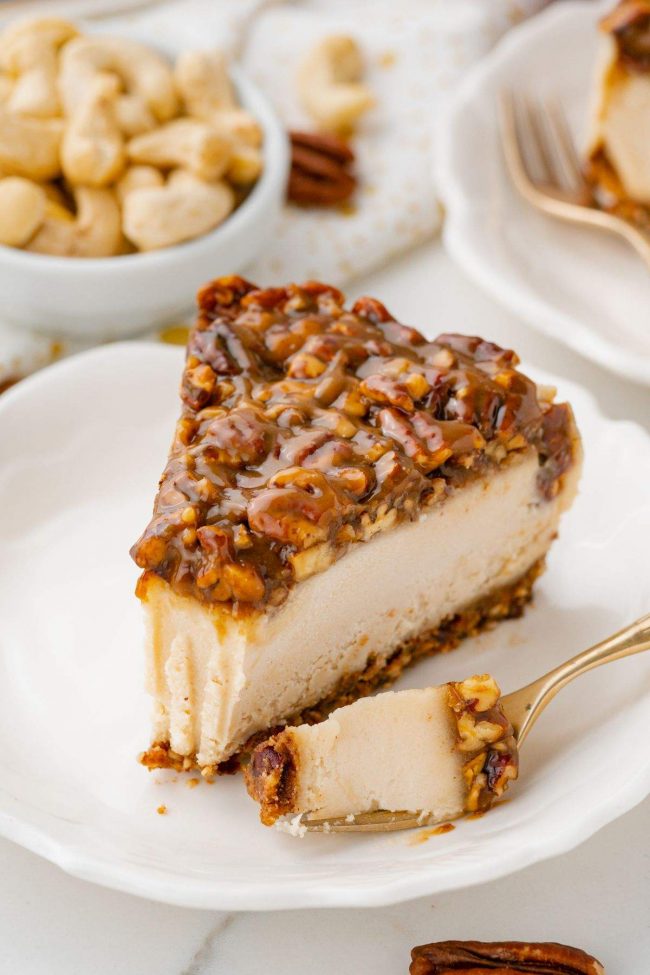 This vegan caramel pecan cheesecake is a creamy and decadent dessert that requires no baking! This recipe has a cashew cheesecake center with a topping of toasted pecans and vegan caramel sauce.
This delicious cheesecake would be great on its own or topped with vegan ice cream or coconut whipped cream!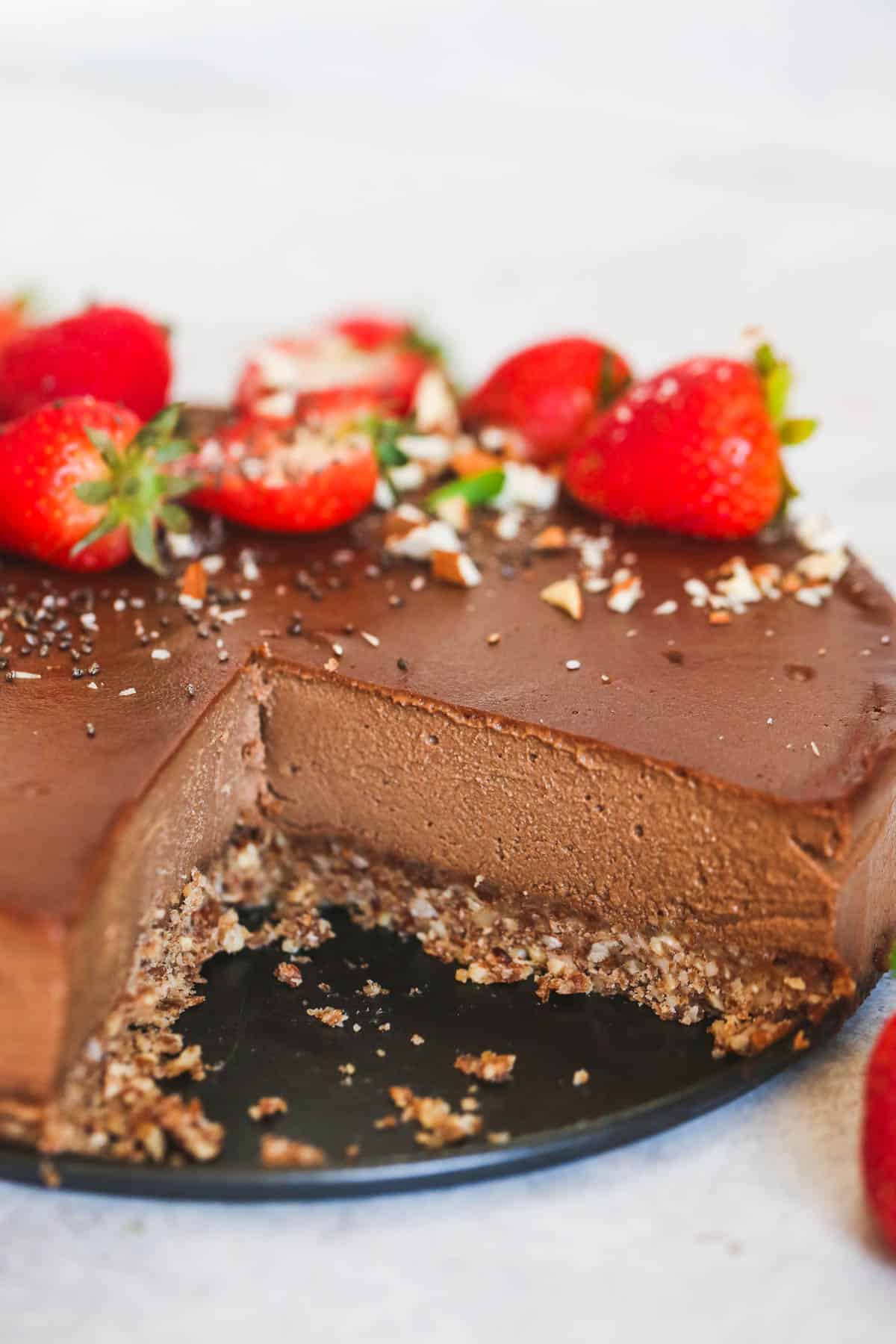 This vegan chocolate cheesecake is made with blended cashews to make the filling smooth and creamy!
It is not only vegan, but also gluten-free and free of refined sugar. It is instead sweetened with date syrup. You can also substitute brown rice syrup or maple syrup.
The base of this vegan chocolate cheesecake is made with a mix of nuts, dates, cacao powder and more. This creates a nice no-bake crust!
This cheesecake is meant to be stored in the freezer so it stays firm, which is great because it will last a long time and you don't have to completely thaw a piece before eating it. You will just need to let it soften a bit before eating.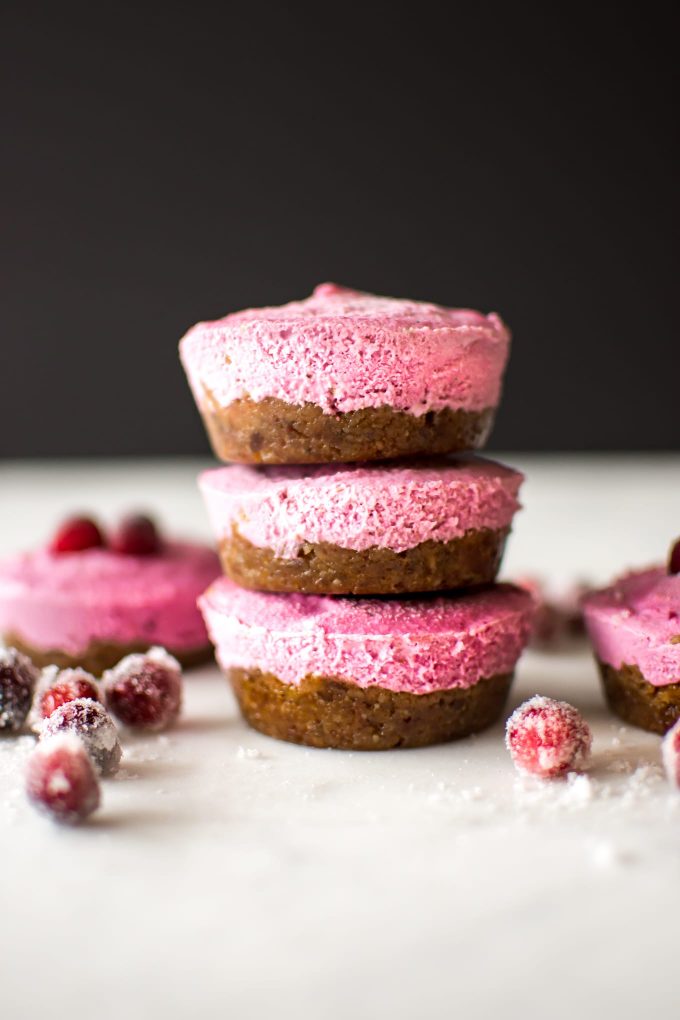 These mini vegan cheesecakes are made with fresh cranberries and have a beautiful pink appearance.
They are made with a date-walnut crust and a creamy cashew-based filling.
These mini cheesecakes need to be stored in the freezer and it's best to wait about 5 minutes before eating them once you take them out of the freezer to let them soften up a bit.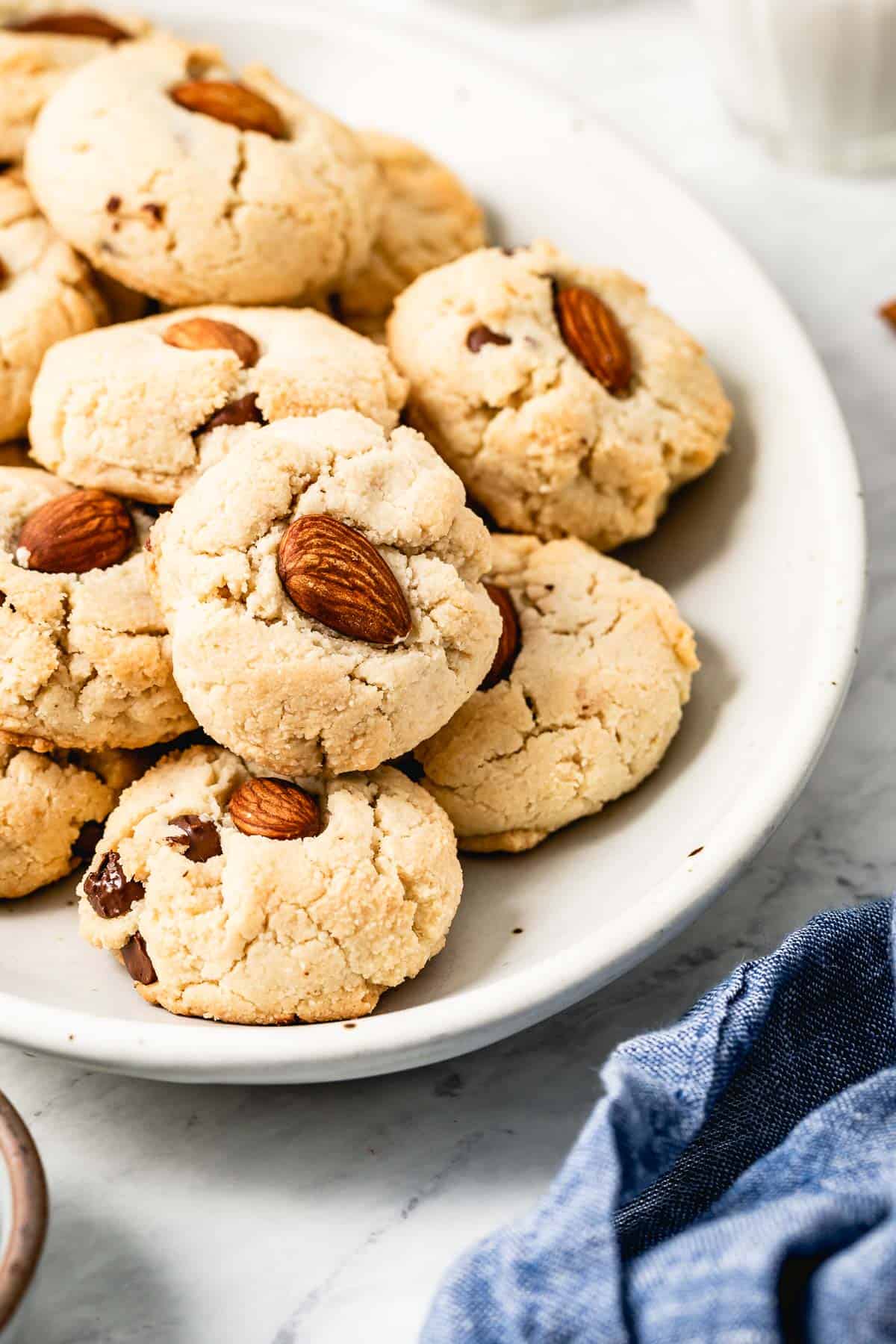 These vegan shortbread cookies are easy to make and you only need 6 simple ingredients! These cookies are also grain-free and gluten-free.
Almond flour is used to make these delicious vegan cookies, which will be ready in about 30 minutes! Make sure you use vegan chocolate chips to keep these cookies vegan.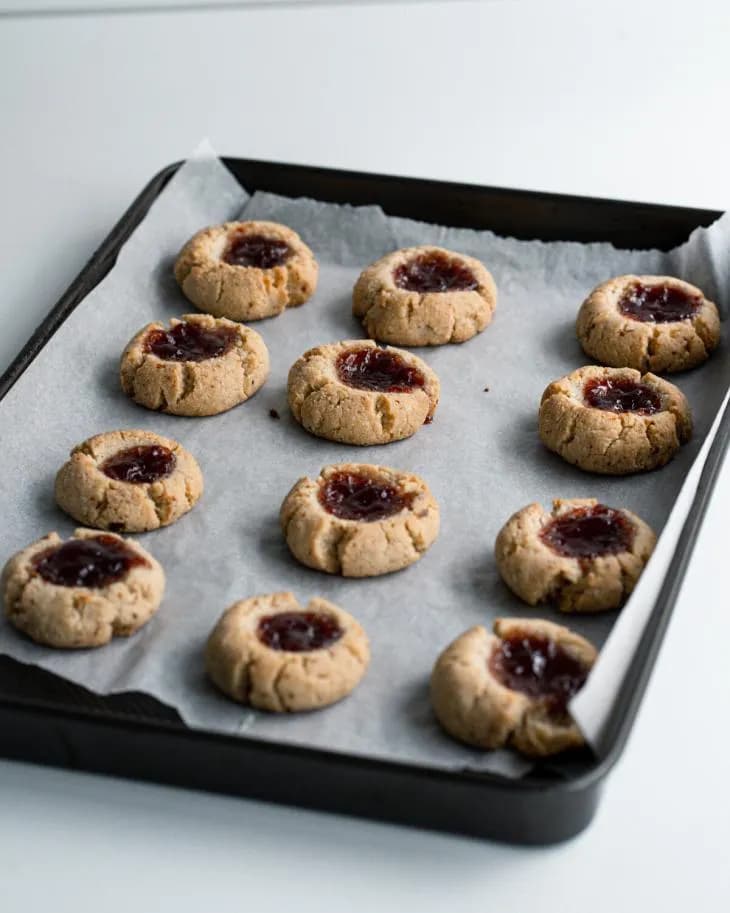 These vegan thumbprint cookies are incredibly easy to make! They are made with almond flour, so they are acceptable for anyone who eats a gluten-free diet as well.
You can use store-bought jam for this recipe or make your own. Just make sure you check that the sugar used in the jam is vegan if that is a concern for you.
Make these festive cookies with only 6 simple ingredients this Christmas!
More Vegan Christmas Recipes
Check out these other recipes for your Christmas dinner this year: