This post contains affiliate links for which I may earn a commission (at no extra cost to you) should you make a purchase. As an Amazon Associate I earn from qualifying purchases. Please see my disclaimer for more information.
These vegan and dairy-free mashed potatoes are oil-free and have a delicious garlic taste. They are a great side dish for any holiday meal and they have a soft and creamy texture!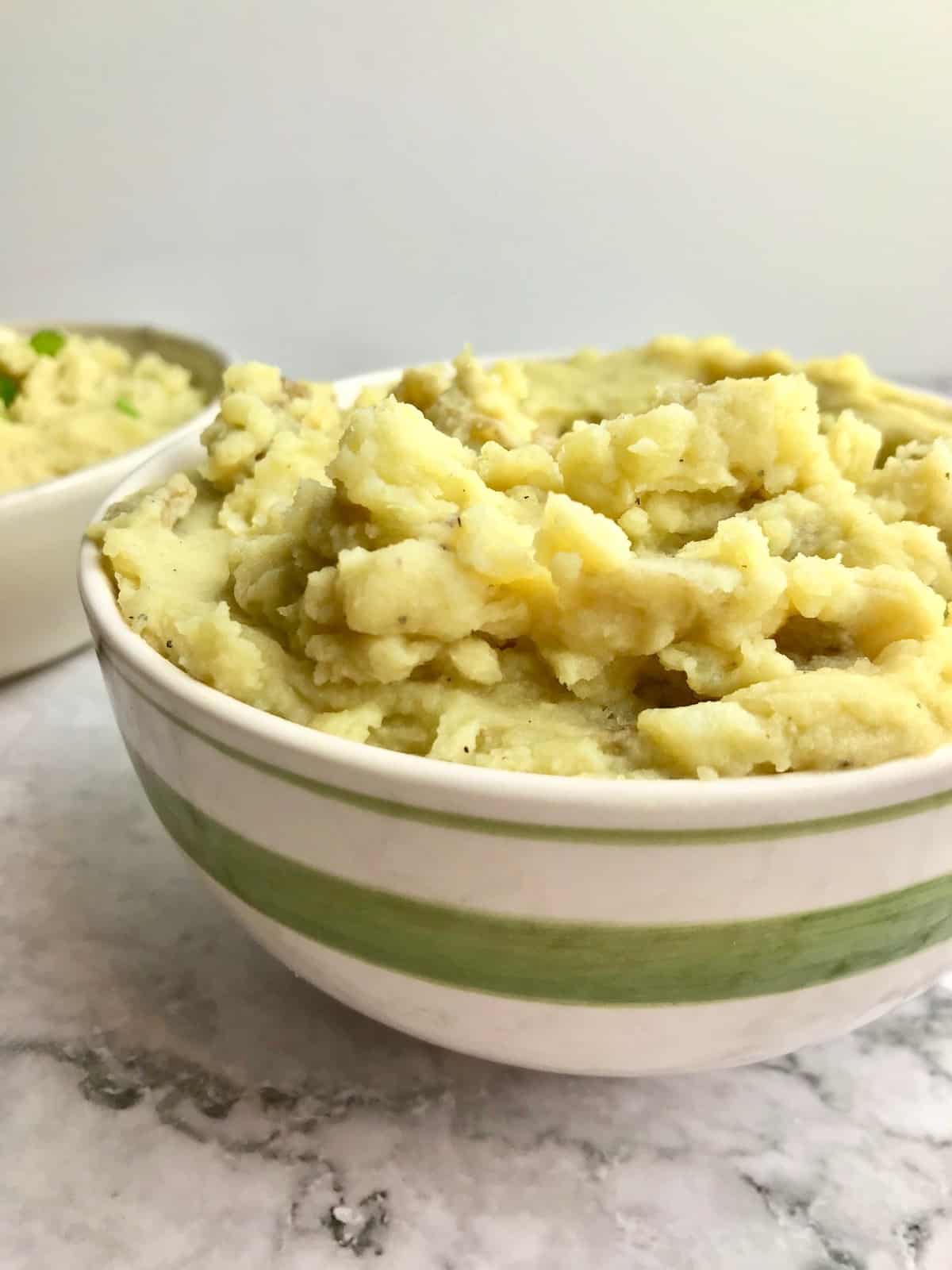 Mashed potatoes are a classic side dish, especially for a holiday meal. As a vegan, many mashed potato recipes contain oil or oil-filled vegan butter substitutes, but this recipe is much healthier! These whole foods plant-based dairy-free mashed potatoes are delicious and great for Christmas, Thanksgiving, and more!
For a less traditional vegan mashed potato alternative, you can check out these mustard and dill mashed potatoes or this mashed cauliflower.
These Vegan Mashed Potatoes Are:
Smooth
Creamy
Oil-Free
Whole Foods Plant-Based
Flavourful
Dairy-Free
Ingredients
*Ingredient quantities and full instructions can be found in the recipe card further down.
Russet or yellow potatoes
Garlic cloves
Canned coconut milk
Ground black pepper
Onion powder
Plain unsweetened almond milk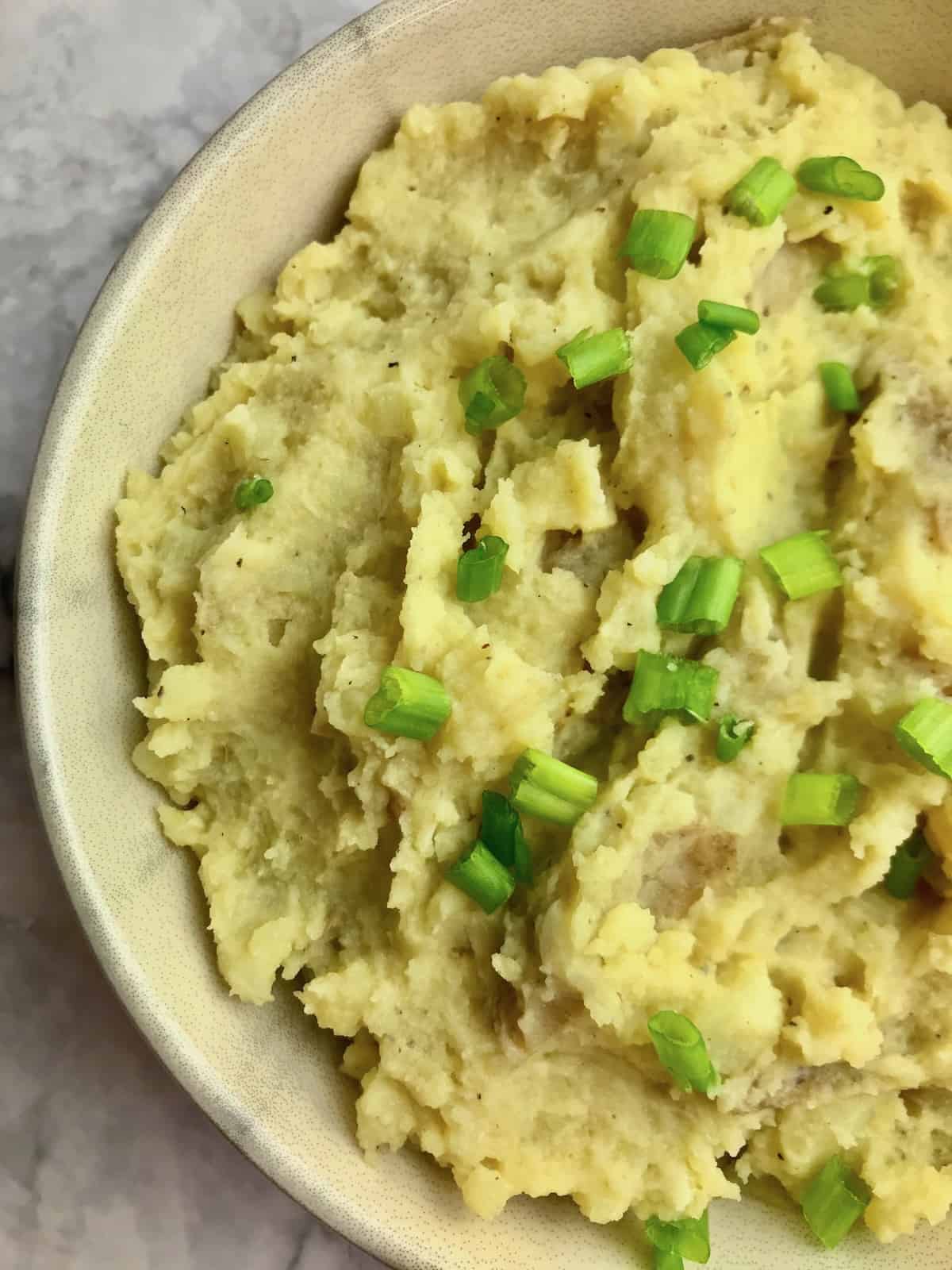 Tips
Boil your potatoes until they are very soft. Once the water in your pot reaches a boil, leave it boiling for about 10-15 minutes. This should be enough time, but make sure that the potatoes are easily pierced with a fork.
Don't forget to add your garlic to the pot. Your garlic cloves must be boiled with the potatoes. This will not only soften them so that they are easily mashed, but it will also weaken the taste of the garlic. If the garlic is not boiled it will be way too much and taste too strong in these mashed potatoes.
Ensure you mash your garlic thoroughly. After you drain your water and start mashing the potatoes, make sure that you are mashing the garlic as well. It will be soft enough to mash, but you may accidentally miss a piece. You don't want to end up with a chunk of garlic in your mashed potatoes!
Shake your can of coconut milk before adding it to your potatoes. If you don't shake the can, the coconut milk will be separated.
If you want more liquid in your mashed potatoes, you can add a bit more almond milk very slowly. If you add too much of either the coconut milk or almond milk, the taste of the mashed potatoes will be effected.
Toppings
Mashed potatoes don't have to just be eaten with gravy! Here are some topping ideas:
Chopped chives or green onion
Any vegetables
Beans
You can add any combination of toppings to your dairy-free mashed potatoes. Here are some combos I love:
Caesar dressing and corn
Salsa, guacamole, and black beans
Sour cream and chopped green onion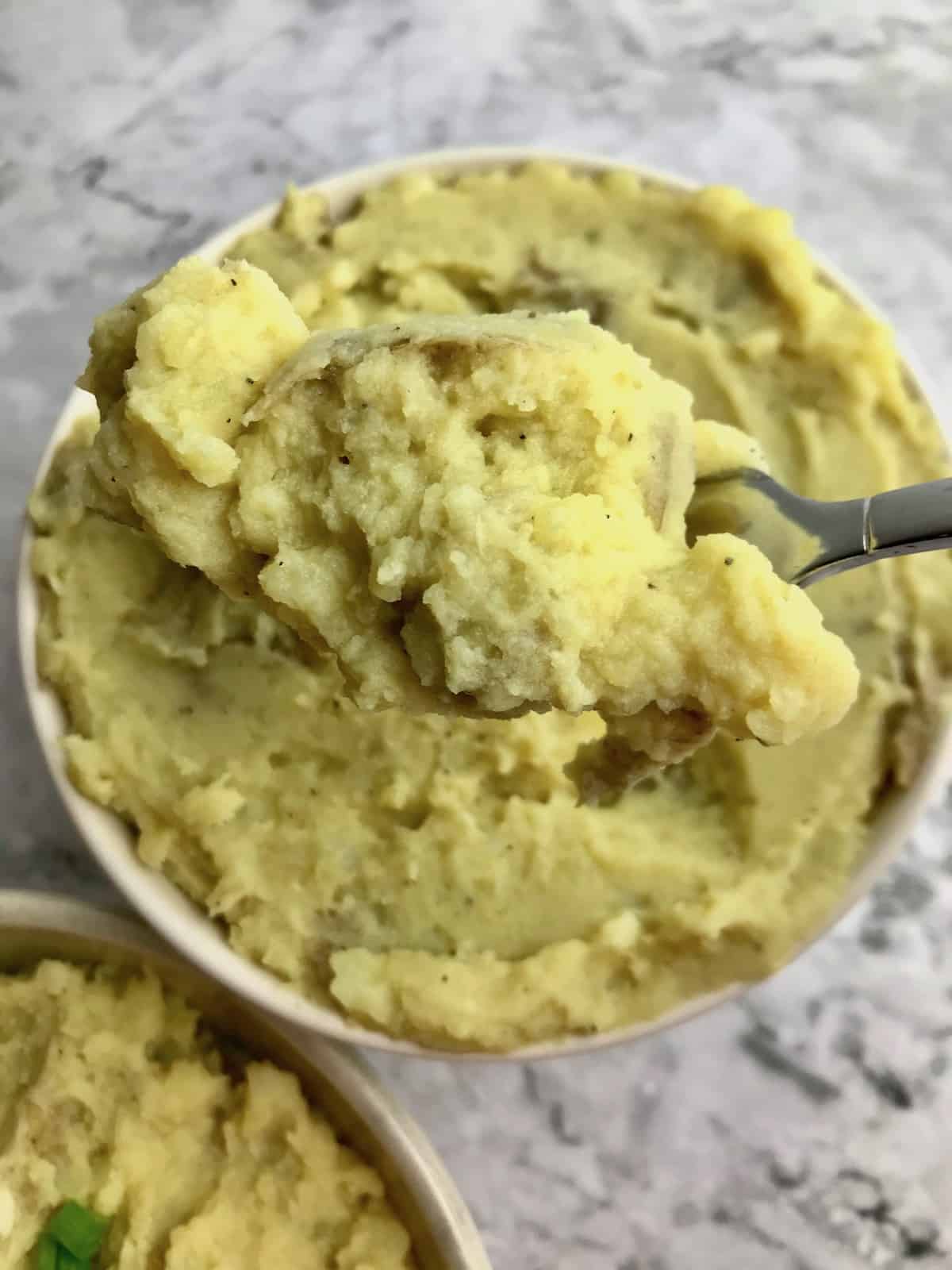 More vegan sides
Recipe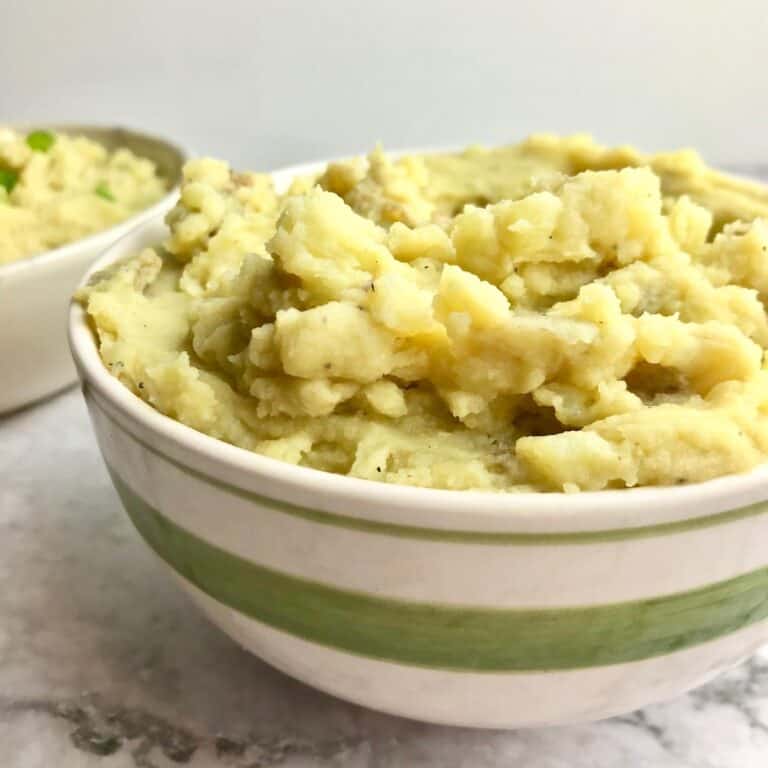 Print Recipe
Dairy-Free Garlic Mashed Potatoes
These vegan and dairy-free mashed potatoes are oil-free and have a delicious garlic taste. They are a great side dish for any holiday meal and they have a soft and creamy texture!
Ingredients
3

pounds

of potatoes

russet or yellow potato

5-6

cloves

of garlic

¾

cup

canned coconut milk

¼

cup

nutritional yeast

½

teaspoon

ground black pepper

1

teaspoon

onion powder

¼

cup

plain unsweetened almond milk
Instructions
Prepare your potatoes. Wash them and peel if desired. I don't peel mine. Chop them into pieces about an inch thick, then add them to a pot.

Peel your garlic cloves, but you don't need to chop them. Leave them whole and add them to the pot.

Fill the pot with water so that the potatoes and garlic are completely covered, then place the pot on the stove and heat on high.

Once the water reaches a boil, lower the heat slightly and leave it boiling for about 10-15 minutes.

Once the potatoes are very soft and easily pierced with a fork, drain the water from the pot.

Mash the potatoes, ensuring to mash the garlic cloves as well. They will be soft enough to mash from being boiled.

Add all remaining ingredients and mash everything together until it is all evenly mixed. Before adding the coconut milk, make sure you shake the can so that it is not separated.
Notes
5-6 cloves may seem like a lot of garlic for 3 pounds of potatoes, but the flavour is weakened from the boiling process, so the flavour isn't overpowering. Plus, these are garlic mashed potatoes!
These mashed potatoes will not have a strong coconut taste, but some people may notice it. The thought of coconut-flavoured potatoes is really not appealing to me, so I made sure it isn't overpowering. I find the coconut milk is very well masked by the other ingredients. Coconut milk works best to create a smooth and creamy texture.