This post contains affiliate links for which I may earn a commission (at no extra cost to you) should you make a purchase. As an Amazon Associate I earn from qualifying purchases. Please see my disclaimer for more information.
This tofu sour cream is tangy and has a dill flavour option. It will be ready in 5 minutes with only a few simple ingredients!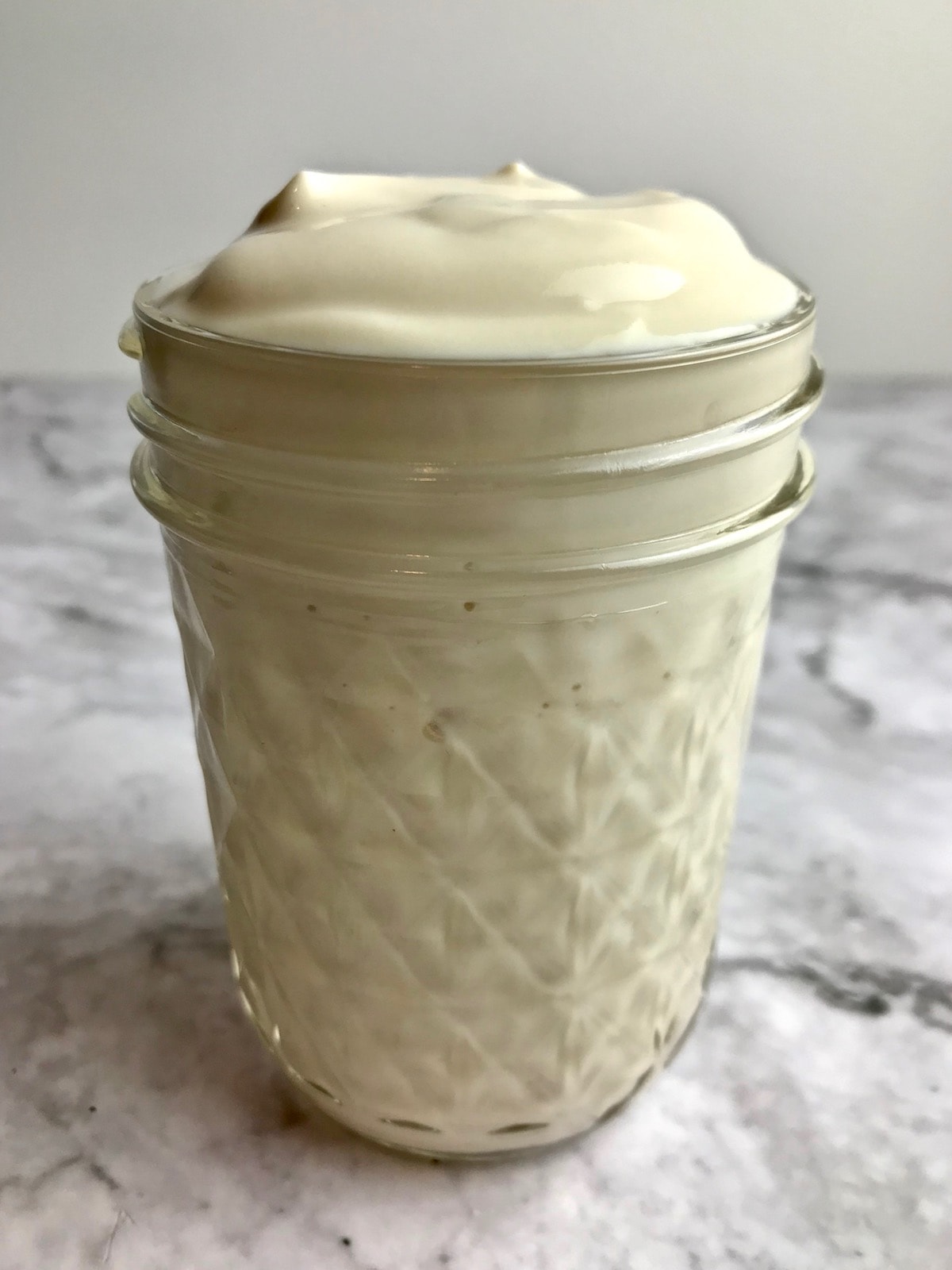 If you thought you couldn't have sour cream on a plant-based diet, think again! This tofu sour cream recipe may not taste exactly like a regular sour cream, but it is a great vegan substitute for sour cream.
Tofu is incredibly versatile and can take on various flavours in sweet and savoury dishes. That's why it is perfect for this vegan sour cream recipe.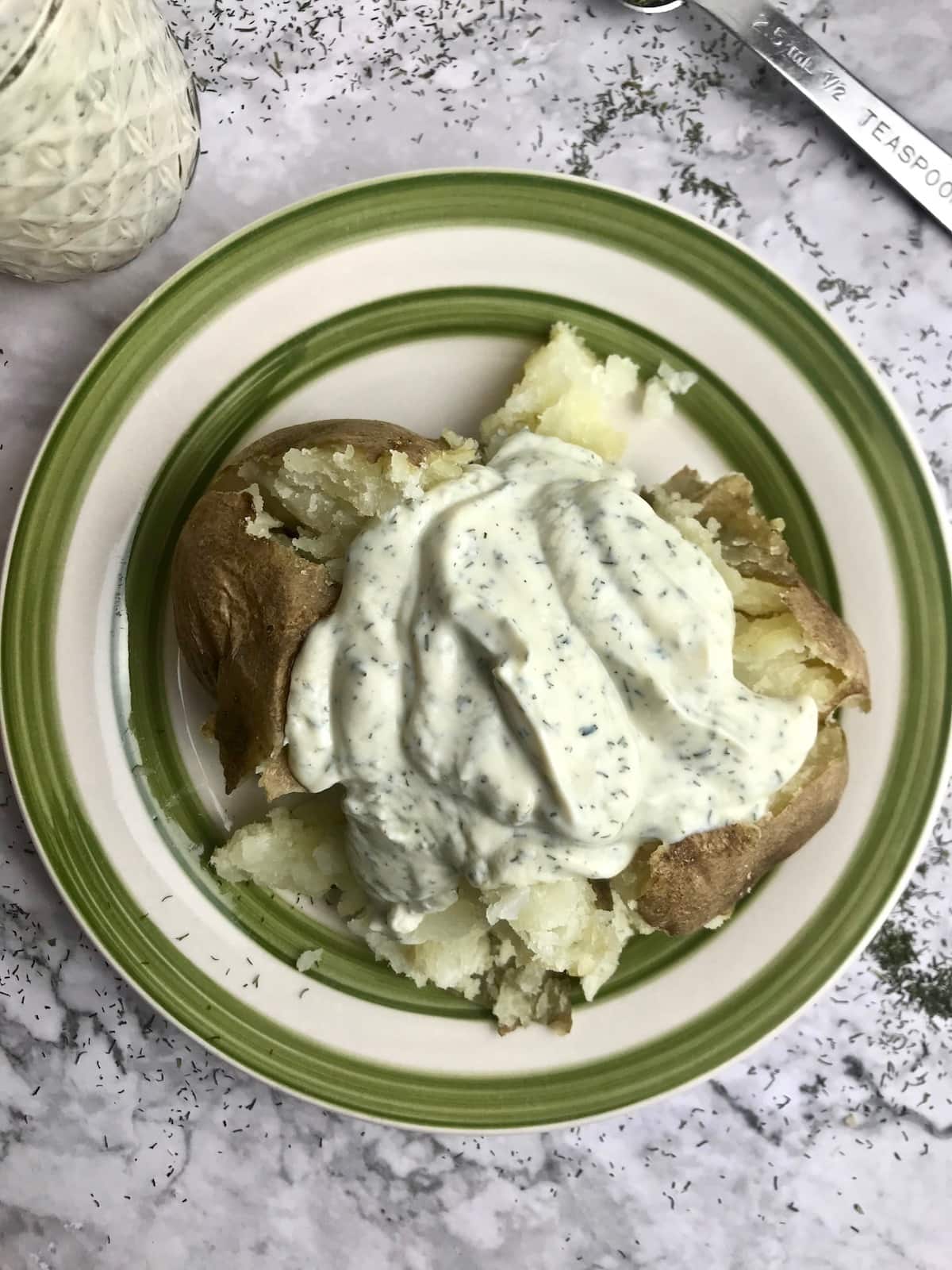 What type of tofu is needed for this vegan sour cream recipe?
Most soft-textured recipes that use tofu call for silken tofu. That is what I recommend for this recipe, but soft regular tofu will work as well.
Any type of silken tofu will work. Some packages have firmness levels, and as long as it is silken, the firmness can be anywhere from soft to firm.
In some areas, it may be difficult to find silken tofu. As an alternative, you can use regular tofu, but make sure it is labelled as soft. When I tested this recipe with regular soft tofu, it was a bit thinner than a sour cream texture, so make sure you very gently squeeze out as much water as you can and pat it dry.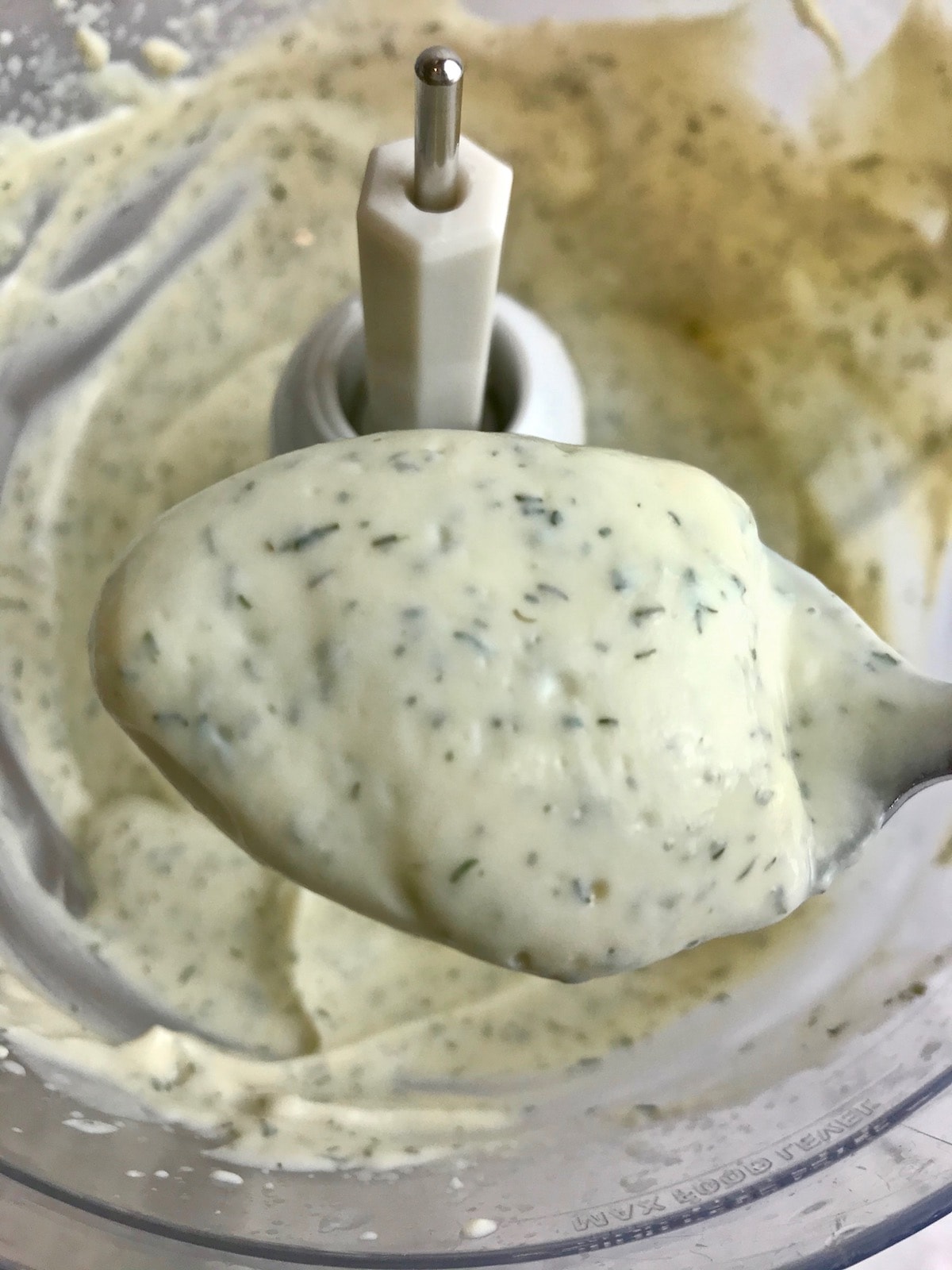 Different flavour options
I have some different flavour options for this tofu sour cream recipe: plain, onion, or dill.
The reason I am offering some different options is because everyone has their own taste preferences. Some people may like this vegan sour cream just plain, while others may only like it with the added onion and/or dill.
Plain
The plain option only includes tofu, lemon juice, and apple cider vinegar. If you don't like the taste of tofu, this option may not be for you. You can always give it a try as you're making it and add the other ingredients if you don't like the taste of plain tofu sour cream.
Onion
This version starts with the plain sour cream, and you just need to add ½ teaspoon of onion powder. This option is great for anyone who thinks the taste of tofu is a bit too strong in the plain version.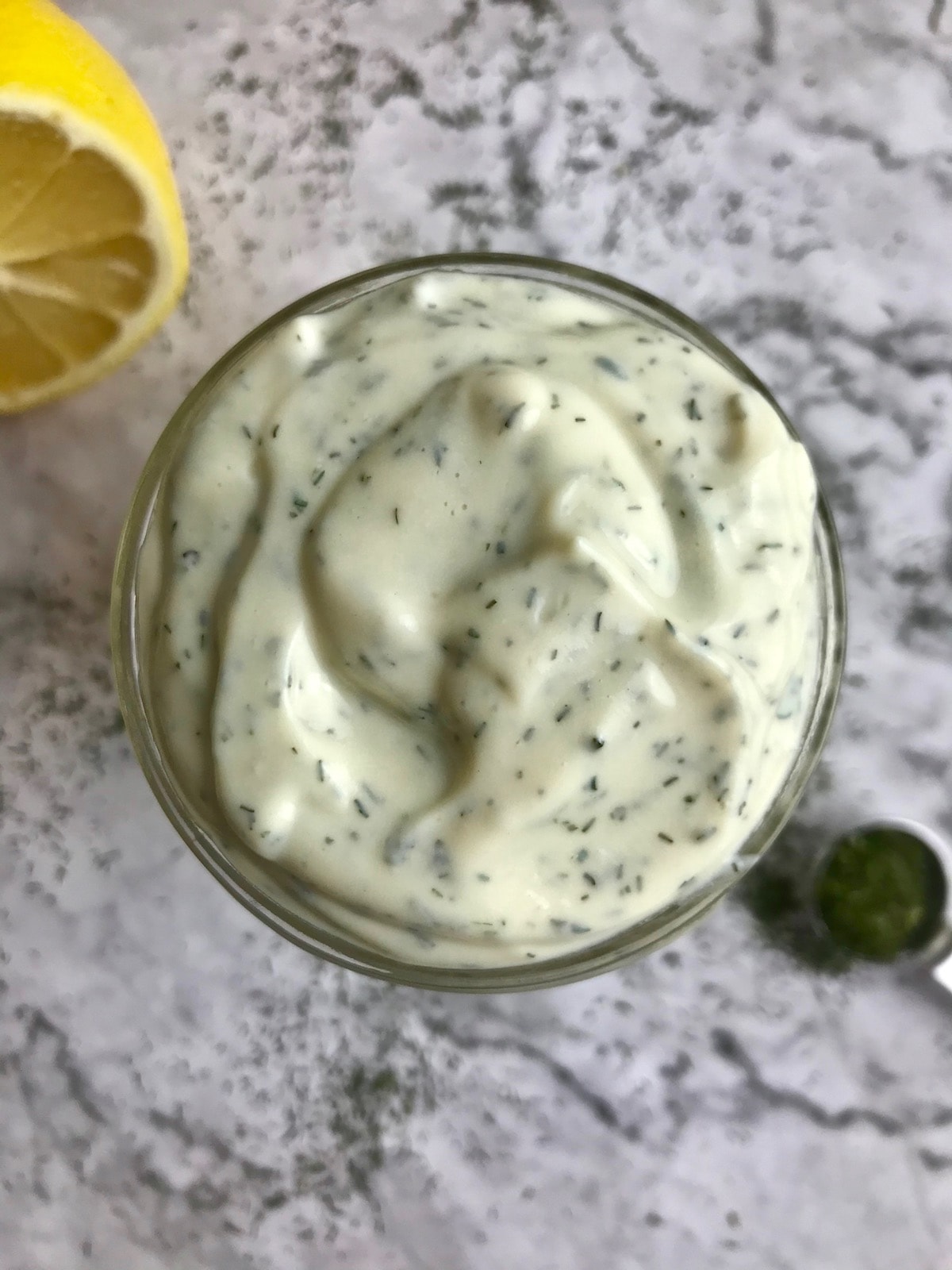 Dill
The dill version of this vegan sour cream is the same as the onion flavour above, with one teaspoon of dill weed added.
This is personally my favourite version, but I am obssessed with dill! And it will still taste great on a baked potato or with some tortilla chips.
How to use this tofu sour cream
On a baked potato
As a chip dip
On a taco
In a wrap
As a veggie dip
On top of chilli
In a 7 layer dip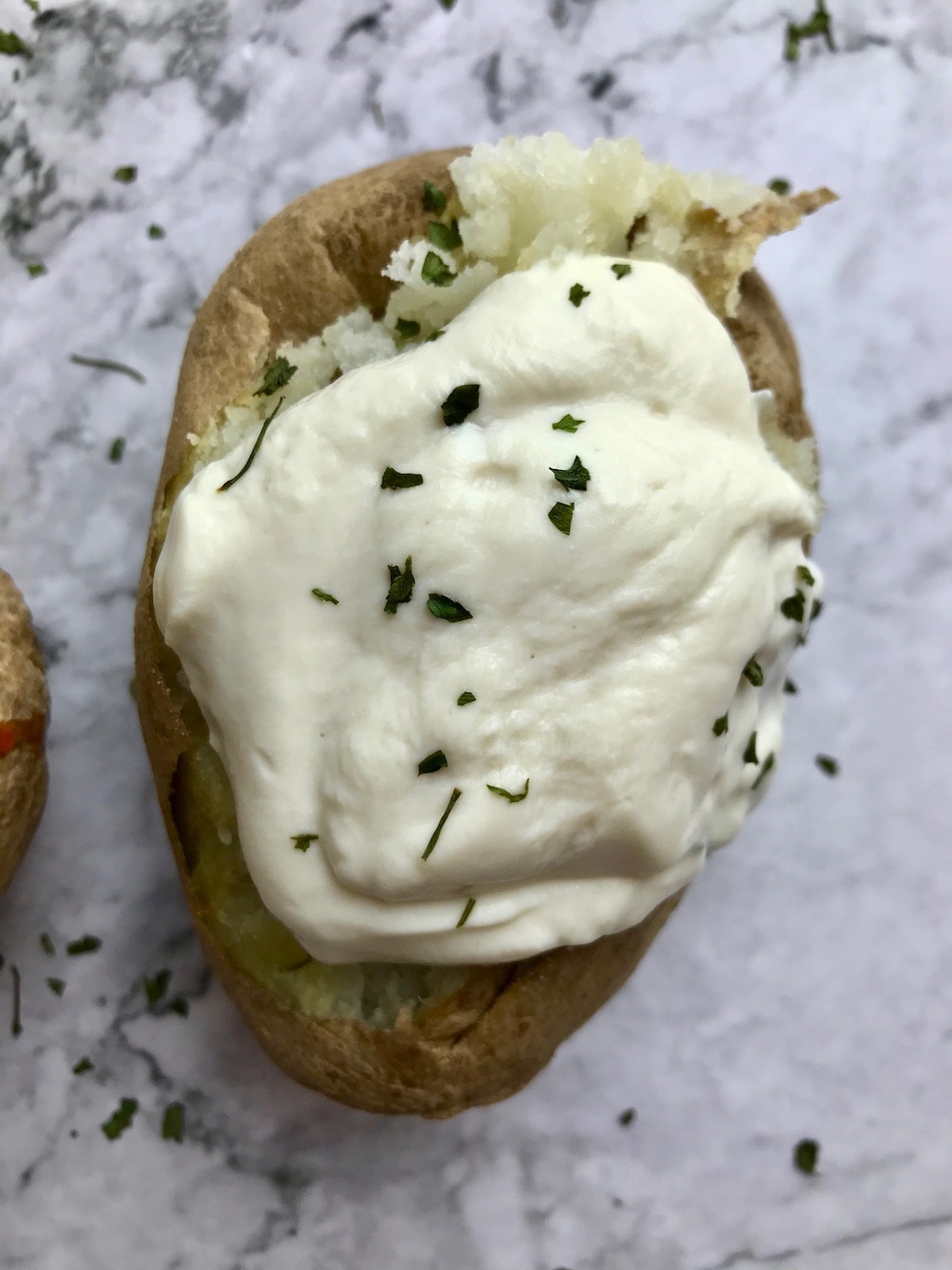 Other great dips for baked potatoes or tortilla chips:
PIN IT FOR LATER!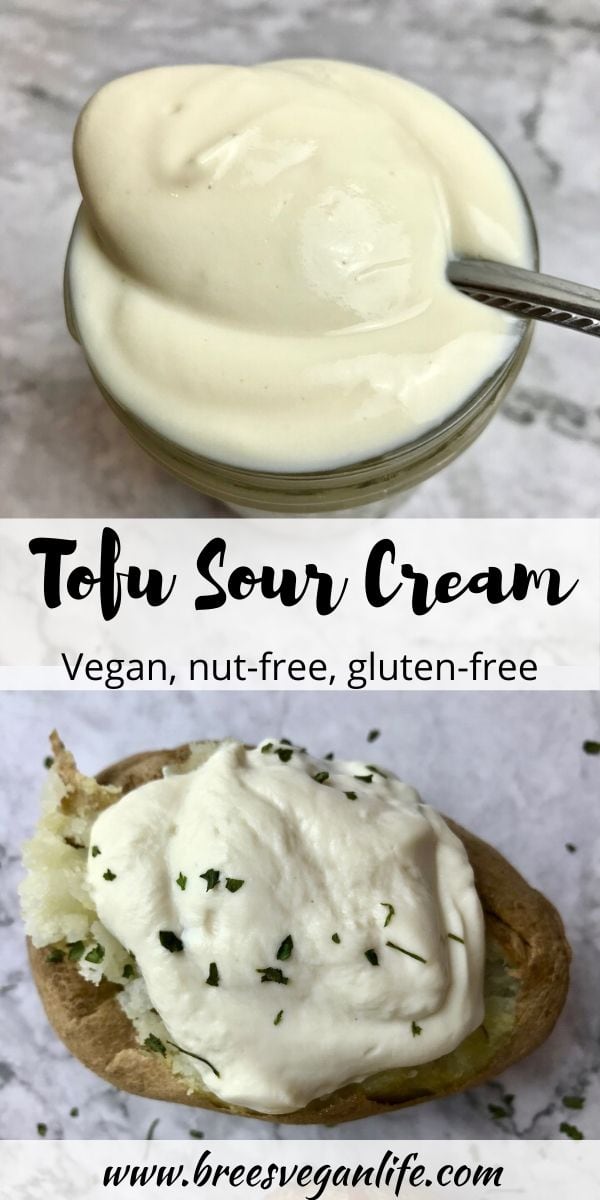 Recipe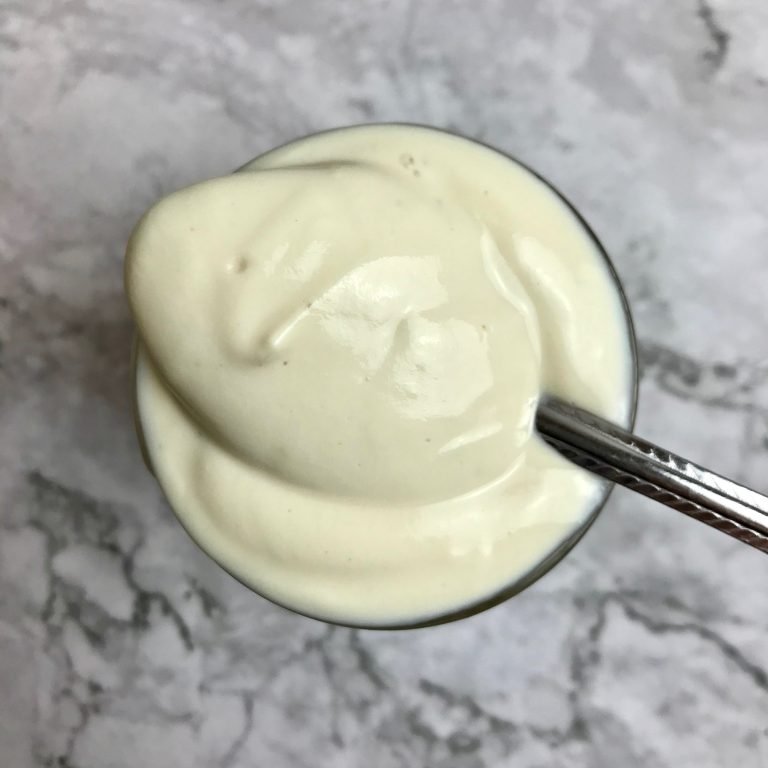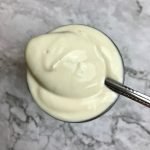 Print Recipe
Tofu Sour Cream (Vegan)
This tofu sour cream is tangy and has a dill flavour option. It will be ready in 5 minutes with only a few simple ingredients!
Ingredients
350

g

silken tofu *

(see note below)

2

tablespoons

lemon juice

2

teaspoons

apple cider vinegar

½

teaspoon

onion powder

(optional - see note)

1

teaspoon

dill weed

(optional - see note)
Instructions
Add ingredients to a food processor and blend until smooth.
Notes
*I have tried this recipe with soft silken tofu and firm silken tofu. It works with both, so any firmness of silken tofu should work. If you can't find silken tofu, a soft regular tofu will work, but make sure you drain as much of the water as you can and pat it dry or else the texture will end up being a bit too thin.
You can try this recipe with just the first 3 ingredients listed, but if you don't like the tofu taste, you will probably want to at least add in the onion powder. I personally don't enjoy the taste without the added onion powder, so you can try it without and add it if you find the tofu taste too strong.
If you want a dill-flavoured sour cream, add the onion powder and dill weed.
This recipe makes a total of approximately 1 cup. One serving is ¼ cup.
Store in an airtight container in the fridge. It will thicken slightly when cooled. Use within about 5 days.
Nutrition
Calories:
51
kcal
|
Carbohydrates:
3
g
|
Protein:
4
g
|
Fat:
2
g
|
Saturated Fat:
1
g
|
Sodium:
5
mg
|
Potassium:
158
mg
|
Fiber:
1
g
|
Sugar:
1
g
|
Vitamin C:
3
mg
|
Calcium:
27
mg
|
Iron:
1
mg
Nutrition Disclaimer
Nutrition information is an estimate generated from a nutrition calculator. There may be errors here or variations based on ingredients you use.