This post contains affiliate links for which I may earn a commission (at no extra cost to you) should you make a purchase. As an Amazon Associate I earn from qualifying purchases. Please see my disclaimer for more information.
This 5 bean salad is so simple to make and makes a great side dish. It is vegan and has a tasty oil-free dressing.
Beans are tasty, nutritious, and therefore a great food to incorporate into your diet. Especially if you are plant-based! I eat beans every single day because they can be used in various types of recipes and they have many essential nutrients.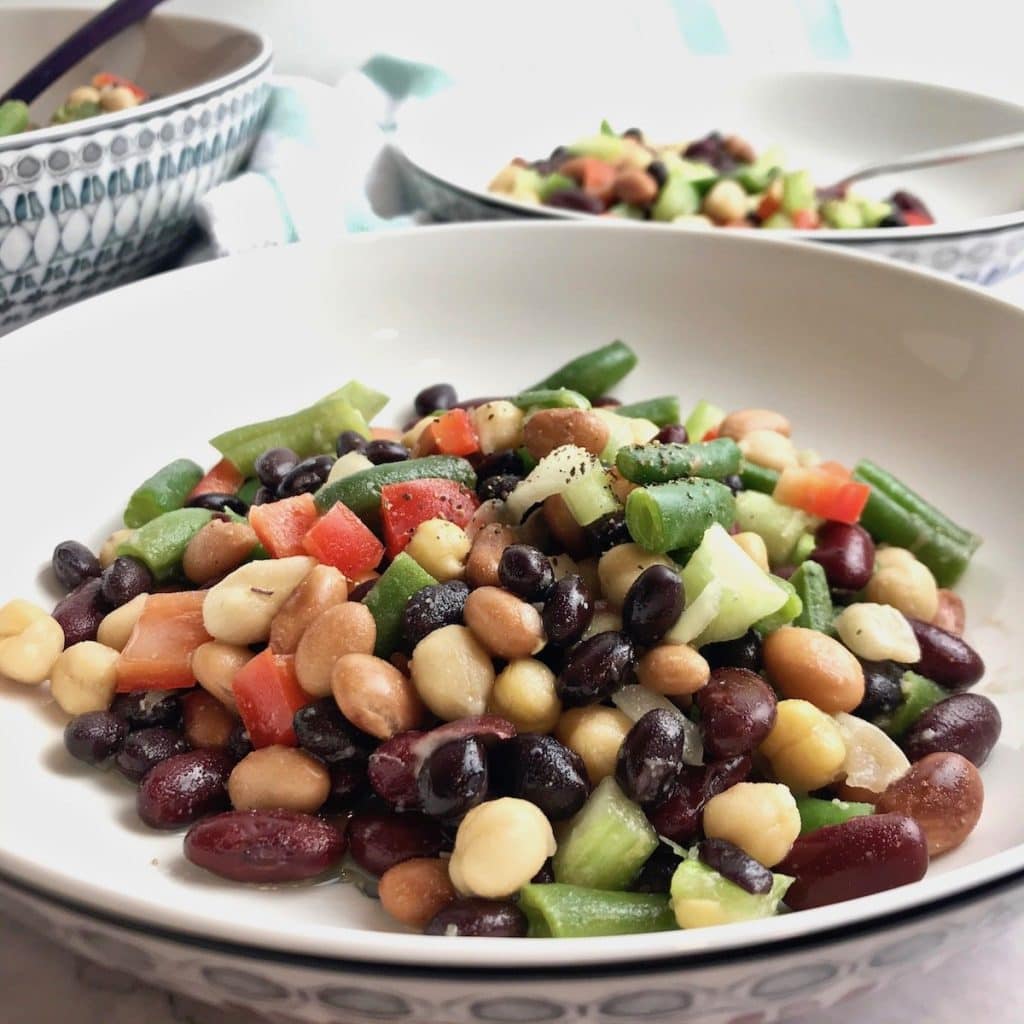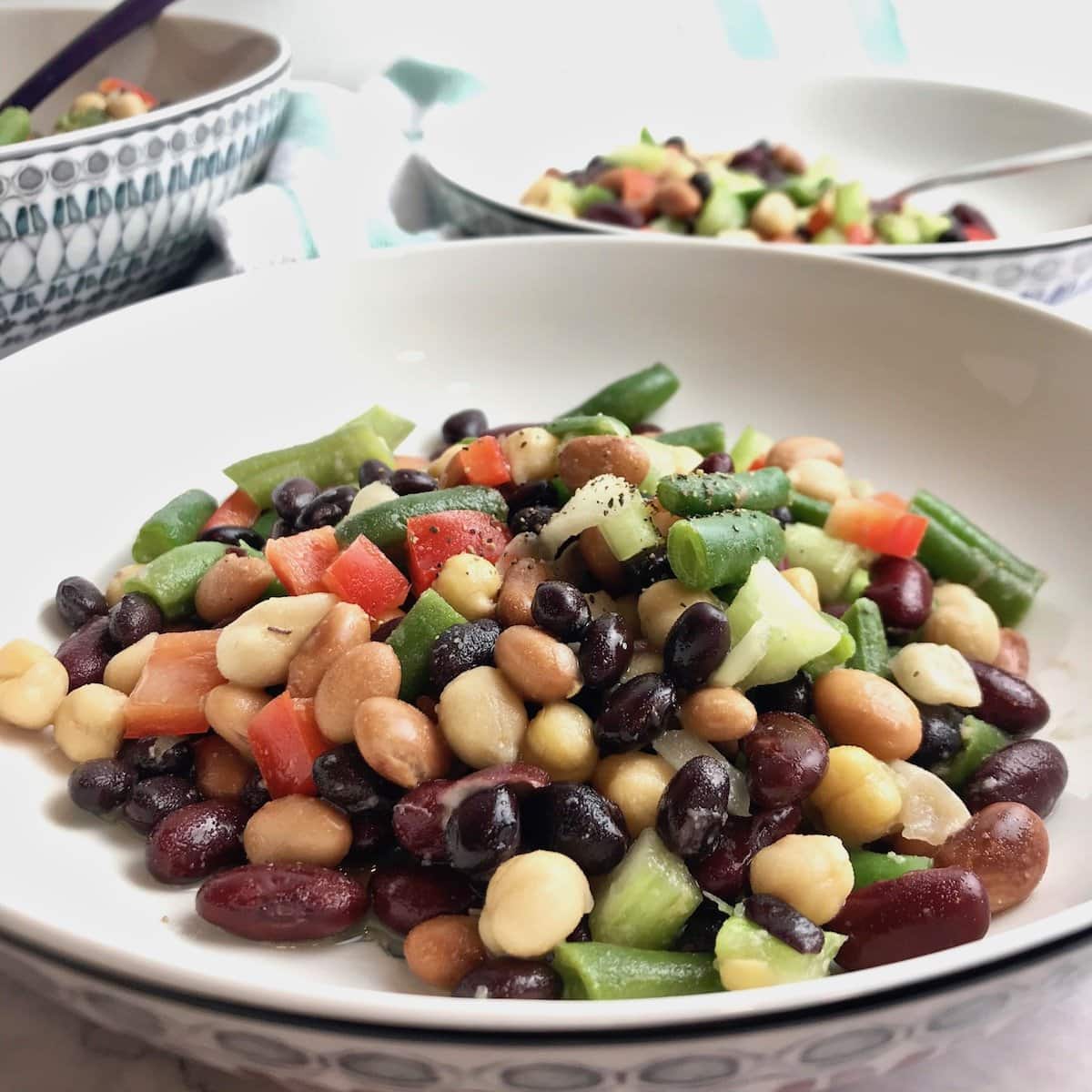 This 5 bean salad is a great side to add to your lunch or dinner. The beans used in this recipe are:
Dark red kidney beans
Black beans
Pinto beans
Garbanzo beans (also called chickpeas)
Green beans
Are beans healthy?
As mentioned, beans do have many health benefits!
According to an article about beans on NutritionFacts.org, beans are high in protein, iron, and zinc, making them a great meat substitute. Even better, they also contain nutrients found in vegetables, such as fibre, folate, and potassium.
This article also mentions that, according to an analysis of diet and cancer published by the American Institute for Cancer Research, legumes (which include beans) should be eaten with every meal. That's three times per day! Researchers are by no means saying that beans can cure cancer, but they have found that they are very health-promoting and essential to a healthy diet.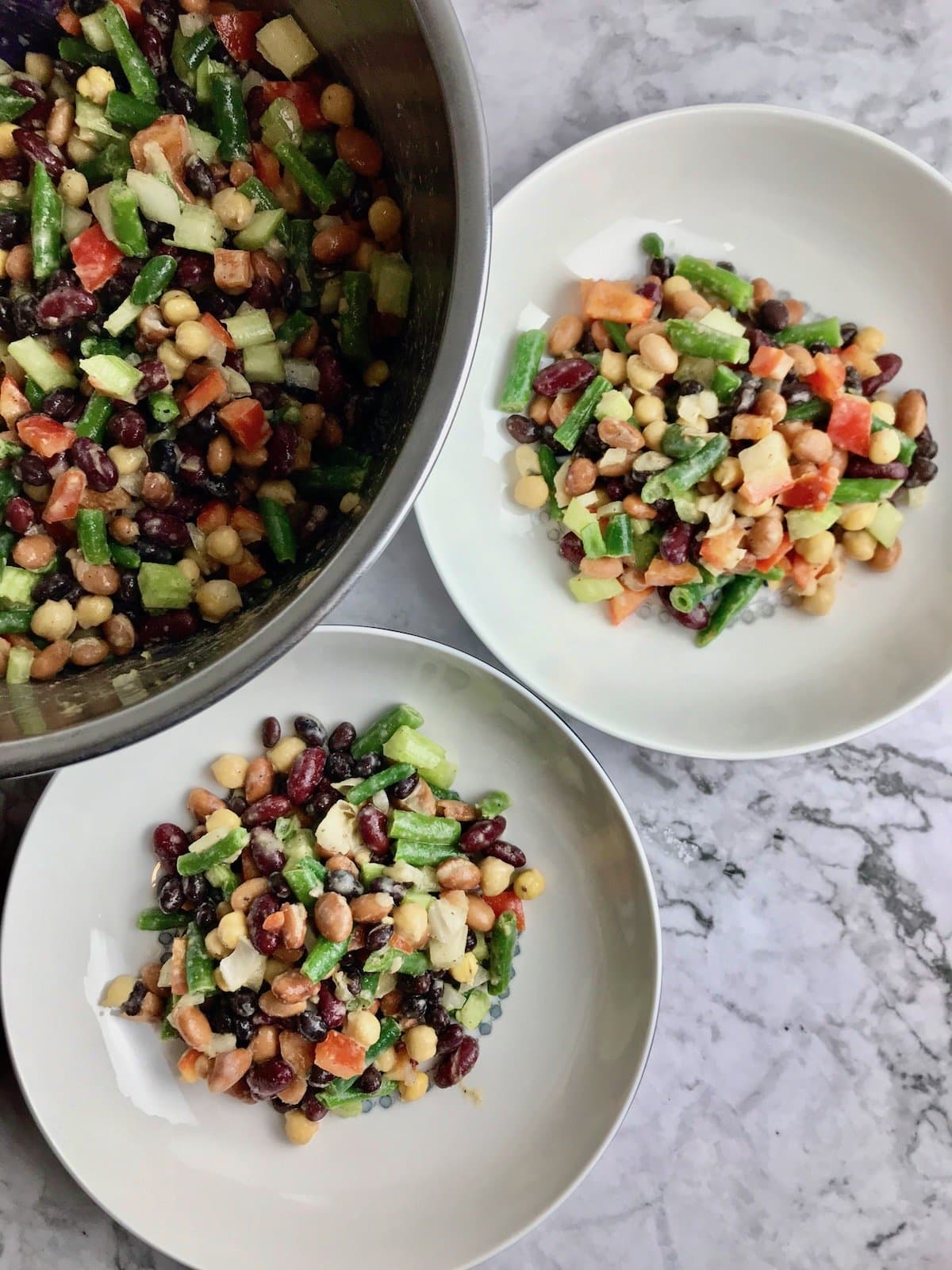 This 5 bean salad will make it easy for you to get at least one serving of beans in your day!
You can also try this healthy vegan chickpea salad to get more beans into your diet.
How to make this 5 bean salad
Making this 5 bean salad is ridiculously easy. I use canned beans for all the beans except for the green beans. I find the canned green beens to be too mushy for my liking, so I buy the frozen cut green beans and just thaw them out. So none of the beans need to be cooked! Just throw them together in a large bowl.
Then, chop your celery, onion, and red pepper and add them to the bowl.
Next, you just need to mix all the dressing ingredients together in a small dish and pour it over the salad.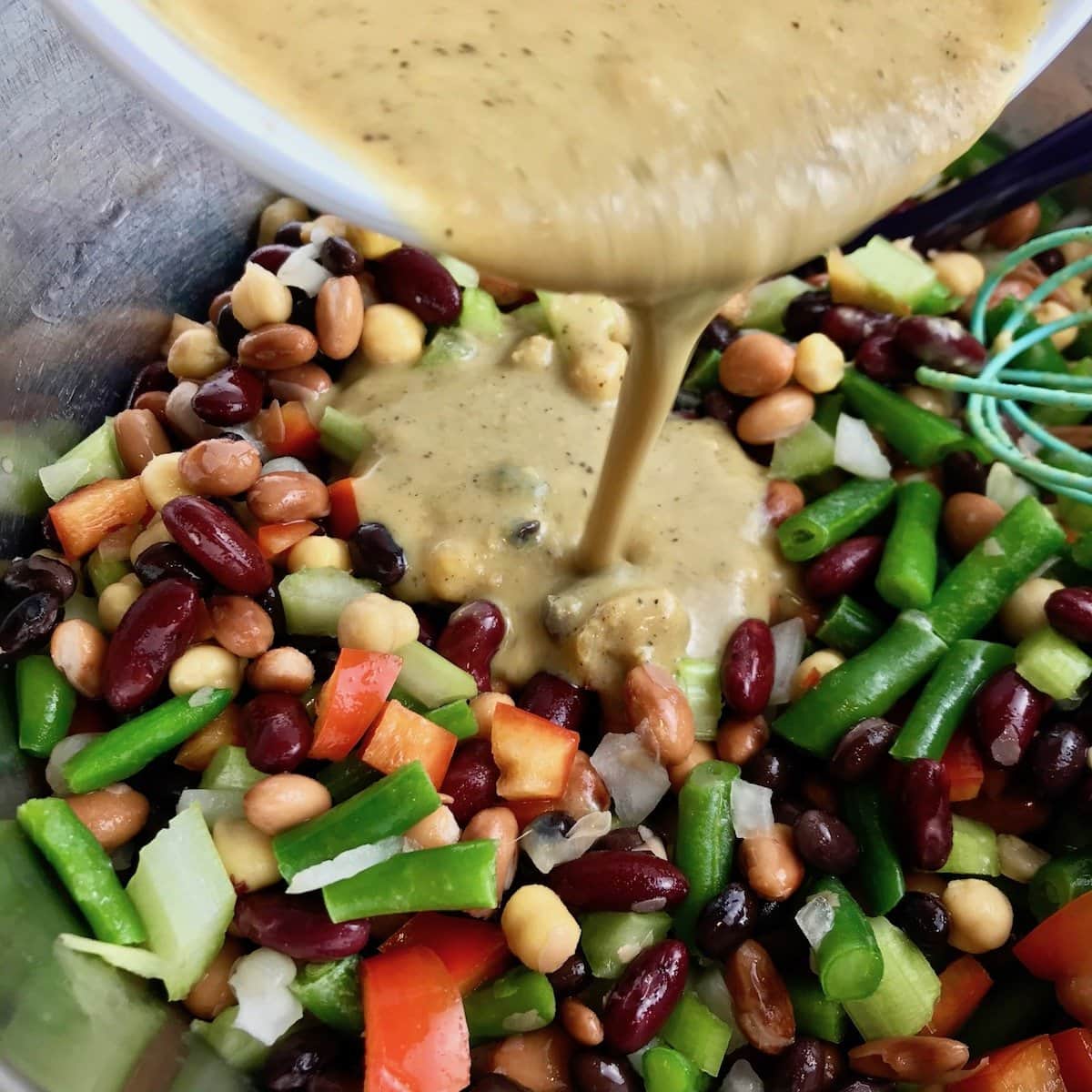 Mix everything thouroghly and enjoy your vegan bean salad!
This 5 bean salad keeps for about 5 days in the fridge, and possibly a bit longer. I've never kept it any longer than that because everytime I see it, I want to eat it!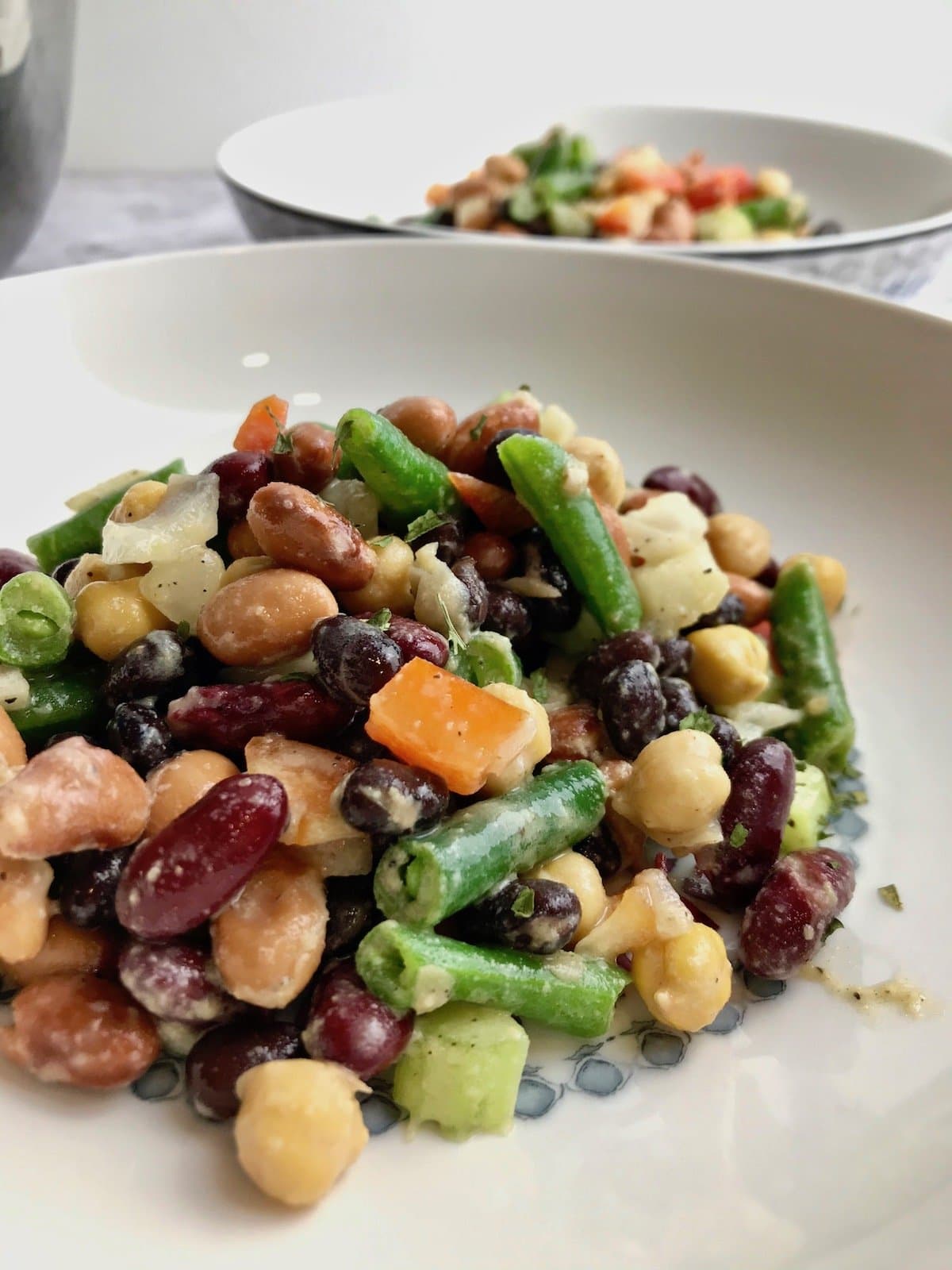 Substitutions
If you don't like one of the beans in this salad, you can switch it out with any other type of bean, or double up on one that you really like.
For the onion, you can use yellow onion, red onion, or scallions. Your preference!
More vegan sides
Recipe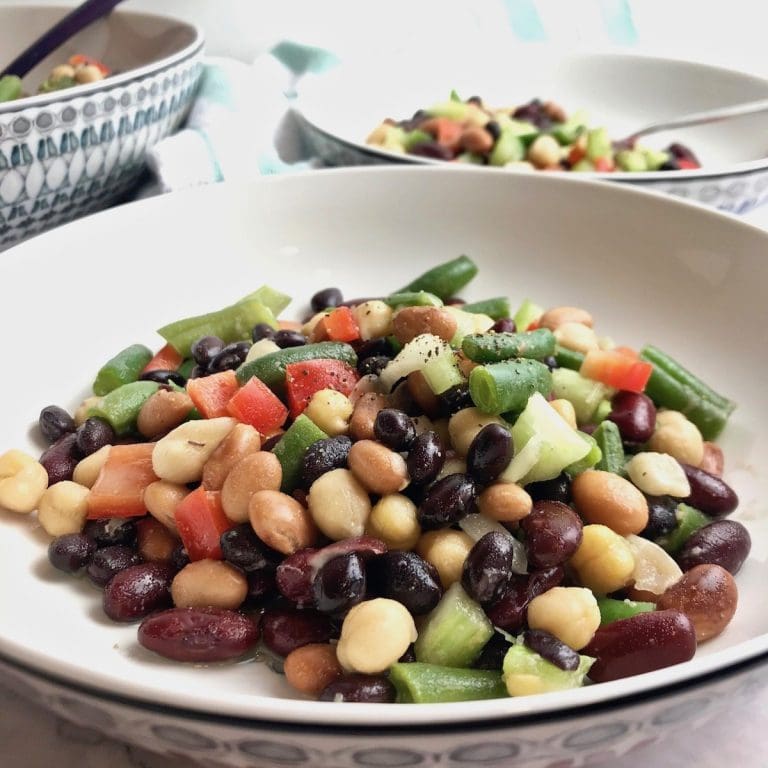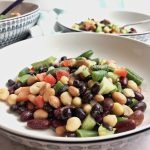 Print Recipe
5 Bean Salad (Vegan)
This 5 bean salad is so simple to make and makes a great side dish. It is vegan and has a tasty oil-free dressing.






Ingredients
Salad
14

oz.

can dark red kidney beans

14

oz.

can black beans

14

oz.

can pinto beans

14

oz.

can garbanzo beans

(chickpeas)

1.5

cups

frozen cut green beans

(thawed)

1

cup

chopped celery

½

cup

onion

(yellow, red, or scallions)

1

cup

chopped red pepper
Instructions
Measure out 1 ½ cups of frozen cut green beans. Allow them to thaw before continuing. You could rinse them with warm water to soften them up quickly. Then add them to a large bowl.

Open and drain the canned beans. Rinse them off, then add them to the bowl.

Chop and measure the celery, onion, and red pepper. Add it all to the bowl and mix everything together.

Add all dressing ingredients to a separate, small bowl and mix together. You may have some difficulty mixing the tahini. If that is the case, you can microwave the dressing in 30 second increments to soften up the tahini (or use the stovetop). I find that whisking it and mashing the tahini with a fork works fine, no heating required.

When the dressing is smooth and evenly mixed, pour it onto the bean salad and mix.
Notes
This recipe makes approximately 9 cups.
Store in a sealed container in the fridge for about 5 days.
A 14 oz. can of beans is equal to about 1 ½ cups of canned beans.
Nutrition Disclaimer
Nutrition information is an estimate generated from a nutrition calculator. There may be errors here or variations based on ingredients you use.