This post contains affiliate links for which I may earn a commission (at no extra cost to you) should you make a purchase. As an Amazon Associate I earn from qualifying purchases. Please see my disclaimer for more information.
Getting ready for Thanksgiving? You better start planning your meal! This list contains plenty of vegan sides, mains, and desserts!
People who are new to a plant-based diet often have a difficult time figuring out what the main dish of a meal should be. They are so used to having their meal centered around a meat dish so it feels kind of wrong to just eat sides.
But it's totally okay to just make your meal out of a bunch of side dishes! So you can totally do that by looking through the sides below.
I have also selected certain recipes as main dishes based on their presentation and how filling they are. This includes a variety of bean and veggie loaves.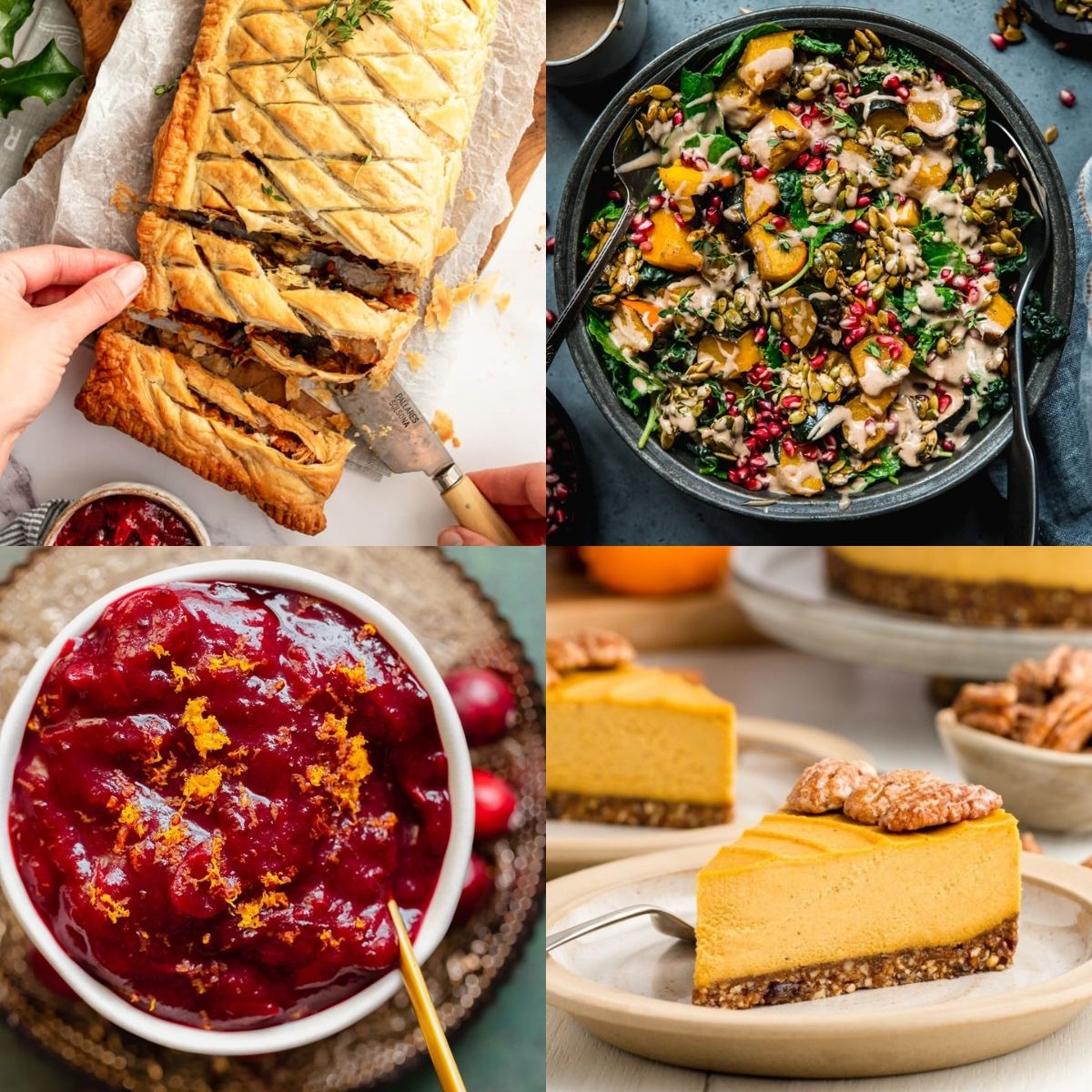 Every recipe of this list is of course vegan, and they can also all be made gluten-free! One thing to note is that you may want to make sure to use organic sugar if sugar is listed as an ingredient. This ensures that the sugar was not filtered with bone char, but if that doesn't concern you, just use any sugar.
Jump to:
Vegan Thanksgiving Mains
Instead of a meat loaf for Thanksgiving, try this vegan lentil loaf! It is filling, delicious, and contains plenty of plant-based protein.
If you want this recipe to be gluten-free, make sure you use gluten-free oats and soy sauce. Tamari is a gluten-free alternative to soy sauce that I use.
This lentil loaf can be made the day before you eat it, then you can just heat it in the oven for 20 minutes. It will also last for 5 days after making it, so you can save the leftovers!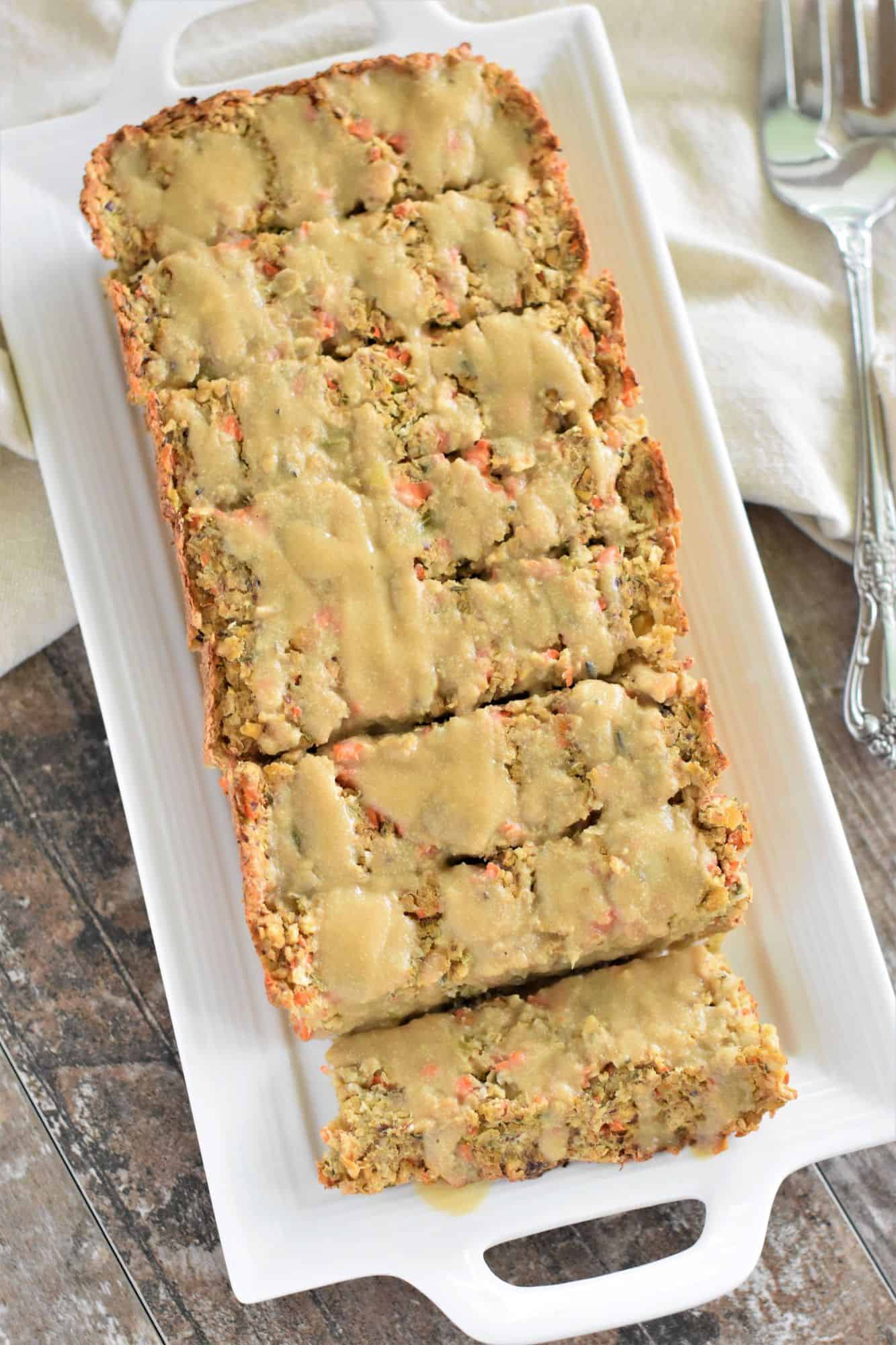 Instead of a lentil loaf, you may want to try this chickpea loaf as your main dish this Thanksgiving. It is filled with chickpeas, carrots, celery, onion, and herbs and spices that are very suited to a Thanksgiving meal.
This recipe is gluten-free, nut-free, and can also be oil-free for anyone following a whole foods plant-based diet.
If you have leftovers, you can save this loaf in the fridge for a few days, or you can even freeze it.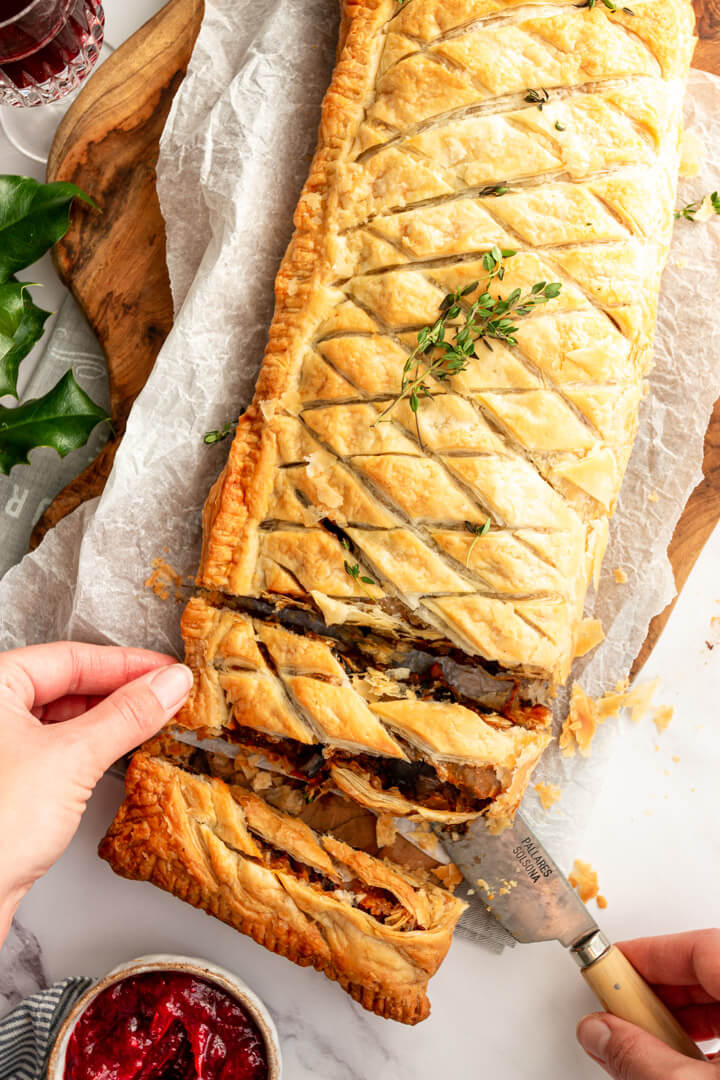 This is a great choice for a vegan main dish for a Thanksgiving meal. It is packed with mushrooms as a meat replacement, veggies, and walnuts. Spices and herbs also add a delicious flavor to this mushroom wellington.
All of this is stuffed into a puff pastry that you can buy from the store - just make sure it is vegan, and gluten-free if required.
Top this wellington with cranberry sauce, vegan gravy, or any other Thanksgiving topping that you love!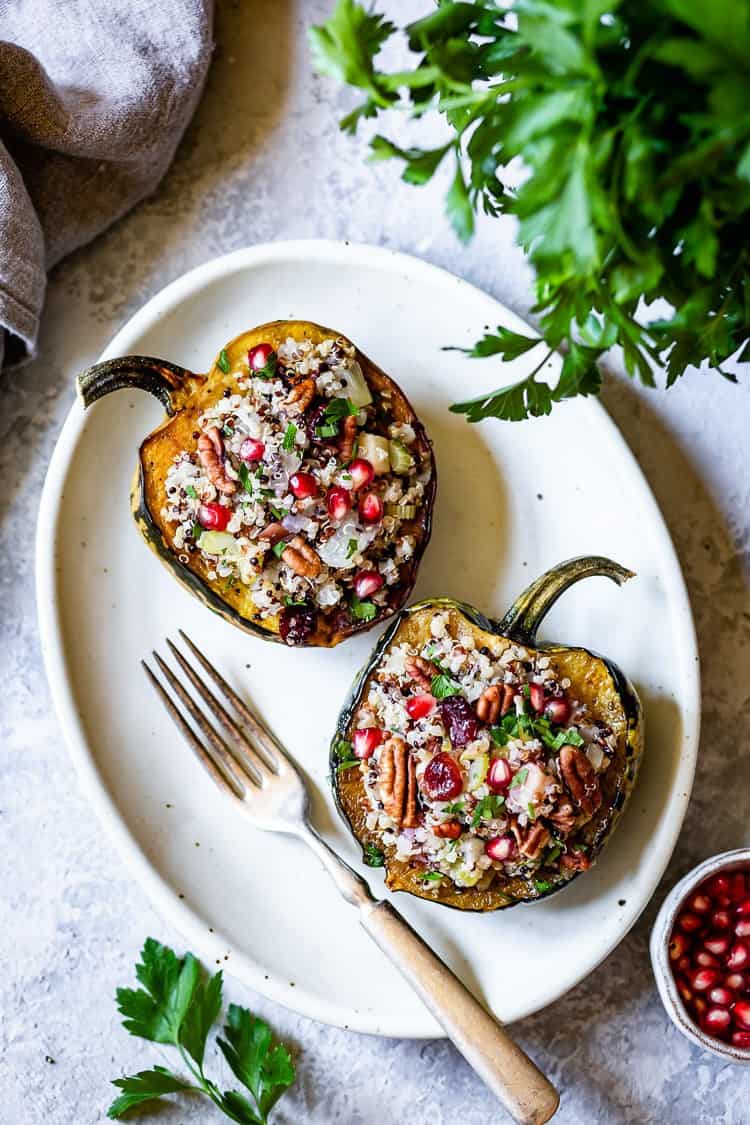 These stuffed acorn squash would make a great vegan main dish for a Thanksgiving meal. In this recipe, each squash is filled with a quinoa stuffing that includes apple, cranberries, and pecans.
The stuffing for this recipe is a delicious combination of sweet and savory. This recipe can be done in about an hour. Simply roast the squash, make the filling, and stuff the squash!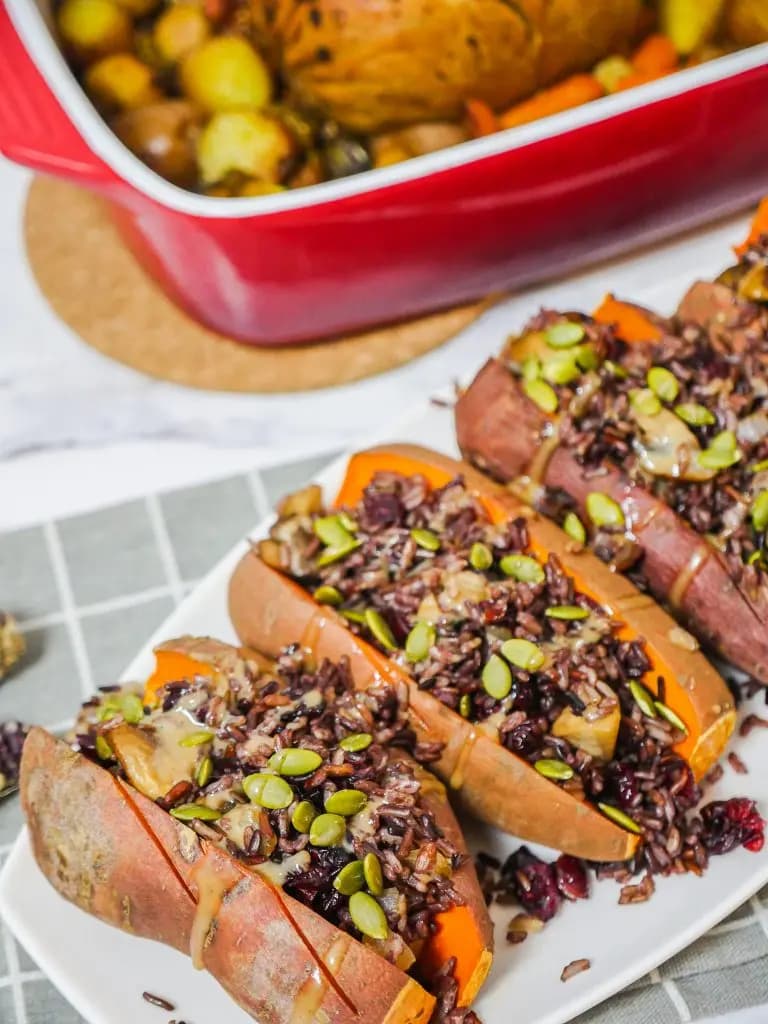 These loaded sweet potatoes would make a great main dish for a Thanksgiving meal. Each potato is filled with wild rice, mushrooms, onions, dried cranberries, and pumpkin seeds.
All of this is then drizzled with a creamy oil-free tahini sauce that can easily be adjusted to be as thick or thin as you'd like.
This recipe is a great, unique main dish that is whole foods plant-based which means it is made with only unprocessed or minimally processed ingredients and no oil!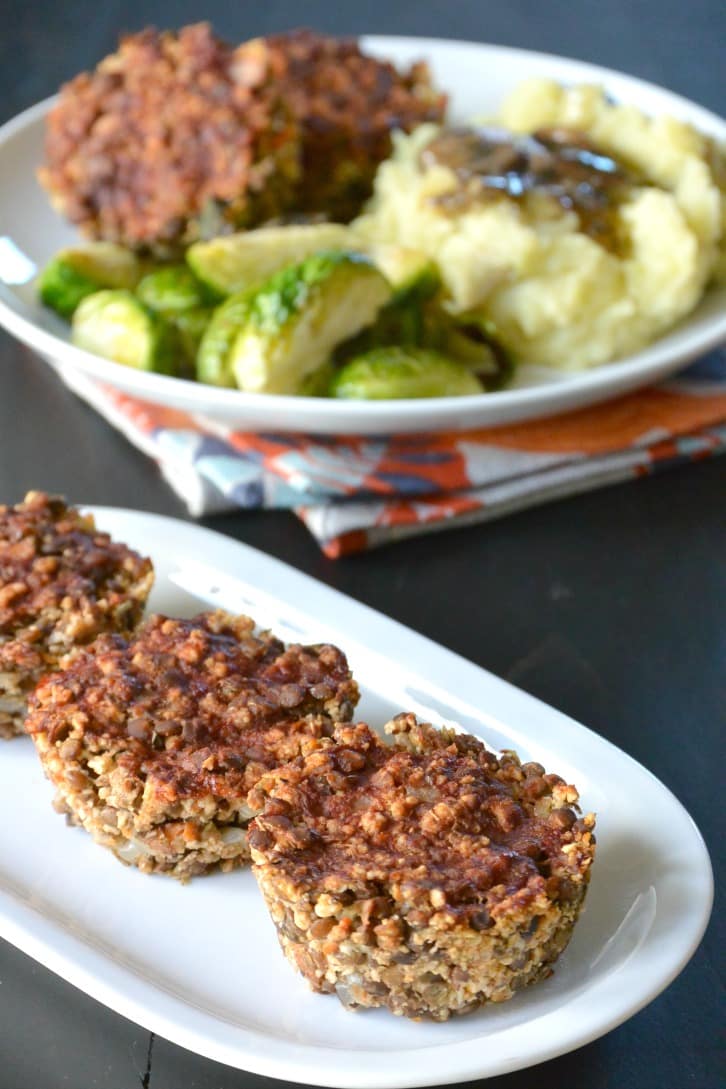 These little muffin loaves are a great alternative to a regular loaf. They are easy to serve as they are already portioned out and a few of these muffins per person would make a great main dish.
These muffins are made with brown or green lentils and veggies, and a flax egg is used to hold them together. They are all topped with a ketchup balsamic glaze before baking in the oven.
This recipe makes 12 lentil loaf muffins, so double or triple the recipe if you need more for a large group!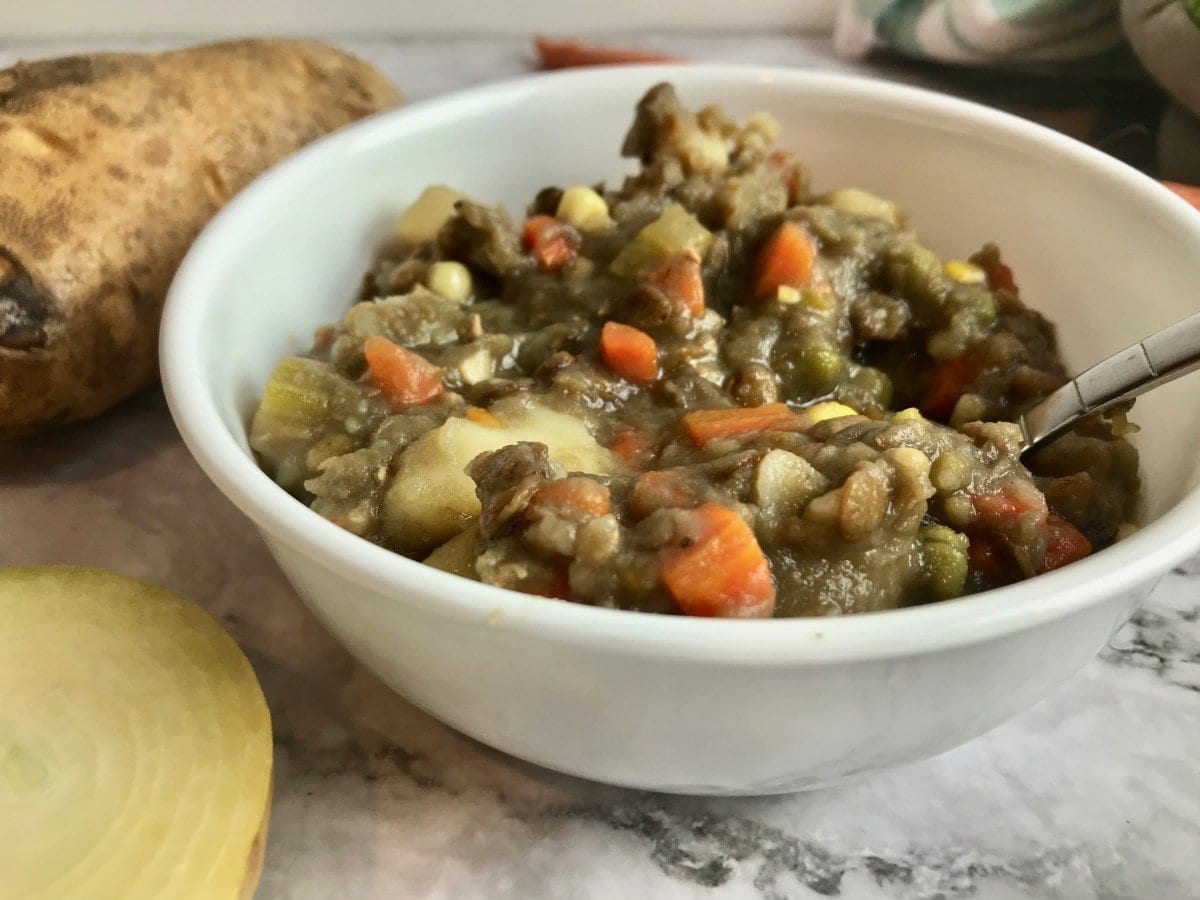 This vegan lentil stew is a hearty main dish that is super easy to make. It is filled with veggies and lentils.
This stew is also gluten-free and oil-free, so it's a great option for anyone making a whole foods plant-based Thanksgiving dinner.
Vegan Thanksgiving Sides + Sauces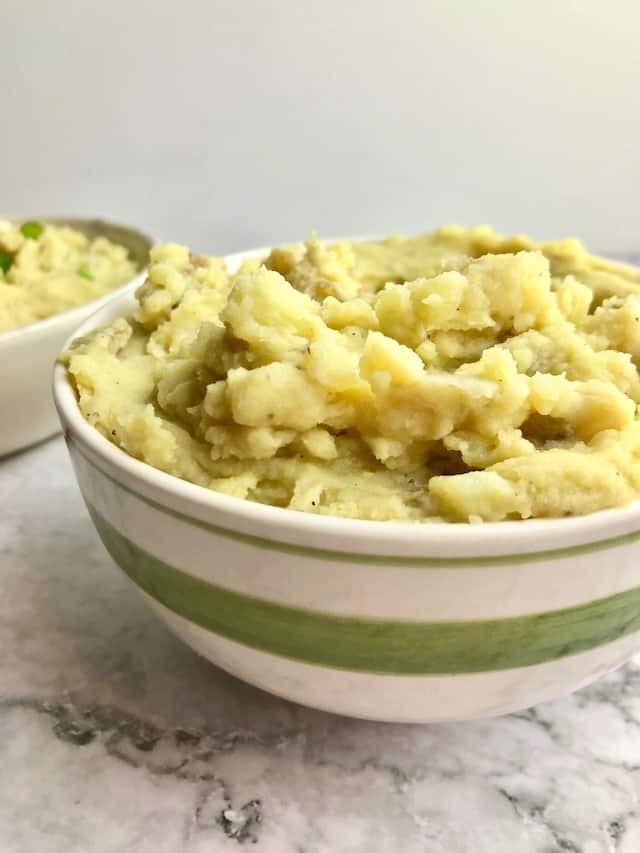 These garlic mashed potatoes are the best vegan mashed potatoes I have tried! They are smooth and fluffy and so flavorful!
Made with plenty of garlic and some nutritional yeast, these vegan mashed potatoes are sure to be a hit at your Thanksgiving dinner.
You can't have a delicious Thanksgiving meal without gravy! This gravy is oil-free and made with mushrooms. It is much healthier than your average gravy and tastes great on mashed potatoes and veggies!
You can thicken this gravy to your liking with brown rice flour.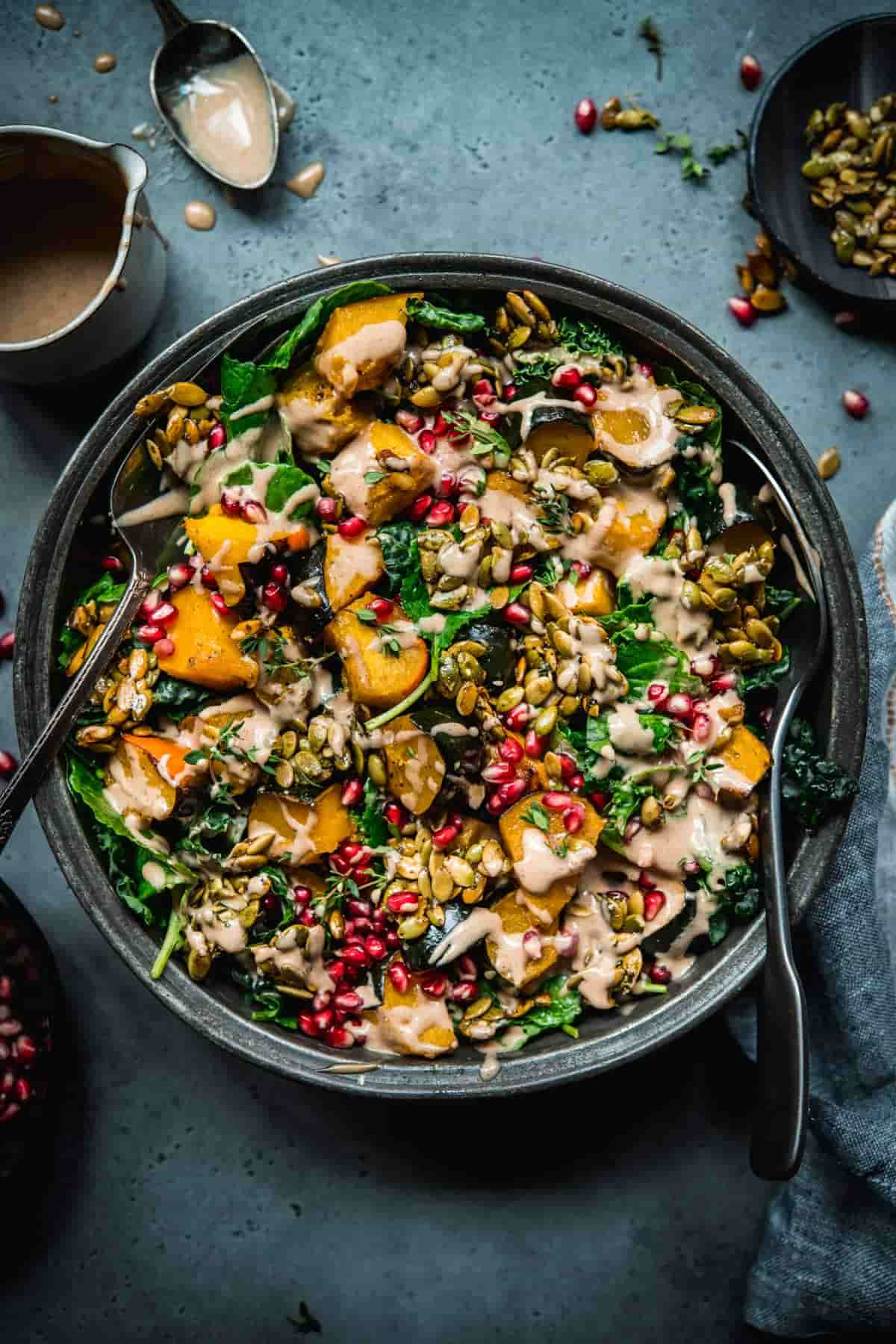 This salad is filled with nutritious ingredients and incorporates flavors that make it perfect as a Thanksgiving appetizer or side dish.
It is made with squash of course, as well as kale, pomegranate seeds, and pepitas, covered in a creamy tahini-based dressing.
It's super easy to roast the squash for this recipe and you don't even need to remove the skin from your acorn squash!
You can prep this salad before the day of your meal, then just mix it all together before serving.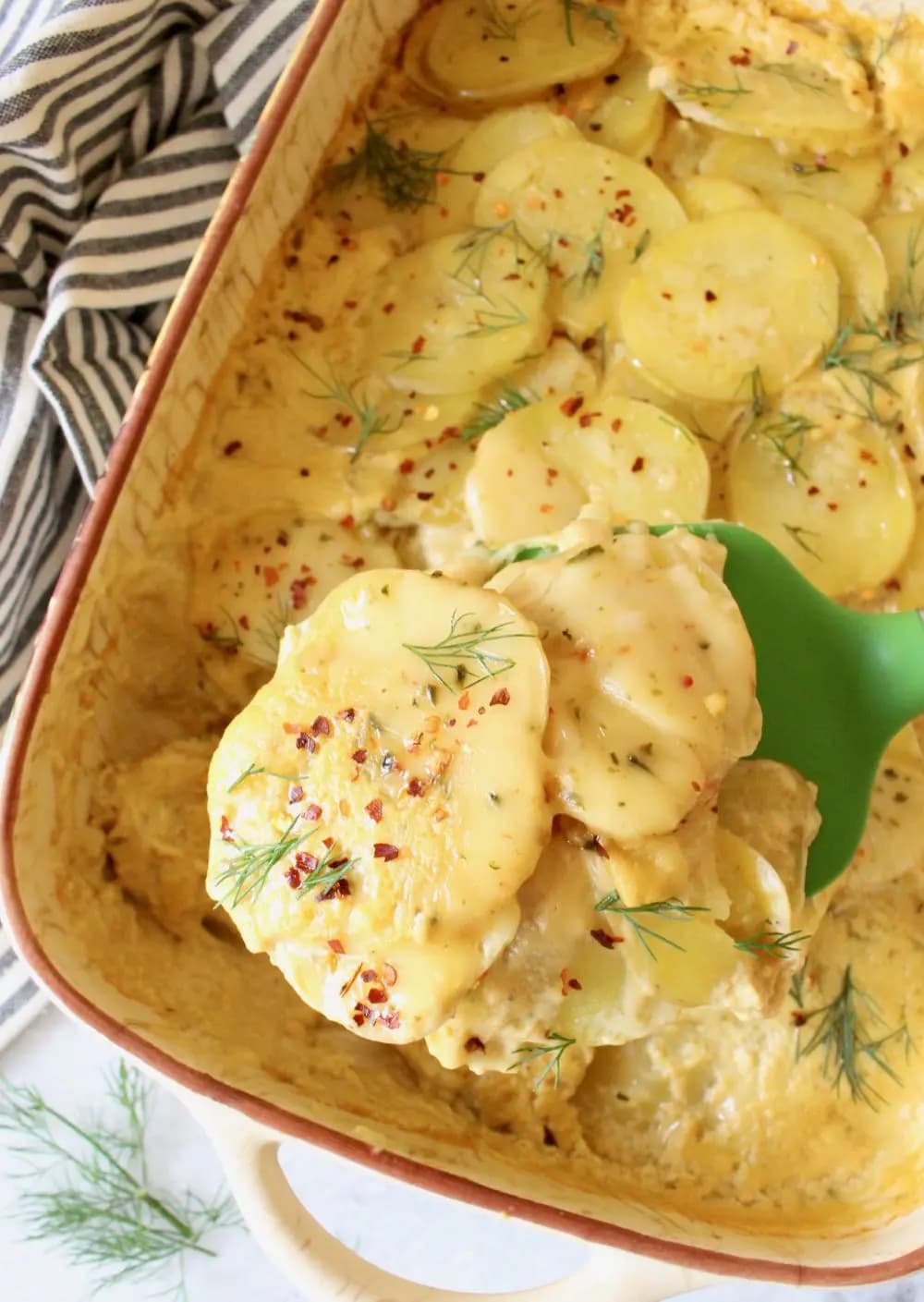 This vegan scalloped potatoes recipe is made with a delicious sauce made from cashews, nutritional yeast, and some more flavorful ingredients. This creates a somewhat "cheesy" sauce that is poured over potato slices and baked to perfection in the oven.
This dish is indulgent and is sure to be a favorite at your Thanksgiving dinner. If you want some more cheesiness, you can add some vegan cheese slices on top of the potatoes before baking. It is still great without the slices and will be oil-free if you don't add them!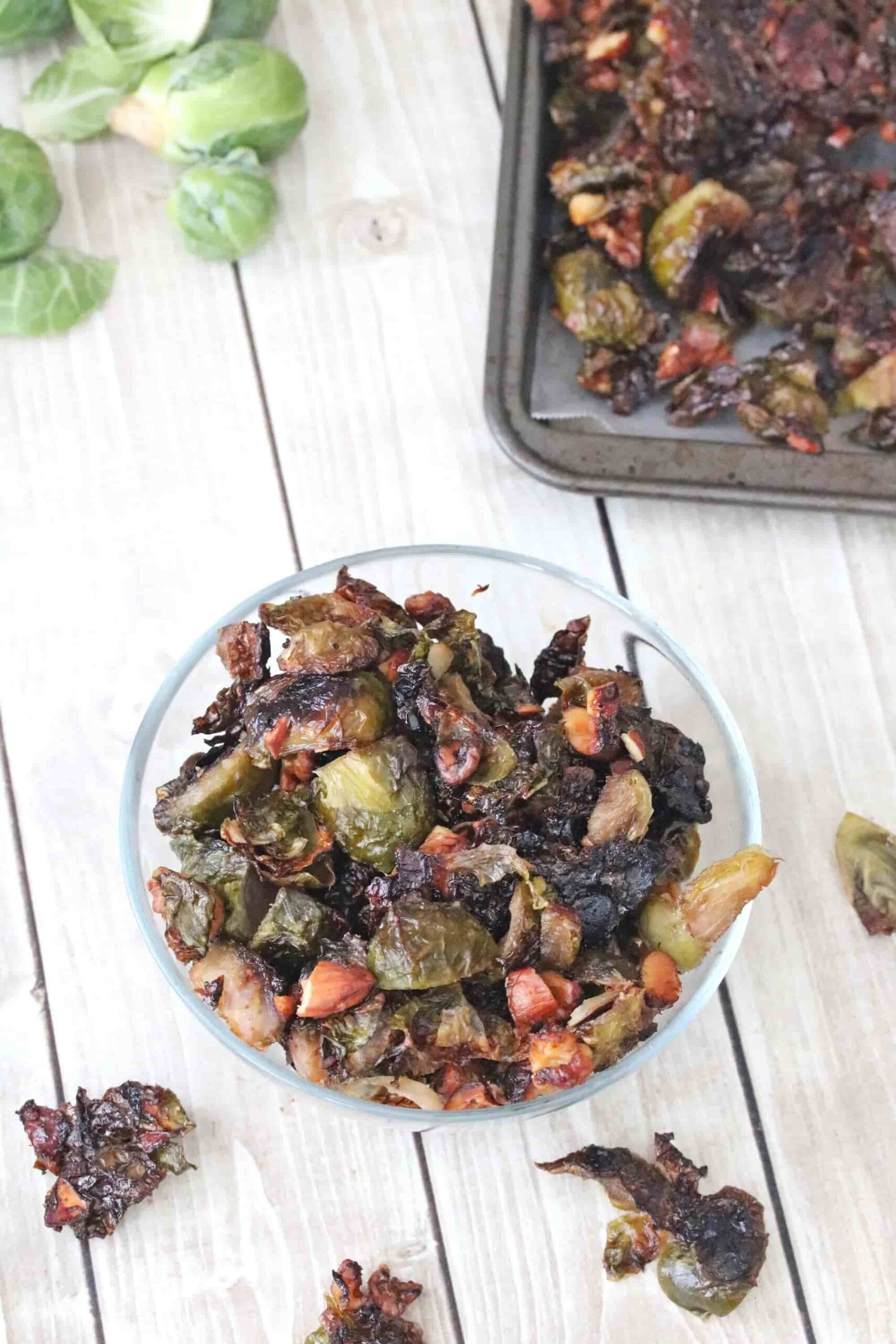 These brussels sprouts are maple-roasted and are made with just 5 simple ingredients! They are roasted in the oven and come out perfectly crispy. The addition of chopped nuts will also add some crunch to this recipe.
The flavoring and cooking method for this brussels sprouts recipe makes them so much tastier than plain old boiled brussels sprouts.
Even kids will love these!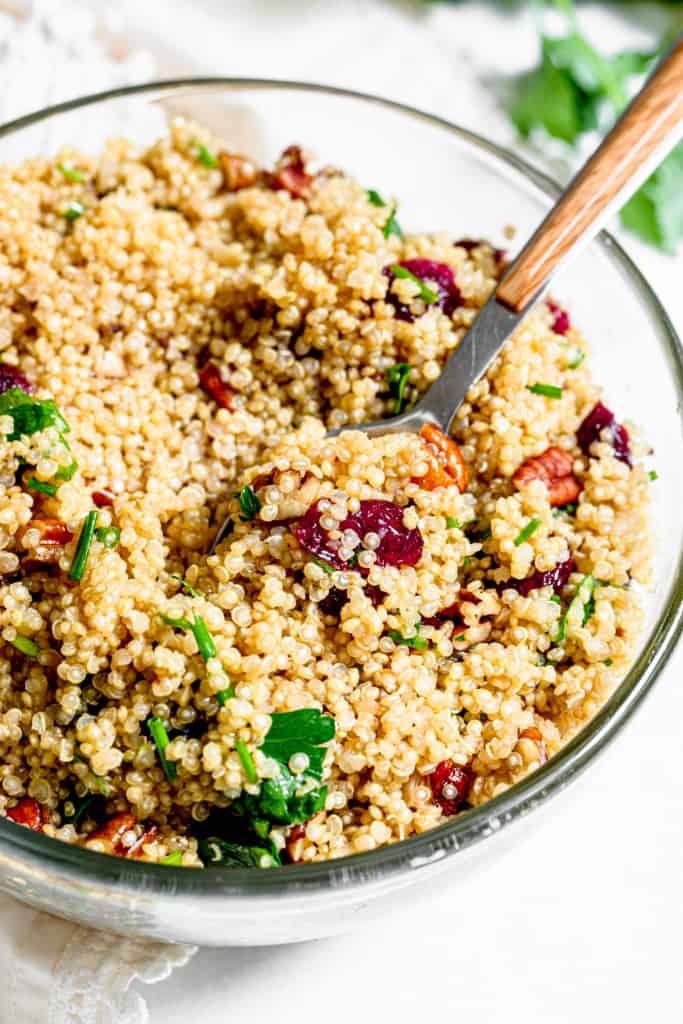 This quinoa salad is super simple, yet has great flavor that is a perfect addition to your vegan holiday meal.
The cranberries in this salad give it a bit of sweetness that compliments the savory flavors of the herbs and green onion.
Pecans add to the holiday feel and taste of this delicious vegan quinoa salad! You can serve this salad cold or hot, and you can make it an advance and store it in the fridge for a few days.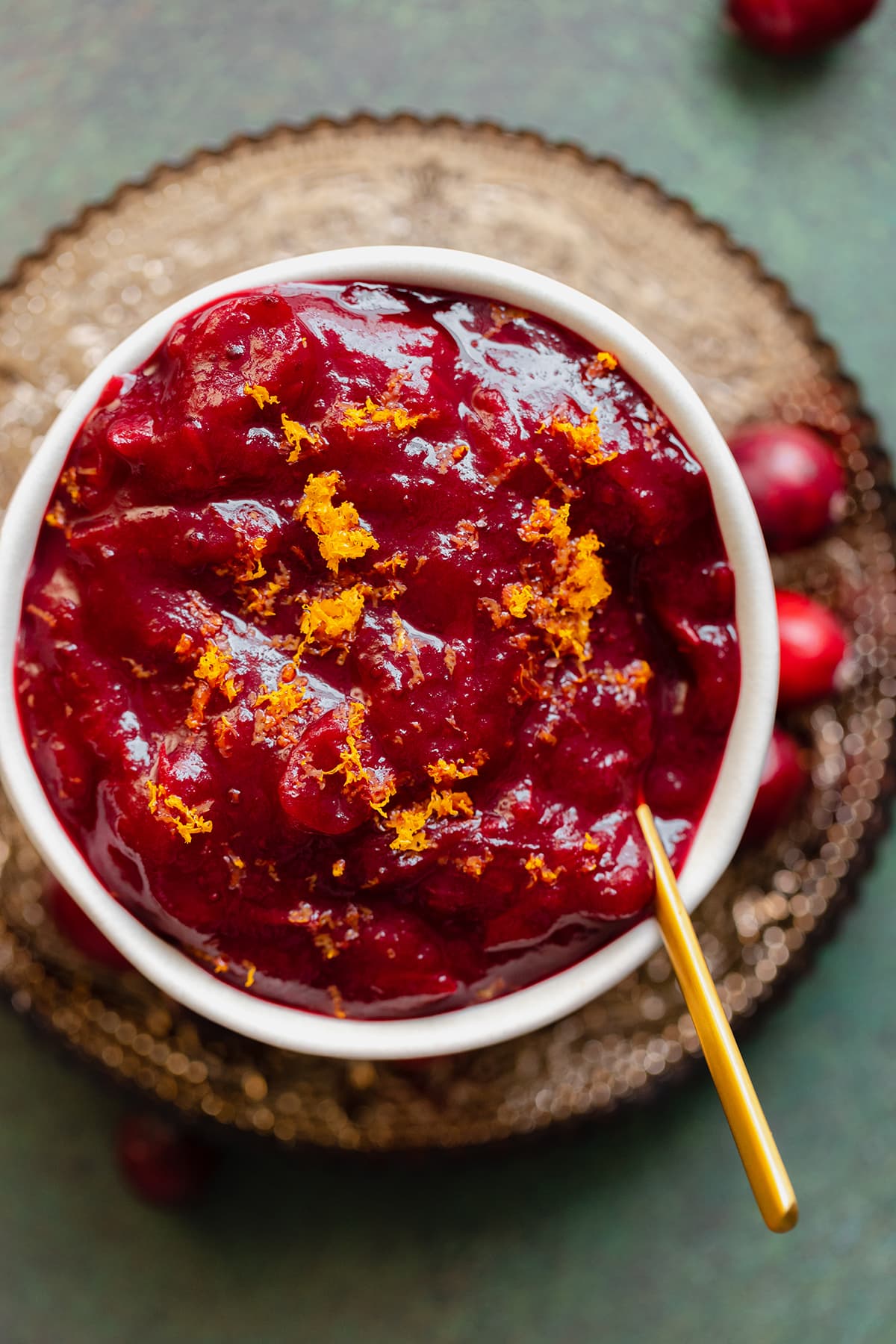 This cranberry sauce is great for a Thanksgiving meal! It is healthier than most cranberry sauces as it is not sweetened with refined sugar.
Cranberries, orange juice, and maple syrup are all the sweetness that is needed for this delicious sauce. It's tart and zesty and will be ready after about 20 minutes of cooking on the stove.
Put this cranberry sauce on any of your savory Thanksgiving dishes!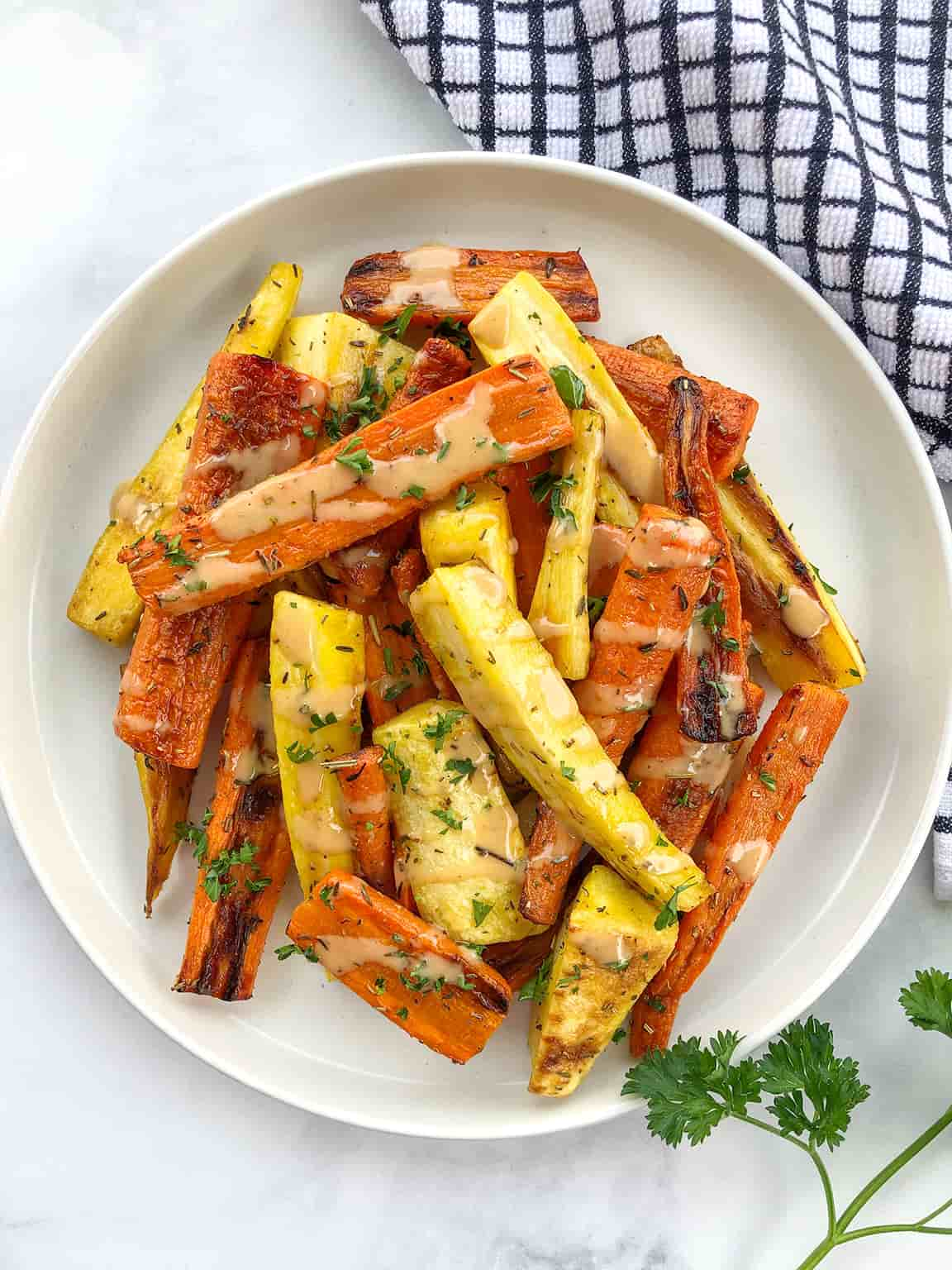 Carrots and parsnips are roasted until tender and caramelized in this simple Thanksgiving side dish recipe. Fresh thyme and rosemary add flavor and color to these cooked veggies.
After roasting these vegetables, drizzle them with a delicious and creamy lemon tahini dressing that is super easy to blend up. You can use any leftover dressing on salads or vegan bowls.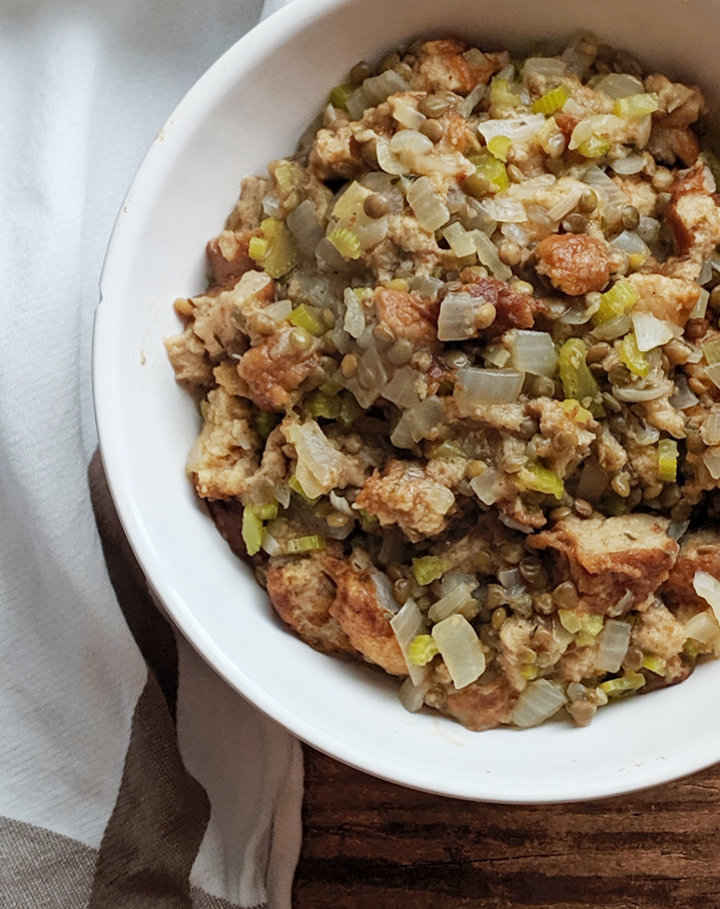 Making stove top stuffing is super easy and tastes just as good as oven-baked stuffing. This stuffing is of course vegan, and you can make it gluten-free by using a gluten-free bread.
Making your stuffing on the stove top frees up oven space for other dishes, and this one can be made in advance and reheated right before your Thanksgiving meal.
This vegan stuffing uses classic ingredients like onion, celery, sage, and thyme, but it also uses lentils to make it more filling and nutritious.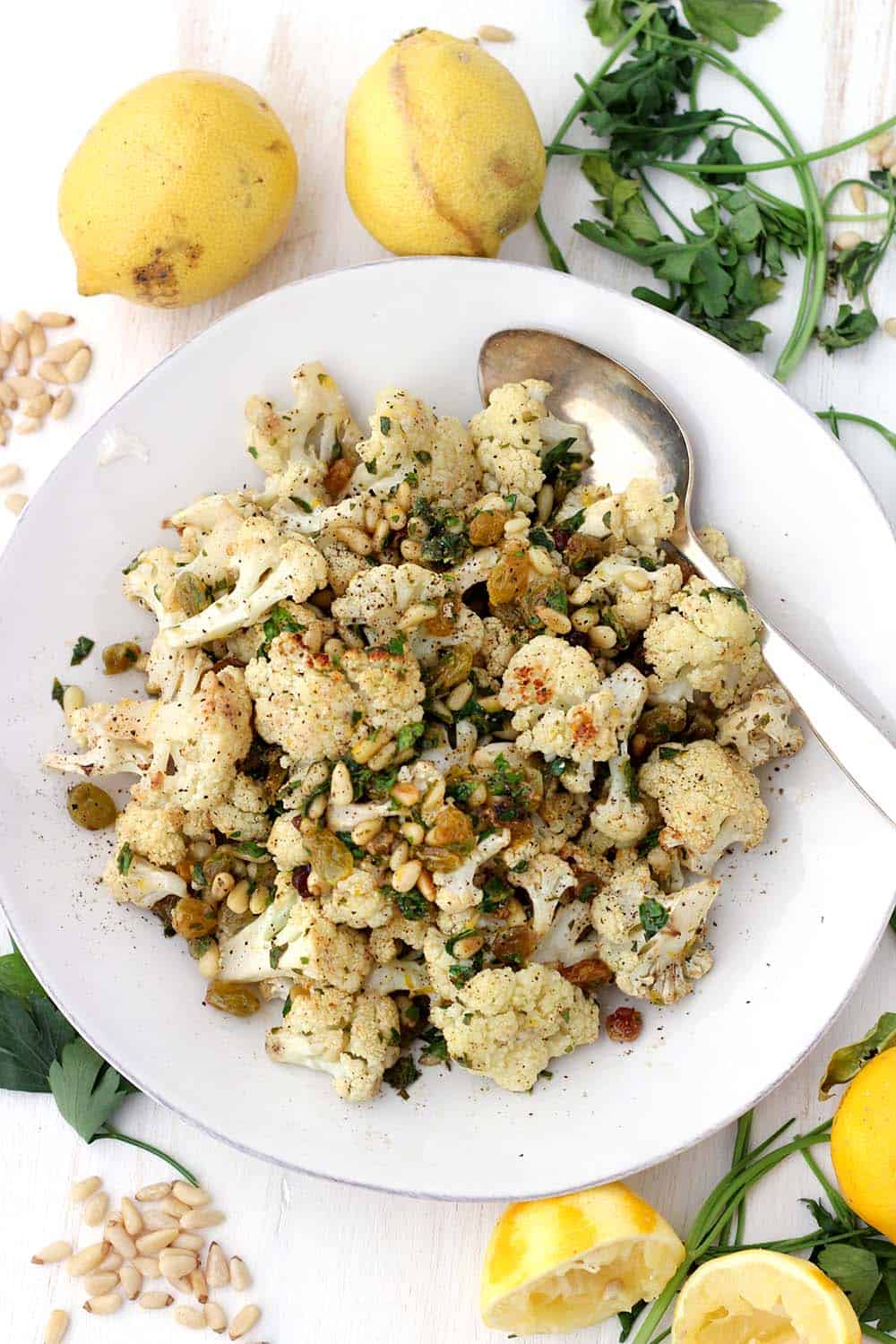 This is another great vegetable side dish for your vegan Thanksgiving meal. Roasted cauliflower is mixed with pine nuts and raisins, all topped with a vinaigrette with fresh parsley.
Simply roast the cauliflower in the oven, toast the pine nuts, and mix everything together. Super easy and so good!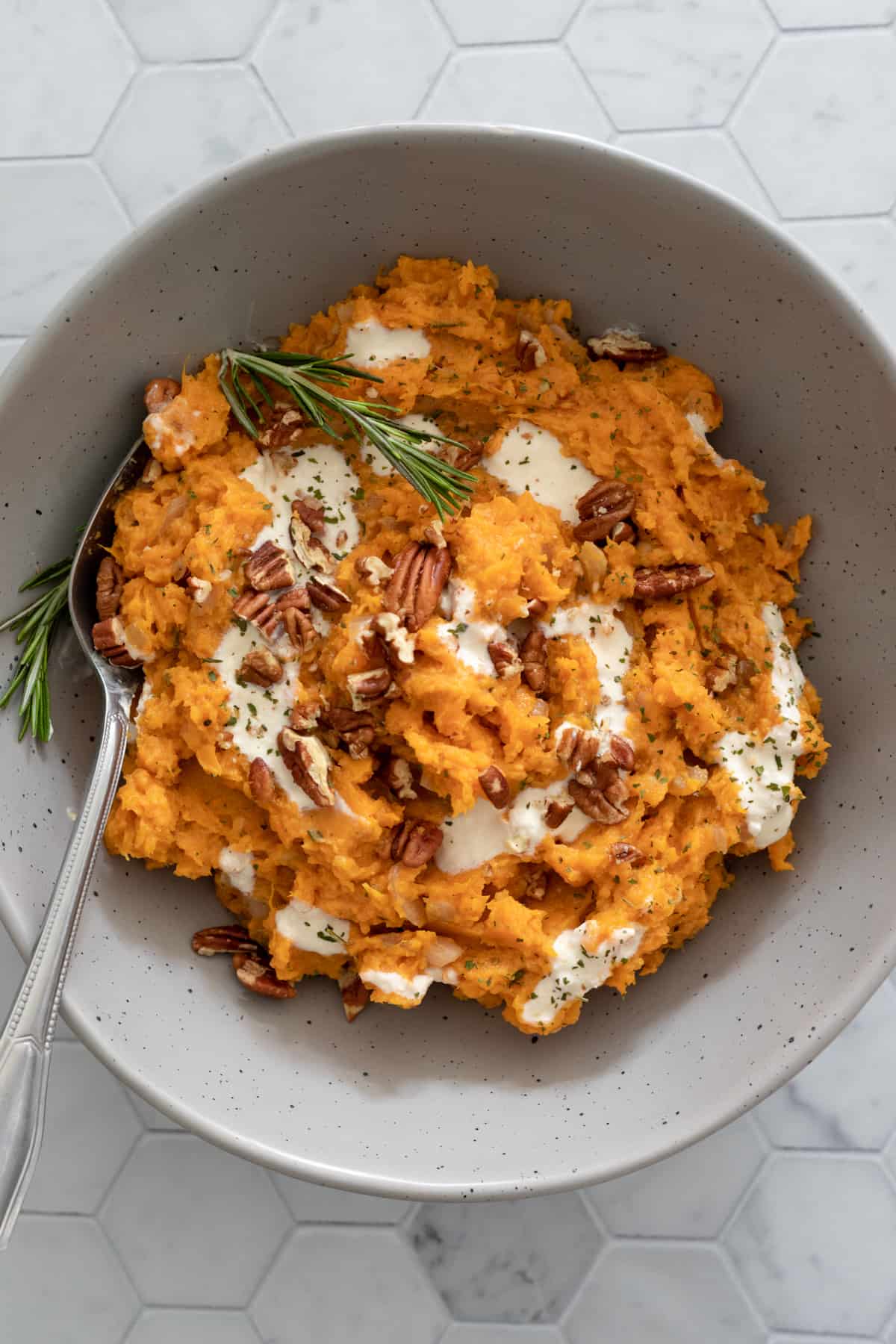 These mashed sweet potatoes are the perfect combination of savory and sweet. The mix of herbs, vegan yogurt, and chopped pecans makes a great Thanksgiving side dish.
The yogurt makes these mashed sweet potatoes creamy without the use of any milk or butter.
These mashed potatoes are not only vegan, but also gluten-free and oil-free (as long as you use an oil-free yogurt, which you can make yourself – a yogurt recipe is included in this sweet potato recipe).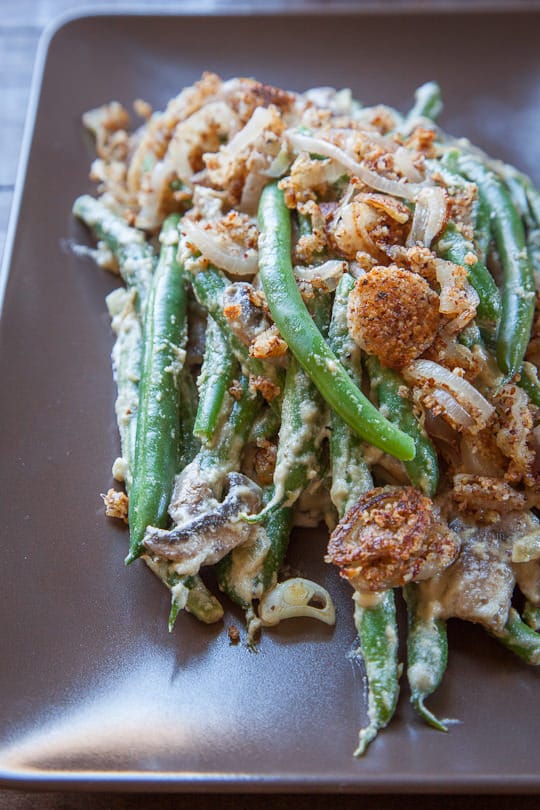 This delicious green bean casserole is reminiscent of a classic version, but it is vegan and gluten-free!
In addition to green beans, this dish contains mushrooms, onion, garlic, and more, all covered in a creamy cashew-based sauce.
It is made on the stove top, so it won't take up oven space when you are prepping a holiday meal.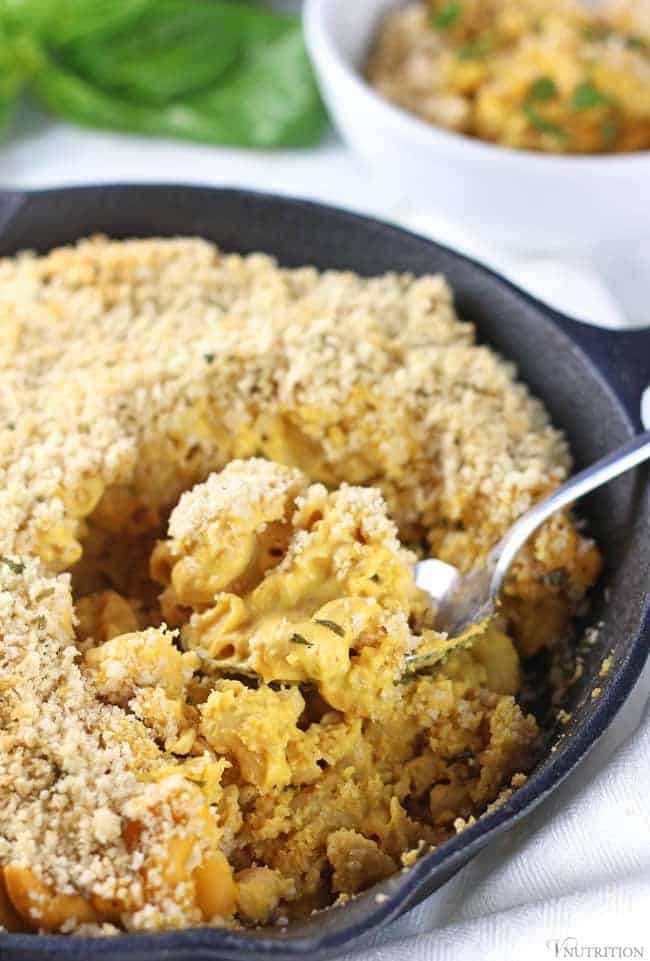 If you've never had pumpkin mac and cheese, you need to try this recipe! This creamy mac and cheese is made with cashews and pumpkin puree, and is baked in the oven.
Nutritional yeast is added for some vegan cheesiness, and this pasta also has a crispy breadcrumb top.
This recipe is super easy to make! Just blend the sauce, cook the pasta, then put it all together and pop it in the oven.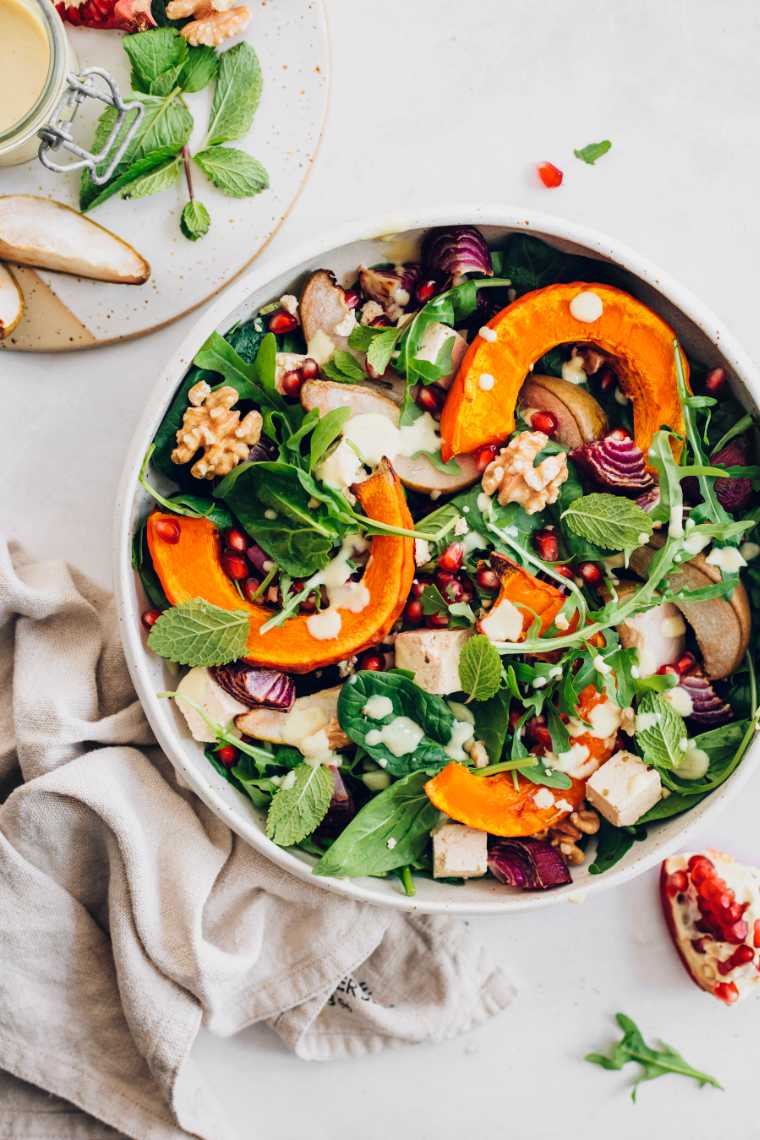 This vegan pumpkin feta salad is filled with plenty of nutritious ingredients such as pumpkin, spinach, arugula, pear, and more. Walnuts add a nice crunch, and the vegan feta is made with tofu (or you could use a store-bought vegan feta).
The dressing for this salad is super creamy thanks to some vegan yogurt and Dijon mustard. This flavorful salad will be ready to eat in just 30 minutes!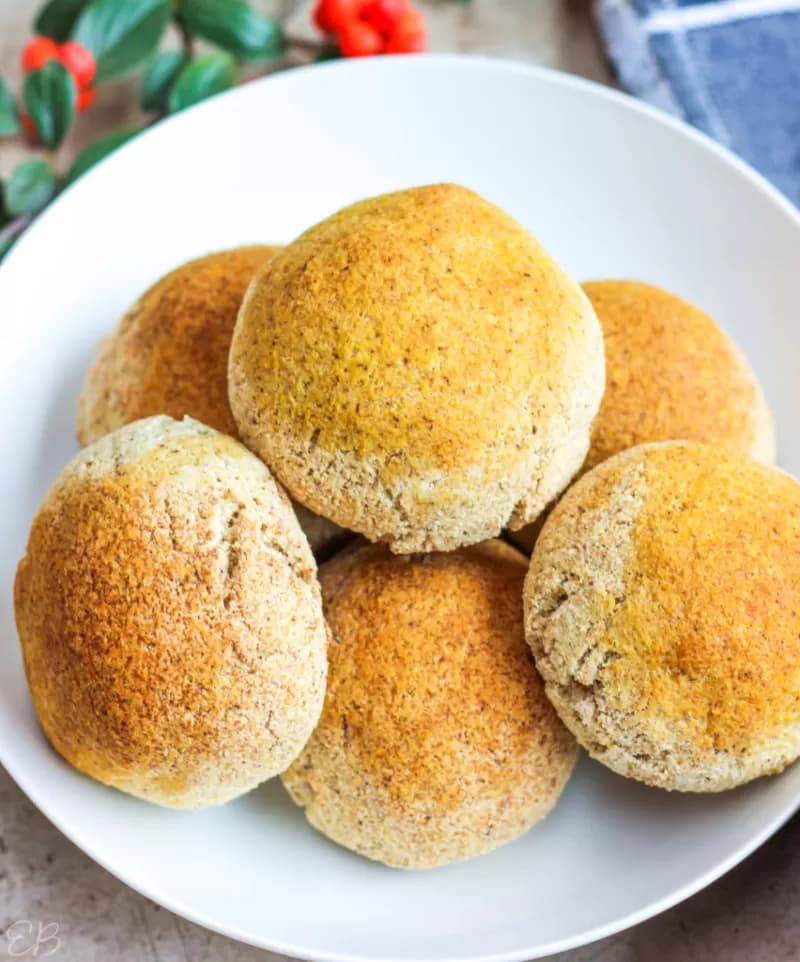 If you want to serve bread rolls at your Thanksgiving dinner, this is a great recipe that is both vegan and gluten-free.
These rolls are also grain-free and they are soft, fluffy, and moist. Spread some vegan butter on these rolls or dip them in some vegan gravy.
The flour used for this recipe is a combination of coconut flour and a nut or seed flour, such as blanched almond flour. You can leave them plain or sprinkle some seeds or dried herbs on them.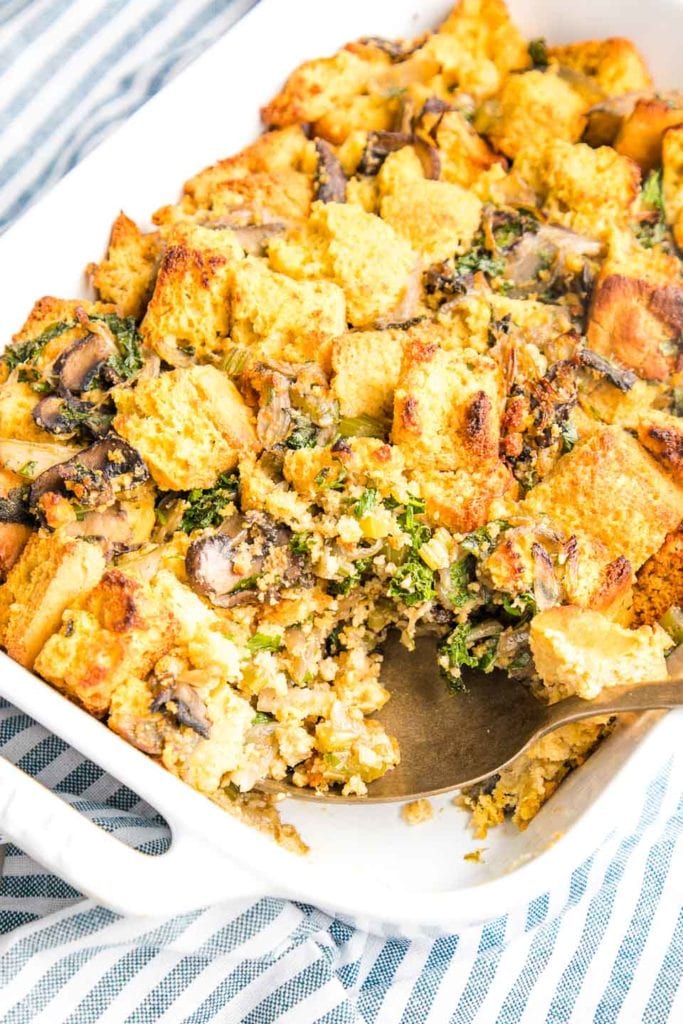 This is another great vegan and gluten-free stuffing option. This cornbread stuffing has a delicious blend of savory and sweet with a nice combination of herbs.
Along with some traditional stuffing ingredients, this recipe incorporates mushrooms, kale, and fennel.
This recipe also links to a cornbread recipe that you will need to prepare at least a day before making your stuffing.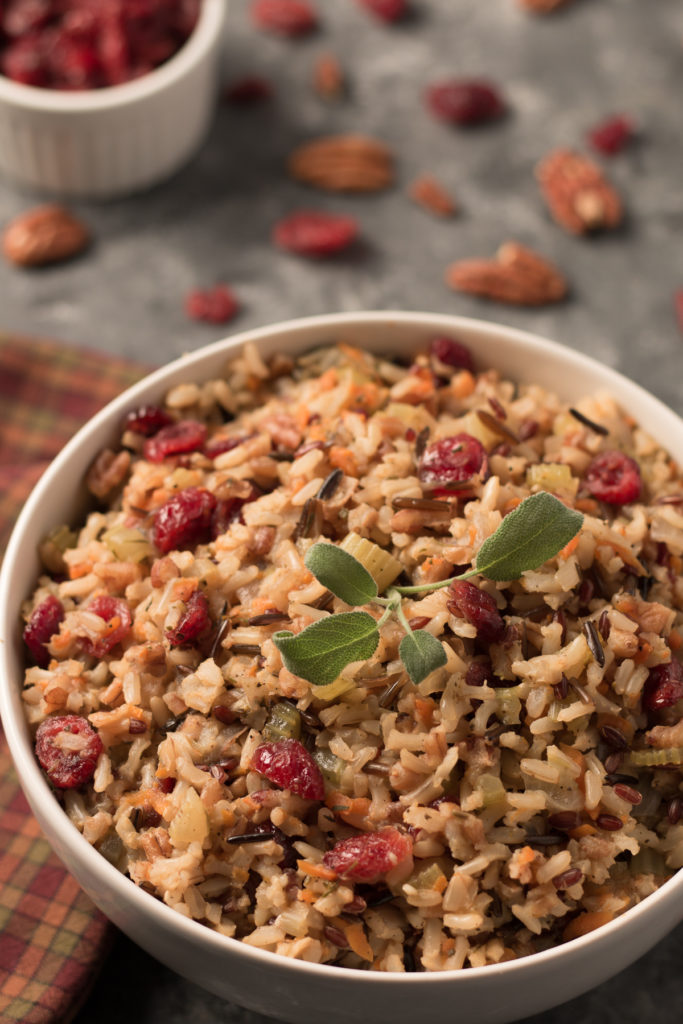 This festive side dish is made with wild rice, pecans, dried cranberries, and more. Ideally, this rice pilaf will turn out nice and fluffy, and the recipe includes full instructions and tips to achieve the desired texture.
This pilaf is made with plenty of flavorful ingredients including herbs, and has a wonderful texture that includes crunch from the pecans and some chewiness from the cranberries.
Vegan Thanksgiving Desserts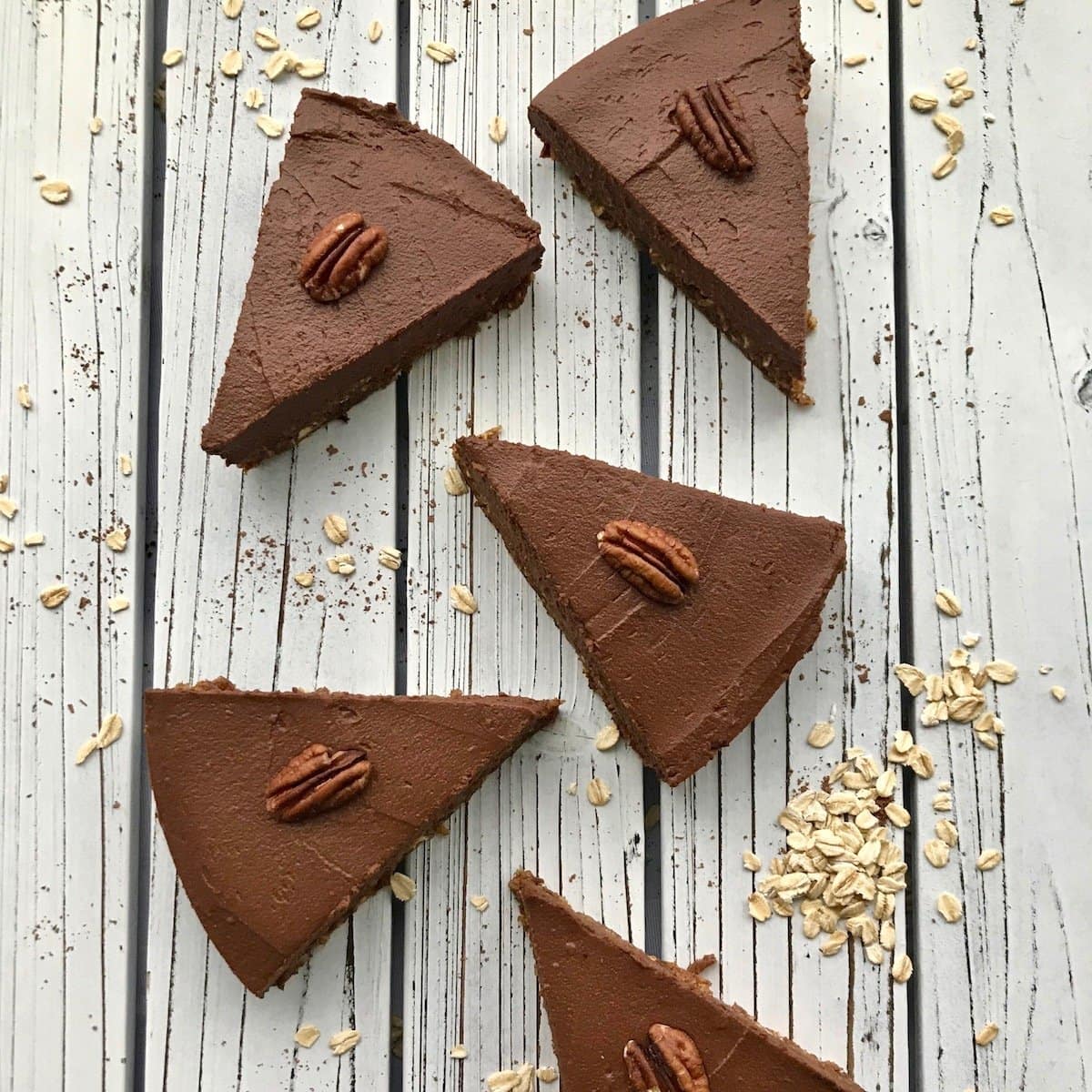 This vegan and gluten-free pie has a date and nut crust with a chocolate sweet potato filling. The filling for this pie also includes coconut cream and is super easy to blend before it sets in the fridge.
This delicious holiday pie has a rich chocolate taste and is perfect with some vegan pumpkin whipped cream on top.
This pumpkin whipped cream is perfect on top of any pie! It is made with a base of coconut cream and pumpkin puree.
Some pumpkin pie spice adds a delicious holiday flavor to this vegan whipped cream. It is sure to impress your guests!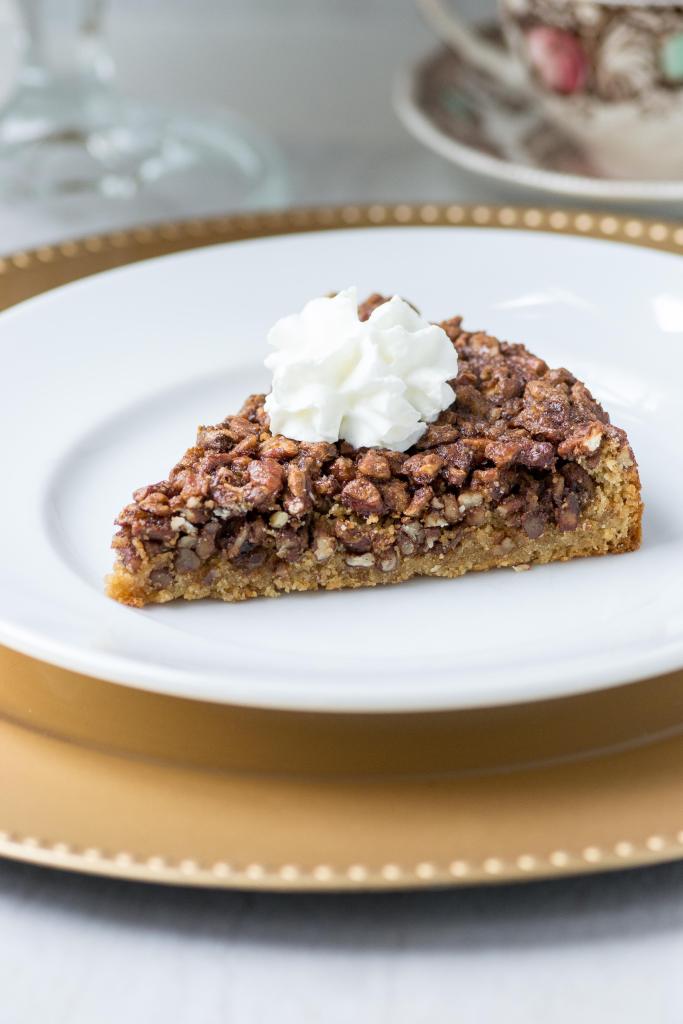 This pie is a great Fall dessert with a blondie base and a topping of candied pecans. Though this is called a pie, it is actually a cake that mimics a pie.
This Thanksgiving dessert has that classic pecan pie flavor, but it is completely vegan and gluten-free, with a tender cake base.
Top this pie with your favorite vegan whipped cream for an indulgent dessert!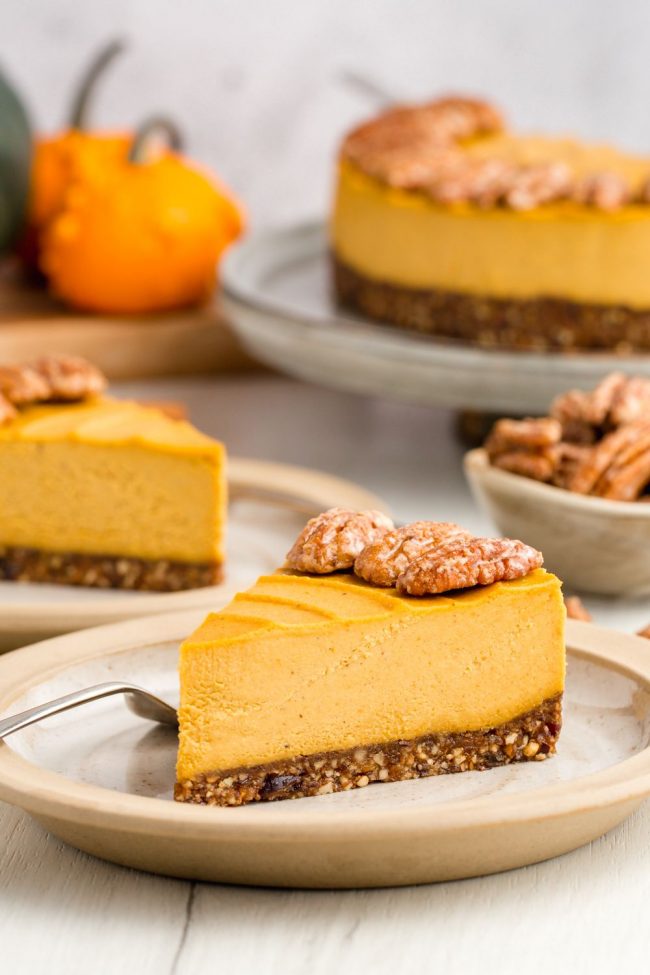 This pumpkin cheesecake is creamy and tastes very similar to a traditional cheesecake. The base is made with a date and pecan mix that is then pressed into your pan. This crust is easy to make and requires no baking!
The cheesecake is made with a blend of coconut cream, pumpkin puree, soaked cashews and more to make a decadent dessert. This cheesecake will need to set in the fridge for at least 12 hours to firm up, so make sure you plan ahead for Thanksgiving.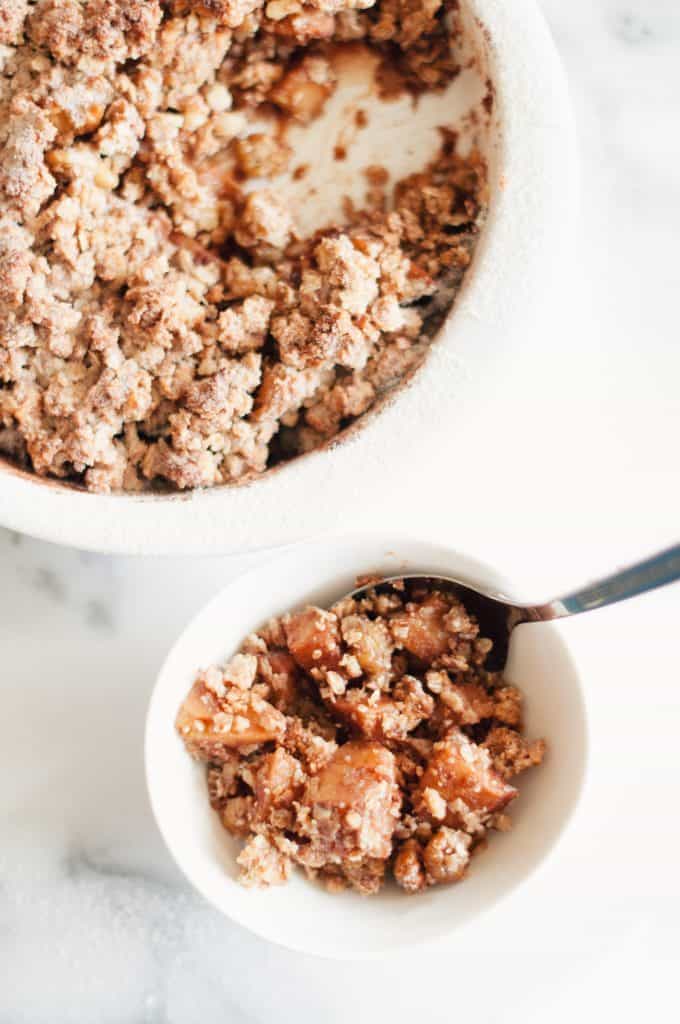 This vegan apple crisp has a filling of Ambrosia apples mixed with added sweetness from maple syrup and some cinnamon.
The topping of this dessert is crunchy and baked to perfection. Serve this delicious recipe on its own or with some vegan ice cream!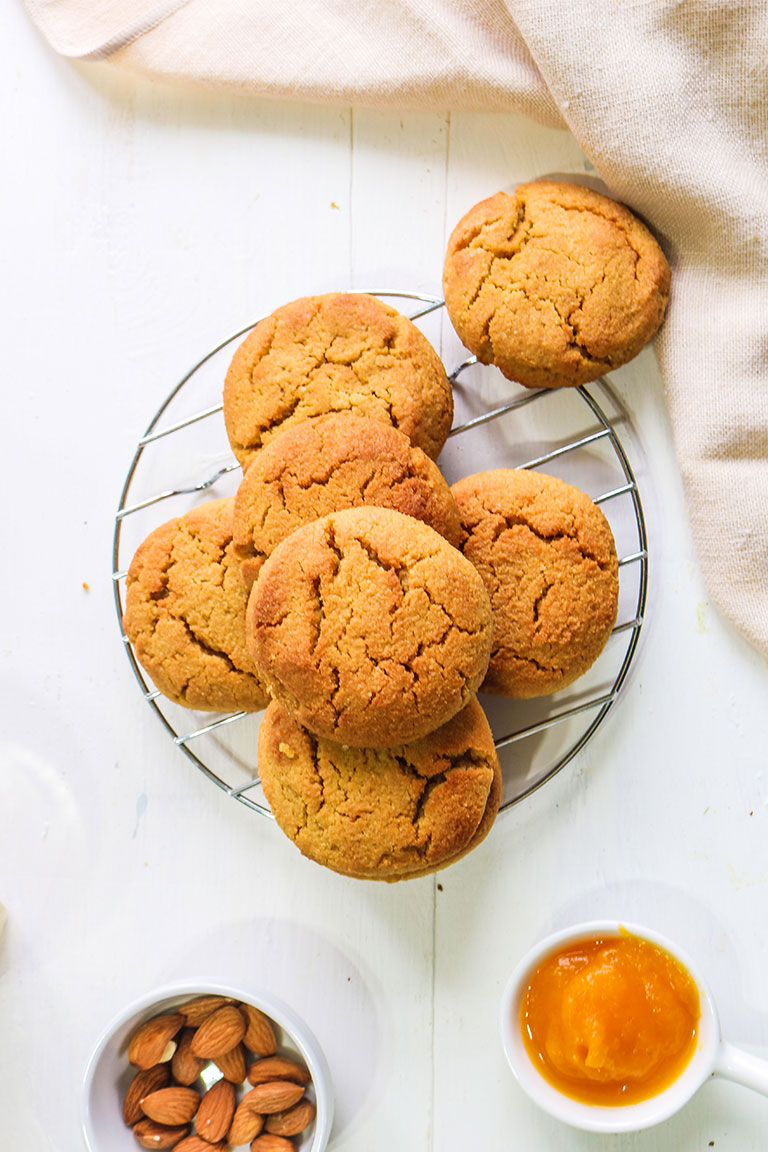 These pumpkin cookies are soft and fluffy and a great addition to your Thanksgiving dessert.
They are made with pumpkin puree and the flour used is almond flour so they are gluten-free. These cookies are great on their own, but would also be good with a slice of pie or some vegan ice cream!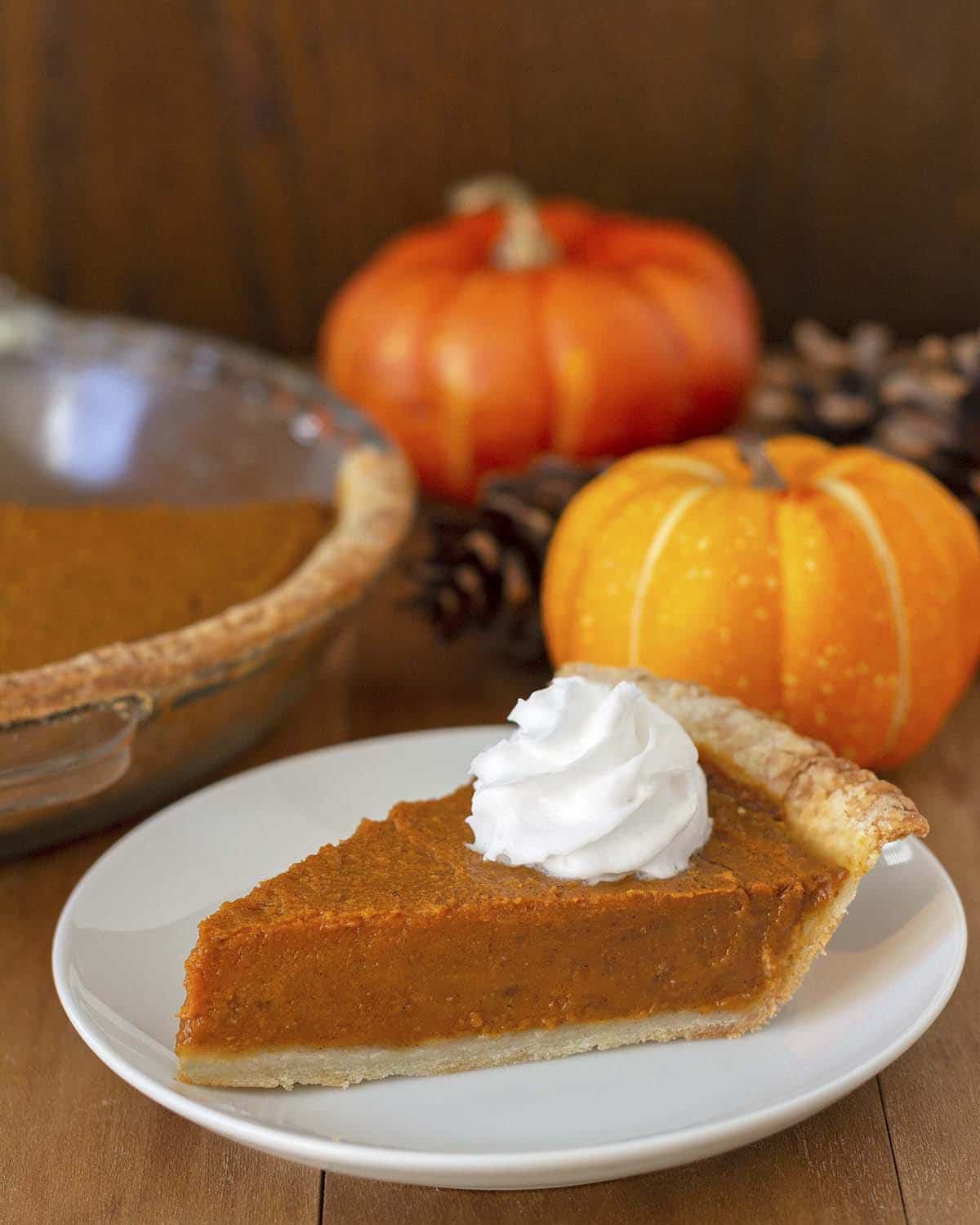 This pie is just like a classic pumpkin pie, though it is both vegan and gluten-free. The filling is smooth and creamy and requires only 8 simple ingredients!
This recipe also includes a recipe for a vegan and gluten-free pie crust, but you could alternatively use a store-bought one if you can find one that meets your dietary needs.
You can keep this pie in the fridge for 3-4 days and serve it cold or warmed up.
This pie is great topped with a vegan whipped cream or with some vegan ice cream!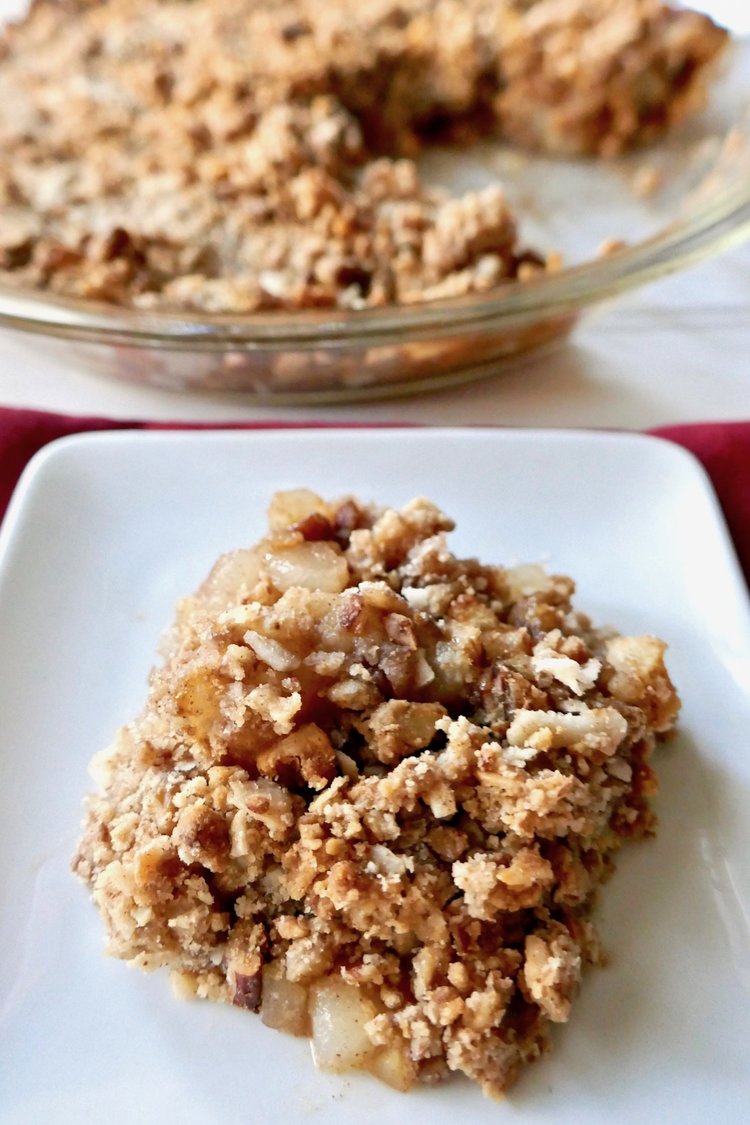 Add this delicious apple pear crumble to your Thanksgiving menu this year! It is vegan, gluten-free, and grain free.
The top of this crumble has a nice golden color and a satisfying crunch from pecans and walnuts. The pears and apples in this recipe provide plenty of natural sweetness, so this recipe has no added sugar.