This post contains affiliate links for which I may earn a commission (at no extra cost to you) should you make a purchase. As an Amazon Associate I earn from qualifying purchases. Please see my disclaimer for more information.
There are more than 100 Reese's products, and there are even a variety of Reese's Pieces products. Unfortunately, all Reese's Pieces contain milk ingredients, so none of them are vegan.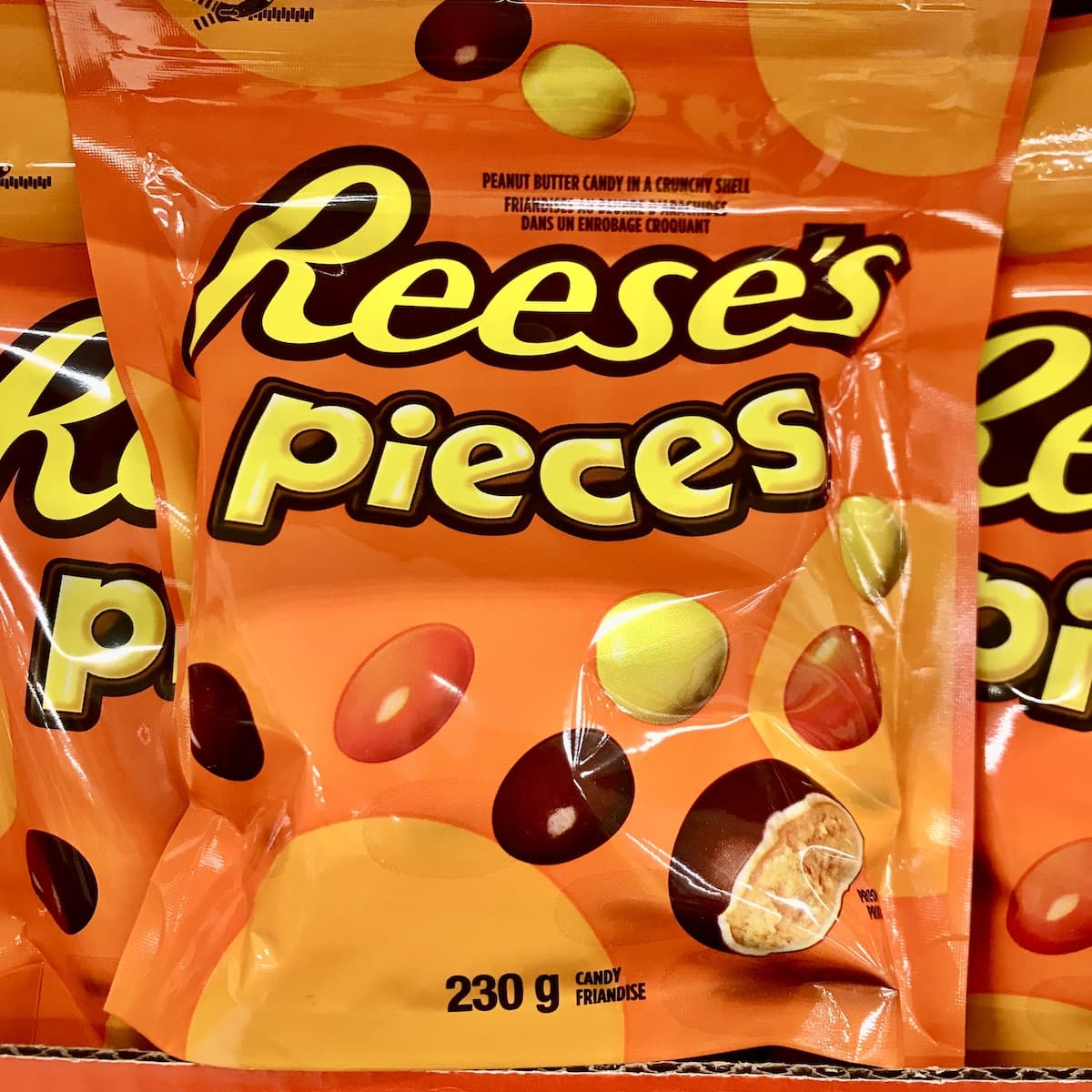 Reese's claims that of all their products, only the peanut butter sauces and toppings are vegan. However, these products may contain sugar that is processed with bone char.
Keep reading if you want more detailed information about why Reese's Pieces are not vegan and to get some vegan alternatives.
Jump to:
Why Aren't Reese's Pieces Vegan?
All Reese's Pieces products contain milk, so they are not vegan. They also contain some other potentially non-vegan ingredients, as explained below.
Non-vegan ingredients in the classic Reese's Pieces Peanut Butter Candy:
Milk
Reese's Pieces contain milk, which is of course not vegan.
Sugar
Sugar itself is not an animal product, however cane sugar is some times refined with bone char, which is literally charred animal bones. Some vegans are okay with this because sugar doesn't actually contain bone char, it just may have been in contact with it.
But many vegans avoid sugar that is filtered with bone char. The Hershey Company makes Reese's and they have many sugar suppliers, so it is likely that some of them refine their sugar with bone char.
This is the case for many packaged products, as you will see in my other "Is It Vegan?" explanations, such as "Are Cheerios Vegan?" and "Are M&M's Vegan?"
Confectioner's glaze
Reese's Pieces also contain confectioner's glaze. Confectioner's glaze contains shellac, which comes from insect secretions. It gives candy a smooth and shiny finish.
Artificial colors
Artificial colors do not contain animal ingredients, but some vegans avoid them due to animal testing. Some vegans are okay with consuming artificial colors because it is unclear how often they are tested on animals and not every company that uses them is funding testing.
Lecithin
Lecithin can come from many different sources, some vegan and some non-vegan. So it is possible that the lecithin used in Reese's Pieces is vegan, but it is unclear.
Are Reese's Peanut Butter Cups Vegan?
Unfortunately, all varieties of Reese's Cups contain milk ingredients and are therefore not vegan.
They also contain some potentially non-vegan ingredients. The original Reese's Milk Chocolate Peanut Butter Cups contain sugar that may be processed with bone char.
Other varieties of Reese's Cups may also contain artificial colors or natural flavors of an unknown source.
Reese's Alternatives
Vegan Reese's Pieces Alternative
If you are looking for a vegan alternative to Reese's Pieces, you may want to try Unreal Dark Chocolate Covered Peanuts. These are not a super close alternative, but it seems to be the closest I can find. They are a chocolate covered peanut candy so although not exactly like Reese's Pieces, these candies do have a chocolate peanut butter taste.
Note that this candy is made on equipment that also processes milk ingredients.
Vegan Reese's Cups Alternatives
If you are looking for an alternative to Reese's Cups, there are many options to choose from!
*Some of these alternatives are made on equipment that processes milk ingredients, so check with the company if you have an allergy or if you aren't okay with the risk of cross-contamination as a vegan.
Unreal Dark Chocolate Peanut Butter Cups
No Whey! Pea Not Cups – These are great for those with a peanut allergy, because instead of peanut butter, these chocolate covered cups are filled with sunflower seed butter.
Justin's Dark Chocolate Peanut Butter Cups
Justin's Dark Chocolate Crispy Peanut Butter Cups
Cleo's Peanut Butter Cups by Go Max Go Foods
Cleo's White Peanut Butter Cups by Go Max Go Foods
Theo Dark Chocolate Peanut Butter Cups
Theo Double Chocolate Peanut Butter Cups
Recipes
I haven't found a vegan Reese's Pieces recipe, but there are many chocolate peanut butter cup recipes out there. These are great options:
If you don't want the complexity of waiting for layers to set and/or creating a chocolate covered cup shape, you can try these simple chocolate peanut butter bars. They aren't in the shape of a cup, but they have that delicious chocolate peanut butter flavor!
More "Is It Vegan" Posts