This post contains affiliate links for which I may earn a commission (at no extra cost to you) should you make a purchase. As an Amazon Associate I earn from qualifying purchases. Please see my disclaimer for more information.
Unfortunately, there are no vegan M&M's because they all contain dairy. Keep reading for a breakdown of all potentially non-vegan ingredients in M&M's, as well as some vegan alternatives!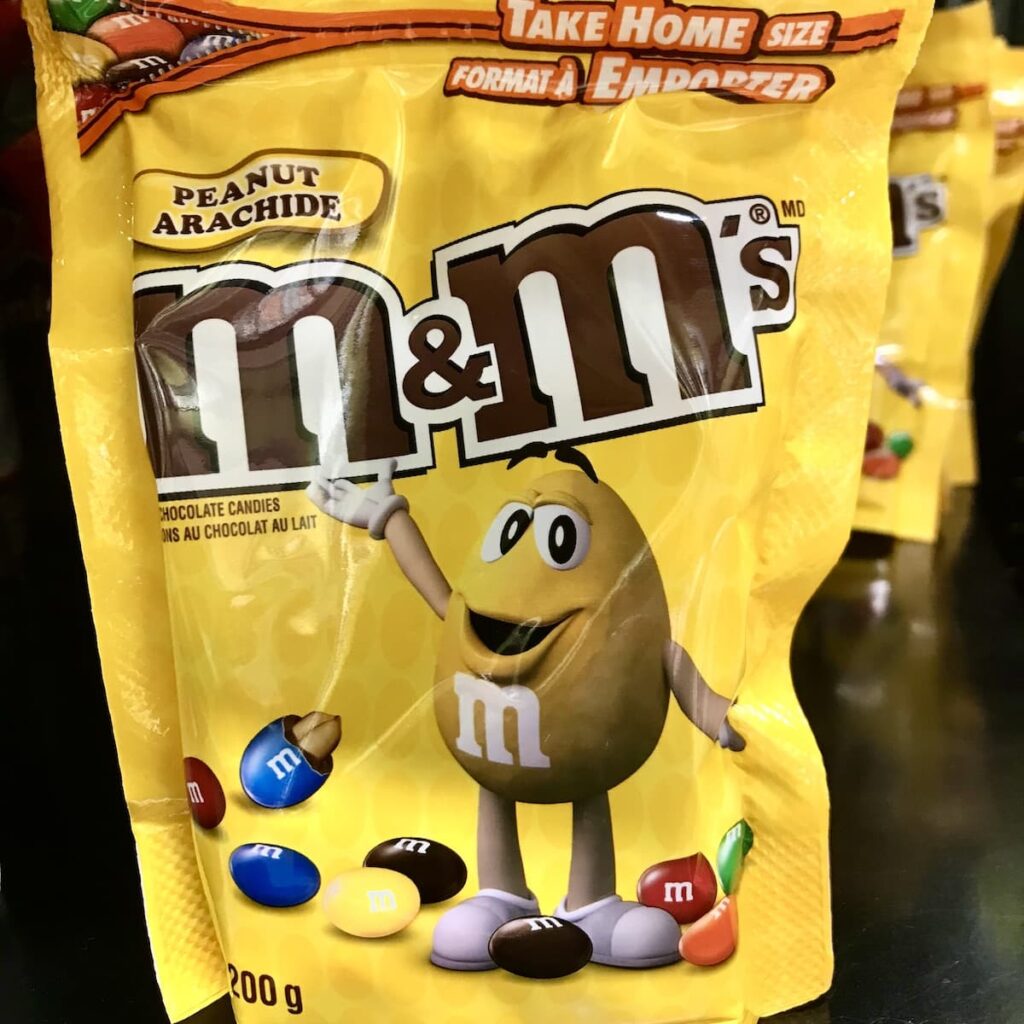 Jump to:
Non-Vegan Ingredients in M&M's
Milk
All M&M's products contain milk ingredients. Here are some of the specific milk ingredients you will see listed on various products:
Skim milk
Lactose
Milkfat
Milk
Sugar
M&M's contain sugar, which may be filtered through bone char. During this process, charred animal bones are used to de-colorize sugar. This doesn't mean that there is bone char in the sugar, but the sugar comes in contact with bone char. This is off-putting to many vegans because of the animal death that is required to process the sugar.
There are however vegans who don't mind eating sugar that is filtered through bone char. This is because sugar is found in many packaged products and to avoid it would mean eliminating a lot of foods for some people. This can be overwhelming, especially for new vegans who are already changing their entire diet.
Natural Flavor
M&M's also contain natural flavor, which can be from plants or animals. It is unclear whether or not the natural flavors in M&M's are plant-based. This could vary between products and the only way to know would be to ask the company.
However in this case it doesn't really matter because we already know that M&M's are not vegan due to dairy.
Artificial Colors
Some vegans avoid artificial colors because they may be tested on animals.
Vegan Alternatives to M&M's
While there are no vegan M&M's, there are some companies that make round chocolate candies that are quite similar to M&M's!
These colorful milk-like chocolate candies are completely vegan and made with no artificial colors or flavors. These are a great substitute for Original M&M's.
These candies are vegan, nut-free, gluten-free, and soy-free.
These vegan chocolate candies have a peppermint flavor with crunchy white and green coatings, without the use of artificial colors.
These candies are vegan, nut-free, gluten-free, and soy-free.
These are a great vegan substitute for peanut M&M's. They are not artificially colored and they are coated with delicious dark chocolate.
More "Is It Vegan?" Posts
For more information on going vegan, check out this guide to going vegan for beginners and get my plant-based grocery list.
It may also be beneficial for you to learn about the best vegan supplement brands and vegan pantry staples.